One ferry ride south of Cebu and Bohol islands in the Philippines is the island of Siquijor (pronoucned Sicki-hor). Siquijor is known to locals as a "black magic" island filled with witchcraft, voodoo, and potions. You'll be cursed if you set foot on Siquijor, according to the superstitious.
For backpackers and tourists, Siquijor is another beautiful Philippine island with beaches, waterfalls, and marine reserves for snorkeling. For me, Siquijor had the most beautiful sunsets I'd seen in my life! Since you can get to Siquijor with only one ferry ride from both Cebu and Bohol, Siquijor is definitely worth a stop on your Philippines itinerary!
Here is your Travel Guide to Siquijor Island, Philippines
How to Get to Siquijor, Philippines
How to get to Siquijor from Moalboal, Cebu
Take an early bus or taxi from Moalboal town heading down to Santander or Liloan at the southern tip of Cebu island. The ferry leaves at 10 am every day (boarding starts at 9 am) from Liloan to Larena port on Siquijor. 
How to get to Siquijor from Oslob, Cebu
Take a tricycle or taxi (200 pesos per person) to Liloan port in Santander, which takes about 15-20 minutes to reach from Oslob. The ferry leaves at 10 am every day (boarding starts at 9 am) from Liloan to Larena port on Siquijor. 
How to get to Siquijor from Panglao, Bohol
An OceanJet ferry runs every day from Tagbilaran port to Larena, Siquijor at 10:20am. It's possible to book a seat on this ferry ahead of time with Klook here. A tricycle from Panglao to Tagbilaran Port costs 300 pesos.
Check Siquijor Ferry Schedules here!
Where to go after Siquijor?
Check out my other Philippines travel blog posts: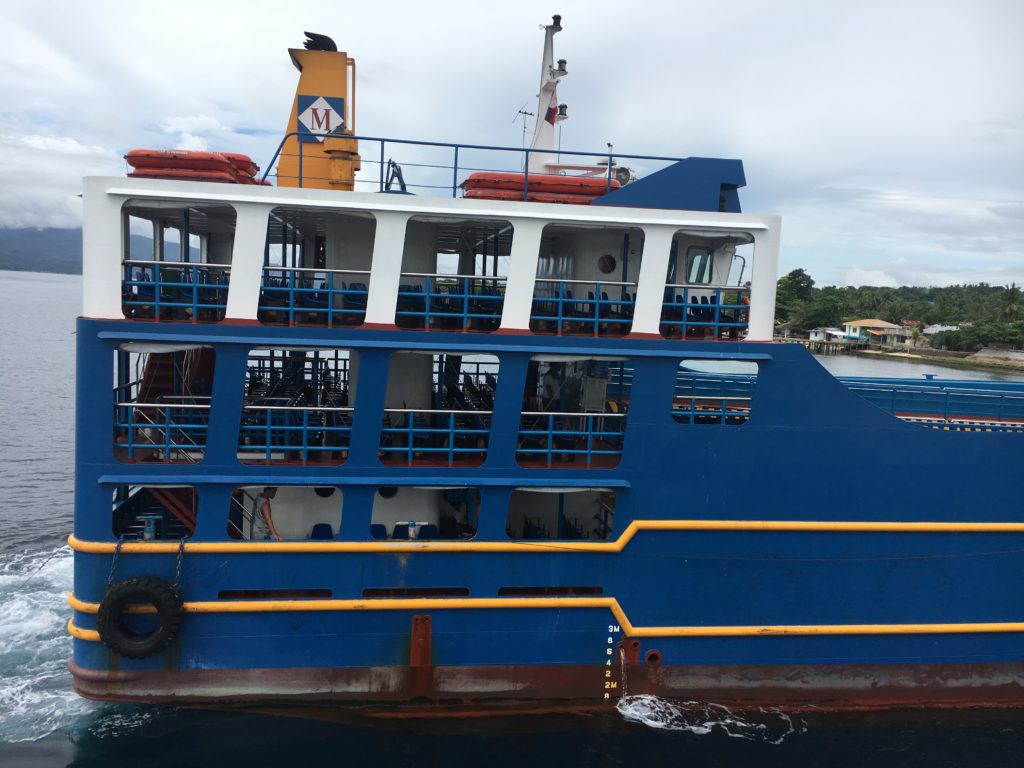 Where to Stay in Siquijor
I highly recommend staying around San Juan, Siquijor, which is a town on Siquijor's west coast. This is where you'll catch the best sunsets. One main road runs along this coast (that circles all of Siquijor) where there is a variety of accommodation. I enjoyed staying on the waterfront, so just outside my room I could take in the beautiful blue water during the day, or the sunset in the evening.
Find where to stay in Siquijor below!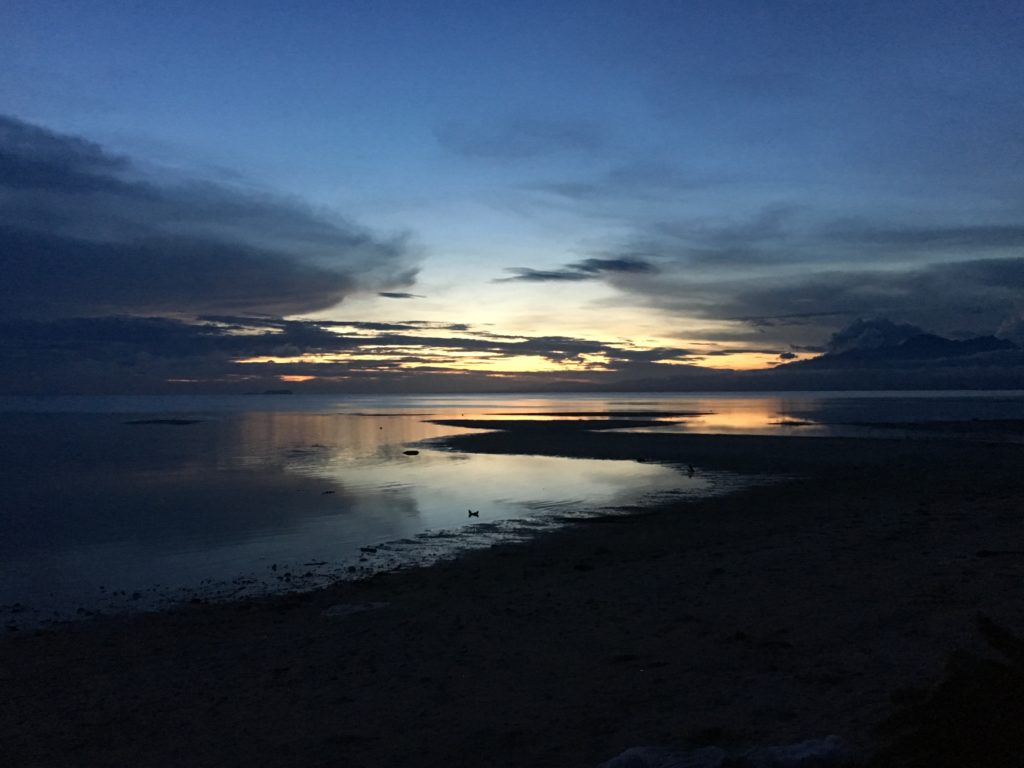 Siquijor Budget Accommodation Options: 
SunnySide Bed & Bar hostel puts you right on the beach, in a hammock, for an unbeatable price! If you're looking for Siquijor budget accommodation, SunnySide is the cheapest. It has a social atmosphere and great family dinners in the evening.
Chillout Hostel & Bar is a highly-rated backpacker's hostel on the island. Located in Larena, Siquijor, next to Larena Port, it's convenient for short stays on Siquijor. 
Talisay View Inn is where I stayed near San Juan, Siquijor. I ate at the adjoining restaurant, Marco Polo Pizzeria, every day. Their cabana tables have the perfect sunset view, and it's walking distance to many shops and restaurants.
Mid-Level Guesthouses in Siquijor:
Island Sea View is right on the water in San Juan Siquijor, with a patio and deck chairs in front of each room. There are both AC and non-AC options, and rooms come with a kitchenette! 
Charisma Beach Resort was at full capacity when I was in Siquijor, but was at the top of my list for places to stay. You're on the water front here, but you have an option of hanging out in the pool too!  
Other Places To Stay in Siquijor: 
Buco Beach Resort on the east side of the island is another budget option with a beautiful common area and large rooms for the price. It has a private beach area and is close to the beautiful Salagdoong beach, one of the best beaches in Siquijor. In exchange for sunsets, you might be able to catch a nice sunrise!
For beautiful sunsets and interesting accommodation to say the least, check out the Hobbit Holes of Kamp Aninipot! This Siquijor budget accommodation is tucked away in the jungle on a hill, but close to Siquijor town.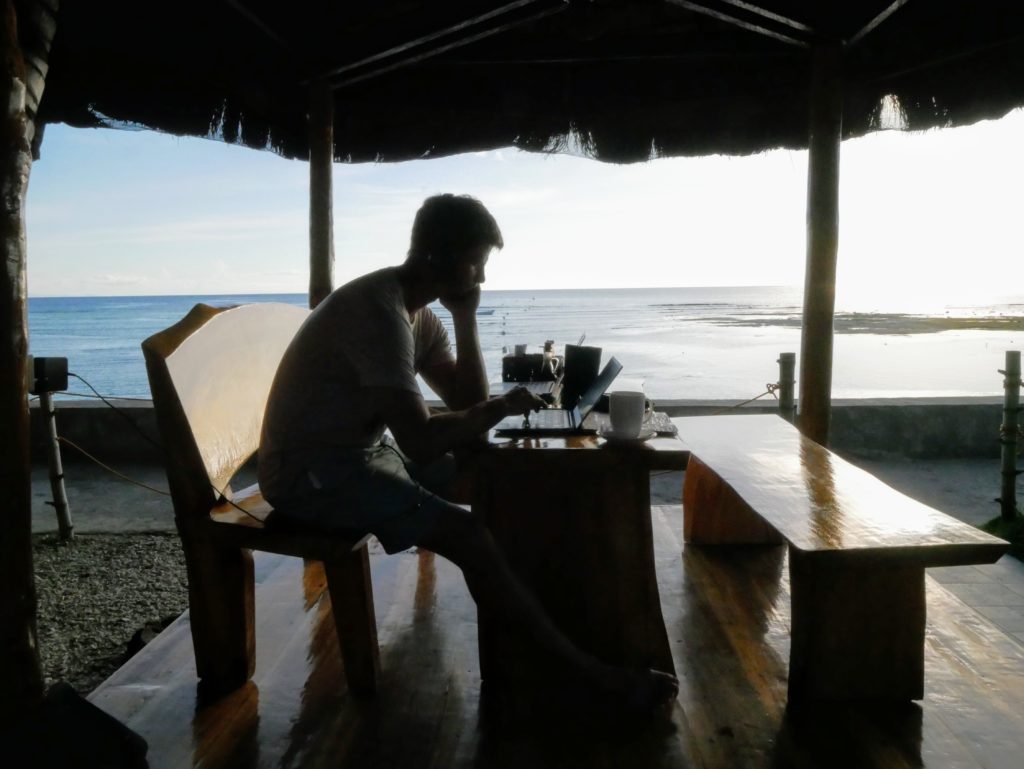 SunnySide Bed & Bar had an amazing family dinner on their rooftop that was open to both guest and non-guests. For only 150 pesos you get a buffet-style meal with fresh fish, rice or noodles, vegetables, potatoes, and more! Let the staff know that you want to join the family dinner ahead of time, because they make their portions depending on how many people will be in attendance.
Marco Polo Pizzeria – When I stayed at adjoining Talisay View Inn, I had every meal here (6 pizzas in 4 days!). That's how good the vegetarian pizza was! Prices varied from 190 pesos for the Margherita Pizza to 495 pesos for the All-Meat Pizza. They have pastas and full breakfasts available as well that were also delicious. There's also an amazing sunset view from their backyard!!
Balete Bistro – This second-story restaurant is located right next to the Century-Old Balete Tree and fish pool. Balete Bistro had some of the tastiest Chop Suey, Mango Shakes, and Bam-I I've had in the Philippines!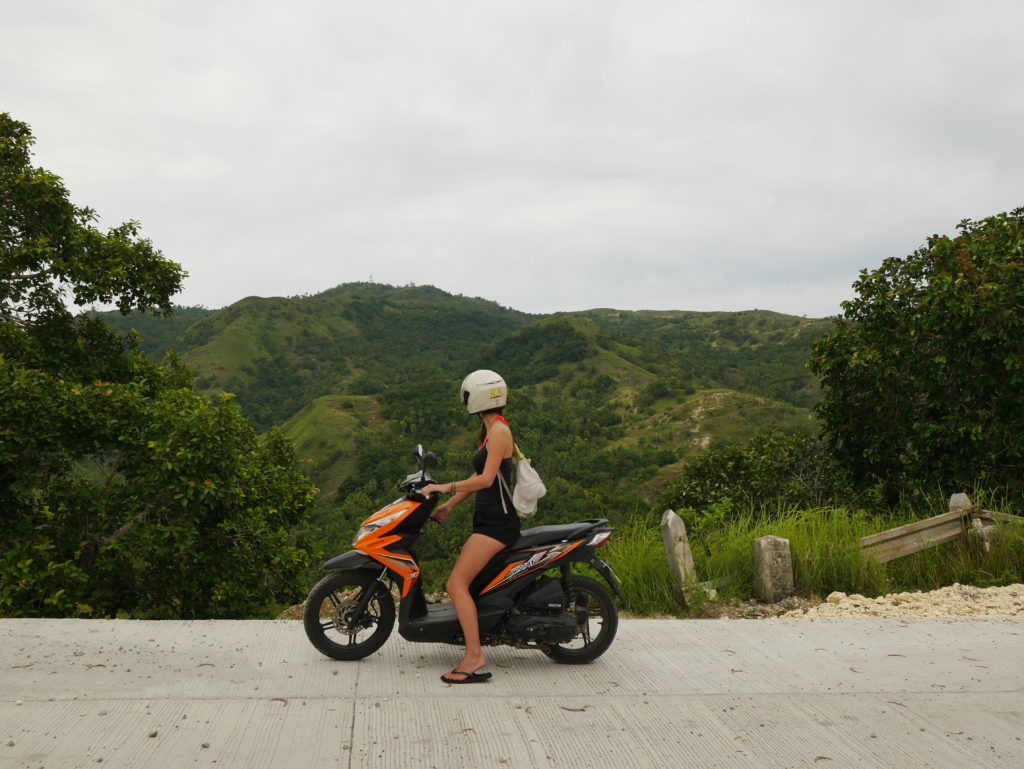 At least one day on Siquijor should be spent on a scooter, exploring the many sights around the island and visiting the best beaches in Siquijor. There's a circumference road around Siquijor that takes about 3 hours to circle completely. Here's a list of places you can go to with a scooter (or tricycle hire) while circling the island!
Lugnason Falls – these falls close to San Juan town are free to visit, and are perfect for a dip. For adrenaline junkies there's a massive rope swing, and you can jump from the top of the water fall too! 
Lagaan Falls – another waterfall and small cave close to San Juan, we paid 50 pesos here for entry and 20 pesos for parking. A guide walked with us down to the waterfalls and was there to take pictures for us, and tell us which rocks to jump from or slide down (I thought the guide was unnecessary but we went along with it). There's a smaller rope swing here too.
Century-Old Balete Tree (and Fish Pond) – for 10 pesos entry and 20 pesos parking fee, you can enter where a massive, ancient tree stands. A fish pond in the front has seats all around so you can stick your feet in and get nibbled on. 
Cambugahay Falls – this impressive waterfall and beautiful blue pond are situated close to Lazi town. It can get quite crowded at times because it's a stop on some island tours.
San Isidro Labrador Convent and Church – this was the first catholic convent to be built in the Philippines, out of cut coral stone at that, and is still standing to this day.
 Salagdoong Beach – known as one of the best beaches in Siquijor, Salagdoong is located on the east side of the island. Its second claim to fame is a diving platform that you can jump from into the warm waters below!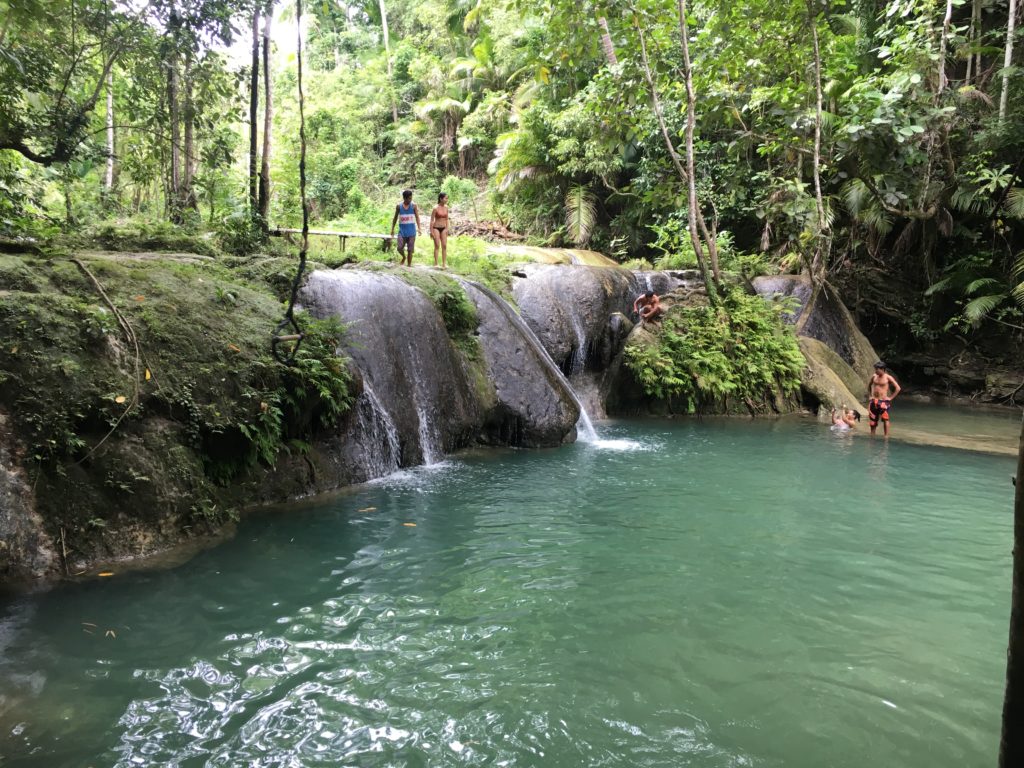 Budget for Visiting Siquijor, Philippines
The cost of accommodation, meals, scooter rentals, etc here is lower than many other tourist-islands across the country, because it's only recently that Siquijor became more open to visitors.
Accommodation: I paid 650 pesos per night for accommodation for a double room, so 325 when split with two people. Most budget double rooms around San Juan cost 600-1500 pesos per night. The higher end of this scale will get you a room with AC, an attached bathroom, and maybe a kitchenette or water boiler.
Scooter rental: 250-350 pesos per day (24 hour period)
Entry Fees: There's a small entry fee to visit almost all of the waterfalls and the Balete tree.  If there isn't an entry fee, there might be a parking fee for your scooter! If you want to do some waterfall hopping while on Siquijor, budget an extra 300 pesos for entry/parking fees.
Meals: 200-400 pesos per meal depending on if you're eating local or at Western-oriented restaurants
Ferries To and From Siquijor: 900 pesos, 200 from Cebu or Dumagete, 700 to Bohol
Both port towns, Larena and Siquijor town, are the only two places on the island with ATMs that accept international debit cards (Visa and MasterCard). There's no guarantee though, that the few ATMs are working or that they have money in them. 
It might have been an unlucky day for me, but I tried seven different ATMs between the two towns once and not one of them worked. I had to drive over to Siquijor town again the next day after the ATMs were restocked. It's important to withdraw money on Siquijor when you can, and always keep an emergency stash just in case!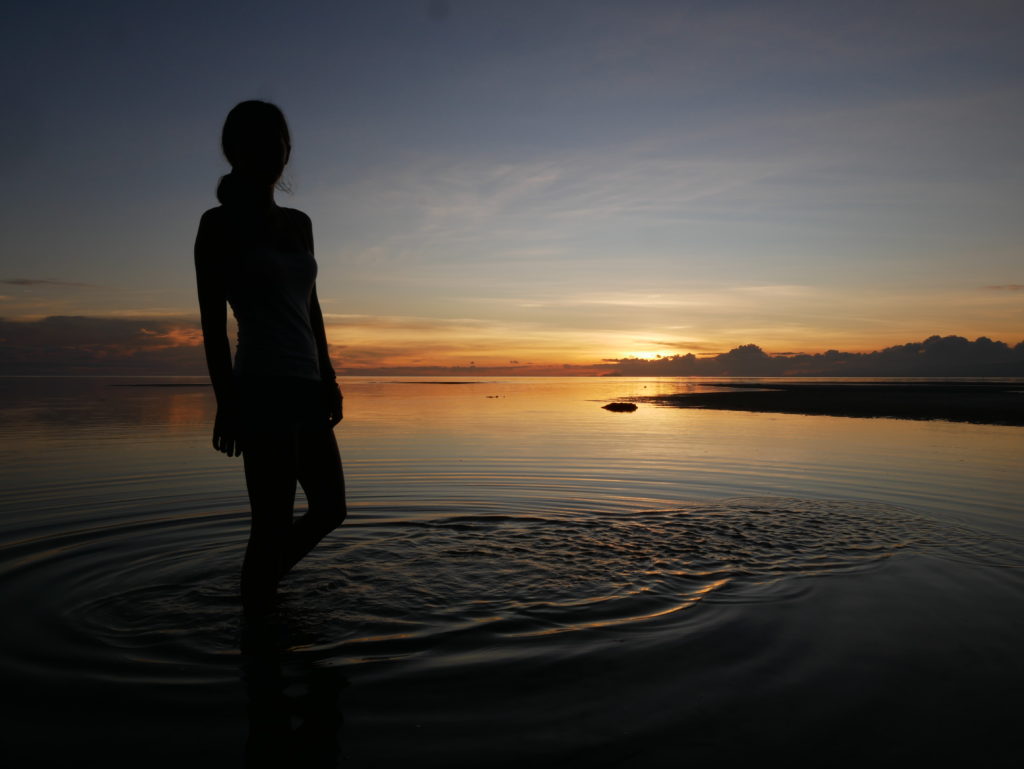 To Dumaguete: Ferries from a variety of different passenger and cargo companies leave from Siquijor to Dumaguete every day, from both Larena port and Siquijor port.
To Moalboal or Oslob: Take the once a day ferry from Larena port, Siquijor to Santander, Cebu at 5:00pm. From Santander, take a taxi, tricycle, or bus to either Moalboal or Oslob. To arrive earlier in the afternoon, it's possible to take one of the many ferries to Dumaguete, then ferry again from Dumaguete to Santander, then take any vehicle to your destination.
To Panglao, Bohol: An Ocean Jet ferry leaves from Larena port to Tagbilaran, Bohol once per day at 12:30pm. Book this ferry ahead of time here! From Tagbilaran port, take a tricycle for 300 pesos to Panglao.
To Cebu City: Take the once a day ferry from Larena port to Tagbilaran, Bohol at 12:30pm (see above), then take the ferry from Bohol to Cebu.
Heading to Siquijor, Philippines? Pin it!
Other Useful Links about Siquijor and the Philippines
Are You Prepared For The Philippines? 
Read my Philippines Island-Hopping Itinerary to plan your perfect Philippines Itinerary! 
Book Your Flights – To find the cheapest flights, flexibility is key. I use both Google Flights and their low fare calendar, and Skiplagged, which uses airfare loopholes to get the lowest prices. 
Book Your Accommodation – Check out Booking.com for the largest selection of accommodation around the world. For backpackers, Hostelworld.com is also a favorite. 
Buy Travel Insurance – It's better to protect yourself from mishaps when traveling. Get a quote from World Nomads to see how much it'll cost to get you covered! 
Stay Connected with a SIM card/WiFi device – I used a Globe brand SIM card for my Philippines itinerary to stay connected. If traveling with a group, consider getting portable WiFi that lets you connect 5 devices at once. 
Check Visa Requirements – From E-Visas to Visas-on-Arrival, iVisa has all the info on country visa requirements. If one is required, you can order one hassle-free through their site.  
Book Local Excursions – Don't miss out on world-class experiences by booking tours and tickets online, ahead of your arrival. GetYourGuide and Klook both have fun experiences from around the Philippines like Island-Hopping in El Nido, a Boracay Island Tour, and the Coron Ultimate Tour.
Pack Your Essentials – Check out my posts about Long Term Travel Gear, and Carry-On Luggage Packing Essentials.