Nicaragua is an amazing hidden gem of a country to explore.  It's similar in landscape and natural beauty to its neighbor to the south, Costa Rica, but is more off-the-beaten-track. This means lower sticker price for everything, and more Spanish and less English. Backpackers should consider at least one week in Nicaragua to absorb all the beauty of this country! 
Nicaragua is famous for its beaches, volcanoes, and charming colonial-style towns.
Because of recent unrest in the country, be sure to check the U.S. Department of State website for travel advisories or do your own research to see if it's safe to visit.
One Week Backpacking Nicaragua Itinerary:
Day 1 – Arrive in Managua, Nicaragua, or Liberia, Costa Rica. Transit to San Juan Del Sur
San Juan Del Sur – Days 1 & 2
Ometepe Island – Days 3 & 4
Granada – Day 5
Granada or Leon – Day 6
Managua, Fly Home – Day 7
Day 1 - Arrive in Managua, Nicaragua, or Liberia, Costa Rica. Transit to San Juan Del Sur
There are two airports where you can easily access the rest of Nicaragua for your Nicaragua backpacking itinerary. The first is located in the capital city of Managua. The second is just across the border in Liberia, Costa Rica. If you're coming to Nicaragua by air, it's worth checking the round-trip and one-way flight costs from both of these airports.
When I spent one week backpacking Nicaragua, I found a cheap one-way flight from Houston to Liberia, then a cheap one-way flight from Managua back to Houston. It was cheaper than a round-trip from Houston to Managua, and it saved time in terms of needing to loop back around.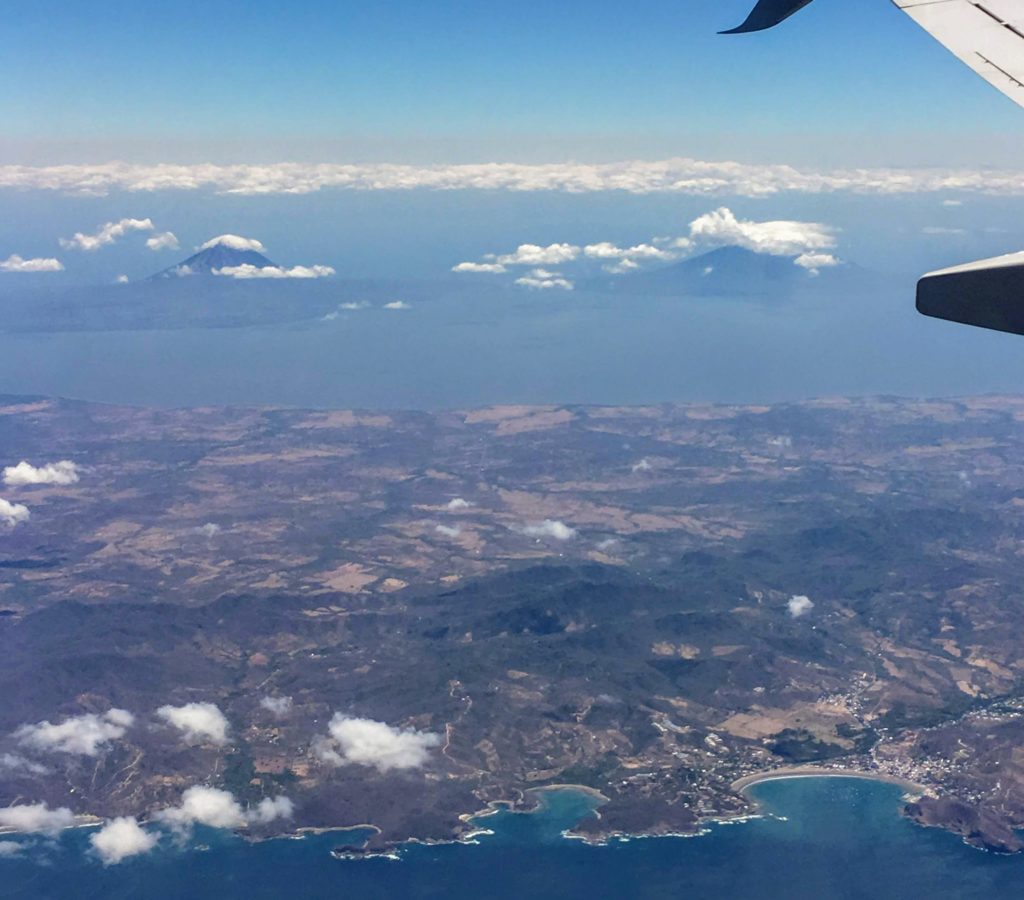 From Managua to San Juan Del Sur 
There are several within-country transport companies that can take you to San Juan Del Sur. The cheapest option is to take the local "chicken bus", which you can take between all major cities.
One transportation provider is this Iskra travels, which will take you to San Juan Del Sur from Managua Airport for $35 or less depending on the number of passengers.
From Liberia to San Juan Del Sur
I used Caribe Shuttle, which ran from Liberia city center to San Juan Del Sur and other destinations in Nicaragua. For $35 per person, Caribe Shuttles provided a smooth transition through the border crossing between Nicaragua and Costa Rica as well. This service leaves once per day at 9:15am.
Crossing the border overland from Costa Rica to Nicaragua
Caribe Shuttles leaves from a designated shopping complex in Liberia. Within the shopping complex there's a small office where the Costa Rica exit fee is paid ($7 USD), and a receipt is given.  Don't forget to get this receipt before heading to the border!! 
From Liberia city center it takes about an hour and a half to reach the border. We took our bags and left the first van behind when going through immigration.  To leave Costa Rica we showed the receipt for the paid exit fee. To enter Nicaragua there was a $10 entry fee, plus a random $1 fee to receive the customs form (a scam, but we had no choice). Since you never really know when extra fees will pop up, it's best to keep some small change on you, especially $1 USD notes.
The driver of the first van guided us through the border and made sure we were all following the right steps,, then handed us off to the driver of a second van. This driver took us all the way to San Juan Del Sur… in a van that had wifi!!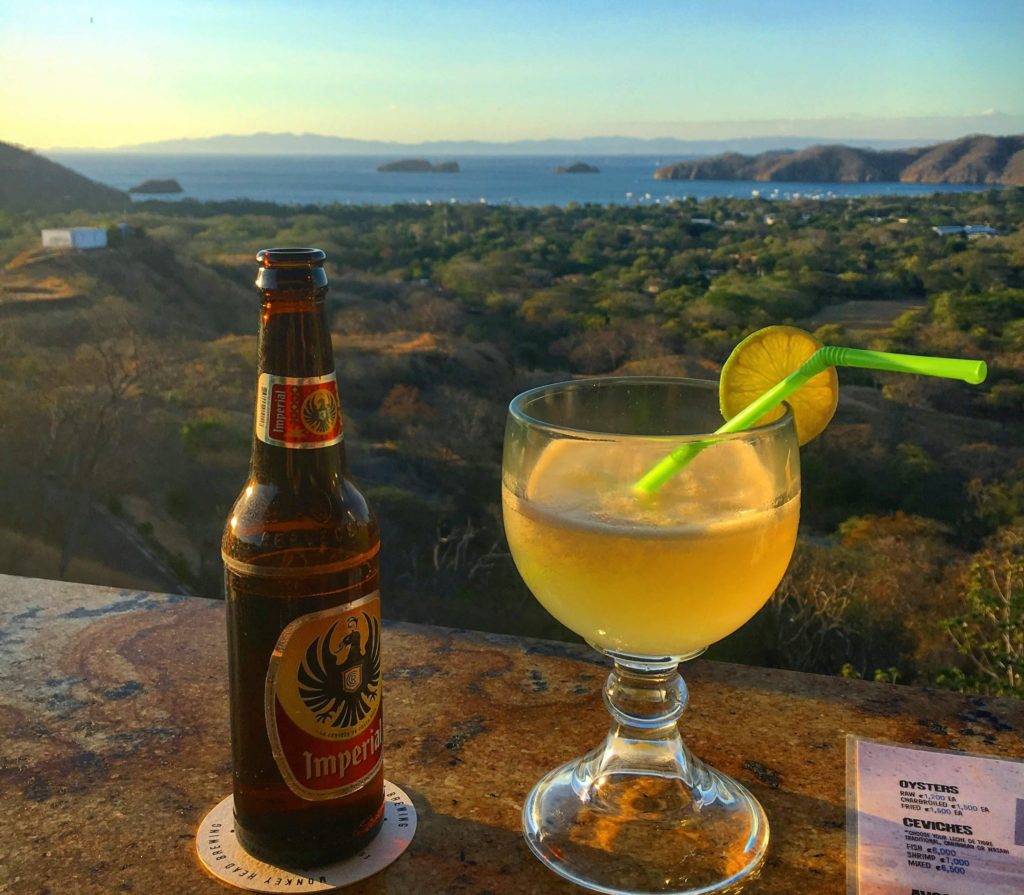 If you have time: Playas Del Coco, Costa Rica
If you have extra time during one week in Nicaragua and are coming from Costa Rica, check out Playas Del Coco. There's a nice beach, many seafood restaurants, and lots of souvenir shopping that you can do. I LOVED the view from the Lookout Restaurant. Although it was a bit tricky to find, the food is fresh and reasonably priced.
Don't miss San Juan Del Sure during your one week backpacking Nicaragua itinerary! San Juan Del Sur is a backpacker's paradise and is known for its great bar crawls and pool parties. 
For a beach town with a long coastline, the beach was a bit too hot to lay out on when I went in mid-April. The sand is volcanic rock, so its absorbs the heat like crazy. The good thing is there are plenty of reasonably-priced restaurants and bars that line the beach, with covered patios and good food.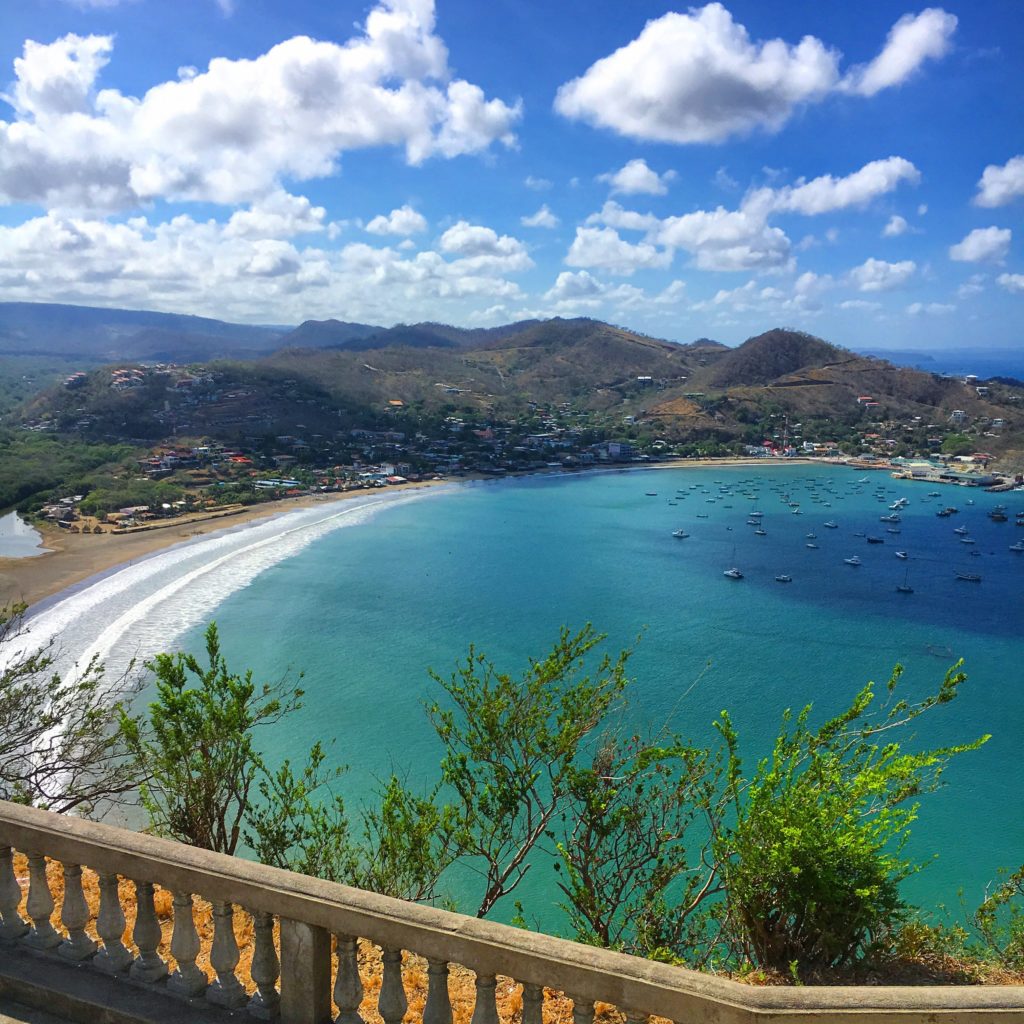 During the Day
Do not miss the hike up to the Jesus statue, an iconic statue you can see from everywhere in town.  The walk is STEEP in some sections so bring proper sneakers (although I did it in flip flops) as well as lots of water, sunscreen, and a snack. You could also take a taxi up and down, which is what most people do. 
There's a small entrance fee to walk up to the rotunda where Jesus is looking over the town and beach. The view from here is truly stunning! Blue-green water, the entire little town below you, and rolling hills on the outskirts.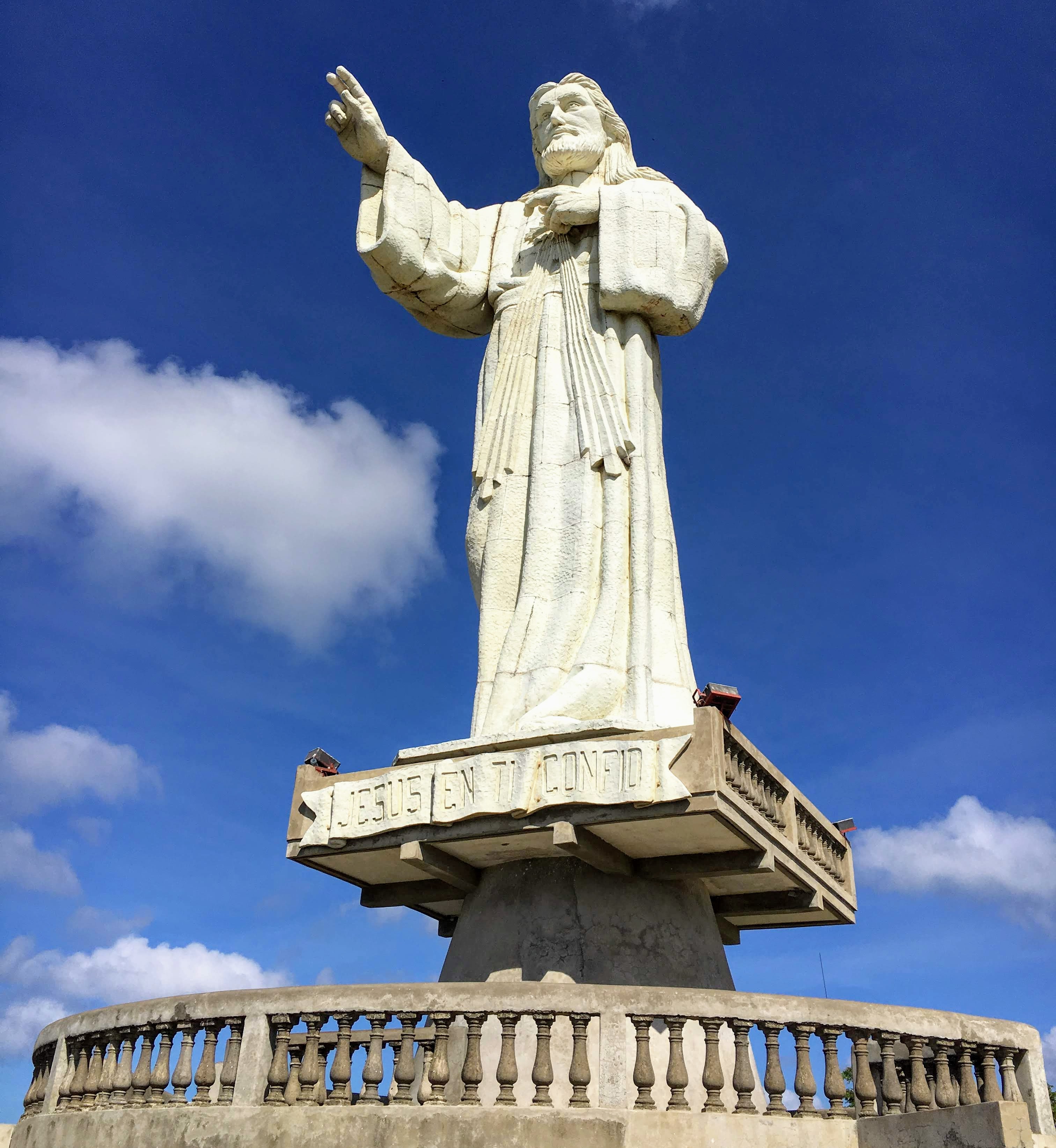 In the Evening
There's a famous bar crawl hosted by the Loose Moose Canadian Bar on Thursdays for $10 entrance. When I was there I paid for the wristband, got the free welcome shot, then got hit with food poisoning from something earlier in the day, so had to tap out before the crawl even started! 
[UPDATE: The Loose Moose has been shut down and the owners have left the country due to the increasing violence within Nicaragua]
Where to stay in San Juan Del Sur:
I stayed at Nuestra Casa, which has free breakfast, a small pool on site, air-con in the room, and a rooftop with hammocks where you get a beautiful view over the city, Jesus, and the beach. There are several party hostels that are highly recommended here, to stay or just for a night out, like the Naked Tiger Hostel.  If you want something quieter there are a plethora of beautiful, relaxing guesthouses and homestays a bit further away from the center of town.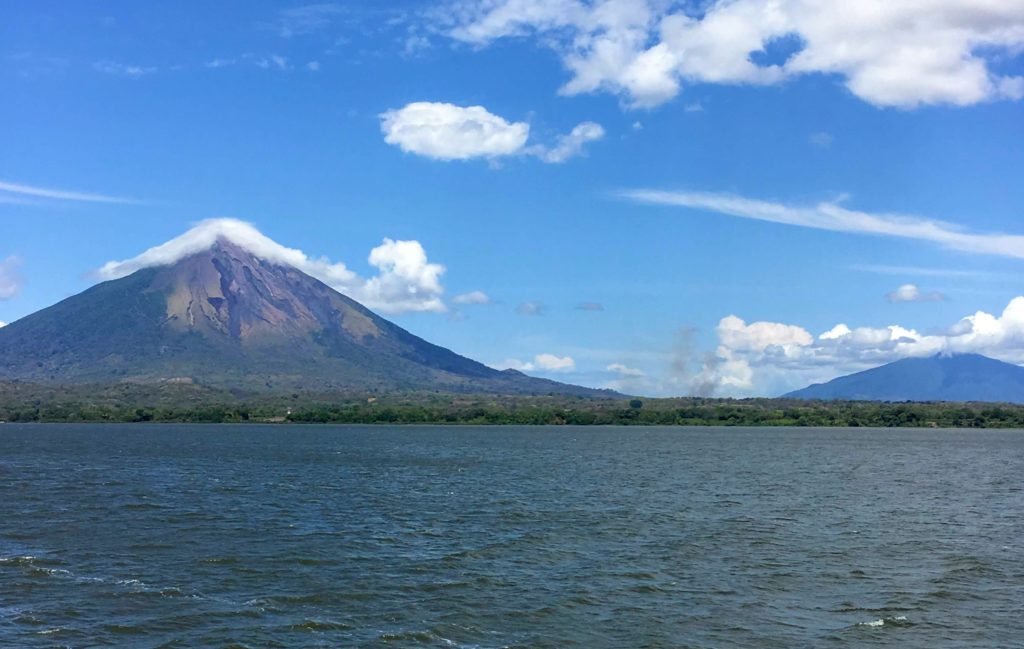 Have you ever been under a waterfall, on a volcano, on an island, on a lake? No? Well here is your chance during your one week in Nicaragua. 
Ometepe Island is incredibly beautiful, and surprisingly still an off-the-beaten-track location. The nature is well-preserved while still providing tourist-friendly amenities and a look into local Nicaraguan life.
Where to stay on Ometepe Island:
I stayed at the beautiful, isolated Finca Mystica, run by American expats and situated on a remote section of the island at the base of Volcan Maderas. Per night for a private cabin is $42, $15 for a dorm bed, and it costs $30 more to have a driver take you there from the port, so it's by no means a budget destination. However, when you're there in the jungle listening to the howler monkeys and breathing in the fresh air, you'll never want to leave. 
I've also been recommended Little Morgan's Hostel, which is a lakeside, tree house hostel that's known for its social atmosphere! It's located on the other side of the island from Finca Mystica at the base of Volcan Concepcion. Here, you're closer to the ports and walking distance from shops and restaurants.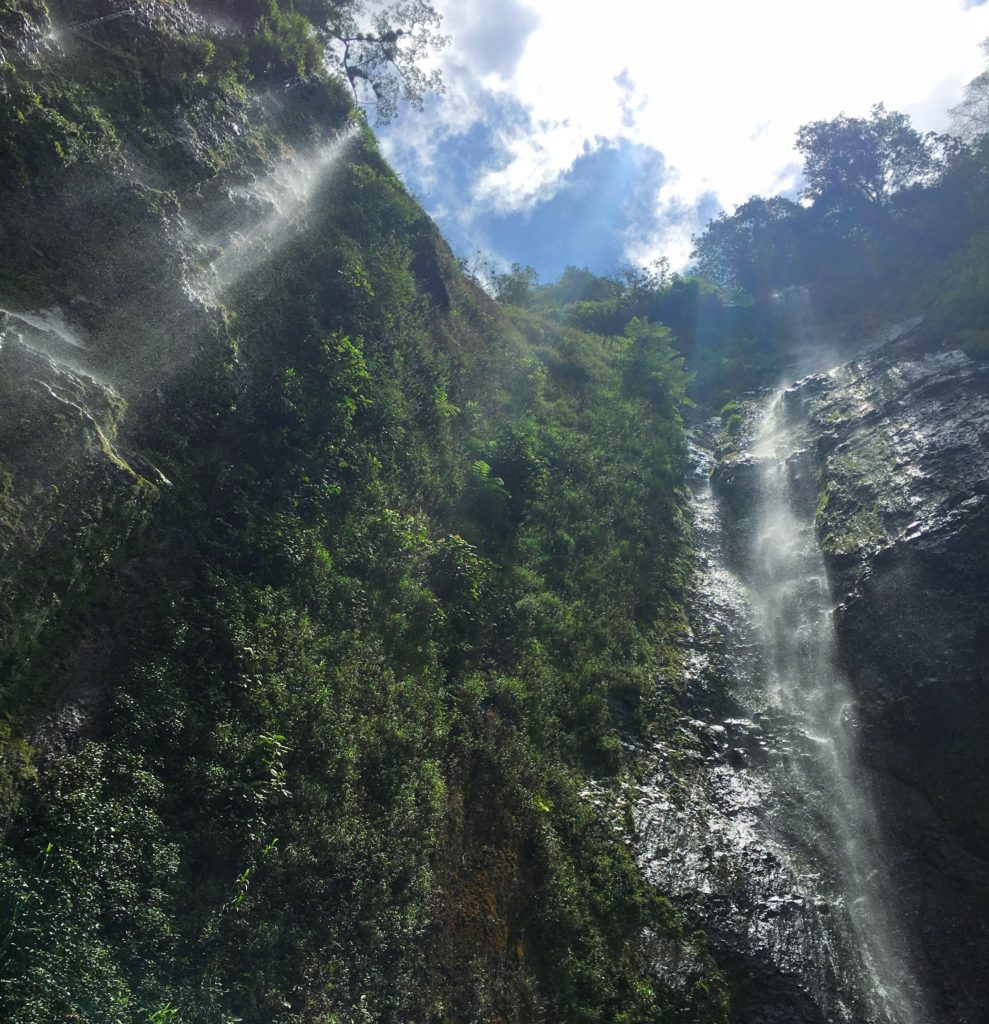 My favorite activity on Ometepe was renting a motorcycle to drive around the island. The views of the volcanos from the roads were truly stunning, and it was funny to have to navigate around the herds of cows, horses, pigs, stray dogs, etc. This is NOT for the novice driver however, partially because the bikes are not in the greatest shape, and partially because the roads can be extremely rocky and steep in some sections. 
I rented a dirt bike from a guy Finca Mystica recommended, and took lots of pictures of the condition of the bike before driving off with it.
My first stop was the waterfall hike which I LOVED. It's called La Cascada de San Ramon, and the hiking trail up to it is long but beautiful and easy to follow. Going into the park with a bike allows you to save an hour or so of uphill hiking (but costs an extra small entrance fee). It's another very challenging road to go up and down on a bike, so seriously, avoid it unless you've spent a lot of time on a motorbike.
After taking a dip in the pool at the base of the waterfall and getting back down to the main road, I circled around the entire right side of the island then stopped for a delicious farm-to-table lunch at Café Campestre in Balgüe town.
Don't miss Ojo de Agua, a watering hole and swimming pool with clear waters and rope swings to practice your diving skills! It's a popular spot for locals and tourists alike, and can get quite crowded. There's some cheap souvenir shopping around here too!
Now it's time to explore the larger cities in Nicaragua. Granada is famous for its colorful colonial houses, beautiful churches, and open parks. The best place to stay is close to Parque Central. This area is filled with shops, it's close to the main bus station, supermarkets, ATMs, and a large local market too! There are two main roads that lead from Parque Central where you'll find many fancy but cheap restaurants serving local and Western food, as well as shops filled with Nicaraguan-made art and souvenirs.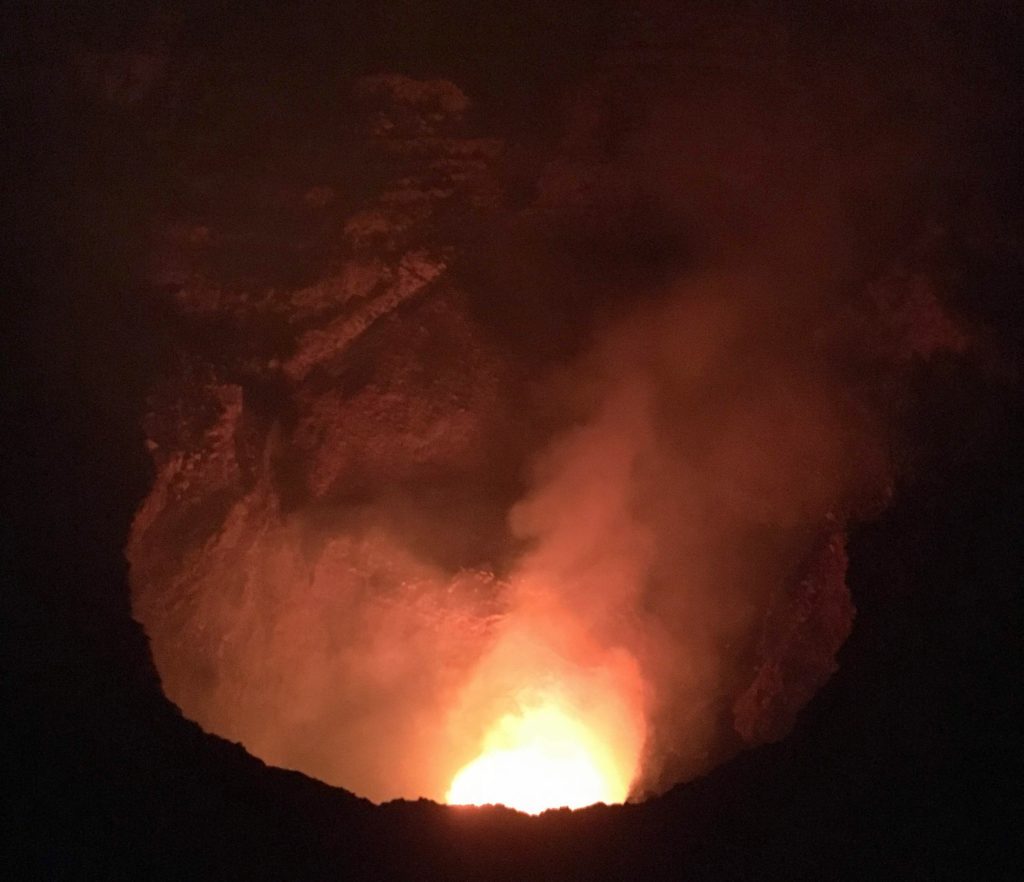 If you don't mind spending a large amount of time in transit on your last full day in the country, Leon is a highly recommend stop in Nicaragua as well. Leon is the closest city to where you can volcano-board down an active volcano! Since it's on the other side of Managua from Granada and further away from the airport, I ended up skipping it.
Instead I spent another day in Granada, where one of the most popular tours is an evening one that will take you to Volcan Masaya. It's one of the only active volcanoes in the world that you can go to the top of, and look into the bubbling lava below. Although it's a long wait to get to the top, it was a really special experience to be able to see the red lava glowing below. It was a great way to end a trip to beautiful Nicaragua!!
Beware if you have respiratory issues, that the air is not so great up there because of the volcanic ash that's flying around. People are only allowed to stay at the top for 15 minutes  because of the health risk of staying there longer.
Day 7 - Managua, fly home
From Granada or Leon you can take a taxi or public transit to the Managua airport. Although I didn't spend time in the capital, I've heard its mostly just another large city that's a bit prone to violence, and there's not too much to see there. If I'm wrong about this and should visit Managua next time, let me know in the comments! 
Have more time to explore Nicaragua? Check out the Corn Islands on the Caribbean side of the country! 
Backpacking One Week in Nicaragua? Pin this post!