October 2019 marks TWO YEARS since I left the U.S. to start backpacking. Although I did go home for Christmas last year to surprise my parents, the majority of the year I was in Asia, including 6 months in Japan. 
This second year away from home went by in the blink of an eye. Time passed even faster than the first year of travel! 
Similar to my last post, 12 Highlights for 12 Months, here's 12 more highlights and experiences from my second year abroad. 
1. Snorkeling in the Philippines
Date: November, 2018
Location: Oslob, Bohol, and Coron, Philippines
During my travels around Southeast Asia, many people recommended to me the Philippines. For some, after traveling all of Southeast Asia, the Philippines was their favorite country. So when I flew from Dubai to Cebu, my hopes for the country were sky high! 
I spent four weeks in the Philippines, and the islands there did not disappoint. Between the scooter rides, the yummy fruits and fried-noodles, the highlights for me were the times when I was in the water:
2. Being Home For Christmas
Date: December 2018
Location: Wyoming, USA
With the help of my brother, I SURPRISED my parents by coming home for the holidays! I realized when I spent Christmas last year alone in Khao Sok National Park, Thailand, that I would much, much rather be home in Wyoming for Christmas. 
I reunited with friends, went snowshoeing, and spent a lot of time with the fam bam.
3. Living the Island Life on Gili Air
Date: January 2019
Location: Gili Air, Indonesia
My first stop being back on the road in 2019 was Indonesia! Specifically, Gili Air, a tiny island between Lombok and Bali. I lived the best island life here for three weeks, in a resort with a pool with breakfast delivered every morning (for incredibly cheap!) 
During the day I spent my time in cafes, at the surprisingly well-equipped gym, and in the water. In the evenings I was in bean bags or lawn chairs on the west side of Gili Air, cold beer in hand and soaking in the sunset. The people were friendly, the food was great, and the living was easy.
Date: February 2019
Location: Yangon, Bagan, Kalaw to Inle Lake, and Mandalay, Myanmar
As soon as I touched down in Yangon, Myanmar, I was in love. This was Southeast Asia but with very little Western takeover. Beautiful pagodas, sprawling markets, and delicious street food around every corner. 
I don't know if I can pinpoint exactly which experiences in Myanmar were my favorite. Here are a few I loved and wrote about:
5. Banh Mi Everyday in Hanoi
Date: Early March 2019
Location: Hanoi, Vietnam
Vietnam was always at the top of my list for countries to explore, but somehow it slipped through the cracks during my last year of travels. 
I spent a short 10 days just in Hanoi in Northern Vietnam, working on my blog and relaxing after an adventure-packed few weeks in Myanmar.  It was my first time since Houston that I had some amazing banh mi, and you bet I had it, unashamedly, everyday. 
6. Reconnecting With Family in Japan
Date: April 2019
Location: Tokyo, Japan
I was back on Japanese soil after 10 years of being away! It had been just as long since I'd seen my aunt and uncle in Kyoto, and closer to 15 years since I'd seen some of my cousins. 
After touching down in Osaka, I reunited with, and spent time with family in Kyoto and Nagoya, before continuing solo up to Tokyo. 
Date: April 2019
Location: Tokyo, Japan
In April, I moved to Tokyo. I found a sharehouse to live in, and rented my own room for the first time in a year and a half!
I loved living in a sharehouse because of all the different people I met and interacted with on a daily basis. To have friends and smiling faces to come home to made the transition to Tokyo life a breeze. 
Favorite moments with my sharehouse included late-night karaoke trips, playing beer-pong in the dining area, and going to see Tokyo's famous festivals and fireworks together. 
Date: April – September, 2019
Location: Tokyo, Japan
Six months in Tokyo flew by. I made awesome new friends from Japan and around the world, I explored every corner of Tokyo and its surrounding cities and suburbs, and I re-learned lots of Japanese.  I even found a job and worked for a few months, like a true Tokyo-ite. 
Favorite moments during my time in Tokyo:
Teamlab Borderless and Teamlab Planets (see my post comparing the two)
Visiting the Studio Ghibli Museum (twice!)
Window shopping!!! I couldn't do a lot of actual shopping, I was a backpacker after all. My favorite stores are Loft and Itoya in Ginza, Mega Don Quijote in Shibuya, and anything in Takeshita Street in Harajuku.
Finding a little bit of peace in Shinjuku National Gyoen during my lunch breaks.
Check out my Top 15 Things To Do In Tokyo! 
Date: August 2nd, 2019
Location: Mt. Fuji, Japan
Here was another big check off the bucket – summit Mt. Fuji! I said I would do it from the moment I touched down in Japan, and finally in August I did. 
Although technically it was not one of the hardest treks I have done, there were many challenges I faced along the way. I "bullet-climbed" Mt. Fuji, meaning I started from Shinjuku Station at 7:30 pm, and arrived at Mt Fuji's 5th station at 10:00 pm. I started climbing at 10:00 pm through the night to reach the summit for sunrise. 
Since I actually climbed too fast (most people reach the summit in 6 hours, while it only took me 4), I had to wait at the freezing cold summit for HOURS before the first rays of sunshine began to appear. 
Read about how to climb Mt. Fuji independently here! 
Date: August 2019
Location: Miyajima, Hiroshima, Okunoshima, Naoshima, Teshima, Shodoshima, Kobe, Osaka, Nara, Koya-san, Kyoto, Japan
Though I had spent many summers as a kid in Japan, and lived in Tokyo for 6 months, I had never been a backpacker in Japan. So, after I quit my job, I bought a Seisshun 18 Kippu (heaps cheaper than the JR Pass) and started on my journey. 
Highlights include: 
Visiting Miyajima, famous for its floating torii gate and its sprawling shrine over the water. I loved the viewpoint at the top of Mt. Misen, and the shrines to be discovered there too. 
I was in Hiroshima on August 6th, the anniversary of the atomic bomb dropping on the city in 1945. The Peace Memorial Ceremony that took place was incredible to be a part of in person. 
Okunoshima – Rabbit Island. Patting rabbits and feeding them little nibbles was the perfect way to unwind after a heavy day reliving history in Hiroshima. 
Naoshima, an Art Island – I went during the Setouchi Triennale Festival, so after purchasing an art "Passport", I could enter almost all of the art museums and exhibits for free. 
Feeding deer in Nara! They bite but who can resist when they bow to you!?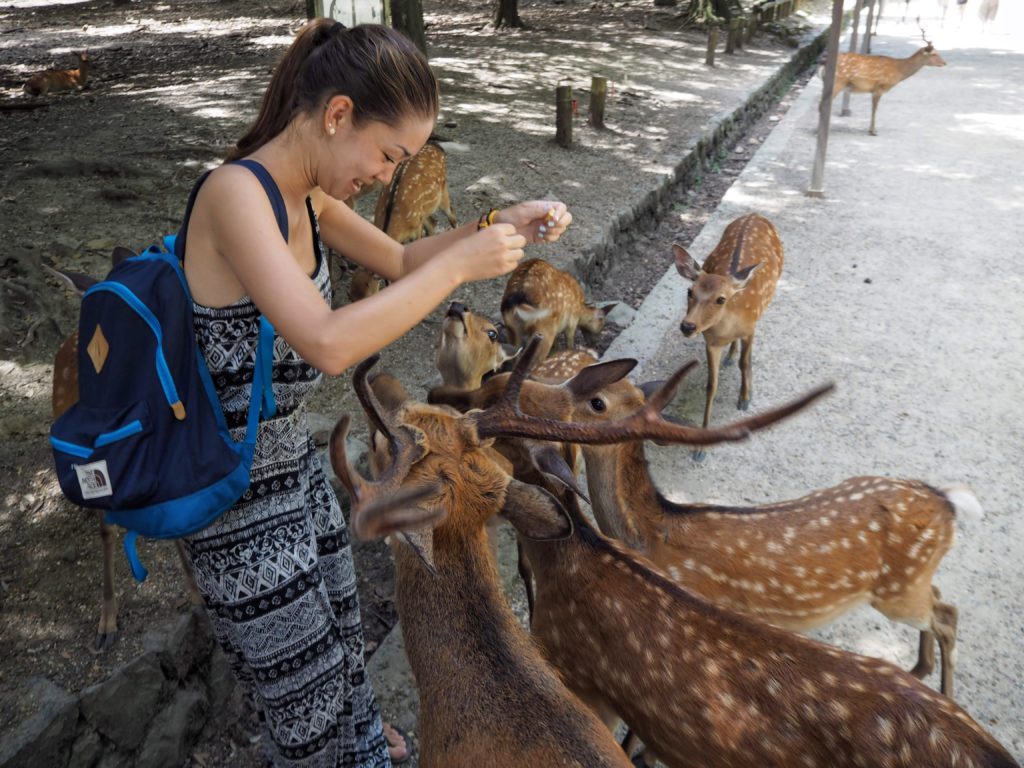 11. First Visit to Australia
Date: September 2019
Location: Brisbane, Maleny, Noosa, Australia
My first and only round-trip travel outside of Japan was to Australia! 
Here, I checked off another bucket list item – cuddle a koala bear at the Australia Zoo. Super touristy, but 100% worth it. In addition to partying in Brisbane, I did some hiking in Maleny to Kondallila Falls, and chilled in the beach down, Noosa. 
Blog posts coming soon! 
In the meantime, check out Intrepid Road's YouTube Channel, who I visited in Brisbane and forced to hold koalas with me. 
12. Exploring South Korea
Date: October 2019
Location: South Korea
ON THE ROAD AGAIN! I packed up my things in Tokyo, said goodbye to my sharehouse mates, and set off once more to see the world. 
My first stop was Seoul, South Korea, Japan's friendly neighbor to the west. Nothing irritates me more than when people say Japan and Korea are basically the same cultures, because the differences were so obvious. Each country has their beautiful (and different) traditions, cuisines, traditional clothing, art, and architecture. 
I loved seeing everyone wearing Hanbok (traditional Korean dresses) wandering around every famous site to get the perfect Instagram picture. Seoul encourages it so much that you can even get free entry to some landmarks if you're wearing Hanbok! 
My favorite place was Jeonju, the cultural capital and a lesser known small town in central South Korea. 
I'm excited to see what 2020 has in store! Bring on the new decade!