The Mt. Fuji summit is the top of Japan, reaching 3776m above sea level. Hiking to the top of Mt. Fuji was traditionally a pilgrimage hike that has become a wildly popular bucket list item. During Mt. Fuji's short hiking season, people from all around the world come to reach the top of Japan. 
Many people choose to hike up to the Mt. Fuji summit with a tour, but it can easily be done on your own. Here's all you need to know to climb Mt. Fuji independently, including how to get there, what to expect, and tips on how to make it safely to the top!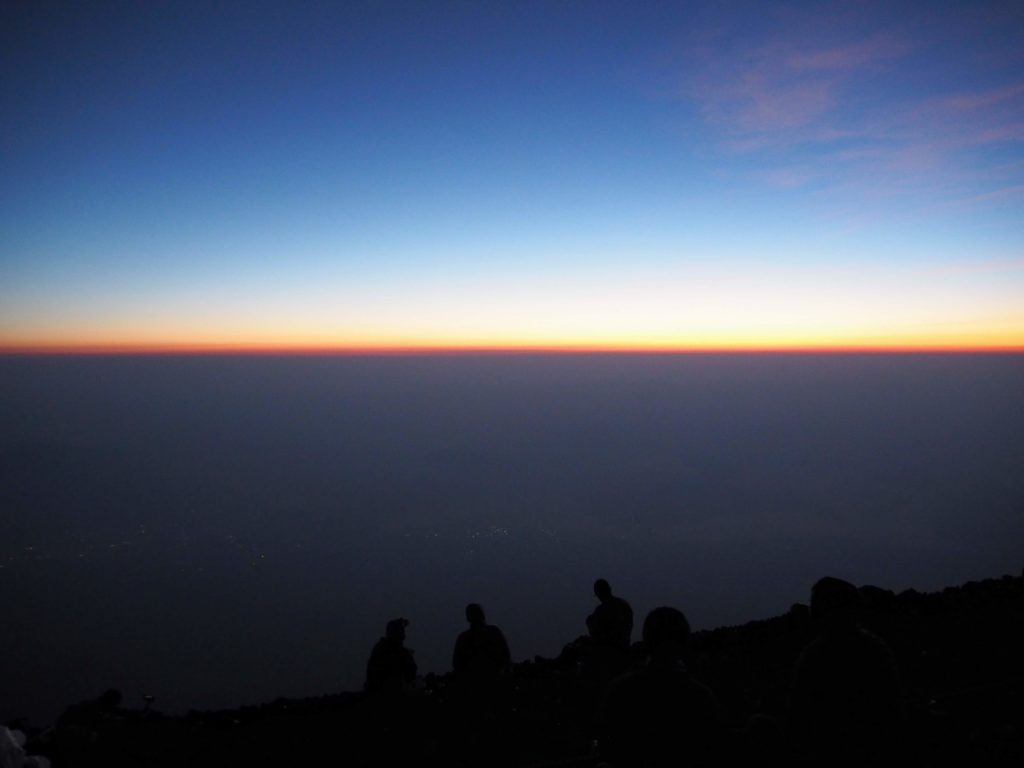 The climbing season for reaching Mt. Fuji's summit is a short one. The trails are only open from about mid-July through the beginning of September, when Mt. Fuji's summit is not blocked off by heavy snow. Outside of these months it is near impossible and highly dangerous to attempt a summit climb.
First-aid stations as well as mountain lodges open up to hikers when the Mt. Fuji hiking season officially starts. There are no services on the mountain when the trails are closed.
Below are the official opening and closing dates for each trail up to Mt. Fuji's summit. These dates are valid for the 2019 climbing season, but are standard for most years.
The Four Trails of Mt. Fuji and their Differences
There are four different trails that you can take to climb the Mt. Fuji summit. They are the Yoshida Trail, the Subashiri Trail, the Gotenba Trail, and the Fujinomiya Trail. 
The Yoshida Trail (yellow)
Known to be the 'easiest,' with the closest and most frequent access to Tokyo and Kawaguchiko. It has the greatest number of amenities including mountain huts, and at the 5th station, many gift shops and restaurants. For this reason it is also the most crowded, and you will encounter many tour groups along this climbing route. The trail is a zig zag for the ascent, and sloping, longer zigzags for the descent. 
The Subashiri Trail (red)
This trail starts at a lower altitude than the Yoshida Trail, and the path up is more of a general slope instead of a zig zag. The Subashiri trail merges with the Yoshida trail after the 8th station, for both the ascent and the descent, and takes about the same time to complete. There are no mountain huts on this trail below the 8th station.
The Gotenba Trail (green)
The Gotenba trail is the least crowded trail, possibly because it is the longest one to climb. It starts at the low altitude of 1,450m, which means you need to ascend a whopping 2,300m to reach the summit of Mt. Fuji! 
The Fujinomiya Trail (blue)
This trail is known as the most difficult, because of how steep and rocky it is, although it covers the shortest distance. The Fujinomiya trail is the second most popular after the Yoshida trail, and it has mountain huts at every station for those who want to stay overnight. This trail takes you directly to the highest point on Mt. Fuji, at 3,776m. 
Two Methods of Climbing Mt. Fuji for Sunrise
The most popular hike to reach the summit of Mt. Fuji is the sunrise hike. That means you start climbing from around 10-11pm, and reach the summit just in time for the sunrise.
To do this, you can either do an overnight climb, or a "bullet climb."
An overnight climb is where you hike to Mt. Fuji's 8th station, stay in one of the plentiful mountain huts overnight, then wake up at around 2am to resume hiking to the summit. 
A bullet climb is where, in one night, you climb from Fuji 5th station up to the Mt. Fuji summit for sunrise, then back down to Fuji 5th station.
You can also extend you Mt. Fuji hike to a multi-day hike by starting even lower in elevation. Mt. Fuji 1st-4th stations still exist as pilgrimage routes, and a sea-to-summit long distance hike is also an option.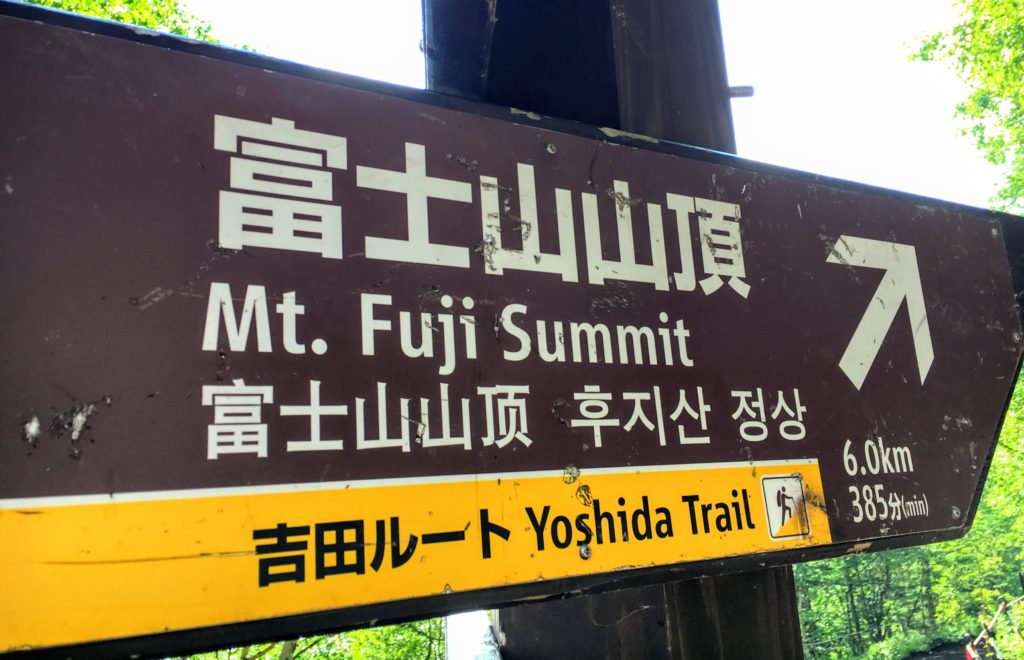 Bullet climbing is officially discouraged by the Mt. Fuji Conservation Group because of the risks of altitude sickness and bodily injuries, but it is still a popular way to climb Mt. Fuji. Bullet climbing saves money on expensive accommodation in a crowded mountain hut, where it's difficult to get sleep anyways.
I bullet climbed the Yoshida Trail on August 1st, 2019
The following tips are based on my experience climbing to Mt. Fuji's summit from the Yoshida Trail. Here's how to do a bullet climb up to Mt. Fuji's summit from Tokyo!
Before You Go - Preparing to Climb Mt. Fuji
What to Wear
The most important thing to know for climbing Mt. Fuji is to bring layers.
Even if Tokyo is hitting 35 degree + temperatures during the summer, the summit of Mt. Fuji can still be below freezing. It may be a good idea to rent proper winter clothing that you can layer, just for being at the summit when the temperatures drop. 
For the summit, I wore heat tech leggings under sweatpants, a ski jacket over a t-shirt, over a heat tech long-sleeve, with a hat and gloves, and I was still FREEZING. Others had brought blankets, sleeping bags, and even space blankets for the summit.
When you're descending from the summit as the sun is rising, the temperatures can spike too, creating potential for heat stroke. By 6-7am on my descent it was easily 30 degrees, and it's a long way down from the summit of Mt. Fuji.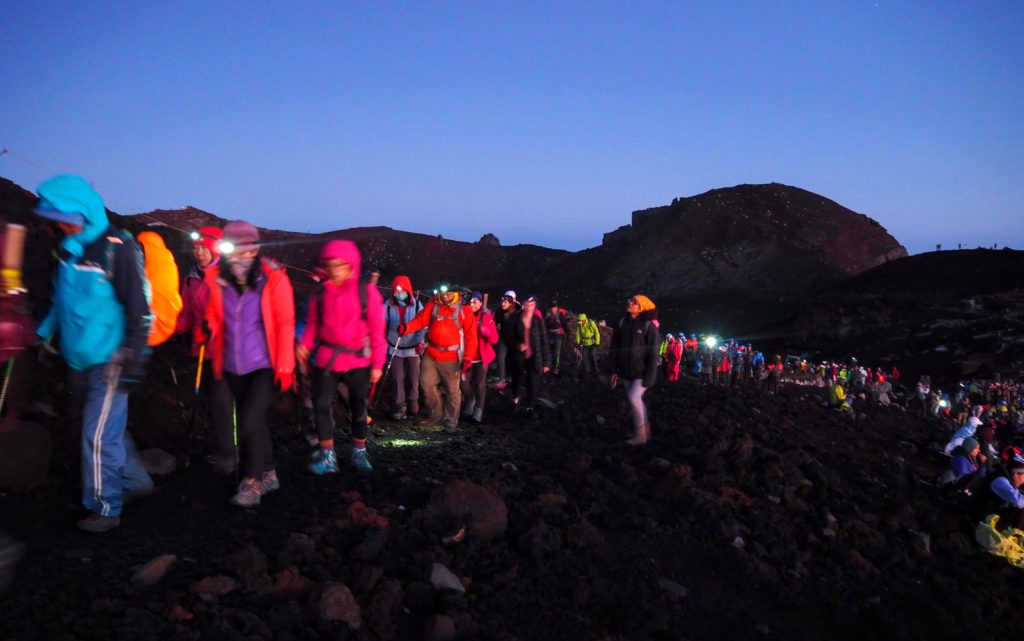 Budget for Bullet Climbing Mt. Fuji
I spent as little money as possible to bullet climb Mt. Fuji. The highway bus tickets that I purchased to reach Mt. Fuji's 5th station were 2900 yen each way from highway-buses.jp. At a minimum you will spend 2900 yen x 2 = 5800 yen.
Food & Snacks
I spent about 1000 yen in Tokyo buying Pocari Sweat ion drink, granola bars, onigiri rice balls, and apples to bring on the trip. Remember to bring a plastic trash bag for yourself, because you need to bring out whatever you bring in to the Mt. Fuji area. 
It's a good idea to eat dinner before getting on the bus to Fuji 5th station too, which should cost no more than 1000 yen.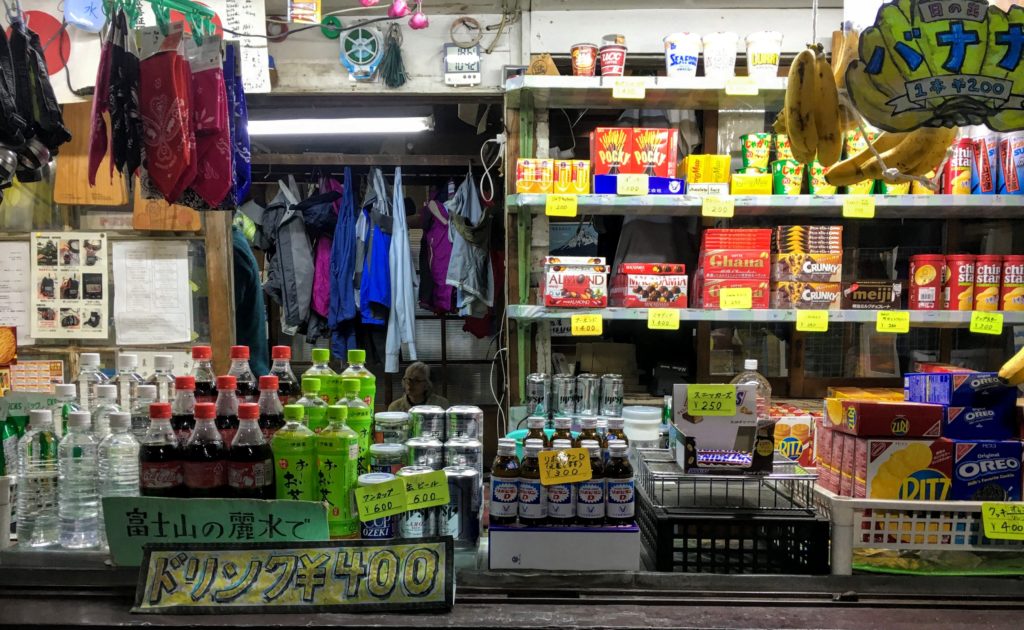 At each of the 6th, 7th, and 8th Fuji stations and at the summit there are small shops where you can spend 700-900 yen on cup noodles, 400 yen for water or other drinks, and 200-300 yen on various candies and snacks.
To use the restrooms along the hike costs 200-300 yen, based on an honor system of putting coins in a box.
I would bring 2000 yen extra in cash and coins with you for snacks, souvenirs, and restroom breaks. You could also spend as little as 5800 yen to climb Mt. Fuji (only the cost of the bus tickets).
Total Budget: 7800 yen
Gear
Food/Drinks
At least 1.5 liters of water or fluids per person

Granola bars

Fruits

Snickers
Also: Several 100 yen coins for using the restroom along the way (200-300 yen each time)
How to Get to Mt. Fuji 5th Station from Tokyo
The simplest way to reach Mt. Fuji 5th station from Tokyo is to take a highway bus from Shinjuku. In 2.5 hours, the bus takes you from the heart of Tokyo, to Mt. Fuji's 5th station rest stop. If you are staying in Tokyo and want to climb Mt. Fuji overnight, taking this bus is the best option. 
Bus tickets cost 2900 yen one-way, and 5800 yen round-trip.
If you plan on climbing Mt. Fuji in August, your timing will coincide with the Japanese summer holidays. The weekend bus tickets sell out the quickest, so it's best to book a few days ahead of time. Book highway bus tickets here.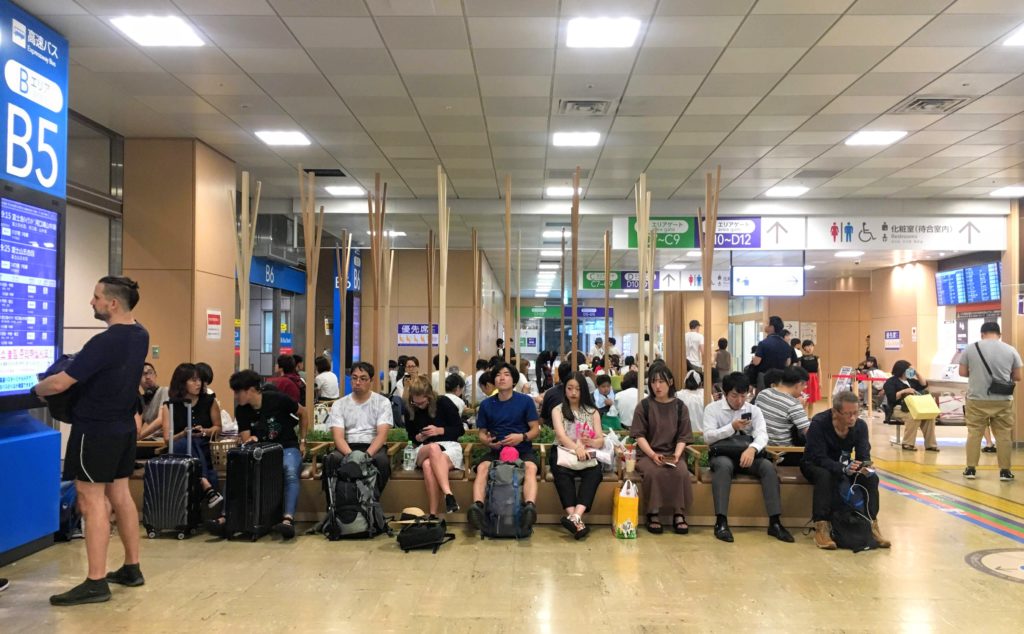 It is also possible to take a train or bus from Tokyo to Kawaguchiko. From here, there are regular busses that bring trekkers up and down from Mt. Fuji's 5th station. Check the bus schedule up to the 5th station from Kawaguchiko station here. 
Bus tickets cost 1540 yen one-way, and 2300 yen round-trip. The train from Tokyo to Kawaguchiko costs an additional 3460 yen one-way, and is only partially covered by the JR Pass. 
Starting the Climb to the Mt. Fuji Summit
In the dark, it's hard to find the trailhead for the Mt. Fuji summit. After getting off the bus, follow the buildings on your right hand side and you will eventually be on the path. The trail starts flat and wide, but it will eventually narrow and become steep and rocky.
Along the trail there are plenty of signs that will point you towards the summit of Mt. Fuji, labeled the Yoshida Trail and the 8th station. The signs also list the estimated hiking time left to reach the summit.
In the dark, you can see several lights in the distance at a higher elevation on Mt. Fuji. These are only the 6th and 7th stations, no where near the 8th station!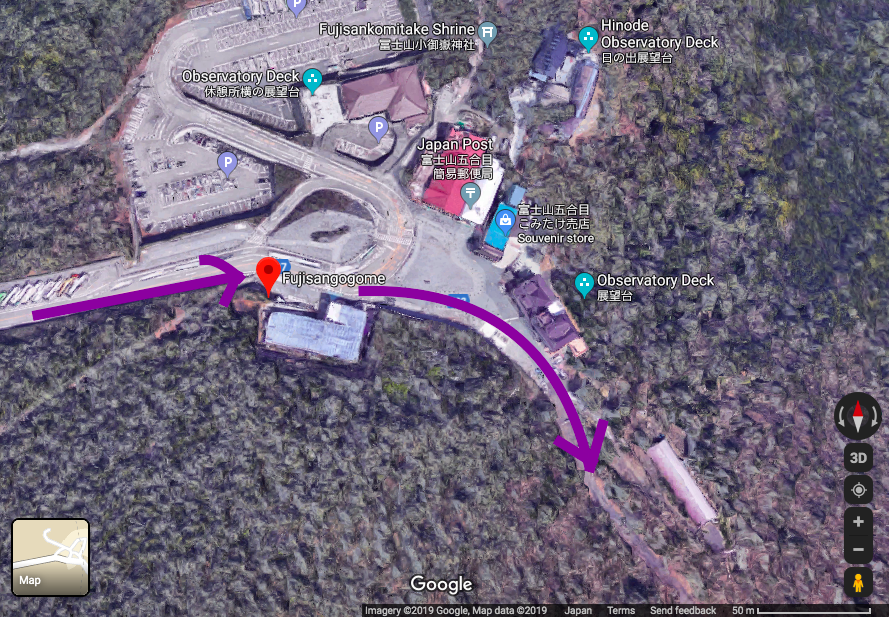 Time It Takes to Climb Mt. Fuji
The official time it takes to climb Mt. Fuji on the Yoshida Trail is 10 hours:
Ascend – 6 hours
Descend – 4 hours
Time at summit, varies 1-2 hours
It took me 6 hours to climb up and down Mt. Fuji, without experiencing any serious altitude problems:
Ascend – 4 hours
Descend – 2 hours
Time at summit – 4 hours (waaaay too long, I should have ascended slower)
Before climbing Mt. Fuji, I was living a mostly dormant life in Tokyo with the occasional weekend hike. However, I do have lots of previous trekking experience and high-altitude experience in Nepal.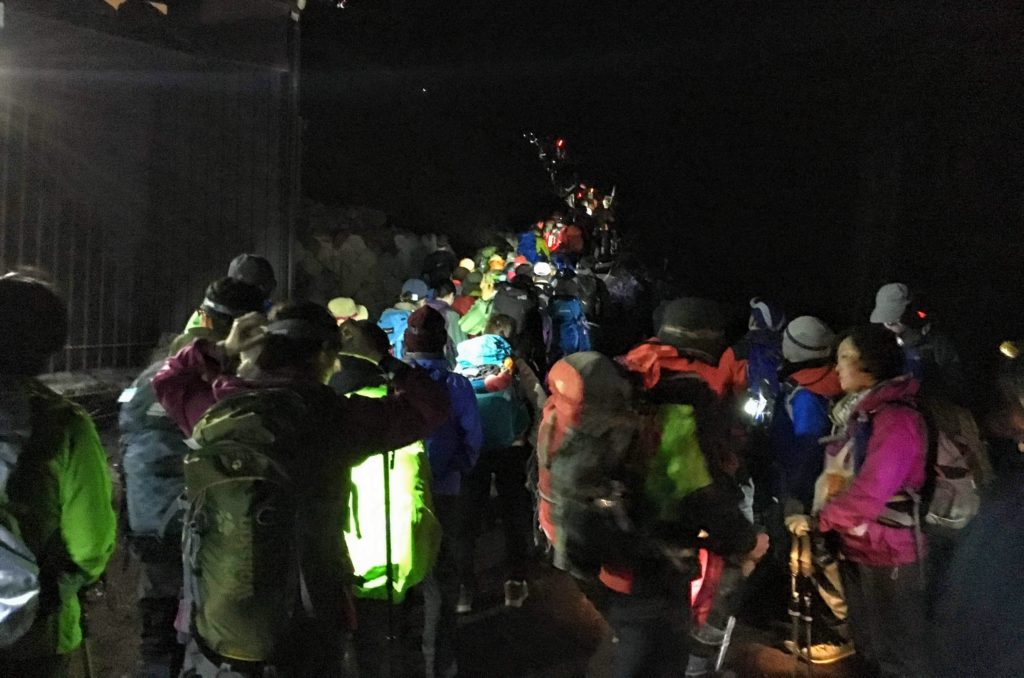 Preventing Altitude Sickness while Climbing Mt. Fuji
To avoid altitude sickness, it's recommended to spend an hour or so at the 5th or 6th station. Giving your body a little time to acclimatize may help prevent altitude-related headaches and dizziness towards the summit.
At each station on the Yoshida trail, there are large outdoor benches that you can sit on to rest. You do not need to buy anything from the mountain huts to sit on these benches!
Don't Reach the Summit Too Early... It's freezing cold!
Pace your climb so you don't get to the summit of Mt. Fuji too early. It took me four hours to reach the summit from the 5th station, meaning I arrived at 2am. This was WAY TOO EARLY, and it resulted in almost two hours of freezing and shivering at the summit waiting for sunrise.
Try to arrive at the summit around 4 a.m. This might mean resting for longer at each station, or taking some time to acclimatize at Fuji 5th station. Fuji's station 8.5 is the last one where you can get food and take a rest room break. Above this station, the mountain huts are bare and without amenities.
At the Summit of Mt. Fuji
There were many things at the summit that I was surprised about. The first is all the amenities that are available there. Large (but smelly) bathrooms, vending machines, and restaurant/souvenir shops line the crater ridge just at the end of the Yoshida Trail.
The restaurant/souvenir shops open their doors to shivering hikers around 3:30-3:45 a.m, so it's a good idea to arrive no earlier than this. They sell bowls of udon, cup noodles, and other warm foods for about 800-900 yen. There are also hot chocolate cans and coffee cups for 400 yen each. The vending machines serve both hot and cold drinks.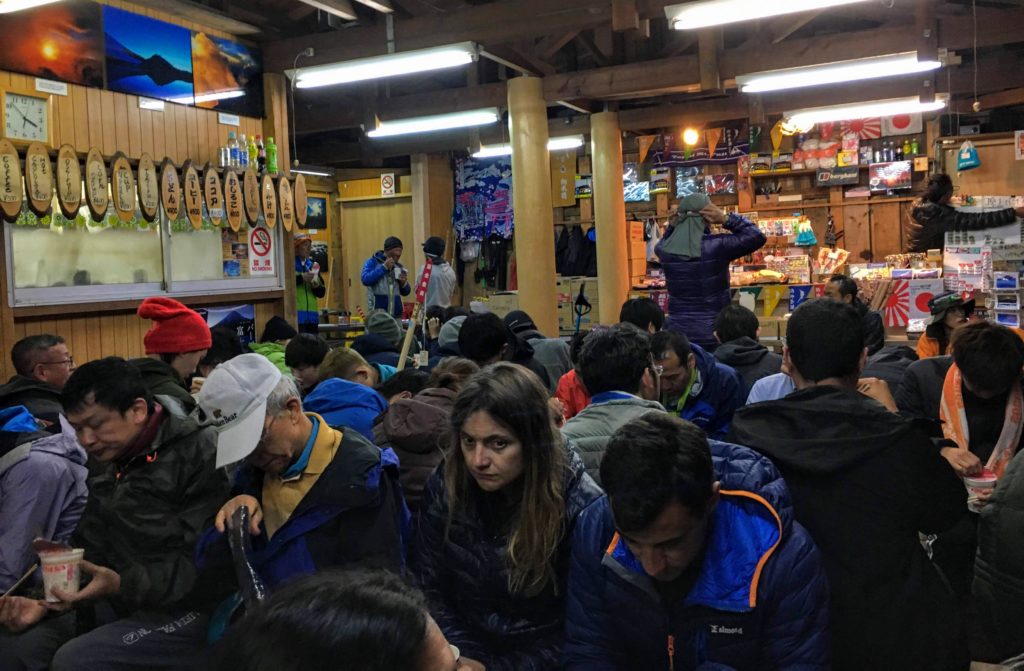 Sunrise
It's not difficult to find a good place for sunrise at the Mt. Fuji summit. The entire side of the crater has plenty of space for all the hordes of people who come to the Mt. Fuji summit for sunrise. As the sun is glittering above the horizon, there is also a great view of the stream of people still climbing up to the summit too.
After the sun comes up, you can see many souvenir stands start to set up in front of the restaurants. Pick out a keychain, handkerchief, and more to commemorate you summiting Mt. Fuji!
It's estimated to take about one hour to hike all the way around the Mt. Fuji crater at the summit.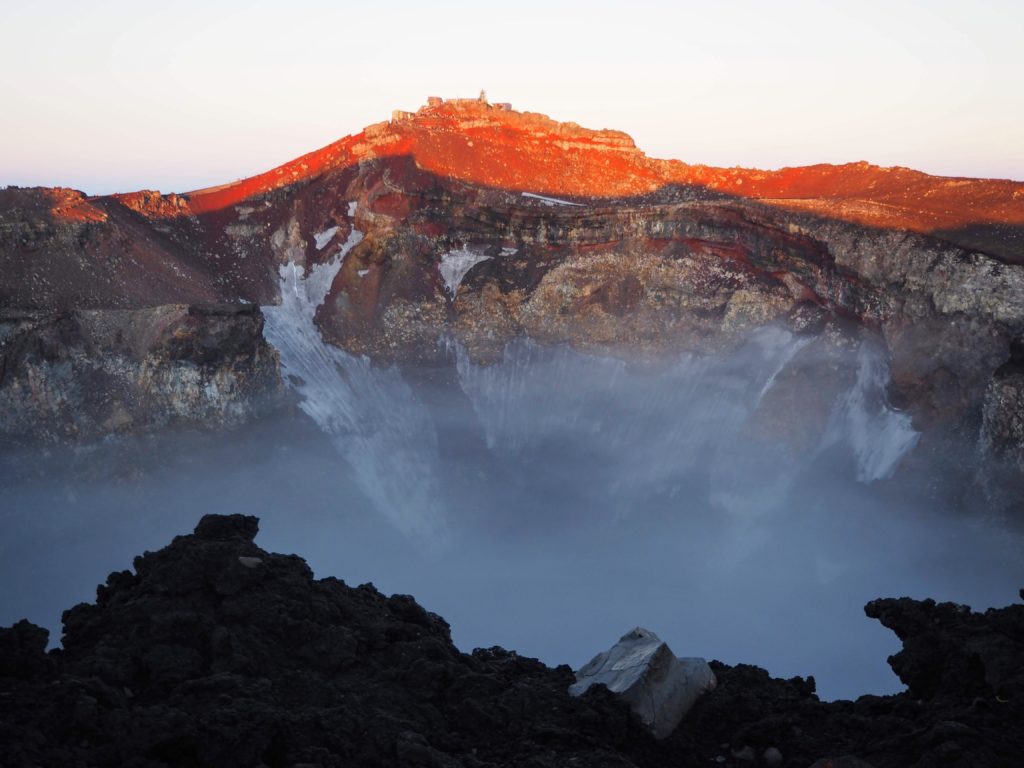 The Descent from Mt. Fuji's Summit
I hope your knees are ready for the descent! It is a long way down so make sure you are well-rested at the top for the climb down. 
The zig zag descent is long-winded. It's fun at first, but repetitive towards the end. Descending is a bit like skiing, where you push your foot into the lava rock and you slide down with each step. 
There are few places to rest on the descent, besides one large restroom building that's about halfway down from the summit. Beware that the trail splits between the Yoshida trail and the Subashiri trail halfway down, and there is a sign to mark the split.
Returning to Tokyo from Mt. Fuji 5th Station
It took me two hours to descend from the Mt. Fuji summit to the Mt. Fuji 5th station. I had a bit of time to kill between 8 a.m. and the departure of the first highway bus back to Shinjuku at 10 a.m. Luckily there are plenty of souvenir shops, restaurants, a shrine, and a big restroom and lounge area to kill some time in.
The ticket stand for the highway bus station opens at 9:30 a.m. to buy tickets. It's likely that the first bus back to Shinjuku at 10 a.m. is sold out from online purchases. If you want to take this bus back to Tokyo, it's best to reserve in advance. Tickets purchased in advance or day-of cost the same, 2900 yen one-way.
Another option to return to Tokyo is to take a bus from Fuji 5th Station to Kawaguchiko Station, which leave about every 20-30 minutes. From Kawaguchiko Station, you can take the train back to Tokyo for 3460 yen one-way. 
If this post was helpful or you have any questions, please drop me a comment!
Are You Prepared For Your Trip To Japan?
Be sure to check out my Japan home page for Japan travel information, insider tips, reading list, and must-haves for traveling to Japan!