The Annapurna Circuit is an iconic, bucket-list trek in the Himalayas of Nepal. During the 
two-week trek
 you'll see jagged mountains, glacial plains, and fluttering Tibetan prayer flags. You'll reach an altitude of 5416m and stay in lovely Nepali teahouses. To have a successful and safe experience, there are many
things to know before hiking the Annapurna Circuit
trek! 
The prospect of hiking in the Himalayas for days at a time may sound understandably overwhelming. This list of things to know before hiking the Annapurna Circuit will help you prepare and organize for your trip to Nepal. 
Preparing for the Annapurna Circuit Hike
1. Pack as little as possible
One mistake that many people make before hiking the Annapurna Circuit is packing waaay more than they need.
At most, bring three sets of clothes: one for sleeping in, and two for hiking in. One set of hiking clothes should be lighter, and one set heavier, so they can be layered. Bring 3-4 sets of socks and undergarments that you can hand-wash on the trail.
Bring minimal electronics. Just a phone, camera, maybe a 
Kindle
, and chargers. Bring a 
portable battery pack
 if you have one. Also…extra toilet paper.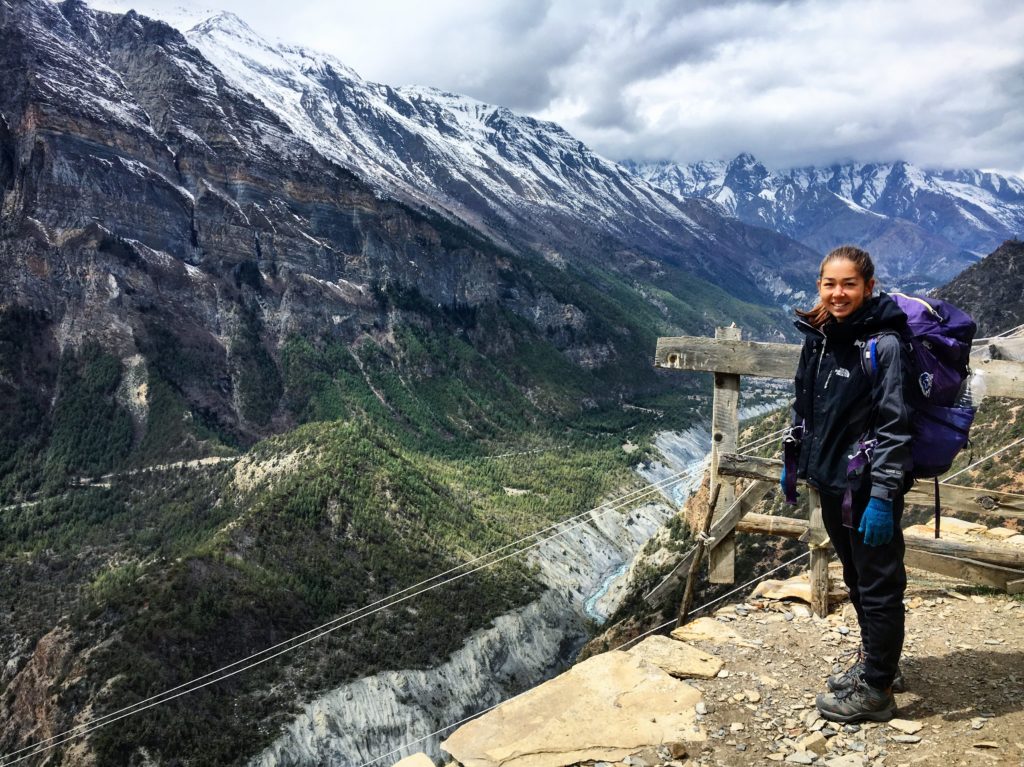 2. Get your permits ahead of time
Tip: Purchase your trekking permits before hiking the Annapurna Circuit, because there is no place to buy permits along the trail. If you don't have your Annapurna Circuit permits at the checkpoints, you will be fined or turned back.
The two permits required to hike in the Annapurna Region can be purchased at the tourist offices in Pokhara or Kathmandu. The permits you need are the Annapurna Conservation Permit (2000 rupees or $20 USD) and the Trekkers Information Management System, or TIMS (2000 rupees, $20 USD).
Don't wait to buy AC permits until the last minute, because the offices close early. 
3. It's easy to find trekking buddies
Other resources to find trekking buddies for the Annapurna Circuit are: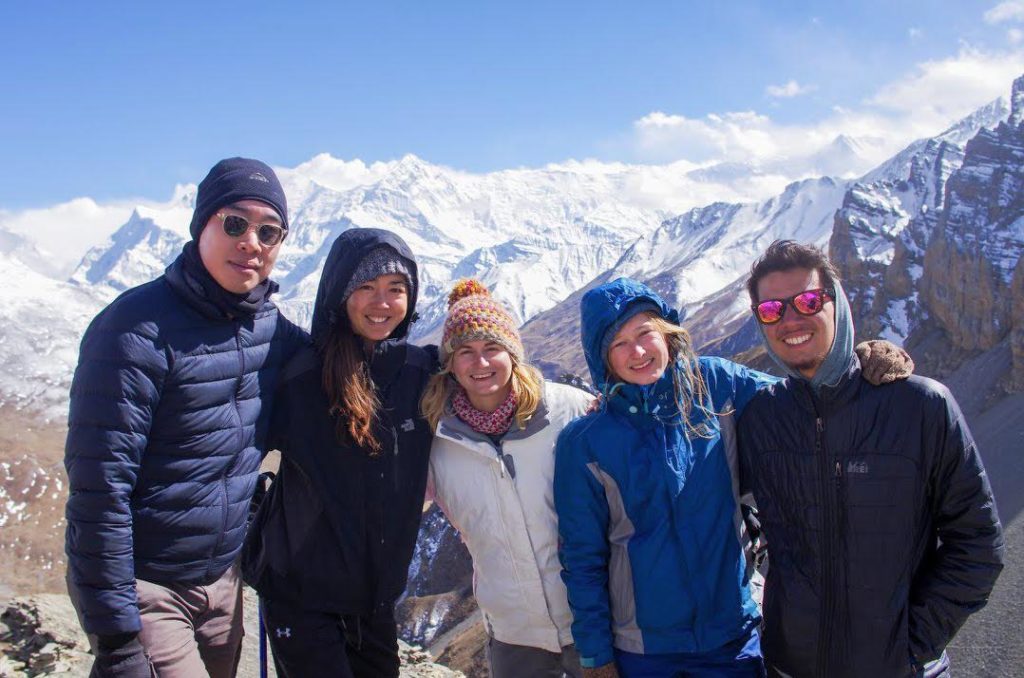 4. You can hire a guide or porter in Pokhara or on the Circuit
Tip for hiking the Annapurna Circuit: hire a guide or porter to support the local Nepali community! 
Hikers on the Annapurna Circuit sometimes hire a guide or a porter to accompany them. Guides and porters for the Annapurna Circuit can easily be hired through the many tourist offices in Pokhara. 
A guide is someone who is highly knowledgeable about the Annapurna Circuit Trek, they can also tell you about the culture and history of the Annapurna Region. Guides will have completed the Circuit countless times, have great English skills, and will be able to show hikers where the trails and best viewpoints are. 
Porters are helpers who carry your luggage for you while hiking the Annapurna Circuit Trek. While you may carry a small bag, your porter carries a larger bag with your clothes and other heavy items. The English level of porters vary, and some cannot speak English at all. Because porters should also have experience on the Annapurna Circuit, they can also point you in the right direction on the trail.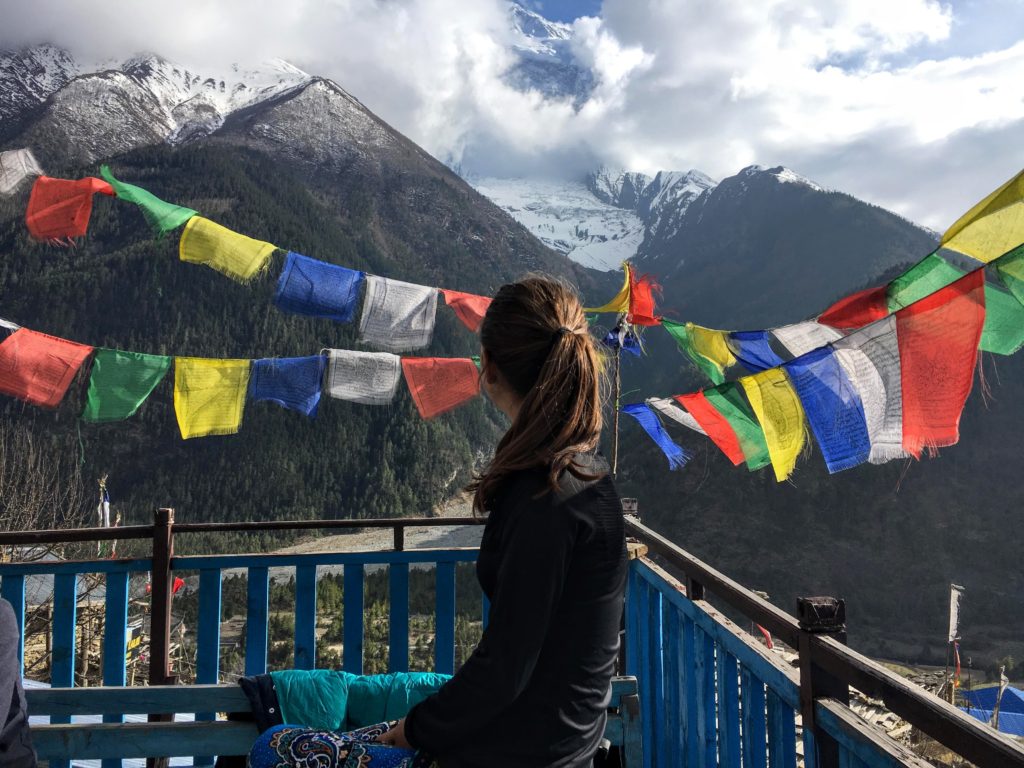 It's best to hire a porter or guide from Pokhara, instead of through an agency in Kathmandu. Guides and porters from Pokhara and nearby villages are more likely to be experts on the Annapurna Circuit trek and region. Meet your guide or porter in person before setting off to spend two weeks in the wilderness together! 
5. Bring all the money you'll need for the trek from Pokhara
This is a vital tip for hiking the Annapurna Circuit. There are NO ATMs on the trek if you run out of money, until you reach Jomsom after Thorong La Pass. Bring all the cash with you that you plan on spending, from Pokhara.
I spent about $20 per day on the Annapurna Circuit trek when I was hiking on a budget, and brought extra contingency money from Pokhara. It's better safe than broke and sorry, so pack about 60,000 rupees, ($600 USD) before departing on the trek. 
I breakdown my total budget for the Annapurna Circuit hike in my
Ultimate Guide
.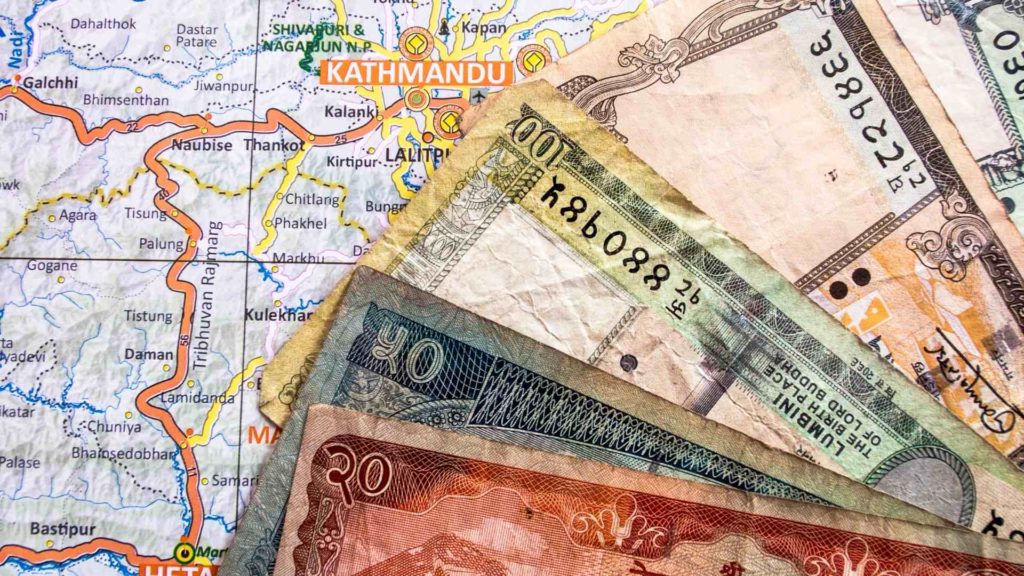 6. Download maps.me, and buy a paper map
Here's an important tip for navigating the Annapurna Circuit: get a map! 
Maps.me
is a free offline maps app that also has an outline of the Annapurna Circuit trail that you can download. If you keep the GPS on your phone on during the trek, it can help you navigate. 
At many shops around Pokhara and
Kathmandu
, you can purchase a paper map of the Annapurna Circuit region. Having a paper map is a great way to see how far you will have to trek, how many hours it should take, and see approximately where the trail will take you.
Logistics of the Annapurna Circuit Hike
7. It's easy to reach the start of the Annapurna Circuit Trek, from Pokhara 
Unlike the Everest region, the 
Annapurna
 Circuit is easily accessible from Pokhara. From any tourist office in Pokhara, you can book a bus ticket to get to Besisahar, the village at the start of the 
Annapurna
 Circuit. Bus tickets cost about 600-700 rupees ($6-$7 USD), and depart early in the morning from the Pokhara Tourist Bus Station. 
You will need to get a taxi to the tourist bus station, which costs 300 rupees per taxi. During trekking season, you can easily find others at your hostel who are headed to the Pokhara Bus Station. 
The bus from Pokhara to Besisahar takes about 4 hours, so you will be in Besisahar, ready to start hiking the 
Annapurna
 Circuit, by noon!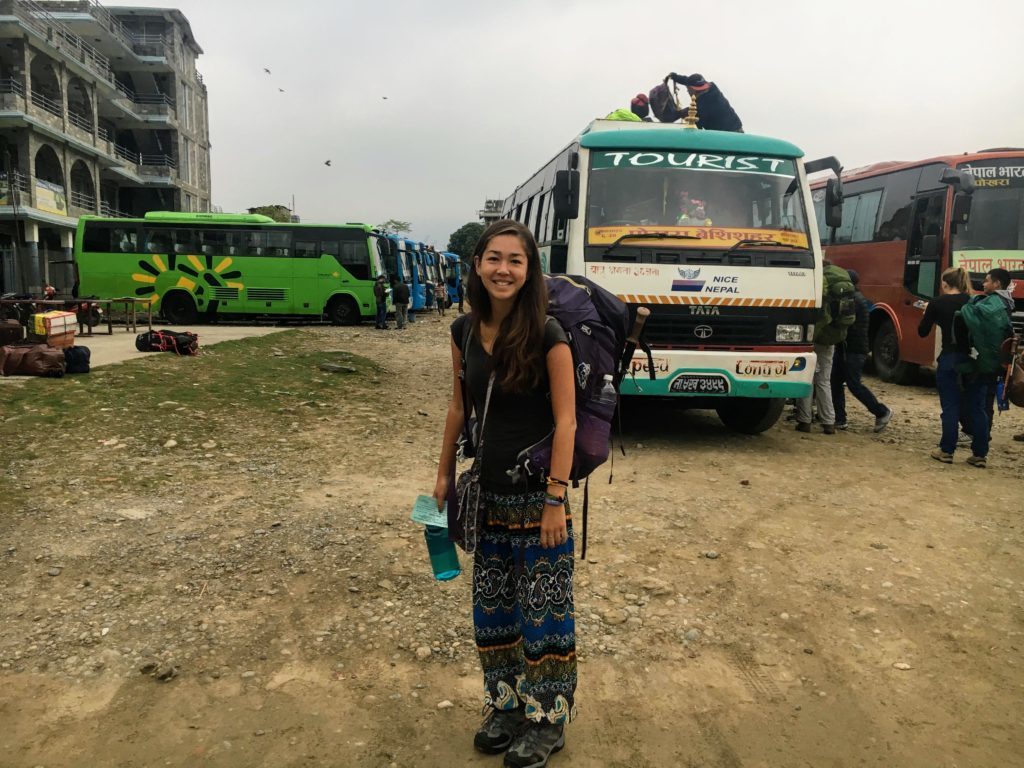 8. Start hiking at Besisahar 
Many jeeps camp out at Besisahar to transport trekkers to different villages further along the Annapurna Circuit trek. Tip: You can skip several days of trekking by paying to take a jeep to villages like Tal or Chame if you're short on time. I was even told at a travel agency in Pokhara that it's not worth trekking the first few days of the Annapurna Circuit because it is not scenic. 
This is FALSE, and I think it's a mistake to skip the first few days of hiking the Annapurna Circuit. Start the Annapurna Circuit from Besisahar if you have time. 
The views of the small Nepali villages tucked between agriculture terraces, alongside a gushing glacial river, are breathtaking. I made a mistake in taking a bumpy, painful, 4-hour jeep ride to Tal for 1500 rupees ($15). I regret doing so. For the extra two or three days of trekking, you can enjoy a peaceful trail while being exposed to Nepali village life.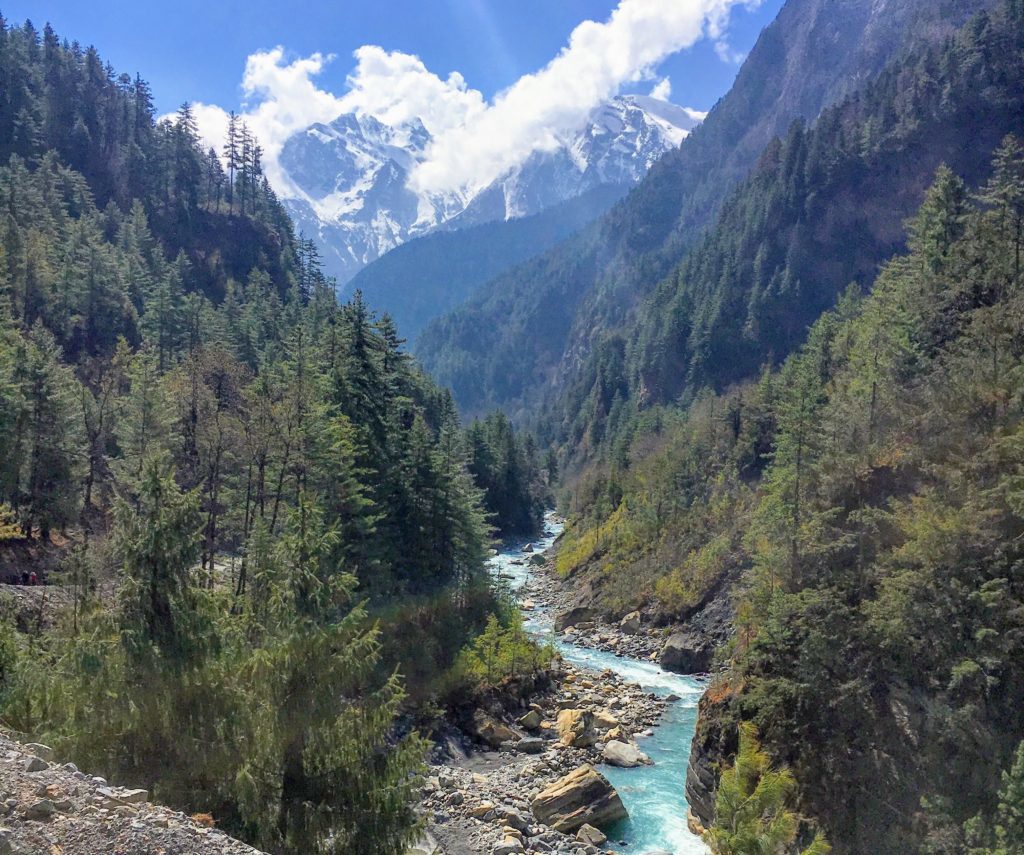 9. Keep your permits handy
My previous tip for hiking the Annapurna Circuit mentioned that hikers need to purchase trekking permits before starting the Annapurna Circuit. While you may want to bury other valuables like cash and passports at the bottom of your backpack for safekeeping, keep the trekking permits somewhere easily accessible. 
The Annapurna Circuit has many checkpoints along the trail where you will be required to show, and get stamps on, both permits. You don't want to be that person taking their whole bag apart on the trail, just to find their AC permits!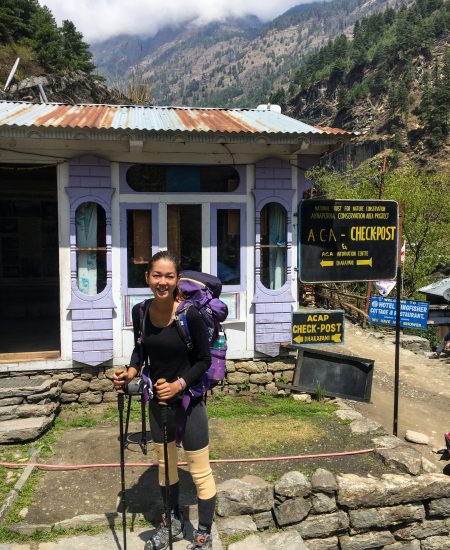 10. Consider the Tilicho Lake side trek on the Annapurna Circuit
The Annapurna Circuit has a number of beautiful side treks, some which are day-treks and others overnight. TIlicho Lake is a wonderful overnight side trek that you can include on your
Annapurna Circuit Itinerary
. Tilicho Lake is proudly known in the region as "the highest lake in the world for its size" and is a great side trek to help acclimatize before going over Thorong La Pass. 
Know before you start trekking that Annapurna Circuit, whether you want to hike to Tilicho Lake. Allot yourself extra days and extra money to complete the overnight Tilicho Lake side trek from the Annapurna Circuit.  
11. There are many ways to depart from the 
Annapurna

 Circuit

Once you've crossed over Thorong La Pass and reached Muktinath town on the Annapurna Circuit, you will have many options to get back to Pokhara. 

 
From Muktinath
Jeep to Pokhara – This option costs no less than $80 USD per person, but may be negotiated down if there is a large enough group of people who want to share the jeep. 
Mountain Bike – Rent a mountain bike to go down to Tatopani, a town that is mostly downhill from Muktinath and can be reached in 1-2 days. The company that rents mountain bikes will take your large luggage down to Tatopani for you, and give you a small bag to rent for valuables you can use. This will cost about $60 USD per person.
Detour to Khagbeni
There is a one-day detour that you can take from Muktinath, to stay in a small oasis town of Khagbeni. The town is like an old labyrinth, with a large monastery in the heart of it and goats and other animals running wildly through it. After a night in Khagbeni it is also possible to take a jeep to Pokhara or rent a mountain bike to ride to Tatopani. 
From Jomsom
Fly to Pokhara or Kathmandu – there is a small airport in Jomsom where many trekkers (especially elderly ones) can choose to fly out. Flying is the most comfortable exit from the 

Annapurna

 Circuit, because you won't be squashed in a rickety bus or jeep, and you will be finished trekking. Check flights from Yeti Air, which you will have to book in advance.
Jeep or Bus back to Pokhara – there are busses and jeeps that depart in the morning to take trekkers and locals back to Pokhara. If you arrive later in the afternoon, your options may be limited to a jeep shared with less people, making it more expensive (maybe $80 USD per person).
Walk to Nayapul, the official finish line of the Annapurna Circuit 
Walk and bus – After Thorong La Pass and a detour to Khagbeni, it took me three nights and four days to reach Pokhara. I stayed in Larjung, Tatopani, and Ghorepani, then saw the sunrise at Poon Hill before hiking down to Nayapul, where I caught the local bus back to Pokhara for less than 200 rupees ($2). 
Walk and walk some more – there are several villages between Nayapul, the end of the Annapurna Circuit, and Pokhara. You can choose to walk all the way back to Pokhara if you prefer.
12. Don't miss the sunrise at Poon Hill
Another side trek along the Annapurna Circuit is the hike up to Poon Hill from Ghorepani. This side trek takes maybe an hour, but you should wake up before 5 a.m. for it. 
Many Annapurna Circuit trekkers stay their last night on the Circuit in Ghorepani, a relatively large town with many facilities including souvenir and book shops. Hiking up to Poon Hill for a sunrise view over the Himalayas is an epic way to end your time on the Annapurna Circuit! 
Trekking Safety tips for Annapurna Circuit
13. Don't be afraid to trek solo
The 
Annapurna
 Circuit is a safe trail for solo trekkers, even solo female trekkers. The local Nepali people are used to seeing thousands of trekkers come through their villages every year, and many of them are extremely friendly and welcoming to trekkers. It's also easy to meet other solo trekkers, so you can form a little group of friends like I did. 
To trek safely if you're alone, keep track of where there are people in front of you or behind you so you don't get lost. The trails are marked with red and white stripes. If there seems to be a fork in the road and you don't know which trail to take, wait until another trekker or group of trekkers comes along. Locals who may be walking between villages can also point you in the right direction.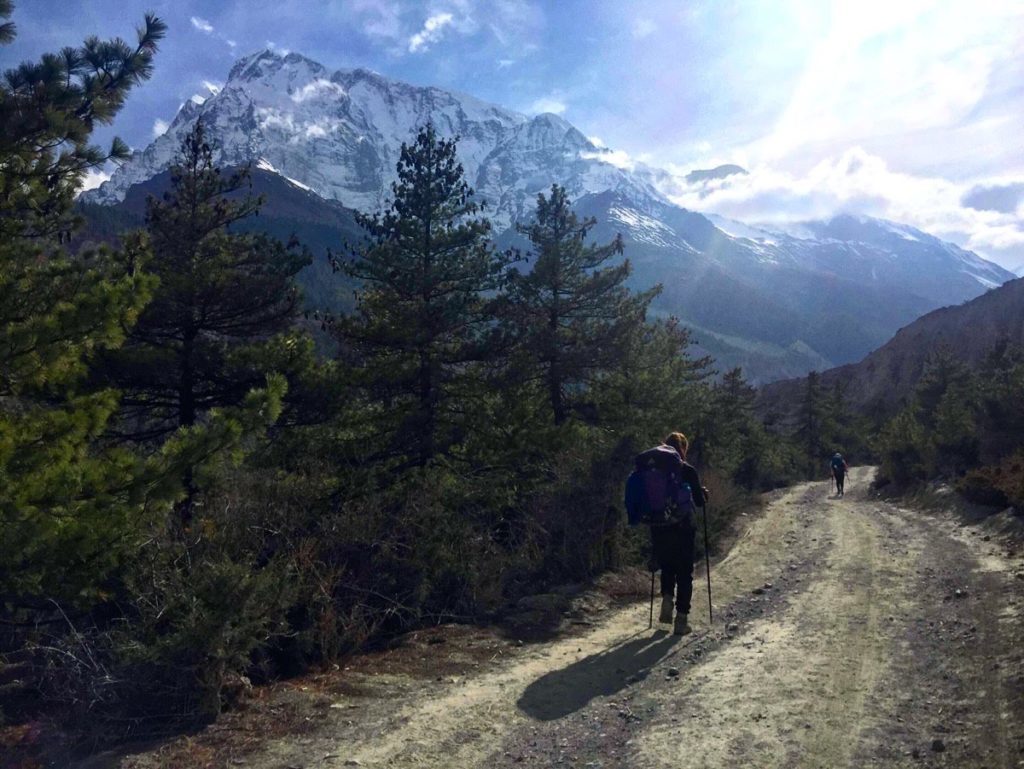 14. Purchase high-altitude insurance
Tip for hiking the Annapurna Circuit: make sure your insurance covers high-altitude evacuations. Accidents do happen. 
World Nomads is a traveler's insurance company that has an extra package you can purchase, even if you're already on the road, that will cover high-altitude evacuations. 
Most standard insurance companies will not cover incidents that occur over 3000m (Thorong La Pass is at 5440m, and much of the Circuit is above 3000m). People need to be evacuated if they experience serious altitude sickness, or if they have a fall and break something, for example. 
15. Take at least one rest day around 3000m in altitude
One tip for hiking the Annapurna Circuit to prevent severe altitude sickness is to spend one extra night, a 'rest day' around the towns of Manang and Bhraka. The villages are located at just over 3000m, and staying here gives your body a chance to adjust to high altitude. 
Several side-treks can be explored during this rest day, including a trek up to the Ice Lake, or a visit to large monastery. Manang village is also where the
side trek to Tilicho Lake
starts. 
Remember one of the most important tips when on the Annapurna Circuit and while trekking at high altitude: Trek High, Sleep Low. 
You should only sleep about 500m above where you slept the night before. Although it's good to acclimatize by trekking to high altitudes (trek high), to spend the night, you need to go back down to no more than 500m above your last stop (sleep low). 
What to expect while on the Annapurna Circuit Trek
16. Accommodation could be free if you eat your meals at the guesthouses
Traditionally in Nepal, before large hotels and lodges were built in the mountains, trekkers stayed at teahouses or local guesthouses. In exchange for eating both dinner after arrival, and breakfast before departure, and paying for these meals, the accommodation would be free. 
I only paid for guesthouses on the Annapurna Circuit once the elevation was over 3000m, but still only paid $1-4 per night. Larger hotels and lodges are more likely to charge for accommodation than family-owned small guesthouses, but may have nicer facilities like an attached bathroom, outlets in the room, good wifi, and thicker walls.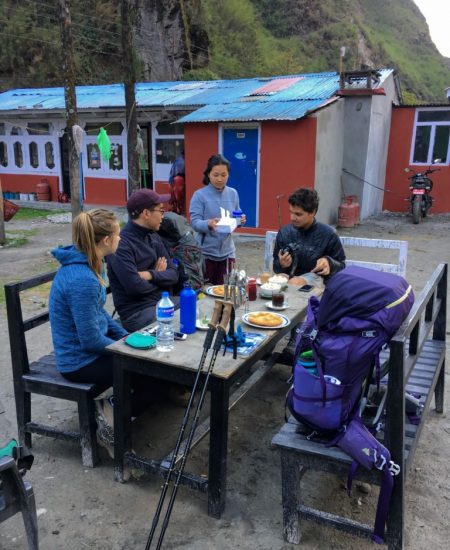 17. Food and accommodation for trekkers is plentiful
Tip for hiking the
Annapurna
Circuit: you don't need to worry about lack of food or accommodation. Guesthouses are plentiful in each village, and there are villages about every 1-2 hours of trekking. 
At the end of the day, you can just wander up to a building and ask if the owners have rooms open. For lunch, you'll often see trekkers resting at picnic tables outside while being served food from a nearby guesthouse. 
A number of larger villages on the Annapurna Circuit trek like Chame and Manang have small stores where you can stock up on snacks too!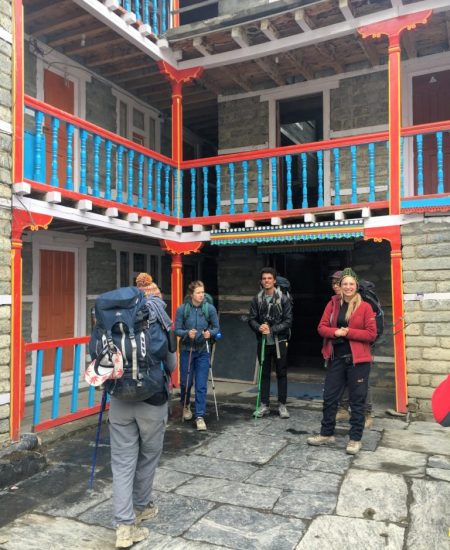 18. The variety of food on the Annapurna Circuit is awesome
You won't be eating the same thing over and over on the 
Annapurna
 Circuit if you don't want to. The most budget-friendly meal in terms of quantity for cost, is Nepali
dahl bat
, where you can get one or unlimited refills depending on the guesthouse. You can eat this every day like the locals do, or try something new! 
Other food you can eat along the 
Annapurna
Circuit include pasta, veggie or yak burgers, fried noodles and fried rice, and momo dumplings. For breakfast, guesthouses will serve pancakes, oatmeal, fluffy deep-friend Tibetan bread, or chapati. This is just to name a few food options on the Annapurna Circuit!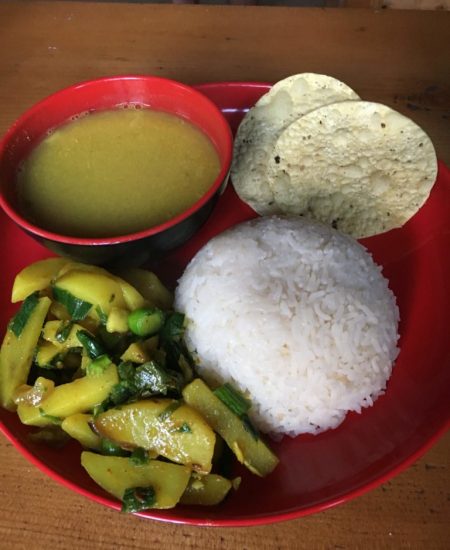 19. Sleep with your electronics to keep their batteries charged
This tip for hiking the
Annapurna
Circuit is important for anywhere where the temperature drops significantly at night. If you sleep with your electronics (phone, portable battery, GoPro, etc) in your sleeping bag, their batteries stay warm and full. 
If your electronics spend a night laying somewhere in the room, the freezing temperatures will likely cause their batteries to drain. Avoid the panic and frustration by keeping electronics in your sleeping bag at night!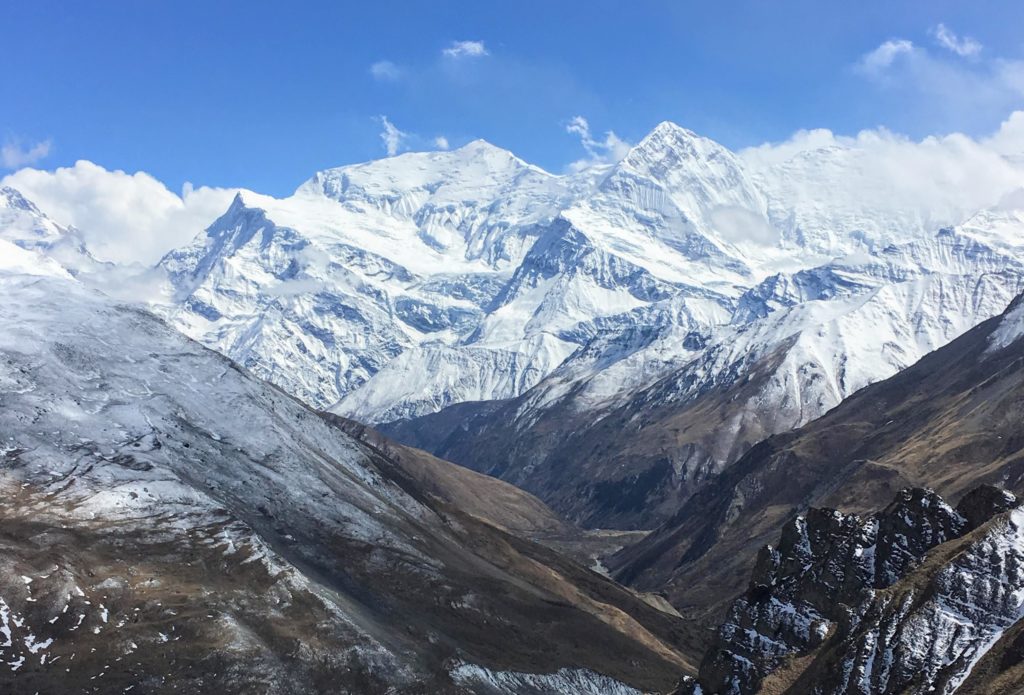 20. Annapurna Circuit vs Everest Base Camp – how do they differ?
The 
Annapurna
 Circuit trek is much cheaper than the Everest Base Camp trek and less touristic. The Everest region is most commonly accessed by flight ($380 round-trip from Kathmandu), and the costs for things like food, water, and charging electronics is
2-3x higher
. 
The scenery is much more variable along the Annapurna Circuit also, from deep green valleys and ice blue rivers, to large glacial plains and picturesque mountains. The Everest Region has colorful villages including the beautiful Namche Bazaar and big, bad mountains, but you won't experience the variety of scenery that the Annapurna Circuit offers.
Pin these Annapurna Circuit Tips for later!