Auroville is an international township located in Tamil Nadu, South India, just a few kilometers north of Pondicherry. The township focuses on "Human Unity", where citizens of the world can live together in progressive harmony above politics, religion, and nationality. Auroville strives to be a model city of the future, to be as sustainable as possible.
I spent time in Auroville during all three times that I traveled to India, in 2013, 2014, and 2018. The township is filled with young, innovative minds, spiritual people, and overall good vibes. I highly recommend anyone traveling in South India to stop by Auroville, the City of Dawn!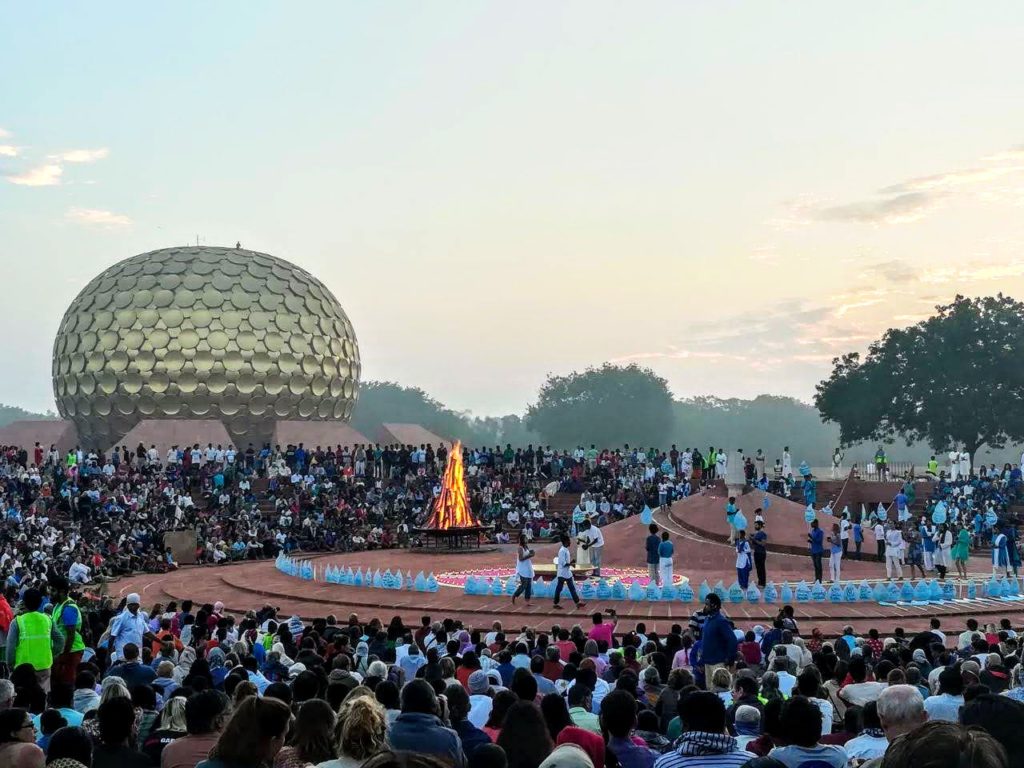 Auroville was created based on the teachings of Sri Aurobindo and Mirra Alfassa, or 'The Mother.' The concept of Auroville was born from The Mother's visions of creating an international township centered around human unity.
Excerpts of The Mother's published writing, 'A Dream', describes the communal living that she had in mind when she first started shaping Auroville:

In 1968, Auroville was inaugurated as an official township and endorsed by UNESCO. Members of 124 nations and 23 Indian states came and placed soil from their respective countries and regions into a marble urn. This urn is located today in the amphitheater at the center of Auroville.
Between its inauguration and now, Auroville has grown to a township of 3000+ Aurovillians. Alongside volunteers, they have restored hundreds of acres of non-arable land, built countless guesthouses, schools, farms, and community buildings. 
The Matrimandir, a meditation chamber, was completed with its surrounding twelve gardens to serve as the spiritual center of the township. The Town Hall was made to serve as the financial and management planning center.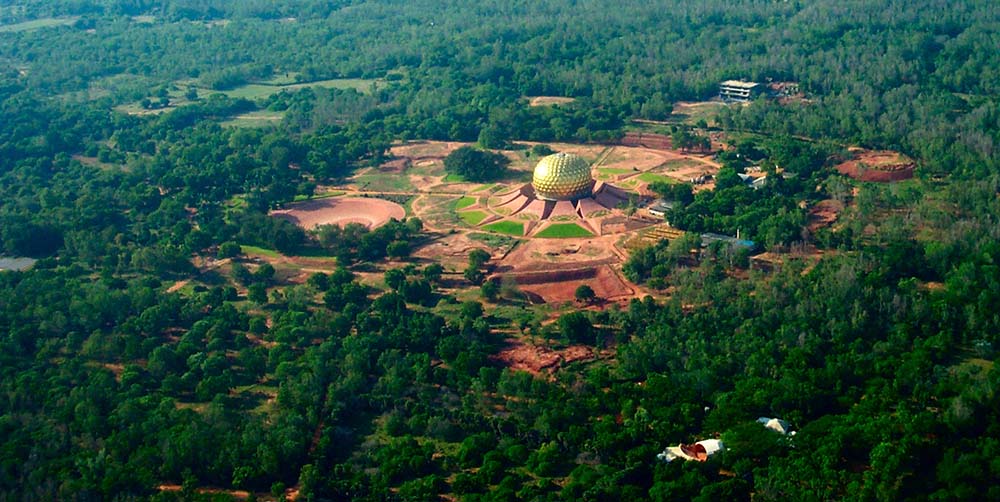 Top Things to Do in Auroville
Meditate inside the Matrimandir
The Matrimandir is the central heart and soul of Auroville. What appears on the outside as a giant golden globe, has a large meditation chamber in the middle. There are twelve 'petals' surrounding the Matrimandir, each of which also contains a smaller meditation chamber.
Other landmarks symbolic to Auroville surround the Matrimandir. A massive banyan tree hangs over visitors like a natural umbrella. An amphitheater is home to the urn that contains soil from nations around the world. Large communal events occur at the amphitheater every year,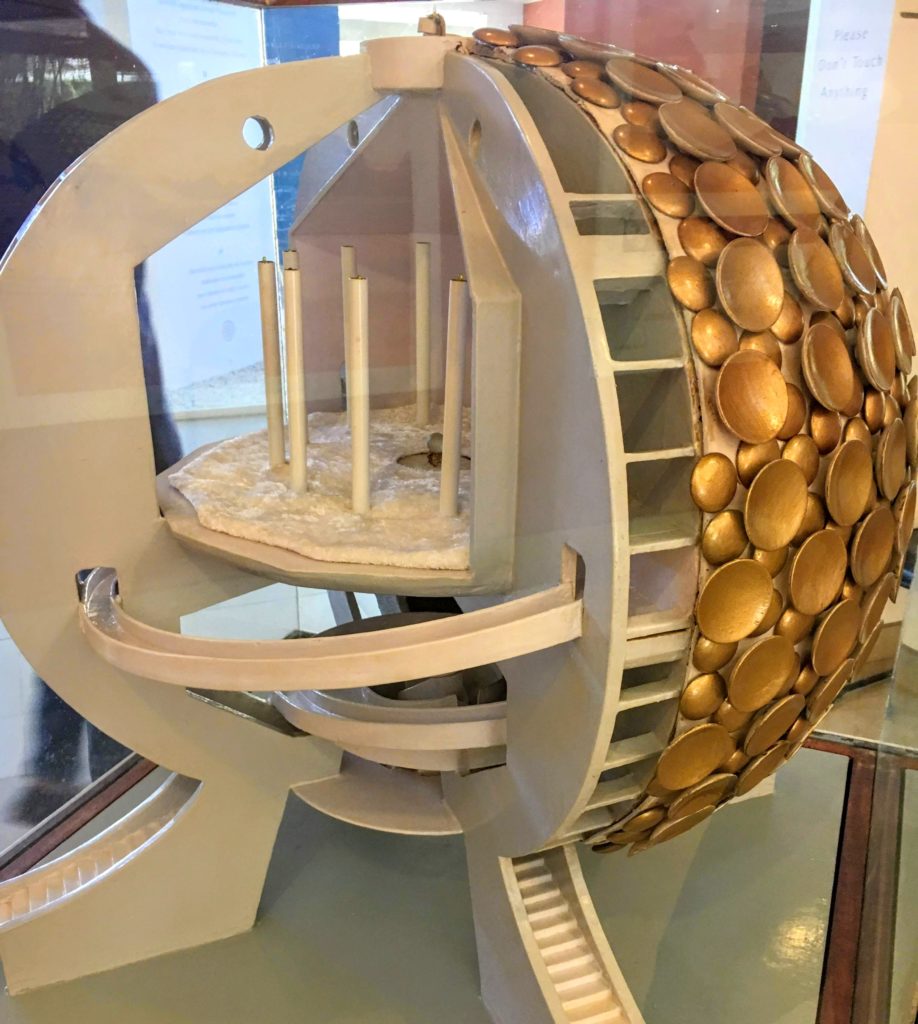 Travelers coming to Auroville can book a tour to the Matrimandir via an office at Auroville's Visitor's Center. On the tour you will learn about the history of Auroville and the Matrimandir, get a tour of the central grounds, and then have time to meditate as a group within the Matrimandir's inner chamber.
Indian Nat Geo wrote that being inside the Matrimandir's central chamber is "the loudest silence you will ever hear."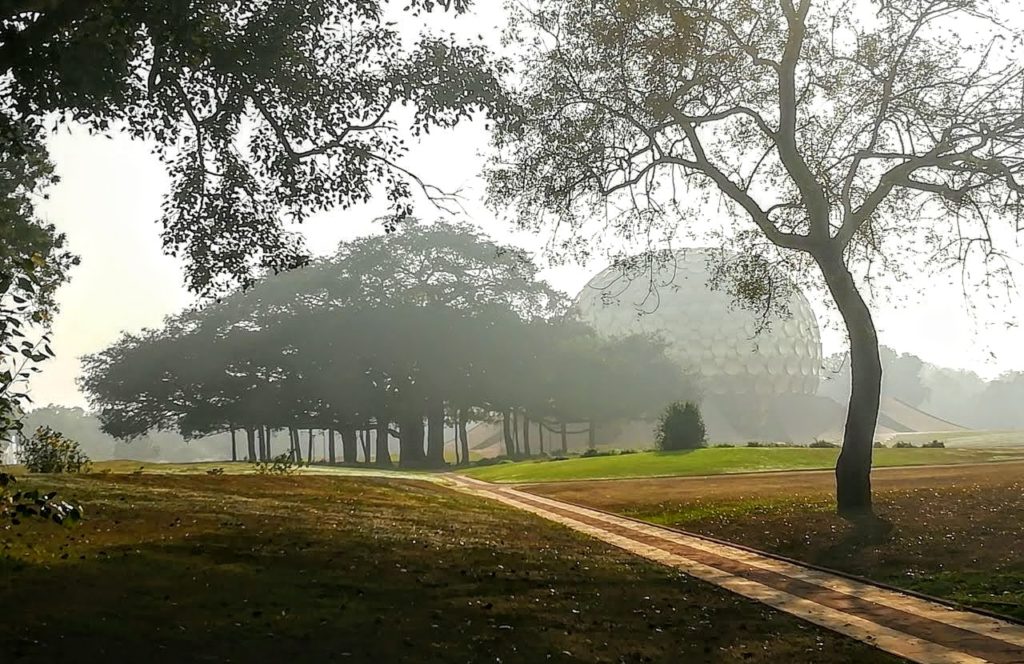 Visit Sadhana Forest on their Movie Night (Friday)
There are several intentional communities built within Auroville, including Sadhana Forest, located a short drive away from the city center. The community focuses on ecological revival and sustainable living, and is completely off-grid and vegan. After being founded in Auroville, India, Sadhana Forests have been created in Kenya and Haiti.
Every Friday Sadhana Forest hosts a guided tour and movie night. The movie usually pertains somehow to the work of Sadhana Forest, with topics such as environment, society, and natural history. Before the movie is a grand tour of Sadhana Forest's surrounding projects, living quarters, and compost toilets. A vegan organic dinner is also served after the movie – all for donation only!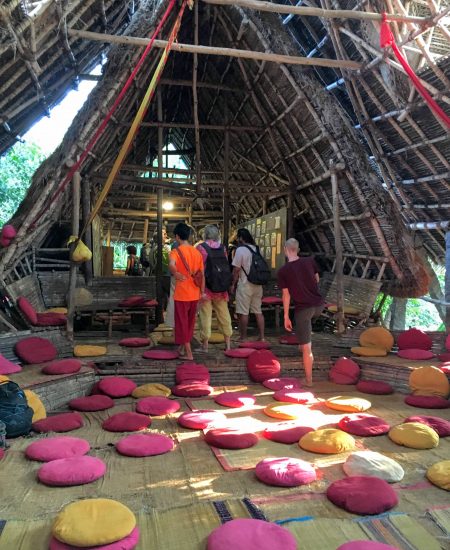 Explore the Visitor's Center
Auroville's visitor's center is home to an information center and cinema, and is a great place to learn more about Auroville's history and future. Within the visitor's center complex are several cafes and restaurants where you can enjoy refreshing juices, fresh-baked pastries, and relax with a coffee.
A large souvenir shop on-site sells crafts and clothing made by Auroville-based organizations. Auroville's bookstore also has many books on Auroville and recommended spiritual readings for sale. The Visitor's Center is a great introduction to Auroville, as well as a place to pick up souvenirs to remember your visit.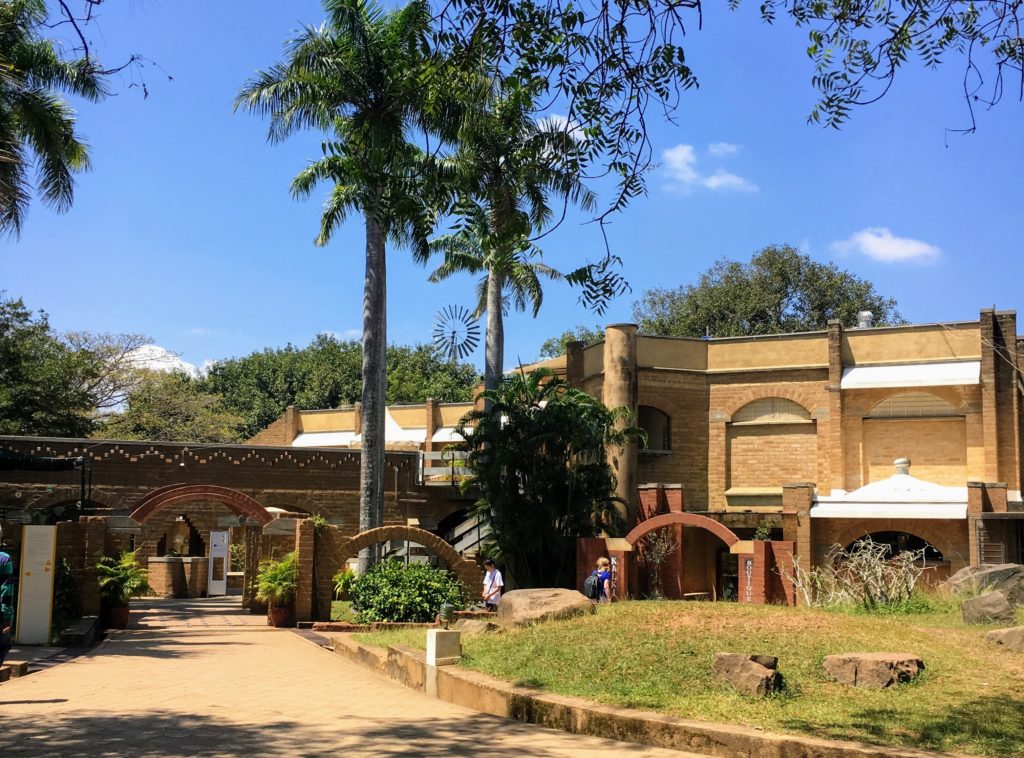 Join a Class or Workshop
Auroville publishes a weekly newsletter, "News and Notes" that highlights all of the activities for the coming month. Find activities for all interests on here, and discover many new projects and events taking place. 
You can join a traditional yoga or meditation class. You can also try alternative workshops where you may learn something new, or just have a lot of fun. 
Activities for August include sound therapy, vegan potluck, tea ceremony, yoga with kids, an edible weeds & exploration walk, and countless more! 
See current Auroville events here.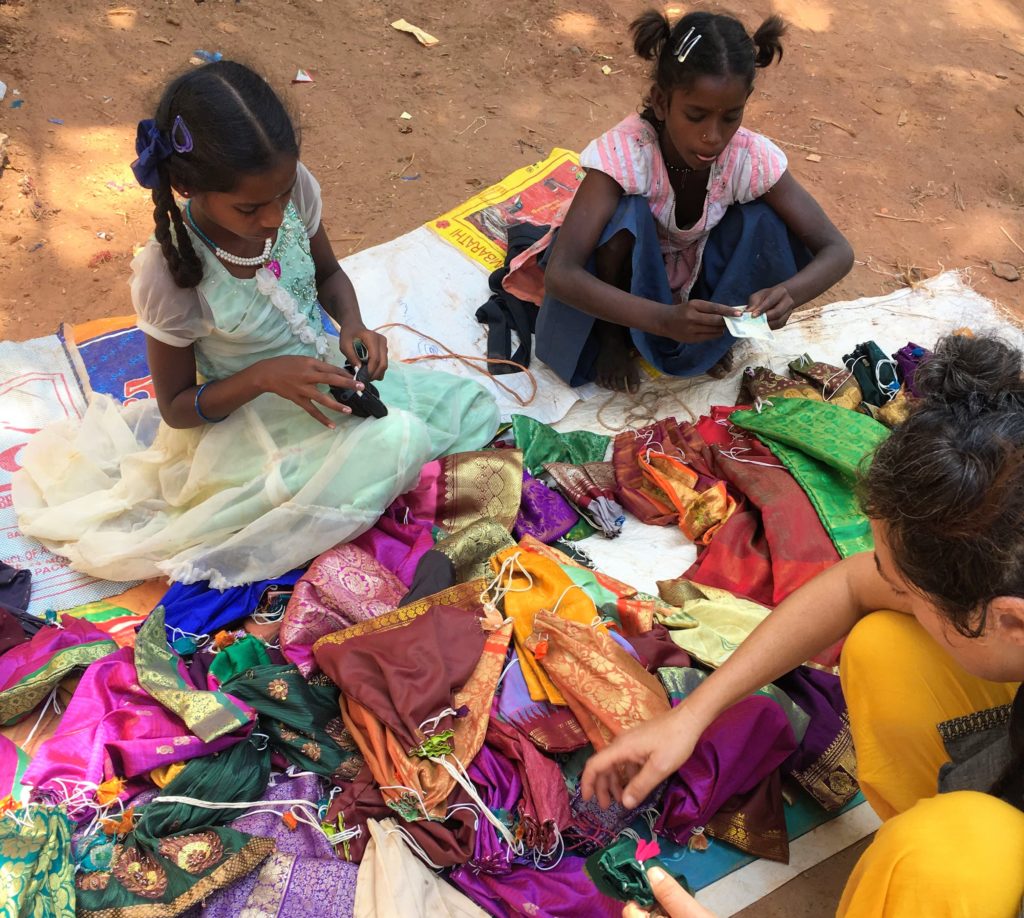 Visit Auroville Bakery
This is my favorite place in all of Auroville, and the first stop I make when coming back to the township. The bread here comes in varieties of healthy, sweet, hearty, vegan, gluten-free… you name it, they'll have it and it'll always be delicious. A shop behind Auroville bakery serves up delicious sandwiches, toasted bagels, and coffee to round off a great lunchtime meal or afternoon snack. 
My favorites include Auroville bakery's mozzarella toasted bagel, cheese croissant (below), and their European-style hard, healthy brown bread.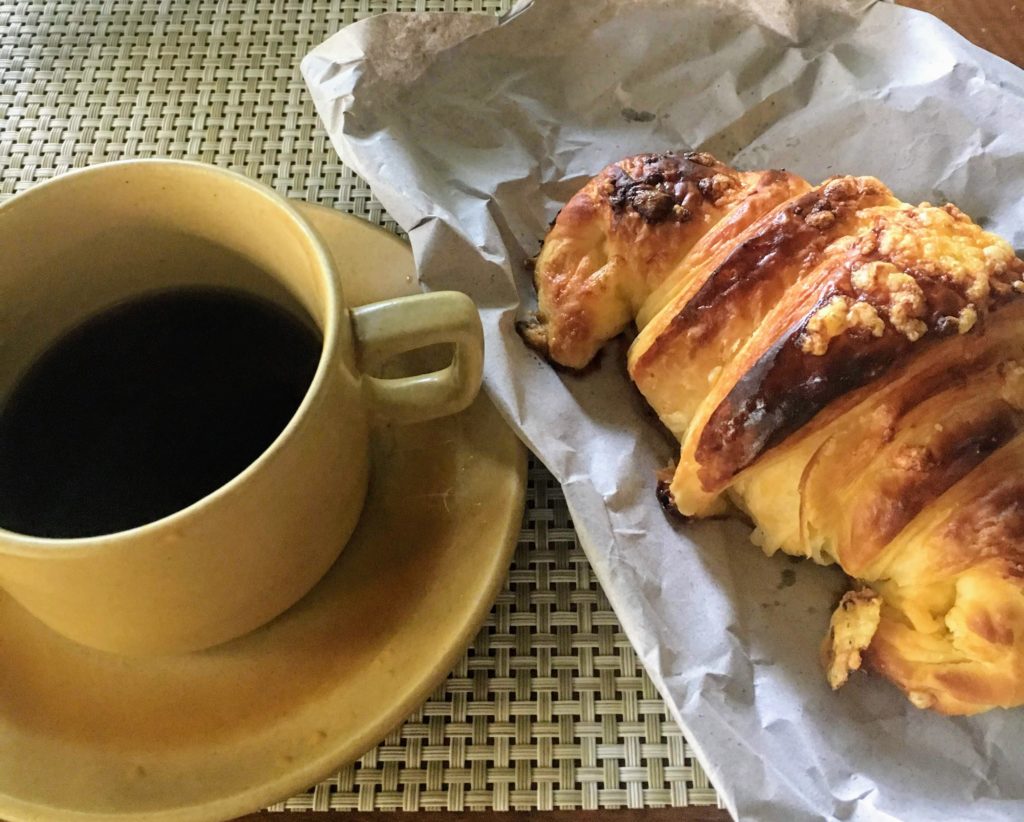 Volunteer at Auroville
Auroville is filled with organizations that are doing good for the community and the planet. Groups within Auroville include the Auroville Village Action Group, Eco Femme, Auroville Green Practices, the Center for Scientific Research, Auroville Earth Institute, and more! 
There are also several farms around Auroville, focusing on different things like organic farming, waste water recycling, and restoring biodiversity. 
See the current volunteer needs of Auroville here!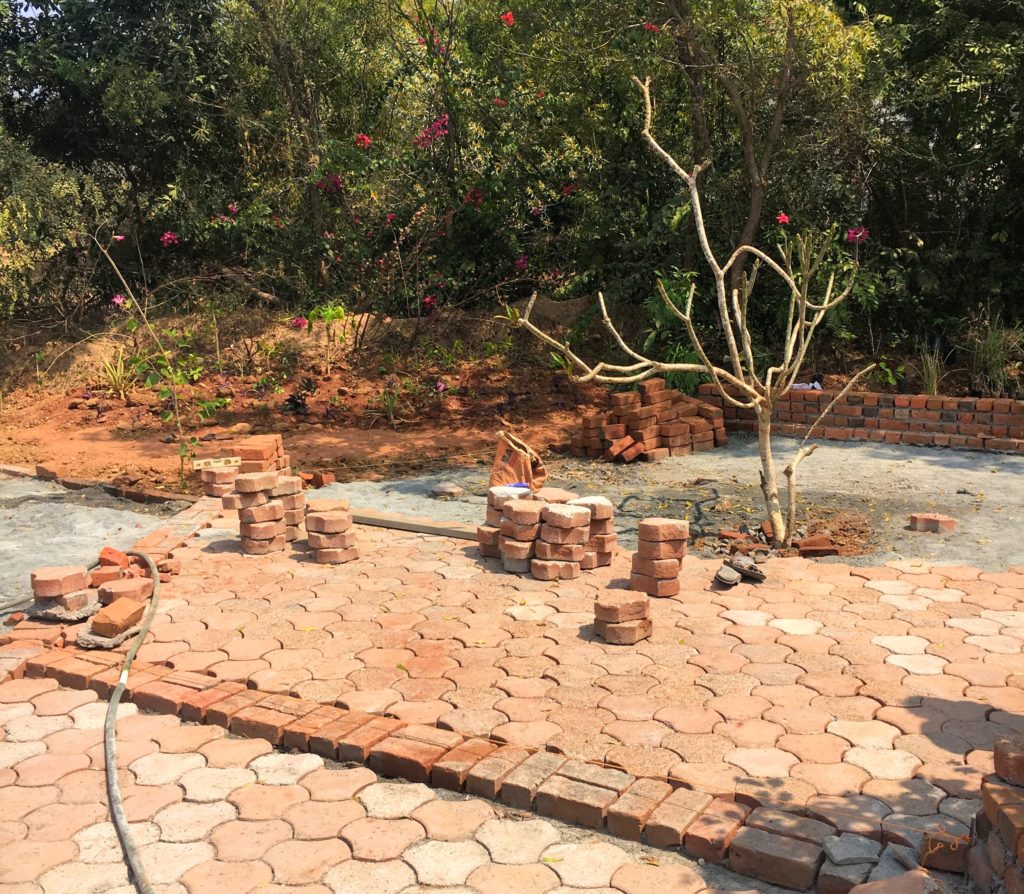 Go to the Beach
Just on the outskirts of Auroville is Auroville beach! It's a great place to relax on the water, although the tide can be a bit strong. Locals will often set up small stands to sell water, coconuts, ice cream, and other goodies perfect for the beach. 
On most other beaches in India it's not recommended for women to wear swimsuits, in order to avoid unwanted attention. However, enough Westerners frequent Auroville beach that it is a normal occurrence for locals to see women in swimsuits here. (Still, you might get unwanted attention).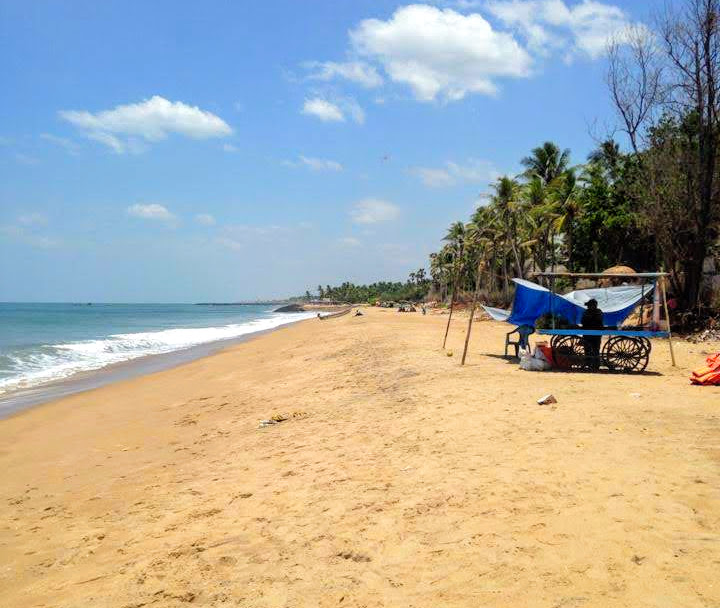 Where to Stay in Auroville
Accommodation in Auroville is plentiful, and the township even has their own website for booking guesthouses. If you want to have a true Auroville experience, find the perfect accommodation for you through Auroville's guesthouse portal. 
If you're just passing through Auroville and want the convenience of reserving a room through Booking.com, here are some highly-rated suggestions: 
The Dreamcatcher is a colorful hostel-style accommodation with bunk beds and common areas perfect for socializing.
Aurowilliam is a budget option that brings you close to nature and gives you a feel for local life. Vegetarian Indian breakfast included!
Woodpacker has a combination of dorm rooms and private rooms, plus a large common area where yoga and meditation is offered. 
Where to Eat in Auroville
Endless cafes and restaurants will please all types of eaters visiting Auroville! You'll find an array of western, Indian, and other international cuisines, and much of it is suitable for vegetarians and vegans. In addition to the Auroville Bakery (above), check out these amazing places to eat in Auroville: 
Bread & Chocolate
This small cafe is a guilty pleasure for visitors and Aurovillians alike. Opened by a baker and a chocolatier, Bread & Chocolate is the perfect place for brunch, lunch, and for picking up bread and baking staples. I can't rave enough about how delicious their menu items are – and they're healthy too! 
Tanto Pizzeria
Tanto's is the perfect place to visit when you need a break from the spices and flavors of Indian curry. Their pizza varieties range from simple to imaginative, and are sure to please visitors of any age. All of their pizzas are oven-fired for a crisp, authentic taste, and they even do delivery within Auroville! 
Mango Hill
If you want to experience a little luxury, head to Mango Hill. It's a luxury hotel and restaurant, where you can have a mix of French and Indian cuisine. For the quality of service and food, the price is very reasonable. Rumor has it, regulars can go for a swim in their pool during quieter times of the day too!  
Sustenance Farm & Cafe
For a solid South Indian meal for a great price, head to Sustenance Farm & Cafe. The cafe is attached to Sustenance Farm, an organic farm dedicated to preserving native plants. With classic recipes, healthy ingredients, and buffet option, you're sure to leave satisfied. 
Naturellement Garden Cafe
Naturellement is a business that makes all-natural jams and marmalades, breakfast cereals, fruit syrups, and more. Their products can be found all across the state of Tamil Nadu, but their home base is here in Auroville. Their outdoor garden cafe is the perfect place to relax with a fruit juice or coffee – they even have a children's play area where the little ones can roam free. 
Visiting Auroville? Pin This Post!