Miyajima is a gorgeous island in Japan just south of Hiroshima. Although it's often visited as a day-trip from Hiroshima, I highly recommend staying the night on Miyajima. This allows you to enjoy the quiet evenings and mornings on the island, and explore the full extent of its many temples, shrines, and natural beauty. There's no better place to stay than at a Miyajima hotel or ryokan with a private onsen. It will provide an extra layer of comfort and luxury on an island that already spoils its visitors to the max. 
To make the search easier for others (and for myself) planning a future trip to Miyajima, I've researched the below five amazing Miyajima ryokan with private onsen! If you want to know more about what that means, I've included some definitions below. I think once you've seen the photos and read about each of these amazing Miyajima hotels though, it won't take much convincing to start booking!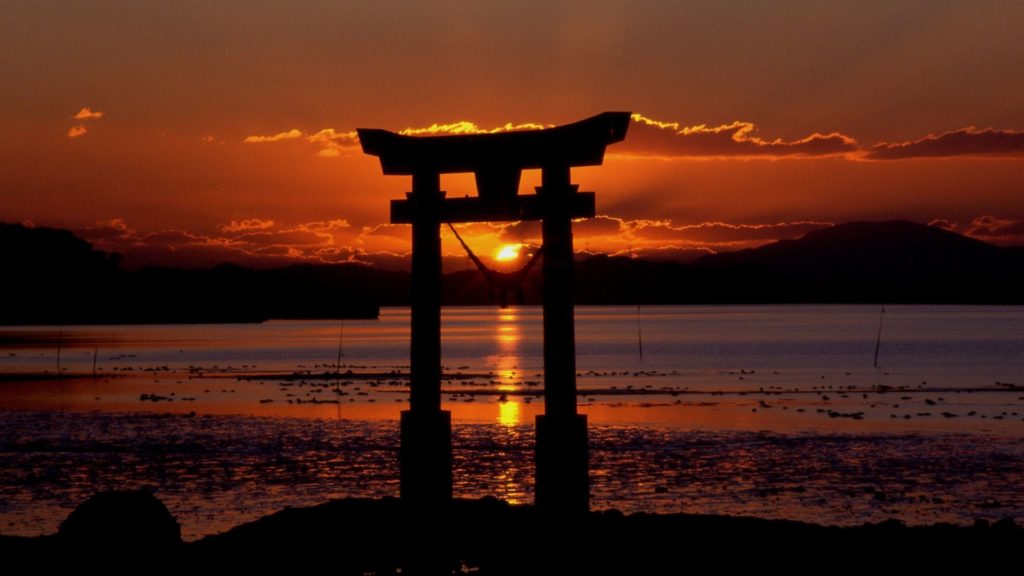 Where is Miyajima? What is an Onsen?
Here's a breakdown of what I mean when I say "Miyajima ryokan with a private onsen":
Miyajima – A scenic Japanese island located south of Hiroshima. Miyajima is famous for the UNESCO World Heritage floating torii gate, which is part of the Itsukushima Shrine complex. It is also known for its natural landscapes, especially in the autumn, multiple other beautiful shrines and temples, and the docile deer that wander around the island. Miyajima is a perfect overnight trip from Hiroshima, so many travelers choose to spend the night here in a luxurious hotel or ryokan. 
Onsen – Japanese hot springs which can be indoor or outdoor, public or private, and usually enjoyed in the nude (hence the preference for a private onsen in Miyajima!). Some towns in Japan like Beppu, Hakone, and Nikko are known for being onsen towns because of the hot springs that they are located on. Although Miyajima is not one of these, there are a number of hotels here that have onsen, and a few that have private onsen too. 
Ryokan – a traditional Japanese inn or hotel, where guests are treated to Japanese omotenashi five-star hospitality. Usually a kaiseki or multi-course breakfast and dinner are included in the room price. Common facilities at ryokan include public indoor or outdoor onsen, Japanese yukata garments to wear, and tatami rooms for relaxing.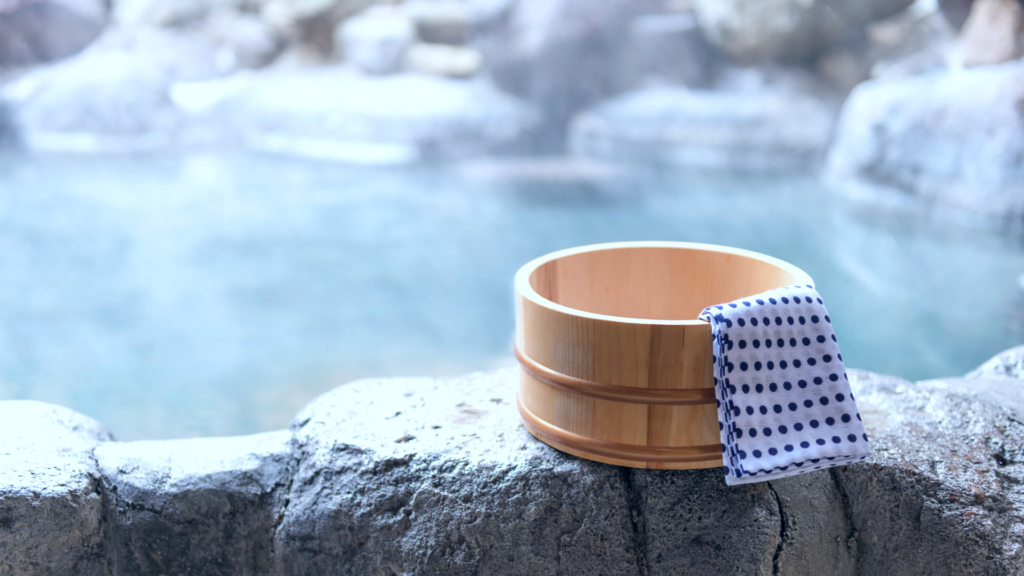 5 Miyajima Hotels with Private Onsen
I usually sort my lists of ryokans with private onsens in order of price (check out Nikko and Hakone) but it turns out the Miyajima ryokans have similar prices for two-person stays without meals, except for one. That's why the Nikko private onsen hotels below are listed in no particular order. 
Be sure to check Booking.com or the official websites of each accommodation to confirm the latest rates. 
Here's my list of 5 Miyajima hotels with private onsen! With a bonus at the end 🙂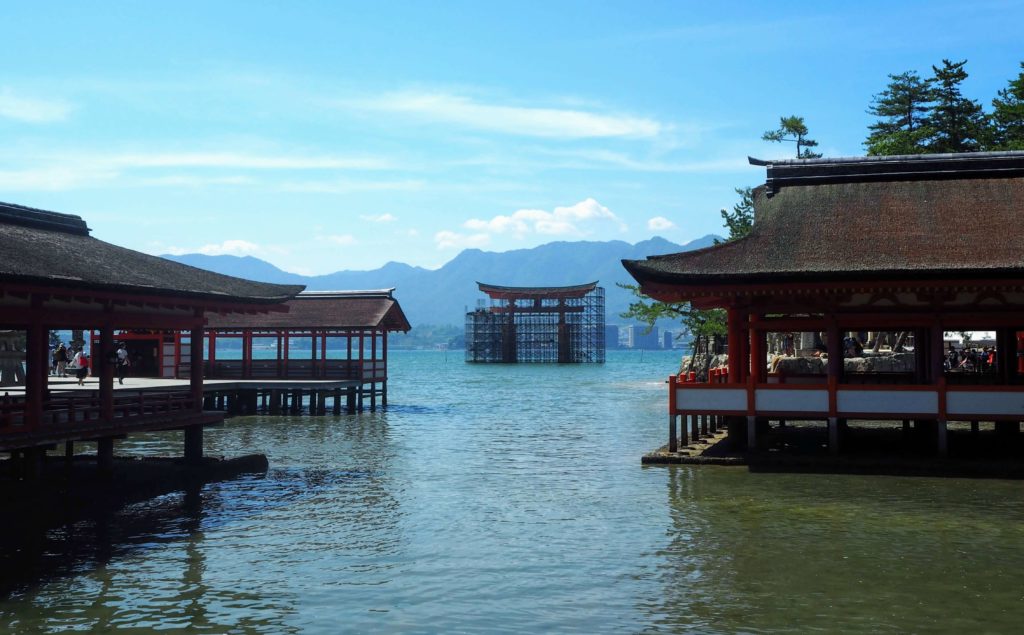 1. Livemax Resort Akino Miyajima
Junior Suites and Ocean Suites with Open-Air Baths – $200 USD for two people for the Junior Suite, and $230 USD per night for the Ocean Suites.  
This Miyajima ryokan with private onsen should be on everyone's Japan bucket list! Livemax Resort Akino Miyajima is one of the largest properties on the island, and offers a variety of amazing amenities for its guests. Rooms are available in both Western and Japanese-style options, and many come with a private onsen on the balcony. 
Other facilities available at this resort include public indoor and outdoor onsen, a swimming pool and hot tub, bicycles to rent, karaoke rooms, and a gift shop.  Livemax Resort Akino Miyajima offers buffet-style breakfast and dinner options that can be booked with the accommodation. For example the $200 USD Junior Suite costs $230 USD with breakfast included, and $260 with breakfast and dinner.
The resort is located near the historic Machiya street in Miyajima, and the Omotesando shopping street and is a 10-minute walk to both the Miyajima Ferry terminal and Itsukushima Shrine. 
Check room availability and the latest prices here. 
2. Miyajima Grand Hotel Arimoto
Japanese style room with Open-Air Bath (onsen of various shapes and sizes) – $480 per night for two people, breakfast and dinner included.
This Miyajima ryokan with private onsen is a highly-rated accommodation option that has both Western and Japanese-style rooms. Rooms have seating areas, tatami spaces, and even a small garden outside of ground-floor rooms. Perfect for admiring from your private onsen! Other amenities at the hotel include a public outdoor onsen, three restaurants, karaoke rooms, and a gift shop. Free shuttles are available to and from the Miyajima pier.  
For a really special evening (and for $740 per night for two people) extra-spacious rooms with private onsen can be booked at the hotel. These suites overlook the ocean and nearby Itsukushima's five story pagoda. 
The Miyajima Grand Hotel Arimoto is located steps away from Itsukushima Shrine, and a short walk from the Omotesando shopping street. A road behind the hotel leads to the Mt. Misen ropeway. 
Check room availability and the latest prices here. 
Queen Rooms and Suites  – $235 and $330 USD per night respectively for two people, room only. $360 and $460 for buffet-style breakfast and dinner included. 
Up to four people can stay in the Suite, for $547 USD per night for the room only, or $800 USD with buffet-style breakfast and dinner included. 
Hotel Miyajima Villa is another highly-rated Miyajima ryokan with private onsen. Admittedly the private onsen is not fed by hot springs but is just a semi-outdoor bath, but with the gorgeous interior of the rooms and the sleek bathroom design, the experience will be just as luxurious. Amenities available at this hotel include a public indoor onsen, mini fridge and kettle in each room, and a restaurant and bakery on-site. 
The hotel is located conveniently just across the street from the Miyajima ferry, so perfect for late night arrivals or early morning departures. 
Check the latest prices here. 
Japanese Style Townhouse – $204 USD per night for two people, $408 for six people. Breakfast included.
One ingenious way to stay at a Miyajima ryokan with private onsen is to book out the entire accommodation yourself! Itsumoya is a beautifully preserved, 100+ year old Japanese-style townhome. It features a gorgeous Japanese garden and open-air courtyard in the center of the building, with the private onsen opening up to it. A large tatami room on the second floor can be divided into three separate rooms, perfect for big groups or for multiple couples. 
Guests here are treated like royalty, with a recommended dinner and sake add-ons of omakase sushi from a local sushi master, and sake from Miyajima island. Breakfast is included in the price and consists of soft bread, lemon jam, and honey, all made by local Miyajima businesses. 
Book this incredible private Miyajima ryokan with onsen here!
One Bedroom House – $220 USD per night, up to 2 people. 
Villa Hamorebi is another option on Miyajima where visitors can book an entire property, with the private outdoor onsen attached. It is a recently renovated home in a structure over 80 years old on Miyajima. Amenities here including the private onsen are private terraces, an indoor bath, a dining area, two beds plus a tatami area, and kitchenette.
Villa Hamorebi also offers multi-course seasonal breakfast and dinner options that can be booked with the accommodation. The rate for the villa with breakfast included is $240, and with dinner it's $280 per night. 
Villa Hamorebi is located just a 3-minute walk away from the Itsukushima Shrine, and near the Miyajima Aquarium, Folklore Museum, and Daishoin temple as well. 
Check Villa Hamorebi rental availability on Booking.com (cheaper than the official website).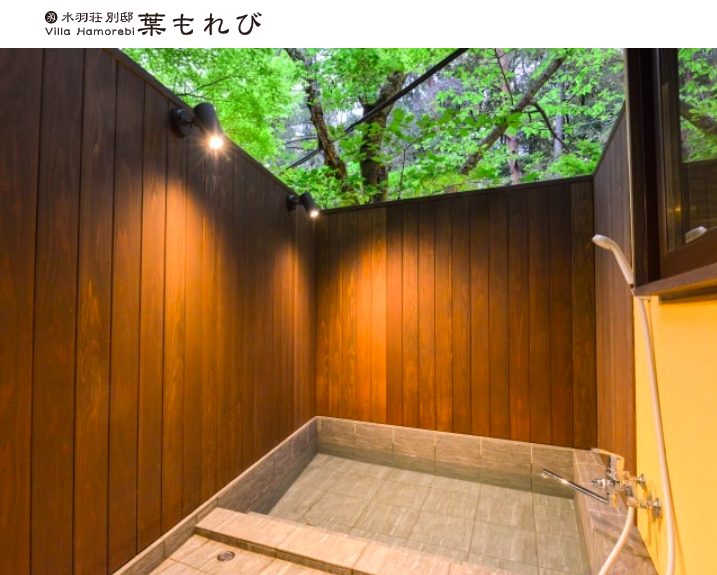 (Bonus!) Miyajima Guesthouse Mikuniya
A bunk bed or single futon reservation at Miyajima Guesthouse Mikuniya will actually get you access to a private onsen-style bath! This picturesque guesthouse embodies the ryokan experience in Miyajima due to the great hospitality and amenities that guests can experience here, but at a much lower cost. 
A number of shared dorm room options are available here (or guests can book the whole 4-bed room out to make it a private room). At the guesthouse are three shower facilities, one of which has a large stone onsen-style bath attached. It overlooks a small outdoor courtyard and has a small dressing room attached. Similar to all shower facilities the room is locked from the inside during use. There is your private onsen experience! Just be mindful that because this is a guesthouse, you should share and not be soaking there all day. 
Read my post about staying at the gorgeous Miyajima Guesthouse Mikuniya here.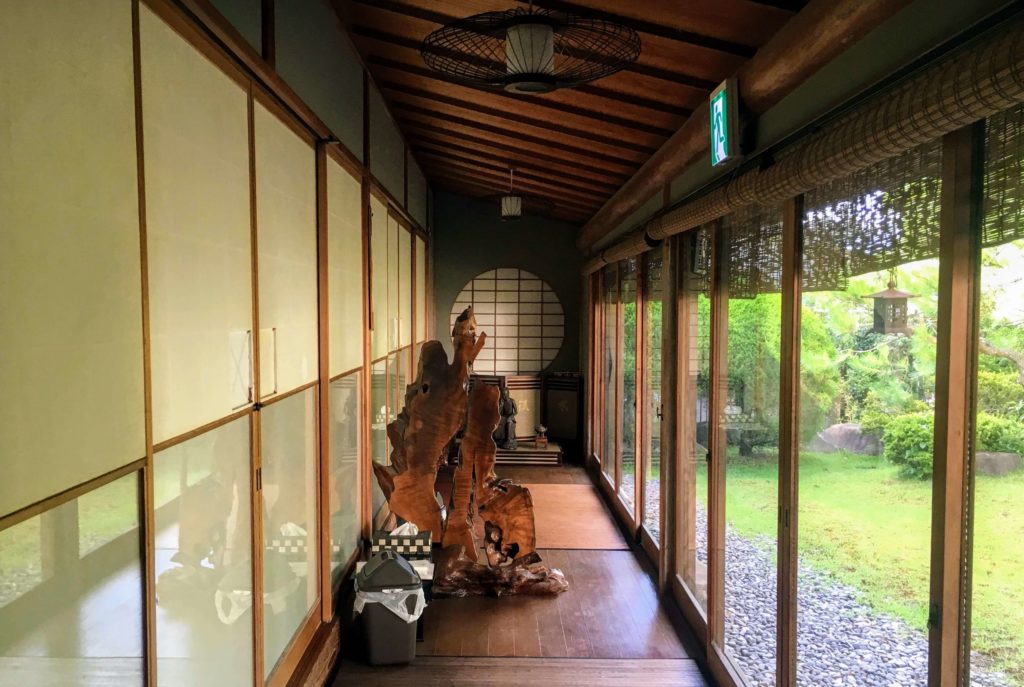 If you're loving these Miyajima hotels with private onsen, check out my list of 10 Hakone ryokan with private onsen. Hakone is a hot spring town at the base of Mt. Fuji that's one of the most famous towns for luxurious ryokan and onsen. 
Pin these Miyajima ryokan with private onsen for later!
Are You Prepared For Your Trip To Japan?
Be sure to check out my Japan home page for Japan travel information, insider tips, reading list, and must-haves for traveling to Japan!