Thinking back to my time backpacking Japan for three weeks, there's one amazing accommodation I look back on: Miyajima Guest House Mikuniya. This spectacular guest house is located on Miyajima island near Hiroshima, and was for me, one of the best places I stayed in Japan. This budget accommodation provides traditional ryokan facilities, scenery, and hospitality, at a fraction of the cost. 
(Click through the photos below to see what I'm talking about!)
Key information about staying at Miyajima Guest House Mikuniya
Before we get started, here's some important information for staying at this unique accommodation in Miyajima, Japan: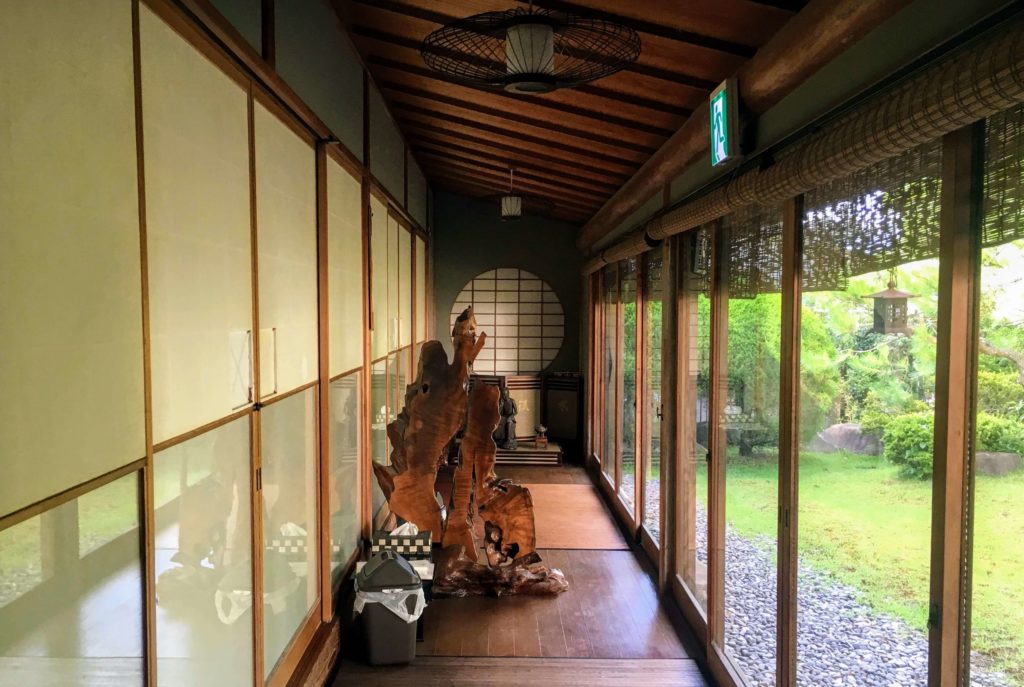 How to get to Miyajima Guest House Mikuniya
The best way to reach Miyajima island from Hiroshima and mainland Japan is by train and ferry. The JR Sanyo Main line departs from Hiroshima station and reaches Miyajimaguchi station in 33 minutes. 
From there it's a short walk to the Miyajima ferry station, where two ferries run by different operators (at the same price) depart four times per hour for Miyajima. Check out the latest timetables for the Miyajima JR ferry here, and the Miyajima Matsudai ferry here. 
The walk from Miyajima pier to Miyajima Guest House Mikuniya is about 18 minutes, and some sections are sandy and uphill so it's best to take it slow if traveling with large suitcases. Luckily the walk takes you past a number of amazing Miyajima sights like the famous Itsukushima Shrine and the Miyajima Omotesando shotengai or shopping street.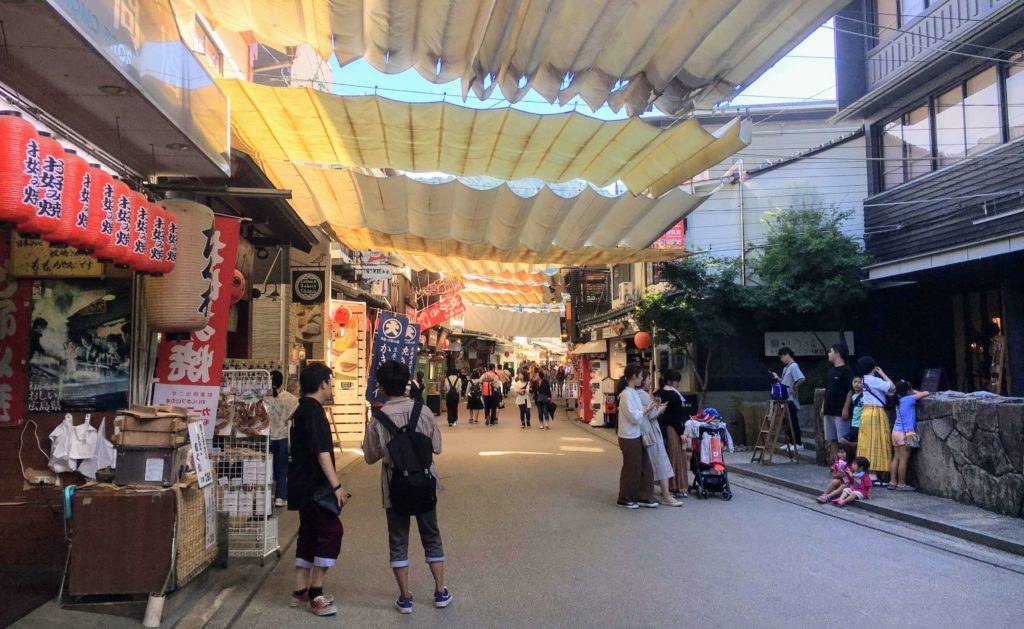 History of Miyajima Guest House Mikuniya
Miyajima Guest House Mikuniya was founded in 2013 by the father of the current proprietor, both of whom are passionate about sharing the beauty of Miyajima to domestic and international tourists.
The guest house building was built in 1971, and served initially as a recreational facility and resort accommodation for the Japanese federal government Mint. This explains the layout of the building, which includes spacious gardens and common areas, including shared kitchen and bathroom facilities. A number of traditional tatami rooms were likely used as dormitories in the past, as they are today.
Guests staying at the Miyajima Guest House Mikuniya can take in the beautiful traditional interior of the building which has been immaculately preserved. Around every corner starting from the entryway there are presentations of Japanese artifacts, such as samurai helmets, Shinto Hinamatsuri dolls, and sensu handheld fans.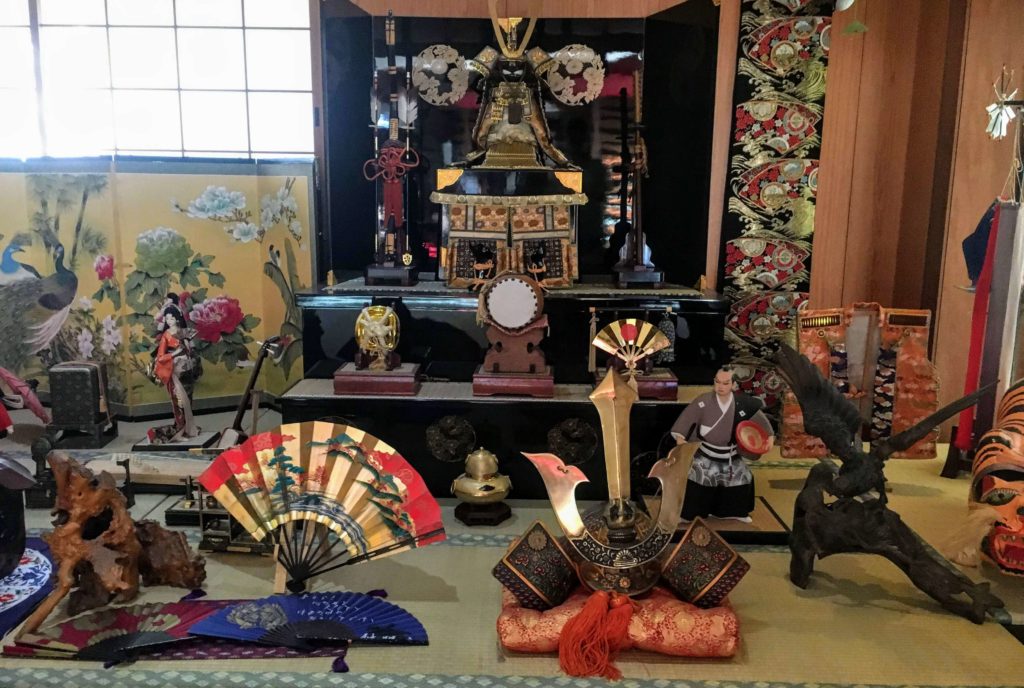 Checking In and First Impressions
Like traditional Japanese homes and guesthouses, shoes are left at the entryway at Miyajima Mikuniya, and slippers provided for guests to use. The entryway is a wide open space with many displays of Japanese artifacts. It's tempting to spend time admiring every little detail of the interior of the guesthouse, even before checking in! 
I was checked in by the owner of the accommodation, who gave me a quick tour and then let me choose which dorm I wanted to stay in (more on that below). He was extremely helpful in explaining to me the different points of interest near the guest house and on Miyajima. 
Since I arrived in the evening I had little time to explore, but had an incredible first sleep. Miyajima was the last stop on my local train-hopping ride on the Seisshun 18 Kippu. I started in Tokyo that day at 5am!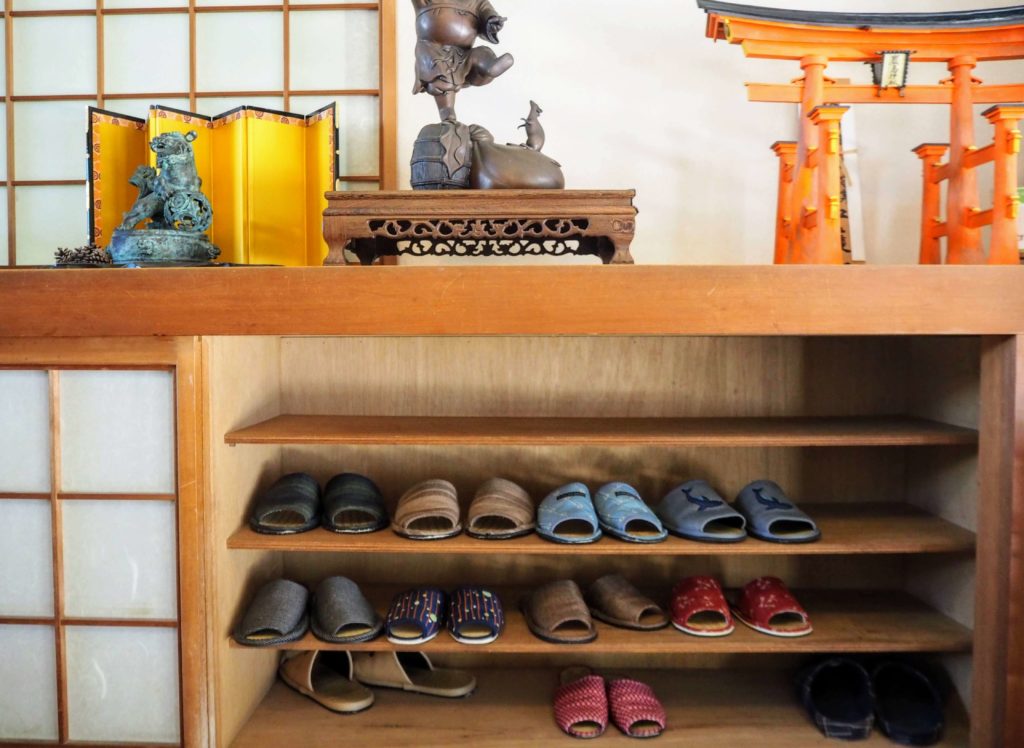 My Room, the shared dormitory
Miyajima Guest House Mikuniya allows visitors to book anywhere from 1 to 4 beds at a time, and will designate a room to you to fit your group size. When I visited Miyajima as part of my 3 weeks backpacking Japan, I was traveling solo so only booked for one bed on Booking.com.
Since there were not many other visitors in the middle of the week, the owner let me see both types of shared rooms and let me pick one. I chose the dorm room that had no one else in it, of course! 
Other Rooms at Miyajima Guest House Mikuniya
The other main shared rooms at Miyajima Mikuniya Guesthouse have beautiful traditional Japanese room dividers, so visitors will have their own space while also maintaining the social aspect of staying at a guesthouse. If you're traveling with a small group or willing to pay for a number of beds, you can have exclusive use of these rooms. 

Mikuniya also offers long-term stays in their new Japanese studio accommodation options. For about $45 USD per person per night, the entire tatami studio can be rented for extended periods of time, perfect for digital nomads in Japan. 
This is an annex to the rest of the guesthouse but visitors still have access to all of the same facilities in Mikuniya. Check out all room options here. 

Facilities and Amenities at Miyajima Guest House Miykuniya
Mikuniya has a number of awesome amenities that guests can use during their stay at Miyajima. Here are some of the offerings at this amazing guesthouse:
A large common room with a TV that guests can use
Shared kitchen facilities including fridge and cooking utensils. Beer and cup noodles for purchase
Washing machines
Free simple breakfast
Desks and tables for digital nomads and coworking
Tatami room for group activities or lounging around during the day
Veranda that wraps around the Japanese garden, perfect for admiring views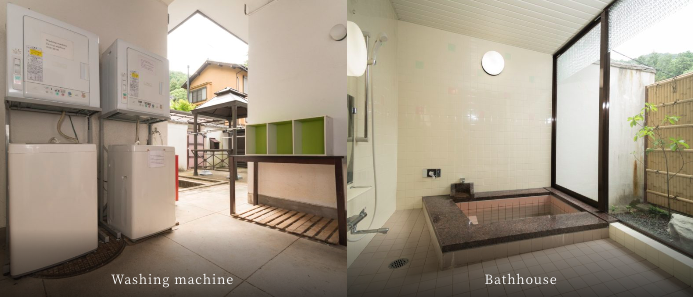 The Japanese garden in the center of the property that the main hallways open up to is one of the best features of this unique accommodation. 
Guests are spoiled by this view every day, and can spend time just relaxing on the verandah overlooking the garden. After exploring the busy touristy island, this little slice of nature can provide much-needed peace.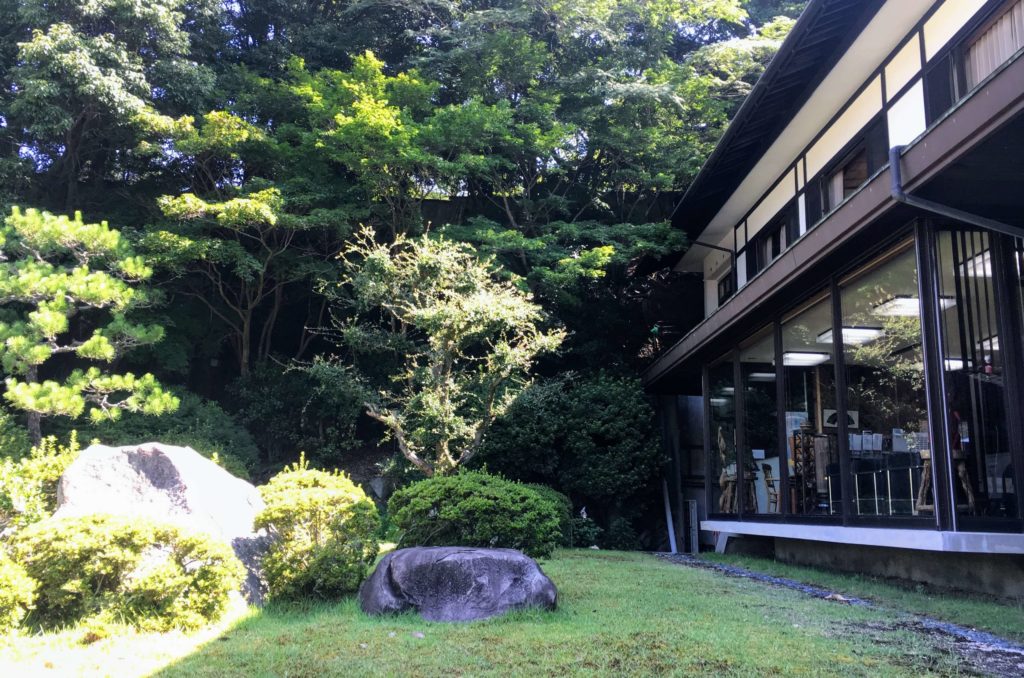 Activities at the guest house and around Miyajima
In an accommodation full of unique touches, one of my favorites was the Japanese culture and handicrafts table in the common area. Guests had opportunities to try their hand at origami and calligraphy, as well as play with different traditional Japanese toys like kendama and daruma otoshi. 
The large TV in the common area was also playing easy to understand Japanese movies like Studio Ghibli's Ponyo or My Neighbor Totoro, perfect for keeping kids entertained.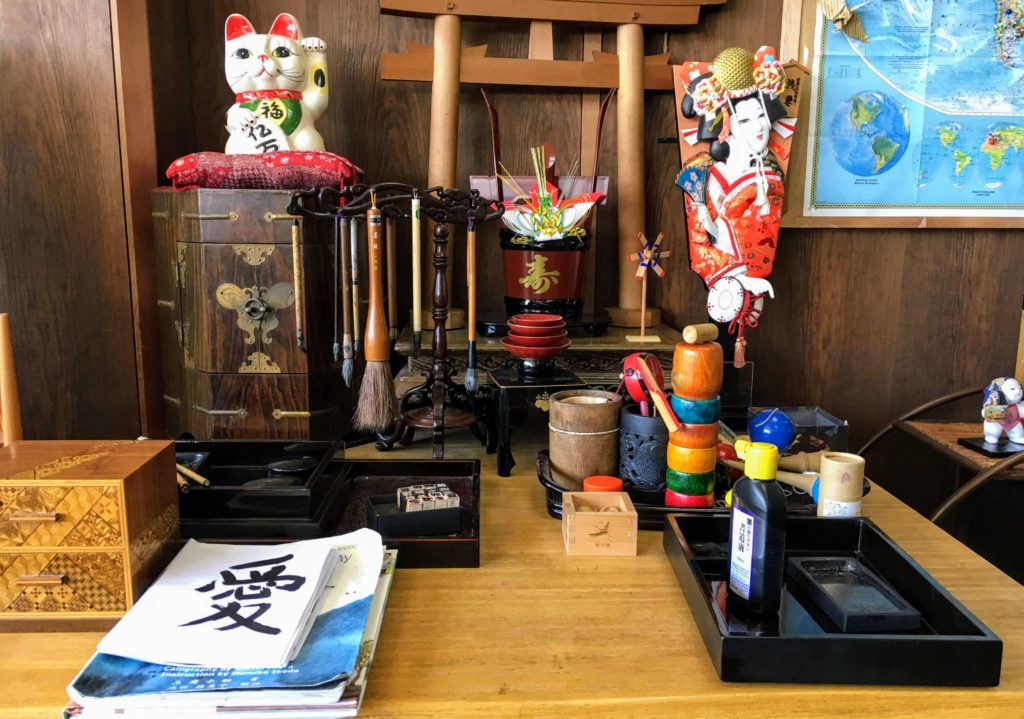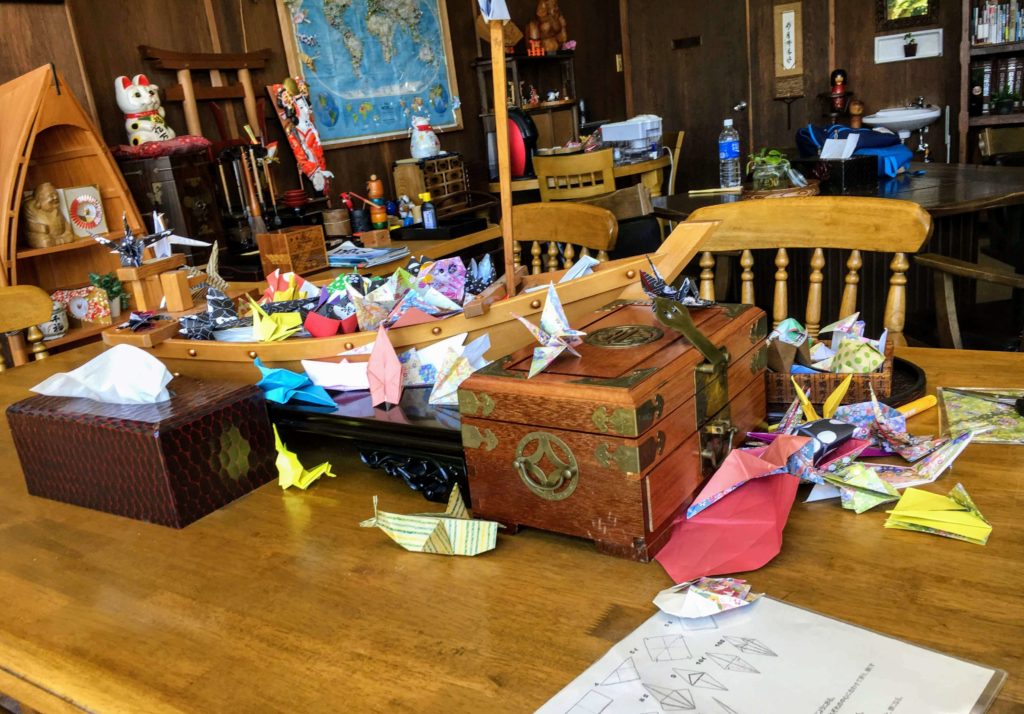 More recently Miyajima Guest House Mikuniya has been hosting "Chue-Marche Mikuniya" handicraft fairs. During these events, Miyajima vendors set up stalls at the property to sell their handmade items. 
Many of the participant vendors are the elderly locals on the island, and this opportunity connects their small businesses to tourists. Street food vendors and musicians are also invited to participate in this bespoke little market. 
If visitors had any questions about activities and places to eat near this unique accommodation, the owner did everything he could to make sure their question was answered. He has a number of maps handy to share with guests.
Miyajima Guest House Mikuniya is conveniently less than a 5-minute walk away from Miyajima's famous Itsukushima Shrine and the Daiganji Buddhist temple. It's a 10-minute walk to the unmissable Daishoin temple too. 
Check out some other things to do on Miyajima island like hike up Mt. Misen in Japan on my post one day in Miyajima itinerary.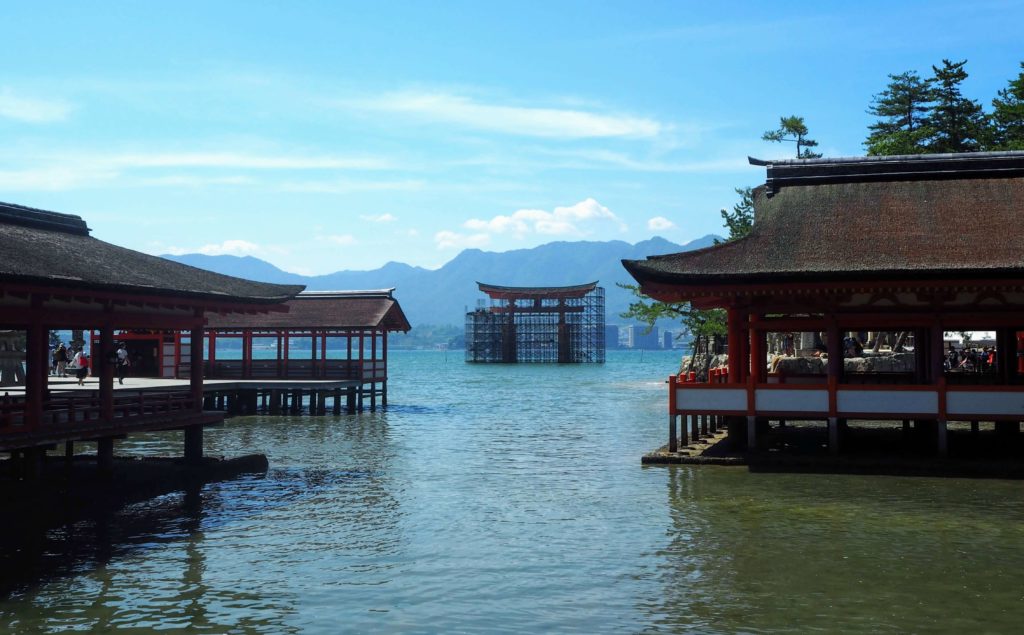 Miyajima Guest House Mikuniya furry friends
Visitors to Miyajima Guest House Mikuniya with a bit of luck may spot one of the accommodation's most elusive furry friends: the white tanuki or raccoon dog. The animals are already a rare sight on the island, a white tanuki being even rarer. These two  are known however, to make appearances in the lush garden of Miyajima Guest House Mikuniya. The raccoon dogs have even received names from local kids: Yukimi (the white) and Momiji (the brown) tanuki. 
The guest house and owner have appeared on Japanese national TV because of this adorable rare white tanuki! Read more about Mikuniya's raccoon dogs on their website.
Miyajima island is also known for its local deer population. Similar to Nara deer, Miyajima's docile deer don't mind human interaction and hang out in town pedestrian areas.
They enjoy the same views, rivers, and gardens that us humans do, and sometimes can be seen wandering up to the Mikuniya guest house gardens and nearby forest.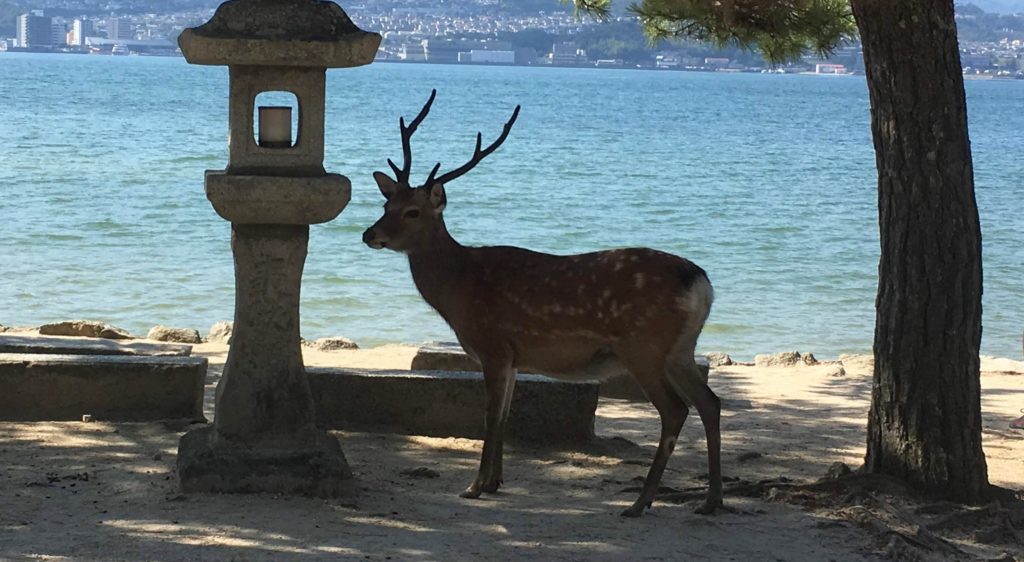 A sweet little cat, Miku (like Miku-niya … get it?) also works at the guest house. Miku is jokingly referred to as the proprietress of Mikuniya. She greets visitors by day and can be found at the front entrance, following the manager, or napping comfortably around the building.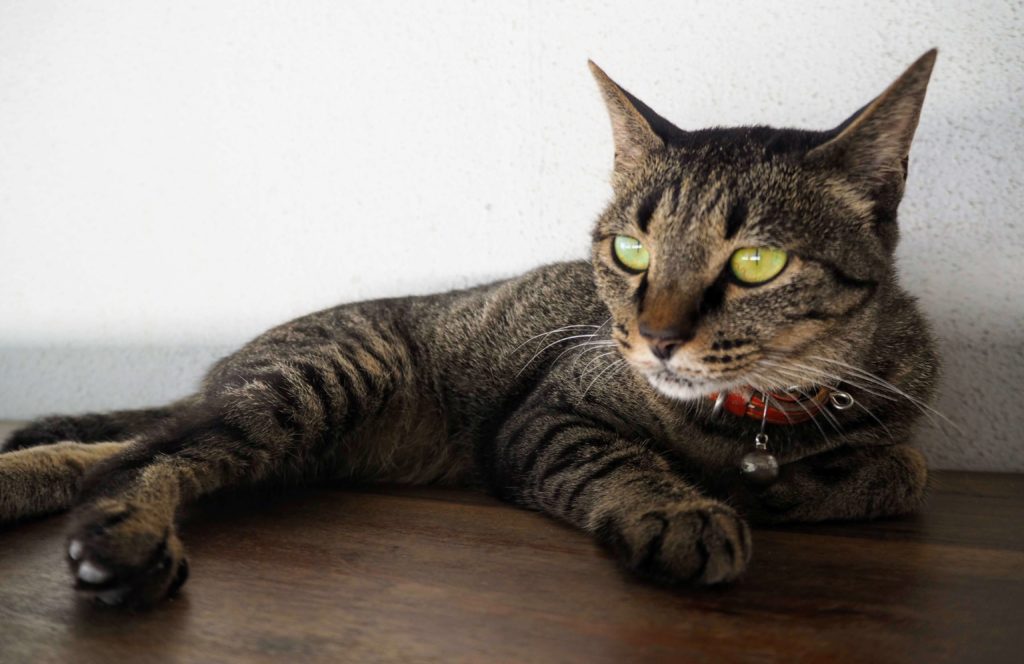 Final thoughts - Things I loved about Miyajima Guest House Mikuniya
Miyajima Guest House Mikuniya is a wonderful and unique accommodation option in Japan. The highlights for me were the wonderful staff who go above and beyond to create a welcoming atmosphere for guests. The traditional Japanese garden and interior decorations are a sight to behold, and evoke the traditional Japanese atmosphere. The cherry on top for me is the common area, where guests can learn about different Japanese handicrafts and art in the Japanese culture corner. 
For a great price visitors can experience a 5-star hospitality, beautiful Japanese gardens and decorations, and stay in a traditional Japanese building. I highly recommend experiencing this ryokan-like guesthouse when you stay overnight at Miyajima, Japan!

Pin this post for your next trip to Miyajima, Japan