Although it's one of the most popular treks in Georgia, the trek from Mestia to Ushguli was still blissfully off the tourist radar. Trekking in October meant chilly nights, crisp mornings, sunshine all day, and fall foliage as far as the eye could see.
I embarked on this trek together with Marty from Intrepid Road, who recently published the YouTube video of our time in Georgia!
If you have at least four free days in Georgia, don't miss this beautiful village-to-village trek through the Svaneti region. Especially in October, consider trekking Mestia to Usghuli!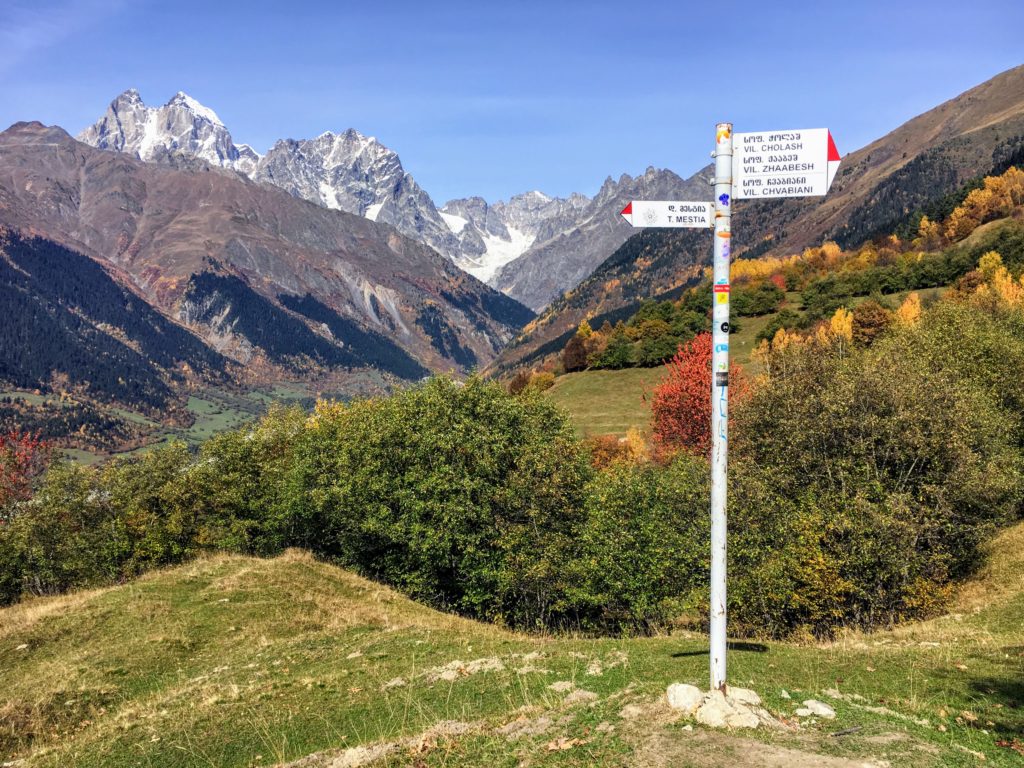 Duration of the Mestia to Ushguli Trek
4-6 days in the Svaneti region, 4 of which are spent trekking. My total budget over 5 days was about $158 USD.
Itinerary
Day 0: Overnight train from Tbilisi to Zugdidi
Day 1: Zugdidi to Mestia by minivan (20 Lari), Mestia to Zhabeshi (16 km)
Day 2: Zhabeshi to Adishi (10-12 km)
Day 3: Adishi to Iprari (17 km)
Day 4: Iprari to Ushguli (12 km)
Day 5: Ushguli to Mestia by taxi/van (25-35 Lari)
Day 6: Mestia to Zugdidi, overnight train to Tbilisi
Tbilisi to Zugdidi - Overnight Train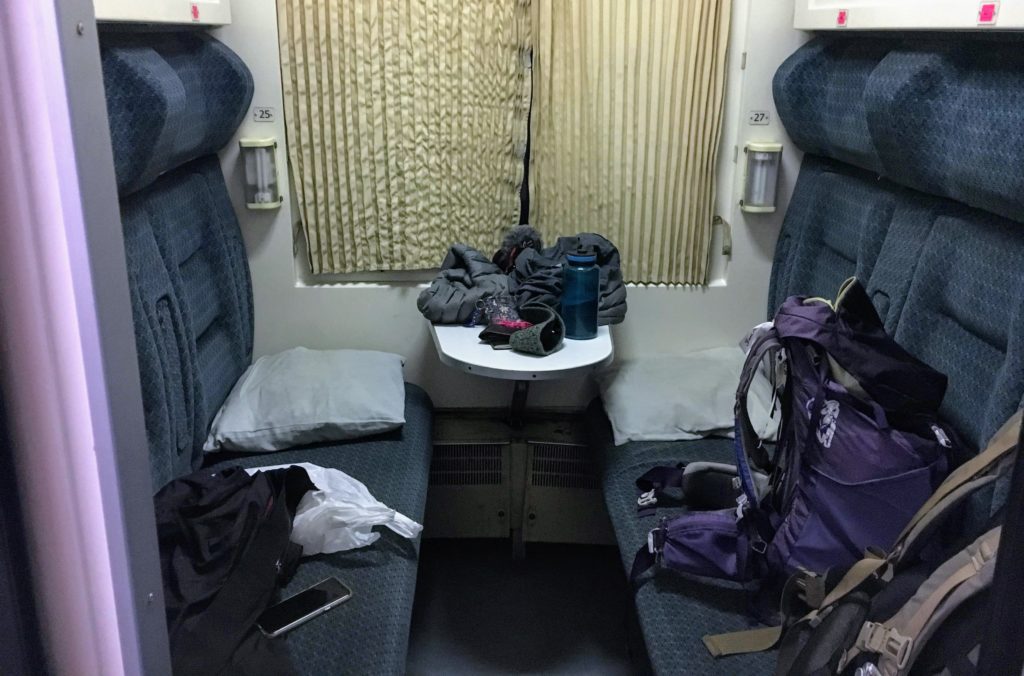 There are two trains that leave every day from Tbilisi's main train station to Zugdidi in western Georgia. One leaves first thing in the morning, and the other is an overnight train, and both last about 8 hours. We took the overnight train to Zugdidi so we wouldn't lose a whole day in transit. In October, we were able to book the tickets on the day of our departure. 
Each cabin had two 'beds', so we had the compartment to ourselves. The train stopped dozens of times in sleeping villages as it crossed across all of Georgia. The ride was an opposite of a restful sleep – I got barely two hours! 
Zugdidi to Mestia – Taxi, Van, or Bus
The train arrived in Zugdidi at 6am sharp when it was still dark outside. As we walked out of the train to the main road, we passed taxis, a minivan, and a small bus in that order. The minivan was clearly marked "Mestia" with a neon blue light, and so that's what we boarded. 
It cost each of us a standard 20 Lari ($7 USD) for three and a half hours on windy mountain roads at life-threatening speeds. We had one 20-minute restroom/snack break halfway through the trip, then were dropped off in the center of Mestia town.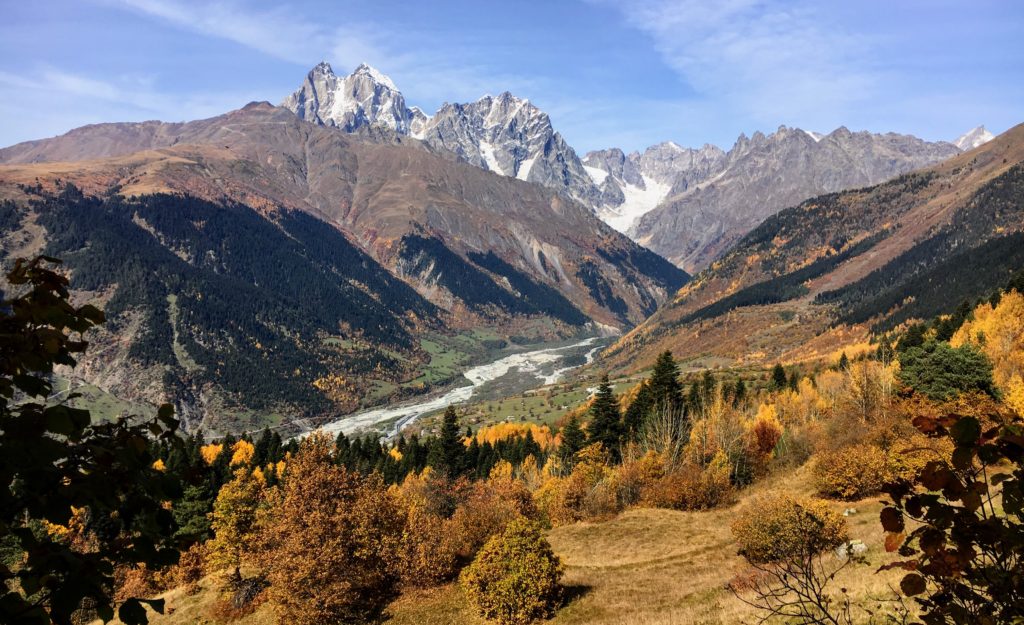 Day 1: Mestia to Zhabeshi (16 km)
We arrived in Mestia around 10am. I was amazed at how much this town in the heart of rural Georgia reminded me of a Colorado ski town. The main square was covered in pine trees and benches and surrounded by massive wooden lodges and patio restaurants. 
The trail started at the outskirts of town, a 5-minute walk from where we were dropped off. After crossing a river and passing alongside a few isolated hotels, the trail shrinks from being a car road to just a dirt trail in the wilderness. We passed viewpoint after viewpoint of snow-capped mountains and forested valleys.
Right before we entered the valley where Zhabeshi village is, there was a lookout where we got a 360 degree view of all the beauty that the Caucasus has to offer. In front of us was a pure-white, conical mountain, and behind us were jagged, Dolomite-like cliffs (and behind the cliffs is Russia!).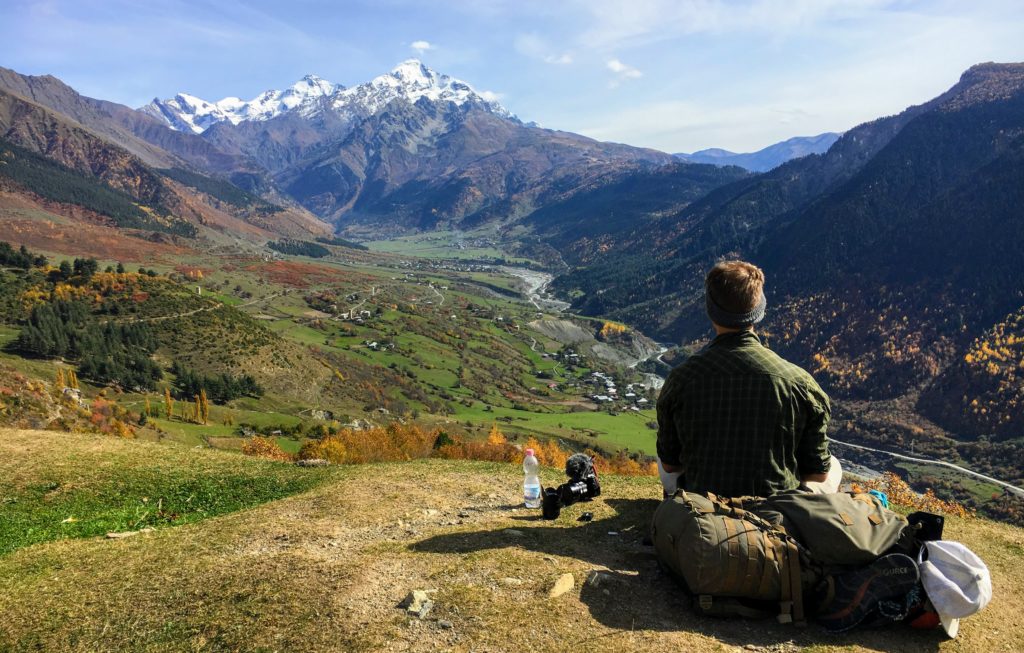 Dipping into this valley, we passed through many ancient-looking villages. Everything was made from crumbling stone and roughly hewn wooden beams. Old archery towers gathering dust loomed over the handful of homes. Piglets scampered around the roads with their curly tails bouncing in unison while mama pig munched lazily nearby on some fallen apples. 
The trail from Mestia to Ushguli in October took us through many scenes like this, and through villages forgotten by time itself.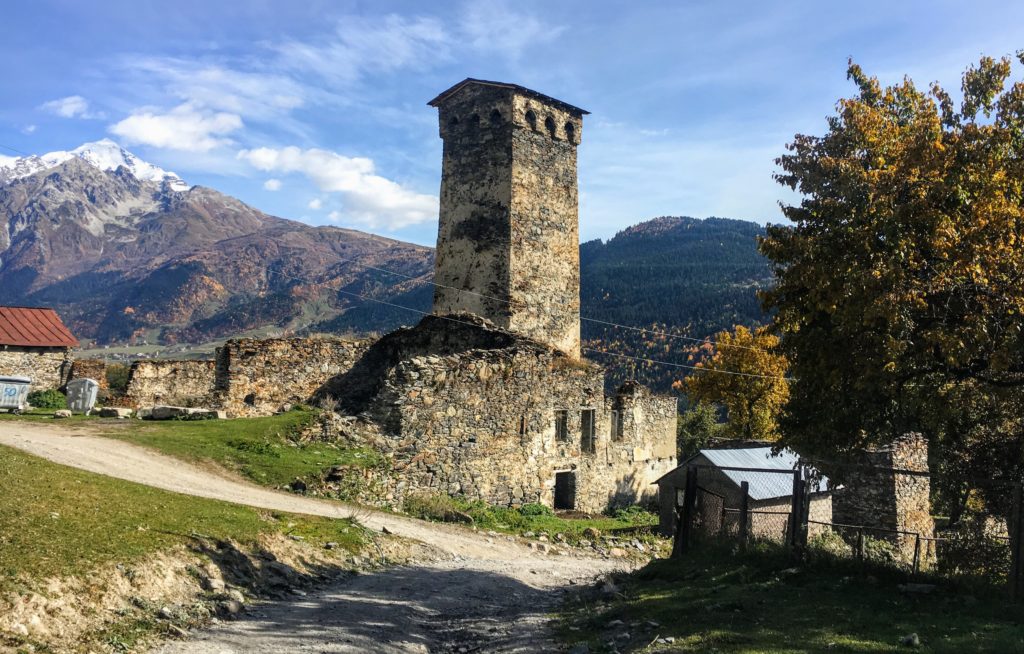 The trail eventually dipped into a grassy riverbed, which we followed for a while not knowing if there was a spot where we'd be able to cross the river to the other side. Eventually we came upon a metal bridge, and we climbed up a gravel cliff to reach Tsldashi town, next to Zhabeshi. 
We arrived just when groups of school kids with their oversized backpacks were making their way home. One parent-child pair asked us if we had a guesthouse to stay in.  When we said no, we were invited by the mother to stay at hers.
The guesthouse was at the end of Zhabeshi town, and it cost us 50 Lari per person (~$15 USD) to stay, with bed, dinner, and breakfast included. We were only barely able to communicate with the owner through big smiles, hand signs, and Google translate in Russian. 
The meal she made for us of Khachapuri (cheese-filled bread), two types of eggplant and mushroom salad, tomatoes and cucumbers, fresh oven-baked bread, and a warm tomato-based noodle soup, was one of the best I've had in my life.
Day 2: Zhabeshi to Adishi (10-12 km)
Day 2 on our October trek from Mestia to Usghuli started with a gradual uphill over grassy slopes. Village cows, pigs, and goats were all roaming around munching on the dewy grass, their morning routine. We passed by some nice camping spots and viewpoints, then reached the top of the hill where there were a set of gondola poles.
After passing this section, the trail split into a couple different paths. One took the lowest elevation and was the most direct route to Adishi. The others gained more elevation and wrapped around the hills in the general direction of Adishi.
We took what we thought was the highest trail because there was supposed to be a lake at the top, but we couldn't find it. We climbed to the top of one of the nearby hills, then managed to lose the trail in the tall grass. Luckily all paths lead to the same destination, and using the app maps.me ensured that we didn't get too lost.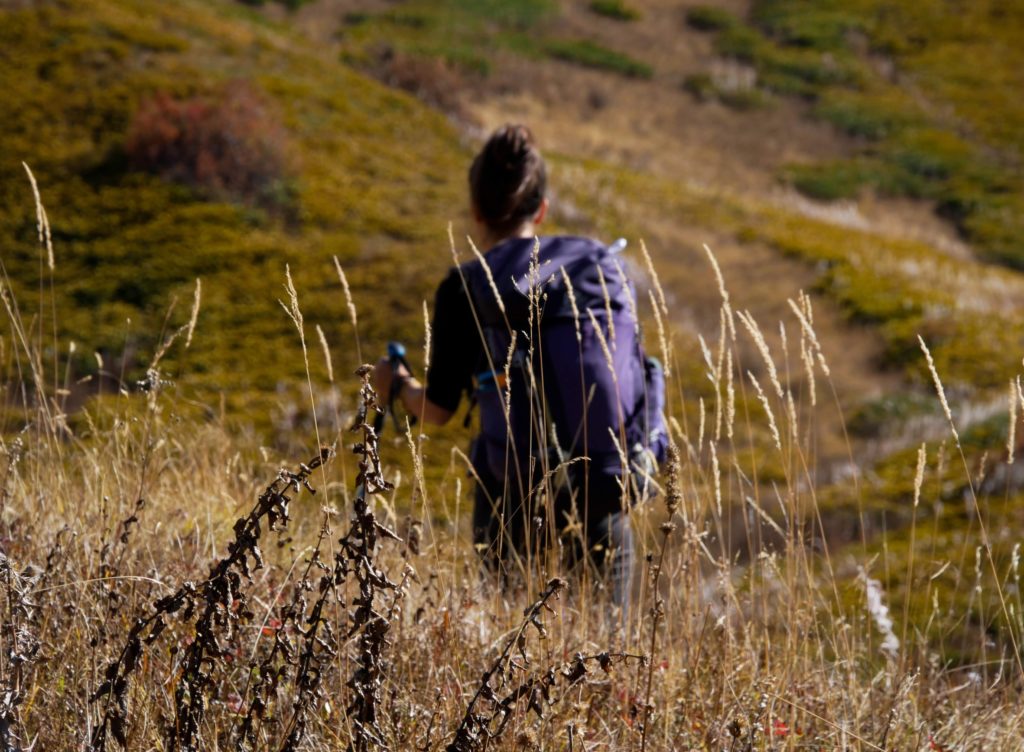 By late afternoon we were walking through some horse pastures and trying not to disturb the massive creatures. Then we dropped more elevation to finally reach Adishi town.
Again we stayed for 50 Lari per person ($15 USD), had dinner and breakfast, as well as free, semi-working wifi!
Day 3: Adishi to Iprari (17 km)
This was the longest day of trekking we had. It included a river crossing where the water went up over my knees (mid-shin for Marty), and going over a mountain pass. We were also had amazing mountain and glacier views, some of the highlights of the trek. 
The trail from Adishi to the river crossing was long but easy. We hardly felt the gradual incline as we walked alongside the river toward the mountains ahead. 5 kilometers went by in a breeze when the trail below our feet turned from dirt, to swampy, to rocky. The sound of the river came closer as did the view of the white glacier where the water stemmed from.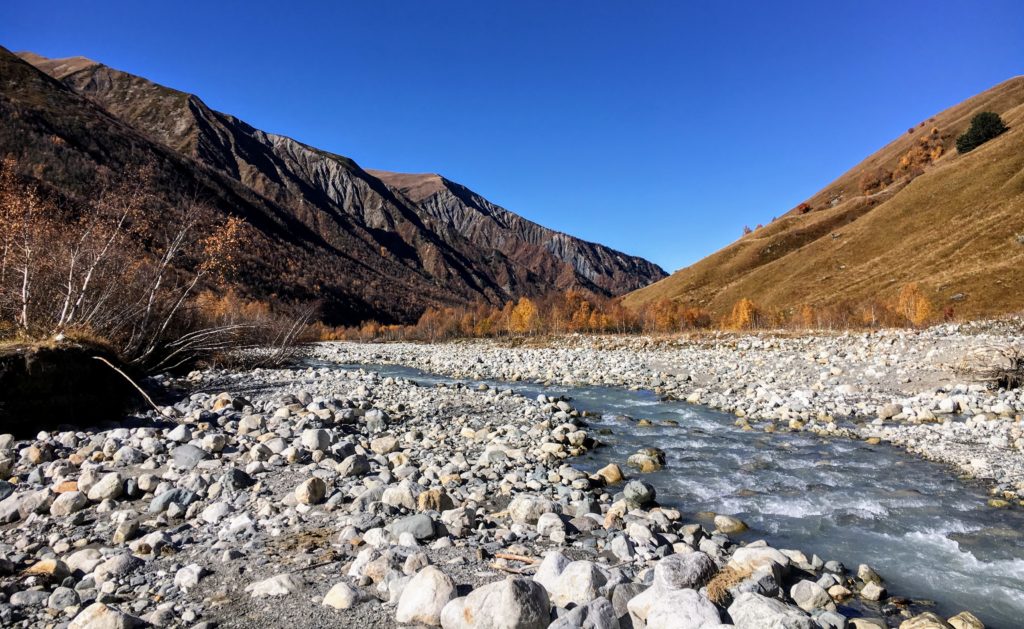 Higher up the valley, the river had split into two, and right before it merged back into one was where we crossed. There were a few hikers ahead of us who motioned to us where to cross, because we couldn't hear a thing over the sound of the roaring water. 
Hiking Mestia to Usghuli in mid-October is when the glacier is starting to freeze over again, so it's possible to cross without the help of a horse (unlike the summer months). I rolled up my pants and tucked my shoes and socks into my bag in order to cross. The water was FREEZING! The current was fast but manageable for crossing, especially with the help of trekking poles to balance.
Next up was tackling the mountain pass. Especially after completing the Three Passes Trek in Nepal, this pass was relatively a breeze. There were a few steep uphill sections, but for the most part we could hold a conversation and trek at the same time.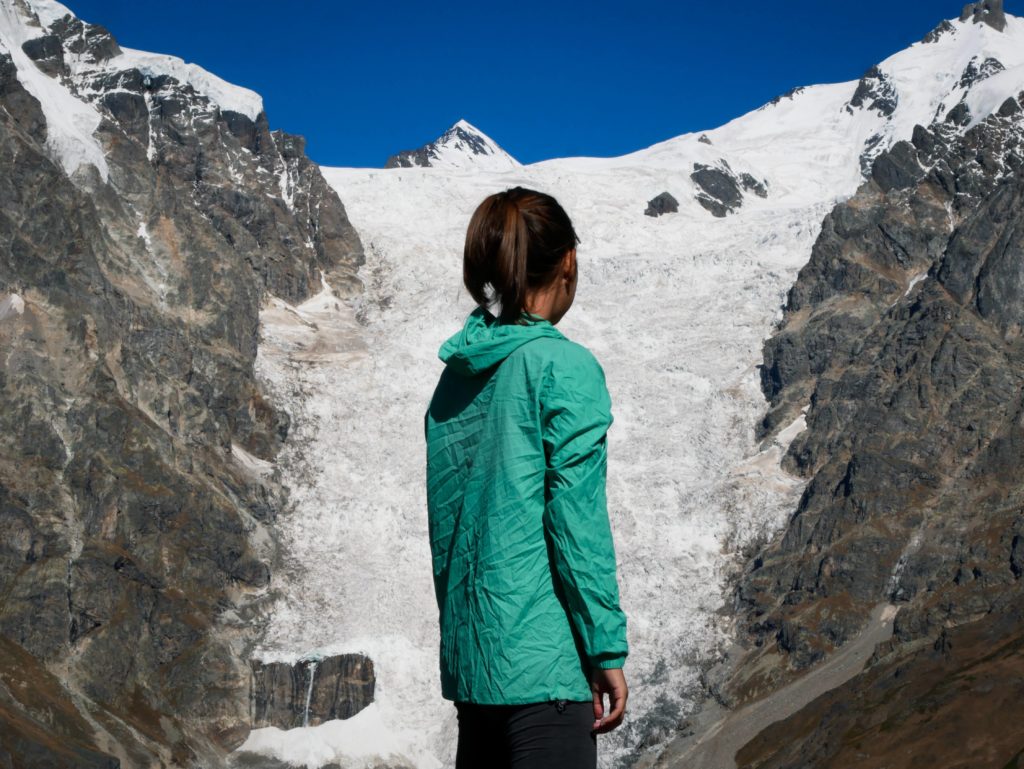 The trail wound over muddy trails under forest cover, where we got occasional glimpses of the glacier and river below. After one last uphill curve, we were surprised to already be at the top of the mountain pass! It was a wide, dirt ridge with no markings on it. 
We followed a separate uphill trail to reach a beautiful viewpoint. Other trekkers were having a rest here, eating lunch, and taking lots of pictures. Below, we could see the trail we needed to take down – it zigzagged steeply down the other side of the valley.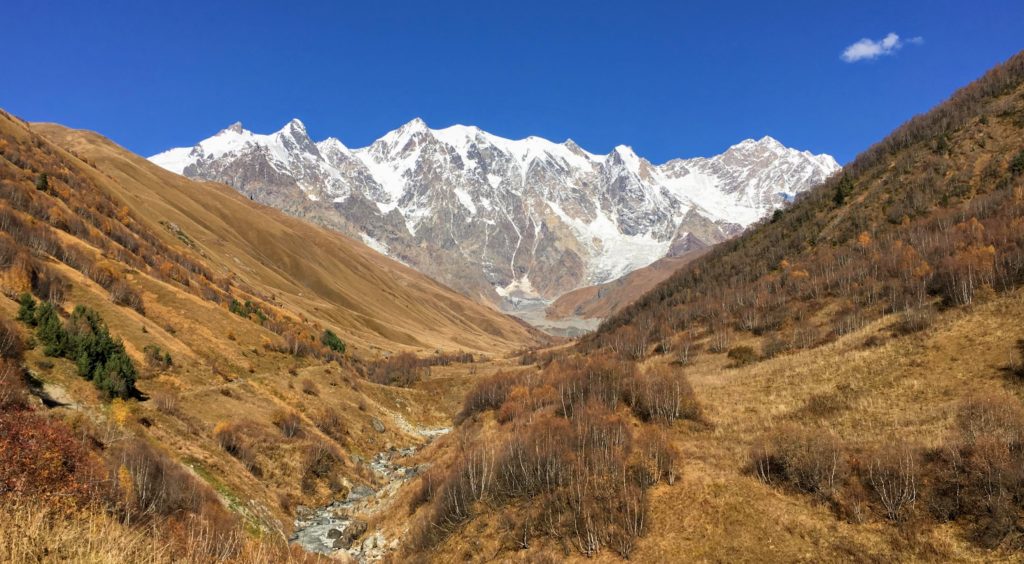 The trail to Iprari is a similar one to the trail from Adishi, basically flat but a slight decline towards town. The 9 km we had was easy but time consuming, with the only views being of the river and canyon next to us, and the snow-capped mountain view behind us. 
We stayed in Iprari at a guesthouse (for 50 Lari per person again) that had a great view of the forested hills behind it. The base of the hills was where we would be walking the next day, toward Ushguli. The dinner here was surprisingly meat-intensive, with mince spring rolls and fried chicken, (salad, bread, and soup for me!) after two only-vegetarian meals at the other guesthouses.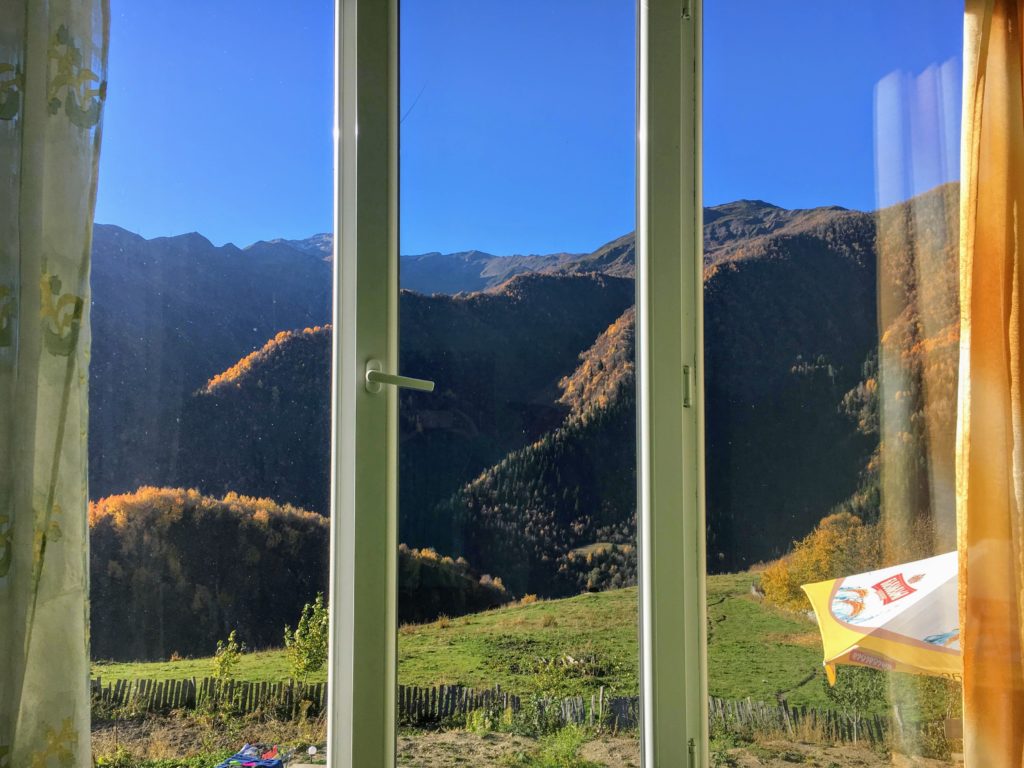 Day 4: Iprari to Ushguli (12 km)
The trail to Ushguli started immediately outside of Iprari town with a steep decline, until we reached a village situated alongside the river. There was a small shop, a cafe, and the usual wooden guesthouses, sometimes built next to a wall of hay for the animals. 
We were greeted at this intersection by a roaring bulldozer, working on widening the road and preparing it for a concrete pour. It won't be long until Ushguli becomes easily accessible from Mestia and tourism will expand exponentially!
The construction-riddled road didn't affect us for long. The hiking trail crossed the river after this main road, then we climbed waaaay up the side of a grassy hill. We were basically on top of the hill's ridge again, surrounded only by trees and cows.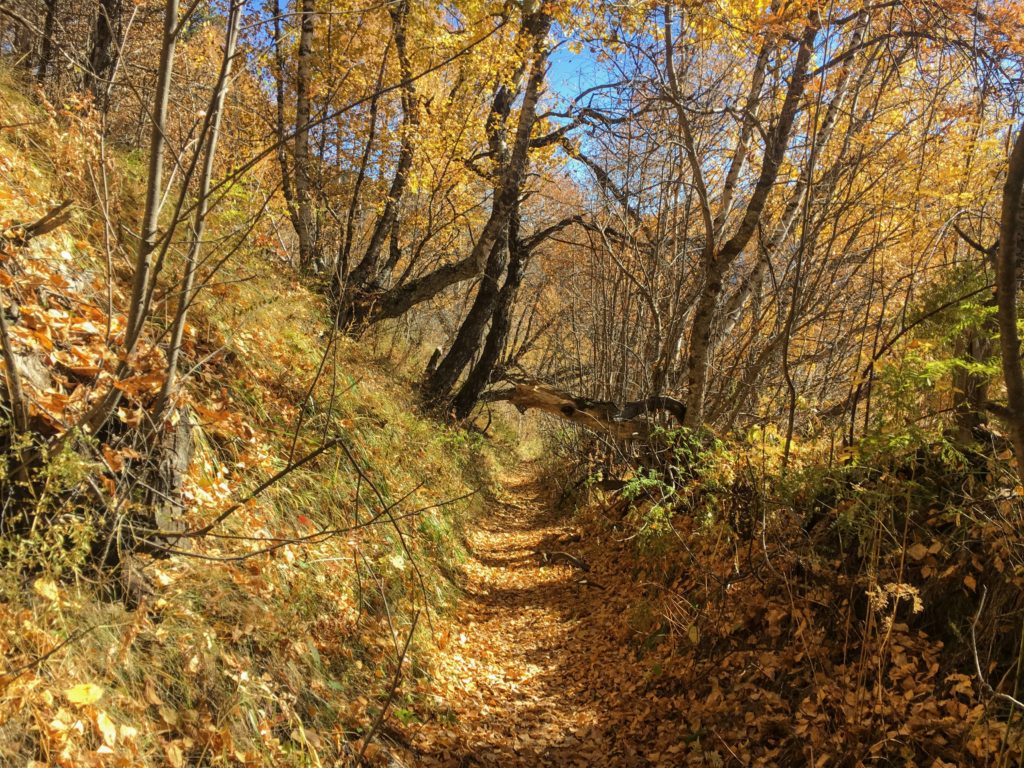 The hiking trail took us through dense forest cover, all yellows and oranges, with the occasional panoramic view of the surrounding valley. There are a few times we dropped altitude to cross over small feed-in rivers, never deeper than the sole of my shoe. Most of the trail was over exposed roots and within a canopy of trees.
Eventually the trail smoothed out and the forest cut away to reveal a green pasture shared by cows and horses. It was the end of the trek. We merged onto the main road and hiked another two kilometers, past stone farmers huts and more cow and horse pens, to Ushguli.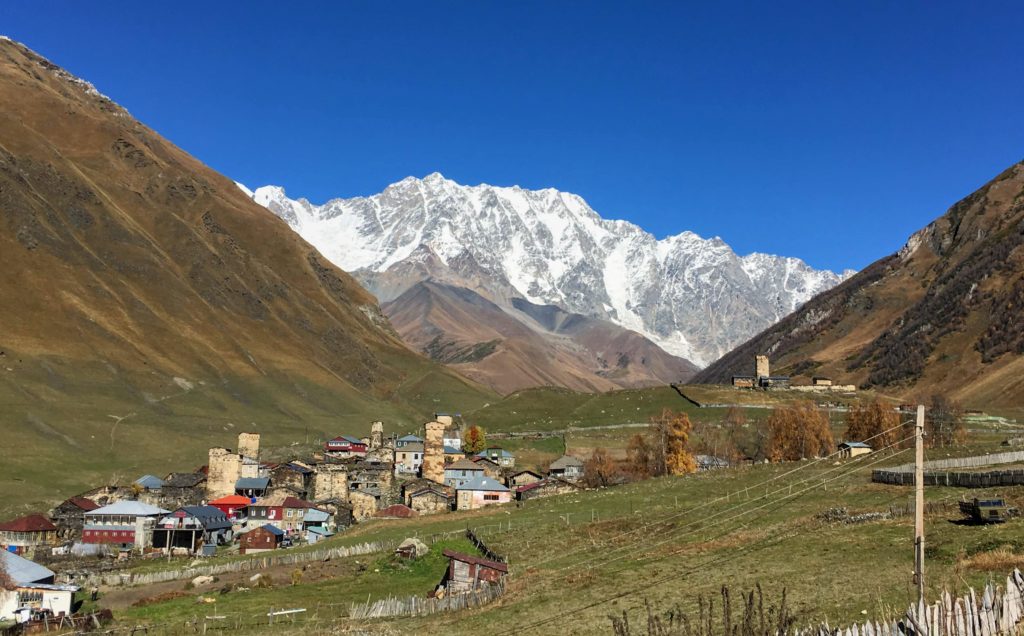 There was a wide array of accommodation here. Ushguli was by far the largest town since we left Mestia. Some accommodation looked more like hotels or mountain lodges than locally-owned guesthouses. 
We found a place for 50 Lari that had an attached bathroom, and a view from a shared balcony of the snow-capped mountains in the distance. 
Day 5: Ushguli to Mestia by Van
We walked to the center of town around 10am, after breakfast at the guesthouse. We were watched closely as we walked, by the massive street dogs. They are descendants of the Caucasian Shepherd breed that were traditionally used to fight off bears!
There was one truck from our guesthouse that was charging 35 Lari per person for a ride back to Mestia ($15 USD), and one van at the central bridge that wanted to charge us 50 Lari, then 40 Lari. We ended up taking the truck from our hostel, and were back in Mestia in an hour and a half. 
The ride backtracks on the car road that follows the entirety of what we had trekked the last four days. It was depressing in a sense to have all our hard work wiped out by an hour and a half in a vehicle. On the other hand it was cool to look back on the same trails to internalize how far we'd come on our own two feet.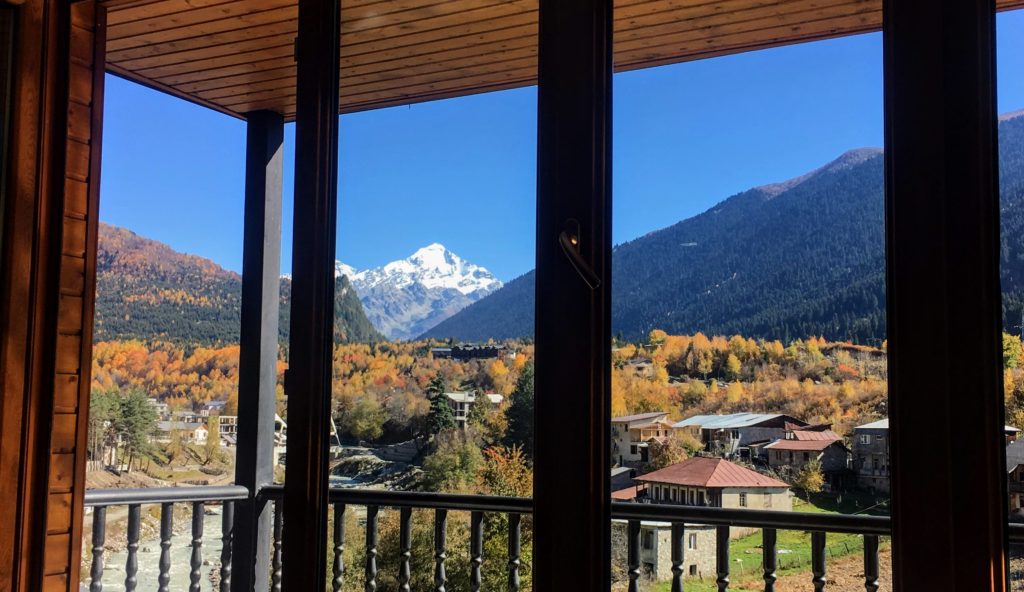 We stayed in a Mestia guesthouse for 50 Lari ($15 USD) per person. This time only breakfast was included, but we had a balcony with an amazing view of the river that cuts through town and one last glimpse of snow-capped mountains in the distance. 
There are several cafes and restaurants around this growing town where you can spend your afternoon and evening relaxing and recovering from the trek. We went to Cafe Bar Laila at the center square for dinner, which had decent prices and a great vibe for a fancy Georgian restaurant. 
Getting from Mestia to Tbilisi 
On the day of our overnight train back to Tbilisi, we decided to spend the morning and afternoon in Mestia instead of in Zugdidi.  We booked the last van to Zugdidi for 20 Lari ($7 USD), which was scheduled to leave at 4pm. We checked out of our guesthouse at noon then hung out at Ertikava Cafe, which had great wifi and a bean bag sitting area in the back.
Our van ended up leaving closer to 5pm, but we still arrived at the Zugdidi train station at 8pm, two hours before our return train.
There was a gas station and convenience store one block away from the train station, which had a mini cafe and bakery section (and free bathrooms!), where we spent our time until our train was ready to depart.
The overnight train back to Tbilisi was a standard 35 Lari for a bed ($11).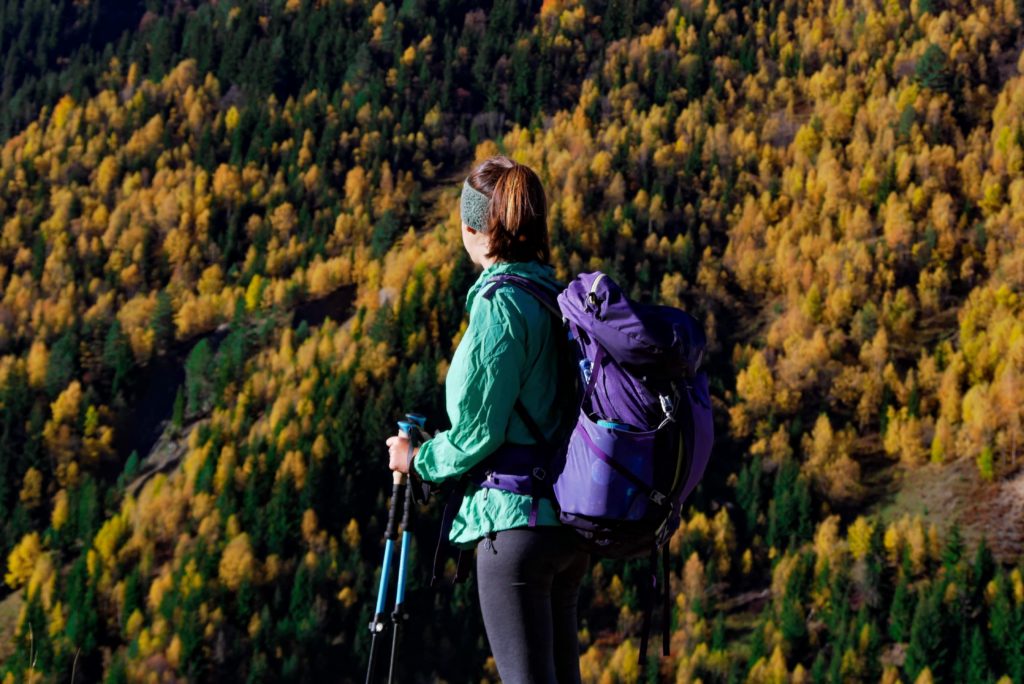 It's a mystery to me why the trails between Mestia and Ushguli were not more crowded with trekkers. As the tourism industry in Georgia expands like the roads in Svaneti do, it will only be a matter of time until trekkers will be sharing the trails with massive tour groups. 
There were a few huge lodges being built in preparation for this, but I hope the character of the crumbling villages stays the same over time. If you want to trek in Georgia, I recommend you come sooner rather than later! 
If you enjoyed this post, please share or Pin It!