With tourism booming around the world, many European cities are bursting at the seams. Over-tourism is not enjoyable for anyone, the locals or the tourists. Why not spend less time in the crowded big cities and discover the charm of the countryside, or explore more isolated cities and towns? You'll love off-the-beaten-path Europe once you look around and see you're one of very few tourists!
Move over London, Amsterdam, Barcelona… it's time to pack your bags for these off-the-beaten-path Europe destinations!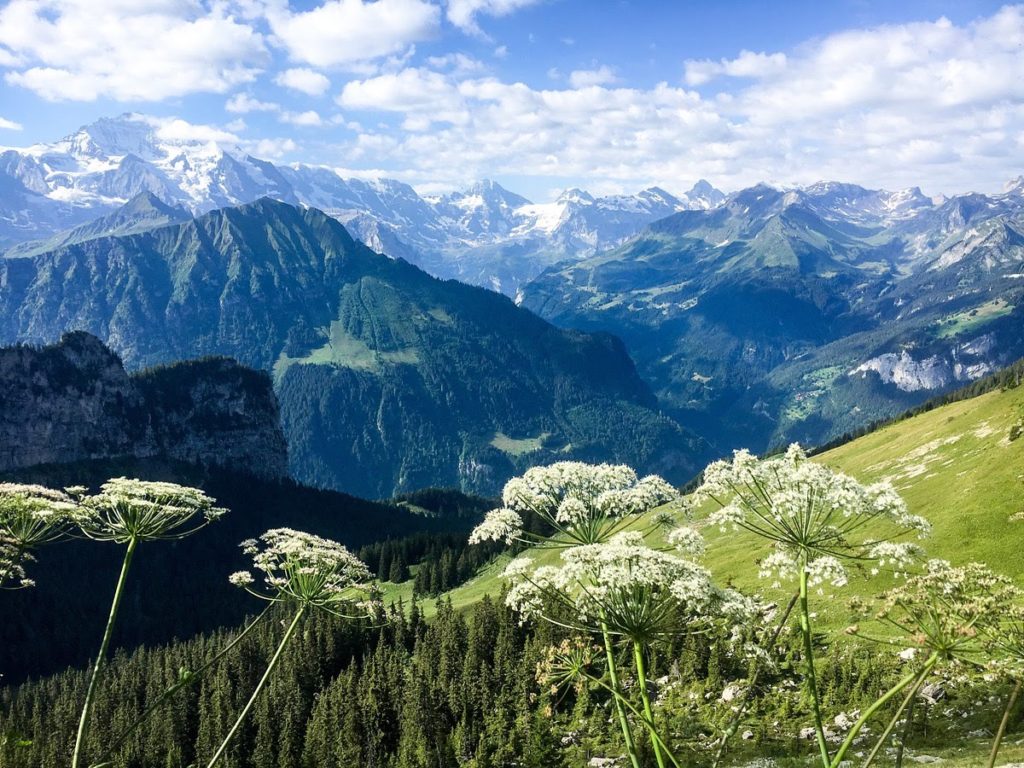 Donegal County is in the most northern point in Ireland, further north than even Northern Ireland. It is a wild, rugged and infinitely beautiful county that not many tourists manage to get to: a very off-the-beaten-path Europe destination. Donegal was named number one of the 
coolest places on earth by National Geographic
 in 2017. The county is home to the highest cliffs in Europe, brilliant surfing beaches, and vistas that stretch for miles.
Donegal Town is an ideal place to tour this area. It is a small town with a huge music scene, located in the southwest corner of Donegal County. Things to do in Donegal town include visiting a ruined castle, and admiring the atmospheric remains of the Abbey Friary by the harbor. You can take tours to visit the Slieve League Cliffs or the Wild Atlantic Way of Donegal too. You can also hike the Bluestack Mountains or visit ancient stone cairns, and afterwards enjoy some of the finest, freshest seafood in Ireland. 
Don't miss the chance to be serenaded by local musicians! Donegal traditional music is in a class of its own and considered a national treasure. The pubs have traditional music sessions every night. Two of the best in town are The Reel Inn and McCafferty's, but you have at least twelve to choose from. 
Donegal Town is also great for foodies. Look for 
The House Gastro Pub
which was awarded the honor of Ireland's Best Gastro Pub. If you fancy some superb Indian food,
Chandpur
is also one of Ireland's award-winning restaurants. Donegal is a place where you leave your heart and will always come back to as there is always something new to see.
Where to Stay in Donegal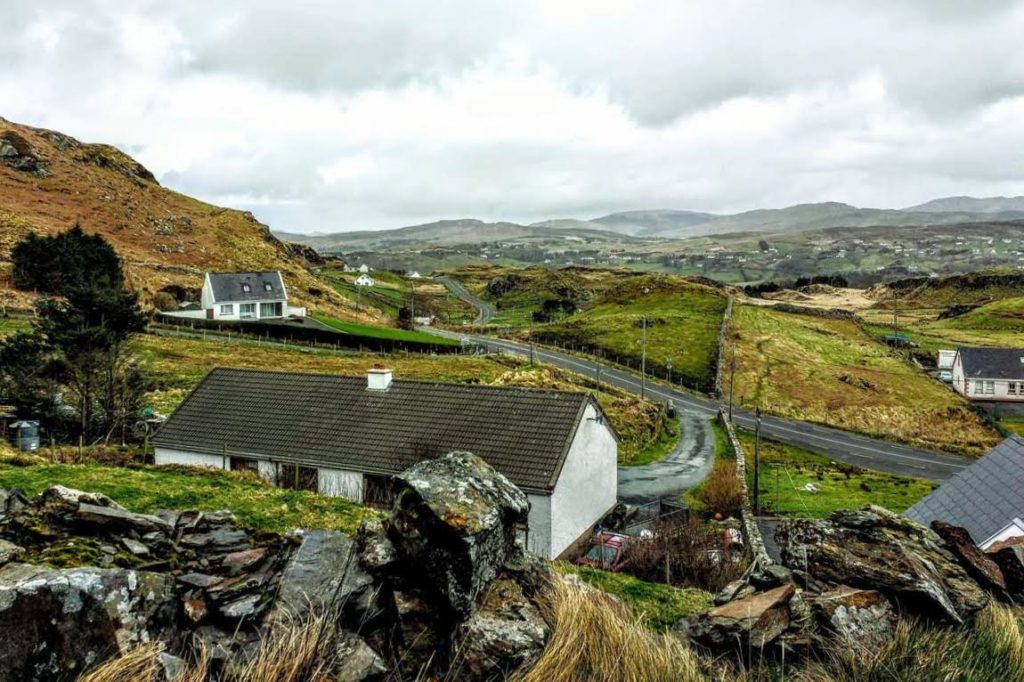 By Toones Travels – follow on Instagram
Saalfelden is a picturesque Austrian town of 16,000 people, located an hour southwest of Salzburg. The area is best known for its textiles, leather goods, and beer making, and it's situated along the Saalch River at the base of the Alps. Needless to say, it's the perfect, off-the-beaten-path European destination to experience the great outdoors!
In the summer, Saalfelden turns into a popular hiking destination in Austria. The Kronreith Circular Trail to is an easy and scenic trail to explore the surrounding nature and get a glimpse into the majestic mountain-scape. It's only fitting to enjoy a cold beer at the Kronreith Guesthouse once you've finished the hike!
The town is also home to JazzFest Saalfelden, which typically takes place in late August. International jazz lovers and musicians alike descend upon the Austrian town for open-air concerts while soaking up the stunning landscape. This past year's festival hosted 83 concerts in just 5 days!
Once the snow starts flying, Saalfelden transforms into a winter sports getaway. Test your tobogganing skills in neighboring Leogang, strap on a pair of cross-country skis and meander along the walking paths turned Nordic trails, or make some downhill turns at one of the several ski resorts in the area. For a local experience, check out Hinterreit, a small farm that, when covered in snow, becomes a family-friendly ski environment. You won't find any gondolas or fancy lodges, just a couple of t-bar lifts and a few groomed trails where the cows used to roam in the warmer months.
Whichever season you visit Saalfelden, rest assured there will be plenty of things to do and adventures to be had!
Where to stay in Saalfelden
Located in neighboring Maria Alm and just a short walk away from Saalfelden's town center, the Sports Chalet Maria Alm makes for the perfect accommodations with its modern apartments. It includes a kitchen, free WiFi, and access to a gym, with plenty of shopping and restaurants just a stone's throw away.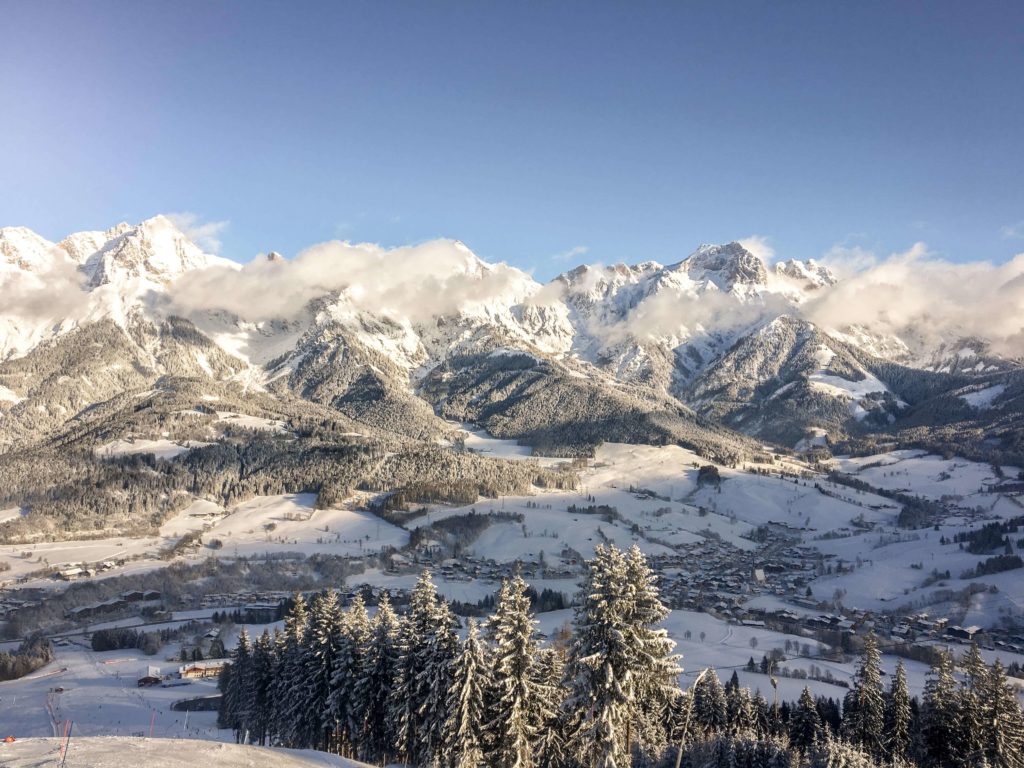 Leeuwarden, the Netherlands
By Breathe, Travel, Repeat – follow on Instagram
When you think of visiting the Netherlands, of course you think of Amsterdam, maybe Delft with its Delftware or Gouda with its cheese market. But Leeuwarden? Probably not. But you should add it to your off-the-beaten-path Europe bucket list! It's one of the coolest places we've been in the Netherlands since moving here, and we think it is absolutely worth a trip. Leeuwarden is the capital of Friesland, a province that has its own language. Leeuwarden locals speak Dutch (and of course English like almost everyone else in the country), but they also speak Frisian. That means you'll be treated to some new accents, some new words, and a different feel here than when visiting other places in the Netherlands.
Leeuwarden is home to canals and Dutch architecture and is incredibly gezellig (the Dutch equivalent of hygge). If you're looking for all the picturesqueness of Amsterdam in a smaller setting with way fewer tourists, Leeuwarden is the place for you. It was the named a European Capital of Culture 2018, so you know it's home to some great attractions. The Fries Museum is considered one of the best museums in the country (you may need to buy tickets in advance). There's also a leaning tower, the Oldehove, and a cultural center, Blokhuispoort, that was once a prison. 
Leeuwarden is also home to one of the best beer bars in the Netherlands (according to our unofficial ranking). We've never tried so many unique, delicious beers from around the world in such a cute, local setting as we did at Speciaalbier Café De Markies. 
Where to stay in Leeuwarden
Due to its location, chances are you'll need to stay the night in Leeuwarden. We highly recommend the cozy, reasonably priced B&B Kia Ora. It's located on a cute street and breakfast is lekker (delicious)!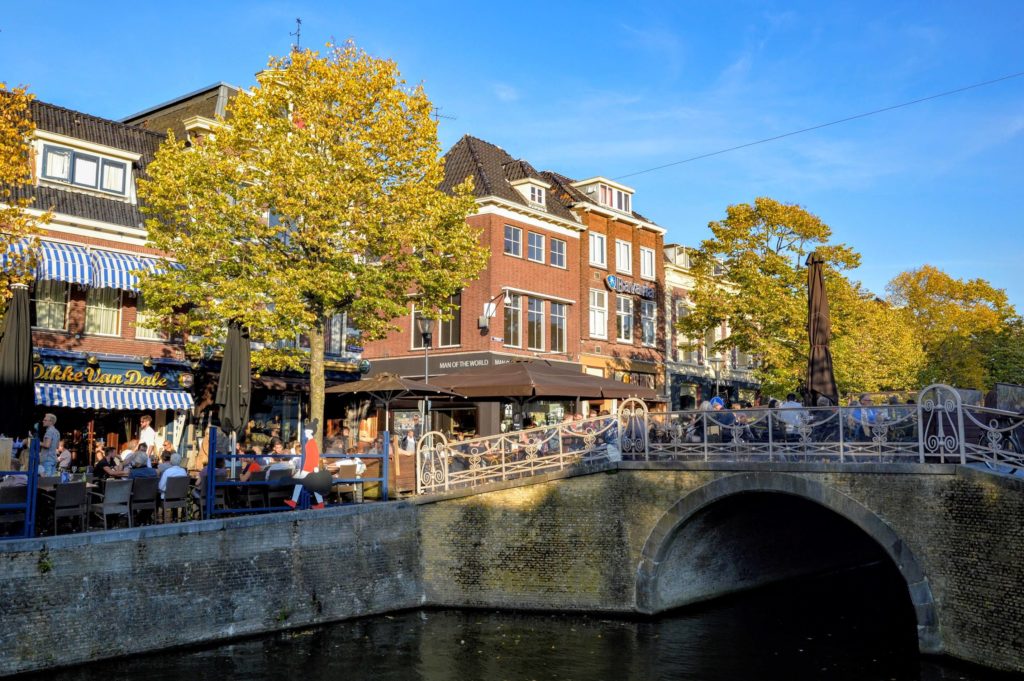 By Wanderlust Within – follow on Instagram
Well above the Arctic Circle lies the small Norwegian town of Alta, often dubbed "the town of the Northern Lights." With 20,000 inhabitants, it is located at 70 degrees north latitude and is the main town of Finnmark County in Norway. Alta is the perfect off-the-beaten-track Europe destination for the winter. I recommend staying for at least three nights, to give you plenty of chances to view the Northern Lights and experience a true winter wonderland.
During summer, Alta experiences the "Midnight Sun," when is it light throughout the day and night. In winter, Alta experiences the "Polar Night" when the sun doesn't rise above the horizon, meaning it's pitch dark for almost 22 hours a day. 
The Polar Night takes some getting used to, but the level of darkness does make it perfect for spotting the Northern lights. Not only is the darkness perfect for viewing the Northern lights, but so is Alta's temperature (relatively). The Norwegian coast is affected by the Gulf Stream, meaning Alta doesn't get as cold as other towns at the same latitude in say Sweden, Finland or Canada.
Other than viewing the Northern lights, Alta has plenty of activities to keep you busy in winter. Popular winter activities include snowmobiling, snowshoe hiking, dogsledding, cross country skiing, ice fishing and reindeer sledding. There is also plenty of sightseeing, including visiting the modern Northern Lights cathedral and the unique Sorrisniva Igloo Hotel. 
Where to stay in Alta
I would recommend staying in Trasti and Trines Lodge in Alta, where you'll have the chance to ride a dogsled and indulge in homemade organic food experiences. If you're visiting in winter and want to embrace the cold, spend the night in an Igloo Hotel!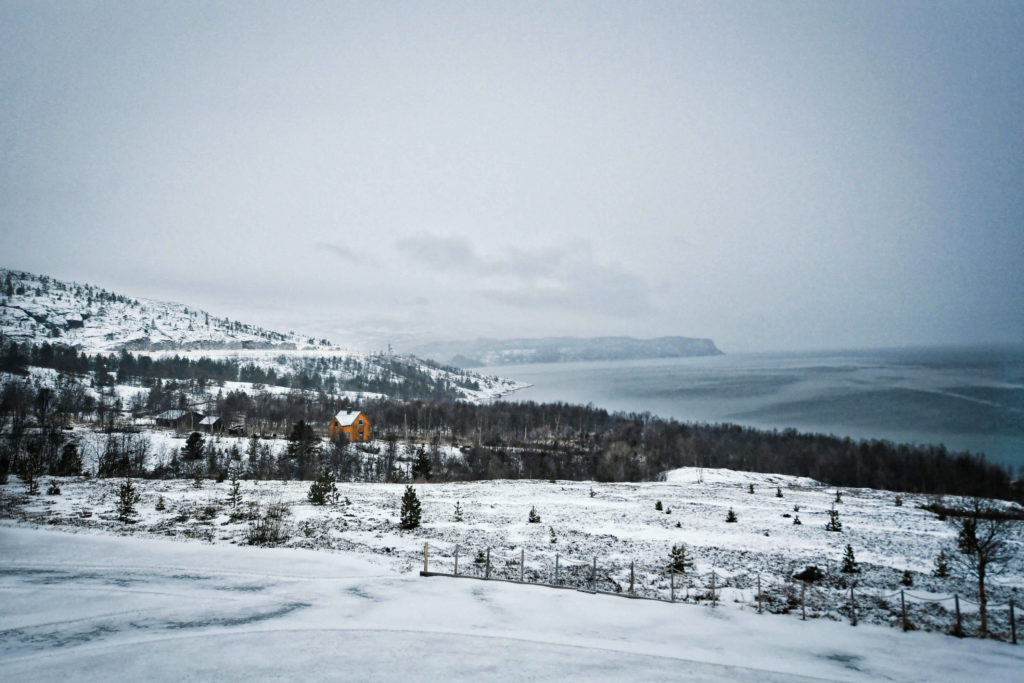 By Holidays from Hels – follow on Facebook
Despite living just over the Severn Bridge in England for 30 years, I had never heard of Barafundle Bay in Wales until May this year. This is possibly because until recently it was a private beach, owned by the descendants of the Thane of Cawdor, of Macbeth fame. It is now managed by the National Trust and can be admired by all. It is Pembrokeshire's best kept secret. 
Reached by way of a half mile mini-hike over a coastal path, you teeter on the edge of dramatic limestone cliffs before descending through a stone archway on to a beach reminiscent of a Greek Island. A crescent of golden sand is backed by small dunes. The water is clear, calm and incredibly green. Perfect for a family, inflatable dingy-based afternoon. The cliff path access, and the fact that there are no facilities, means crowds are kept at bay.
For the active travelers, you can continue hiking along the beach, and climb the steps through the woodland on the other side. A 6-mile round-trip takes you along through the pretty Bosherston Lily ponds and to the equally magnificent Broadhaven South Beach.
For a more relaxing afternoon, return to your car at the National Trust car park at Stackpole Quay and treat yourself to a homemade cream tea at the cutesy Boathouse Tea Room café. From here it is a short stroll to the quay itself where the brave can be seen jumping from the promontory on a sunny day. Others launch an assortment of sailing vessels here in search of their own aquatic adventures.
Where to stay in Barafundle Bay
Next to the quay, are a cluster of stunning national trust cottages. These are available as holiday rentals either individually for as a group for larger parties. I will be investigating availability for next Christmas at one of my newfound favorite places to visit in the UK.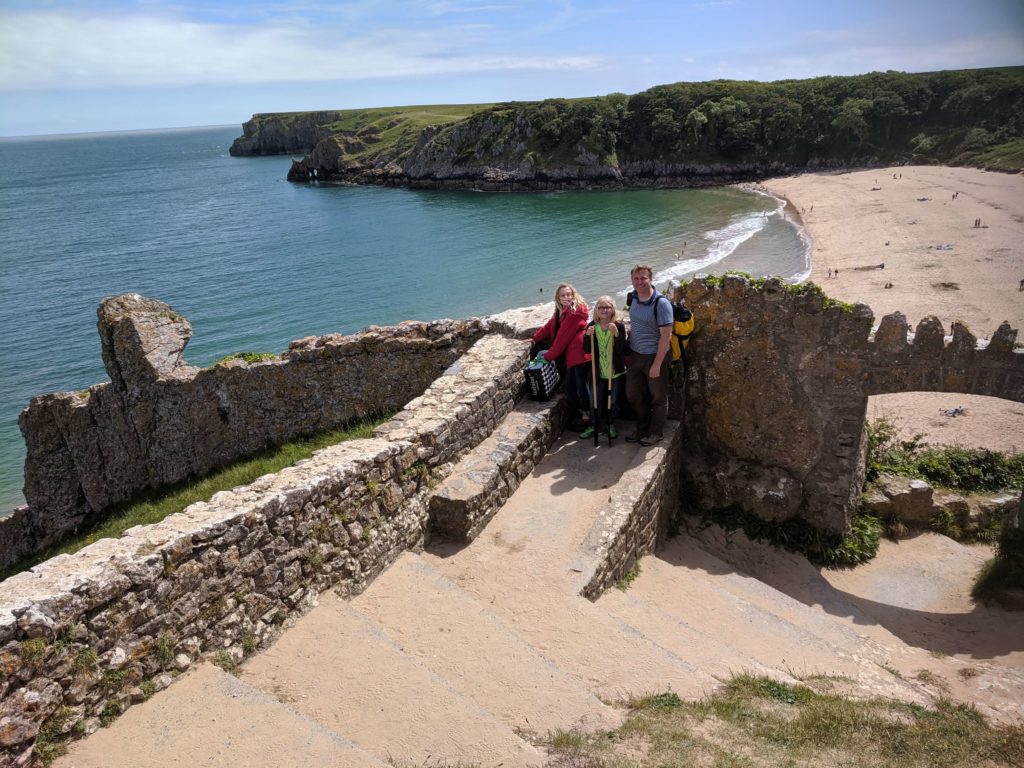 By Travels With Talek – follow on Facebook
When people think of visiting Spain they think of Madrid, Barcelona or the glorious southern region of Andalucía. But there are other, lesser-know areas that are just as desirable in their own way. The Principality of Asturias in northern Spain is one such beautiful and off-the-beaten-path Europe destination.
Asturias is known as "nature's paradise." It is blessed with amazing natural beauty, history, and regional cuisine and is one of Spain's most underrated regions. Most visitors enter Asturias via its capital city, Oviedo. From there it is easy to rent a car and visit the interior of the region as well as its coast facing the Bay of Biscay. The one of the prettiest cities on the coast, Gijon, is ringed by a long seaside promenade and dotted with little seafood restaurants.
In the provincial capital of Oviedo you expect to see the trappings of classic Spain: the brooding cathedral and medieval structures around the main square and winding streets paved with cobblestones. Plenty of traditional Spain is present to satisfy the most ardent Spain aficionado, but the city also boasts remarkable art galleries, striking performance art, leafy parks and a vibrant nightlife.
Don't miss the Asturian countryside either, where one of the first national parks in Europe, Picos de Europa, is found. Created in 1928, the park was awarded UNESCO biosphere status in 2003. It has some of the most beautiful mountain lakes in Europe, hiking trails and is home to bears, goats and the elusive Iberian wolves.
Asturias may be an off-the-beaten-path Europe destination today, but not for long!
Where to stay in Asturias
Find the perfect place to stay in Picos de Europa, Asturias' capital city Oviedo, or the pretty coastal town Gijon!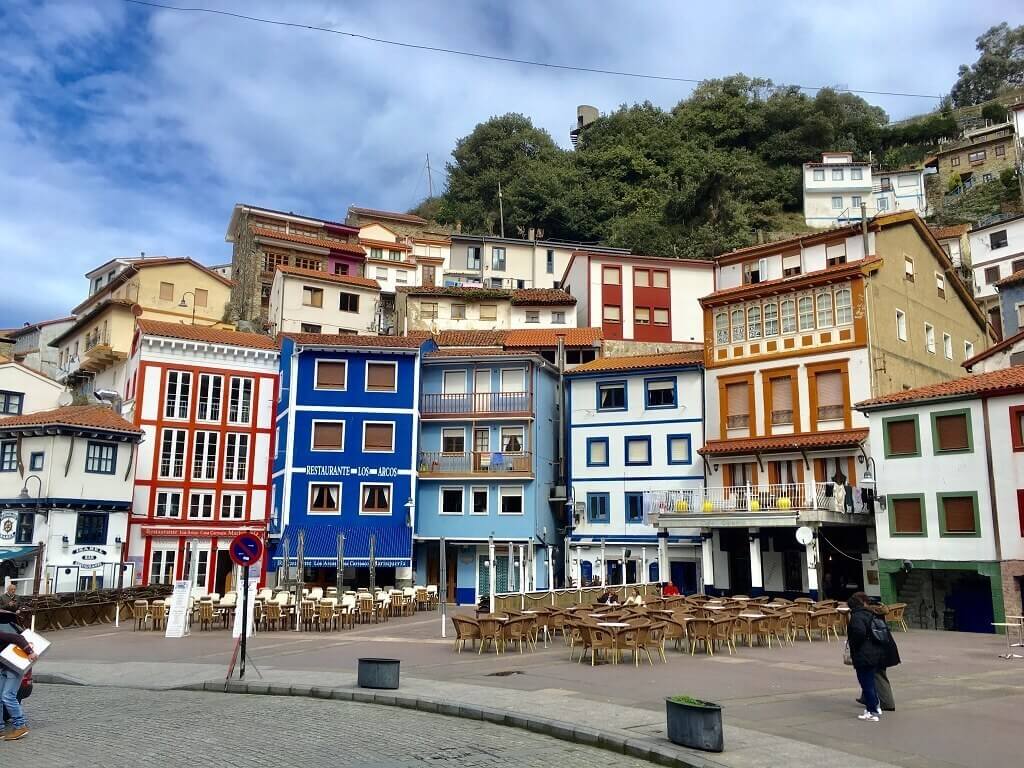 Lewis and Harris, Scotland
By Roving Jo – follow on Instagram
When thinking of Scotland, most travelers think of Edinburgh with its old city charm and fabulous festivals, or the Scottish Highlands with their mountains, glens, castles and distilleries. However, tucked away on the west coast is Lewis and Harris, the northernmost island in the Outer Hebrides of Scotland.  Here you will find a rugged and wild landscape, historic buildings dating back to the Iron Age, mystical standing stones and amazing white sand beaches with turquoise waters that would have you believing you are in the Caribbean.
Lewis and Harris is a special place that is miles away from the busy metropolitan city of Edinburgh. The island life there with small towns, single track roads, miles of coastline and a slower pace, is perfect to disconnect. However, just because it is miles away from Edinburgh does not mean there is nothing to do.  There are many things to do on Lewis and Harris to keep you occupied for at least three to five days. 
The three things not to miss would be the Standing Stones of Callanish, Luskentyre Beach, and the Harris Distillery. The Standing Stones of Callanish are Stonehendge-like neolithic monuments well-preserved through time. Luskentyre Beach is a beautiful sandy beach with turquoise blue waters, and the perfect place to unwind. The Harris Distillery makes award-winning Isle of Harris Gin and the Hearach, the "first legal whiskey to be made" on the Isle of Harris. 
Where to stay in Lewis and Harris
Picking a place to stay will depend on what you would like to experience.  You can rent cottages and do self-catering through Airbnb. Or stay is quaint local BnB's and small hotels. For the adventurous, beautiful campsites are available where you can pitch a tent or hook up your camper… even glamping sites with pods! If your budget allows, you can even live it up and stay in a castle: Amhuinnsuidhe Castle in Harris or Lews Castle in Lewis.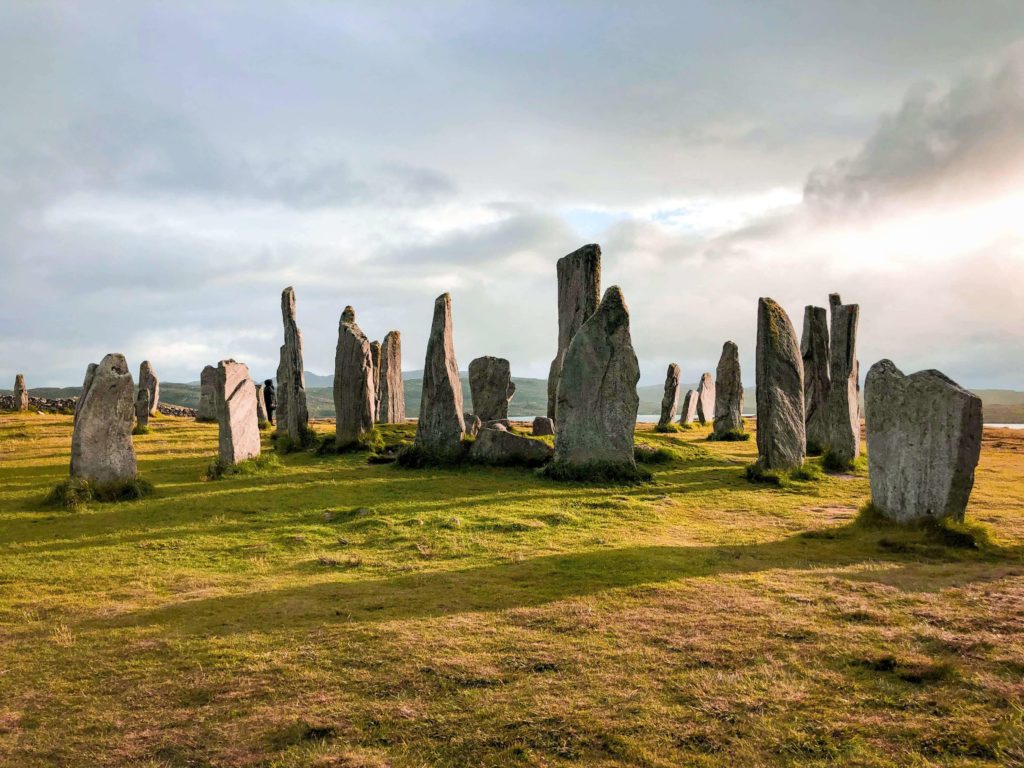 By The Road is Life – follow on Instagram
Nestled in the South Downs hills of East Sussex is the picturesque little village of Alfriston. Dating back to the 14th century, this tiny village is full of well-preserved medieval buildings and a lovely old church. Alfriston's high street is lined with quaint tea houses and beautiful historic pubs just calling you in off the street.
In Alfriston, visit The Star Inn for a great traditional English pub lunch. This pub dates back to the 15th century when it served as an inn for pilgrims who were traveling to Chichester from London. With its oak beams and open fires, the inn hasn't changed much over the years and it still holds its medieval character to this day. Another similar pub worth checking out is the George Inn.
A 20-minute drive south of Alfriston will take you to the spectacular white cliffs of Beachy Head. Similar in beauty to the White Cliffs of Dover, Beachy Head is actually the UK's highest chalk sea cliffs. For those who wish to get a closer look there are plenty of trails along the cliff's edge, but be careful, it's always very windy there!
A visit to Alfriston can easily include a trip to the cliffs in the same day. If you're traveling from London, the region is much easier to reach by driving. If you plan to take the train, the journey will take around 1.5 hours. Take the train from London's Victoria Station to the town of Polegate. Once you're there, you'll have to catch a taxi to Alfriston, which is an 8 minute drive.
Where to stay in Alfriston
The best place to spend the night in Alfriston would be at Ye Olde Smugglers Inne. This old inn is full of character and it dates back to the 14th century. You'll find a cosy bar and restaurant inside and a full English breakfast is included in your stay.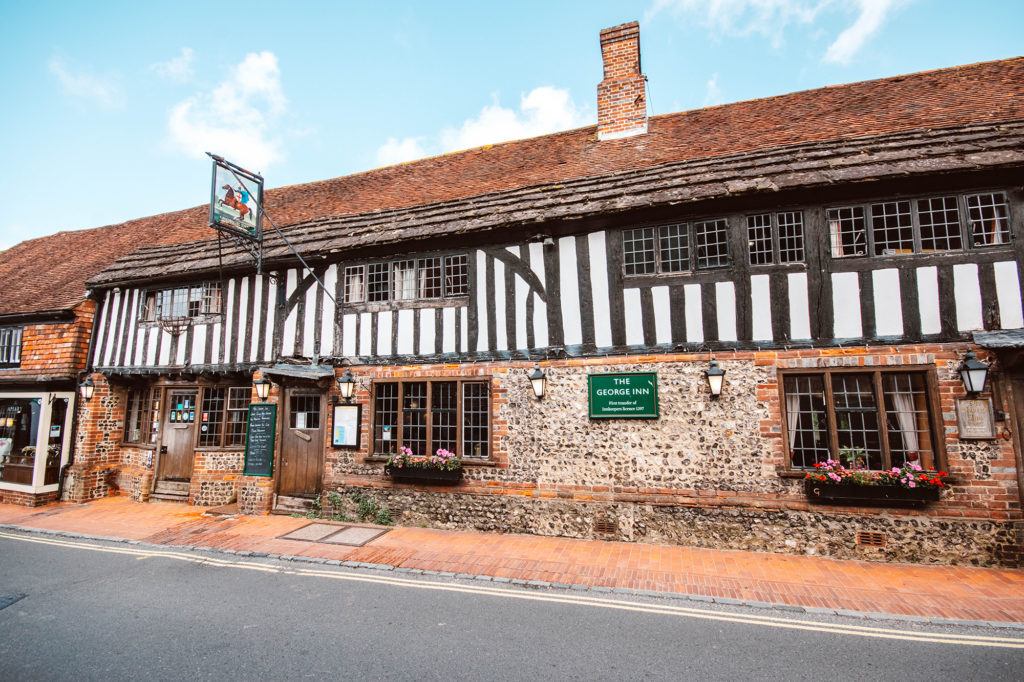 By Smudged Postcard – follow on Facebook
Enna is a hill-top town in central Sicily, nicknamed "Belvedere" for its incredible views across the island. The town feels very remote, located 150 kilometers from Sicily's capital Palermo in the west and 90 kilometers from the island's second city Catania in the east. If you're taking a road trip in Sicily, Enna should definitely be on the itinerary.
Spring is the perfect time to visit Enna, when the often parched Sicilian landscape is a lush and glorious shade of green, as are the surrounding wheat fields (from which much of Italy's pasta comes from). Enna hosts a dramatic Easter procession which sees locals dressed in robes parading the streets towards the 15th century cathedral on Settimana Santa.
The crowning glory of Enna is the Castello di Lombardia, a 13th century defensive castle with a commanding view across the valleys below.
Enna is a brilliant base from which to explore some of the other highlights of central Sicily. Close by are some of the best Roman mosaics in the world at Villa Romana del Casale. There's also a fascinating train museum at Villarosa, a truly hidden gem located behind a locked gate at the railway station of the same name.
Where to stay in Enna
Although there are hotels in the centre of Enna, visitors should consider staying just outside the town at an agriturismo. Baglio Pollicarini is an excellent choice. Rooms are simple, in keeping with a traditional farm stay but the scenery is fantastic. The restaurant offers a hearty feast for dinner and the farm has views towards Mt Etna, some 70km away.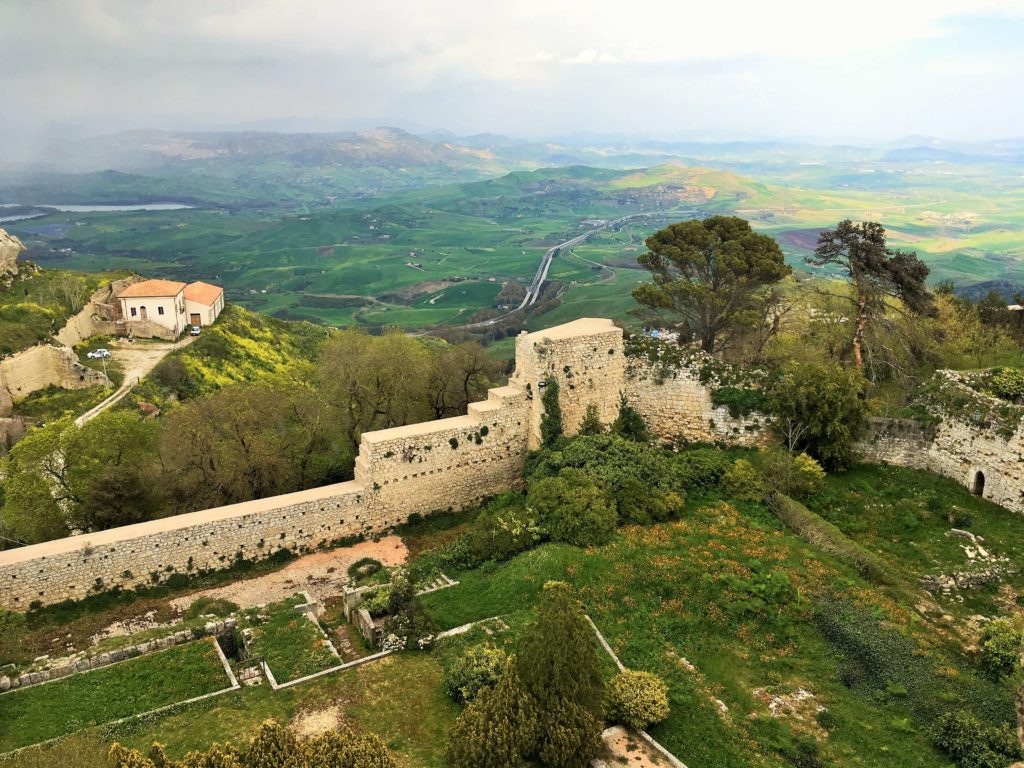 Lake Lungern, Switzerland
By Travel Hacker Girl – follow on Facebook
If you want to visit an off-the-beaten-path European destination in Switzerland, head to Lake Lungern. The lake is surrounded by mountains, and is a great place to visit for active travelers and fans of the outdoors and nature. Like the rest of Switzerland, this area is clean, safe, and has great infrastructure. It is easily accessible from Interlaken and the Eiger Trail. 
Start your trip at the local beach, Seebad Lungern. This beach is especially great fun for children, because it has slides, a diving tower, a sandpit and a playground. You can also rent a kayak or a stand-up paddle board (SUP), which is a fantastic way to explore the lake's calm waters. 
Lake Lungern is also home to plenty of hiking opportunities. The highest point in this area is Hoch Gummel, from which you can see the peaks of the Eiger and Jungfrau mountains near Interlaken. A 3-4 hour Panorama Hike starts at Turren (reachable by cable car), which gives you a great introduction to hiking in Switzerland. For an easy but rewarding hike, check out Dundelbach Waterfall to get a fantastic view of the lake and surrounding area. 
If you're looking for more great views and a change to get a workout in, try cycling the bicycle trail that loops around the lake. The 9km path is well marked, scenic, and is suitable for children. 
Where to stay near Lungern
If you want to get truly close to nature stay at 
Camp Obsee
 on the shore of the lake. This campsite has many waterside pitches, but if you want more comfort it is also possible to rent a bungalow. The campsite is very conveniently located near shops and restaurants, plus it is only a few minutes walk away from the Lungern-Turren cable car.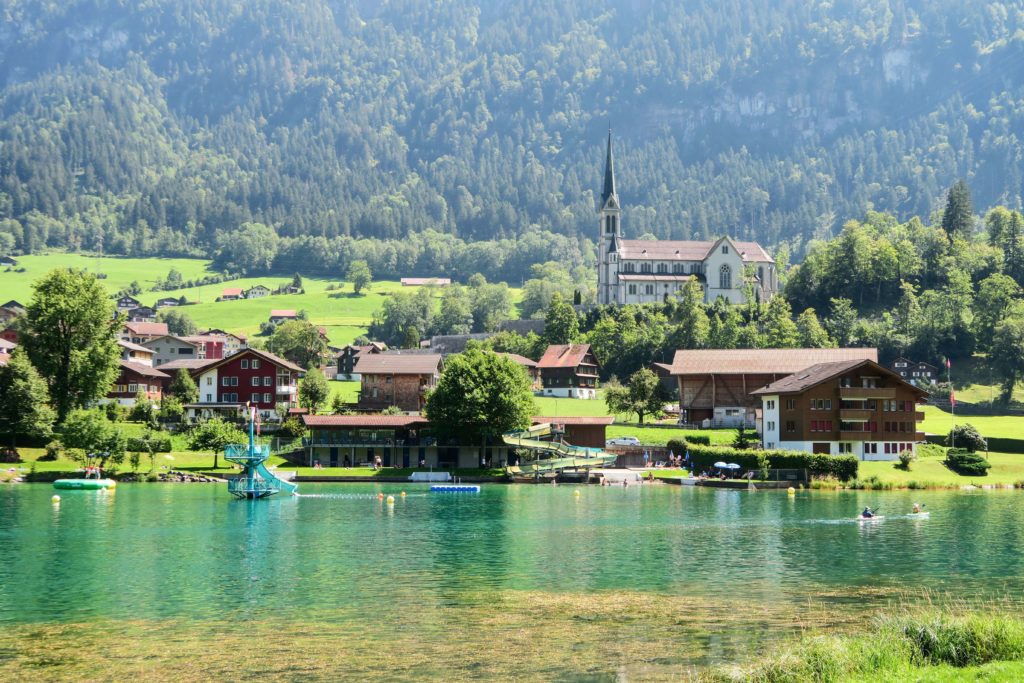 By Yonderlust Ramblings – follow on Facebook
Destinations do not get more off-the-beaten-path in Europe than the remote island of Greenland.  If the allure of the unknown is what calls to you, than Greenland deserves a spot on your list.  "Off-the-beaten-path" is a way of life still deeply woven into the culture of the locals on this icy island. Transportation is still done by foot, boat, or dog sled.  Locals still dress in musk oxen wool and dine on reindeer.  Fisherman still ice fish on frozen bodies of Arctic water. The Northern Lights still dominate the nightly panoramas as they always have.  
If you are looking for an ideal Greenlandic town from which to base your explorations, your best bet is the town of Kangerlussuaq. Kangerlussuaq is an ideal jumping off spot to take in the best things to do in Greenland, because it is a quintessential local town full of history, culture, and endless outdoor adventures. It's also home to Greenland's international airport. This small town and its culture has a symbiotically woven relationship between locals and visitors, and the two seem to harmonize effortlessly.  
Visitors can experience a traditional way of life here. Experience taking a ride on a dog sled, staying in old military barracks turned lodges, sampling the local cuisine, hiking, snowshoeing, and kayaking Greenland's expanses. Many fantastic tours depart from Kangerlussuaq that highlight the best of Greenland, including glacier, harbor, fjord, tundra, and Northern Lights tours.  Perhaps the best tour to take from Kangerlussuaq is a tour to Greenland's ice sheet, located just outside of town.  On this tour, visitors can actually traverse the desolate landscape that is the world's second largest ice sheet. 
Where to stay in Kangerlussuaq
Check out
Old Camp
or
Polar Lodge
, two similar humble accommodations near the airport that provide different tours to explore Greenland.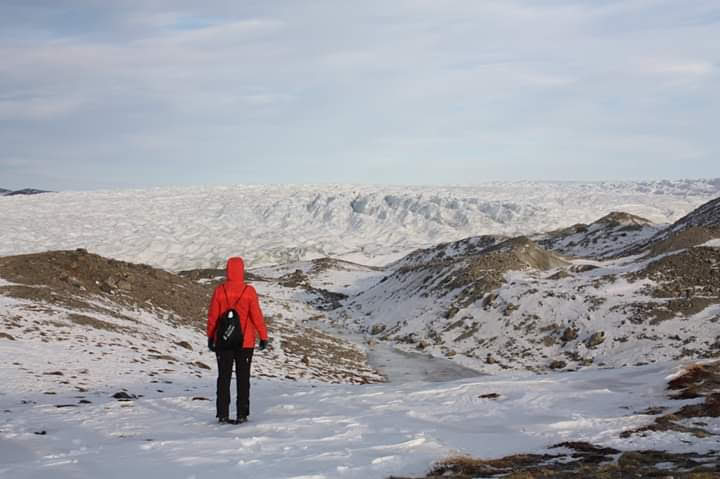 By It's Sometimes Sunny in Bangor – follow on YouTube
There was a time when Bangor, Northern Ireland was the biggest tourist destination in all of Ireland. Ferries in summer months would travel from Scotland and from the northern towns of England. This was back in the 1950's, before cheap air travel, and the troubles in Northern Ireland. While Bangor lost its favor as a popular tourist town, it has always been visited by the more discerning traveller. 
Bangor has the largest marina in all of Northern Ireland, and its coastline has been dubbed the "Gold Coast" of Ireland due to pricy property along the seafront. But Bangor is a diverse and interesting destination to explore. Most visitors arrive to the main Bangor Train Station, which is directly opposite Bangor Castle and Castle Park. Many historic/heritage churches and tourist attractions are found here, as well as a free museum connecting to the town hall. 
Don't miss Bangor's famous seafront either, with the historic Eisenhower Pier, a massive marina, and for the kids, Pickie Funpark. 
Bangor is the start of many famous coastal walks, such as the North Down Coastal Path. It connects many tourist attractions along the coast of Northern Ireland including Crawfordsburn Country Park, Helen's Bay and Grey's Point Fort. The walk between Bangor and Belfast is connected by many scenic spots along the way as well. 
Where to stay in Bangor
I will always recommend staying in Bangor, even while traveling to Belfast, because there are many seaside hotels and guesthouses offering a more scenic stay. The Marine Court Hotel is one of the more established options, and the Salty Dog Hotel & Bistro is a great local spot too.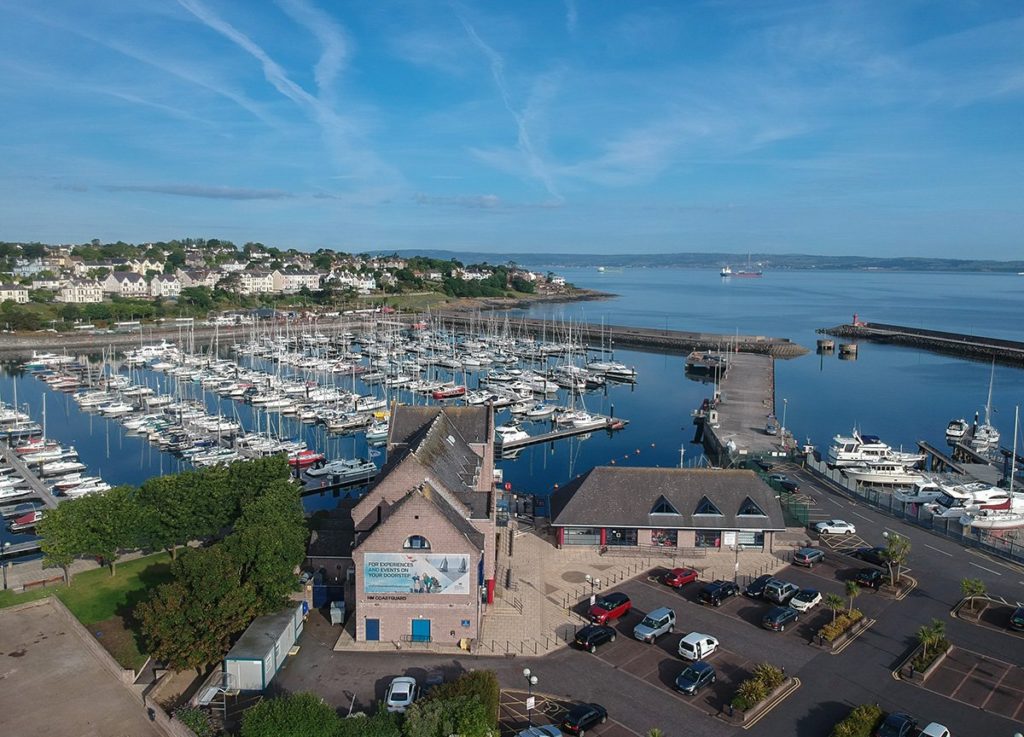 Luxembourg City, Luxembourg
Even though Luxembourg is located in the heart of Western Europe it is often overseen. That makes the "Grand-Duchy" one of the best off-the-beaten-path destinations in Europe. Luxembourg's population is a little more than half a million people but despite its tiny size, it offers plenty of things to do and see. 
Most visitors arrive in the capital, Luxembourg City, whose old town is a declared UNESCO heritage site. When visiting Luxembourg City, you can't miss visiting The Casemates, or fortified castles, are a unique attraction in Europe as they were part of the former fortification in the world. In that time, Luxembourg was one of the best-protected towns in Western Europe and was also known as the "Gibraltar of the North". 
You should also visit the scenic Grund neighborhood. This neighborhood is particularly scenic as it preserved the authentic charm of Luxembourg of the old days. There are many bars waiting for you and some private galleries too. My favorite place to enjoy the view from Grund to Upper Town of Luxembourg is Scott's Pub. 
In order to get the best panoramic view of the old town, I recommend heading to the Corniche, also known as the most beautiful balcony in Europe. You can easily reach the Corniche from St. Michael's Church, Luxembourg's oldest church. At the end of the Corniche walk, you'll reach the impressive Palais de Justice. Built only recently, the Palais de Justice building quickly became a highlight on every Luxembourg City itinerary. From here, it is only a stone's throw to reach the statue of "Golden Lady", a symbol of Luxembourg's national pride and independence.
Where to stay in Luxembourg City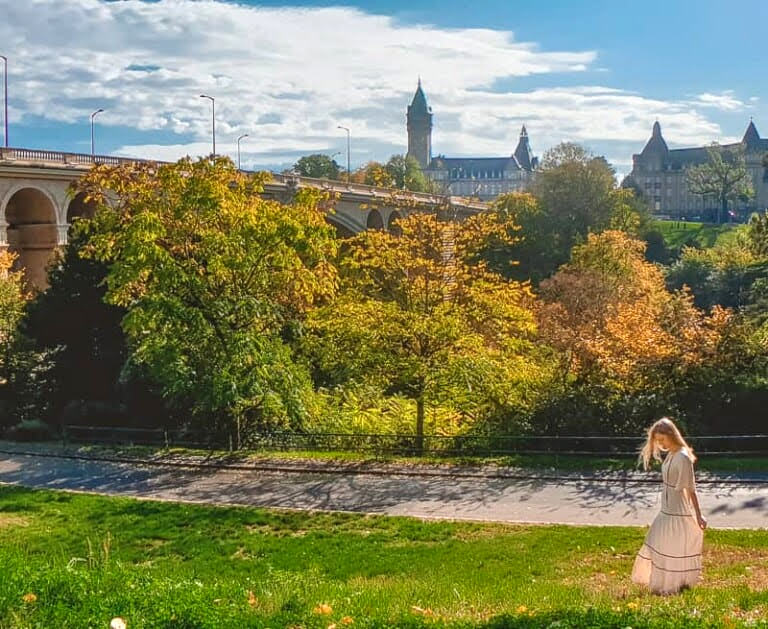 By Erika's Travelventures – follow on Instagram
Right at the intersection of Switzerland, France, and Germany lies the small college town of Basel, Switzerland. Although it's a perfect location for a stopover on long-distance European trips, it's still an off-the-beaten-path Europe city with relatively few tourists. Basel is cut in two by the aqua blue Rhine river, and like other European cities it's home to historic architecture and a charming Old Town. For travelers coming from outside of Europe, Basel is an exciting place where you can step foot in Germany, France, and Switzerland all in one day.
If you're visiting Basel in the summer, do as the locals and enjoy mother nature's gifts to the city. Many sections of the river are open for swimming, and locals love to use a water-proof bag to store their belongings, then use it to float the river or take it for a swim! One of Basel's famous landmarks lines this river which is also worth a visit: the Basel Minster, a gothic church with two tall spirals.
Another highlight of Basel is the central Marktplatz, or the market square, where the bright red Basel Town Hall is located. Many shops and restaurants with patios line this square, and the colorful Basel trams pass through here too. The locals best kept secret in Basel is the Holzpark Klybeck, a cultural, colorful cluster of cafes, bars, and art spaces made from repurposed materials. It's a creative space that is well loved by the local youth.
Where to stay in Basel
Hostels in Basel start expensive, but you'll get your money's worth at highly-rated and stylish Hyve Hostel. If you can afford a little more, stay in Basel's Old Town in a place like Hotel Rochat.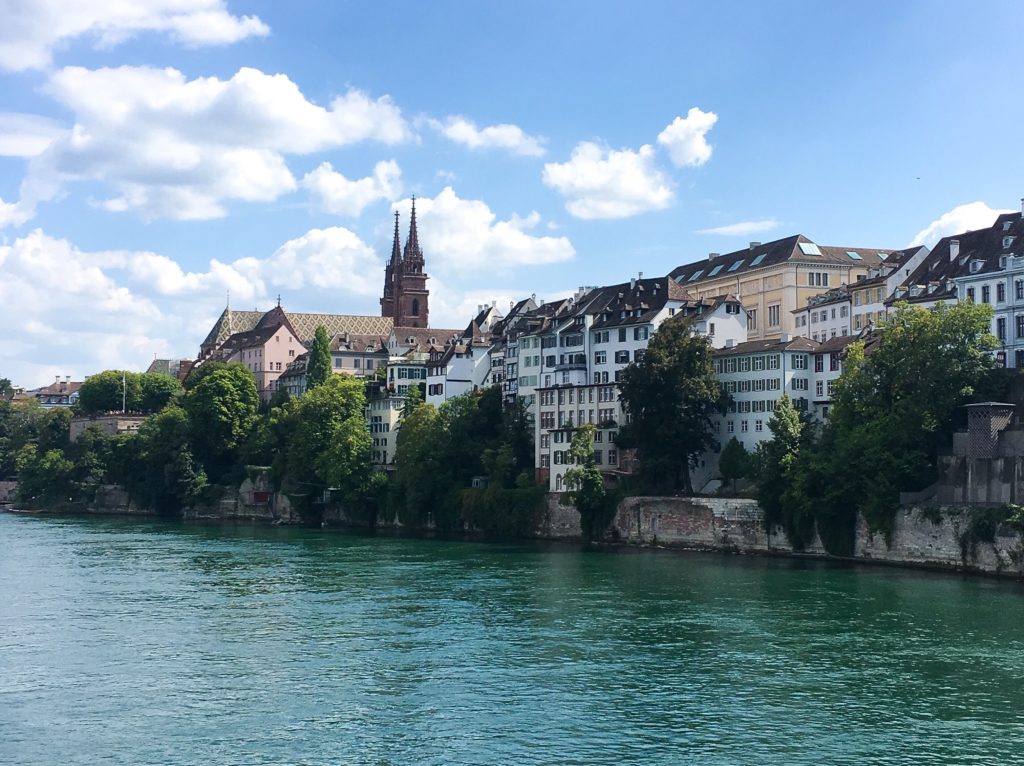 Pin These Off-The-Beaten-Path Europe Destinations!