Taichung is the second largest city in Taiwan, located on the east coast and home to Taichung International Airport. Even if you don't find yourself commuting through its airport, there are countless reasons to add Taichung to your Taiwan itinerary. With a one day in Taichung itinerary, you can see a lot of the city's highlights. 
Taiwan is a country famous for its night markets, and Taiwan's largest night market happens in Taichung. Tapioca bubble tea, the drink that has taken Asia by storm, was founded in Taichung. The famous Rainbow Village that was saved from demolition by a grandpa and his love of painting? Also in Taichung. It's also the largest city that serves as a gateway to Taiwan's famous Sun Moon Lake.
Whether you find yourself passing through Taichung or staying several nights here, see the highlights of Taichung with this DIY one day in Taichung Itinerary.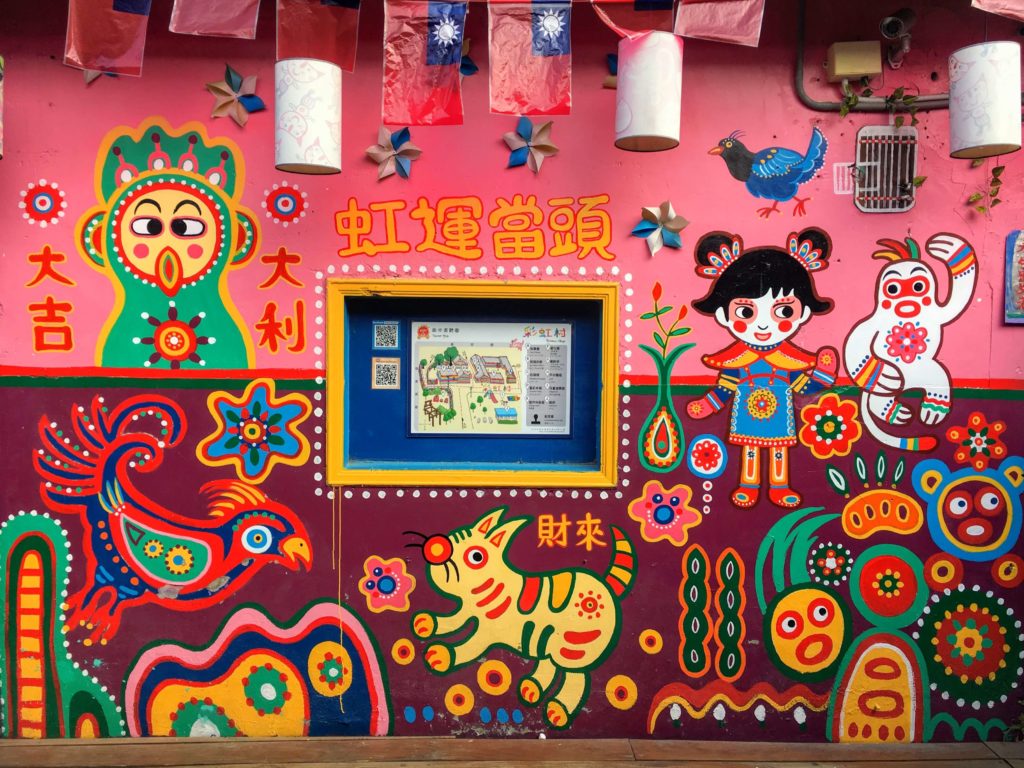 Taichung International Airport is the newest International Airport in Taiwan. If you are arriving to Taichung straight from the airport, it's easy to get to city center by taxi or public bus. Bus #9 is a free option to get to the city, and #302 costs 100 NTD ($3) for a more direct route. 
I recommend getting an EasyCard, the Taiwan public transit card, to get from the airport to Taichung city center to start this Taichung itinerary. 
How to get to Taichung from Taipei
Countless busses and numerous trains depart from Taipei every day heading along Taiwan's east coast towards Taichung. It takes about 2-3 hours to reach Taichung depending on the method of transportation, so consider spending the night in Taichung to make sure you can see everything on this one-day Taichung itinerary!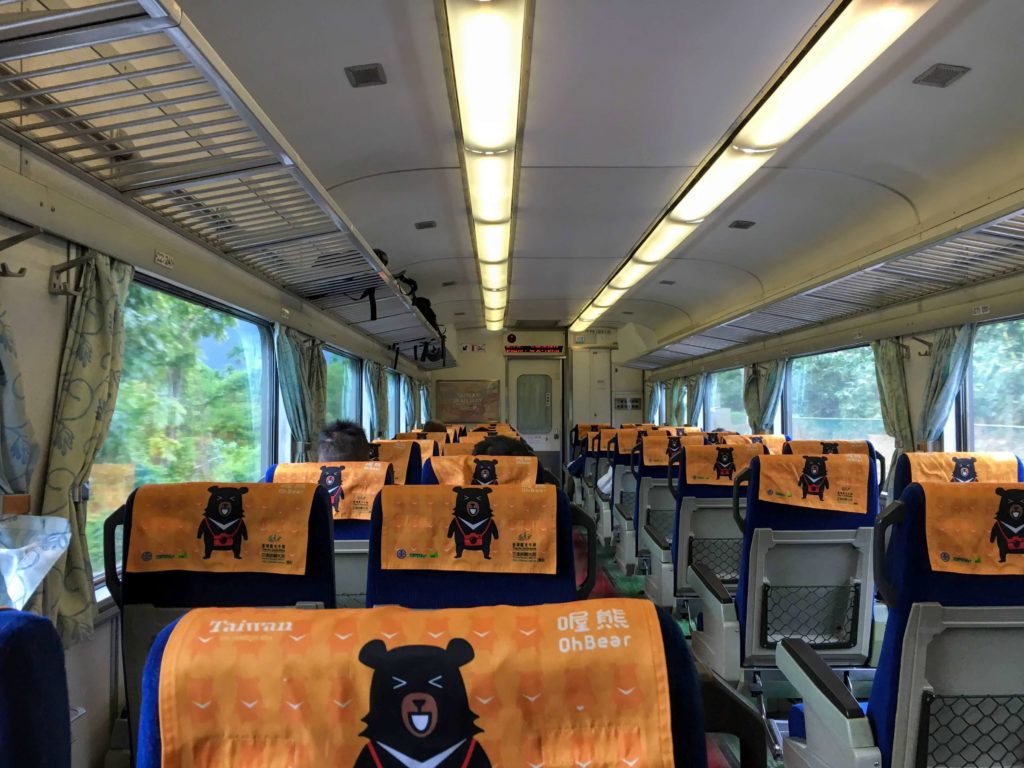 Where to Stay For Your One Day in Taichung Itinerary
When planning a DIY Taichung Itinerary, it's best to stay close to Taichung's central train and bus station. This will help you get around the city, as well as to and from Taichung to other Taiwan destinations.
I stayed at Backpacker 41 Hostel, which is walking distance from the train station, Miyahara ice cream store, and the Sun Cake Museum. It's spacious and includes a small kitchen and common area. Stray Birds Hostel is another backpacker favorite is in the Western part of the city, which has several cozy common areas, plus a spacious rooftop. 
Mid-Level options include the comfortable EazyLazy Inn in Taichung's North District, or the CityInn Hotel near Taichung Station. 
For luxury options, try the spacious LaiLai Hotel overlooking the Yizhong Street Night Market, or the high-rise with floor-to-ceiling windows, the Landis Taichung. 
Getting Around During Your DIY Taichung Itinerary
Upon arrival in Taiwan, be sure to purchase an EasyCard. It's a transit card that can be used all around Taiwan on many forms of public transportation. The best part: bus rides in Taichung are FREE if you use your EasyCard, and the distance is within 10 kilometers. 
If you're traveling solo or in a pair, consider renting a scooter to get around quicker. For larger groups, it might be easiest to hire a private vehicle to take you around to Taichung's top attractions. 
Staying Connected for your Taichung Itinerary
Because you'll be taking a lot of busses to get around for this DIY Taichung itinerary, I highly recommend getting a Taiwan SIM card. If you're traveling with more than one person, consider a portable WiFi device that you can all connect to. Being online will save you immense amounts of time and stress trying to navigate busses and map directions for your Taichung one-day itinerary.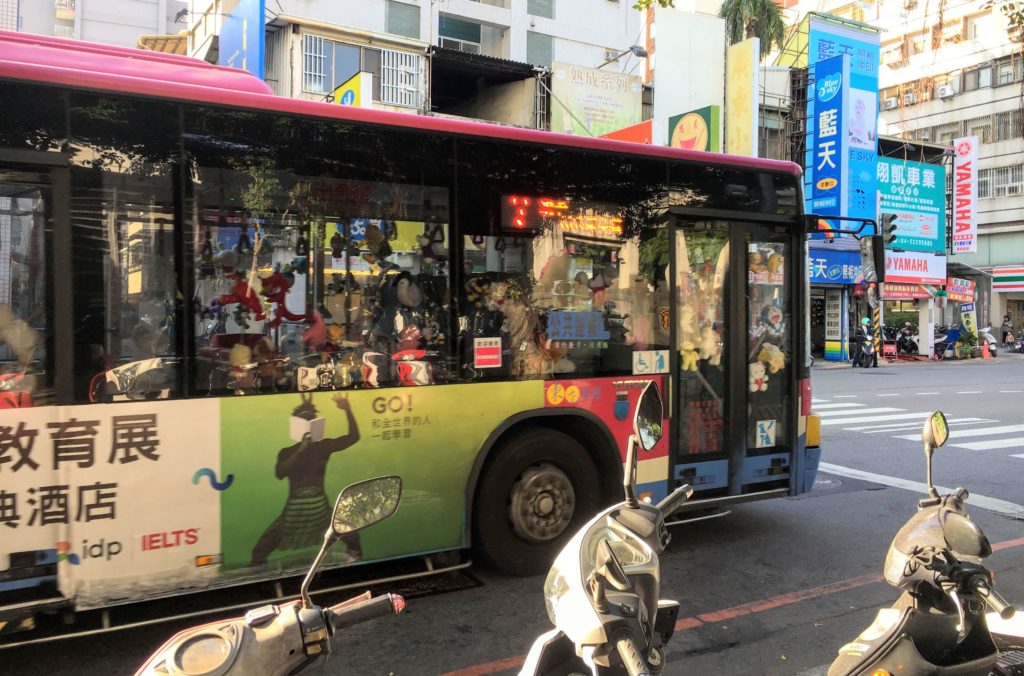 One Day in Taichung - Morning
Start your one day in Taichung itinerary by heading to one of the most famous places in Taiwan: the Rainbow Village.
Rainbow Village, Taichung
The Rainbow "Village" is actually more of a collection of a few buildings, that were saved from demolition by the Grandpa Huang, a resident of the settlement. He painted over everything in the village, from the ground to the rooftops, with his colorful characters and attracted enough attention to save these buildings.
Rainbow village is free to visit, and within its small cluster of buildings is an informational exhibit about Grandpa Huang, as well as a few gift shops and a small cafe. If you're lucky, Grandpa himself will be there, still painting small souvenirs!
Rainbow village opens at 8:00am every day, and the tour busses full of people start arriving not long after. Rainbow village can be reached from Central Taichung by taking the — or — busses. It's a bit of a drive to get there, so plan ahead!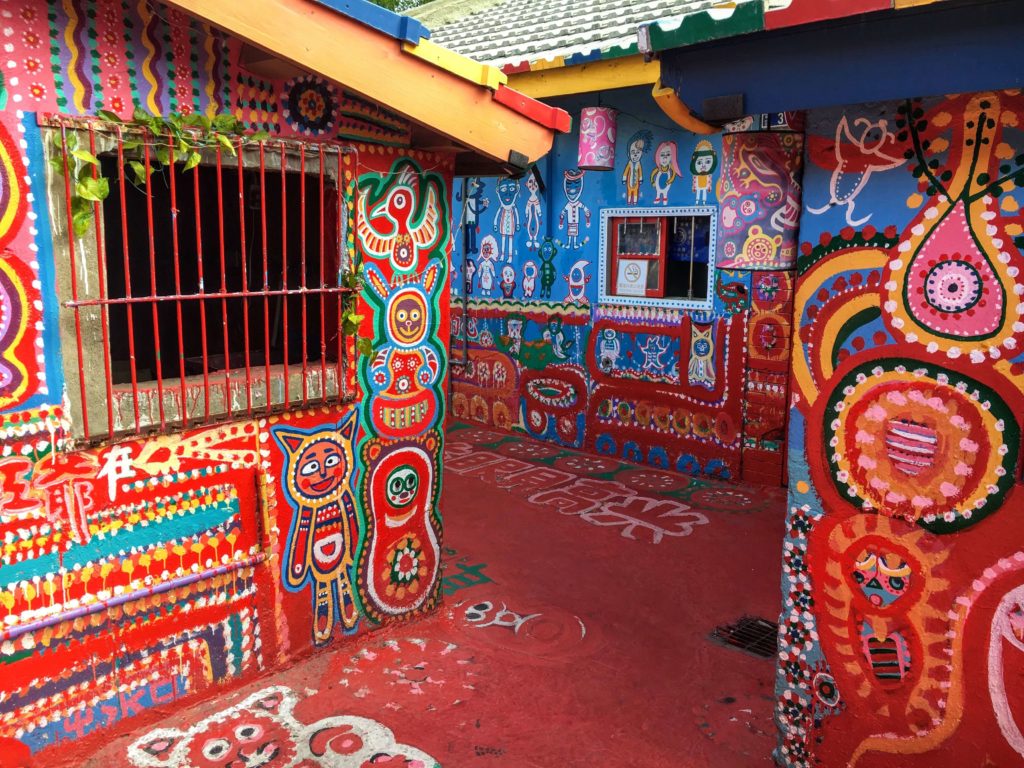 Chun Shui Tang – The First Bubble Tea Seller In Taiwan And The WORLD!
Next on your DIY Taichung itinerary is a Taiwan-must. Go back towards city center to stop by the bubble tea store Chun Shui Tang. On Google Maps, the correct Chun Shui Tang is marked "(The Original Store)". This is the store where bubble tea was first founded! Although bubble tea has since evolved to include different flavors, different tapioca ball sizes, and colorful exterior cups, Chun Shui Tang sticks to what they know best: the Original.
You have options to grab a meal or snack here, because it's a full-service restaurant in addition to a tapioca bubble tea store. Reserve a table with the attendant outside, or just walk up to the counter to order just a bubble tea to take away. Expect a little bit of a wait – it's a popular destination for both tourists and locals! 
Check out Chun Shui Tang's cute website and menus here.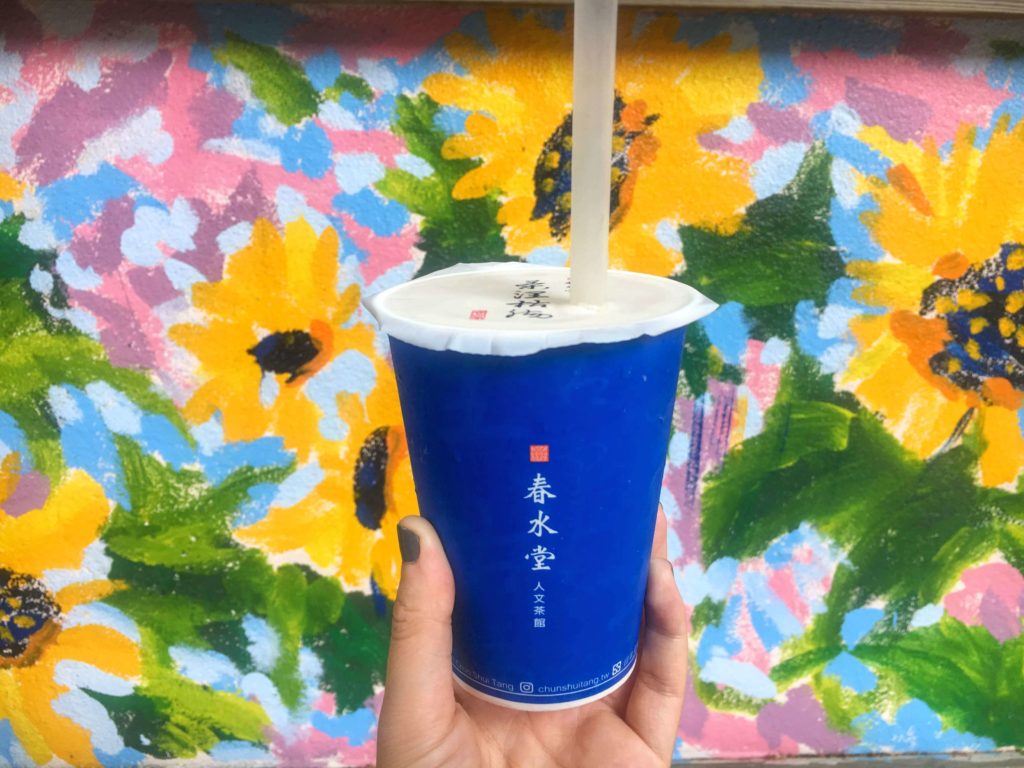 Painted Animation Lane, Taichung
Once you've grabbed your bubble tea from Chun Shui Tang, it's a 10-minute walk to Taichung's Painted Animation Lane. Here, you'll find countless characters from your favorite TV shows, movies, and anime's painted here. The drawings are super realistic – you'll feel like you're standing next to the real characters! 
Painted Animation Lane is not too long though, so expect to spend about 10 minutes here tops unless you're really into taking pictures with the characters.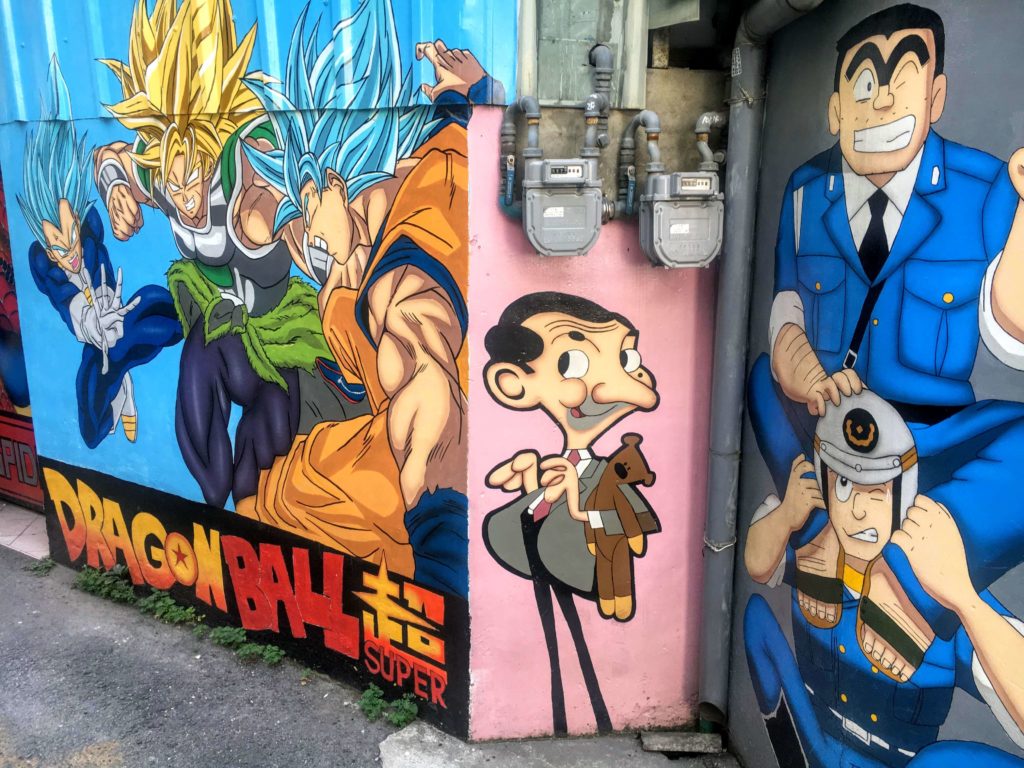 One Day in Taichung Itinerary - Lunch
368 District
The best place to stop for lunch during your one day in Taichung itinerary is the trendy 368 District. Dozens of picture-perfect restaurants and cafes form a whole city block here, where you can sit down for a meal. Because of the variety of stores, you could also cafe-hop and grab a snack from a few different places! Local instagrammers love this place for its cute and retro decor, so expect to snap a few great photos here too. 
After your meal, you can check out the several boutique shops in the area. You can buy high-quality gifts here like leather goods, jewelry, bags, and more. If you want to take your DIY Taichung itinerary slow, pick up a digestif cafe drink to sip from one of the outdoor patios.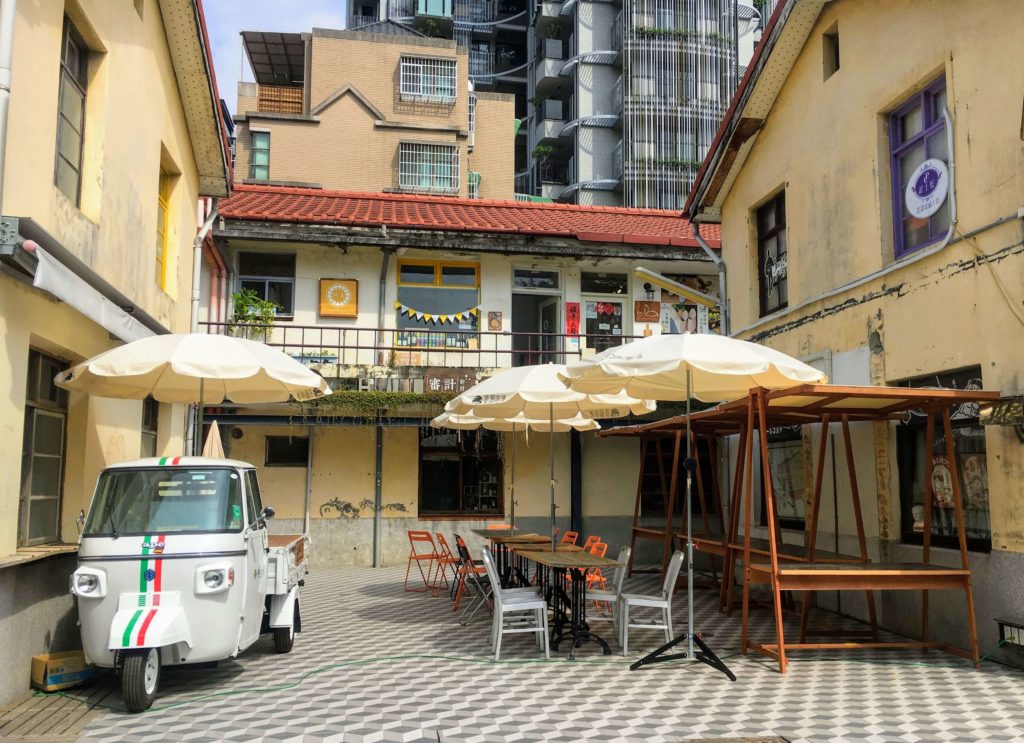 Taiwan Museum of Fine Arts and Sculpture Garden
If you are interested in art, just south of here is the Taiwan Museum of Fine Arts. Take some time out of your one day in Taichung itinerary to admire art installations in this tranquil setting.
Outside of the museum is a large sculpture garden that you can wander through for free. In addition to modern art sculptures, it's also home to large tablets covered in beautifully carved Chinese characters.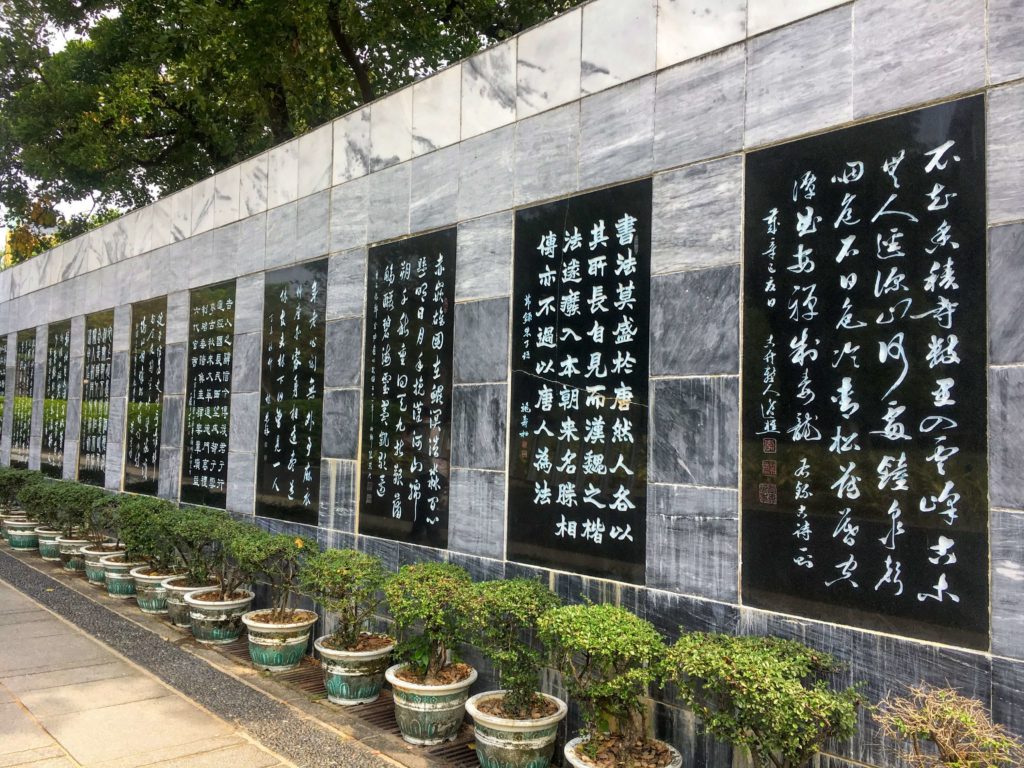 One Day in Taichung Itinerary: Afternoon
Head to the other side of the city, to the North District, to continue your one day in Taichung itinerary. 
Taichung Confucius Temple
Taichung's Confucius Temple is a wonder to behold, with its intricate wooden carvings and its elaborate colors. Although it finished construction in 1976, the architectural style takes its roots from the Song Dynasty. The temple has been well preserved through the decades, and many of its rooms are still used today for Confucius study classes.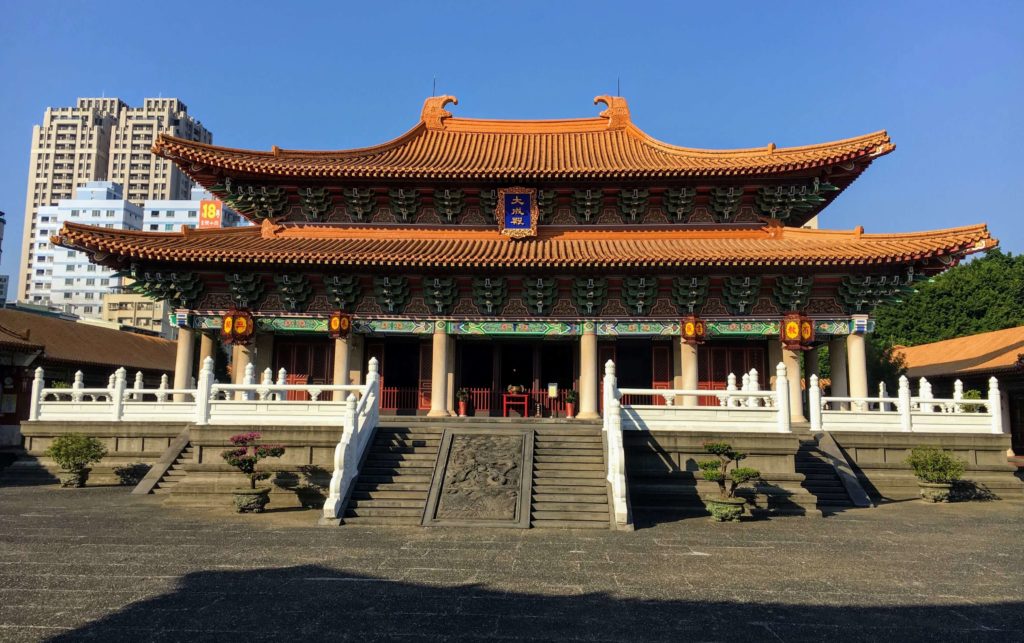 Yizhong Street Shopping District
Walking distance from Taichung's Confucius Temple is a small shopping and dining district, great for taking a break or blowing off some steam (and blowing some change) on the crane games. At night, this area turns into a bustling night market. 
Chungyo Department Store
Head further east and check out the large Chungyo Department Store. I can't be the only one who loves checking out supermarkets in foreign countries, right?? The first floor here is a massive supermarket which sells a lot of Western food staples, snacks, CHEESE, and condiments for reasonable prices. They also had a lot of vegan and vegetarian food options, including veggie Shin Ramen and delicious, protein-filled vegan jerky. If you've been traveling Asia for a while, you'll love it here too!
Alternatively… Taiwan Museum of Sun Cake
If you prefer to skip the shopping, head back to Taichung City Center and check out the Taiwan Museum of Sun Cake. Sun Cakes are popular Taiwanese desserts that were founded in Taichung. The museum is housed in a beautiful colonial brick building, and contains a few informational panels about the 60+ year history of Sun Cakes in Taichung. Be sure to try some Sun Cakes here and take some home as a souvenir! 
Miyahara Ice Cream
Near the center of town is Miyahara Ice Cream, a high-end Taiwanese confectionary store and connecting ice cream shop. Although troves of visitors line up to purchase Miyahara's elaborate, multi-tiered ice cream bowls, you can freely wander inside their elegant interior space. The building itself is a historic, Japanese colonial building, and the inside feels like you're in a magical library straight out of Harry Potter.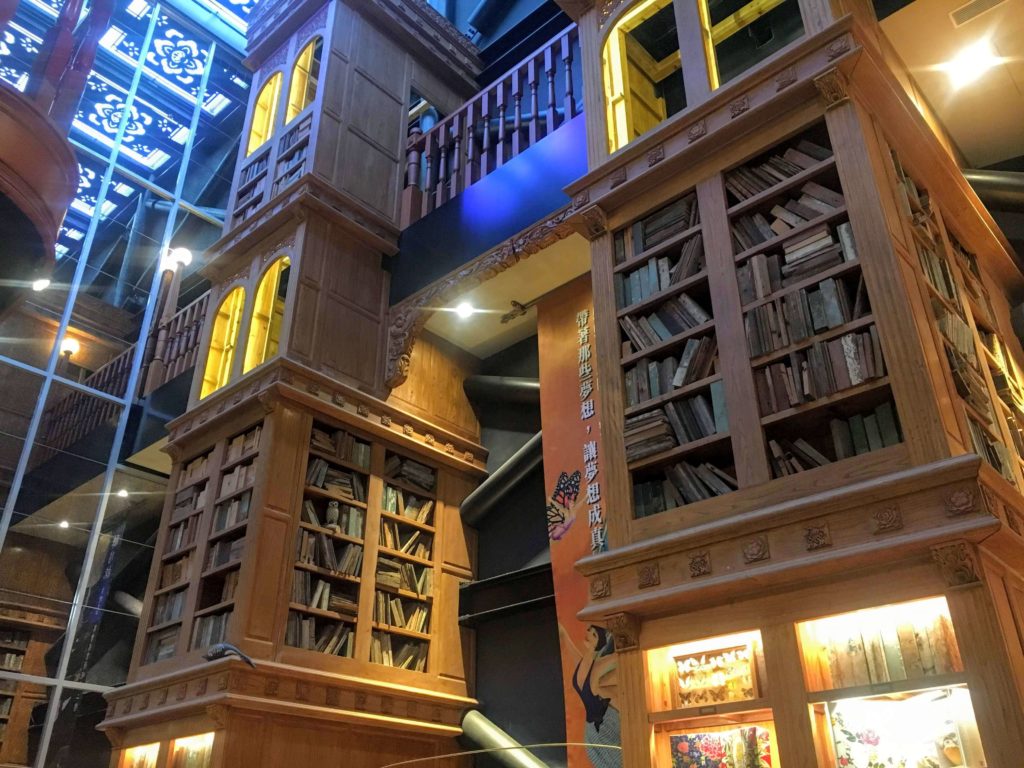 One Day in Taichung Itinerary: Evening
You can't finish off your one day in Taichung itinerary without heading to what Taiwan is famous for: night markets. Taichung is actually home to the largest night market in all of Taiwan, located a bus drive away from center city in an up-and-coming neighborhood.
Feng Chia Night Market
Feng Chia Night Market has something for everyone: take-away meals, street food, desserts, bubble tea, souvenirs, and crane games. This night market is a popular evening destination for tourists but also locals in the area coming to buy their dinner on a budget. Prepare to line up for the most popular options, but often there are some hidden goodies where you don't have to wait. Expect huge crowds here on the weekends as well, although to visit this during your Taichung itinerary, it's worth braving the masses. 
(Traveling this DIY Taichung itinerary with picky eaters? A McDonald's is located right around the corner.)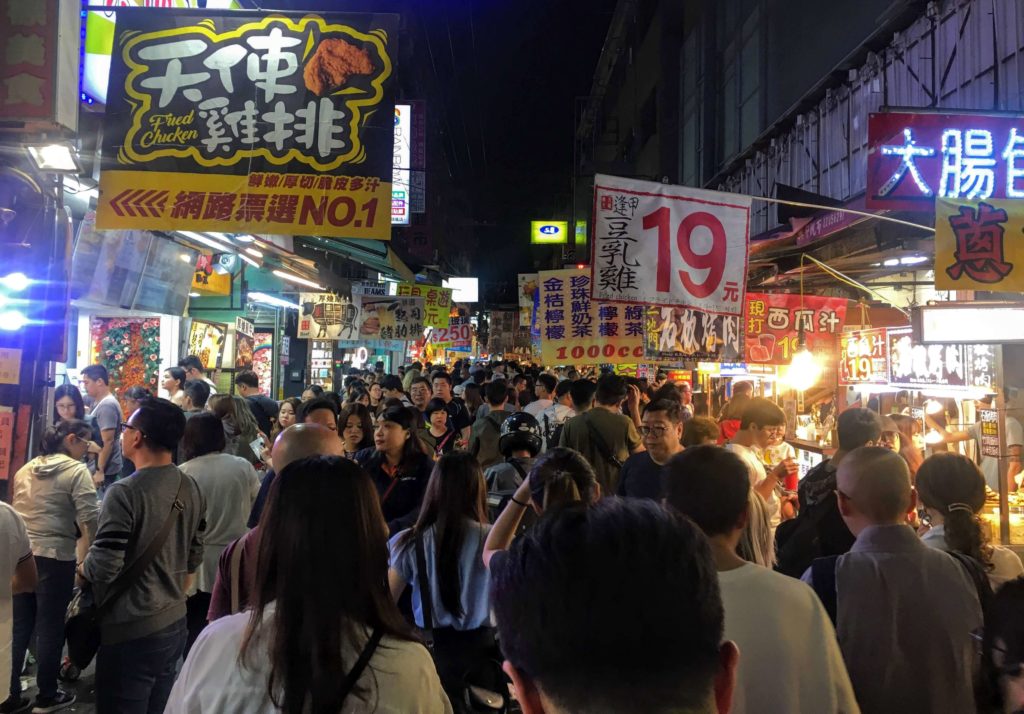 Pin this One Day Taichung Itinerary!
Are You Prepared For Your Trip To Taichung, Taiwan?