While I was backpacking the Balkans region of eastern Europe I spent the most time in Zagreb because I renewed my U.S. Passport at the embassy. I discovered a number of wonderful things to do in Zagreb, during my time here. 
The moment I stepped out of the bus station in Zagreb, it hit me that I was in Eastern Europe. Everything seemed to be made of blocky concrete and covered in graffiti. The cars were Yugoslavic-era old and small, and sputtered around roads that were lined with crumbling townhomes. 
I loved it! 
Zagreb is a wonderful mix of old and new, of Mediterranean and former-Yugoslavia lifestyles and atmosphere. Here are awesome things to do in Zagreb to experience Croatia's unique history and culture!
First: Where To Stay In Zagreb
Before embarking on these top things to do in Zagreb, find yourself a great home base in the city. If your accommodation in Zagreb is centrally located, it'll make visiting the other Zagreb attractions much easier. 
Here are some of my Zagreb accommodation recommendations:
Budget: Zagreb Soul Hostel – this large, social hostel is where I stayed during my time in Zagreb. It has a large common area, kitchen, and friendly staff.
Mid-Range: Annie's Bed & Breakfast – one of many 9+ rated B&B's in Zagreb. Staying at these local homestay-type accommodation means you're helping local business directly! 
Luxury: Esplanade Zagreb Hotel – a five star hotel about as luxury as it gets. Beautiful, historic architecture with a high class restaurant on-site. See the pictures to believe it! 
The main method of transportation to get around around Zagreb is the tram. These rickety trams are well-connected around the city, and do a great job linking together all the top things to do in Zagreb. 
You can purchase paper tickets for the tram from any newspaper stand or convenience store, especially ones located near tram stations. Tip: purchase tickets ahead of time if you have early/late transportation because the stands are not open 24 hours.
If you stay near Zagreb city center, you can easily get around Zagreb on foot. The city is very pedestrian friendly – just look both ways for these trams! 
Top Things To Do In Zagreb
1. Admire St. Mark's Church
St. Mark's Church in Zagreb might be the most iconic and recognized building in Zagreb. The gothic-style church was built in the 13th century and has the twelve apostles watching over every entrance. Visitors can enter the church for free, with a place to offer donations inside the church. 
The church is located in St. Mark's Square in Zagreb's old city center, next to the Town Hall. Hang out here around noon on Saturdays and Sundays to see the Zagreb changing of the guards too!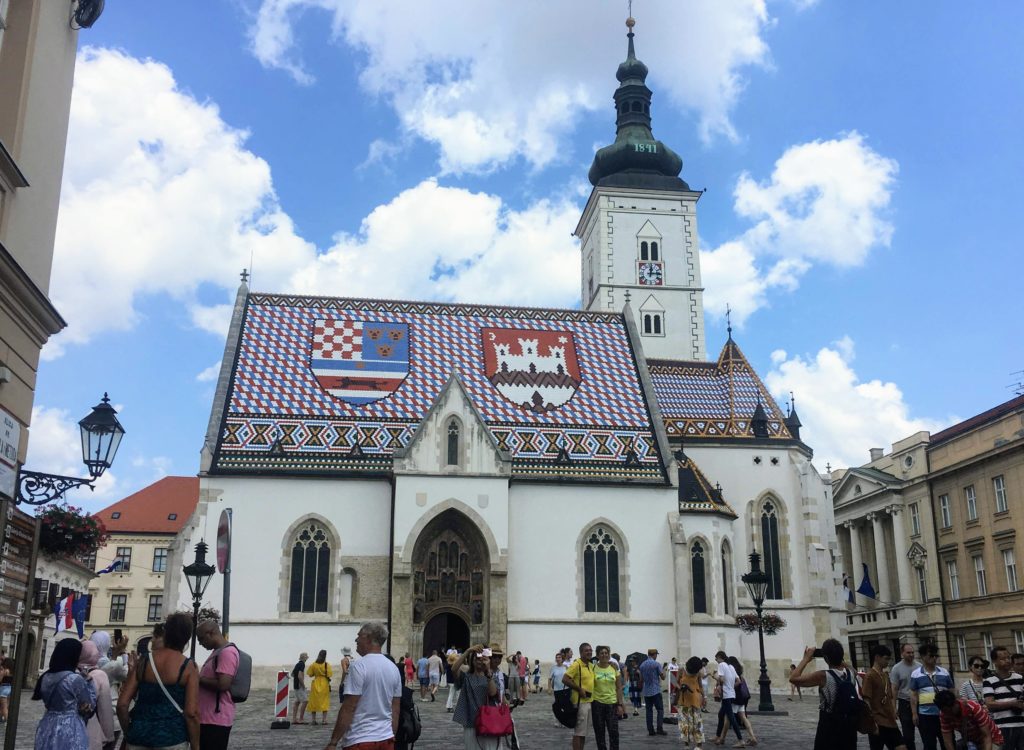 2. Have a laugh (or cry) at the Museum of Broken Relationships
The Museum of Broken Relationships in Zagreb was one of the most captivating museums I've visited in my life. Items have been donated to this museum from all over the world with a story to go with it about a broken relationship. 
Some were funny (about deadbeat boyfriends who got what was coming), some were thought-provoking (partners becoming separated because of the Bosnian war) and some were downright sad (parents leaving the lives of their children). Overall it was definitely worth the 40 kuna ($6 USD) entry fee. You can even book skip-the-line tickets ahead of time. 
Below is a funny example of a story from Zagreb's Museum of Broken Relationships, one of the top things to do in Zagreb for all ages!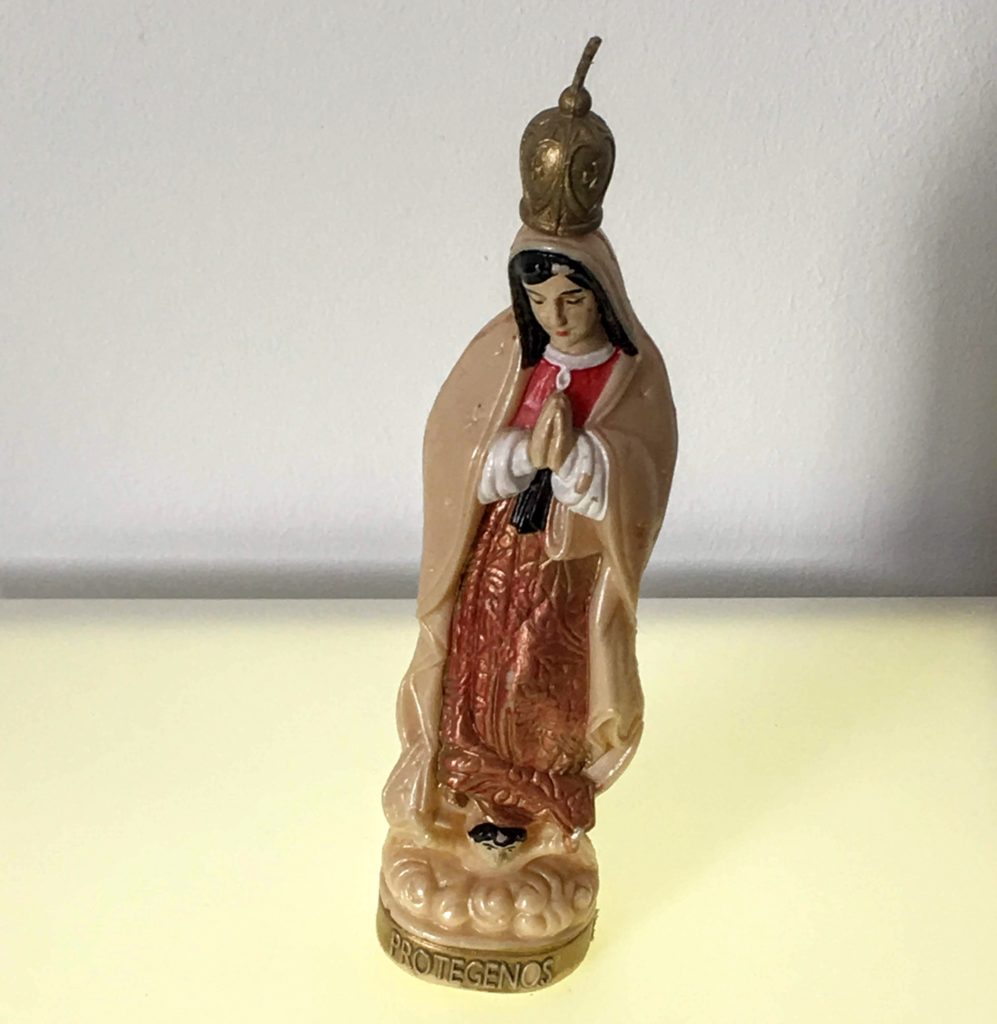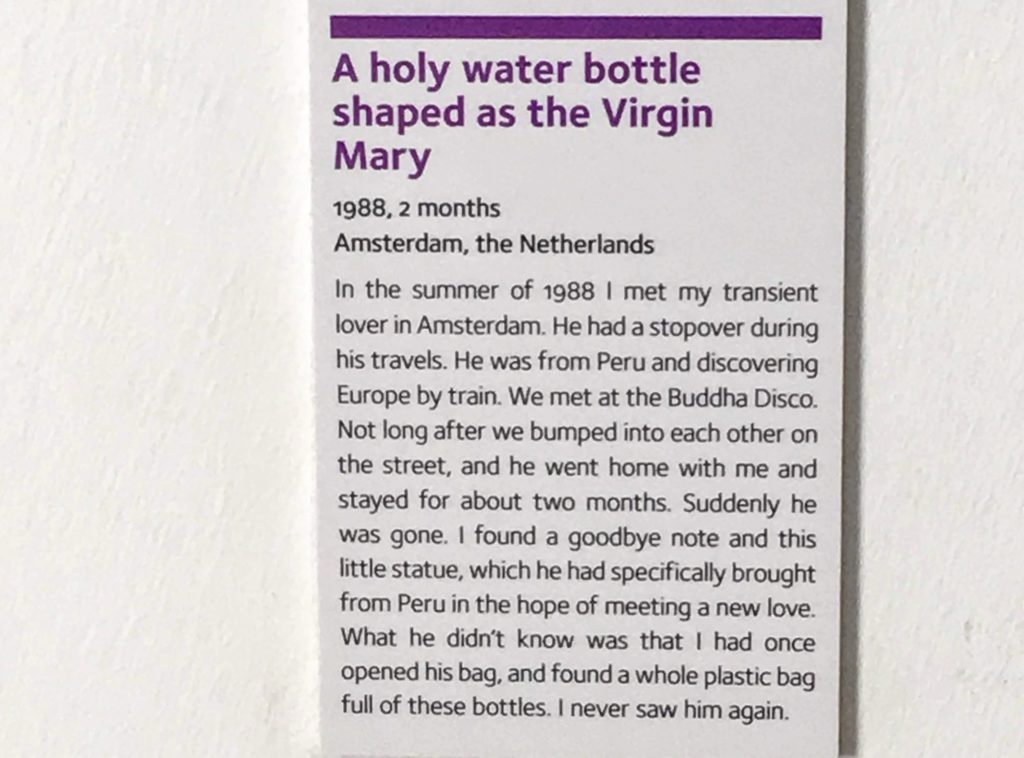 3. Visit Josip Jelačić Square
The heart of Zagreb, Croatia is Josip Jelačić Square. Any visitor to Zagreb is bound to find themselves here at some point during their stay. It's a bustling square filled with street performers, pigeons, locals on their daily walks, and lined with many nice shops. A statue of a man on a horse is the square's namesake and stands tall in the center of the square. 
Several train lines pass through the square, so be careful when you're crossing the tracks! From this central square there are many side streets in Zagreb that you can explore. Some might take you to posh areas with several story malls, and others may take you to more artisan streets with locally made souvenirs and snacks.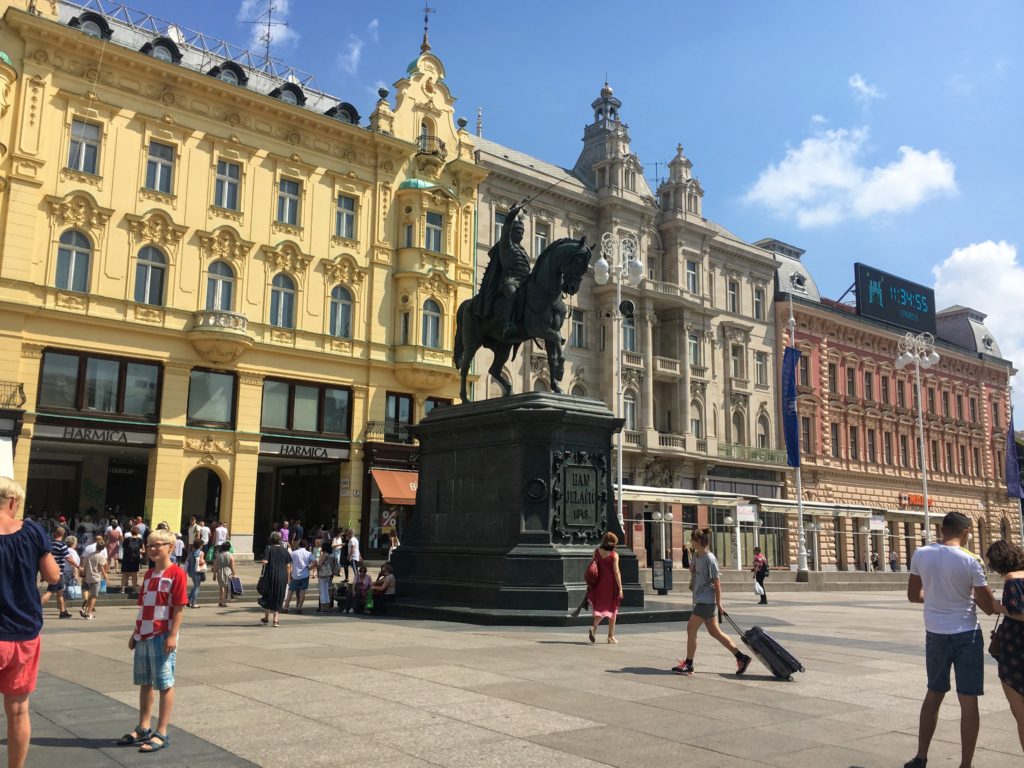 4. Shop at the Dolac Market
Conveniently located next to Josip Jelačić Square, Dolac Market is the perfect place to buy some fresh fruits, honey, and lavender. It's one of the oldest outdoor markets in Croatia and a great place to people watch and interact with locals. 
There are of course many souvenir shops, a meat market, and bakeries on the outskirts of the marketplace too. Dolac Market itself is hard to miss because of the red umbrellas that all the vendors use!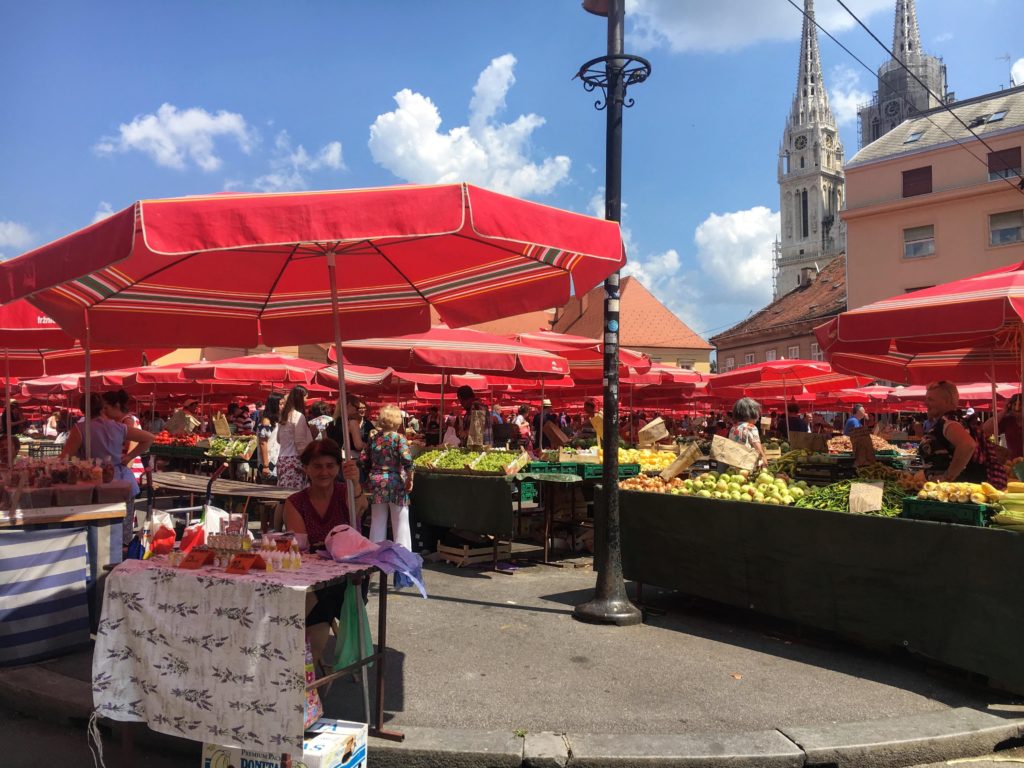 5. Ride the Zagreb Funicular
The Zagreb funicular is a delightfully blue train, a city icon, that takes passengers just a few, steep meters up or down. At 66 meters long, it's actually one of the shortest funiculars in the world. It connects Zagreb's "upper" town with the "lower" town. 
If you're traveling Zagreb on a budget or prefer to get some exercise, there is a staircase just next to the funicular that will take you to down (or up) to the same destination.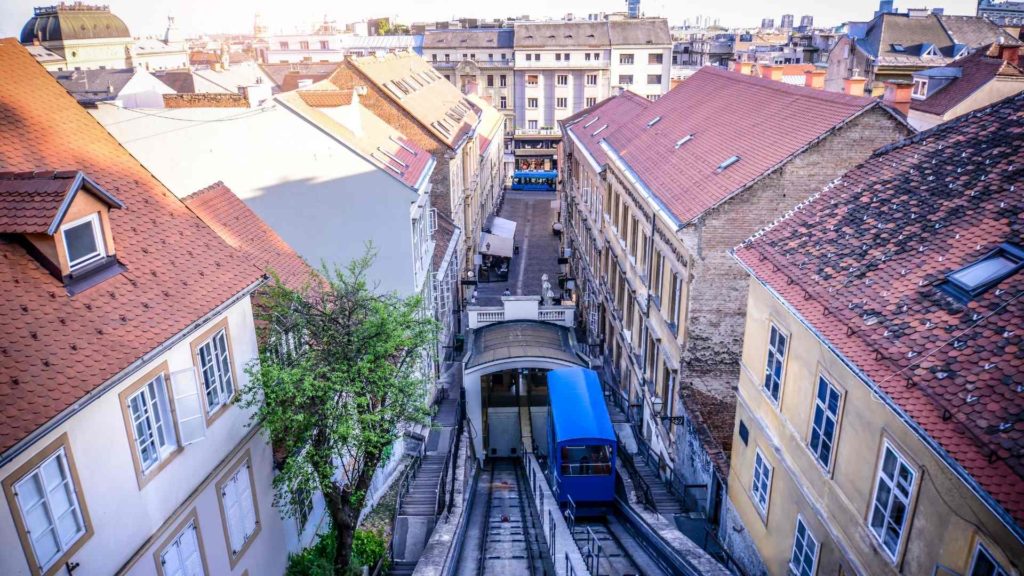 6. Admire views from the Strossmayerovo šetalište promenade
The Strossmayerovo šetalište promenade in upper Zagreb is often filled with pop-up shops, bars, and cafes, and even live music performances! The promenade starts at the end of the top end of the Zagreb funicular
I recommend getting as much elevation as possible here – one staircase at the end of the promenade gives visitors an amazing panoramic view over Zagreb town. You'll see Zagreb Cathedral, as well as the many orange clay roofs of the city. From here Zagreb will look more similar to a Mediterranean or Western European town than a former Yugoslavia one.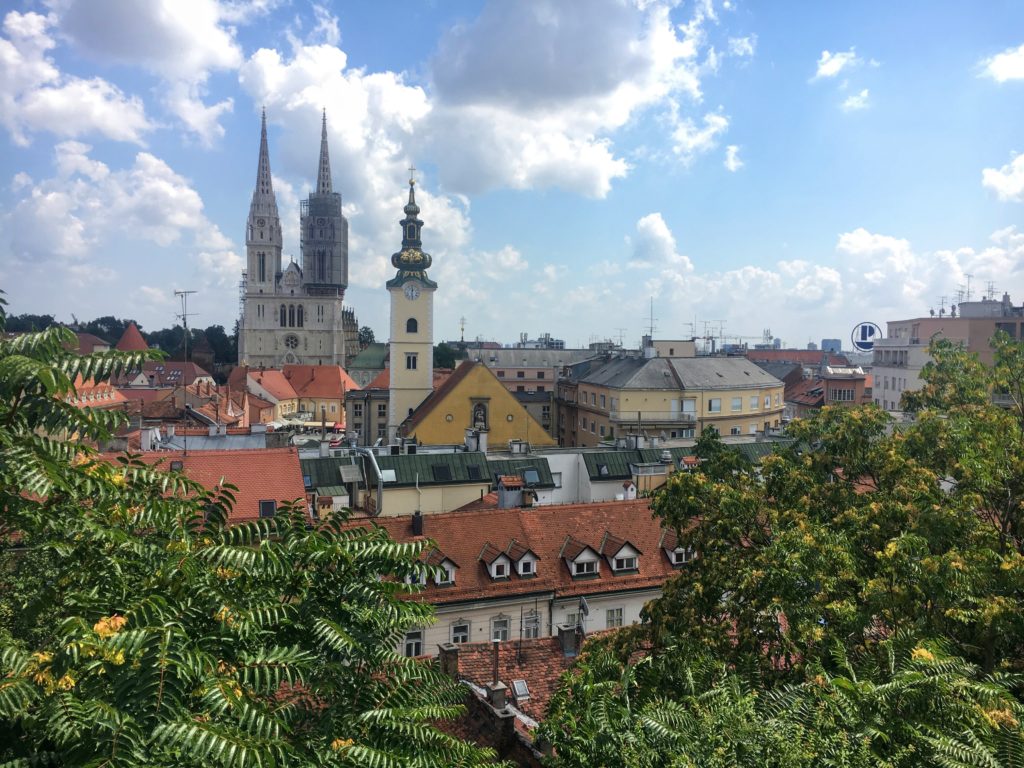 7. Make Your Mark on the Zakmardijeve Stube Alleyway
Zakmardijeve Stube Alleyway is at the end of the Strossmayerovo šetalište promenade, down several flights of stairs that take you back to lower Zagreb. 
You'll notice its red painted walls and thousands of graffiti tags, sharpie signatures and random drawings. At your feet will be a long painted red "carpet". It's a great place to leave your mark in Croatia (just don't paint over the actual artwork). 
At the other end of this alley is Radiceva street.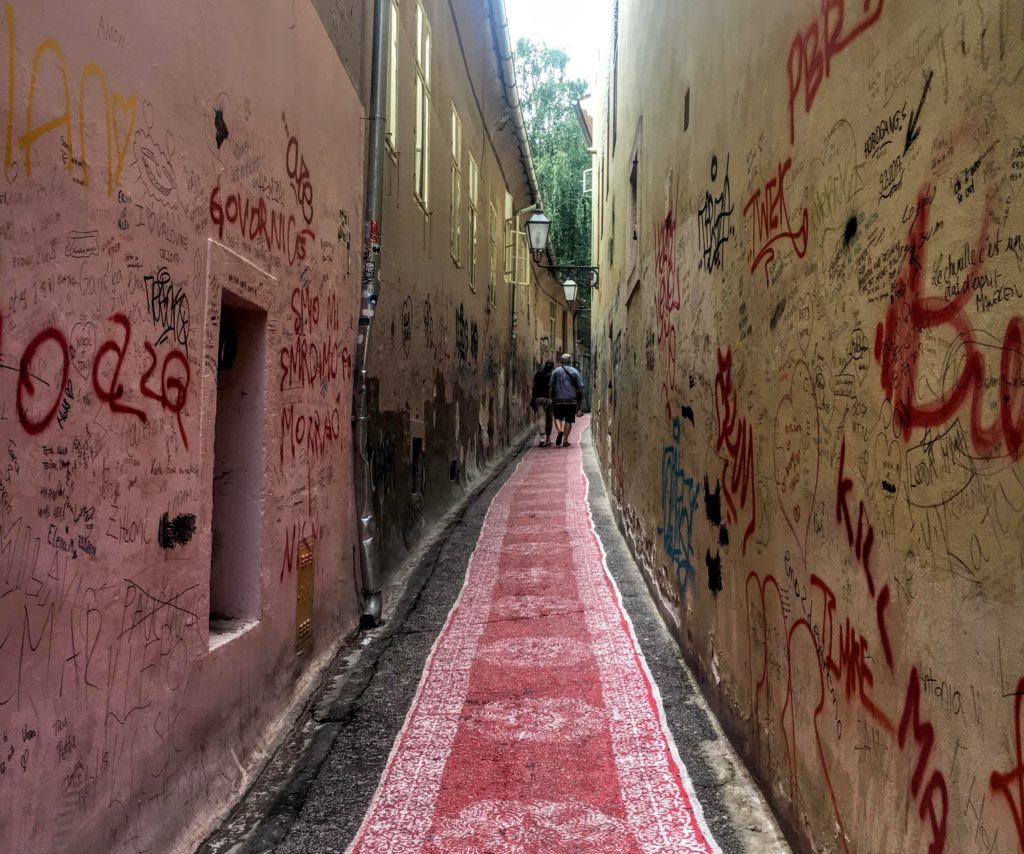 8. Shop for local handicrafts at Radiceva Street
Radiceva Street is connected to Zakmardijeve Stube Alleyway and is a historic cobblestoned street in Zagreb. The street filled with local handicraft and souvenir shops. Here you can find beautiful jewelry, boutique clothing, and local art stores, as well as find a few rustic pubs and restaurants.
The shop owners here are friendly and welcoming, wanting to show you around and explain the beauty and history of their products.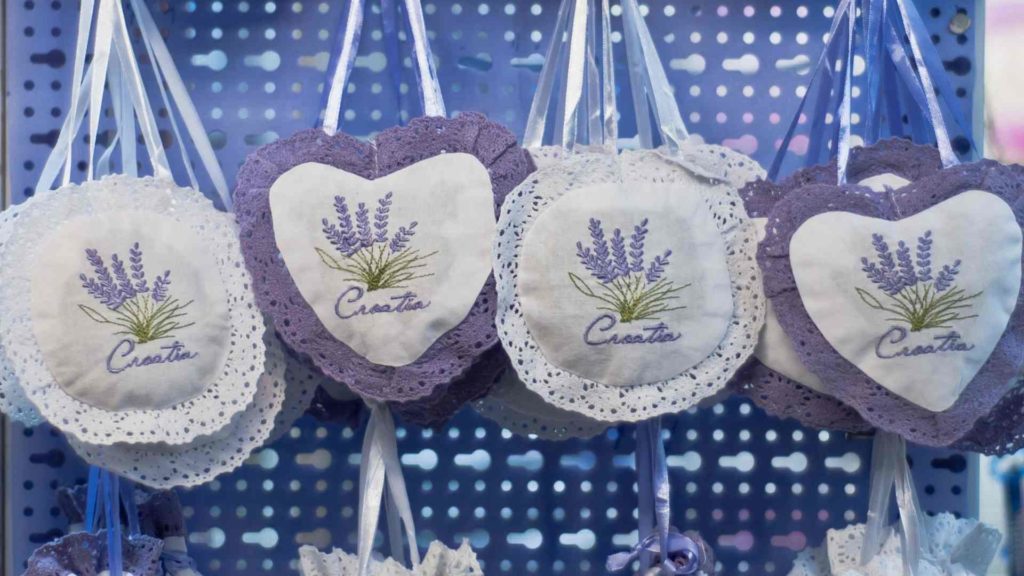 9. Go on a Zagreb Food Tour
On a food tour of Zagreb you'll discover a variety of local Croatian and Dalmatian coast cuisines and get a taste of Zagreb's fresh, local ingredients. Zagreb is filled with traditional restaurants where travelers can get a taste of the old and new flavors of Croatia.
A snack I had nearly every day in Croatia was the burek, one of my favorite vegetarian foods from around the world. The burek comes most commonly in a snail-shaped roll of filo pastry, filled with spinach and cheese or different types of meat. Lucky for me Zagreb has bakeries all over the city, so I was never far from a hot take-away burek!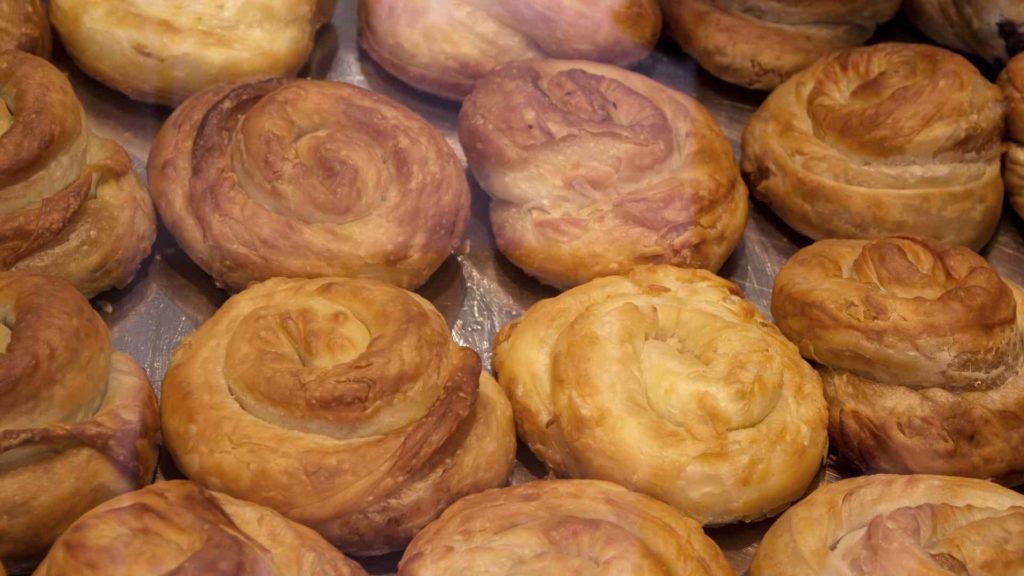 10. Day-trip to Plitvice Lakes National Park
From Zagreb there are a number of tours departing to one of Croatia's beautiful natural wonders: Plitvice Lakes National Park. Due to the remote location of the national park, it's much easier (and cheaper) to visit here as part of a tour than trying to DIY the trip yourself. 
Plitvice is located in a mountainous, forested part of Croatia that's dotted with lakes of all shades of blue and green. It became a UNESCO World Heritage Site in 1979 due to its immense natural beauty and exceptional geological significance. 
As part of an all-day trip tour to Plitvice, you'll traverse boardwalks through the park and marvel at the terraced lakes and interconnected waterfalls. This UNESCO World Heritage Site shouldn't be missed on a trip to Zagreb and Croatia.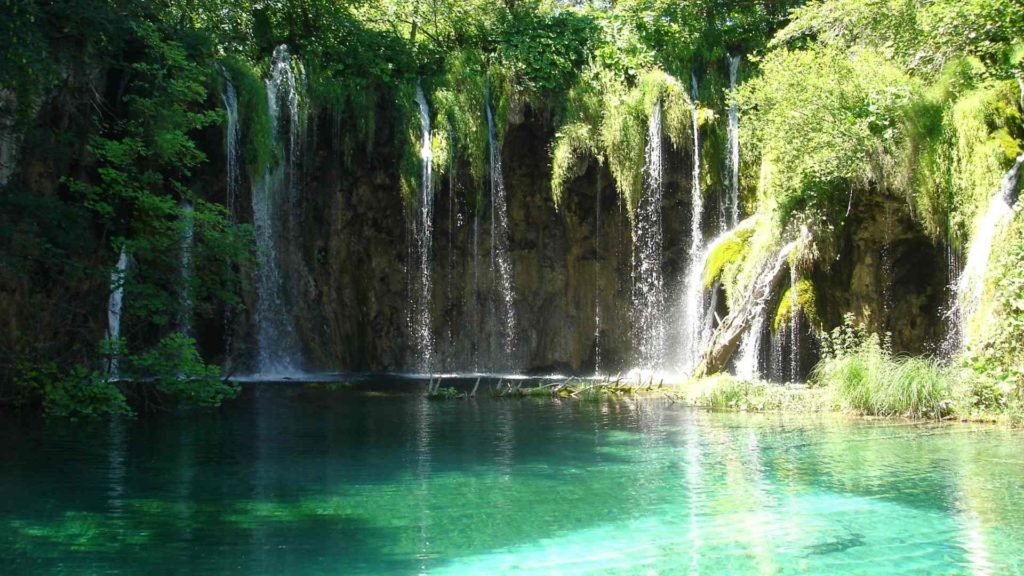 That's a wrap for my top things to do in Zagreb!
After you've ticked off all of these top things to do in Zagreb, continue your time in Croatia by following one of my Croatia itineraries:
You could also continue your travelventures by moving on to other destinations in the Balkans. Croatia borders both
Montenegro
and
Bosnia & Herzegovina
, which are both beautiful countries with plenty of cultural attractions, natural wonders, and friendly locals.