Morocco was my Thanksgiving break destination in 2016, (2015 was Peru) and it was a pity I didn't have more time there. However, I proved to myself that with a one week in Morocco itinerary, it's possible to see a LOT of the country! 
Culturally, Morocco was more of a shock to me than when I first arrived in India. It was the first Islamic country I set foot on, and the first time I heard the mesmerizing beauty of a chorus of mosques singing their calls to prayer.  The labyrinth of Fez, the stunning blue buildings of Chefchaouen, the chaos of Marrakesh, were all overwhelming to the senses in the best way possible. I was thrilled to have found a country so different from the ones I had backpacked before.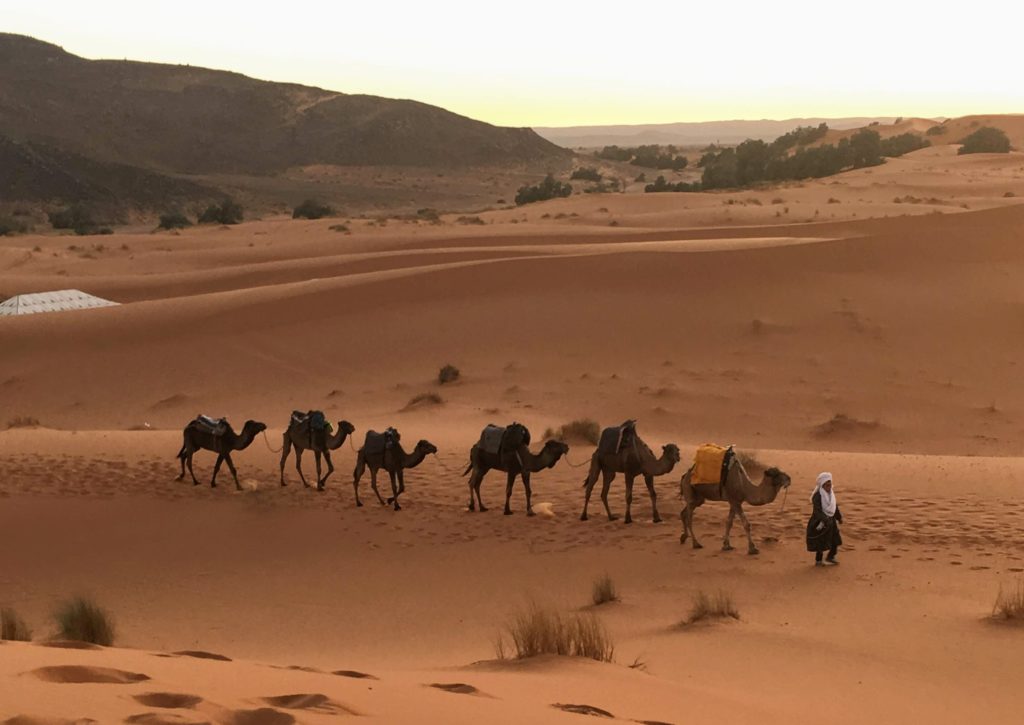 I bought round-trip tickets from Houston to Tangier in Northern Morocco for just over $600, where this one week in Morocco itinerary starts and ends.  
I planned to see as much of as I could during my one week in Morocco itinerary. Somehow I managed to fit in a visit to Chefchaouen, Fez, an overnight desert tour in Merzouga, and an extended stay in Marrakech, all in the same trip.
The following is my whirlwind one week Morocco itinerary!
Day 1: Arrive in Tangier, taxi to Chefchaouen
Day 2: Chefchaouen, evening bus to Fez
Day 3: Fez, overnight bus to Merzouga
Day 4: Merzouga + overnight desert tour
Day 5: Morning bus to Marrakech
Day 6: Marrakech
Day 7: Marrakech, afternoon train to Tangier
Day 8: Depart Morocco
Day 1 - Arrive in Tangier, taxi to Chefchaouen
To start my one week in Morocco itinerary, I flew out of Houston after work on Friday. I arrived in Tangier in the morning the next morning after the overnight flight. 
Instead of staying one night in Tangier, I took a taxi straight from the airport to the little blue city, Chefchaouen. It cost me $70 US for a scenic four-hour drive next to Morocco's Atlas mountains. At one point, the taxi driver asked me for $5 extra, because he had taken the faster toll road instead of the slow road. I'm not sure if this was a scam, but I paid him anyway because I had no other choice.
The taxi driver dropped me somewhere on the outskirts of town since there are few roads large enough for cars in the city. To find my hostel I had to keep popping into hotels and shops to ask which direction to walk in. 
The Chefchaouen Maze
You'll notice immediately upon arrival that Chefchaouen is a maze of narrow alleyways that's near impossible to follow directions on how to get from point A to point B. Google Maps doesn't have enough detail to show how to get around either. Navigation was a recurring issue for me in a lot of Moroccan cities, especially in their central medinas. 
Tip: Maps.me is a little bit better at Google Maps showing alleyways, to help with navigation for your one week in Morocco itinerary.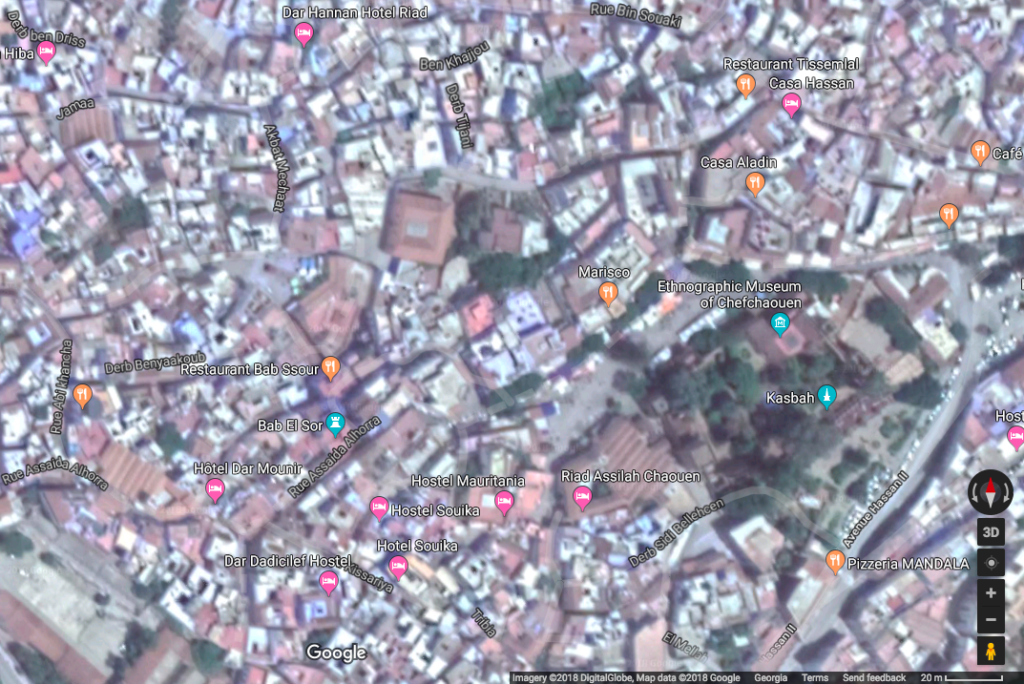 The fun part in Chefchaouen is going out for a wander – it's so easy to get completely lost. But one of the perks of this small town is that you're never lost for long. Eventually you'll wander back to where you started, or wander to the center square where there are a few restaurants with patios and shops. It might be a good idea to memorize how to navigate back to your lodging from this main square or another landmark.
Where to stay in Chefchaouen
I stayed at the amazing 
Riad Baraka
, which is centrally located and in a building just as blue as the rest of the village. It has a beautiful panoramic view from its multi-level rooftop. Blue buildings are built all the way into the valley, with minarets of mosques sticking up randomly amongst them.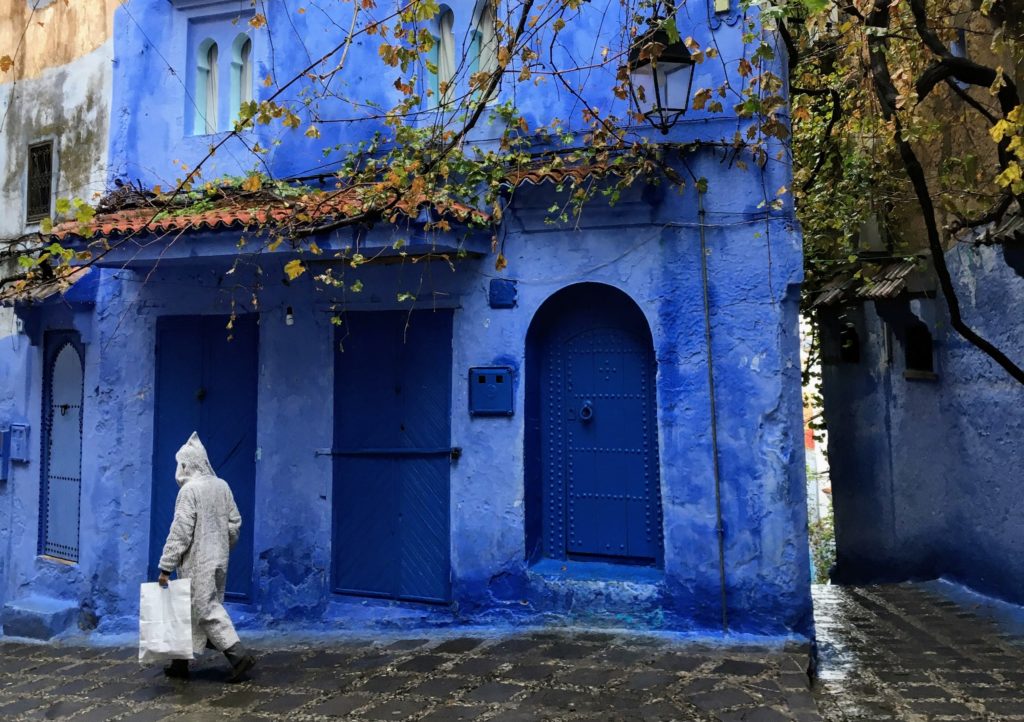 Day 2 - Chefchaouen, evening bus to Fez
After one night in Chefchaouen, I had all of the next day to explore as well. I left my luggage at the hostel storage room, and walked around until it was time to head to the bus station in the afternoon. I gave myself plenty of time to get to the station because of course, I got lost getting there in the same maze of alleyways.
I met a local student from Fez on the bus, and he helped me get a taxi once we arrived in Fez, to drop me at a well-known fountain that was close to my new hostel. In Fez, stayed at Riad Verus, which was close to the Blue Gate and had great hospitality. I was met upon check-in with some Moroccan mint tea.
Things to do in Fez
Fez by no means starts to shut down after it gets dark. No matter what time you arrive here during your one week in Morocco itinerary, you'll be able to do some exploring. I left my hostel to wander around more alley ways, these ones of red and brown brick instead of blue. The streets were very well lit and filled to the brim with vendors selling desserts, souvenirs, jewelry, etc. Steam was rising out of every other building where restaurants were serving up late night meals to their customers. I had to push my way through locals and foreigners alike who were doing all sorts of shopping.
Although it was late when I walked back to my Fez hostel, there were still kids playing outside in the dark, or women walking them home, so I never felt unsafe.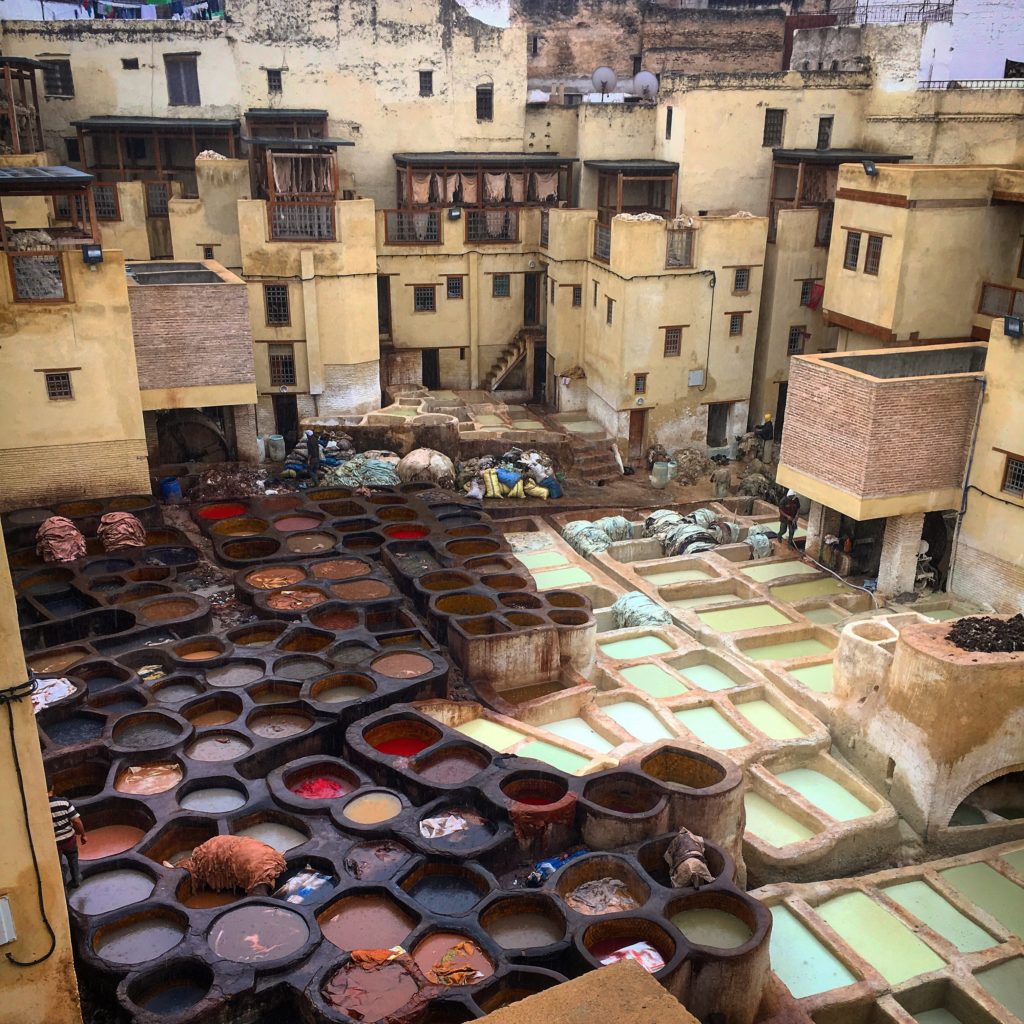 Day 3 - Fez, overnight bus to Merzouga
Spend the next day in Fez exploring some of the town's highlights, especially the shops in the medina. One of the highlights for me was this viewpoint of the leather making and dyeing part of town, which we could only get to by walking through a leather shop. I also visited the Kairaouine Mosque, which also serves as a university. 
For lunch or dinner, I recommend visiting the famous Cafe Clock for amazing Moroccan tapas.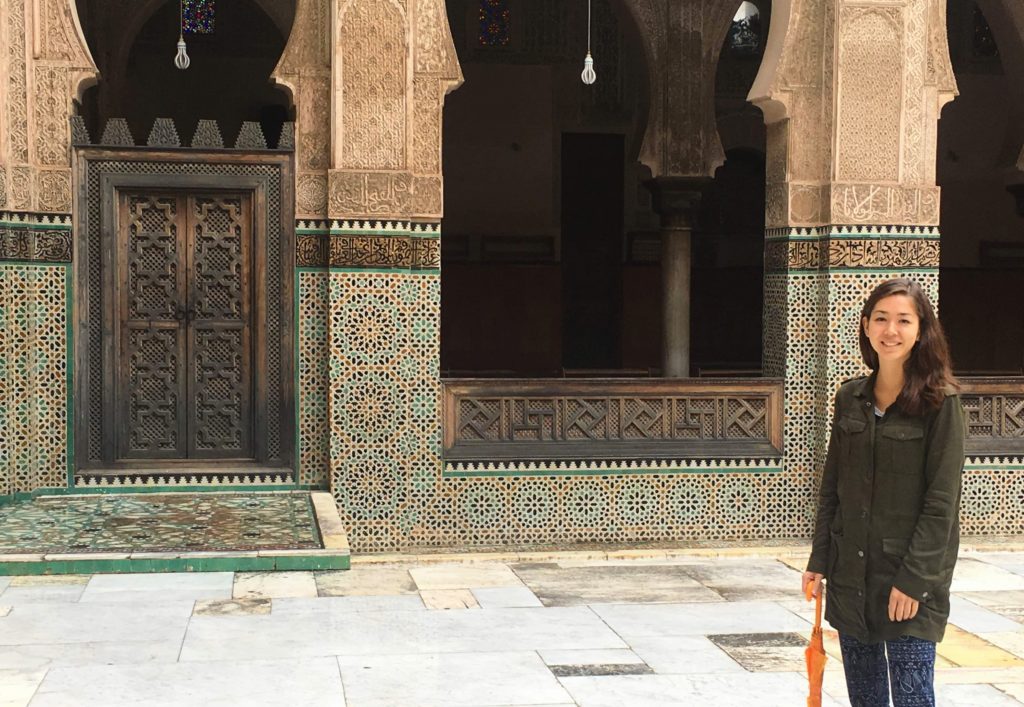 Next stop on this one week in Morocco itinerary: Merzouga. In the evening after picking up my bags, I went to the bus station and boarded my overnight bus to Merzouga. There were half a dozen other tourists taking the same route as I was.
This bus was FREEZING, and I'm pretty sure the blanket I took off of the airplane saved my life. I would never have guessed that I would be seeing snow in Morocco, but we drove through a winter wonderland at one point, probably crossing over some mountains, in order to get to Merzouga.  I should have been better prepared since it was late November, but somehow my judgement was clouded by the image of hot deserts and camels in Morocco! But also the bus driver never turned down the AC.
The bus from Fez to Merzouga stopped multiple times to pick up and drop off locals along the way, and I was surprised to see that many of them were solo women, waiting in the middle of the night at abandoned gas stations to be picked up by the bus. 
Day 4 - Merzouga + overnight desert tour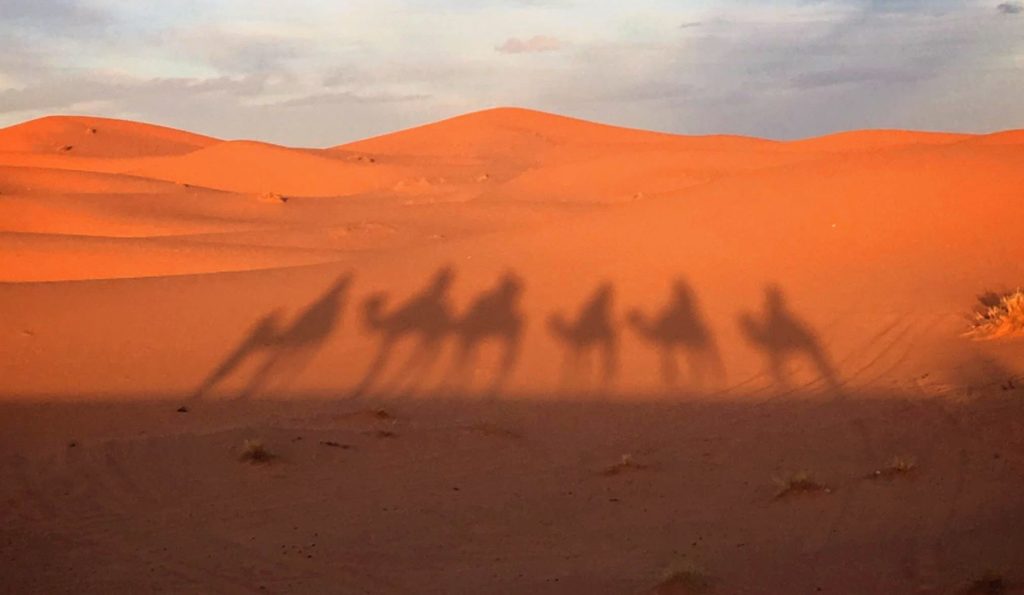 As the sun was rising after hardly any sleep, I looked around to see we were only tourists on the bus once again. After arriving in Merzouga, the bus stopped thrice more and tour guides came on shouting out people's names who had made reservations with them. I stayed on until the terminus, where I saw a young berber boy with a massive turban on his head holding up a sign that had my name on it.
He took me to his boss (father?), who then drove us to the Nomad Hotel in the outskirts of town. I was given a room there to rest in until it was time to depart for the tour to the desert. They let me have breakfast with their guests, then I watched from the rooftop as the camels carrying the tourists from the night before started to arrive in the back of the complex. I went to catch up on some sleep afterwards.
Tip: Countless beautiful accommodation options in Merzouga offer tours in to the desert to stay overnight. Book somewhere to stay and then enquire about this tour!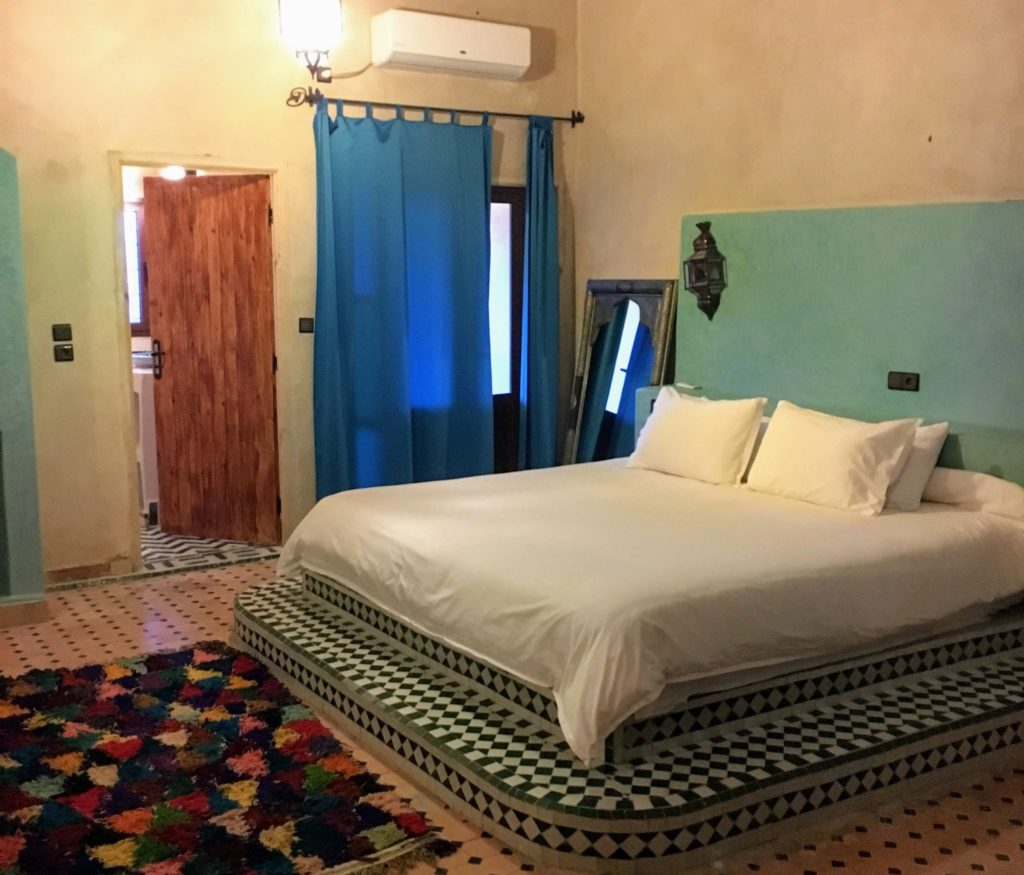 Around mid-day, the man who organized my tour picked me up in his jeep, and took me to visit Mama Adi. She is a nomad woman who lived alone with her son in a hut close to a river in the desert. 
She had a dirt oven that she'd made to cook with, a solar + car battery setup to light one lightbulb in her hut, and a goat and some chickens that stayed around her property. Although she had been living in this location for a couple of years, her hut was made so that she would have the option to move to a different location whenever she needed to. After having some tea with her, I was taken back to the hotel to wait some more.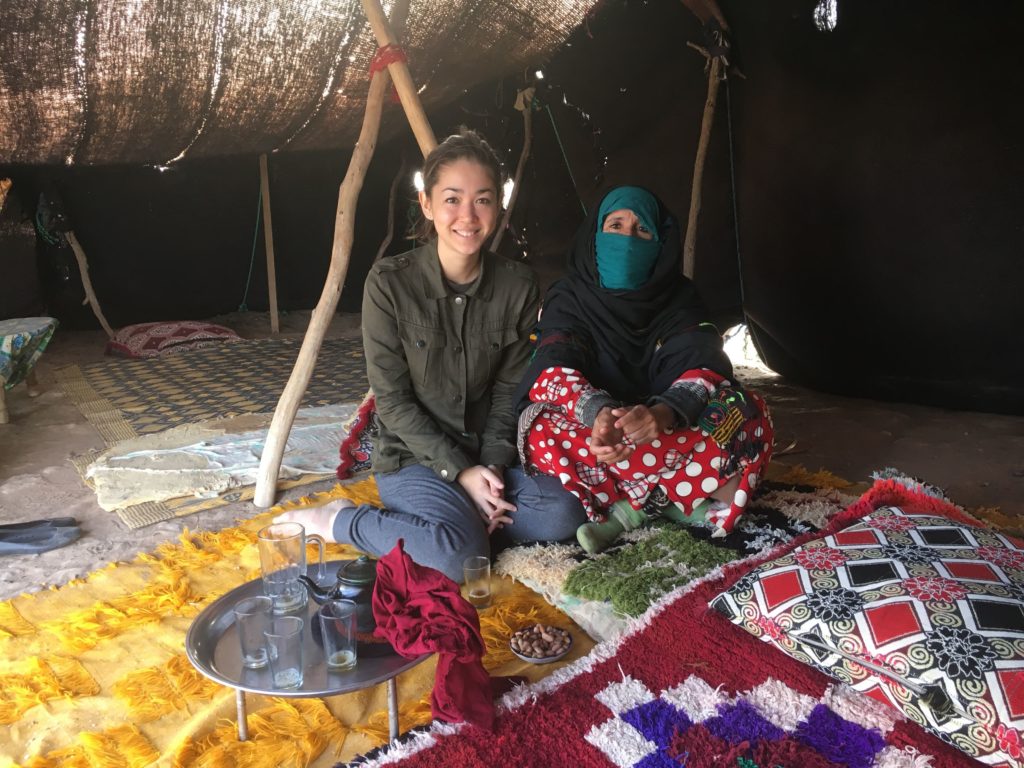 An hour or so before sunset, myself and others who had arrived later in the day were rounded up to mount our camels. The berber guide took each of our cameras to get pictures of us on the camels, then we rode off into the sunset. 
Sitting on the camel was no problem for me, but I'd heard some of the guys complaining who had done it before. My camel was slightly clumsy, and would misstep occasionally, lurching me to one side. The camel behind me was a noisy one also, apparently his brother and best friend was in a different camel train of tourists, so he was lonely and crying for him. The camel at the very back kept biting the one behind me and causing a commotion, so the berber eventually needed to tie a mouth cover on him to get him to stop.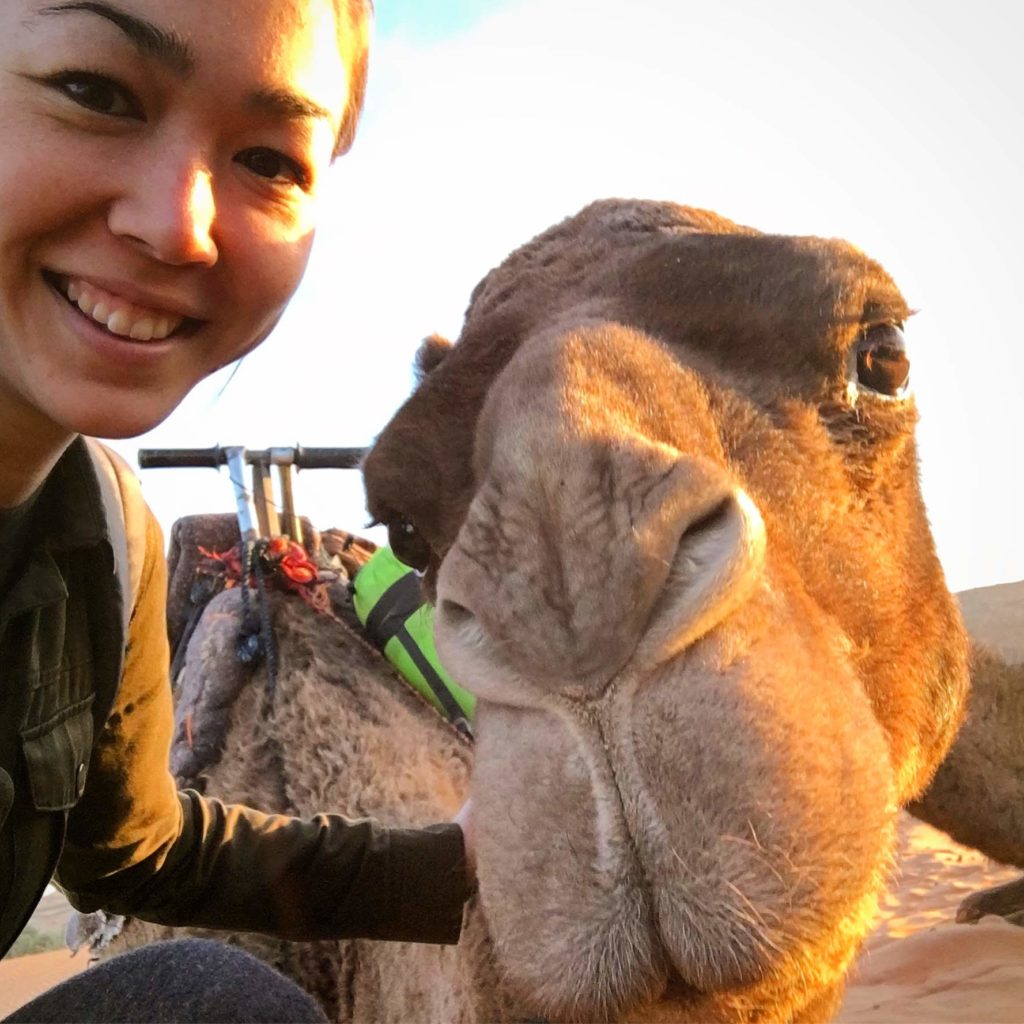 We stopped in the desert for ten minutes or so to climb a sand dune right when the sun was about to set so we could take pictures. After this we rode until it was almost completely dark (much to me and my clumsy camel's dismay).
When we reached the camp we were assigned huts – mine had six beds total and I was the only one to occupy it, so I took some blankets off of my neighboring bed. Then I joined everyone else at the common area tent, where we were served tangine. I had asked specifically for a vegetarian one, which I got with some bread. I was completely stuffed at the end of the meal.
To finish the night, the berbers from the different camel trains had a singing and drumming performance for everyone. Others had brought their own beer and wine (which I missed the memo about), so some people were getting rowdy and singing along. Most people opted out of joining in on the singing, so I went back to my hut and enjoyed the view of the Moroccan night sky for a little while, then went to bed.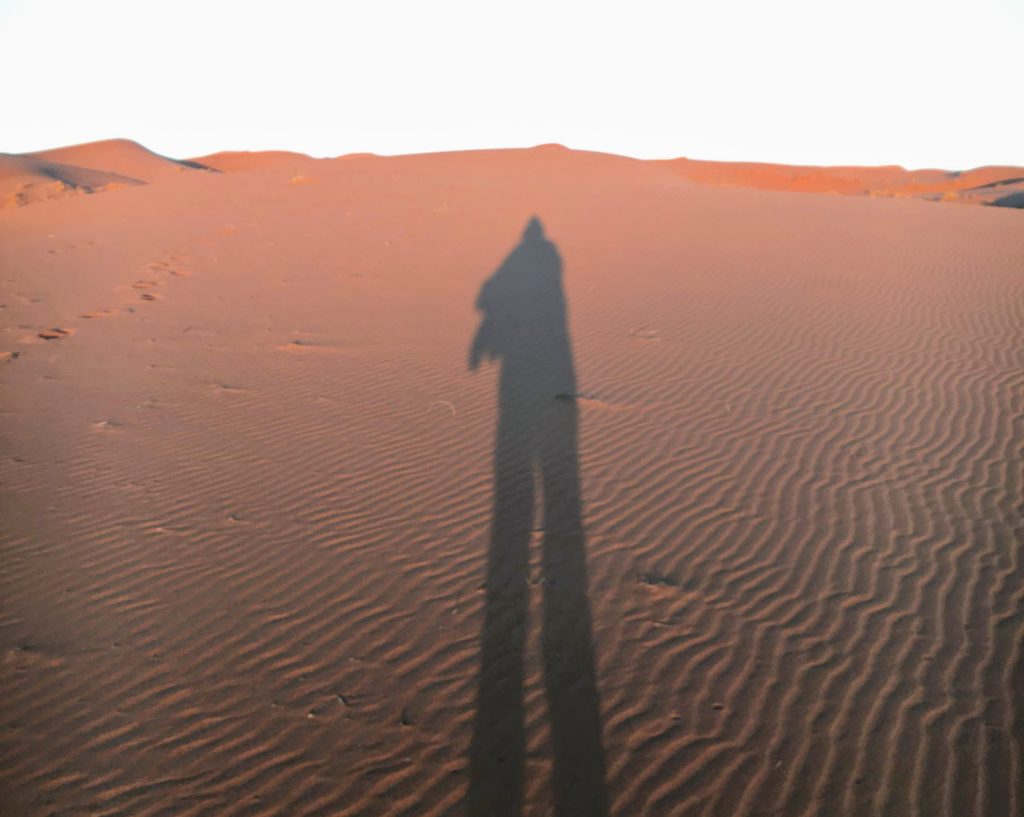 In the morning I was picked up by the man who organized my tour in his jeep, because I needed to catch the morning bus to Marrakech and I didn't have time to have a leisurely ride back to the hotel on the camel. When I returned to the hotel, I had a quick breakfast there, then was dropped off in the center of Merzouga where I was the first one on the bus.
Over the next 12 hours people filtered in and out of the bus constantly. First there was a handful of tourists who came on, then got off at some larger cities between Merzouga and Marrakech. When we were closer to Marrakesh and nightfall, it was packed mostly with locals. We drove through beautiful desert scenery, small villages and large towns, then finally over a snowy mountain range before we entered the city of Marrakech. 
When the bus stopped, I got a taxi to Jemaa el-Fnaa, the main square and tourist attraction that every taxi driver knows. From there I followed the instructions that my hostel, Hostel Marrakech Rouge, gave me to get to my resting spot for the night. The instructions were extremely clear, but still difficult to follow because sometimes it had me ducking into tiny alleyways that could hardly fit two people walking together.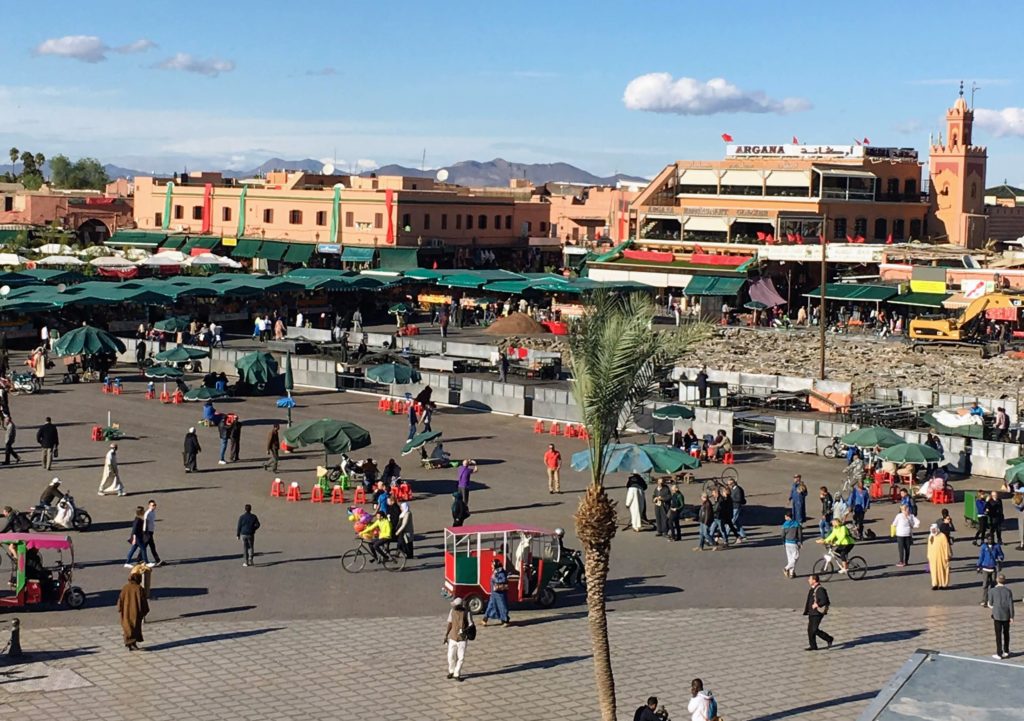 In Marrakech I visited the Jmaa el-Fnaa square – it's a massive tourist trap in some spots, but as you wind deeper into the labyrinth of shops, it starts to feel like more of a local's spot also. The trinkets and souvenir shops turn to meat and vegetable shops where local Moroccans are purchasing ingredients for their next meal. I also went to the main train station, a beautiful standalone building in a very clean section of town, to buy my ticket back to Tangier. Since I was in the city right after the international climate change conference COP 22, there were beautiful, world- and environment-focused statues along some of the main roads all around the city.
I had the most time to spend in Marrakech than in any other city in Morocco, and I think this was necessary to be able to fully appreciate and immerse yourself in the craziness around you. The main square transforms in the evening with street performers and street vendors, as well as a street food section with tables that appears out of nowhere. Unfortunately I got a bit of a stomach problem, I think from the tangine I had on the first night, and I wasn't able to do as much exploring as I liked, and spent my second evening in Marrakech with a fever under the blankets of my bed.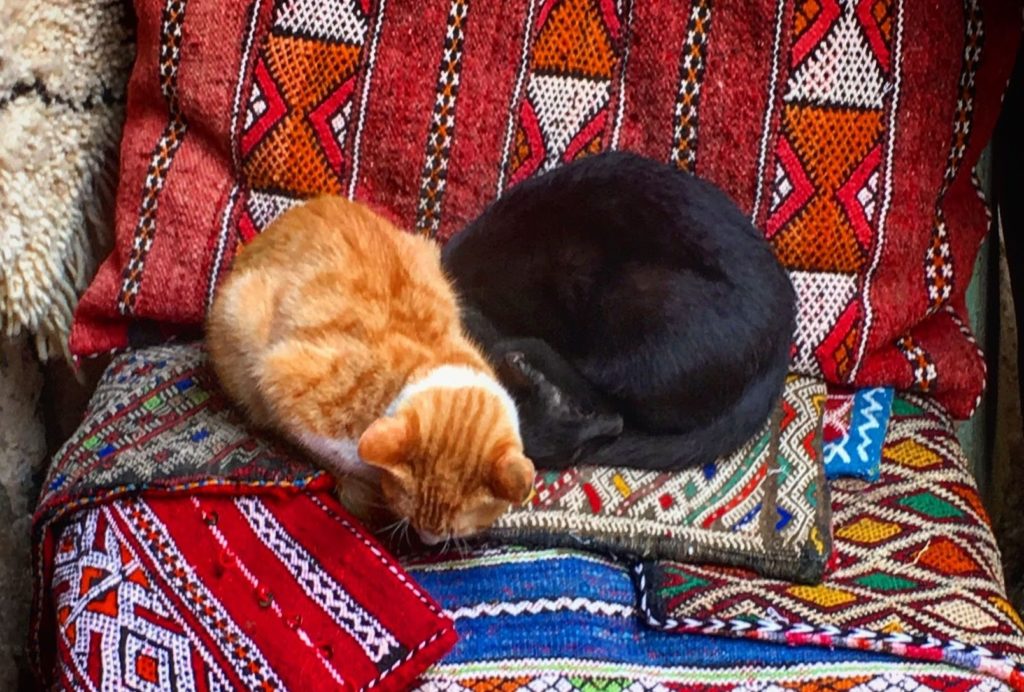 Day 7: Marrakech to Tangier
The day before my flight left for Houston, I had a choice to take an afternoon train from Marrakech to Tangier and spend the night in Tangier, or take an overnight train from Marrakech and arrive in Tangier a couple of hours before my flight. I ended up taking the safe option, the afternoon train. It had a one hour stop over in Casablanca where I exited the train and wandered around the train station area for a bit, without seeing much. 
I arrived in Tangier after nightfall, and had to try and navigate to my hostel in the dark again, this time with much less clear instructions. Luckily I had another Moroccan student I had met on the train walk around with me, and ask some of the locals where my hostel was.
Unfortunately I had little time in Tangier to explore, only to buy some last-minute souvenirs from a local shoe shop near the hostel in the morning before I left for the airport.
That's a wrap for my whirlwind one week in Morocco itinerary! Here's a summary of my movements again:
Day 1: Arrive in Tangier, taxi to Chefchaouen
Day 2: Chefchaouen, evening bus to Fez
Day 3: Fez, overnight bus to Merzouga
Day 4: Merzouga + overnight desert tour
Day 5: Morning bus to Marrakech
Day 6: Marrakech
Day 7: Marrakech, afternoon train to Tangier
Day 8: Depart Morocco
Pin my One Week in Morocco Itinerary!
Are You Prepared For Your Next Travelventures?