Jeonju, South Korea has countless amazing things to do including visiting the largest Hanok Village in the country. Known as the cultural capital of Korea, its Jeonju's slogan says here, you can "Feel Korea." 
Jeonju came in 3rd place in Lonely Planet's "Best Attractions in Asia" list in 2016, which is still proudly mentioned on Jeonju's tourist map. With all the things to do in Jeonju, somehow it is still under the Western tourist's radar meaning fewer crowds.
The main thing to do in Jeonju is explore the traditional Hanok Village, which has over 700 traditional hanok buildings. Although it can be circled on foot in about an hour, every alleyway within it is packed with beautiful Korean highlights and attractions to visit. 
Here is my list of top 15 things to do in Jeonju, South Korea, the "Most Korean City"!
First, Where to Stay in Jeonju
There's no better place to stay in Jeonju, South Korea than in a traditional Hanok House, or local Korean guesthouses. The best place to stay in a Hanok House in Jeonju is in the Jeonju Hanok Village, which is walking distance from almost all the top things to do in Jeonju.
I made a list of all the best hanok stays in Jeonju in my post here. Most of them are located in the Jeonju Hanok Village, in the middle of all the action. 
If you prefer to stay in a quieter neighborhood, like near the peaceful Jeonjuchan river, I recommend my favorite hanok stay from the list: Hanok Story Guesthouse. It's within walking distance from the Jeonju Hanok Village, but in a quieter neighborhood away from the crowds. The Hanok itself has beautiful traditional rooms with exposed wooden beams, even some unique lofted sleeping areas.
If you're on a budget but still want to stay close to Jeonju's Hanok Village, check out NeaRest Guesthouse, a backpacker hostel that's no more than a 10-minute walk from all the top things to do in Jeonju.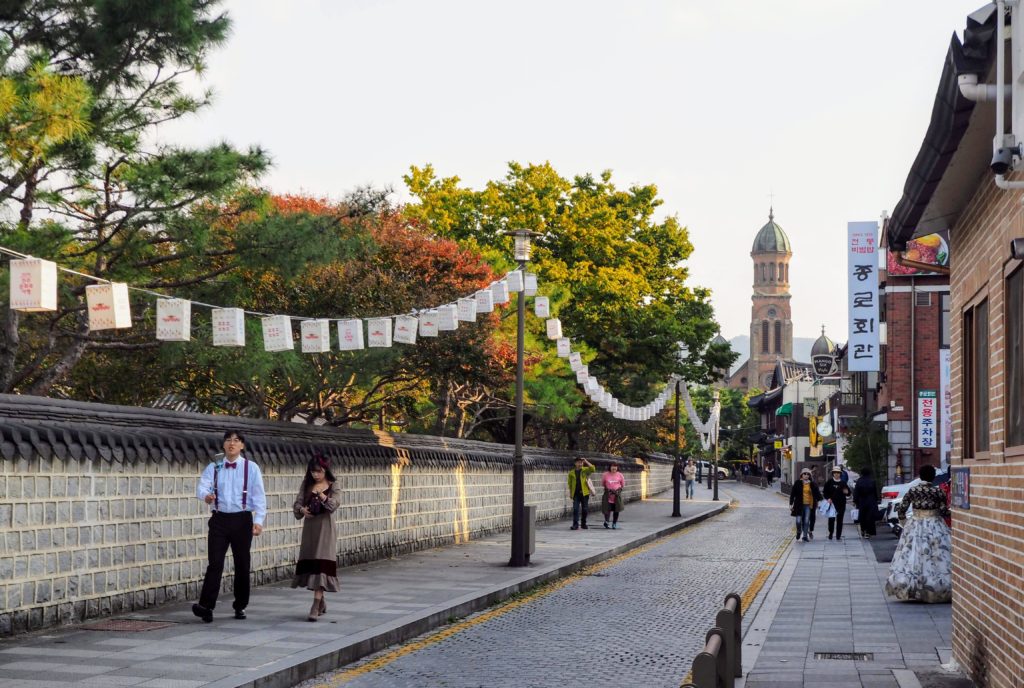 Best Things To Do In Jeonju:
1. Visit the Gyeonggijeon Shrine and the Royal Portrait Museum
The best thing to do in Jeonju sits in the heart of Jeonju's Hanok Village: visiting the Gyeonggijeon Shrine and the connecting Royal Portrait Museum. The shrine is set in a beautiful courtyard and is surrounded by many well-preserved monuments and historical buildings. A small bamboo grove is a popular Instagram spot, but so is the rest of the picturesque shrine grounds.
Several portraits of King Taejo are preserved here, one in the shrine and two in the Royal Portrait Museum. This King is most known for founding the Joseon Dynasty in Korea. The Royal Portrait Museum also houses portraits from other famous Korean kings, among other royal objects.
Entry costs 3000 won ($2.50 USD), which includes entry to both the Shrine and the Museum.
2. Explore the Jeonju Hanok Village streets
Jeonju's Hanok Village is the largest in Korea, and is a scenic area to wander around. The main streets have picturesque fountains, pavilions, and statues that visitors can take Instagram-worthy shots with. Get lost in the smaller streets where the real local charm lies.
Everywhere you look is a traditional Hanok home, still lived in by locals today. Many homes have been partially converted to an exhibition space, museum, cafe, restaurant, or gift shop. Needless to say, you could easily spend a lot of time checking out each of the buildings in Jeonju.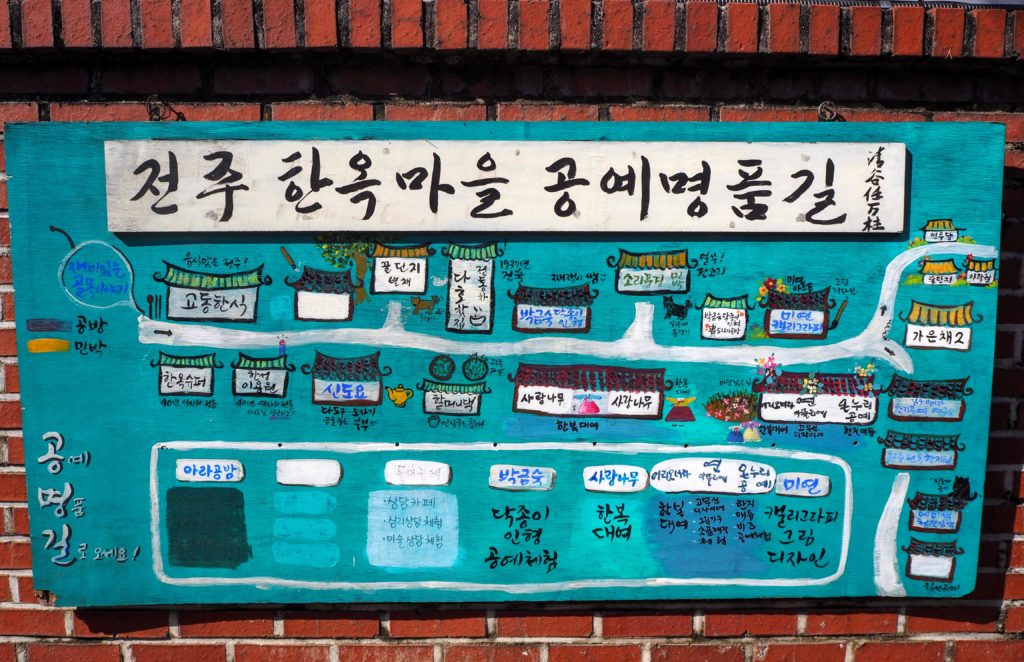 Like Seoul, renting a Hanbok is a popular activity with the local Korean tourists looking for things to do in Jeonju. Hanbok is a traditional Korean dress, consisting of a colorful large gown and a small long-sleeved vest for women, and a jacket and tall hat for men. Rent a Hanbok in Jeonju before visiting the Gyeonggjieon Shrine and wandering Jeonju Hanok Village to "Feel Korea", and look the part!
Hanboks can be rented for about 10,000 Korean won ($8.50 USD) for 2-3 hours, depending on the location. 
The Nambu Market is a massive local market in Jeonju, where you can find everything from seafood to pajamas to souvenirs to kitchen goods. 
Although it can be quiet during the day, a night market takes place every Friday and Saturday night in Jeonju, when it becomes filled with bustling vendors.
5. Jeondong Catholic Church
This Catholic church is one of the largest, and considered to be one of the most beautiful Catholic churches, in South Korea. 
It's been a background setting in several Korean dramas, while still being used for daily mass in Jeonju in the mornings.
6. Visit the Free Museums
One of the best things to do in Jeonju is to visit all of its museums and exhibitions. The best part is, all of them are free! They each showcase one aspect of preserved Korean culture, including making traditional paper, soju or rice wine, different handicrafts, and decorative fans.
A gift shop is usually associated with the museum, so you can support the museum by purchasing some of the traditional Korean goods you just learned about.
7. Hike to the Omodae Viewpoint
Getting some elevation to gaze down at Jeonju's sprawling Hanok Village is a must-do in Jeonju. The Omodae Viewpoint is on the southeastern corner of the Hanok Village, and the summit of the small hill can easily be reached via its many wooden staircases. 
Don't worry, it's not really a "hike", more like a few flight of stairs. Anyone can make it to the top in 5 minutes. There is a small pavilion at the top where you can rest without a view, but go to each corner of the trail to see the tiled rooftops of the Hanok Village homes.
8. Visit Jeonju Hyanggyo, the Confucian School
Another highlight of Jeonju is the perfectly preserved Confucian school, which is about 15 minutes on foot from the central Hanok Village. The buildings are left exactly as they were used hundreds of years ago, and it's easy to imagine Confucian scholars wandering its courtyards. Sections of the school are still used today to teach Confucian principles to students in Jeonju.
This school is famous for its Gingko trees, which turn a brilliant yellow in the fall. They were planted there to represent scholarship and education. Fun fact: the ginkgo tree near the entrance of the school is over 400 years old!
9. Relax in Hanbyeokdang Pavillion
At the edge of Jeonju town is a beautiful pavilion, overlooking a small lake and forested hill next to it. It's a scenic place to have a rest and enjoy the beautiful views that Korea has to offer. 
Here, you can almost feel yourself transporting back to Korea hundreds of years ago.
10. Have Tea in a Hanok Traditional House
One way to admire the Hanok traditional homes in Jeonju is to have tea or dessert inside of one. There are several cafes and teahouses that operate out of Hanok traditional homes. Experience two aspects of authentic Korean culture at once by enjoying a tea ceremony inside of a Hanok home.
Check out Gyodong Tea Garden for a highly-rated option.
11. Shop on Taijo-ro street, or Hyangoyogil and Jeonju Cheonseo-ro streets
The main touristy part of Jeonju is Taijo-ro street, which runs from the town's Catholic Church, passed Gyeonggijeon Shrine, all the way to the base of Omodae viewpoint.
Taijo-ro street has many shops where you can rent Hanbok, try some funky street food like squid on a stick, and get some souvenir shopping done. The lanterns and signs that light up the storefronts at night make it a scenic place to wander after dark too.
Take to the streets that run alongside Jeonju's main river, Jeonjuchan, for a quieter shopping experience. Hyangoyogil and Jeonju Cheonseo-ro streets are more off-the-beaten-path in Jeonju and frequented by locals only. Here you can find quaint cafes and handicraft stores situated between residential Hanok traditional homes.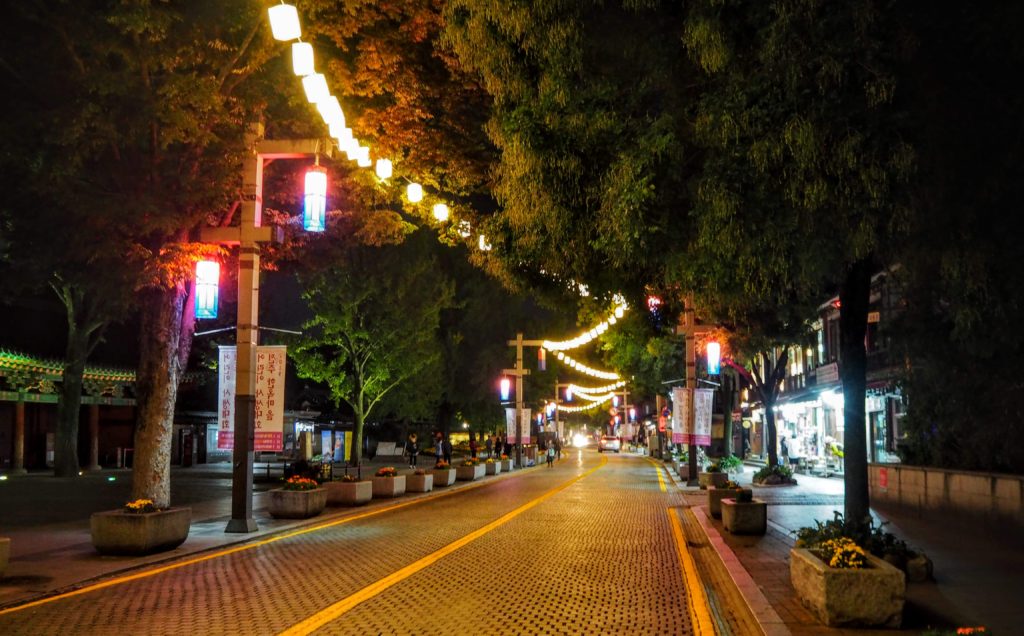 One location worth visiting in Jeonju, especially during the lotus flower season from May to mid-July, is Deokjin Park. Although the park is a bus ride away from the Jeonju Hanok Village, it's a chance to relax in nature and admire the large ponds that have been enjoyed by locals since the Koryo Dynasty in the 900's.
Deokjin park is famous for its large lotus pond that you can cross over on a boardwalk, as well as an arc-shaped suspension bridge and a few playgrounds and pavilions.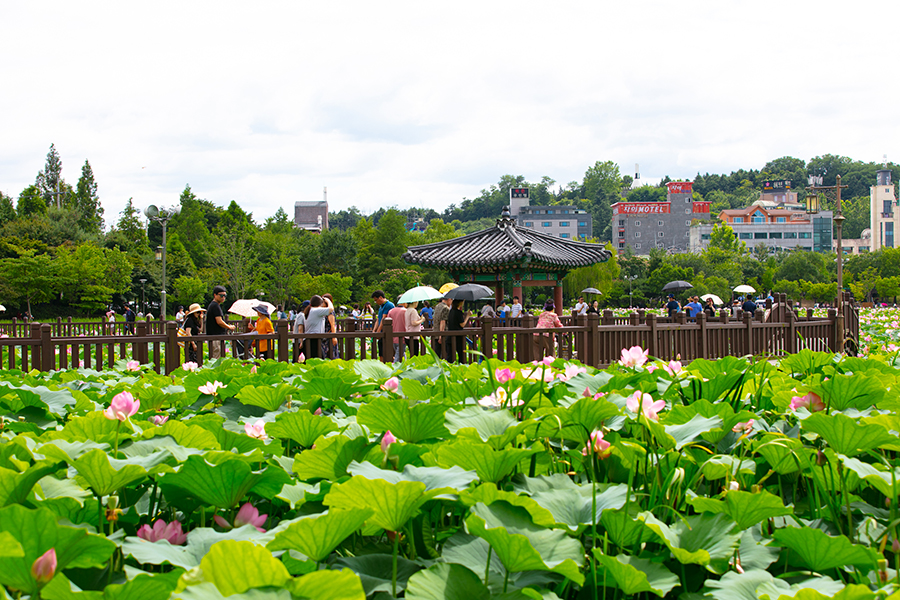 13. Wander through Jaman Mural Village
East of Jeonju's Hanok Village is the Jaman Mural Village. Reach this village by crossing the bridge over from the Omokdae viewpoint. Visiting the Jamal Mural Village is a top thing to do in Jeonju, because it shows the artsy side of the city. 
A few winding streets (with lots of hills) make up the mural village that anyone can walk through to admire the murals painted by talented locals. Many quirky coffee shops and cafes call these alleyways home too. The cafes often have outdoor terraces, where you can rest and admire the view overlooking Jeonju town. 
14. Stroll along the Jeonjuchun River
Just next to Jeonju's Jeonjuchun River is a wide walking and biking trail, perfect for getting a bit closer to nature in the heart of Jeonju. Get some exercise in, or head up to the Cheongyeonru Bridge where you can rest in a pavilion while overlooking the river.
Many amazing hanok stays are located just next to Jeonjuchan River, which makes for a perfect place for a sunrise or sunset stroll too. 
Korea's famous national dish, bibimbap, has a 200+ year history that originated in Jeonju. The dish consists of rice with a variety of different colorful and nutritious toppings including beef, eggs, bean sprouts, red chillies, and more. Jeonju even has an annual bibimbap festival in October to celebrate the dish. 
Walking through Jeonju's Hanok Village you'll find endless stores that offer bibimbap, and everyone's got their favorite shop. Trying this delicacy is the last thing you shouldn't miss when visiting Jeonju!
Save the Top 15 Things To Do In Jeonju: Pin this post!
Are You Prepared For Your Trip To Jeonju, South Korea?