Osaka is a foodie capital of Japan, so eating out in Osaka is a huge part of experiencing the best of the city. Being a vegetarian doesn't mean you need to miss out on incredible food in Osaka either! If you're traveling Osaka with a combination of vegans, vegetarians and non-vegetarians, you might want to find Osaka restaurants that cater to all food preferences. This is my list of unmissable restaurants in Osaka, Japan with both vegetarian and non-vegetarian options!
Japanese foods featured in my list of Osaka restaurants with vegetarian options include Japanese curry, sushi, gyoza, and okonomiyaki (savory pancakes), as well as some Western food options. Compared to my list of Tokyo restaurants with vegetarian options, my Osaka list includes more hole-in-the-wall restaurants and personal eating experiences. Which is what Osaka is all about! 
During your Osaka itinerary I hope you'll have many opportunities to eat out, with omnivore and vegetarian friends, to taste some of Osaka's greatest eats.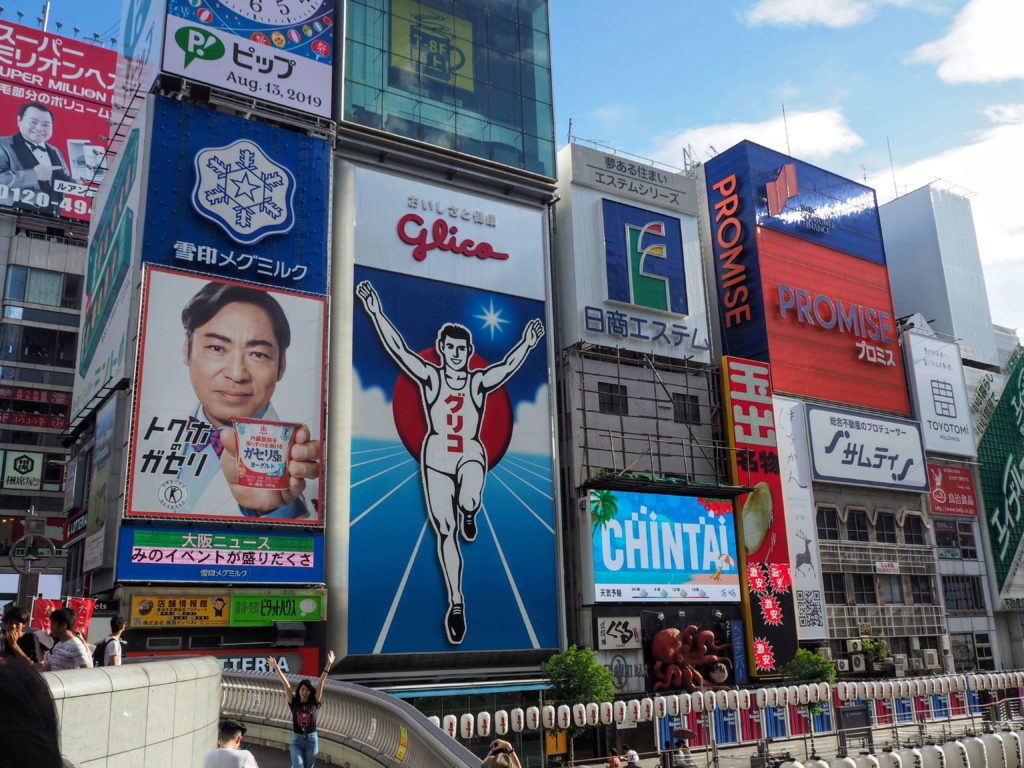 GYOZAOH! Dotonbori is the number one rated restaurant on Tripadvisor for Osaka's buzzing Dotonbori neighborhood… and it offers a vegetarian menu! GYOZAOH's signature dish is, you guessed it, gyoza, or Japanese dumplings. Japanese gyoza are traditionally pan-fried, but GYOZAOH offers soup gyoza and deep-fried gyoza as well. 
Other offerings (both vegetarian and non-vegetarian options available) include ramen, soup, deep-fried chicken, seafood, or veggies, and side dishes like pickles and edamame.
The counter-only seating and izakaya vibes also makes it a must-visit Osaka restaurant with vegetarian options. 
Check out a picture of the English vegetarian menu here.
2. Sushi Roll Double Quotation Iki
Sushi Roll Double Quotation is a Tenjinbashi-based sushi eatery west of Dotonbori in Osaka. It offers vegan, vegetarian, and regular fish versions of sushi in a small, personal restaurant setting. The sushi rolls here are similar to California-style rolls, with rice wrapped around the outside and a variety delicious ingredients rolled in the middle. 
Vegan and vegetarian sushi options here include ingredients like cucumber, avocado, burdock root, sprouts, and tofu. Double Quotation Iki also offers sushi party trays and picnic trays for visitors on the go. 
3. OKO Fun Okonomiyaki Bar
OKO Fun Okonomiyaki bar is a top-rated okonomiyaki (Japanese savory pancakes) restaurant and bar located in Osaka's Shinsaibashi neighborhood. This small restaurant is known for its fun atmosphere, kind staff, and having great vegetarian, vegan, and gluten-free okonomiyaki options. All okonomiyaki comes in three different sizes, which is perfect for all appetites, and can be customized with different vegetable toppings too. 
The best part – all alcoholic drinks are only 180 yen ($1.50 USD) each, which is a steal you won't find in many other places in Japan. The restaurant and bar also stays open until 5:00am, so you know it'll be a good time. 
Check out OKO Okonomiyaki Bar's full menu here. 
Sakura Tei in Harajuku, Tokyo is another quirky restaurant with vegetarian, vegan, gluten-free, and meat okonomiyaki options. Check out my list of Tokyo eateries here. 
Okonomiyaki Mizuno is another fabulous okonomiyaki restaurant with vegetarian options that's a perfect addition to a Osaka itinerary. This Dotonbori okonomiyaki store is mentioned in the Michelin Guidebook for Osaka and Kyoto, which means there's always a line out the door to get a seat at this legendary eatery. 
The most famous dishes here are the Mizuno-yaki, which is okonomiyaki mixed with seafood and pork, and the Yamaimo-yaki, which uses grated yam as a key ingredient. They also serve Doton-yaki and Doton-soba as a homage to their famous Osaka location. If visiting in a large group, Okonomiyaki Mizuno also offers giant okonomiyaki or okonomiyaki sets, to serve 2-3 people each. All made on the hot teppan right in front of you.
Two vegetarian okonomiyaki options here are mushroom with scallions, or mushrooms with grated yam.  
If you love okonomiyaki, be sure to check out okonomiyaki village during a trip to Hiroshima. Hiroshima and Osaka have a friendly rivalry for who has the best okonomiyaki in Japan.
Matsuri is a Halal and Kosher restaurant that serves vegan, vegetarian, and non-vegetarian traditional Japanese food to visitors to Osaka. This dietary restriction-inclusive restaurant was founded to provide a place where traditional Japanese and Osakan food like takoyaki (octopus balls), yakisoba (fried noodles), ramen, and okonomiyaki can be enjoyed by all. 
If you want to try your hand and making Osaka's famous takoyaki, Matsuri even has a takoyaki-maker where guests can make their own!
See their full menu (including vegetarian options) that they kindly emailed to me here. 
6. Coco Ichibanya Curryhouse
Coco Ichibanya Curryhouse a popular chain restaurant can be found in nearly every big city in Japan. It serves one main dish and does it really well: Japanese curry. Coco is an unmissable restaurant destination during your trip to Osaka or Japan in general. Some Coco Ichibanyas are even open 24 hours, making it a great place to get a bite to eat after a big night out or after coming in late from the airport.
Coco Ichibanyas offer a vegetarian curry, which omits the pieces of pork that are usually mixed in with the delicious curry roux. Be sure to order the vegetarian roux specifically, because just ordering from the "vegetable" section of the menu only means your toppings will be vegetable. They offer various toppings to suit different dietary needs too, including beef, pork, seafood, egg, and vegetable. They even have an expansive kid's menu, making it a great Osaka restaurant for vegetarians, meat eaters, and picky-eater kids too.
For vegans, a vegan curry was offered as a limited menu item, but not part of their usual menu.  The vegetarian curry roux does not contain any animal products, but may contain traces of dairy from the production of it. 
In Osaka, CoCo Ichibanya Nishi-ku Awaza and CoCo Ichibanya Kitahorie are known to have the vegetarian and vegan curry options available.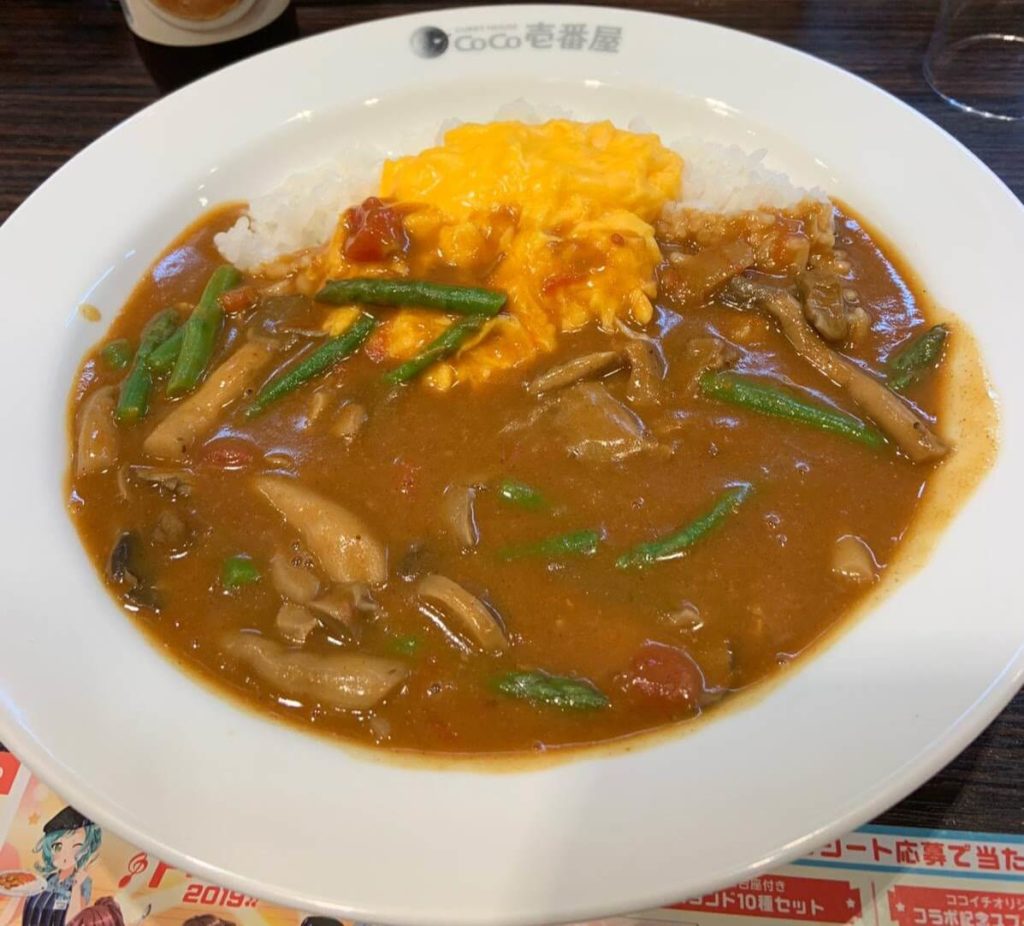 Kushiya Monogatari is a restaurant chain in Osaka and around Japan that offers vegan, vegetarian, and meat food options. The main offering here is al la carte and all-you-can-eat skewered foods, which visitors batter and fry themselves at their tables. It's fun for the whole family! 
For set times of 60 minutes or 90 minutes (at varying prices depending on whether it's lunch or dinner) you fill up your plate with an assortment of skewered vegetables, tofu, meat, eggs, mushrooms… donuts, churros, and more! Dip each skewer in some pre-prepared batter (vegetarian, not vegan) or just cover directly with panko bread crumbs and fry it up! A number of different sauces including ponzu, sweet sauce, soy sauce, and even cheese sauce is available for dipping. Find the full list of offerings here (Japanese only, use Google Translate). 
Other sides available at Kushiya Monogatari if the fried food gets to be too much is various salads, fruits, pasta, pickled vegetables, miso soup, and rice. The restaurant also has a large dessert section too. 
If you're looking for an all-you-can eat eating experience in Osaka with vegetarian options, this is the one for you! 
Soup Stock Tokyo is another great Osaka restaurant with vegetarian options. Soup Stock Tokyo has over 60 restaurants based around Japan. Their Osaka locations include one near Namba Station, one near Shinsaibashi Station, and three near Osaka-Umeda Station. 
Soup Stock Tokyo's philosophy is to serve healthy, heart-warming food in a convenient and sustainable way. Their primary offerings are various soups and curries that can be purchased in to-go cups and bowls, or purchased in packets to take home. They also have salads, okayu or Japanese rice porridge, accompanying bread and rice, and desserts. 
Specific flavors and offerings vary by store, but there is always a vegetarian soup option available (such as minestrone, mushroom and soy milk, chili bean, or yellow pea) and about a third of their curries are vegetarian as well. 
See Soup Stock Tokyo's full potential menu here. Actual menus are location-based and are rotated weekly. 
Osaka is home to America-mura, or American village, where this next Osaka restaurant is located. Pizza Bar Full House serves up some Western favorites including signature personal pizzas in a casual restaurant setting. Pizza toppings can be personalized, and can be paired with various sides including salads, fries, onion rings, and pan-fried sausages. 
Because it's a bar setting, one drink order per person is mandatory, however Pizza Bar Full House is a family-friendly restaurant as well. 
Here's a fun, must-visit Osaka restaurant chain that caters for both vegetarians and meat-eaters. Mos Burger is the Japanese answer to McDonalds, and a great fast-food joint that was founded in Tokyo. Although they don't have Happy Meals, they have an amazing variety of different burgers and everything you need to satisfy your fast-food cravings. The servings and burgers aren't super-sized as well, so won't make you feel lethargic afterwards.
For vegetarians, Mos Burger offers the plant-based green burger, as well as a variety of soy burgers. Each comes with classic Mos Burger toppings like cheese, jalapeño and a chunky tomato sauce. Meat-eaters can try the classic Mos beef burger, or branch out and try their fish burger, shrimp or pork cutlet burger, or chicken burger. 
Mos Burger even has two burgers, seafood salad and yakiniku burgers, which come with rice buns! Visitors can an opt for a fresh lettuce bun for any burger too, perfect for keeping calories low.
 (Eating burgers with a rice bun is on my list of weird and unique things to do in Tokyo!)
Are You Prepared For Your Trip To Japan?
Be sure to check out my Japan home page for Japan travel information, insider tips, reading list, and must-haves for traveling to Japan!