Eating out in Tokyo is a huge part of experiencing the best of what the city has to offer. Being a vegetarian doesn't mean you need to miss out on incredible food in Tokyo either. Unless you're traveling with a group of vego's, you'll likely want to find a Tokyo restaurant that caters to both omnivores and vegetarians. This is my list of unmissable restaurants in Tokyo, Japan with both vegetarian and non-vegetarian food!
Japanese foods featured in my list of Tokyo restaurants with vegetarian options include ramen, sushi, and okonomiyaki (savory pancakes). These dishes have brought friends and families together around dinner tables here for centuries. My list of Tokyo eateries also includes some trendy and upscale restaurants that have Western vegetarian options as well. Perfect for experiencing Tokyo as a local.
During your Tokyo itinerary I hope you'll have many opportunities to eat out, with omnivore and vegetarian friends, to taste some of Tokyo's greatest eats.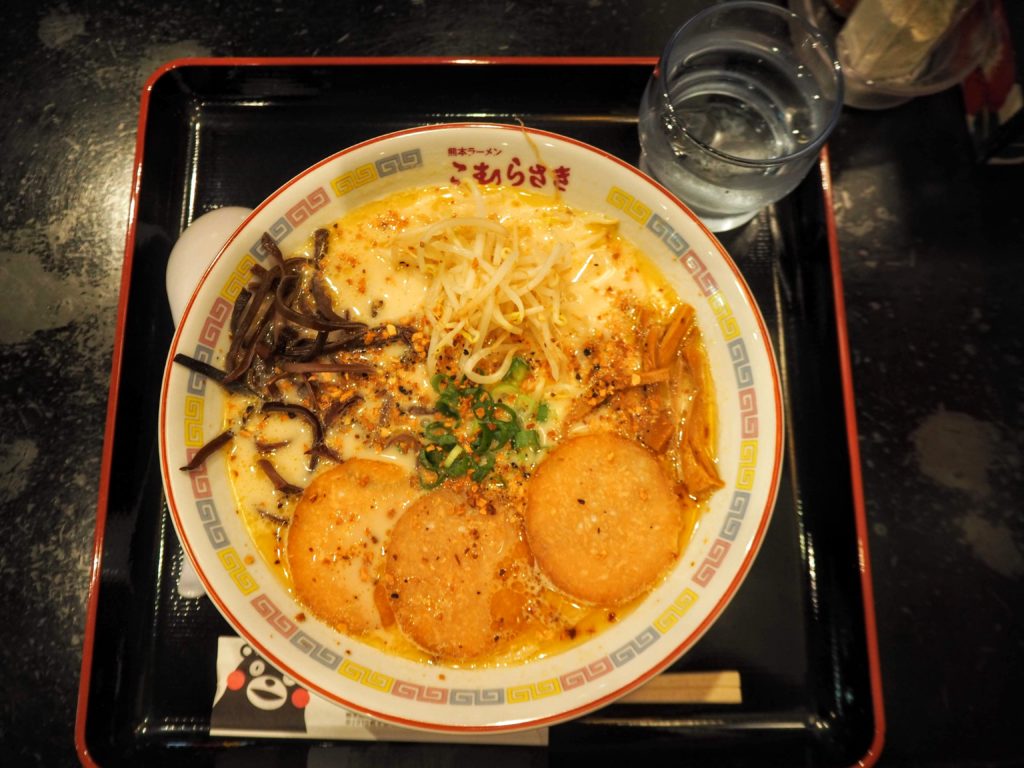 Soranoiro is a ramen restaurant chain that has a handful of locations in Tokyo as well as in other major cities in Japan. The interior of their stores are bright and friendly, unlike some other ramen restaurants which can feel dark and isolated. Soranoiro serves classic soy sauce and tonkotsu (pork bone broth) flavored ramen for omnivores, with plenty of meat including in the toppings. They also serve vegan, vegetarian, and gluten free ramen, making it a must-visit Tokyo restaurant with vegetarian options. Check out their menu here. 
I visited Soranoiro's location in Tokyo Station's Ramen Street, one of the top places to visit in Tokyo, with my dad and brother. The vegetarian ramen here was my dad's favorite meal during his entire trip to Japan!
MUJI is a high-quality Japanese retail and home goods company that has opened up shop in cities around the world including New York, Sydney, Singapore, Bangkok, and more. It's known for its simple yet chic styles, without any outward branding or labels. Large MUJI department stores can be found around Tokyo, but some of them have an extra special offering: Cafe & Meal MUJI, or MUJI Cafe (found at the Shibuya, Shinjuku or Ueno MUJI in Tokyo).
Fuel up before or after your MUJI shop at their stylish cafe, which even has its own blog page. Best visited for brunch or lunch, food is served cafeteria-style with servers filling your plates with the day's specials. Food is inspired by fresh and seasonal ingredients, and you can bet there are plenty of both meat, vegetarian, and vegan options available. Rice and miso soup are included in the meal as well.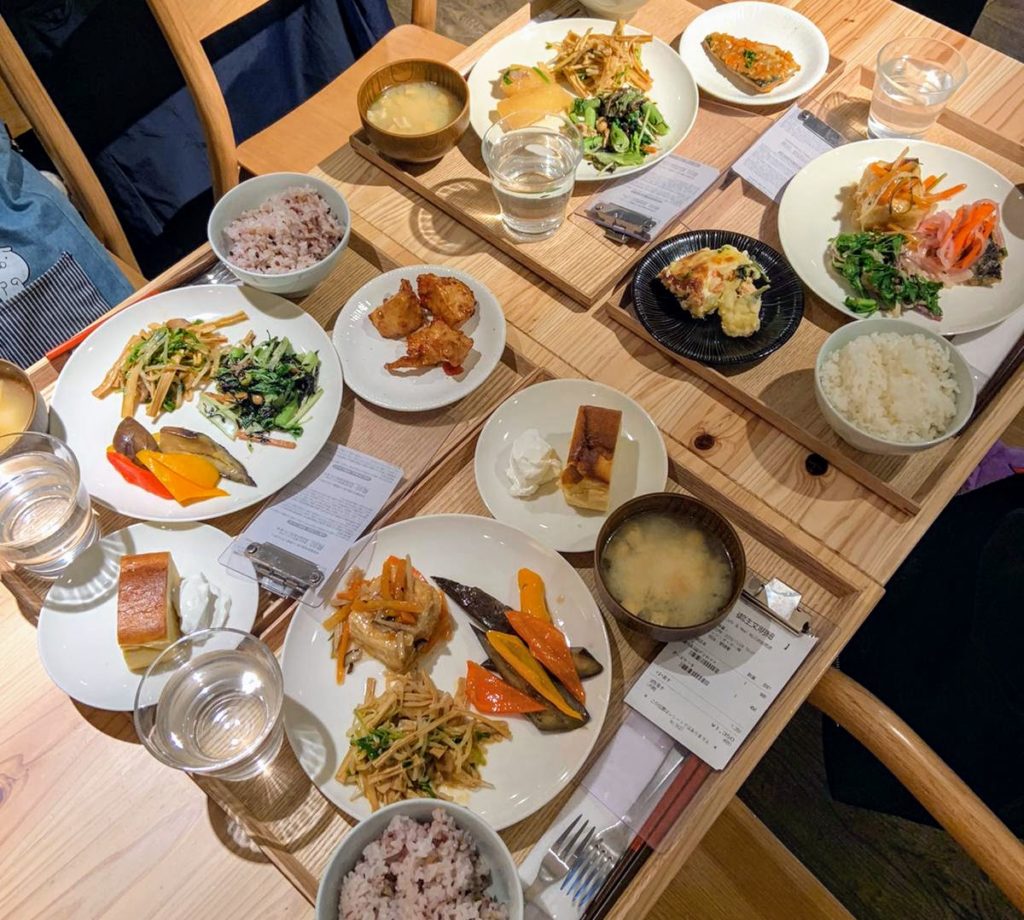 No list of Tokyo must-visit restaurants is complete without a sushi restaurant. Kura sushi was recommended to me by Tokyo locals as the best revolving sushi restaurant chain in Japan. It has amazing novelty, with a touch-screen at each table enabling personal orders to be made, but also a roulette game that gives visitors a chance to win a small toy for every five plates of sushi eaten.
Kura sushi is an incredibly fun place to eat out in Tokyo with friends and family, and has food for both vegetarians and omnivores. While seafood-eaters will have the best time, vegetarians may have to eat the same type of sushi rolls more than once, vegans even more so (try the cucumber, avocado, egg, or corn+mayo). Everyone will love the Japanese desserts that come gliding down the conveyor belt too. Kura sushi also has options to order small bowls of noodles, tempura, edamame, and other Japanese comfort foods to supplement your sushi. 
Another fun restaurant in Tokyo with vegetarian options is Sakura Tei, an okonomiyaki restaurant tucked away in the artsy Ura-Harajuku neighborhood. Okonomiyaki is a savory Japanese pancake, made up of a floury batter, egg and cabbage base, with a variety of other mix-ins. Okonomiyaki has endless choose-your-own ingredient possibilities, with the classic mix-ins being sliced pork belly, shrimp, shiitake mushrooms, tempura pieces, or other proteins. Sakura Tei offers vegan, vegetarian, and gluten-free okonomiyaki options, and is very catering to visiting foreigners.
The best part about okonomiyaki is being able to cook it yourself on a teppanyaki in the middle of each table. Douse with your preferred quantity of okonomiyaki sauce, kewpie mayonnaise, and dried seaweed and/or bonito flakes and enjoy. Bonus points for making beautiful mayonnaise designs on the top of your okonomiyaki! 
During your Tokyo itinerary you'll undoubtedly find yourself near Noodle Stand, which is located in the basement of a building around the corner from Harajuku's Takeshita street, and along the Yamanote train line. Noodle Stand is a small ramen restaurant where food is ordered through a vending machine, and the tickets handed to the chef for preparing.
This Tokyo restaurant is perfect for meat-eaters and vegetarians/vegans both. The ramen served here comes with a decent quantity of meat, and even more hearty sides can be added to the order including gyoza, chashu, and stewed beef. The vegan ramen option here, made with a coconut base with a variety of vegetable toppings, is also extremely satisfying. No one will leave here on an empty stomach!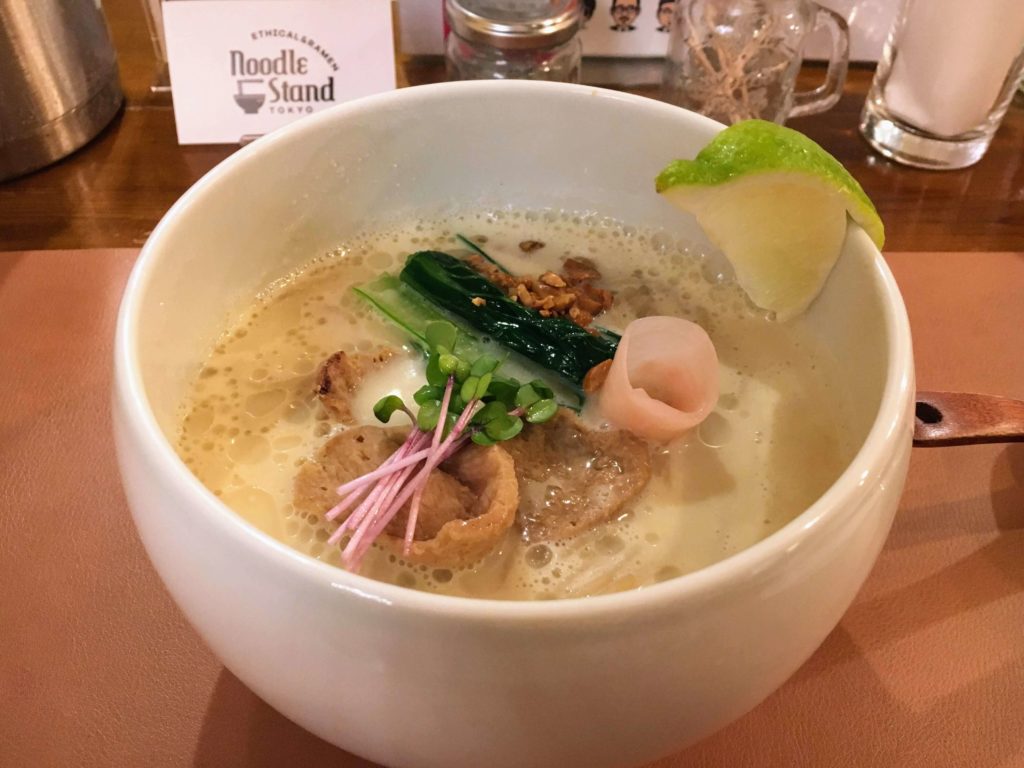 6. Coco Ichibanya Curryhouse
Coco Ichibanya Curryhouse is a popular chain restaurant can be found in nearly every big city in Japan. It serves one main dish and does it really well: Japanese curry. Coco is an unmissable restaurant destination during your trip to Tokyo or Japan in general. Some Coco Ichibanyas are even open 24 hours, making it a great place to get a bite to eat after a big night out or after coming in late from the airport.
Coco Ichibanyas offer a vegetarian curry, which omits the pieces of pork that are usually mixed in with the delicious curry roux. Be sure to order the vegetarian roux specifically, because just ordering from the "vegetable" section of the menu only means your toppings will be vegetable. Coco Ichibanya offers toppings to suit every dietary need, including beef, pork, seafood, egg, and vegetable. They even have an expansive kid's menu, making it a great Tokyo restaurant for vegetarians, meat eaters, and picky-eater kids too.
For vegans, a vegan curry was offered as a limited menu item, but not part of their usual menu.  The vegetarian curry roux does not contain any animal products, but may contain traces of dairy from the production of it.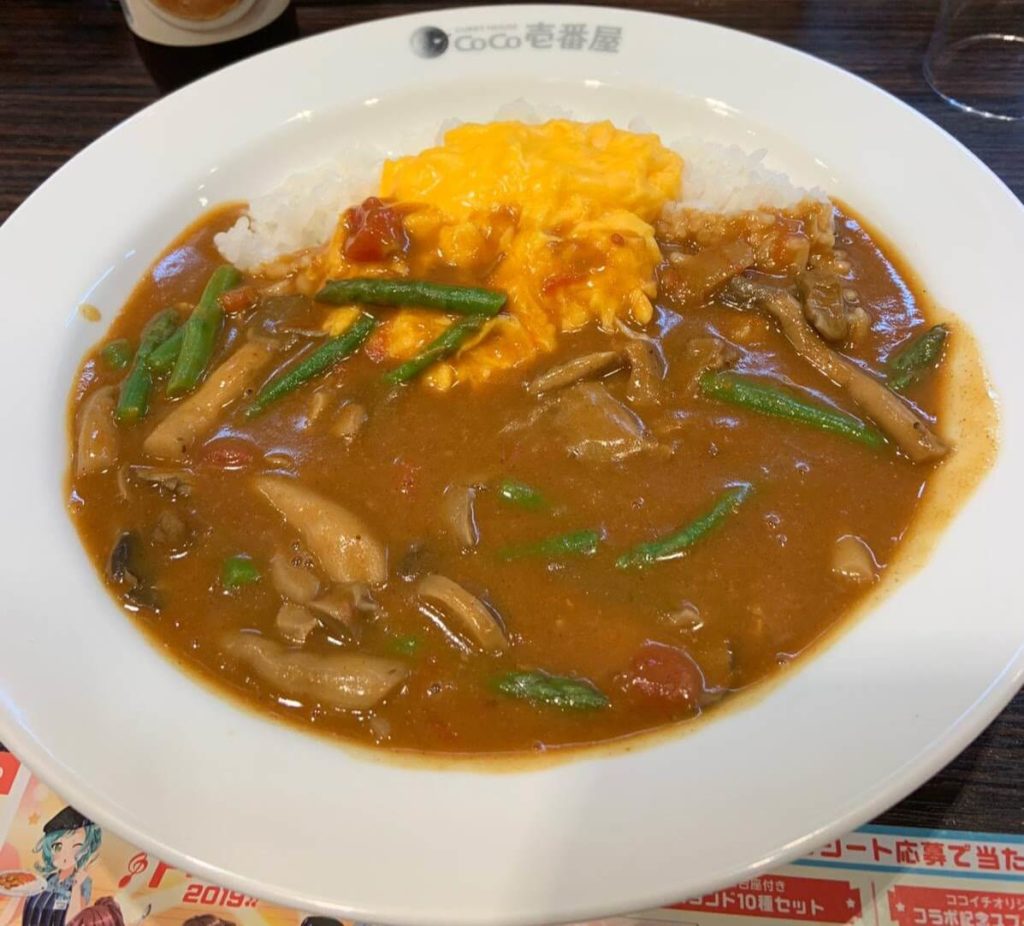 Time to get some junk food on the list! Pizza Slice in Omotesando is a Tokyo restaurant that's immensely popular with younger Tokyo locals. It fits right in with its location in the high-end fashion district of Omotesando, with trendy fashion collabs on their Instagram page. The restaurant's interior has hip warehouse vibes and communal tables.
Their claim to fame is their massive, 20-inch or 50-cm pizzas, which are perfect for ordering whole and sharing with a group of friends. You can also order by the (giant) slice, with choices including cheese, mushroom, jalapeño, pepperoni, sausage, and a "topping of the day". They also serve beer, cocktails, and home-made lemonade. What more do you need? Check their latest menu here. 
If you're eating out in Tokyo with vegetarian and meat-eating friends, just ask for a pizza that's half veg, half meat, or even one quarter of each of your favorite toppings. Sorry vegans, nothing for you here.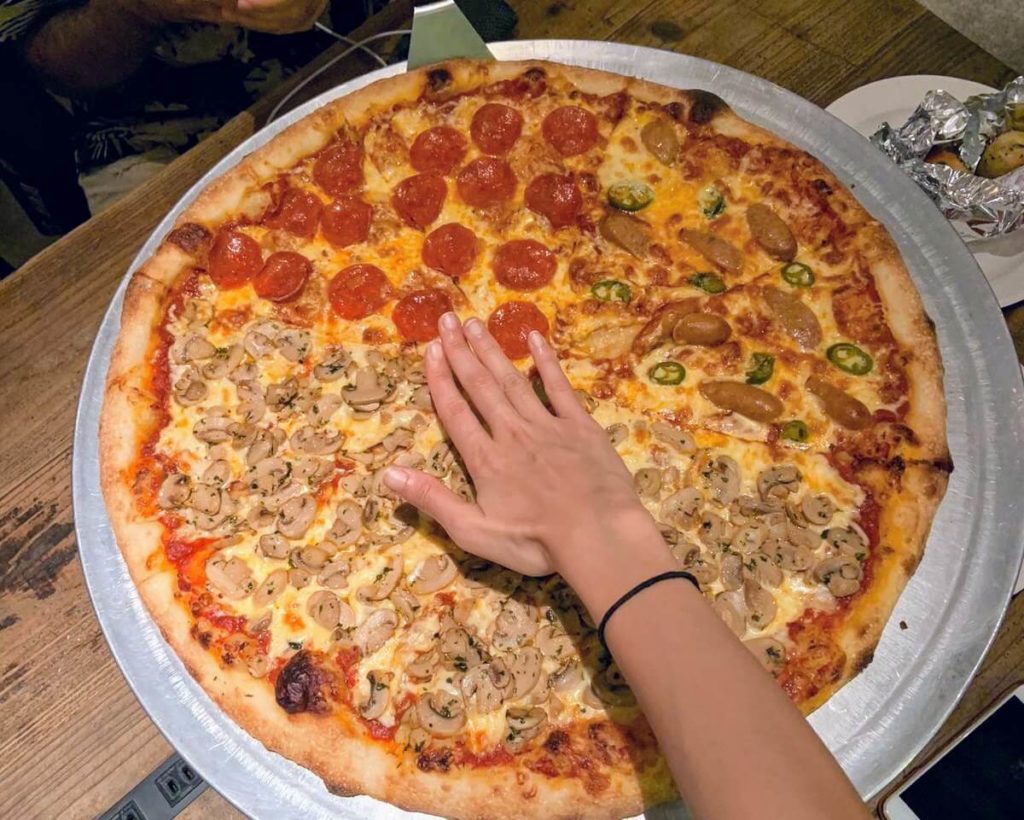 Afuri is another unmissable Tokyo restaurant with vegetarian options. It's a ramen restaurant that uses classic ramen flavors (shio, salt, shoyu, or soy sauce) in their meaty ramen bowls but adds a signature flavor: yuzu, a tart Japanese citrus. Afuri's rainbow vegan ramen has a vegetable-based broth and fresh, colorful seasonal fruits, which makes for another refreshing ramen option.
For meat-eaters Afuri also offers tsuke-men, which is when the ramen noodles and toppings are served in a bowl separately from a brothy dipping sauce. Add your own extra ramen toppings, and enjoy your food with a bowl of rice or a cold beer on tap!
Check out Afuri's whole menu here.
Tenya is another one of my favorite Japanese chain restaurants, which specializes in tempura, which is battered and deep-fried vegetables and seafood. Branches of this chain are commonly found near Tokyo train stations because it's a great place to stop in for a quick lunch or dinner on the way home from work.
Tenya's main set meals consist of miso soup and a ten-don, or tempura resting on top of a bowl of rice. You can also order tempura on the side, with udon or soba as well. Check out their drool-worthy English menu here.
Vegetarians can go for the vegetable tempura set, which includes sweet potato, lotus root, mushroom, eggplant, pumpkin, and green beans. Meat-eaters have the options of shrimp (the classic), squid, fish, chikuwa (fish cakes), and the same vegetables mentioned above.
Note: The vegetable tempura is fried in the same oil as their meaty counterparts. If you're a vegetarian or vegan that can't stand this, even with the batter barrier between the two, sorry, but Tenya is not for you. Keep reading!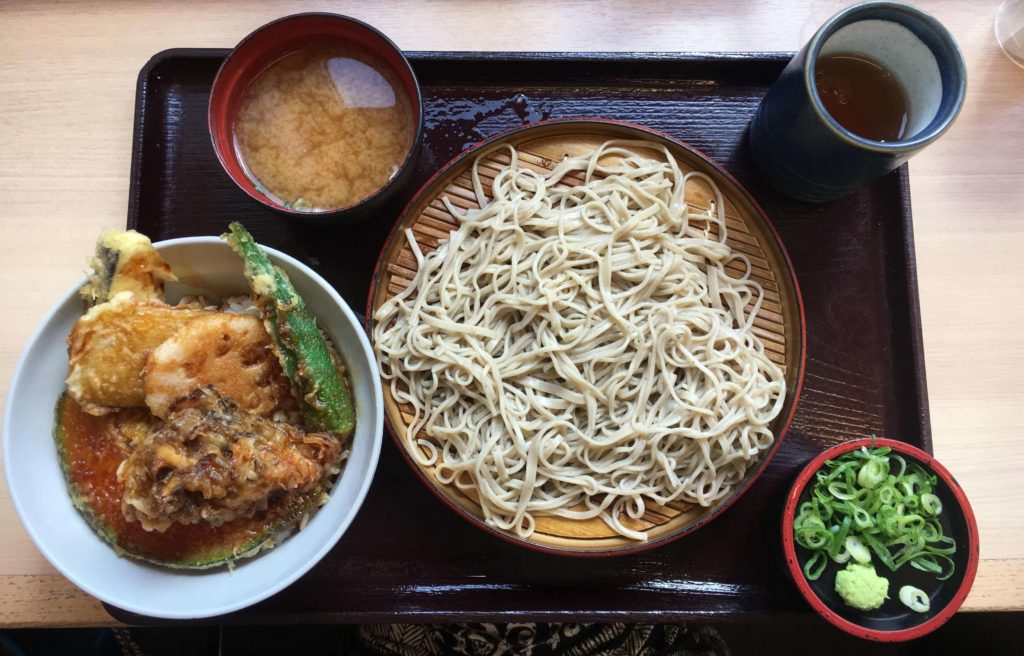 (This is a lot of food for me considering the tempura is sitting on a bowl of rice also. But I ate every last bite after my day-trip from Osaka, when I hiked Mt. Koya!) 
Here's a fun, must-visit Tokyo restaurant chain that caters for both vegetarians and meat-eaters. Mos Burger is the Japanese answer to McDonalds, and a great fast-food joint that was founded in Tokyo. Although they don't have Happy Meals, they have an amazing variety of different burgers and everything you need to satisfy your fast-food urge. The servings and burgers aren't super-sized as well, so won't make you feel lethargic afterwards.
For vegetarians, Mos Burger offers the plant-based green burger, as well as a variety of soy burgers. Each comes with classic Mos Burger toppings like cheese, jalapeño and a chunky tomato sauce. Meat-eaters can try the classic Mos beef burger, or branch out and try their fish burger, shrimp or pork cutlet burger, or chicken burger. 
Mos Burger even has two burgers, seafood salad and yakiniku burgers, which come with rice buns! Visitors can an opt for a fresh lettuce bun for any burger too, perfect for keeping calories low.
One bonus restaurant in Tokyo perfect for vegetarians and omnivores both to visit is bills, which is where I worked for a while when I was living in Tokyo! bills is a high-end Australian restaurant that is owned by Aussie restaurateur Bill Granger. If you ever visit Sydney, you can try the bills restaurants there too.
bills in Tokyo has a number of vegetarian options including a super fresh and hearty chopped salad, pumpkin and beetroot risotto, and tofu and squash coconut curry (vegetarian options may change). Meat eaters can indulge in lobster linguine, fillet steak, or a variety of schnitzels and burgers that will transport them straight to Australia.
If you're in Tokyo and want to impress a vegetarian or non-vegetarian on a date, take them to bills Ginza. It has a sleek interior and great views over the glitzy Ginza neighborhood.
Pin these 10 Veg and Non-Veg Tokyo Restaurants for later!