Magnetic Island, or "Maggie", is a tranquil island escape just 20 minutes away from Townsville, Queensland, Australia by ferry. It is known for having one of the largest wild koala populations in Australia, unique jungled landscapes and serene beaches, and being home to old World War II buildings. Countless things to do on Magnetic Island include exploring all of its natural beauty and enjoying its small town vibes.
Here are the top 20 things to do on Magnetic Island!
Want a taste of Magnetic Island before your visit? Check out the feel-good children's show Izzy's Koala World on Netflix, where a local girl and her veterinarian mother care for and rehabilitate sick and injured koalas on the island.
Tip: Save some time at the ferry terminals by booking your Townsville to Magnetic Island round-trip ferry tickets ahead of time here. 
Where to stay on Magnetic Island
In order to experience the most of this list of things to do on Magnetic Island, I recommend staying on a well-connected area of the island such as Nelly Bay or Horseshoe Bay. If you take my advice and rent a scooter or buggy to get around though (things to do on Magnetic Island #1) you'll have a few more options for where to stay. 
Here are some recommendations for awesome accommodation options on Magnetic Island to put you at the heart of the action.
Budget: Arcadia Beach Guest House and Car Hire, located in Nelly Bay, offers cheap dorm room accommodation, various private room options, and even safari 
Mid-Range: Selina Magnetic Island (formerly Bungalow Bay Koala Village), located in Horseshoe Bay. Home to a wildlife park and many types of quirky, Instagram-worthy accommodation. 
Luxury: Peppers Blue on Blue Resort, located in Nelly Bay offers 1, 2, and 3-bedroom apartments with marina and mountain views.
Visiting Magnetic Island to get away from the crowds? Small island villages like West Point or secluded hostels like Nomads might be a great option for you to disconnect. Here are some recommendations for more secluded places to stay on Maggie:
Budget: Nomads Magnetic Island Base. Nomads ticks the "secluded" box, but not the "quiet" box. Stay here if you're after beach parties and social hostel vibes. The hostel is like its own village with a restaurant on-site and private pool and beach.
Mid-Range: Paco's Beach Hut, a holiday home and the only Magnetic Island rental home located in West Point, Magnetic Island.
Luxury: Beach House at Arthur Bay, a luxurious beachfront property with access to a private beach and swimming pool. The sole property located at Arthur Bay – no neighbors in sight! 
Things to do on Magnetic Island
1. Rent a buggy or scooter
The best way to enjoy the many things to do on Magnetic Island is to rent a buggy or a scooter to get around. Going for (safe) joyrides on these open-top vehicles is the best way to get a feel for Maggie and enjoy the island breeze.
Not only do the topless buggies or scooters let you feel the wind in your hair, they allow you to reach parts of the island (on your own time) that busses won't drive to.
Although Maggie has a public bus system, don't be bound by the bus schedule by renting your own vehicle during your stay. Trust me, it's worth it!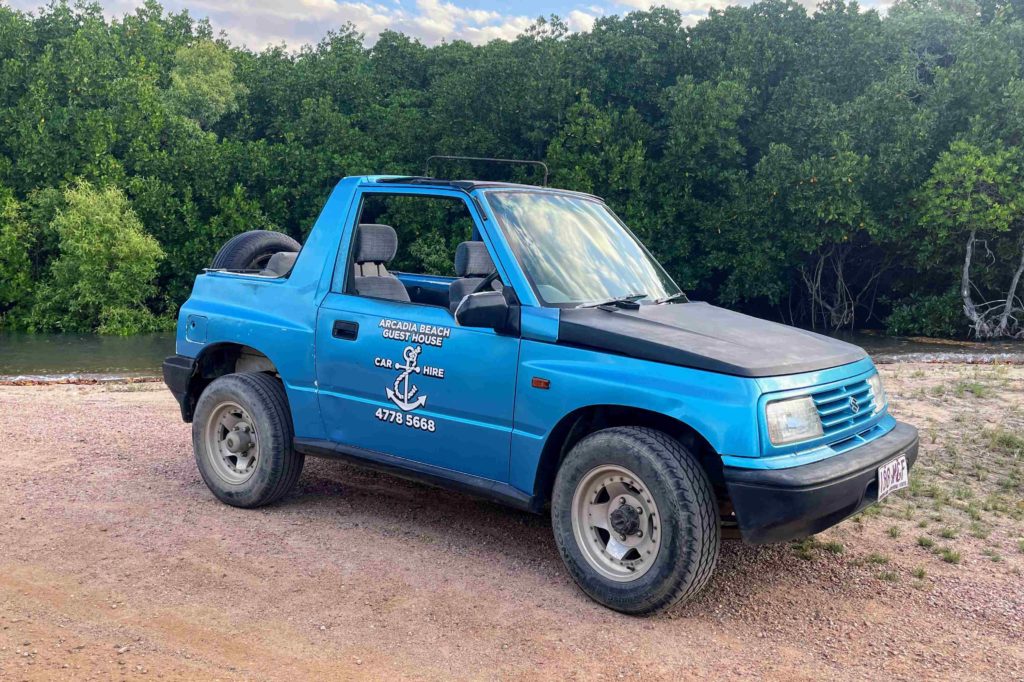 One of the top things to do on Magnetic Island is to hike to the historic World War II forts that are located on the northeast side of the island. The forts complex was built here in 1943 to protect Townsville harbor from potential Japanese attack. What remains of these World War II buildings can be explored along the trail, with plenty of signage to inform visitors of the forts' significance and historical uses.
Since the main purpose of the forts was to spot oncoming attackers, they were built into two lookout spots at high elevation. Today, the forts provide incredible views over the Magnetic Island coastline.
Not only is this a beautiful walk steeped in history, it's the best place to see wild koalas on Magnetic Island!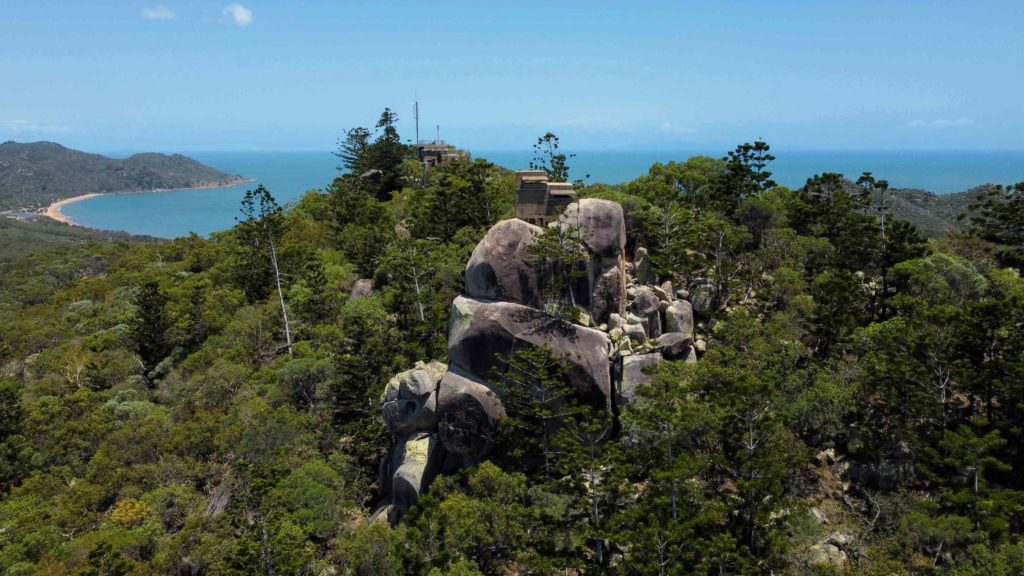 3. Go stand-up paddle boarding or sea kayaking at Horseshoe Bay
Stand-up paddle boarding (or SUP) and sea kayaking are popular activities on the north side of Magnetic Island, where the beaches are the calmest. Walking along the wide stretch of beach here, you'll encounter a number of companies offering rentals, wetsuits, and lessons for first-timers on SUPs or sea kayaks.
Horseshoe Bay is a spacious beach with calm waters, perfect for first-timers for either water sport, or for experts to get some serious distances in. With public restrooms nearby and plenty of cafes along the main strip here, you'll have plenty of options for resting and having a feed after your session too.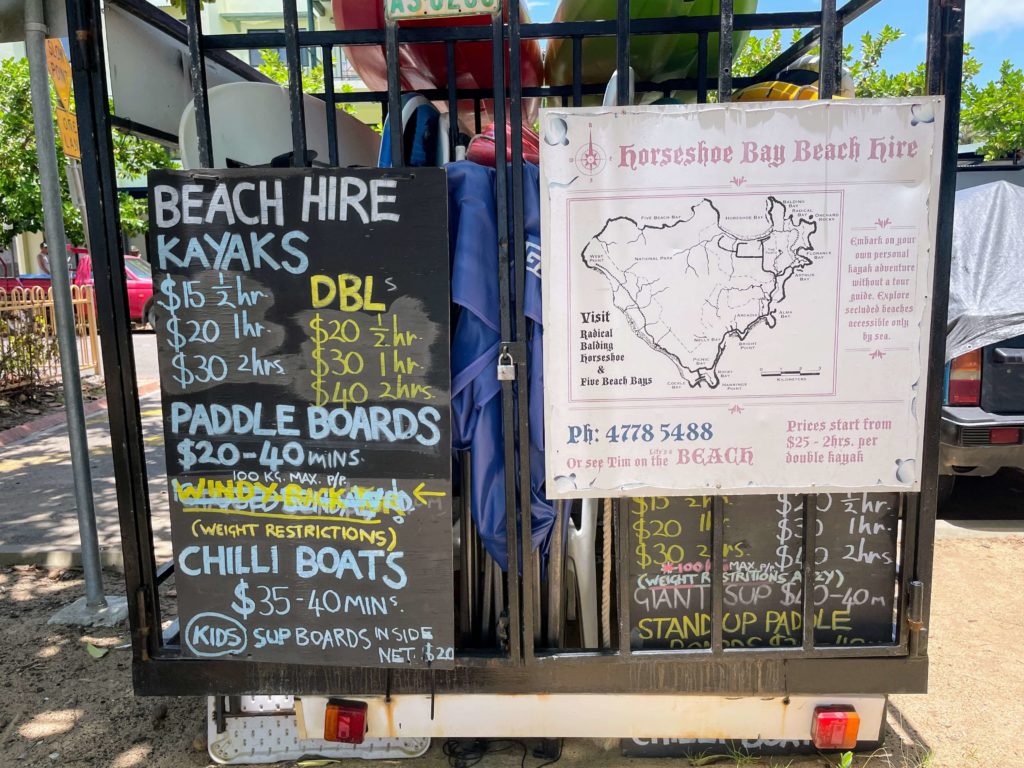 4. Hike the inland Arcadia Walking Trail
Outdoorsy visitors will want to embark on a Maggie inland hike through Magnetic Island National Park. The Arcadia Walking Trail feels more like classic Aussie bushwalking through narrow jungle trails and hiking over granite steps and riverbeds. A number of amazing lookout points over Horseshoe Bay and Arcadia town are the reward for hikers embarking on this moderate-difficulty trail.
Note: If you only have time for one hike on Magnetic Island, I recommend the Forts walk for its history, views, and koala-spotting potential (Things to do on Magnetic Island #2)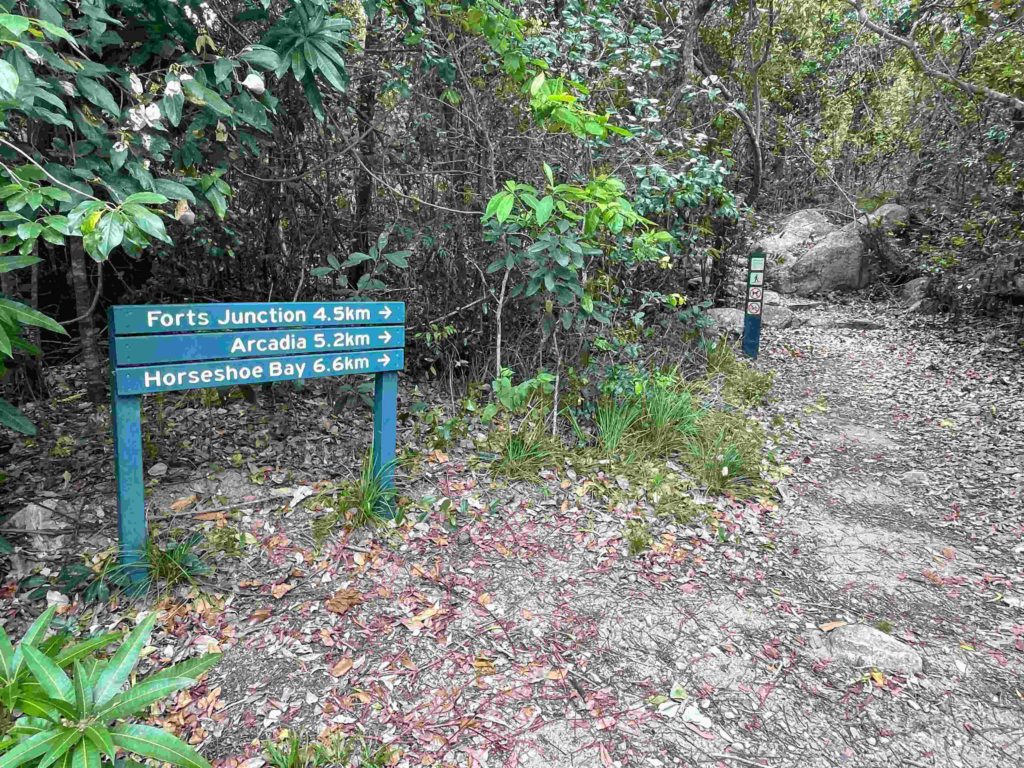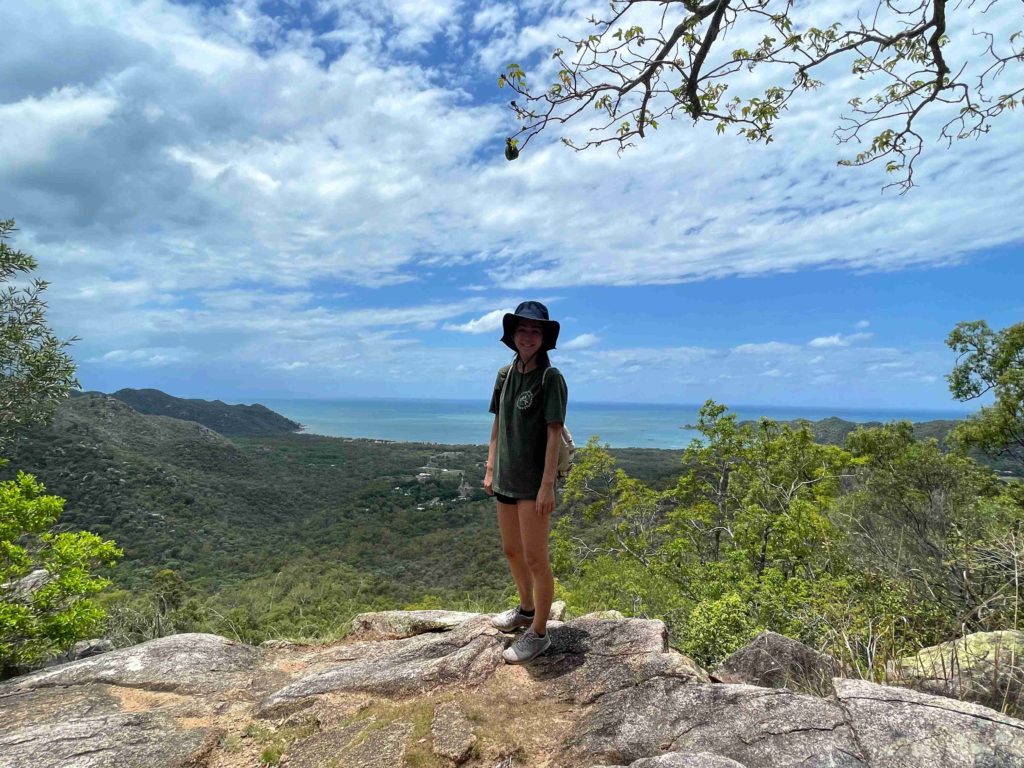 5. Hang out at Alma Bay Beach
Alma Bay beach is my favorite beach on Maggie, and visiting here is one of my top things to do on Magnetic Island. The beach is protected on both sides by rocky cliffs, meaning relatively calm waves. 
Leading up to the sandy stretch is also a large grassy park with picnic benches, shaded areas, and public restrooms. With a Newsagent selling beach toys and a handful of restaurants across the street, you could easily spend an entire day here.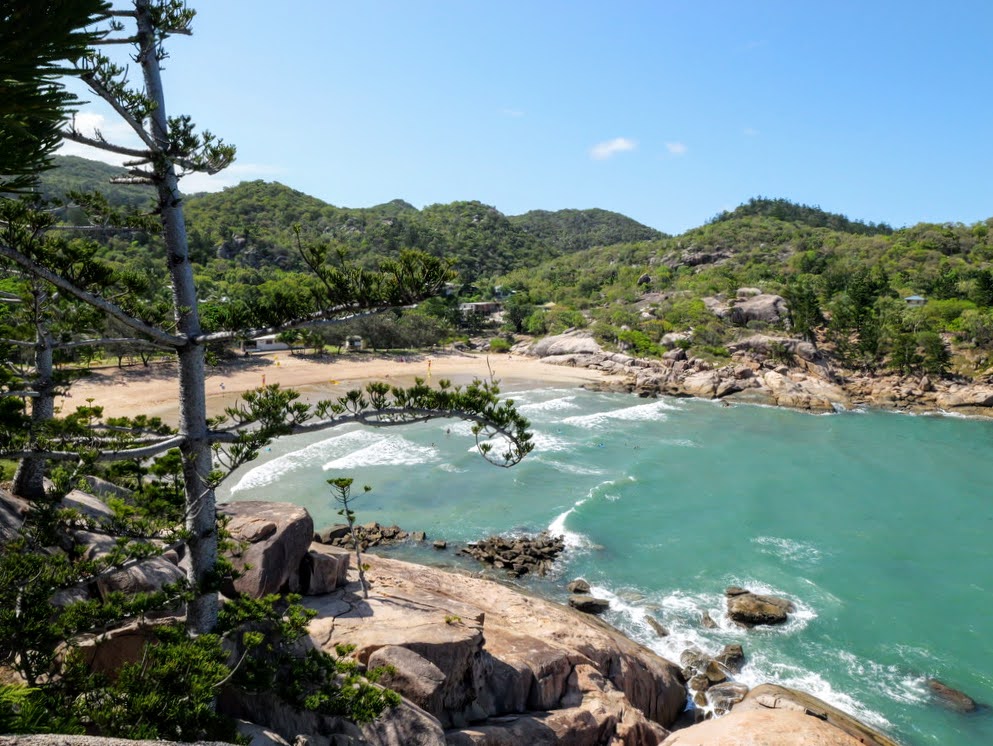 6. Visit the Rock Wallabies (my favorite thing to do on Magnetic Island!)
Maggie is home to a number of tiny marsupials called rock wallabies, a breed native to the island and even smaller than mainland wallabies. They come out of the boulders at the end of Armand Way near Arcadia town. The skittish creatures often come out for water and a feed before going back into their boulder homes. If you see an empty water bowl, fill it for them!
Check their location on Google Maps here.
Tip: Although technically you're not supposed to feed the wallabies, the Newsagent next to the Arcadia Village Hotel sells little packets of wallaby food for visitors.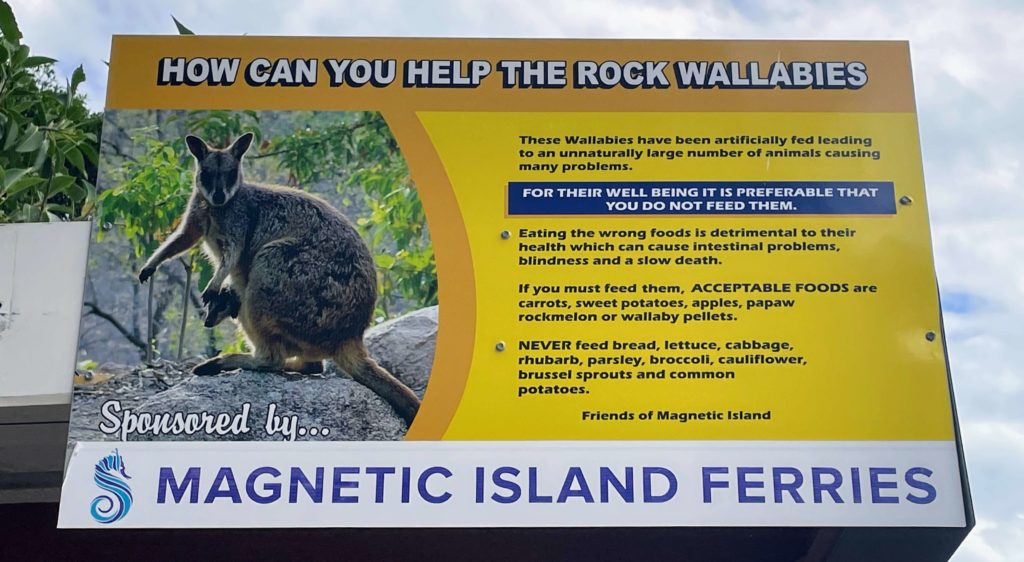 7. Join the Wildlife Park Tour at Selina, Magnetic Island
One of the best ways to get up-and-close to Australian animals in Maggie is visiting the wildlife park and sanctuary at Selina (formerly the Bungalow Bay Koala Village). This park rehabilitates and houses injured or orphaned animals from Maggie and other parts of Australia. Twice per day, knowledgable rangers provide guided tours to guests who can get up-and-close to animals like a python, black cockatoo, blue-lounged lizard, crocodiles, wombat, echidna, and of course a koala.
Patting Harry, their snub-nosed wombat (orphaned as a baby and unable to return to the wild) was one of the highlights. He was so relaxed during the ranger talk that he stared pooping right in front of us!
Book the wildlife park tour through the Selina website here.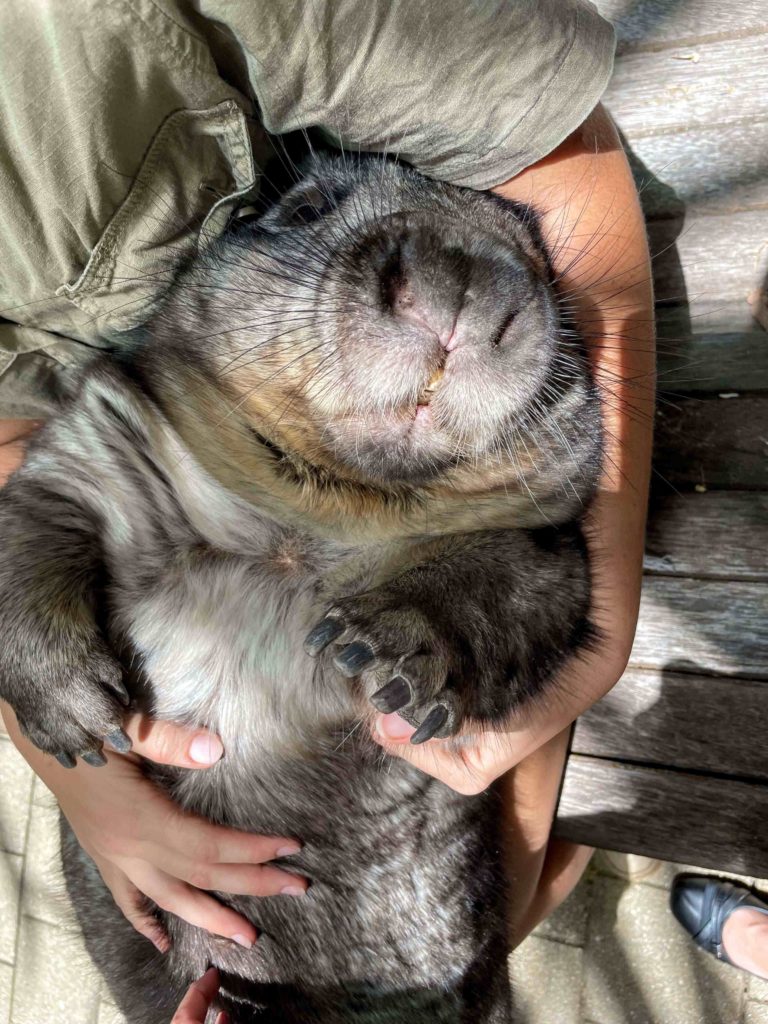 8. Admire the Hawkings Point Lookout Views
On an island filled with many incredible lookout spots, Hawkings Point Lookout over the southern side of the island is one of the best. The hike to the lookout starts at the side of the highway, and takes you over rocky Maggie scrub. 
The views here of Magnetic Island, Picnic Bay pier, and the surrounding Queensland coastline are a million bucks. Luckily you only need to hike a short distance to get to them!
9. Watch Cane Toad Racing on Wednesdays
The Arcadia Village Hotel on the east side of Maggie hosts an "only in Australia" event every Wednesday. Cane toad racing! These invasive species are massive pests across Australia, killing native insects, frogs, turtles, birds, and even larger creatures with their poisonous skin glands. In fact, under Queensland law people have a general biosecurity obligation to basically (humanely) get rid of them.
At Arcadia Village Hotel, the Cane Toad racing event helps fundraise for the Arcadia Surf Life Saving Club. Now that's putting them to good use! See what other events are on at the Arcadia Village Hotel here. 
10. Go to the local market on Sundays
Magnetic Island hosts a local market on Sundays at the Horseshoe Bay, where craftsmen and women from around the island gather to sell their products. From hand-sewn objects to paintings to jewelry, visiting the Horseshoe Bay market is an unmissable thing to do on Magnetic Island if you're visiting on a Sunday! 
With live music on most days, street food vendors, and the pristine beach nearby, you could spend all morning hanging out with the locals here.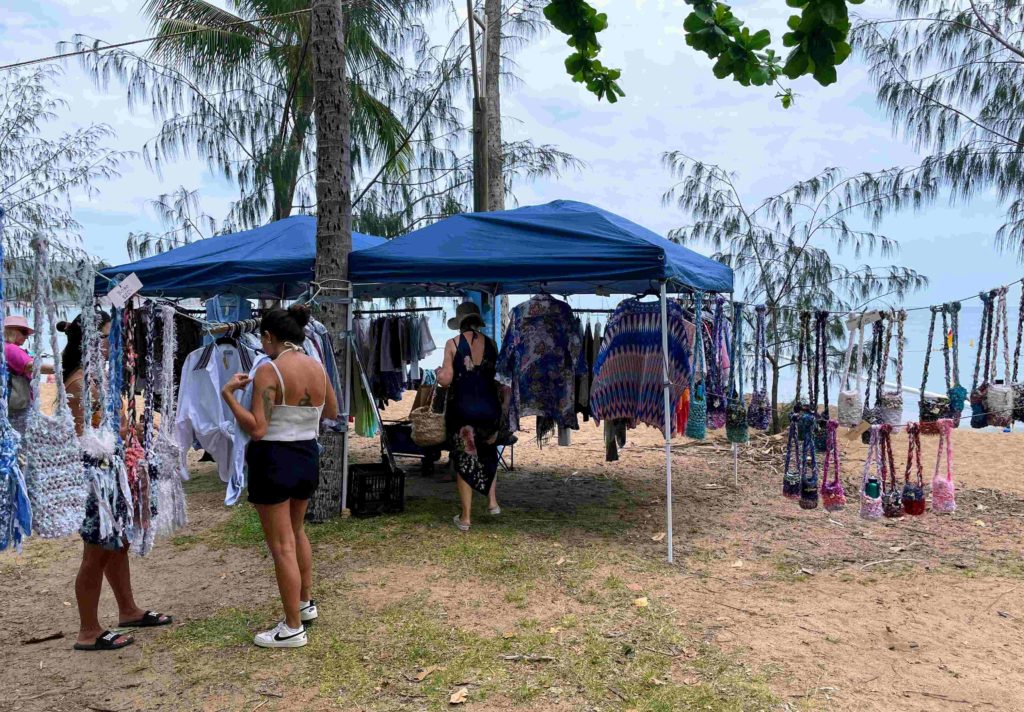 11. Visit Maggie Island Brewery
Did you know Magnetic Island has its own beer brewery? Beer drinkers and holidayers shouldn't miss Maggie Island Brewery at Picnic Bay on the south side of the island. This trendy spot could be straight out of Brisbane instead of on a small island in North Queensland. 
Craft beers flow on tap here, and BBQ is available on-site from a food truck on the back lawn.
Magnetic Island has one of the highest concentrations of wild koalas in all of Queensland! If seeing a koala in the wild is on your Australia bucket list, trying to spot one here is a top thing to do on Magnetic Island.
According to the locals, the best spot to see koalas on the island is on the Forts hike (mentioned above). From personal experience this is true! We saw two koalas on this hike, both having a nice snooze in the shade.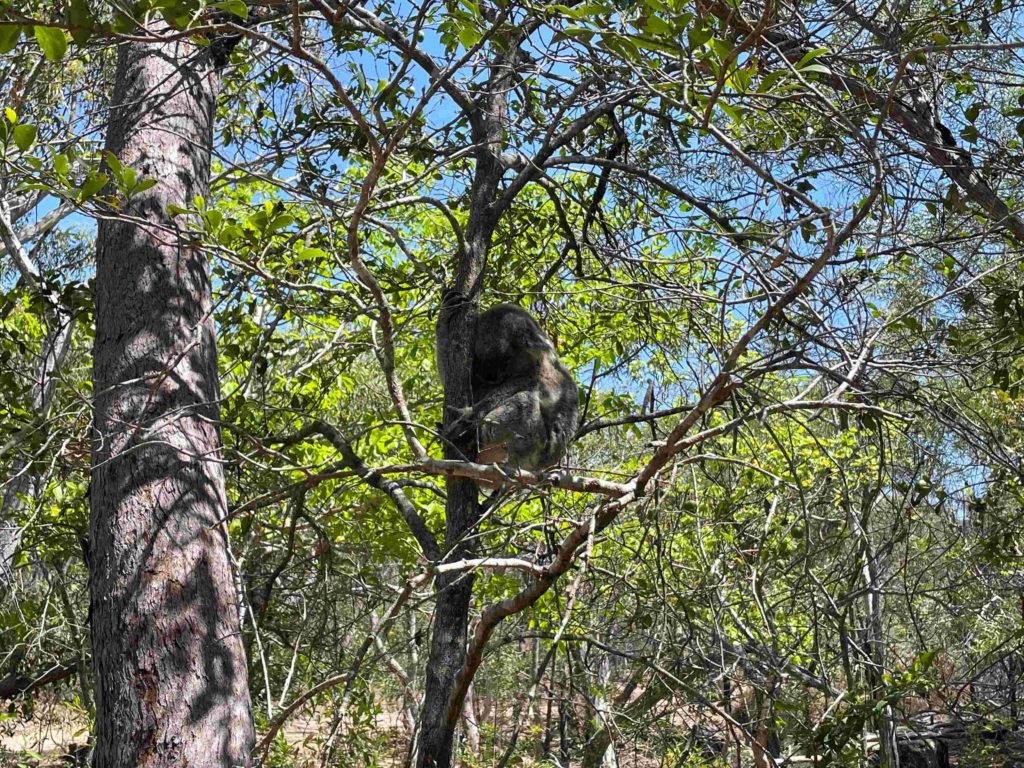 Curlews, or bush stone-curlews, are ground-dwelling birds that are most commonly seen on islands off the coast of Queensland, Australia. To me they look like they've come straight out of a cartoon with their large eyes and spindly, quick-moving legs. 
Curlews are also a signature bird found on Magnetic Island, and visitors are sure to run into a number of comical curlews during their time on Maggie.
14. Visit West Point Beach for sunset
On an island already known for its remote feel and small town vibes, West Point on the western side of Magnetic Island takes the cake. From Picnic Bay, take West Point road all the way to its end to find a wonderfully secluded little village and a wide, quiet beach that faces Townsville and mainland Australia.
There's no better time to visit West Point than during sunset. When I visited during this serene time of the day, I was surprised there were not more people here! West Point beach is a great place to enjoy the sunset and have a romantic picnic by the water.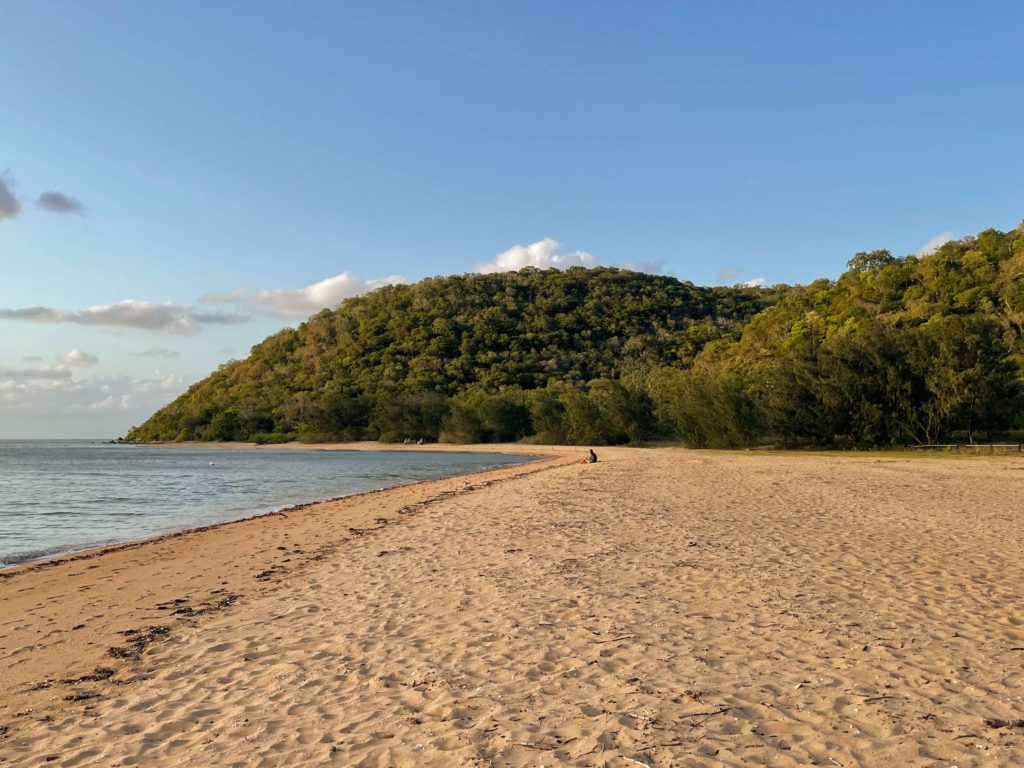 15. Go Snorkeling or Diving
Magnetic island is known for being surrounded by Australia's famous coral reefs on multiple sides. Snorkeling and diving are some of the most incredible things to do on Magnetic Island to experience the aquatic life that calls this island home.
Book the Magnetic Island Snorkel Discovery Tour with GetYourGuide. This 5-hour snorkeling tour takes you to secluded beaches (accessible by boat only!), coral reefs, and along Maggie's scenic coastline. 
Alternatively, go diving from either Magnetic Island or Townsville to the wildly popular Yongala Wreck dive spot. Rated one of the top ten diving spots around the world, divers won't want to miss this on your next trip to Magnetic Island. 
If you're interested in snorkeling and diving the Great Barrier Reef in Australia, be sure to head up to Cairns, QLD too. Cairns is the gateway to many incredible sections of the Great Barrier Reef, which can be visited on a number of tours from town.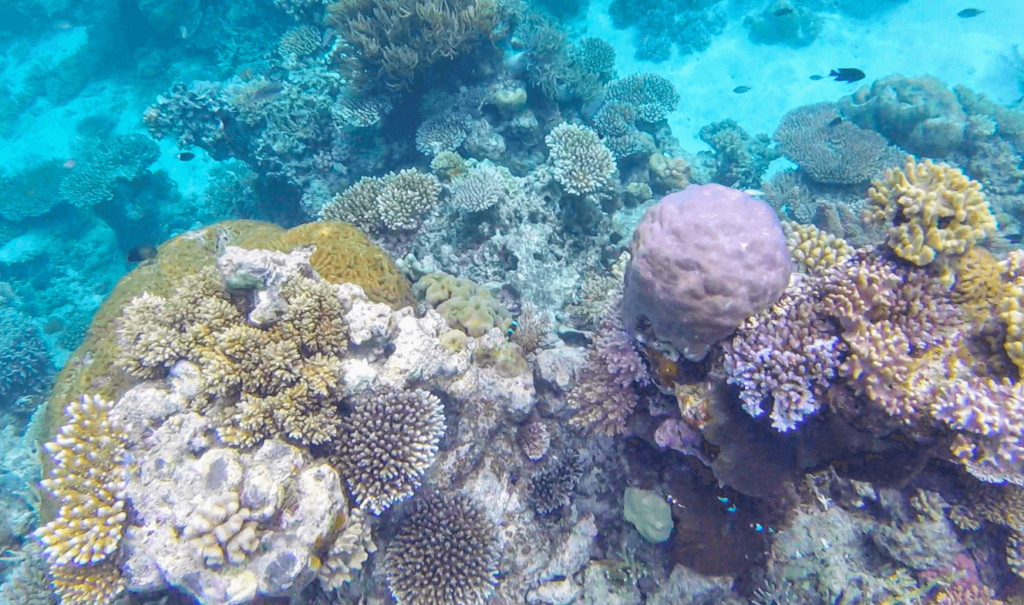 Another classic Magnetic Island activity is to rent a jetski and have a bit of fun on the water.  For jetski rentals on Magnetic Island, check out the highly rated (but not so creatively-named) Jet Ski Hire Magnetic Island. The company rents out Seadoo GTI 130 jetskis for 30 minutes or 60 minutes at a time, and are based out of Horseshoe Bay. 
Due to the calmness of the water here, even first-time jetskiers can take part in the fun! (Unfortunately no leaving Horseshoe Bay with the jetskits)
17. Join a Sailing Cruise
Magnetic Island offers a number of sailing tours that take visitors around the island for an unforgettable experience. Due to the popularity of this activity and the limited spots available on most sailing experiences, it's best to book in advance. 
Here are some options for sailing tours to add to your list of things to do in Magnetic Island:
Pilgrim Sailing: Offers private charters and lunchtime, sunset, and full moon sailing cruises
Island Time Cruises: Offers private charters, fishing tours, daytime and sunset sailing cruises
18. Admire the SS City of Adelaide Shipwreck
The SS City of Adelaide ship was a passenger steamship that sailed to Australia all the way from Scotland in 1863. It was later used as a cargo ship then finally laid to rest at its current location near Cockle Bay, Magnetic Island. It's now an artificial island, home to its own ecosystem of greenery.
The SS City of Adelaide is now a popular snorkeling and diving spot, which can also be visited by sea kayak or jetski. If you have a drone, you can get amazing photos of this shipwreck island especially during high-tide. For the adventurous, during low tide it's even possible to wade over to the wreck to see it with your own eyes!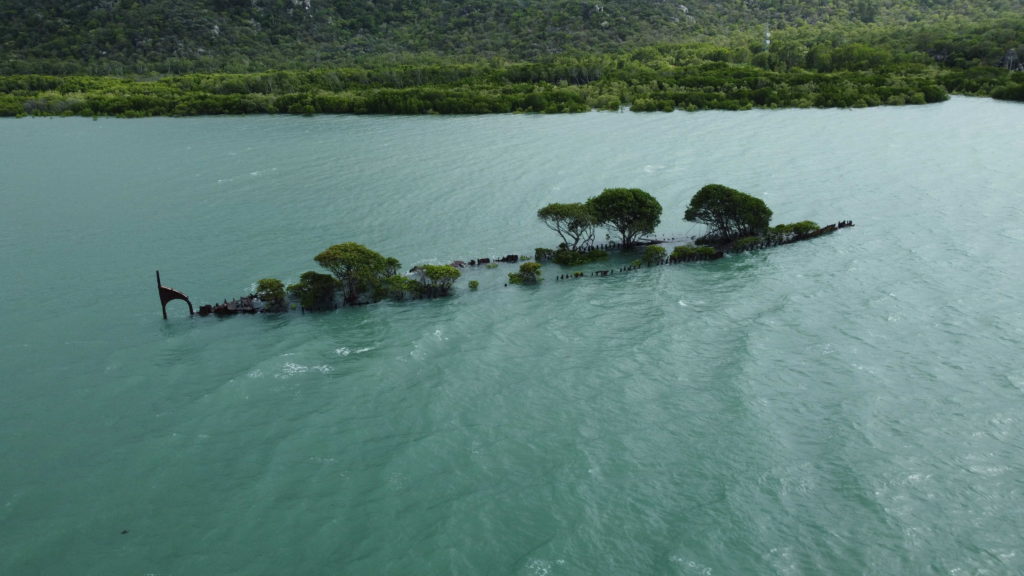 19. Brunch at The Early Bird or Scallywags
Two unmissable eateries on Magnetic Island are The Early Bird cafe at Horseshoe Bay and Scallywags at Nelly Bay. Be sure to add both of these amazing spots on your list of things to do in Magnetic Island.
The Early Bird serves up classic breakfast and brunch fare like avo toast, granola, various wraps and sandwiches, along with fresh smoothies and juices. All for a great price!
Scallywags is a unique, pirate-themed restaurant located walking distance from the Ferry Terminal on Magnetic Island. They serve a variety of hearty meals with many gluten free, vegetarian, and vegan options on the menu. Seating is open-air and service is from the on-site food truck.
20. Wine and Dine at Granite Magnetic Island or Mamma Roma
To cap off your Magnetic Island itinerary, be sure to schedule a dinner at Granite Magnetic Island or Mamma Roma, two of the most popular dinner venues on Maggie.
Granite Magnetic Island is a tapas bar that specializes in pizzas but also offers sliders, bar buns, and Italian-style share plates. They have beer on tap, cocktails, and offer a variety of Australian wines too.
Mamma Roma on the other hand is a BYO (bring your own alcohol) venue that serves up fresh pizzas and savory pastas. Pair your meal here with a beer from the neighboring Maggie Island Brewery – it's a combo that can't be beat.
That's all for my top things to do in Magnetic Island guide! I hope these give you some great ideas for crafting your next trip to beautiful Magnetic Island. 
Remember to book your ferry tickets from Townsville to Maggie in advance to save some time at the ferry terminal. 
If you loved Magnetic Island, be sure to check out North Stradbroke Island ("Straddie") near Brisbane too for similar laid-back island vibes. 
Are You Prepared For Your Next Travelventures?