One of the must-see museums in Tokyo is the MORI Building Digital Art Museum in Odaiba: the Teamlab Borderless Museum. But did you know there's a second one made by the same company, Teamlab Planets, in nearby Toyosu?  Teamlab Borderless and Teamlab Planets museums feature beautiful digital art, immersive exhibits, and an experience that will entertain all visitors. 
This Q&A provides a breakdown of the two digital art museums in Tokyo, to help you decide which you should visit: Teamlab Borderless or 
Teamlab Planets
? 
Note: Teamlab Borderless in Odaiba closed on August 31, 2022. A NEW Teamlab Borderless will open in Azabudai Hills in Tokyo at the end of 2023. Currently, only Teamlab Planets is opened in Tokyo. Due to its popularity, be sure to buy tickets in advance here! The rest of this article is retained for reference.  
Is it worth going to *both* Teamlab Borderless and Teamlab Planets on a trip to Japan?
Answer: No, especially if you are staying less than one month, unless you're a really really big fan. 
Both Teamlab Borderless and Planets museums cost ¥3200 ($30 USD) to enter. You could go to 3-4 other museums around Tokyo for the same price! Save yourself some time and money by going to either Teamlab Borderless or Teamlab Planets museum. 
Some of the exhibits are the same or similar in Borderless and Planets, so whichever museum you visit first will take away the magic of the second museum. 

I recommend visiting one or the other while in Tokyo: Teamlab Borderless or Teamlab Planets.
Which Teamlab museum is better to visit if you are short on time?
Answer: If you have three days in Tokyo or less, you should check out Teamlab Planets.
Teamlab Planets is more easily accessed from central Tokyo, and it takes less time to explore every exhibit compared to Teamlab Borderless. 
How much time will you spend at each Teamlab museum? 
I spent four hours in Teamlab Borderless, and just over one hour at Teamlab Planets, without feeling rushed.
If you only have a short period of time in Tokyo, only come to Toyosu/Odaiba if the Teamlab Borderless or Planets museums are very high on your
Tokyo bucket list
. 
Which Teamlab museum is better for kids?
Answer: Teamlab Borderless is better if you are visiting Tokyo with kids. 
Compared to Teamlab Planets, Teamlab Borderless has many interactive kids exhibits. Kids (and adults) can color in different animals to see them come to life, and take part in activities like jumping on a trampoline or slicing digital fruit while going down a slide. 
There is even a special room for infants to play, and another special room for young children to be surrounded by animated art they create.  
Teamlab Planets has no special rooms that are children-focused, and sections of the museum require you to walk knee-deep in water. This means kiddos will need to be carried around, or you have to skip the exhibit. 
Which Teamlab museum is better for couples?
Answer: For couples who want to have a lovey-dovey excursion together, Teamlab Planets is better for you. 
Teamlab Planets has several exhibits that are perfect for getting close to your significant other. One room is basically one giant foam cushion, where many couples were snuggling along the sides or having nice naps together. 
Teamlab Planets' main attraction is a large room that's filled knee-deep with water, a perfect hand-holding opportunity. Another exhibit was like a planetarium, where everyone could lie down and watch flowers fall across the sky, another potential cuddle sesh. 
Teamlab Borderless is still a great date location, but without opportunities to lie down for a cuddle. 
Which Teamlab museum is better to make a day-trip out of?
Answer: Both Teamlab Borderless AND Teamlab Planets! 
Both Odaiba (Teamlab Borderless) and Toyosu (Teamlab Planets) have a great number of things to do. You could easily spend a whole day in each neighborhood.
Things to do in Odaiba include going to other nearby museums, shopping at Venus Fort Mall, or riding the Odaiba Ferris Wheel.
Things to do in Toyosu include checking out the 
Toyosu fish market,
 visiting the Gas Science Museum, or shopping at Urban Dock LaLaport. From Toyosu, Ginza and Tokyo station are also only 10 minutes away by bus. 
Which is less crowded, Teamlab Borderless or Teamlab Planets?
Answer: Teamlab Planets is less crowded than Teamlab Borderless
If you hate crowds, you'd better head to Teamlab Planets and not Borderless. Because Planets has just one path to follow, people move much quicker through this digital art museum.
Teamlab Borderless's layout is open-ended, so people end up spending many more hours there, in the crowded the exhibits. 
Which Teamlab museum is better overall?
Answer: In my opinon, Teamlab Borderless was better than Teamlab Planets, and more worth it for the money.
I spent four hours in Teamlab Borderless exploring every exhibit and having tea at their En Tea room (¥500, $4.50 extra). Borderless has a huge variety and number of immersive art experiences. Its open concept means you are free to wander to every exhibit, and go back to your favorites. 


To compare, I spent one hour inside Teamlab Planets, because there are fewer exhibits, and only one path that everyone follows. Note you cannot backtrack at Teamlab Planets. 
I thought the exhibits were more impressive at Teamlab Borderless, including my favorite Forest of Resonating Lamps. At Teamlab Planets, the main exhibit where you are up to your knees in water and surrounded by mirrors, was a unique experience. However, for a central exhibit at Teamlab Planets it was not as impressive or visually appealing as the main Teamlab Borderless exhibits.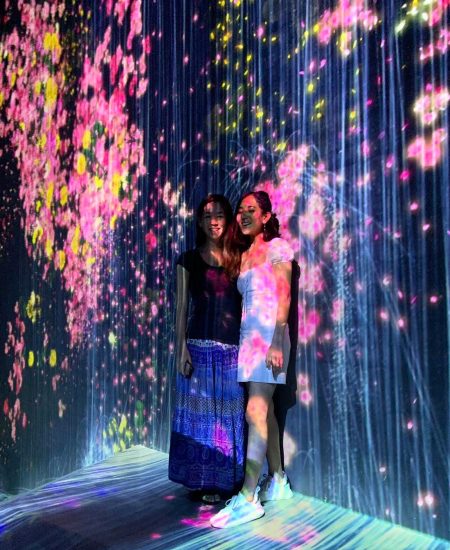 Conclusion: If you have to pick one, I think the Teamlab Borderless Museum is better than Teamlab Planets!
Once you've decided Teamlab Borderless or Teamlab Planets, here are some other things to do in Tokyo!
Pin This Post!
Borderless vs Planets: Which Teamlab Museum is Better?