Swimming with whale sharks in the Philippines was a bucket list item for me from the moment I found out the experience existed. Off the coast of Oslob on the island of Cebu, Philippines, a group of whale sharks are fed every day so tourists can come out and swim with them. 
Note: This can be considered a non-ethical tourist attraction, because it disrupts the whale sharks' natural migration patterns. There are protections and fines in place though, preventing tourists from touching the whale sharks, using flash photography, and using sunscreen before entering the water. Each group can only stay in the water for 30 minutes (sounds short but it's well worth it!). The whale sharks are free to show up to the krill feast, then leave back to the ocean as they please. 
If you decide this is an acceptable place to swim with whale sharks, these are some things you should know!
Staying in Oslob vs Tanawan
Oslob is located on the southeast side of Cebu island, but Oslob is just the largest town that's close to where the whale sharks are. The actual location for whale sharks is further south, at a village called Tanawan. There's a 15 km difference between the two, so double check where your accommodation is!  
The benefit of staying in Tanawan is that you can be on the first set of boats out to see the whale sharks. The first group leaves at 6am, right when the sun is rising, and boats depart every hour or so until 12:30. Beware that sometimes the boats stop running early if the waves get too rough. 
There are an infinite number of businesses and tour companies offering a ride to where the whale shark swimming excursion takes place. It's not vital to stay in Tanawan. You can book tours from Oslob, Moalboal, Cebu City, even all the way from Alona Beach on Bohol! 
How to get to Oslob/Tanawan
From Cebu City: Take a bus from the Southern Bus Terminal heading south. The bus attendants at the bus station can spot a backpacker or tourist from a mile away and will ask you immediately, "Oslob?" Bus costs range from 150-200 pesos depending on if the bus has AC or not. Specify to the bus attendant whether you want to be dropped off at Oslob town, or Tanawan town. The yellow Ceres busses are the most recommended.
From Cebu Airport: Take a taxi to Southern Bus Terminal (should cost around 300 pesos on the meter) and follow directions above.
From Moalboal:  Take a bus from Moalboal town heading south to Liloan/Santander, then take a second bus heading north to drop you in Tanawan or Oslob. Bussing these two legs should cost around 200 pesos. From Santander you can also catch a taxi or tricycle to Tanawan, and depending on the number of people this could be around 200 pesos per person. It's also possible to take a taxi from Moalboal to Oslob, which is time and cost effective if you have at least three people in the taxi. This is what I did, and it cost us 1500, or 500 pesos each.
From Alona Beach/Panglao, Bohol: Book a tour or boat transportation to take you straight to Tanawan (About 600 per person for 2 hours each way). Be aware that the Philippine Coast Guard cancels boats like this very frequently if the water is too rough. Tours also won't include the cost of entry for the whale shark watching, which is 1000 pesos per person. If you want to reach Oslob to stay a night there, from Bohol take a ferry to Cebu City, then bus down to Oslob/Tanawan. This will be 550-700 pesos for the ferry, walk or short taxi to the Southern Bus Terminal, then 150-200 pesos for the bus.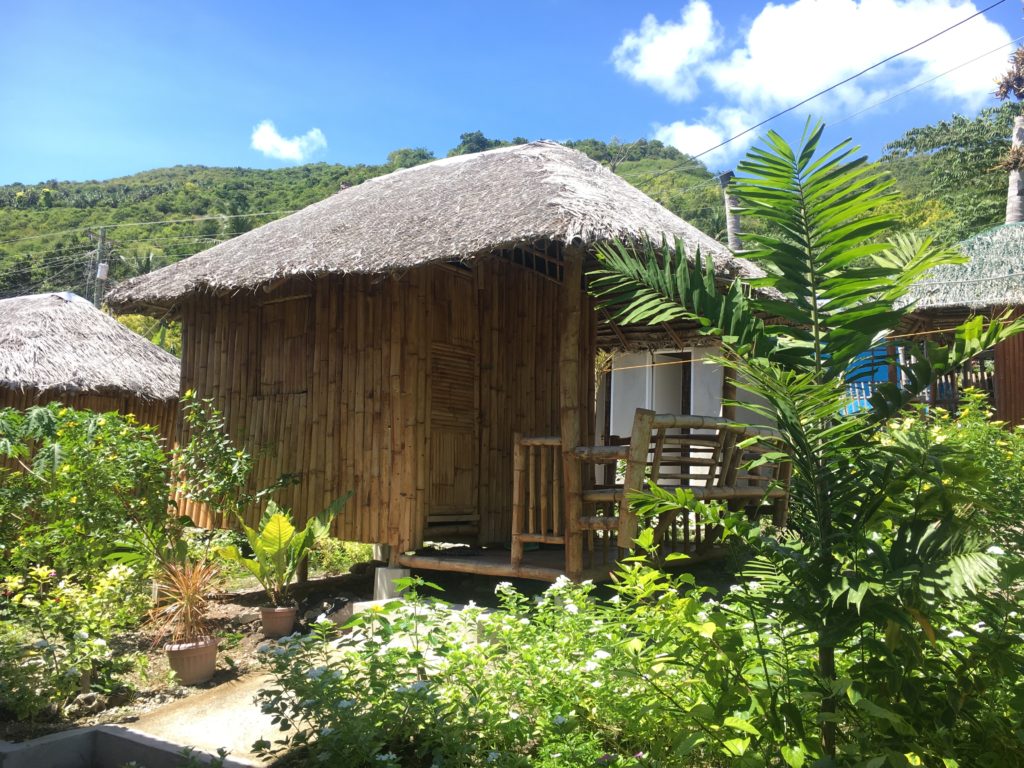 The best hostel to stay before going swimming with the whale sharks is Sharky Hostel. It's located right next to where the boats leave from for the whale sharks, so you can be on the first boat out on the water!  
The owners do a wake-up call around 4:30-5am in the morning for their guests who paid the night before (1000 pesos, they don't take commission) to go on the boats. It's a 30 second walk from the hostel to where the check-in takes place, but the owners take care of that as well! All we needed to do was sit on the plastic chairs and wait for the speech about the rules in the water.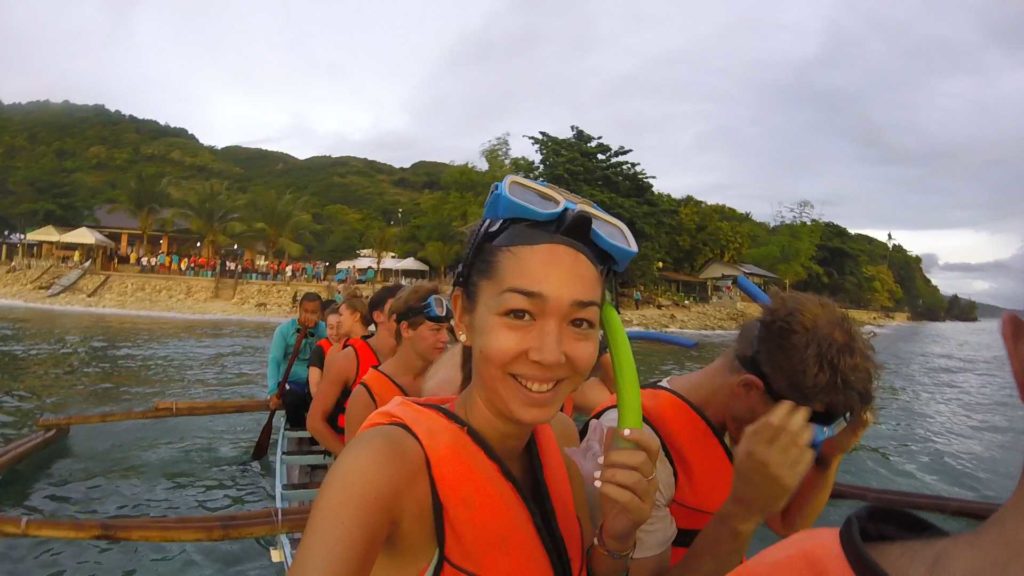 Once you enter the whale shark swimming area, there is a queue for putting your name on a sign-in sheet, then another queue to pay the 1000 peso entry fee. If you want to hire an underwater camera to take pictures with, it's an extra 500 pesos. 
After you're checked in, there are several rows of plastic chairs facing some informational posters about how far to stay away from the whale sharks, etc. Just before the boats start boarding at 6am, a woman with a megaphone told us about what we can and cannot do in the water with the whale sharks. Do not touch the whale sharks, whale sharks are sensitive to flash photography, each visit is limited to 30 minutes in the water, and wearing sunscreen may result in jail time. She said there are marshals in the water keeping an eye out to make sure everyone follows these rules. 
After this speech, we were handed life vests and a snorkeling mask before we were showed to the boats.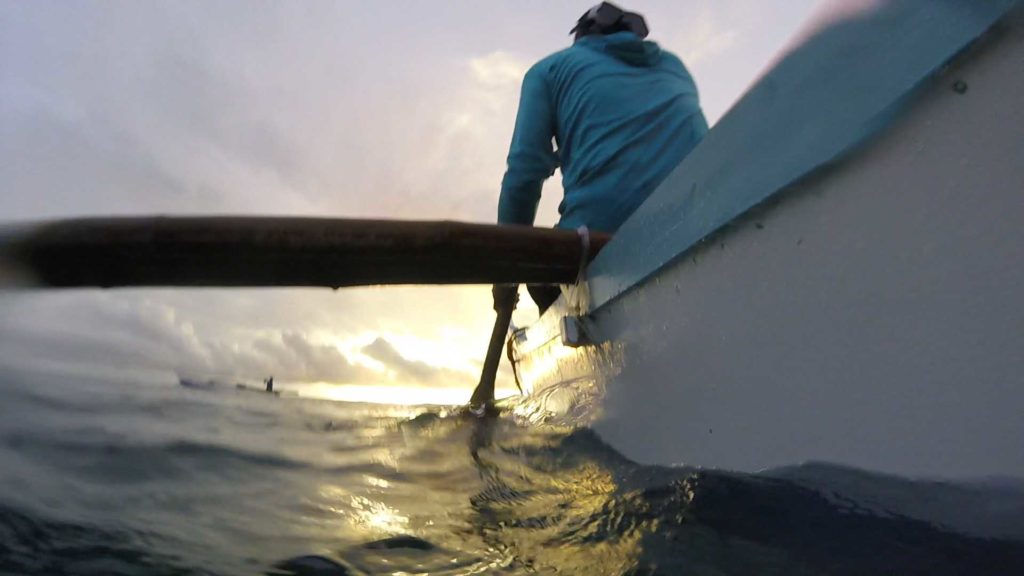 I was on THE first boat out into the water, riding towards the sunrise at 6am! The boats don't have motors, only paddles, to get out to where the whale sharks are being fed.
Swimming with Whale Sharks!!!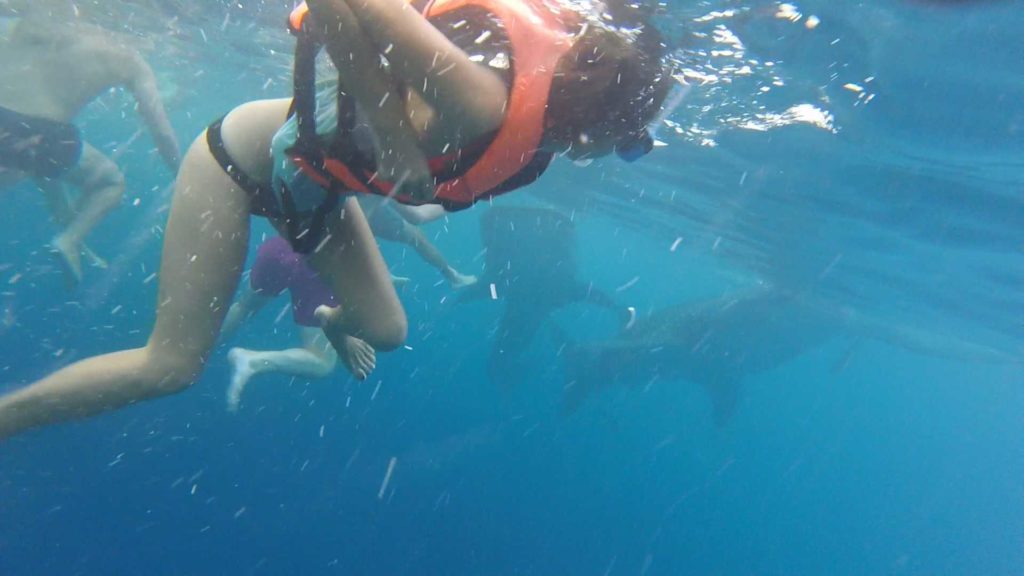 Tourists are packed 8-10 to a boat and paddled out a couple hundred yards to where the whale shark feeding takes place. The tourist boats create a half circle snake that surrounds a few boats where men are throwing krill into the water. The boat driver pointed out to us the heads of the whale sharks coming up for food, and told us to jump right in! 
Although we were required to wear life vests when leaving shore, the boat drivers told us that good swimmers could take them off once we reached the whale sharks.
At first there were just one or two whale sharks that we could see, hanging out next to the boat that's throwing krill into the water. But soon, there were more appearing until half a dozen could be seen at once gliding through the water. Because of all the people who are also in the water with you, sometimes it can be hard to get a good picture. It helps to be able to dive down and take pictures of the whale sharks from the side or below, since most of the people stay at the surface. I kept my life vest on the whole time, but as a result I got good, steady footage of our experience on my GoPro! 
It's important to be mindful of what's going on behind you and beneath you, because you never know when a whale shark is planning on sneaking past you to get to the food!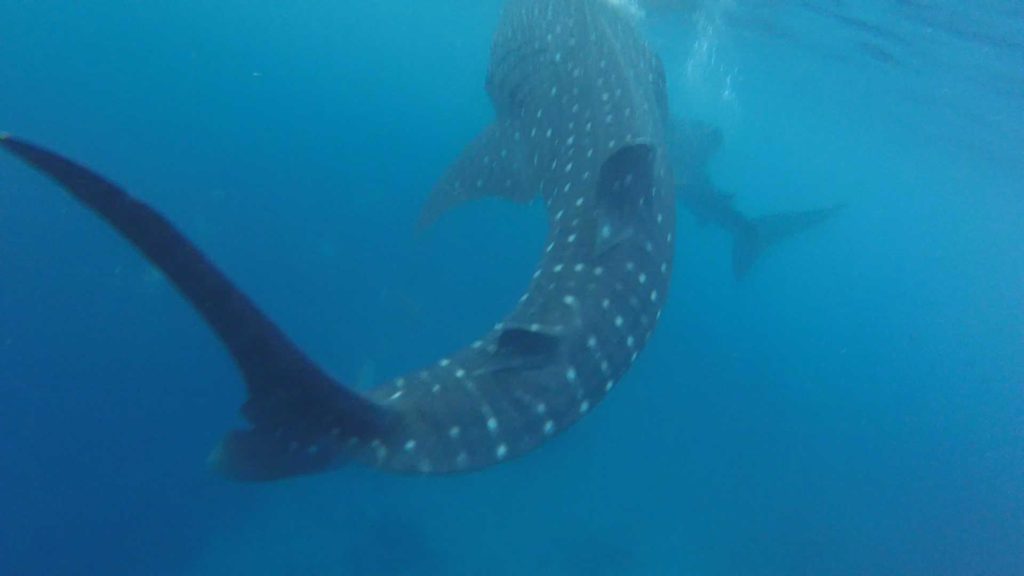 First boat out means first boat back to shore! 
When you're in the water, the boat drivers will start shouting at people that time's up once the 30-minute mark is reached. When you get back onto your same boat and it's everyone's out of the water, the boats will start paddling in a conga line back to shore to drop everyone off. And on comes the next group of tourists!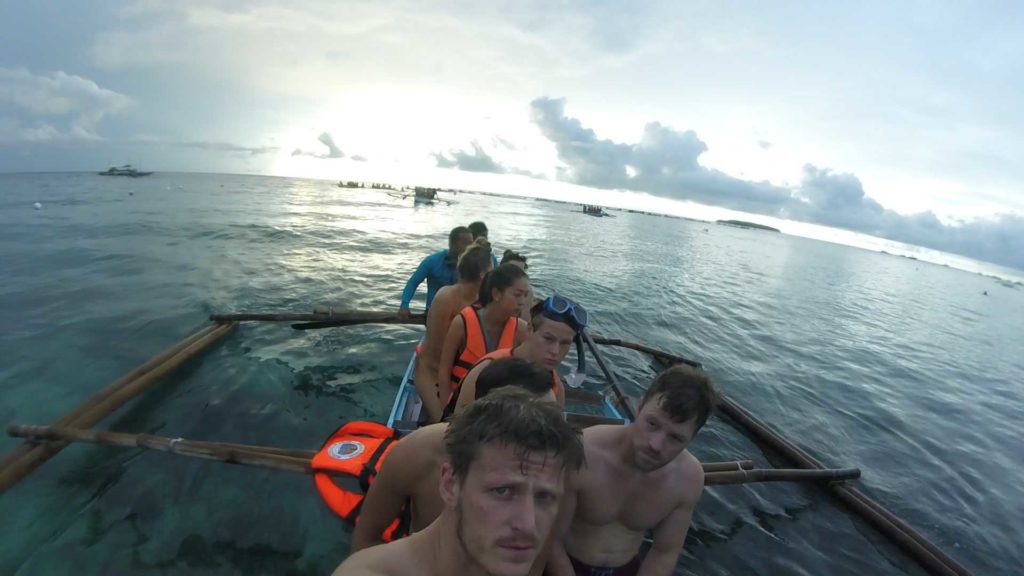 If you are staying in Tanawan, the only cost is the entrance fee to swim with the whale sharks, which is a set 1000 pesos. This includes the boat ride out and back in, 30 minutes in the water with the whale sharks, a life vest, and a snorkel mask.
Booking with a tour group that includes transportation to and from Tanawan will increase this price slightly, but it you should not pay more than 1800 pesos total for this experience. 
Underwater cameras can be hired for 500 pesos at the whale shark ticketing building. One of the boat drivers will dive in with you to take pictures for this price, and you get a DVD with all your pictures at the end.  
Siquijor Island – take a taxi or tricycle for 200 pesos per person to Santander/Liloan port and take a ferry to Larena, Siquijor, also for 200 pesos
Cebu City – all busses heading north will be marked "Cebu", and for 150-200 pesos you'll be taken to Cebu City's Southern Bus Terminal.
Panglao, Bohol – There are no direct ferries from Oslob to Bohol, so you'll have to take a ferry from the Cebu City port to Bohol.
Ready to take the dive? Pin this article!