Georgia is a country that is still wonderfully under-the-tourist-radar. This is a pleasant surprise, considering its close proximity to Western Europe and its beautiful mountain landscapes. During our hike from Mestia to Ushguli in Georgia, we hiked large stretches of trail without meeting a single soul. 
Marty from Intrepid Road and I hiked Mestia to Ushguli in the autumn, which was an incredible time of year. The valleys were filled with yellows and oranges as far as the eye could see on the forested trails, and we had no problems finding guesthouses. 
To start this hike in Georgia, head to Mestia, a cozy little town at the foot of many towering mountains. From here, it's four days of hiking village-to-village, stopping at local homestays, to reach Ushguli. Ushguli is a remote village that will transport you back in time to when shepherds rode horses to herd their cows and sheep.
Here's what you need to know before setting out on this hike from Mestia to Ushguli. For more detailed, day-by-day information, check out my personal experience blog of the hike. 
Mestia to Ushguli Trek Itinerary
Duration: 4-6+ days recommended in the Svaneti region, 4 reserved for the hike from Mestia to Ushguli
If you catch the overnight train back to Tbilisi on the same day you arrive in Ushguli, you can complete the hike in only 4 days.
If you stay longer to do side treks in Ushguli, or relax in beautiful Mestia, budget 6+ days.
Tbilisi to Zugdidi by train, overnight – Day 0
Zugdidi to Mestia by minivan, trek Mestia to Zhabeshi (16 km) – Day 1
Zhabeshi to Adishi (10-12 km) – Day 2
Adishi to Iprari (17 km) – Day 3
Iprari to Ushguli (12 km) – Day 4
Ushguli to Mestia by taxi/van (25-35 Lari) – Day 5
Mestia to Zugdidi, overnight train to Tbilisi – Day 6
How to get from Tbilisi to Mestia by Train
Two trains leave from Tbilisi's main train station to arrive in Zugdidi in western Georgia. One train leaves first thing in the morning, and the other is an evening, overnight train. To give yourself time to trek on the first day, I recommend taking the overnight train, which arrives in Zugdidi at 6am.
At the Zugdidi train station, plenty of taxis, minivans, and busses wait around to take trekkers up to Mestia. The fastest options are the taxis and minivan, which tear up the mountain roads at life-threatening speeds! We paid 20 Lari ($7 USD) for a seat on the minivan to Mestia, and we arrived in Mestia at 10am. The cheaper option is going by bus, but it may take even longer than 4 hours to reach Mestia to start the hike.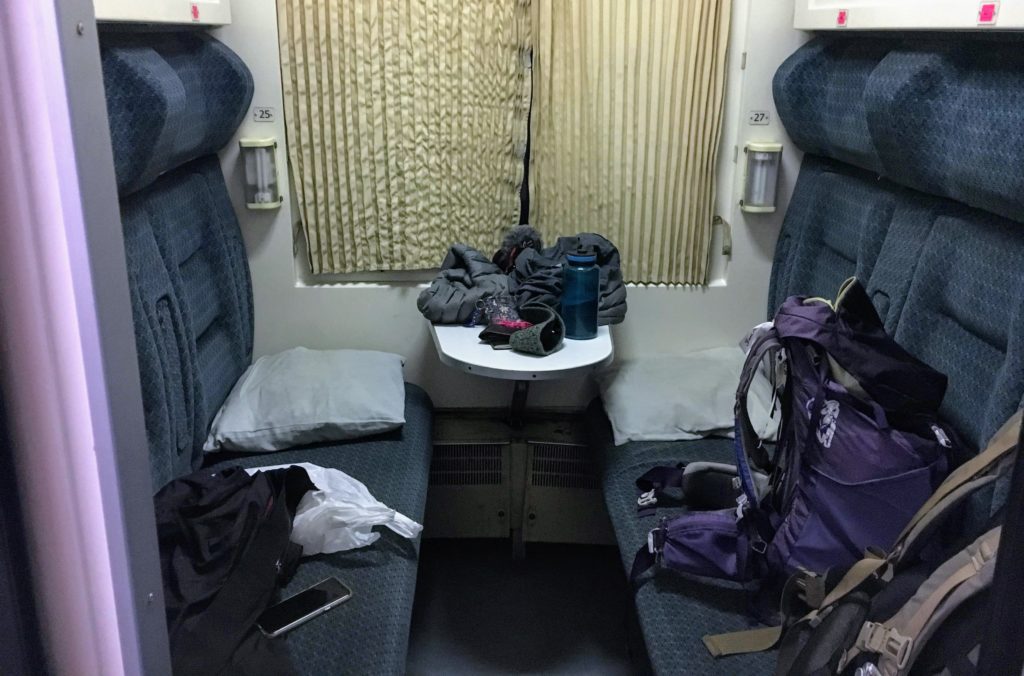 During the hike when you arrive at a village for the evening, the locals walking around can help you find a guesthouse. If no one is about, the guesthouses are clearly marked, usually with a hand-written sign outside the building.
Hikers can pay for just the room, but for a standard 50 Lari ($15 USD) per person, trekkers get breakfast and dinner included. You can negotiate to include a pack lunch for the next day as well.
Tip: There are barely any markets or shops on this trail!! The food I ate over 4 days of trekking came exclusively from what the guesthouses fed me when I stayed at their accommodation. If there are trekking snack staples you want for the trek, buy them in Tbilisi before heading to Mestia and Ushguli. Basically the last chance to buy anything besides beer is in Mestia.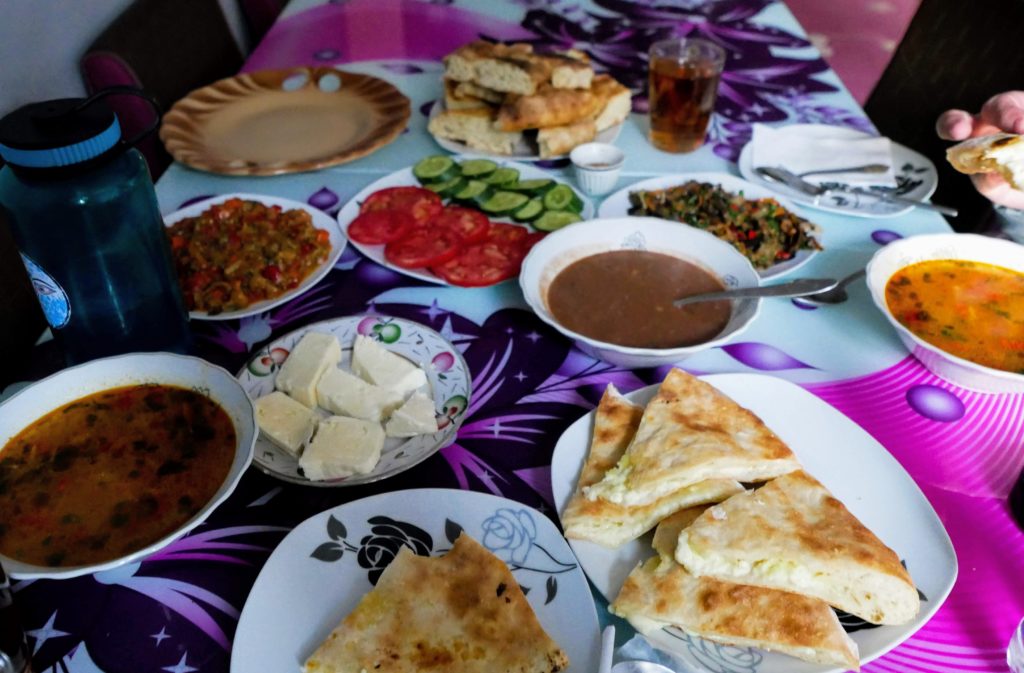 The trail between Mestia to Ushguli is extremely camper-friendly, as long as you bring your own food and gas. You'll find many open grassy spots next to rivers, at scenic viewpoints, etc that I would have loved to camp at if I had the gear. Many guesthouses will also offer food-only prices for campers who didn't bring their own food.
The only downside is not having shops along the way to stock up on food, gas, and water if you didn't bring enough with you from Tbilisi.
Mestia to Ushguli Hike Packing List
Because the guesthouses fulfill all the food, water, and accommodation needs (even towels and soap), there's really not much extra you need to bring with you on this trek. Here's what I would bring with me if I were to do this trek again:
Day bag (I used my 63L multi-day bag, that was only half filled)
Medium-heavy jacket
2x Long-sleeve shirts
2x T-shirts for trekking
Trekking shorts or pants
Thermal leggings
Shorts for sleeping
T-shirt for sleeping
4-6 changes of underwear
Flip flops for wearing around guesthouse
Hiking shoes (but it's also possible to do in sneakers)
Toothbrush/toothpaste
Deodorant
Sunscreen
Toiletries: shampoo, soap, toothbrush/toothpaste (sometimes you can use the soaps at guesthouse)
Ibuprofen/other medicines
Kindle or book to read in evenings
Phone + charger
WiFi/Internet Connectivity
3 out of 5 guesthouses I stayed at including in Mestia and Ushguli had WiFi available. Another one just had a hotspot from the guesthouse owner's phone, so we didn't use it but it was there in case of emergencies. 2 of 5 guesthouses with WiFi had streaming speed fast enough that we were able to watch Netflix in the evening!
If you had bought a SIM card in Tbilisi before heading to the mountains too, apparently connection was good for most of the trek, even when going over the mountain pass.
Mestia to Ushguli Hiking Budget
*Updated in 2021
Getting there: The train from Tbilisi to Zugdidi was 35 Lari ($11 USD), and the minivan from Zugdidi to Mestia was 20 Lari ($7). There were also taxis and a small bus running from Zugdidi station to Mestia for different prices.
On the Trek: The guesthouses charged us and other trekkers we spoke to a flat 50 Lari ($15 USD) for a double or triple room, dinner the night of arrival, and breakfast the next day. It's possible to negotiate having lunch included in the price as well. This means your daily budget for the trek is an easy $15 USD.
Getting Back: The minivan from Ushguli back to Mestia was 35 Lari ($11), which was a bit pricey but when we didn't have a lot of options first thing in the morning. The van from Mestia back to Zugdidi was 20 Lari ($7) again, and the latest one leaves at 4pm arriving around 8pm. This gives you plenty of time to make the overnight train back to Tbilisi which leaves at 10pm (another 35 Lari, $11).
In total, over 2 nights in the train and 5 nights in the mountain villages, I spent a little under 500 Lari ($158). The only time we splurged was in Mestia: the same 50 Lari for a really nice guesthouse didn't include dinner, so we ate at the incredible Cafe Laila. We also hung out at Cafe ErtiKava (because it sounds like Erika) all day the next day while waiting for our van to back Zugdidi.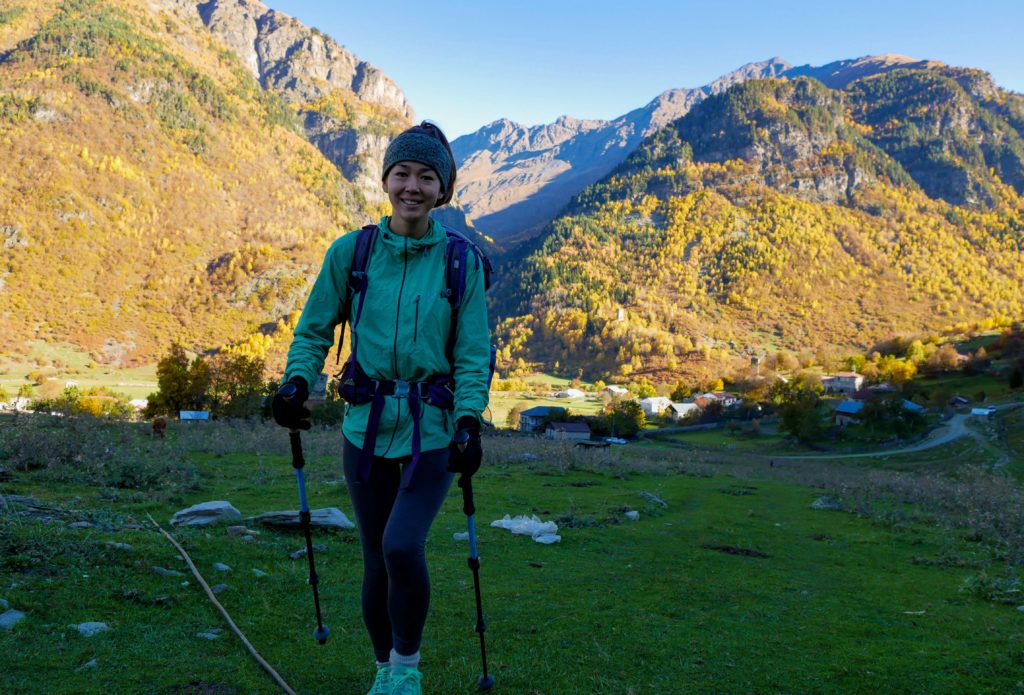 Getting from Ushguli back to Mestia
The morning before your planned departure, reserve seats in a van heading to Mestia. This can be done at many guesthouses around the village. I paid 35 Lari for this ($15), but if you leave with others it could be around 25 Lari ($12).
It's also possible to walk to the center of town to catch a van. There may be a few waiting around next to the bridge to take people to Mestia. If you're on a time constraint, it may not be wise to wait for these, because they will only depart once the van is full or nearly full. 25-35 Lari is standard for this short ride – bargain too hard and the driver might leave you behind!
Getting from Mestia to Zugdidi, and back to Tbilisi
There are many companies that offer rides to Zugdidi for 20 Lari ($10) from Mestia. They leave town frequently all throughout the day, and the last one leaves at 4pm. Since Mestia seems like a better place to hang out than Zugdidi,I recommend booking a seat on this 4pm van. The van I took was delayed slightly and left closer to 5pm, but we still arrived at the Zugdidi train station around 8:30pm.
If you find yourself with some time to spare at the Zugdidi train station, there's a gas station convenience store one block away that has free bathrooms, a bakery combined with a cured meat section, and some stools and tables to hang out at.
The overnight train back to Tbilisi leaves at 10:15pm, and costs 35 Lari ($15) for a standard bed. Tickets can be bought at the station, or online in advance.
There are also vans and taxis that will offer to take you to the coastal town Batumi. This is a budget destination with many high-rise apartment buildings and hotels. Although there's not a lot of history here, it's a beautiful place to see the modern side of Georgia.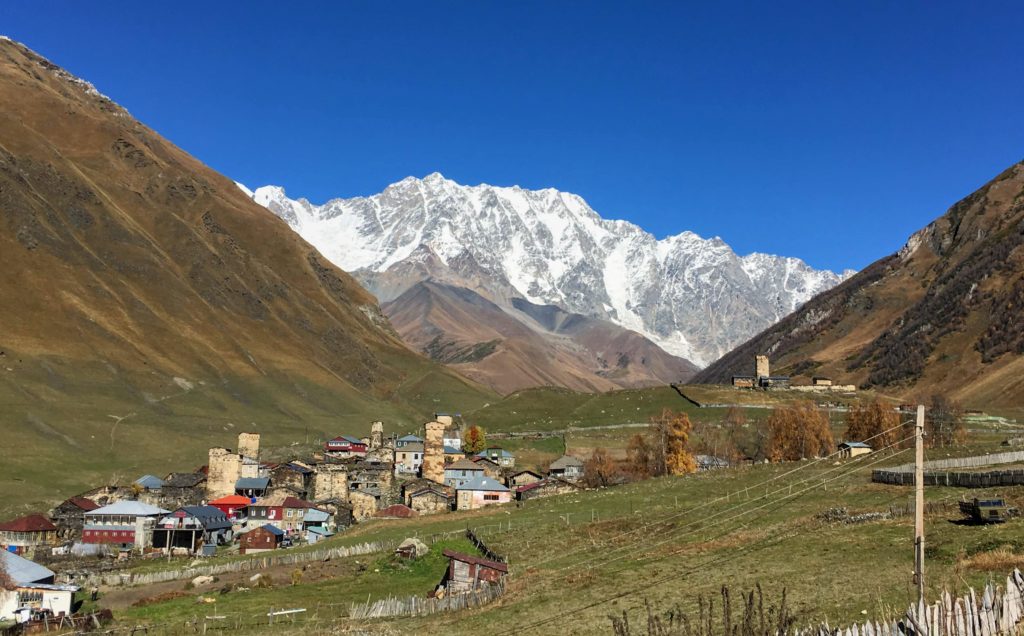 Getting from Ushguli to Zugdidi on the same day
I arrived into Ushguli at around 2pm from Iprari on Day 4 of the trek, after leaving Iprari at 8am. I would have had plenty of time to hop on a van to Mestia, and arrive there before the last van leaves for Zugdidi at 4pm.
The Mestia to Zugdidi van costs a standard 20 Lari ($10), and can be bought at the Mestia bus station. The overnight train from Zugdidi back to Tbilisi leaves at 10:15pm and is a standard 35 Lari for a bed ($15). If you are on a time constraint, it's best to book the tickets online ahead of time.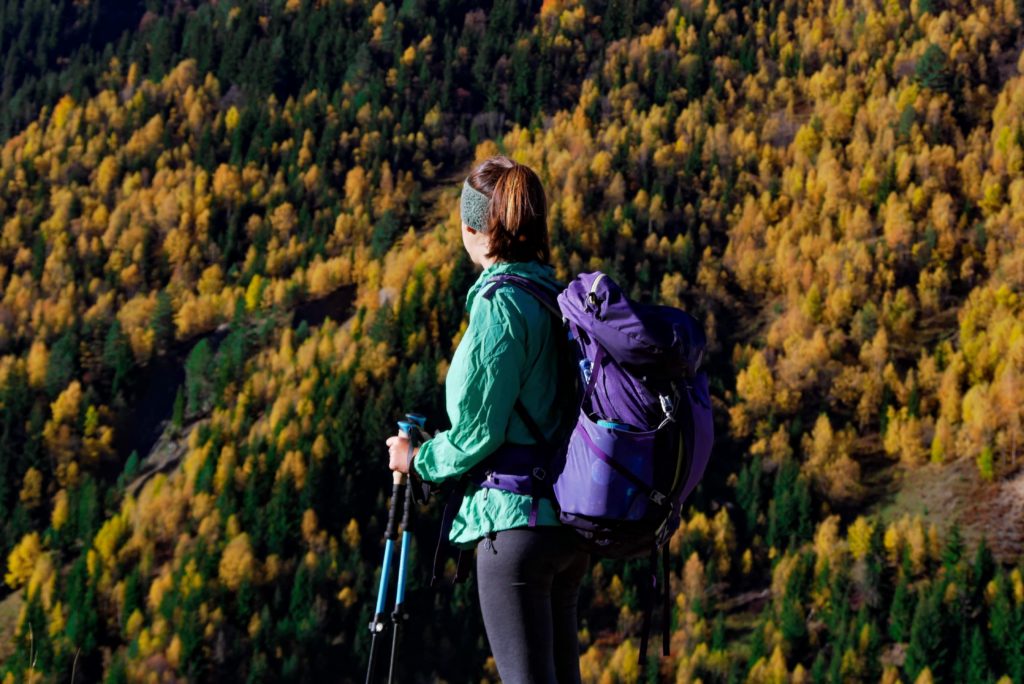 Luckily for short-term travelers, it's possible to trek from Mestia to Ushguli on a tight time frame and be back in Tbilisi after four days. 
However, I recommend spending at least five days in the Svaneti region and having a rest day in Mestia and/or Ushguli. It's worth spending an extra day in one of these villages to appreciate the landscapes, interactions with the locals, and breathe the fresh mountain air! 
If you want to learn more about what my hike was like, read my hiking experience blog, or check out our YouTube video of the hike.
Pin this article for later!