TeamLab Borderless is a digital art museum located in Odaiba, Tokyo. It's famous for its Instagrammable and interactive art, and for creating fully immersive exhibits for visitors to enjoy. Since Teamlab Borderless opened in 2018, Teamlab Planets also opened in Tokyo, as well as Teamlab Botanic Garden in Osaka, and other pop up exhibits around Japan and the world. 
Note: Teamlab Borderless in Odaiba closed on August 31, 2022. A NEW Teamlab Borderless will open in Azabudai Hills in Tokyo at the end of 2023. Currently, only Teamlab Planets is opened in Tokyo. Due to its popularity, be sure to buy tickets in advance here! The rest of this article is retained for reference.  
How to Buy Tickets to Teamlab Borderless Museum
There are two options to buy tickets for Teamlab Borderless Museum, at the door or online in advance. Buy tickets in advance because they may sell out, especially on Japanese holidays and weekends. 
To book online: Book Teamlab Borderless tickets on (1) the official Teamlab website, or (2) through GetYourGuide authorized seller. The prices for both outlets are the same, however the benefit for booking with GetYourGuide is that you don't need to select a time to visit, just select the day. Buying tickets from the Teamlab Borderless website requires you to pick an entry date AND time! 
To buy at the museum: The Teamlab Borderless museum entrance has several ticket counters and kiosks where you can purchase a physical ticket. Museum employees are there to help you with the purchase as well.
Adult tickets to Teamlab Borderless cost ¥3200 (about $30 USD), kids between 3-14 years old cost ¥1000 ($9 USD).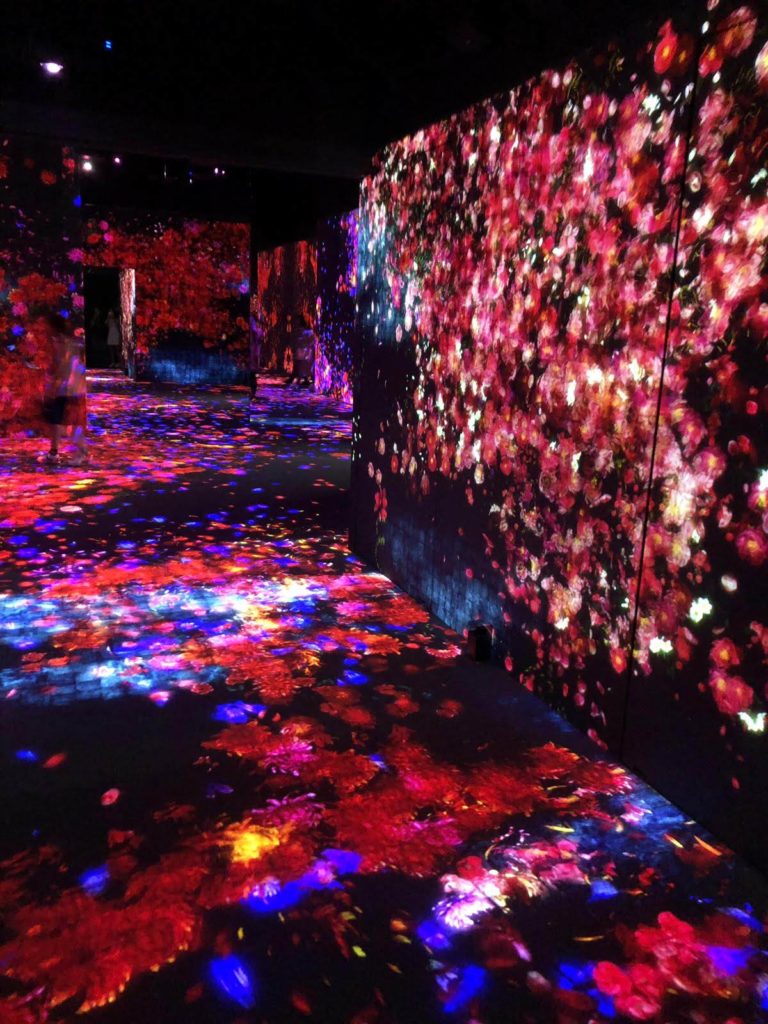 Where is the Teamlab Borderless Museum?
Odaiba is a shopping/event/entertainment island located southeast of Tokyo's city center. It's covered in parks and outdoor event spaces, massive shopping centers, museums and exhibits, seaside terraces, and a giant ferris wheel. Teamlab Borderless Museum is next to Venus Fort Mall at the foot of the ferris wheel. It's accessible from the Aomi and Tokyo Teleport stations.
Check out a comprehensive map of Odaiba from Tokyo Odaiba.net here.
Teamlab Borderless vs Teamlab Planets
Did you know there's a second Teamlab museum in Tokyo? Teamlab Planets is similar in concept to Teamlab Planets, but is smaller and has some exhibits where you walk through water. 
How to Get to Odaiba from Tokyo City Center
Since you're heading to Odaiba, why not take the scenic driver-less train to get there? 
Grab your Suica card and navigate from your nearest JR station to Shimbashi station. At Shimbashi station, transfer to the Rinkai Line by exiting the station and following the signs up an escalator into a separate building. Pop into any train there. Since Shimbashi is the last stop on the line, both platforms have trains going to the same destination. 
Take a seat or stand close to the front of the train, so you can feel like you're controlling this driverless train! The ride has great views of downtown Tokyo, the Rainbow Bridge and Tokyo Bay. 
Aomi station is the station closest to the Teamlab Borderless Museum.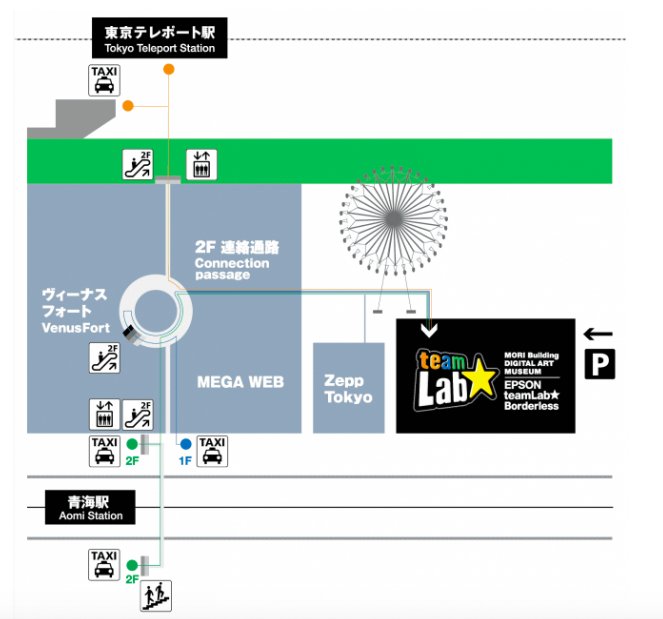 Exhibits Not To Miss at Teamlab Borderless Museum
Give yourself enough time here to fully enjoy experiencing all of the exhibits. I spent four hours here! If you don't want to ruin the surprise of how incredible these exhibits are, skip to the bottom of the page. 
A few of my favorite exhibits at the Teamlab Borderless museum were the following:
The Forest of Resonating Lamps
Changing, glowing colored lamps… in this room felt like I was walking through the air between floating lanterns! There was a line to enter this room, and we only got about 5 minutes inside of it before employees rushed us out to let the next group in. This was the only exhibit where our experience was timed, due to its popularity.
Spend a good amount of time in this musical exhibit. The lights dance along to the music of different songs, and the shooting-star-like finale was incredible! 
First you navigate through the infinite lights in the mirrored room. Eventually you reach an opening where you can stand back and enjoy being immersed in the art. 
Teamlab Borderless Exhibits for kids or kid-like adults
Some Teamlab Borderless exhibits on the second floor were oriented towards children, including a small play pen for toddlers and babies. The Athletic Forest has a supervised trampoline area where you can bounce on growing galaxies, and a big slide where you can try and hit some digital fruits on the way down. 
You can take part in drawing activities here too, where you color in a crocodile, frog, or bird, and you can see it come to life as digital art and even interact with it! These activities were kid-oriented, but any adult could enjoy them as well. 
Tip: Visit En Tea House at Teamlab Borderless Museum!
I had planned to skip the in-museum En Tea House because ¥500 for a cup of tea sounded steep. In the end, I was super glad I went because of how interesting and beautiful the interaction was between the tea cups and the blooming digital flowers! The tea house is on the second floor of Teamlab Borderless the same floor as the Athletic Forest. 
Flowers 'grow' in your cup when it's set down on the counter, and flutter away as petals when you pick it up. Move your cup around the counter, even switch cups with your friends and the same flowers will grow inside of the cups.
Tip: Every person in your group should order different teas from the cafe. The type of flower that grows inside your cup changes depending on the tea! 
Tips for Visiting Teamlab Borderless Museum
Buy your ticket in advance, online from GetYourGuide for the most flexibility.
Plan to spend 3-4 hours at the museum, and the whole day in Odaiba. It's worth it! 
Don't skip En Tea House! Relax with a cup of tea in hand and watch as different flowers bloom in the cups and scatter as petals when you lift the cup for a drink. Different teas create different flowers! 
Don't wear high heels. Wear comfortable walking shoes because surfaces are uneven, spongey, sometimes made of netting, and part of the art itself. One exhibit required everyone in heels and flip flops to put their footwear in plastic bags because the floor was a net. Another exhibit required you to rent sneakers because heels were hazardous for the wearer and for the exhibit floor. 
Don't wear a short skirt because MIRRORED FLOORS. Two of the most popular exhibits have mirrored floors, meaning the reflection can be very exposing!! 
Wear white or solid-color clothes to enjoy the digital art that passes over your body and clothes.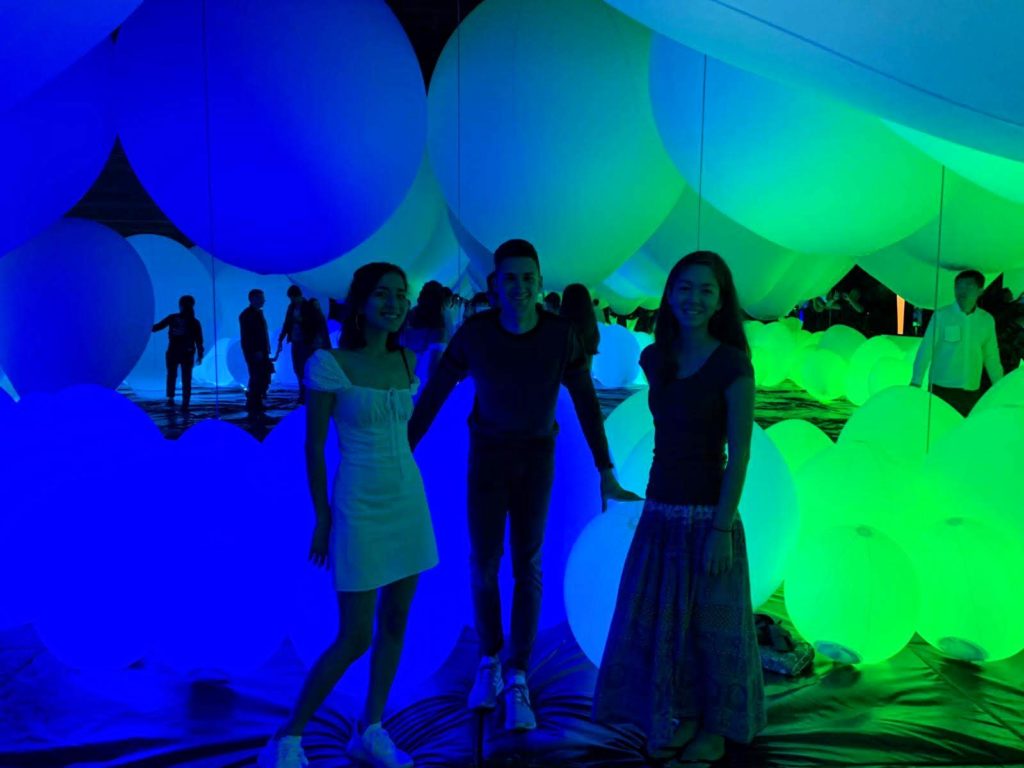 Download the Teamlab Borderless App
Download the Teamlab App (QR code available at the museum) that lets you interact with the Crystal World exhibit once inside the Teamlab Borderless Museum.
Although the app didn't work for me, my friend could use the app to add different colors to the lights. We were not certain it was working, but it was cool to have the option to interact with the digital art. 
Other Things to See in Odaiba after the Teamlab Borderless Museum
Heading to the Teamlab Borderless Museum?
Pin this post for later!
Have you heard about Teamlab Planets?