Teamlab digital art museums took the world by storm after the opening of Teamlab Borderless in Japan in 2018. Now Japan has a number of amazing exhibits by Teamlab, including in Tokyo, Osaka, Fukuoka, and Himeji, plus occasional pop-up installations. Two of the most popular Teamlab exhibits are Teamlab Planets in Tokyo and Teamlab Botanical Garden in Osaka. Because so many travelers to Japan have both Tokyo and Osaka on their itinerary, it's fair to ask: Which is better, Teamlab Tokyo or Teamlab Osaka? 
This Q&A provides a breakdown of the digital art experiences in Tokyo and Osaka, to help you plan in which city you should visit a Teamlab exhibit on your next trip to Japan. 
Be sure to book your tickets in advance so you can secure a date and time ideal for you!
First: Teamlab Tokyo and Osaka logistics
Teamlab Planets (Tokyo)
Hours: 9:00 to 22:00, last entry 21:00 (summer) 
Address: teamLab Planets Tokyo, Toyosu 6-1-16, Koto-ku, Tokyo (Map)
Price: ¥3,200 ($24 USD) (Tickets)
Closest Station: Shin-Toyosu Station
Tips for visiting: Wear shorts or pants that can roll up so you can walk in water. Towels are provided. Expect to wait in line upon arrival. 
Teamlab Botanical Garden (Osaka)
Hours: 19:00 to 21:30, last entry 20:30
Address: Nagai Botanical Garden 1-23 Nagaikoen, Higashisumiyoshi-ku, Osaka (Map)
Price: ¥1,600 ($12 USD) (Tickets)
Closest Station: Nagai Station
Tips for visiting: Wear comfortable walking shoes and bring mosquito spray in warmer months. Some uneven surfaces and dark paths. Evening entry only. 
Is it worth going to *both* Teamlab Tokyo and Teamlab Osaka on a trip to Japan?
Answer: Yes, if you are a big fan of the Teamlab concept. 
No, if you are struggling for time during your Japan itinerary. 
While Teamlab Tokyo offers full-body, immersive digital art, Teamlab Osaka offers art combined with the nature of Osaka's botanical garden. I thought both experiences were different enough that big fans of Teamlab can visit both Teamlab Tokyo and Teamlab Osaka during one trip to Japan. 
This is dissimilar to my advice around visiting Teamlab Borderless or Teamlab Planets in Tokyo. Both of these Teamlab museums include similar exhibits, so I recommend visiting only one during a Tokyo itinerary. 
If you find yourself struggling for time in either your Tokyo itinerary or Osaka itinerary – consider dropping one of the Teamlab exhibits.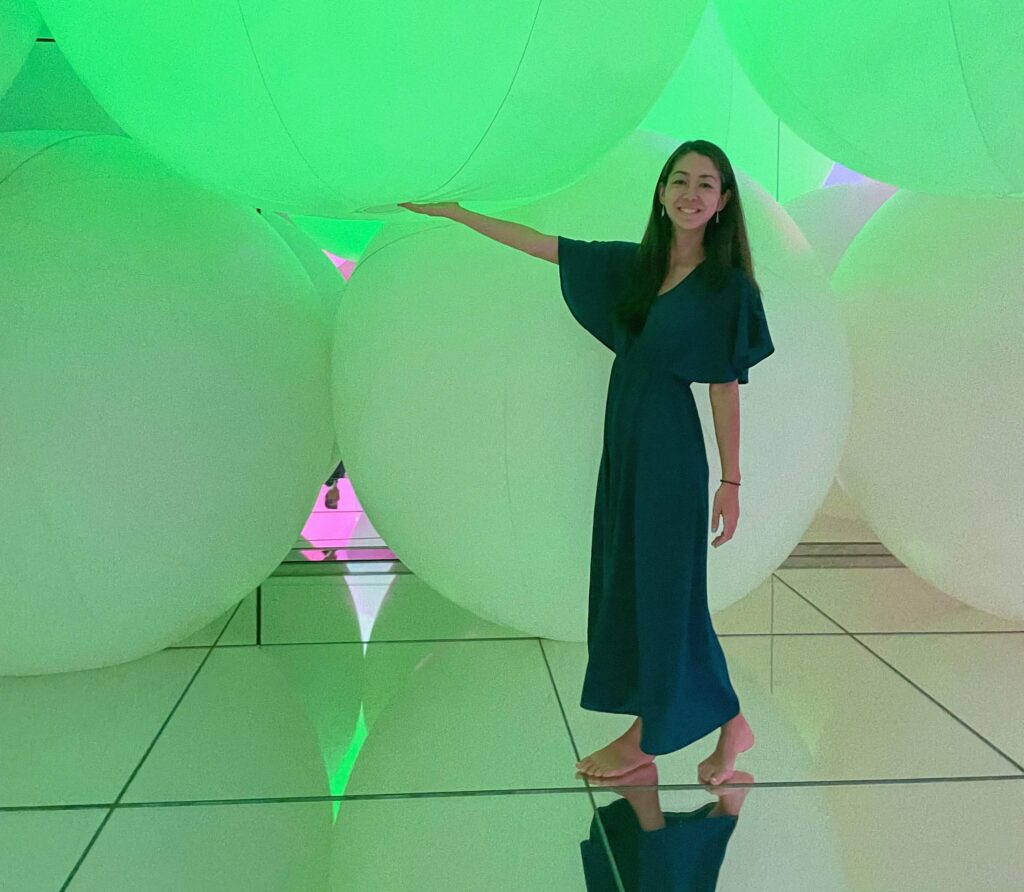 How much time will you spend at each Teamlab museum?
Answer: Plan to spend about 1 hour at both Teamlab Tokyo and Teamlab Osaka
Both of my visits to Teamlab Planets and Teamlab Botanic lasted about 1 hour. That's one hour from the first photo I took inside each museum to the last photo I took when I left. 
This does NOT include time waiting in line (30 minutes at Teamlab Planets) nor the time it talks to walk to the Teamlab destination from the closest station (10 minutes for Teamlab Botanic). 
Keep in mind that both Teamlab Tokyo and Teamlab Osaka are located 30 minutes or so away from central tourist areas of each city. In order to get to and from each Teamlab exhibit and explore fully, block out about two hours of your day. 
Which Teamlab museum is better to visit if you are short on time? 
Depending on your Japan itinerary, you might feel pressed for time in either Tokyo or Osaka. If you find yourself needing more time in Tokyo, considering go to only Teamlab Botanic in Osaka. If you need more time in Osaka, go to only Teamlab Planets in Tokyo! If you had to choose one, I'd visit Teamlab Planets – more on that below.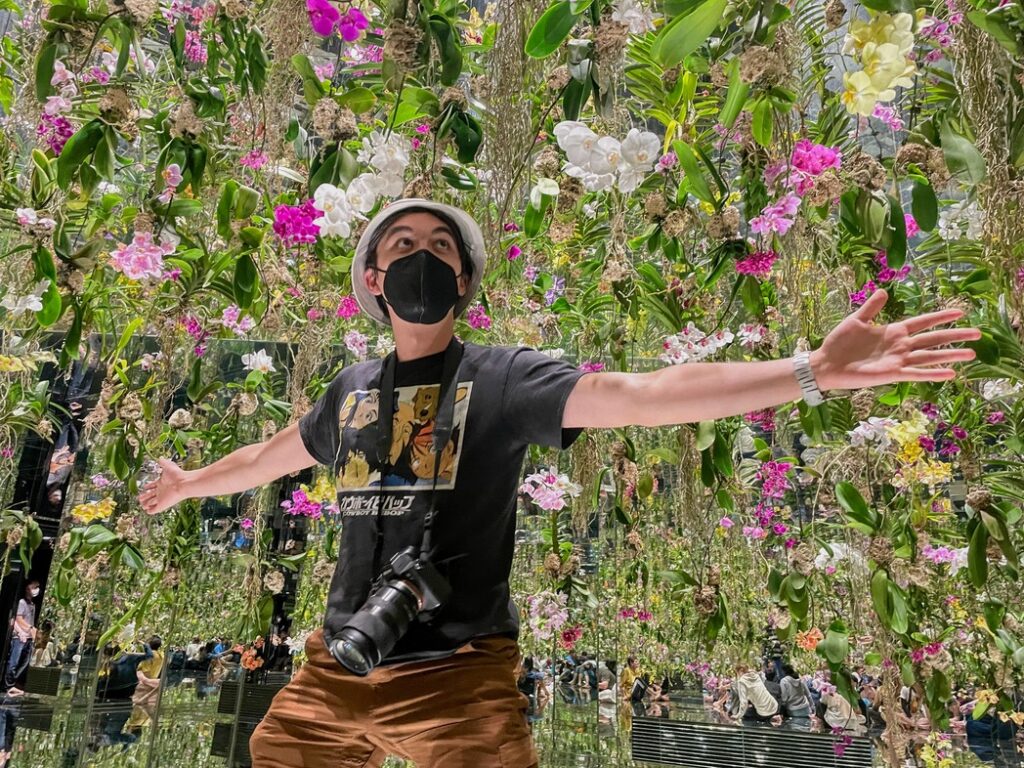 Which Teamlab museum is better for young kids?
Answer: Teamlab Botanic is better if you are visiting Tokyo with young kids. 
Teamlab Botanic Gardens in Osaka is located in Osaka's Nagai Botanical Gardens, basically a huge park. Its spacious nature means kids can run around and play without worry. Because Teamlab Botanic Gardens is open only in the evening, it's a great place to burn off some excess energy before ending the day as well. 
Teamlab Planets in Tokyo requires walking through water, with the water being more than a foot deep in some sections. Little ones with little legs will have to be carried, or an alternative route used with a parent to skip some of the experiences altogether. Although towels are provided after each water-filled section, water also creates an opportunity for spills and tumbles! 
Teamlab Planets is still a great option for slightly older kids. Just be sure to wear roll-up pants or even carry an emergency change of clothes.
Which Teamlab museum is better for couples?
Answer: For couples who want to have a lovey-dovey excursion together, Teamlab Planets is better for you. 
Teamlab Planets has several exhibits that are perfect for getting close to your significant other. The main attraction here is a large room filled with knee-deep water, a perfect hand-holding opportunity. Another exhibit was like a planetarium, where everyone could lie down and watch flowers fall across the sky, another potential cuddle sesh.  
That being said, Teamlab Botanical Gardens is also a great date-night option with its many benches dimly-lit paths.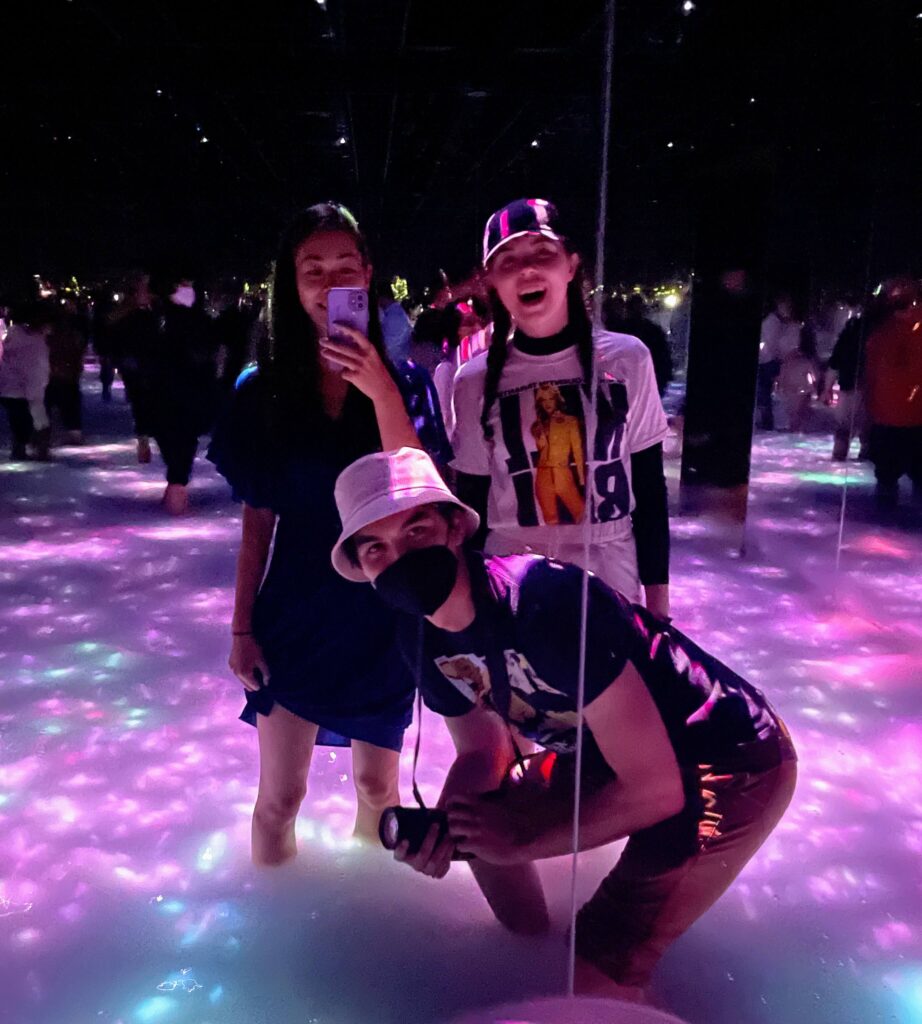 Which is less crowded, Teamlab Tokyo or Teamlab Osaka?
Answer: Teamlab Botanical Garden in Osaka is less crowded than Teamlab Tokyo
If you hate crowds, you'd better head to Teamlab Osaka and not Teamlab Tokyo for a number of reasons.
At Teamlab in Tokyo it is highly likely you'll have to line up to enter the museums, even if you arrive right at your designated ticket time. In my experience this can be from 15-30 minutes. The interior of Teamlab Planets also follows a designated trail, so you can only move as fast as the people in front of you. It is unlikely that you'll have an area to yourself at Teamlab Planets in Tokyo because of the crowds.
Teamlab Botanical Garden also has a general direction that visitors should follow, however there is often a network of different paths that you can take. With plenty of trails, benches, and wide open space, Teamlab Botanic does not feel crowded. 
Teamlab Osaka is also built in one portion of a massive botanical garden, perfect for solitary night strolls away from crowds.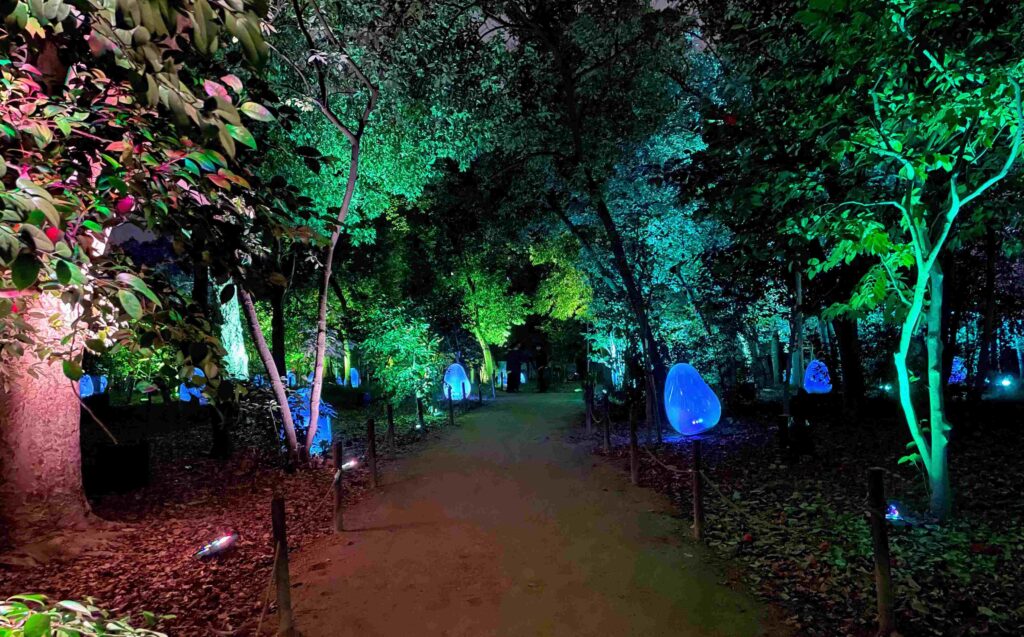 Which Teamlab museum is better overall?
Answer: In my opinion, Teamlab Planets in Tokyo is more impressive than Teamlab Botanic in Osaka
Teamlab Planets has a large variety and number of immersive art exhibits, including experiences previously showcased at Teamlab Borderless in Odaiba, Tokyo. The exhibits are consistently visually appealing, and are sure to impress all visitors to Japan. 
In comparison, Teamlab Botanical Garden has fewer exhibits, and even fewer that visitors can interact with or get great photos together with. As reflected in the price of the two Teamlab exhibits (3,200 yen for Tokyo and 1,600 yen for Osaka), the Tokyo Teamlab exhibit I thought was a grander and more immersive display of digital art.  
So in conclusion, if I had to pick one Teamlab exhibit during a trip to Japan, I'd visit Teamlab Planets! 
Are You Prepared For Your Trip To Japan?
Be sure to check out my Japan home page for Japan travel information, insider tips, reading list, and must-haves for traveling to Japan!