How many of you purchased a sewing machine while in lockdown? I got a sewing machine from my mom for my birthday, and have been sewing fun crafts ever since! These 12 Travel-Related Sewing Projects are a great way to prepare for your next travelventures. If you're looking for practical things to sew, why not make something to take on your next trip?
The sewing projects listed in this post make great travel gifts, and are sure to help you organize and accessories for your next trip.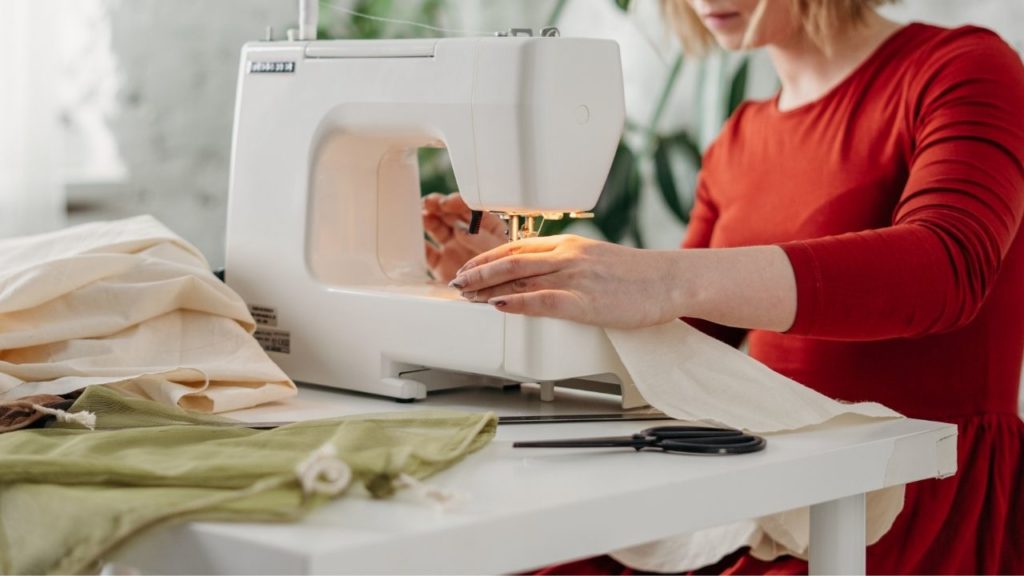 Beginner Travel-Related Sewing Projects
If you're just getting your feet wet with sewing like I am, let's start with some basic travel-related sewing projects. They might be easy to make, but they're just as practical as some of the more intermediate and advanced travel-themed sewing projects!
Making drawstring bags is the most basic of sewing projects – I learned how to do this in 7th grade during my home economics class. It also happens to be a very practical travel-related sewing project! Having bags of different colors and sizes is great to help you pack and organize for your next trip.
Small drawstring bags are great for keeping medicines and other loose objects in one place. Medium bags can be use to pack socks and underwear, and large bags can hold shoes and other bulky items
If your next travels are to a country where you expect to use a lot of cash and coins (like Japan for example) have a coin purse handy. 
A trick my dad uses when traveling is just opening up his coin-filled wallet to the cashier when paying, and they pick out the coins that you owe. That's much easier than mulling over each and every unfamiliar coin until you reach the correct sum! Using a handmade coin purse that opens up like the one in the sewing tutorial would make this process even easier.
We should all try to reduce our travel footprint by traveling sustainably, and a step in the right direction is bringing your own reusable shopping bag. Not only odes this reduce the plastic pollution in the country you're visiting, it's also just generally handy to carry around anyways. 
Reusable shopping bags that fold up into small squares can be tucked into your pocket or purse until you need them (like if you buy one too many souvenirs for example).
4. Roll-up Towel for Toiletries
This is a perfect travel-related sewing project that would also make a thoughtful travel gift. This sewing idea makes packing for travel a breeze, and mitigates against the yucky bathroom water that sticks around on toiletries while in transit. 
Pick out your favorite fabric, a fuzzy towel, and start sewing this super easy to make travel-related sewing project.
Following the theme of toiletry holders, try making this soap holder with the towel scraps from the project above. 
If you're a bar soap, bar shampoo and/or bar conditioner type of person (which are on my sustainable travel packing list) make these adorable soap holders for your next travel-related sewing project.
Intermediate Travel-Related Sewing Projects
6. Passport, vaccine card, and boarding pass holder
This is another classic travel-related sewing project that's super handy and easy to customize. When passing through airports, it's important to keep all of your important documents in an easy to reach place. An item that holds everything at once is a hand luggage essential for flying. 
Craft this passport and other documents holder so whether you need to show your vaccine card, swipe your credit card, or pull out your boarding pass, everything is in once place. If you're the type to leave things in the security bins on accident, sew on a wrist strap too.
I received a cord holder as a travel gift years ago, and I still use it to keep me organized on the road. Add a handmade element to this convenient travel item by making one yourself. Think about your go-to electronic accessories for travel, and make sure you sew a place for each of their chargers. 
Add this handy cord holder to your travel sewing project list!
One step up from the drawstring bag in the beginner's travel-themed sewing projects section above is a zippered bag. These aren't just for pens and pencils in school, you can use them for your makeup, toiletries, jewelry, and more when traveling.
9. Toilet Paper roll holder
Here's a quirky travel-themed sewing project: If your next trip consists of going off-grid or into the woods, consider crafting this toilet paper roll holder. I wish I had one of these back when I was camping all the time in Wyoming. I wouldn't have had to use my campfire soot-covered hands to hold the toilet paper, or set it down directly in the dirt. 
An attached wristband or even longer, a neckband, would make holding the communal toilet paper roll a little more sanitary.
Advanced Travel-Related Sewing Projects
10. Hanging Bathroom Caddy
A hanging bathroom caddy is one of my long-term travel essentials, and an item I bring on all of my travelventures. The bag perfect for using at hostels, campsites, or anywhere else with shared bathrooms. It keeps all toiletries in one place and off the wet ground. Crafting it with waterproof fabric will also keep your other belongings dry! 
11. Travel accessory holder
An personalized accessory holder is a perfect travel-themed sewing project. You know better than anyone else what type of jewelry you want to bring and wear during your next travels. Customize this accessory holder to make sure there's a special place for everything! 
One of the main concerns when traveling to unknown locations is the risk of getting pick-pocketed. Sew yourself this anti-pickpocket bag that has a zipper opening behind your back! 
It'll keep all of your belongings and valuables safe the next time you're in a crowded place. 
Pin these Travel-Themed sewing projects for later!