French Polynesia's Tahiti and Moorea islands have a scooter rental service that is convenient, eco-friendly, unique, and cost-effective. Hello Scoot provides leading scooter rentals in Tahiti that provides bright yellow, solar-powered electric scooters to visitors through their online app. If you're visiting French Polynesia and are seeking a scooter rental in Tahiti, look no further than Hello Scoot! 
Below is my experience with this eco-friendly scooter rental company, and some tips and tricks to get you on the road on a scooter in Tahiti in no time.
If you're considering using Hello Scoot, you can use my code 739DDOVR and get 1,000 XFP ($10 USD) off your first rental!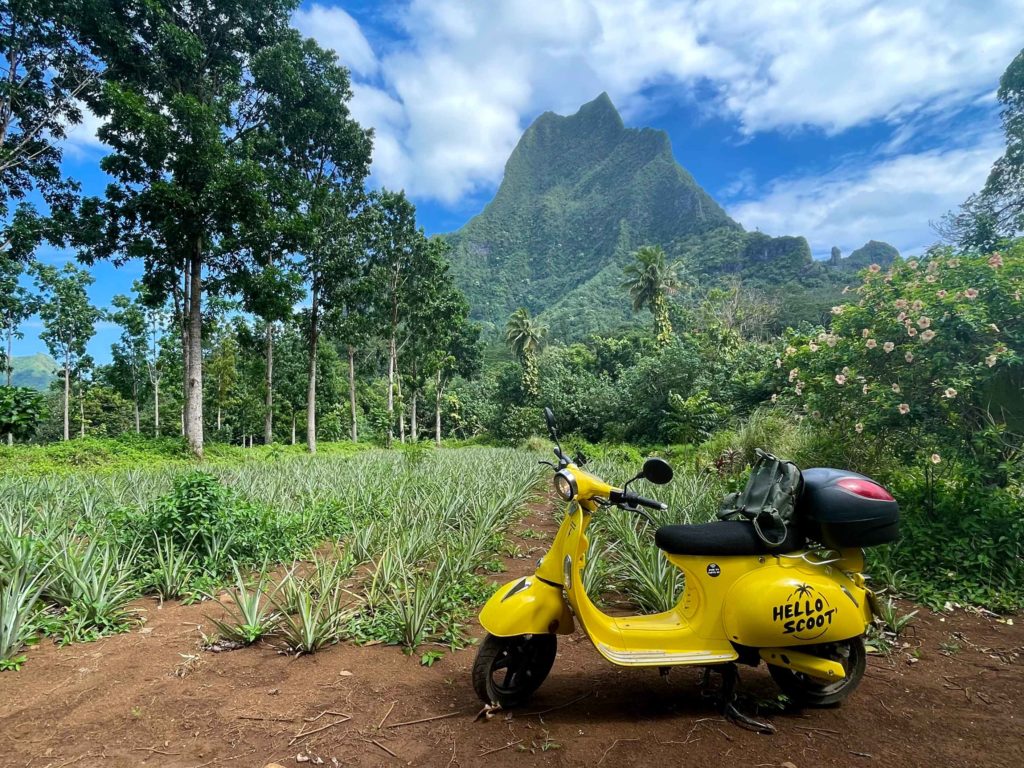 Important Things to Know about Scooter Rentals in Tahiti
According to the Tahiti Tourism Information Center, renting a regular scooter in Tahiti (greater than 50cc or go faster than 50 km per hour) requires an international drivers license with a motorcycle endorsement. Hello Scoot electric scooters are capped at around 50 km per hour, therefore a regular drivers license is ok.
Here are some other things to know about scooter rentals in Tahiti:
Tahitians drive on the right side of the road, the same as the U.S. and continental Europe. Scooters and slower-moving vehicles drive to the far right. It's always a good idea to let fast cars passed you by leaning off to the right where possible.

The maximum speed limit on Tahiti is 60 km per hour. With a Hello Scoot rental that caps out at 50 km, this is not an issue. 

Tahiti has multiple roundabouts or traffic circles, which can be tricky for scooter rental newbies. Be sure to follow the flow of traffic, use your signals, and freshen up on how to drive through a traffic circle if needed.
If this is your first time renting a scooter, French Polynesia's Moorea island is a great place to learn. The roads here are very quiet, especially on the southern side of the island. There's not a single traffic light on the island, and most of Moorea's main loop road has a bike lane, which provides a perfect space for slow-moving scooters or to let the cars pass.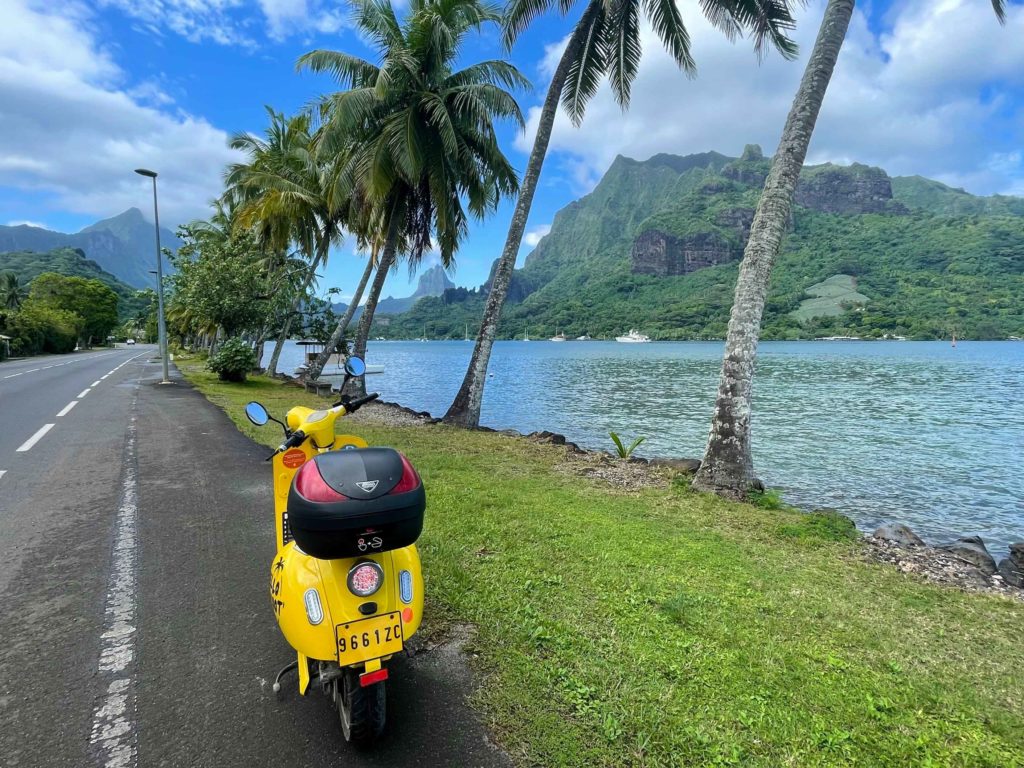 Hello Scoot Rental Requirements in Tahiti
Hello Scoot requires users to
download their Hello Scoot app
to get started. Sign-up is easy and requires a drivers licence/ID, a method of payment, and a selfie. The app is used to turn each electric scooter rental on and off, and reserve scooters for use too. The app can be downloaded before arrival to Tahiti 
here
.
When you travel using Hello Scoot, bluetooth connects the scooter to the app so you can pause and resume your trips. 
To find scooters, and start and end a rental, you'll need to have a wifi connection or data through a local sim card. For safety reasons, for example if you crash or something goes wrong with the scooter, to be able to make a call back to the customer support team (number included in the app) is important too.
I got a simple 1 GB SIM card from the Hello Scoot rental office in Papeete, Tahiti for 1000 XFP or about $10 USD. The VINI brand SIM actually came with more than 1 GB (somewhere around 2.5 GB) and also included 25+ minutes of calling time and unlimited text.

You also must be 18+ years old to rent a scooter in Tahiti.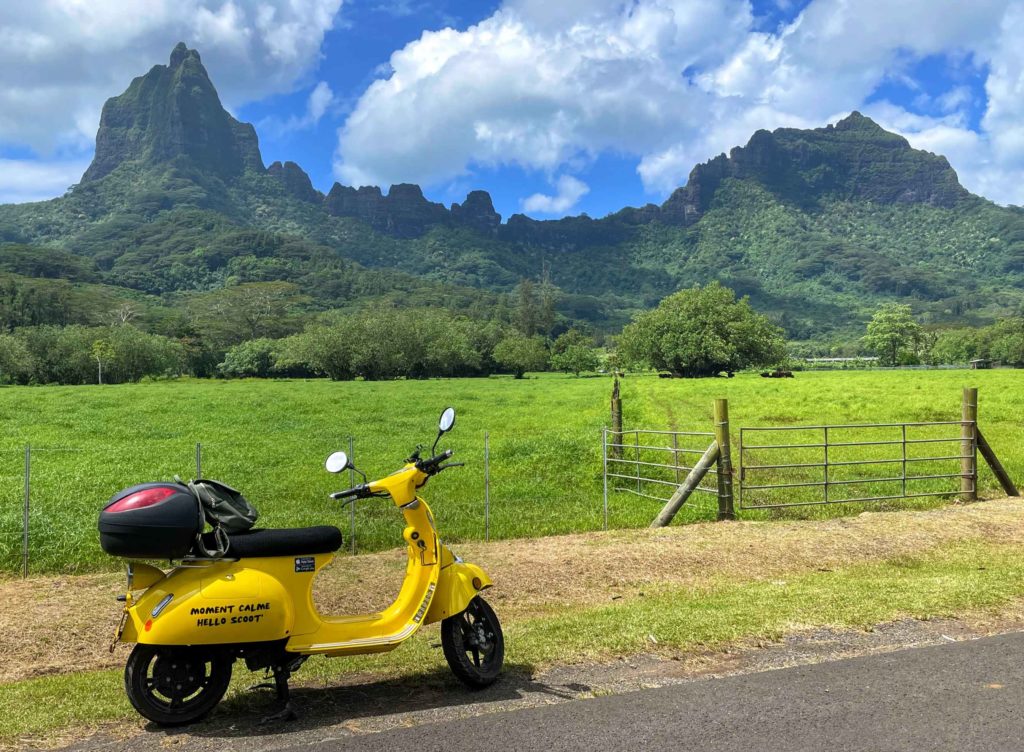 Why Hello Scoot for Scooter Rentals in Tahiti?
Hello Scoot has a fleet of all-electric and solar-powered scooters. Feel good about getting on the road with these eco-friendly scooters. You'll save money on gas too!
Hello Scoot scooter rentals are located around some of Tahiti's main towns: Papeete, Faa'a, and Puna'auia. On Moorea island, they can be found at the ferry terminal in Vai-are. Check the location of scooters available on the Hello Scoot app.
The maximum rate for a 24-hour rental period is 4990 XFP, or about $50 USD. You can also use my code

 739DDOVR and get 1,000 XFP ($10 USD) off 

your first rental! $50 per day is comparable to other scooter rentals in Tahiti. Just remember you have to "pause" your trip once you start riding, instead of "ending" the trip. More about this feature later.
For short trips like popping over to the supermarket, scooter rental costs start at 50 XFP per minute, or 50 U.S. cents per minute.
Helmets are included in the rental price, and each scooter comes with two helmets (one M and one L) in the storage in the back. The bright orange helmets have a drop-down, clear eye shield, which is important to use as eye protection when driving too.
Scooter rentals come with a phone holder on the front of the scooter as well.
The app shows areas in red that cannot be accessed by Hello Scoot scooters. On Tahiti's main island, this includes all of the smaller, eastern portion of the island because it is too far away from the electric charging stations. Dangerous roads, such as the 4×4-only Papeno'o overland trail on Tahiti, is also marked red on the app.
There are no restrictions on Moorea for where you can drive the scooter rental. I was able to loop around the island and reach Belvedare lookout (a bit of a climb) and still used less than 30% of the full battery.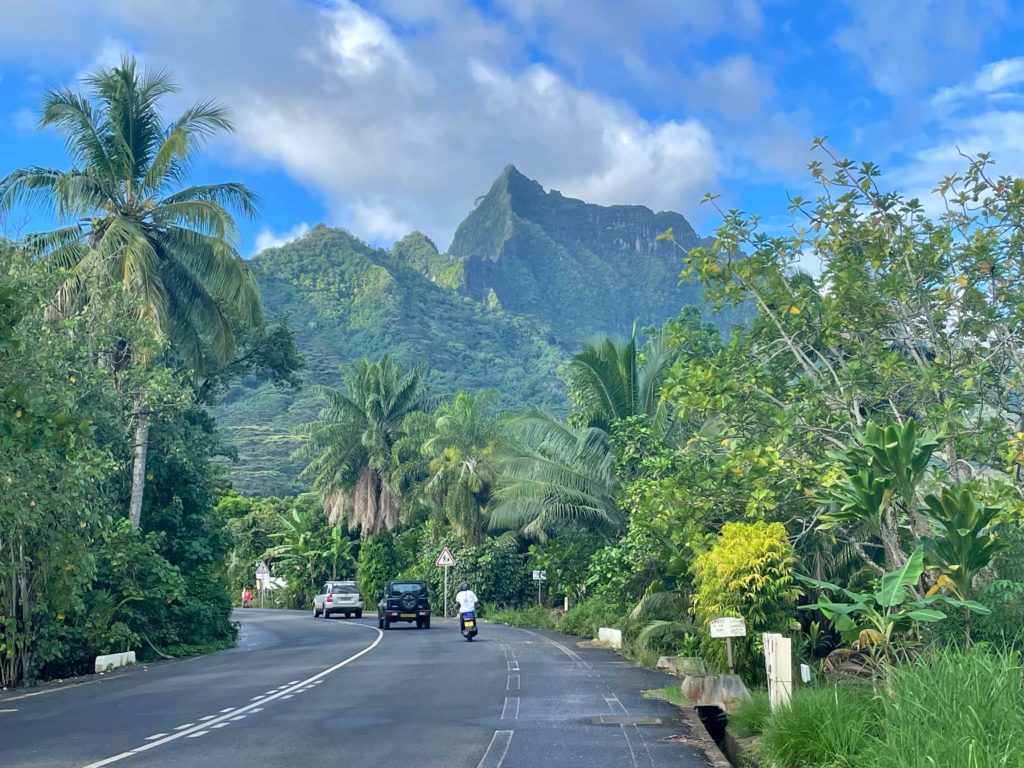 Step-By-Step how Hello Scoot rentals works in Tahiti
Find a free scooter in the Hello Scoot app map.
Book the scooter you want (the app will hold the scooter for up to 20 minutes for you). Consider the distance you plan to travel, and check the kilometers remaining on the batteries of the available scooters.
Stand next to the scooter, at which point the app will give you the option to "Start Your Trip". Click this button.
Take a helmet from the back storage container by pushing the red button in the back. Clicking "Start Your Trip" from the last step will make this container unlock, and you'll be able to take a helmet and store any small things here if needed.
Tilt the scooter forward so it is no longer resting on the scooter stand, and sit on the scooter.
Hold down the front brake for the electric battery engine to start. You'll hear a low rumble and hum and know it's ready to go.
Turn the throttle and hit the road on your electric scooter rental in Tahiti!
Once you're finished with your trip, find on the app a yellow zone or parking icon on the map. You're able to end your trip and leave your scooter rental at any of these locations around Tahiti.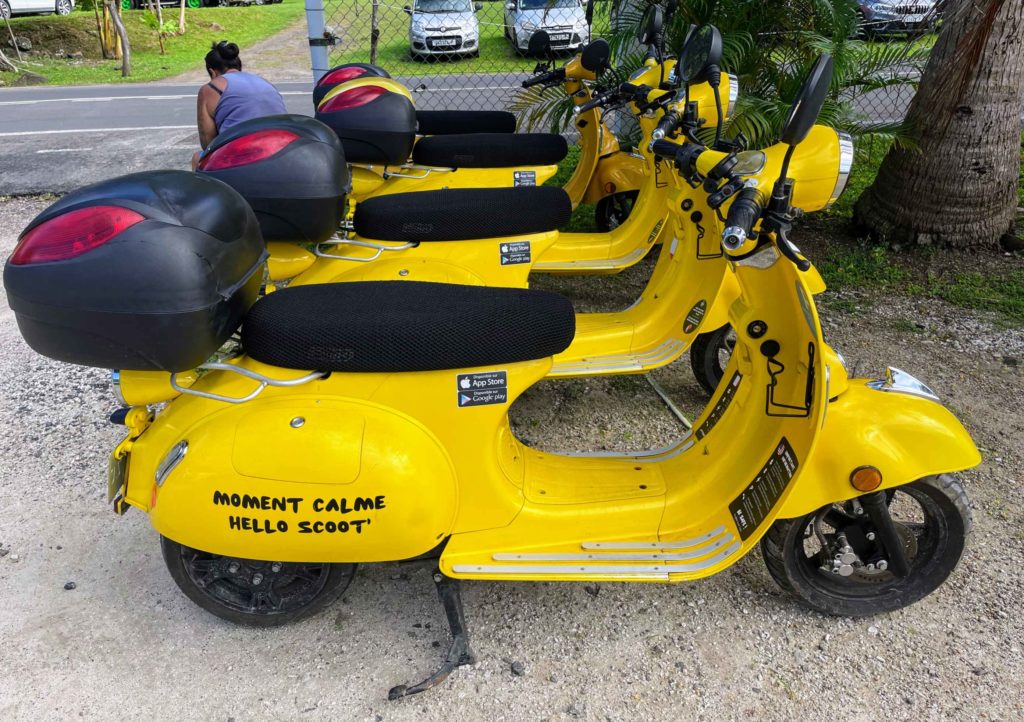 How to make the most of Hello Scoot's Price Caps
Once you've started a trip, PAUSE it instead of ending it
Use the same scooter all day. Replace the battery if needed at a charging station indicated on the app. Replacing a battery takes 1 minute, as advertised by Hello Scoot.
Need the scooter for a longer stay? Hello Scoot also offers monthly rentals. 
If staying in
 Tahiti for more than a week and thinking of renting a scooter multiple days, check out Hello Scoot's weekly and monthly rates shown below.  
You can also use my code 739DDOVR in the app and get 1,000 XFP ($10 USD) off your first rental!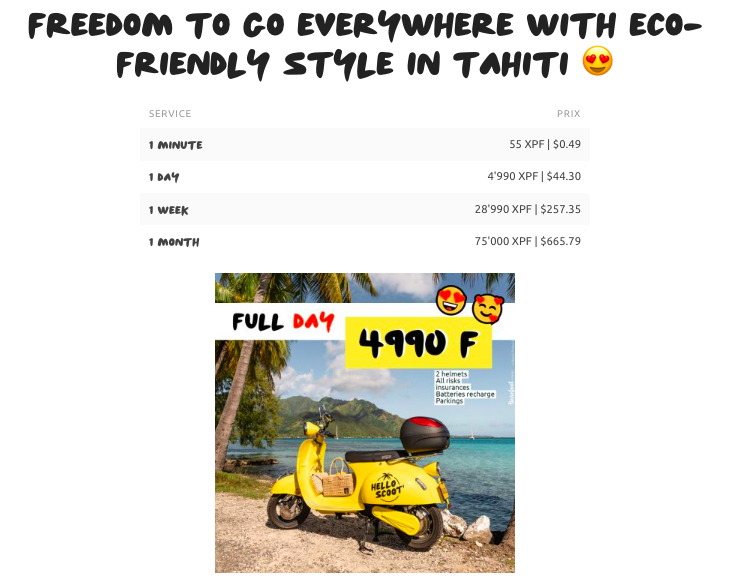 My honest review of Hello Scoot scooter rentals in Tahiti
All dashboard metrics were accurate. Information includes what percentage of the electric battery is remaining, what distance you've covered in kilometers, the speed you're driving, and the distance remaining on the battery. The rental even comes with two helmets, one medium and one large, for people to use.
Information located in the Hello Scoot app include each scooter's location, kilometers of distance remaining on the scooter, and how far away you are from it. You can reserve a scooter through the app for up to 20 minutes if you're making your way over to one.
Downside of Hello Scoot rentals and when to get a gas-powered scooter in Tahiti
The only downside to Hello Scoot rentals is something that all electric scooter users will know. Electric scooters move a bit slower and don't have as much of a "kick" as regular petrol or gasoline-powered scooters. The only other place I've experienced electric scooters was driving around the temples of Bagan in
Myanmar
, and I had a similar experience with the power of the battery. 
If you have a serious need for speed or seek the rumble of a petrol-powered scooter, consider booking other scooter rentals in Tahiti. 
As mentioned above, Hello Scoot restricts drivers from going to the eastern side of Tahiti island too, because of the distance away from the charging stations. If you're trip includes stops here, consider booking a different scooter rental as well.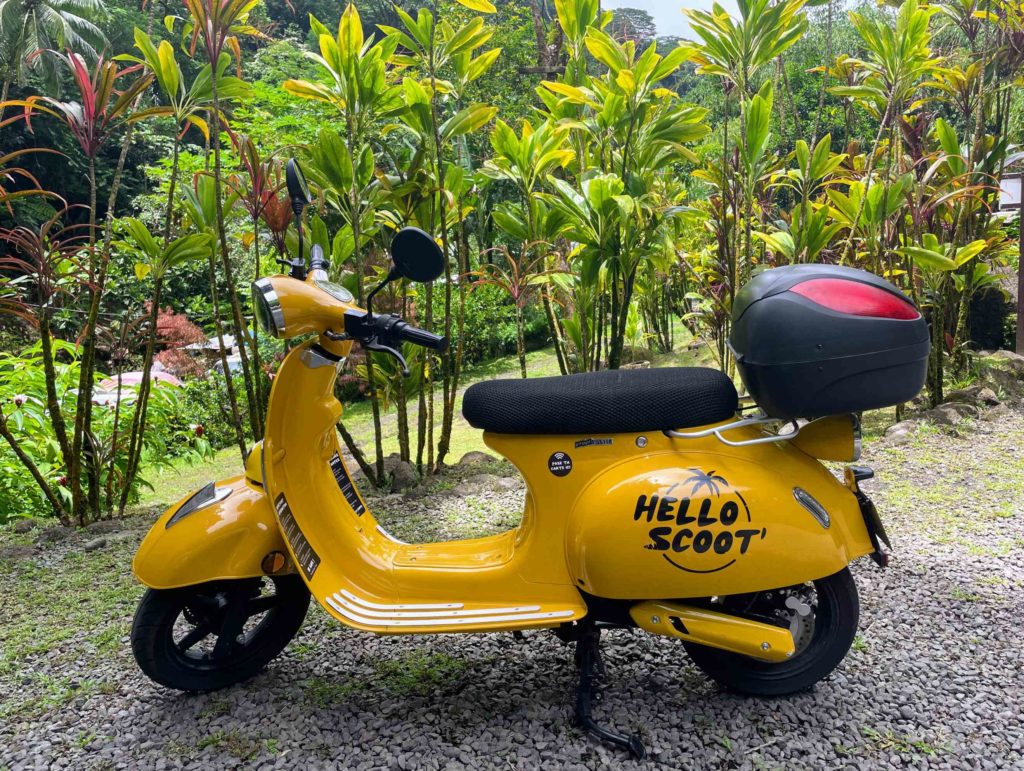 Top Spots to visit with a Scooter Rental in Tahiti
Tahiti Island is a little too large to explore in its entirety using the Hello Scoot electric scooters. However, the north side of the island which includes Papeete, Mahina, and Faaurumai towns, still has plenty to see for visitors renting scooters in Tahiti.
Key stops on a scooter rental ride on Tahiti island's north side include:
Venus Point and Venus Point Beach 
Belvedere du Tahara'a lookout
Three Cascades or the Fa'aruma'i waterfalls
Arahoho blowhole and beach
If you're comfortable scootering through Papeete city's bustling streets, here are a few additional interesting sights in Tahiti. These can also be explored on foot if preferred:
Papeete Market
Tahiti Pearl Market
Robert Wan Pearl Museum
Pa'ofa'i Park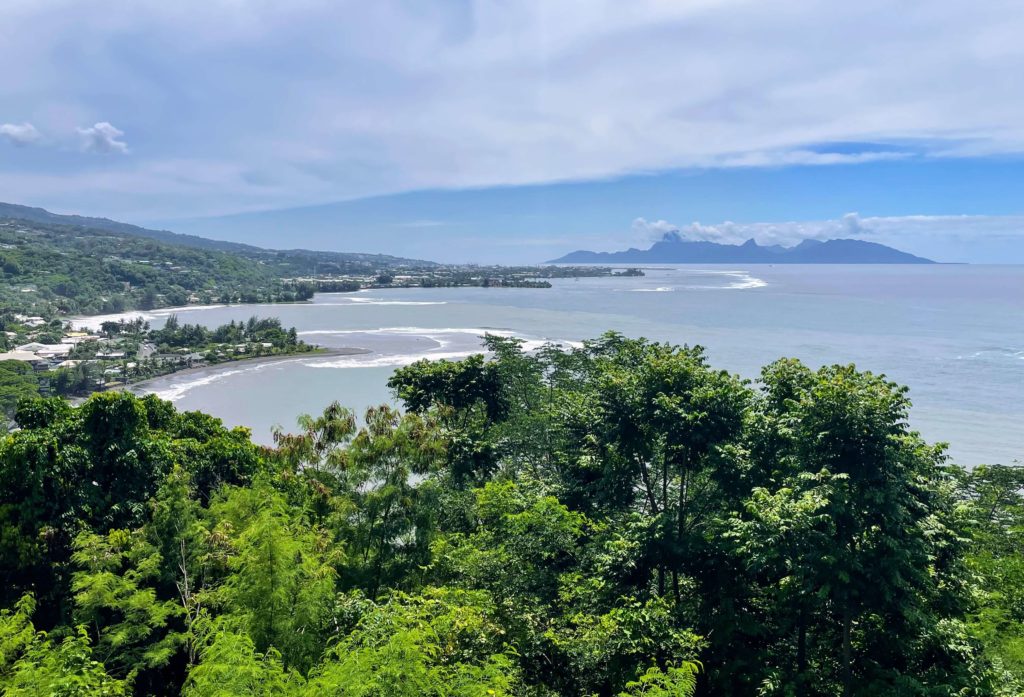 Top Spots to visit with a Scooter Rental in Moorea
Moorea, the island just 30 minutes away from Tahiti by ferry is a popular destination for travelers (and honeymooners!) in French Polynesia. As mentioned above, Moorea is a quiet island perfect for learning how to ride a scooter. One main, paved road loops around the entire island, and a windy, paved road to Belvedere lookout in the mountains is also a popular spot for travelers to scooter to.
During your Moorea scooter rental day, plan on looping around the entire island! I completed my scooter loop in half a day, starting and ending at the Vai-are ferry terminal. 
Key stops on a scooter rental ride in Moorea include:
Belvedere Lookout. The road to the summit is only paved from the West side, so it's best to drive in and out using this road.
Rotui Distillery, Juice Factory, and gift shop
Carrefour supermarket (if you're into exploring foreign supermarkets like me!)
Panorama de Pao Pao, my favorite view of Moorea
Panorama de Temae and Temae public beach
Magic Mountain lookout (hiking required)
Public beaches at the northwest corner of the island – some of the most beautiful views on Moorea.