Brunswick Heads is an incredible off-the-beaten-path Australian town on the northeast coast of New South Wales. "Bruns" is just a 15-minute drive north of Bryon Bay and two hours south of Brisbane. It's known for its pristine beaches, river systems, and laid back local vibes. Whether you're visiting on a day trip or staying overnight, it's helpful to know some of the best things to do in Brunswick Heads. 
I absolutely love this town and stopped here during my Sydney to Brisbane road trip and on more than one Brunswick Heads and Bryon Bay weekend. Here are some of my top things to do in Brunswick Heads!`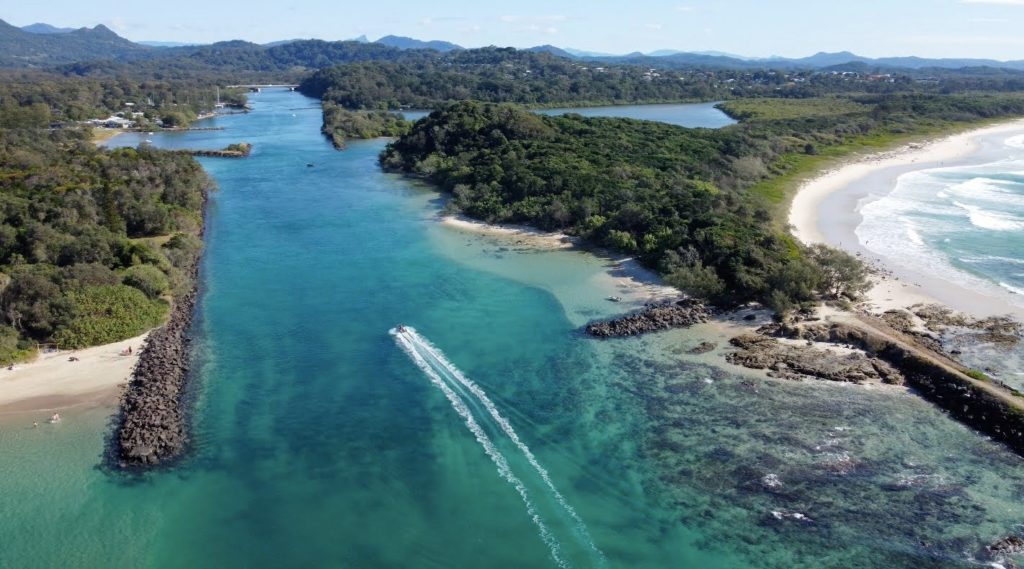 First... where to stay in Brunswick Heads
Before you start ticking off these 20 things to do in Brunswick Heads, consider staying overnight to make the most of your trip. Number one on my list of things to do in Brunswick Heads (watch the sunrise) basically requires an overnight stay! It's important to book ahead if you plan on staying over night, especially on weekends. As a small town, accommodation options at Brunswick Heads are limited and fill up quickly.
Here are some recommendations for where to stay in Brunswick Heads: 
Chalet Motel (mid-range) – a trendy motel located on the south side of town, close to the bottle shop and walking distance to all of the best things to do in Brunswick Heads. We stayed here and loved the aesthetic touches. 
The Brunswick Hotel (mid-range) – not the be confused with Hotel Brunswick (more about that below), this hotel is located on the north side of town. Beautifully renovated with a pool on-site, this accommodation option will transport you straight into vacation mode.
Rent your own beach houses (luxury) – if you have the budget or the large crew to afford your own house, check out the many private beach houses that you can rent along South Beach Road on Airbnb. This puts you steps away from the ocean, and close to town too!  Check options like the Terrace Penthouse Apartment or 8 South Beach Lane Riverhouse.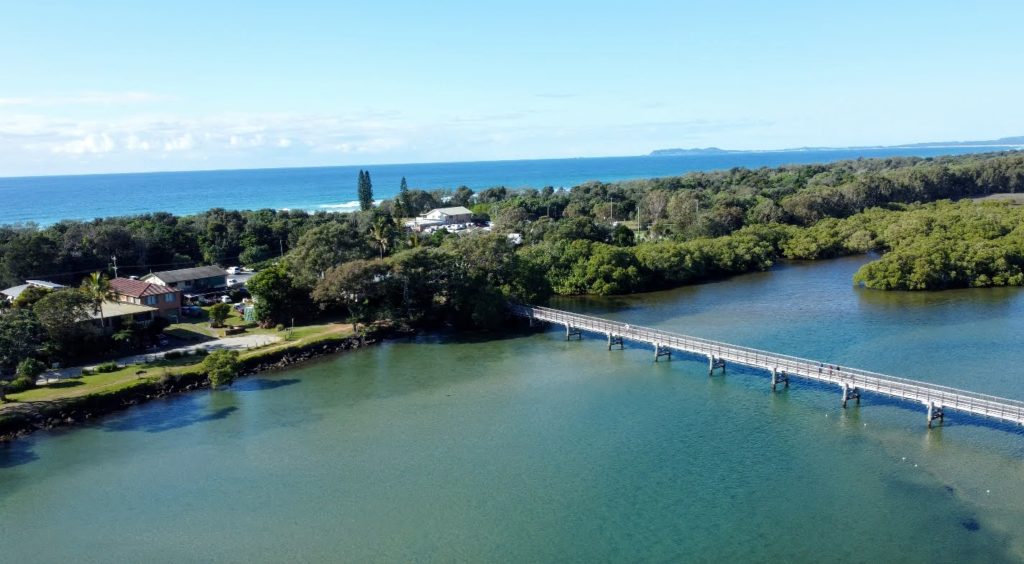 The only budget accommodation options near Brunswick Heads takes you down to Byron Bay, which has a variety of youth hostels. Book a dorm bed at Cape Byron YHA or Byron Bay YHA then drive 15 minutes north to spend time at Brunswick Heads, NSW. 
If you're driving your own self-contained van around Australia, you'll find many quiet streets and parking lots around Brunswick Heads to spend the night. Just be sure to adhere to signs posted with parking hours and camping restrictions. 
20 Things To Do In Brunswick Heads, Australia
1. See the sunrise at Brunswick Heads Main Beach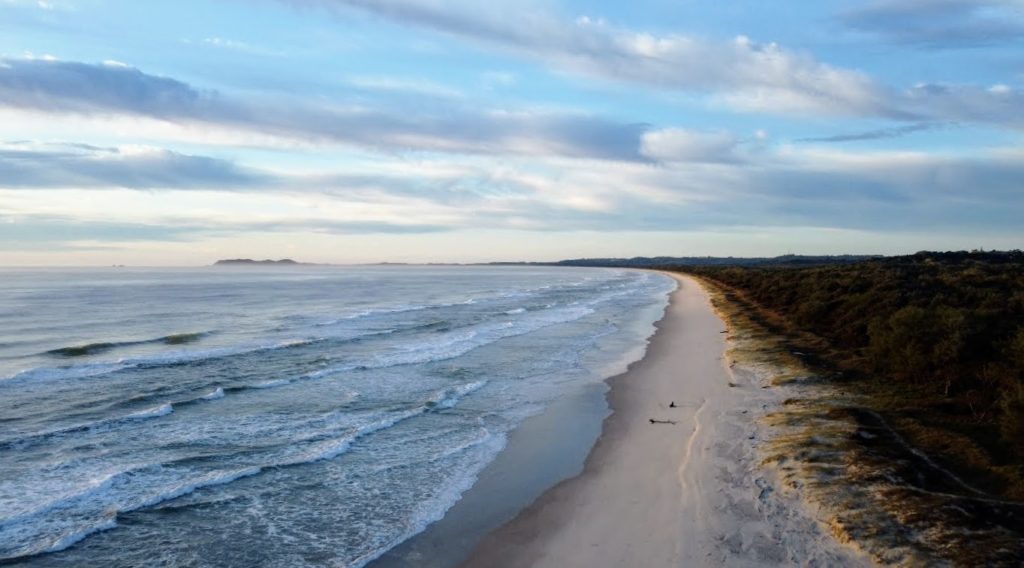 If you've stayed overnight, one of the best things to do at Brunswick Heads is to enjoy the sunrise at Brunswick Heads Main Beach. The beach is extremely accessible from Bruns town, and is only a 5-15 minute walk or 2 minute drive from most accommodation options. Any beach alongside coastal Australia is a great place to enjoy a sunrise, but Brunswick Heads feels especially serene.
When I was here for sunrise there were hardly any people on the massive stretch of beach. I didn't see any kangaroos, but I saw the footprints of some along the sandbanks where they were chilling before the humans arrived.
Just as beautiful as the sunrise is the sunset on the beach (although a bit more crowded and with the sun behind you). I highly recommend planning your Brunswick Heads itinerary around a sunset or sunrise at the beach.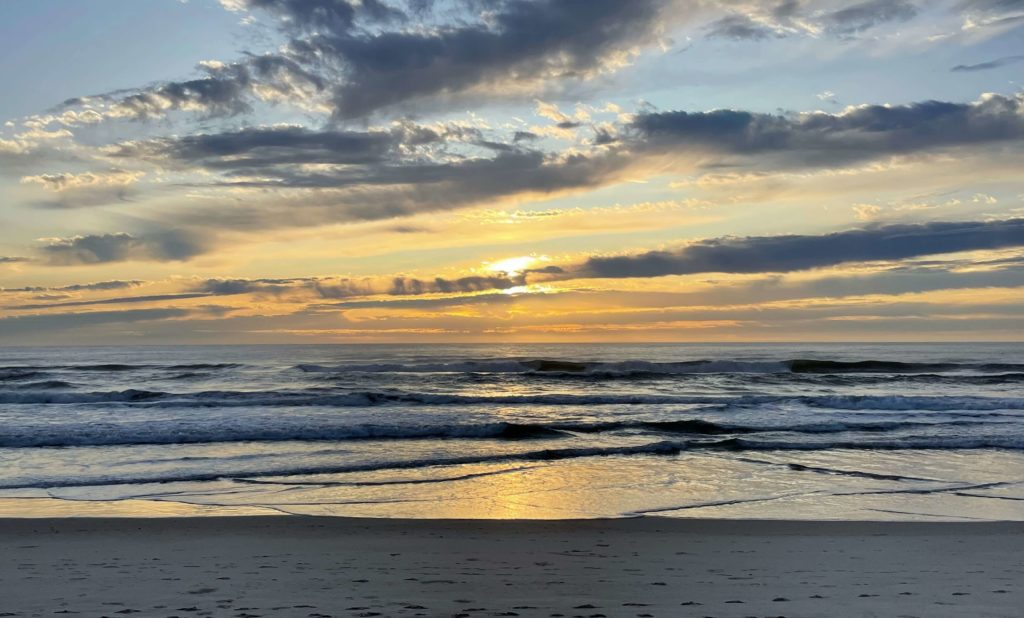 2. Have a coffee and a catch-up at Old Maids
Anyone driving through Brunswick Heads will notice a large number of people hanging out around Old Maids cafe. Located just off the main road, Tweed Street, this popular cafe and lunch spot is known for its trendy interior, cozy exterior, and friendly staff.
Stop by for a morning coffee or fruit juice, or visit for lunch and get a delicious smoothie and burger.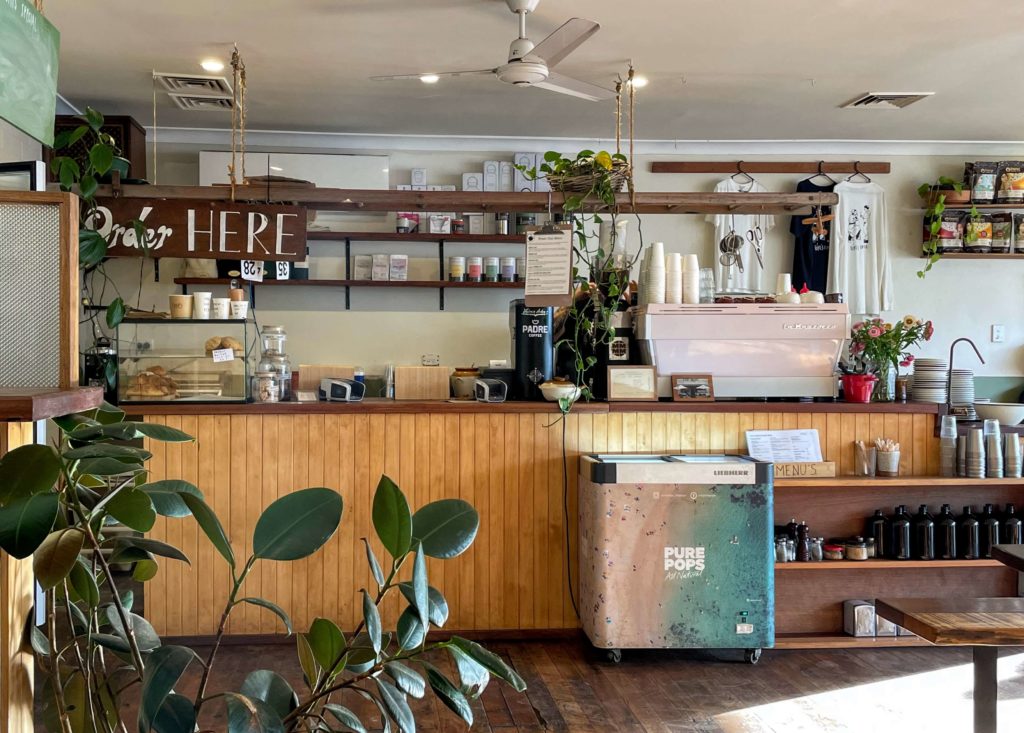 3. Get a pie or pastry from Bruns Bakery
One of the claims to fame of Brunswick is its amazing, massive bakery: Bruns Bakery. Stopping here for a pastry, pie, sandwich, or a sweet treat is undoubtedly a top thing to do in Brunswick Heads. 
Although the crowds are large, the efficient crew will make sure your order is out in the blink of an eye. The bakery is open from 6am to 3pm every day, so a perfect place to stop by after enjoying a sunrise on the beach. 
4. Have a drink and enjoy live music at the Hotel Brunswick
One of the top things to do at Brunswick Heads is visit Hotel Brunswick, a historical building located at the eastern side of town. The hotel was established (and pub license attained) in 1884, and the building as it stands today has looked similar since the 1940's. 
Hotel Brunswick is steps away from the Brunswick River and a short stroll to the beach and a number of the town's parks and playgrounds. Whether you visit here with kids for lunch during the day or join for the beer garden vibes and live music after dark, you'll easily spend hours here soaking in the small-town culture. 
Check out the live music line-up of local bands at the Hotel Brunswick website here.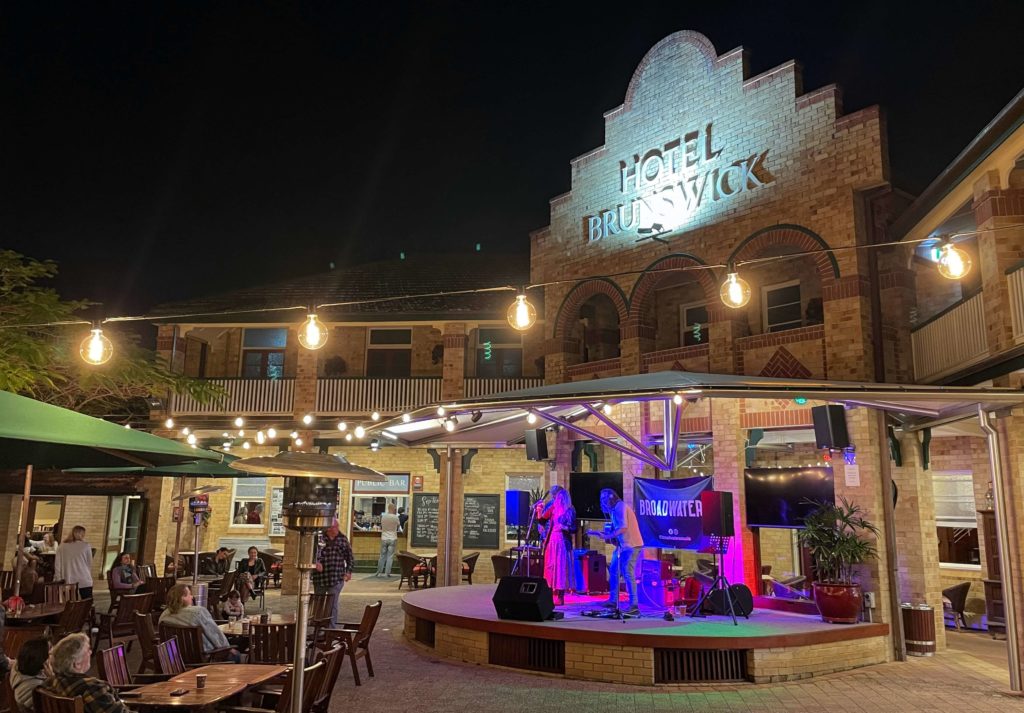 5. Snorkel, Swim, or Relax at the beach
Brunswick Heads has two amazing beaches that you can spend days at. The largest and most well-known is Brunswick Heads Main Beach. It has a surf life savers club and lifeguards building, even a dog beach section. A 2.5-hour walk south will even connect you to Byron Bay's main beaches! One unique feature on the main beach is the driftwood structures that are located near the main parking lot. 
A smaller beach just as accessible from town is Torakina Beach, located at the end of Brunswick Heads car bridge and South Beach road. Because Torakina beach faces the Brunswick River instead of opening directly to the ocean, it's a calmer beach great for visiting with kids, snorkeling, or learning how to stand-up paddle board. 
Tip: Rent a SUP from Brunswick Buccaneers and bring it here (things to do in Brunswick Heads #9)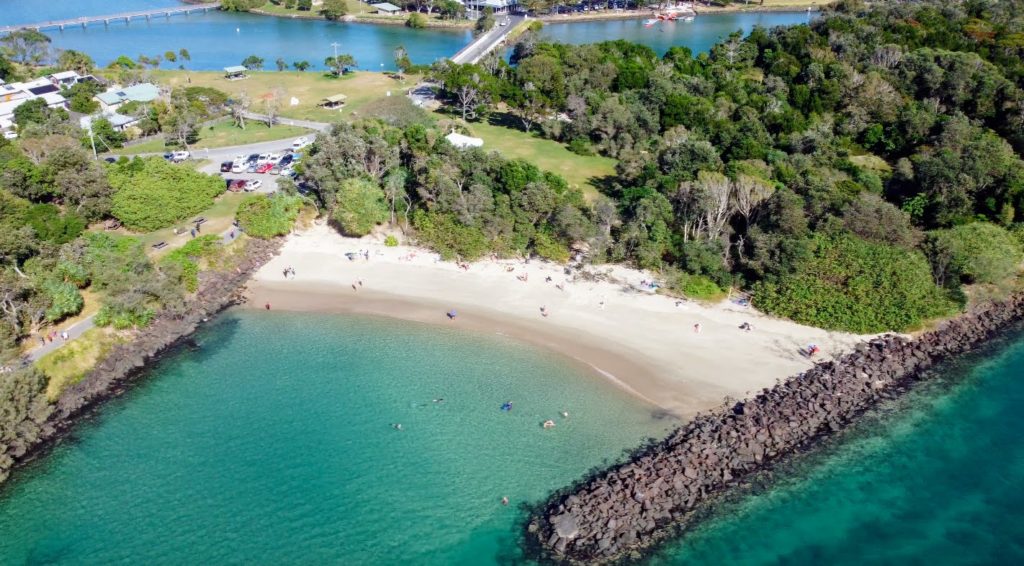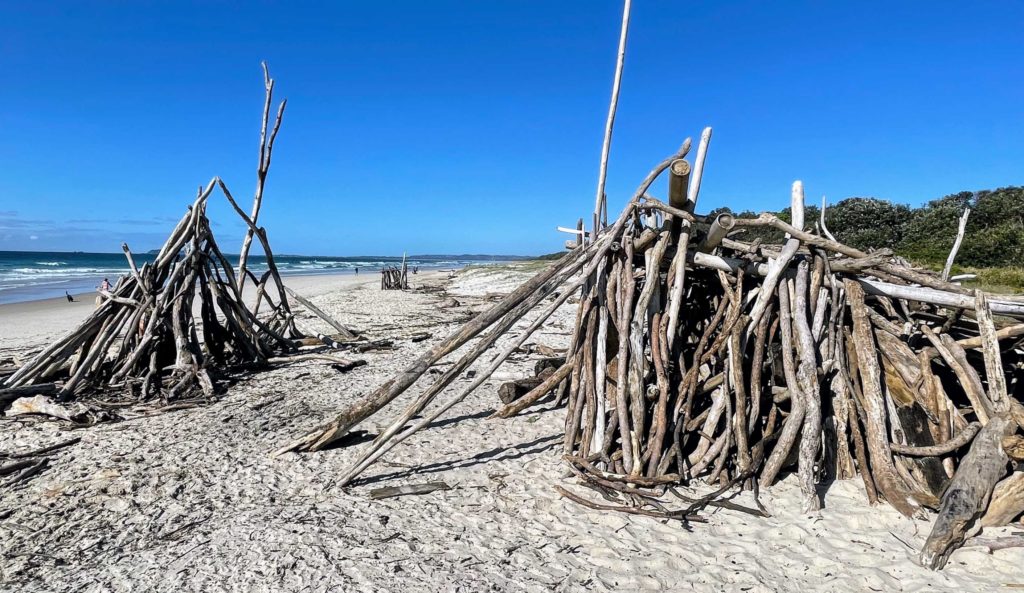 6. Cool off in Simpsons Creek
One of the greatest natural attractions at Brunswick Heads is Simpsons Creek, a beautiful river that runs parallel to the ocean for a number of kilometers. At the right time of the day when the sun is straight overhead, Simpson Creek shines a brilliant turquoise color. 
Swimming in the river, or even admiring it from the town's two main bridges, is one of the top things to do in Brunswick Heads. Simpson Creek is easily accessible from a number of parks that border it, especially at South Beach Park and Terrace Park across the river from each other. 

Because the creek is so calm and shallow (especially during low tide) there are some sections where even toddlers will only be in water up to their knees!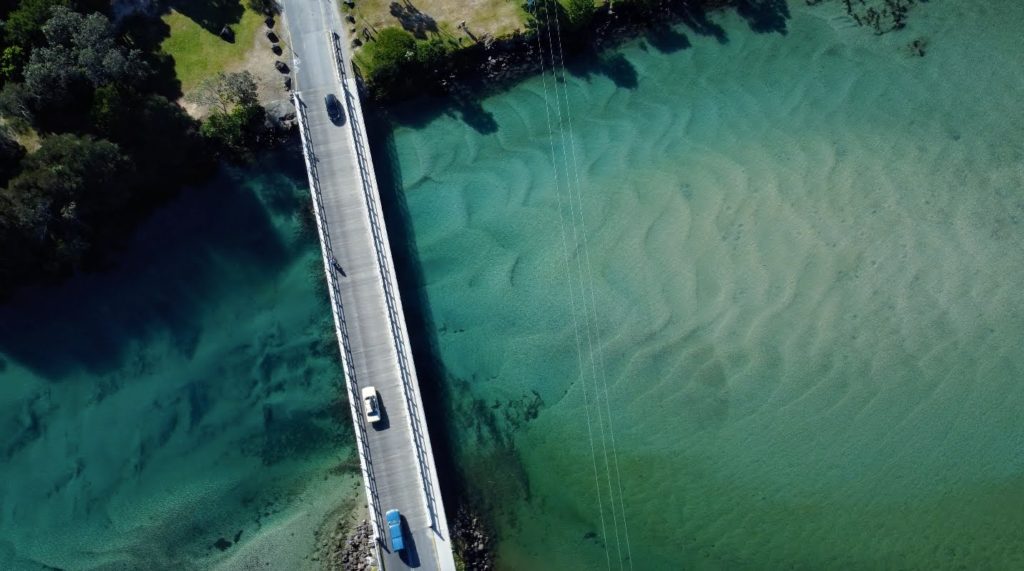 7. Go Vintage and Thrift Shopping
Brunswick Heads is one of the many stops along the 
Northern Rivers Secondhand and Collectables trail
, which spans northeastern New South Wales from Ballina to Murwillumbah. Bruns has a number of wonderful vintage and secondhand stores to buy some real gifts and treasures. One of the most popular of these is 
Fabulous Mrs. Fox
, a eclectic store located across from Bruns Bakery. It's an amazing place to buy the perfect gift for all interests and hobbies.
Nearby Fabulous Mrs. Fox I loved the "Whatever" store, which is a budget-friendly store selling things like sarongs, hippy pants, crystals, incense, and more. It's the only place in Australia where I've seen tapestries, woven rugs, and drawstring bags from India or Southeast Asia being sold at a reasonable price.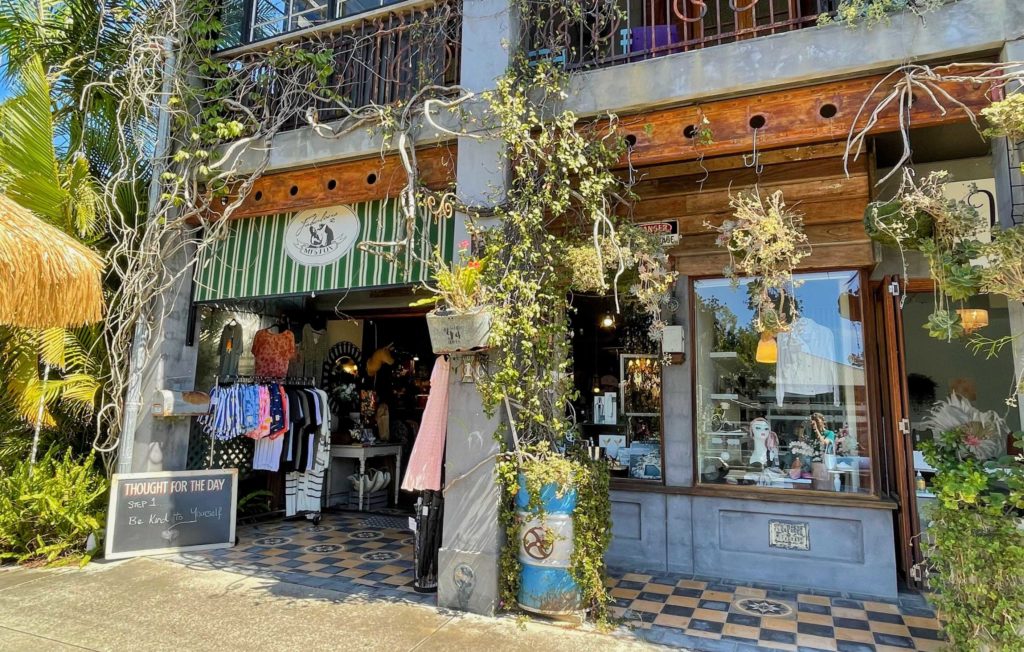 8. Visit the Bowling Club
A classic Aussie activity for people of all ages and all walks of life is going to the bowling club, or "bowlo". Bowling clubs in Australia are conventionally places to hold community events and play some lawn bowling They have become a great place to have a cheap meal and a casual night out with the locals too. 
Brunswick Heads is no different, with the beloved Brunswick Heads Bowling Club being a favorite place for visitors and townies to grab a $10 "Bruns Bowlo" lunch, $5 beer, and have a yarn with some new mates.
9. Rent a paddle board or kayak from Brunswick Buccaneers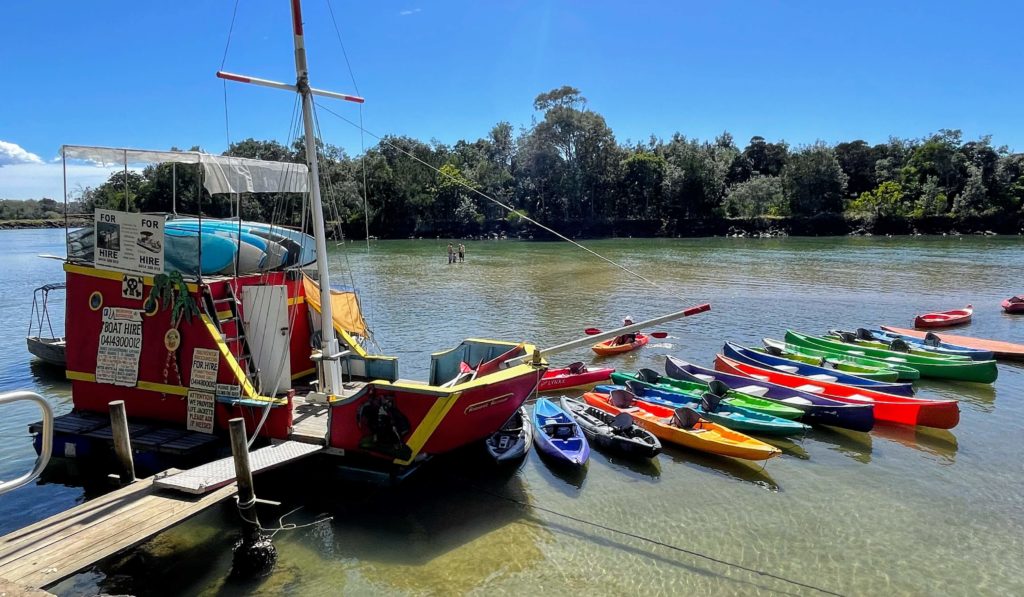 One of my all-time favorite things to do in Brunswick Heads is renting a kayak to paddle down the Brunswick River or Simpsons Creek. Brunswick Buccaneers is located in a quirky red boat docked in Simpson Creek just across from the Hotel Brunswick. Because of how calm and shallow most sections of the creek are, Brunswick Heads is a great place to learn how to kayak or canoe. 
Attached to the Brunswick Buccaneers boat is a number of 1- and 2-person kayaks, canoes, and even small motorboats. An attendant is usually at the Buccaneers boat to rent from directly, otherwise there is a phone number on the side of the boat to call. Rental prices differ based on the boat required and the number of hours you rent for. We rented a 2-person kayak for one hour, and it cost $30 AUD ($20 USD). 
In addition to awesome mangrove forest views, we saw a number of small stingrays and other fish in the water below us.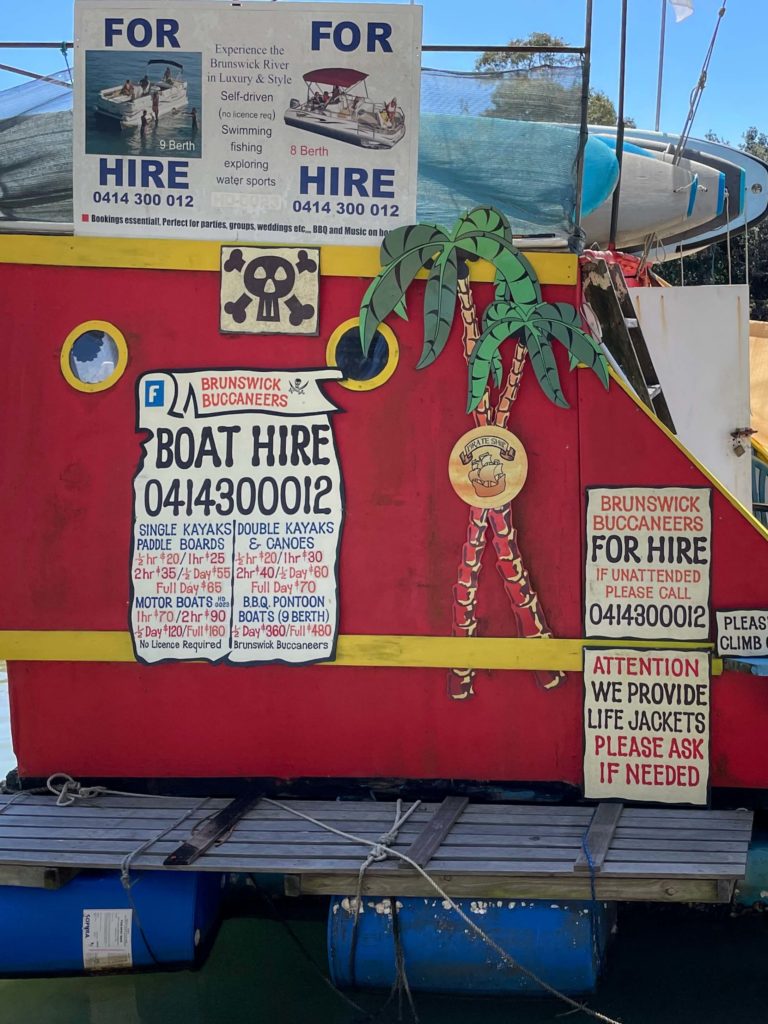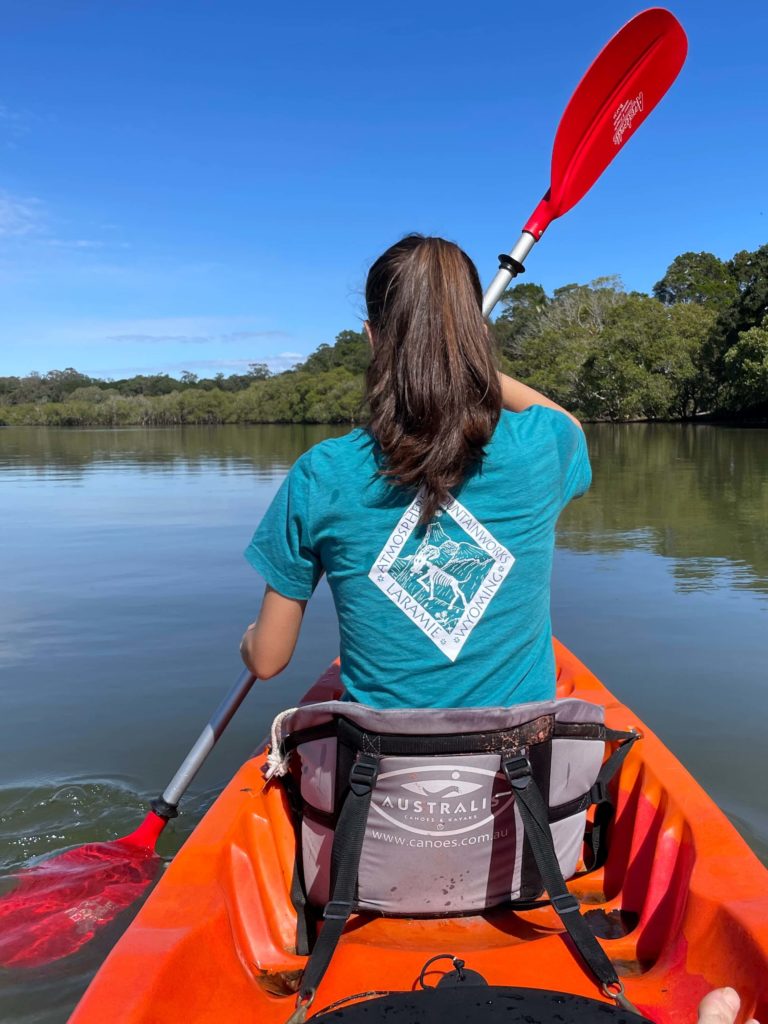 10. Visit Bruns Video, a video rental store
I could not have been more surprised when I walked by this amazing little store, so I had to include it as one of my top things to do in Brunswick Heads. Although Blockbuster went bust over a decade ago (no pun intended), Brunswick Head's video rental store is still going strong thanks to the loving community that supports them. Bruns Video is often featured in local news stations for being one of Australia's last open video stores. 
Support this independent business by renting a video (if you still have a DVD player that is), or just by purchasing a DVD, book, cold drink, or other souvenir that they have in their window.
11. Catch a show at the Brunswick Picture House
If staying the night at Brunswick Heads, be sure to check out what events are going on at the Brunswick Picture House. What used to be an abandoned building was restored in 2016 to become a cultural and artistic hub for Brunswick Heads.
The Brunswick Picture House hosts a mix of events, from "cheeky" cabarets, to concerts and comedy shows, movie showings, and family-friendly shows too. 
Since space is limited, be sure to check their events page and book tickets ahead of time. 
12. Visit the Brunswick Local Markets
Brunswick Heads hosts an eclectic market on the first Saturday of every month at Memorial Park. The Brunswick Heads Markets bring together vendors from up and down the New South Wales and even from Queensland too. Buy some fresh produce, try some amazing food truck snacks and coffee, and purchase locally made products here. 
Visiting the local market is an unmissable thing to do in Brunswick Heads if you're visiting on the first Saturday of the month. If you're visiting on another weekend, check whether a nearby Byron Bay market is happening. 
13. Join a Whale Watching or River Cruise
During the months of May to October, humpback whales migrate off the coast of eastern Australia. Joining a whale watching tour to go see these spectacular creatures is one of the top things to do in Brunswick Heads, and all of eastern Australia, during these months!
One benefit to whale watching in Brunswick Heads over places like Noosa or the Gold Coast is that the boat harbor is located right next to the ocean. A 3-hour whale watching tour from Brunswick Heads actually means three hours on the ocean, not 2 hours plus 1 hour getting in and out to the ocean. Check out the tour company Blue Bay Divers whale watching for schedules and prices. 
If you're visiting Brunswick Heads outside of these months, consider joining a river cruise to admire the mangrove marshes and beaches located inland! Cruises run from Brunswick Harbour in the mornings or at sunset. 
14. Walk the local trails
Things to do in Brunswick Heads don't only revolve around the town and the water. Turn inland and explore some of the area's coastal trails and nature reserves.
The Brunswick Heads Nature Reserve is a great place to spend some time in the outdoors under a canopy of gum trees. Visitors can take part in birdwatching or hiking along the North Head track, which ends across the Brunswick River from Torakina Beach. You might even see a (non-venomous) carpet python!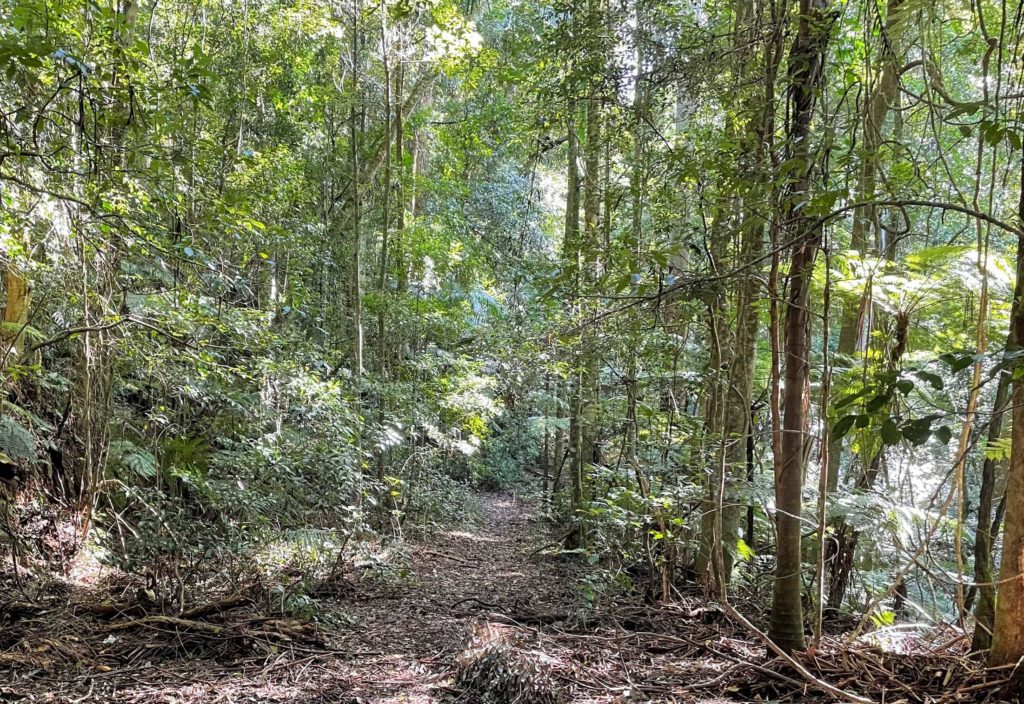 15. Ride horses on the beach
One interesting sight at the Brunswick Heads dog beach is the presence of another 4-legged animal: Horses! Riding on horses while they walk through water on the tranquil Brunswick Heads beach, is surely an experience you'll never forget.
Located conveniently next to the beach just behind the surf club parking lot is Seahorses Byron Bay. Both group and private rides are available, and last from 30 minutes to 1.5 hours on the beach and through native bush trails that connect to the beach.  
16. Have a picnic at the park or by the river
Brunswick Heads visitors and locals are spoiled by the number of open green spaces the town has, many of them right next to the scenic Simpsons Creek.
For this top thing to do in Brunswick Heads, pack a few pastries from Bruns Bakery, a coffee from Old Maids, and a sarong from Whatever gift shop to use as a picnic mat (all places on my list of top things to do in Brunswick Heads) and have a picnic at one of the town's many grassy parks, along the river, or even the beach.
If you'd rather not DIY a picnic, check out Byron Bay Picnics or the Picnic Portal for beautiful catered picnics. Both companies offer special picnic baskets, blankets, umbrellas, and more that can be delivered to Brunswick Heads for you. This option lets you sample locally made produce, dips, cookies, and other nibbles as well. No clean-up required!  
17. Have dinner at the Honour Brunswick Heads
Having a quaint European-style dinner by the river might be one of the best things to do in Brunswick Heads. Honour Brunswick Heads restaurant provides just that with 5-star service and natural wine pairings. This highly rated restaurant is one of the best in Brunswick Heads, and is located right next to Simpsons Creek in the heart of town. 
Other highly rated restaurant options for dinner in Brunswick Heads include Park Street Pasta (Italian), Saint Maries (Pizza), and Cadeau (European). 
18. Stop by the Visitor Information Centre
Find the most up-to-date and seasonal recommendations on things to do in Brunswick Heads at the Visitor Information Centre. The visitor center here has a number of maps, pamphlets, and of course the friendly recommendations from the local who volunteer there. If you're looking for information on the Nature Reserve, river cruises, or even the Northern Rivers Secondhand and Collectibles trail, ask here! 
The Bruns Visitor Information Centre has some unique Brunswick Heads-themed gifts as well, and were doing a book sale when I visited.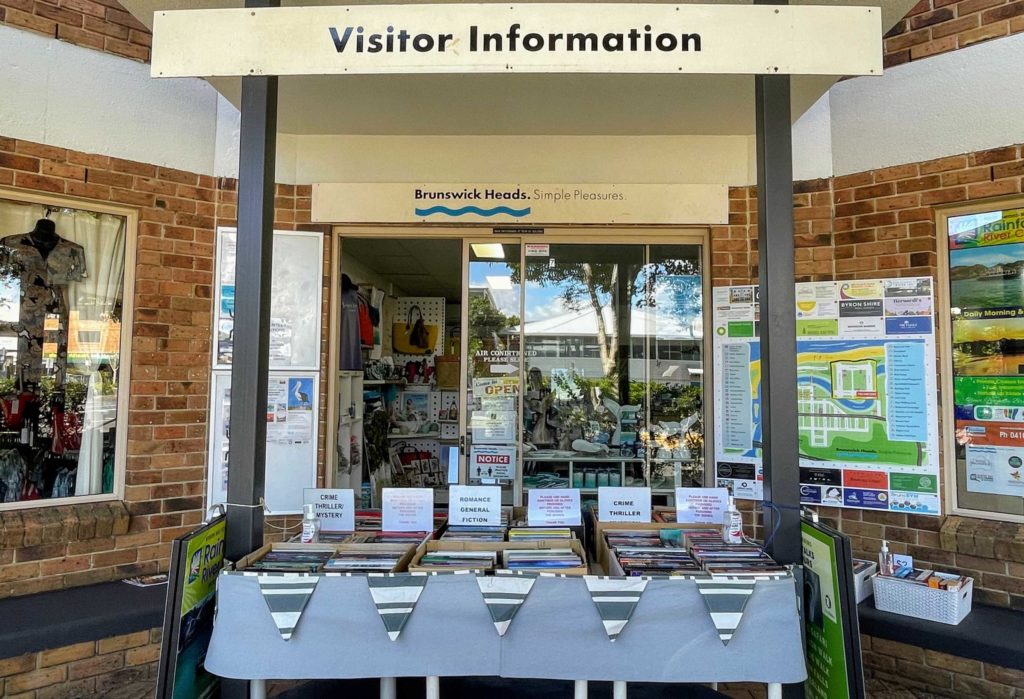 19. Check out the Community Bulletin Board
There are countless other things to do in Brunswick Heads if you look in the right places and ask the right people. A good place to start after the Brunswick Visitor Information Center is the community bulletin board located outside of the Brunswick Heads library. Workshops, concerts, classes, and more happening in the area can be found here. 
These events can take place anywhere from Byron Bay to inland Mullimbimby, and can range from yoga and meditation classes to comedy shows and rock concerts. Find some of the best things to do in Brunswick Heads, any time of the year, at this bulletin board.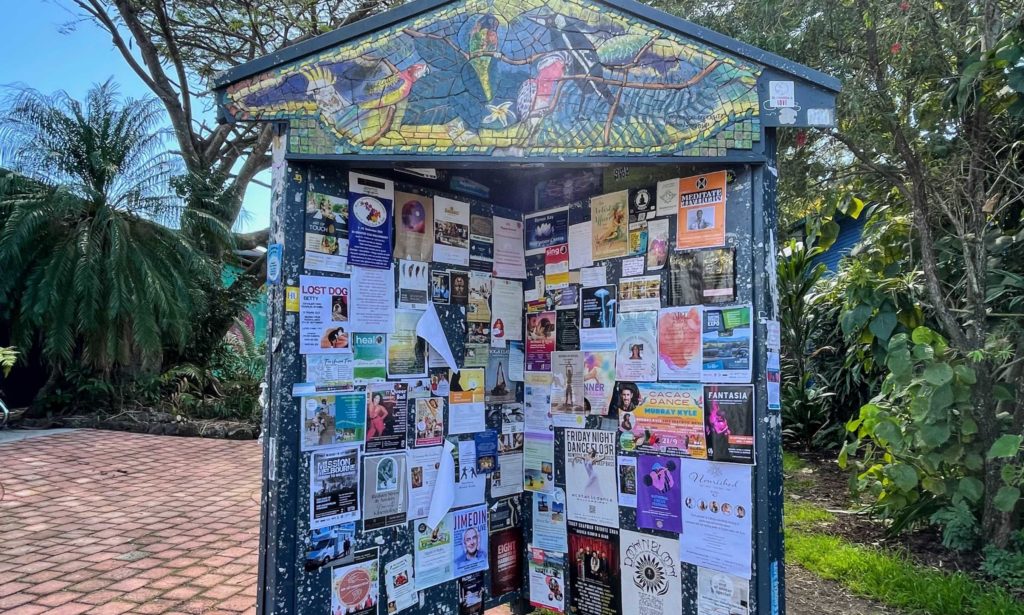 20. Day-trip to Byron Bay
If you're spending multiple days in the area (when
driving from Brisbane to Sydney
for example) visiting nearby Byron Bay is a great thing to do when in Brunswick Heads. Byron Bay is a much larger surfing town, known for its trendy shops and cafes, beautiful coastal views and nature reserves, and the iconic Byron Bay lighthouse. It's a great place to go dolphin and sea turtle spotting as part of a
sea kayaking tour
! 
From Brunswick Heads, it's only a 10 minute drive to the popular
Farm Byron Bay
where visitors can see a farm-to-table operation at work. Have lunch or buy some local produce at the
Three Blue Ducks
restaurant and attached deli, and picnic on the 800-acre farm. 
Other great places to spend time in Bryon Bay are the industrial district where the
Stone & Wood Brewery
is located, the
Cape Byron State Conservation Area
and Byron Bay Lighthouse, and frankly anywhere in town or at the famous Byron Bay beaches.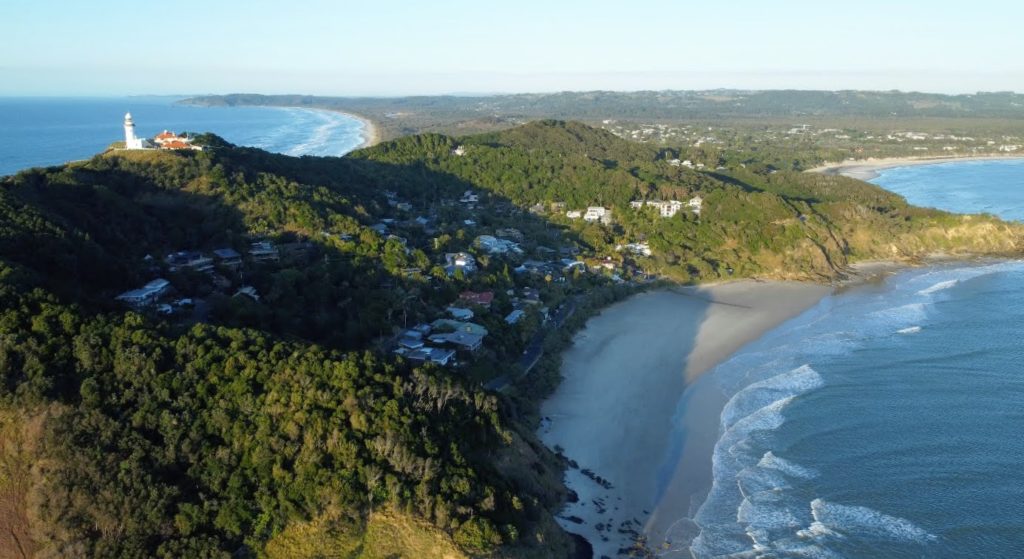 That's all for my top 20 things to do in Brunswick Heads! I hope this post will inspire you to try some new experiences and see some new sights on your next visit to Brunswick Heads, Australia.