The
road trip from Sydney to Brisbane
is a classic bucket list activity in Australia for both locals and travelers. With countless incredible towns, scenic beaches and dramatic coastlines to explore, planning a Sydney to Brisbane road trip itinerary can be a real challenge! 
If deciding where to stop wasn't difficult enough, choosing how many days to spend on the drive from Sydney to Brisbane is another important question too.
In 2022 I spent 7 days driving from Sydney to Brisbane on an epic road trip adventure. The itinerary below reflects the stops we made and the sights we saw, recommended by a local (Marty). Marty grew up around Sydney, Newcastle, and Lake Macquarie, and spent years exploring the New South Wales to Queensland coastline. This
7-day Sydney to Brisbane road trip itinerary
 is the exact path we took on our road trip, and is based on our favorite towns, campsites, and viewpoints. 
YouTube video
 coming soon!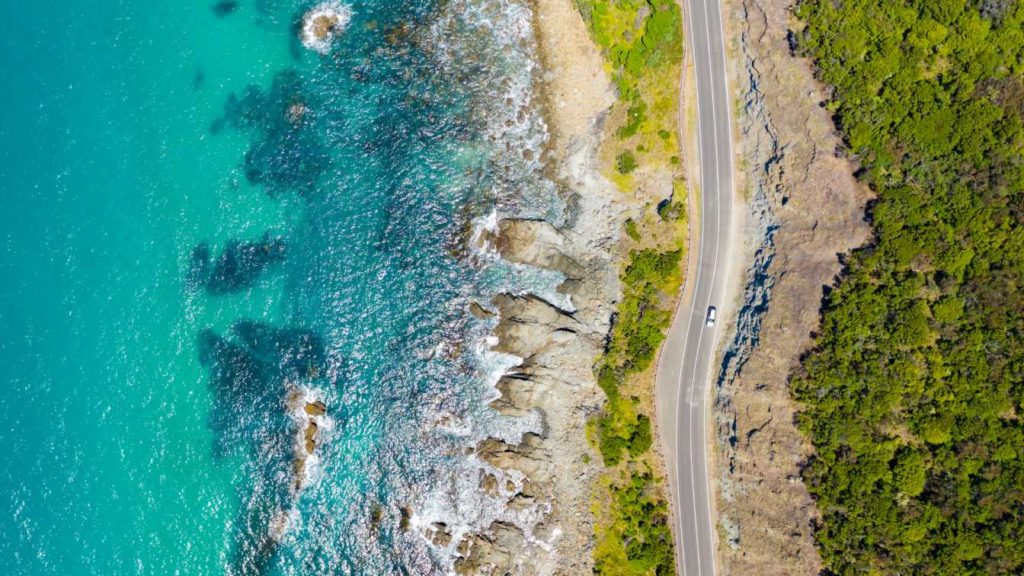 Over 7 days driving from Sydney to Brisbane, be prepared to experience beautiful beaches, scenic coastlines, and one-of-a-kind Aussie towns. Here's the best Sydney to Brisbane drive itinerary, recommended by a local!
Day 1 – Sydney to Swansea (Lake Macquarie)
Day 2 – Swansea to Newcastle
Day 3 – Newcastle to Diamond Head Campground
Day 4 – Diamond Head to Coffs Harbour (stops in Port Macquarie, Hat Head, and more)
Day 5 – Coffs Harbour to Brooms Head
Day 6 – Brooms Head to Byron Bay
Day 7 – Byron Bay to Brisbane
By taking one week of of work in Brisbane, we were able to spend a weekend in Sydney and then 7 days road tripping from Sydney to Queensland. If backpacking around Australia, spending seven days driving from Sydney to Brisbane allows you to explore many of the highlights of the coastline. 
It's also the perfect amount of time for people working full-time in Sydney, the Gold Coast, or Brisbane, to be able to see the best of Australia's East Coast.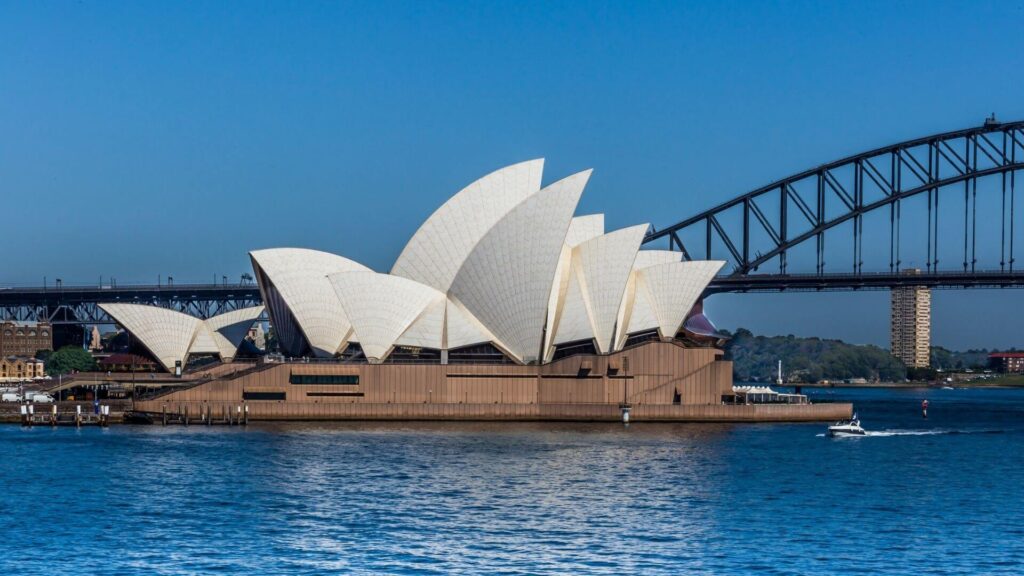 Road Trip from Sydney to Brisbane Itinerary
Day 1 - Sydney to Lake Macquarie
The first stop on this 7-day Sydney to Brisbane itinerary is a local gem recommended by Marty. Nearly every other Sydney to Brisbane road trip will recommend going straight from Sydney to Newcastle or Sydney to Hunter Valley, a famous wine region in Australia. One unmissable stop on our itinerary though that I highly recommend, was Lake Macquarie including Caves Beach and Swansea.
Lake Macquarie is an hour and a half's drive's north of Sydney. The lake is Australia's largest, coastal saltwater lake. It's a popular getaway destination for Sydney and Newcastle locals, and one of the state of New South Wales' best-kept secrets.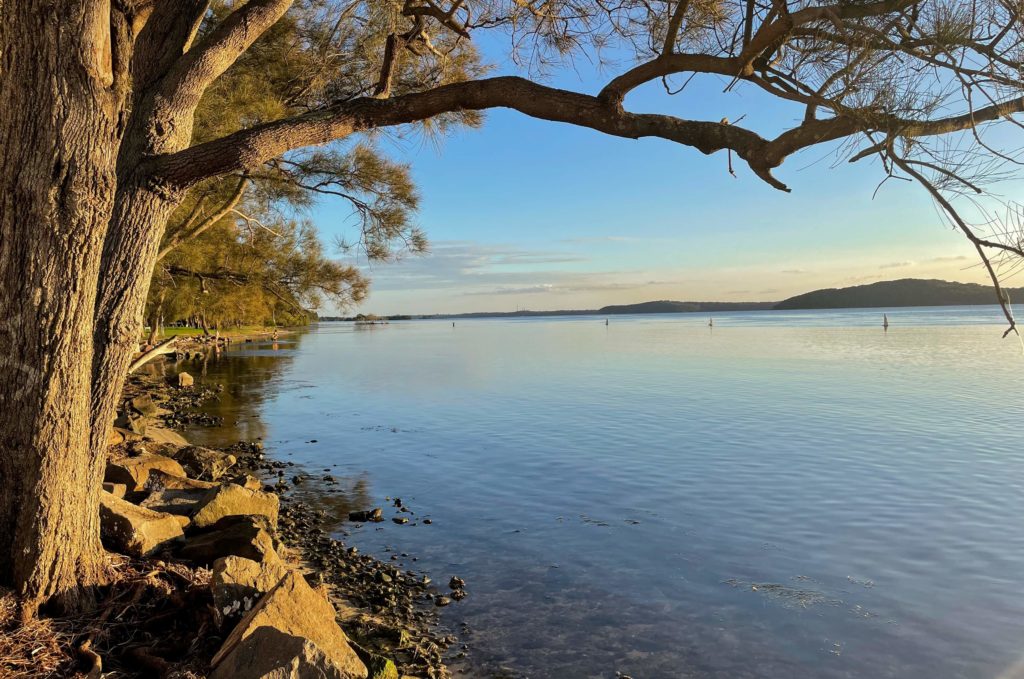 The best towns to visit when stopping in Lake Macquarie during your Sydney to Brisbane road trip are Catherine Hill Bay, Caves Beach, and Swansea. 
Catherine Hill Bay is known for its unique Pink Caves, where rocks have been turned a bright pink and purple color due to the calcified algae on it. Middle Camp Beach, the largest in the area, is popular with surfers and has an abandoned coal loading pier at the southern end of it. Be sure to check out the Catho Pub in Catherine Hill Bay too, a local favorite lunch and dinner spot.
Caves Beach
and its stunning coastline is one of the highlights of this stop between Sydney and Brisbane. Caves Beach is famous for – you guessed it – caves on the beach that open up to the ocean, that have been carved out by the waves for millions of years. 
You can't go wrong spending time at any of the beaches here, from Ham's Beach in the north to Caves Beach, Spoon Rocks, and Pinny Beach.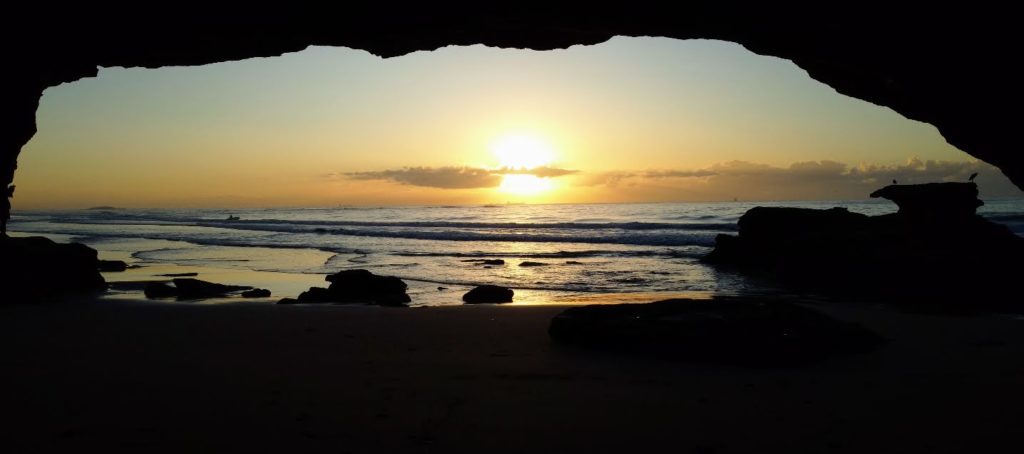 Swansea is the small town where we spend the night, which is bordered by the scenic Lake Macquarie. It's a great place to spend time on the water, take part in water activities like boat rentals and fishing, or just admiring the coastal wildlife. 
We stayed at the Swansea Lakeside Holiday (or caravan) Park, which borders Lake Macquarie on one side and offers beautiful sunset views. 
Here are some other options for where to stay near Lake Macquarie, categorized by budget: 
Budget
– 
The Swansea Hotel 
is a great budget hotel plus classic Aussie pub where you can get your fill of "schnittys" (chicken schnitzels), and other weekday specials from the menu. Shared and private bathroom options available and close to shops and restaurants. 
Mid-Range
– 
Churchill's B&B
 is a cottage rental located in a quiet neighborhood. It's a pleasant walk away from several parks, the lake, and nature reserves. 
Luxury
– 
Caves Coastal Bar & Bungalows
 are ocean-facing getaways just steps away from Caves Beach. Amenities like a pool, balconies, in-room massages, and a live music pub on site means you'll be living it up in this slice of heaven! (2-night minimum)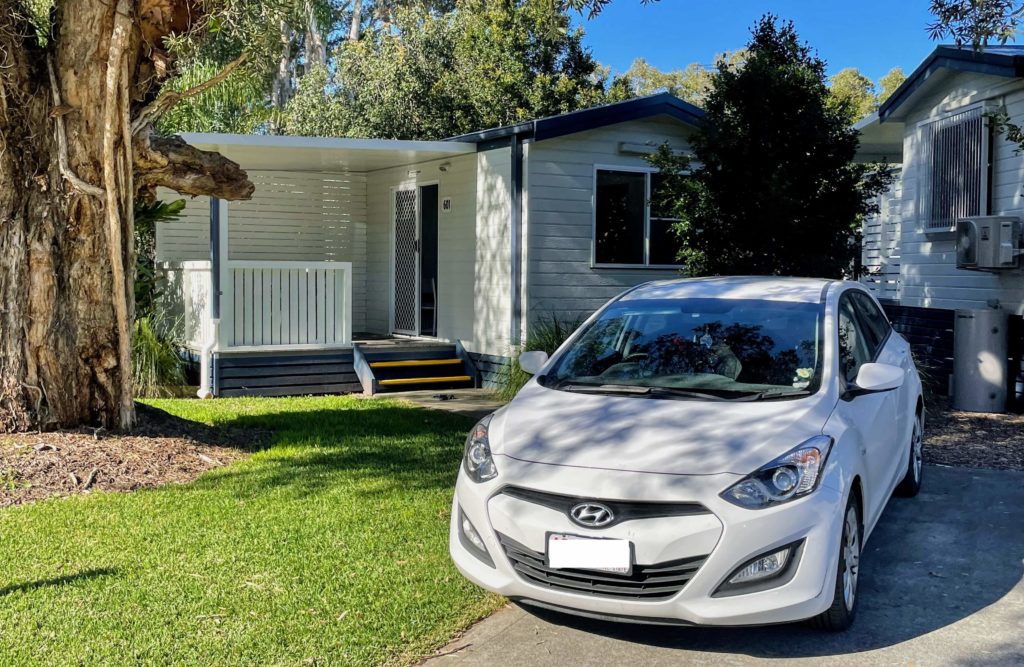 Day 2 - Swansea to Newcastle
The next stop on this Sydney to Brisbane road trip is essential: Newcastle, Australia. Formerly known only for its industry and coal exporting terminal, Newcastle is actually a bustling Australian city with something for everyone. 
The Newcastle coastline is spectacular and stretches over five kilometers. It consists of four pristine beaches: Mereweather Beach, Bar Beach, Newcastle Beach, and Nobby's Beach. 
Things to do in Newcastle include visiting one or more of its ocean baths (outdoor ocean-water swimming pools and Australian icons), walking along the Newcastle breakwater, and seeing the lighthouse at the end. Visiting Newcastle's Memorial Walk, a cliff-side pathway dedicated to World War I soldiers, is a great way to see both city views of Newcastle and the beaches and ocean.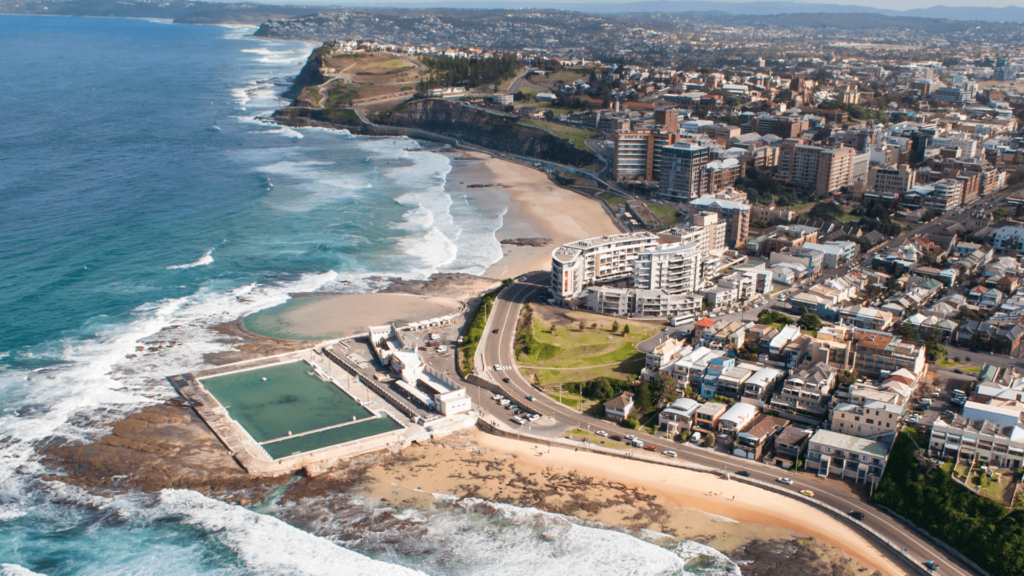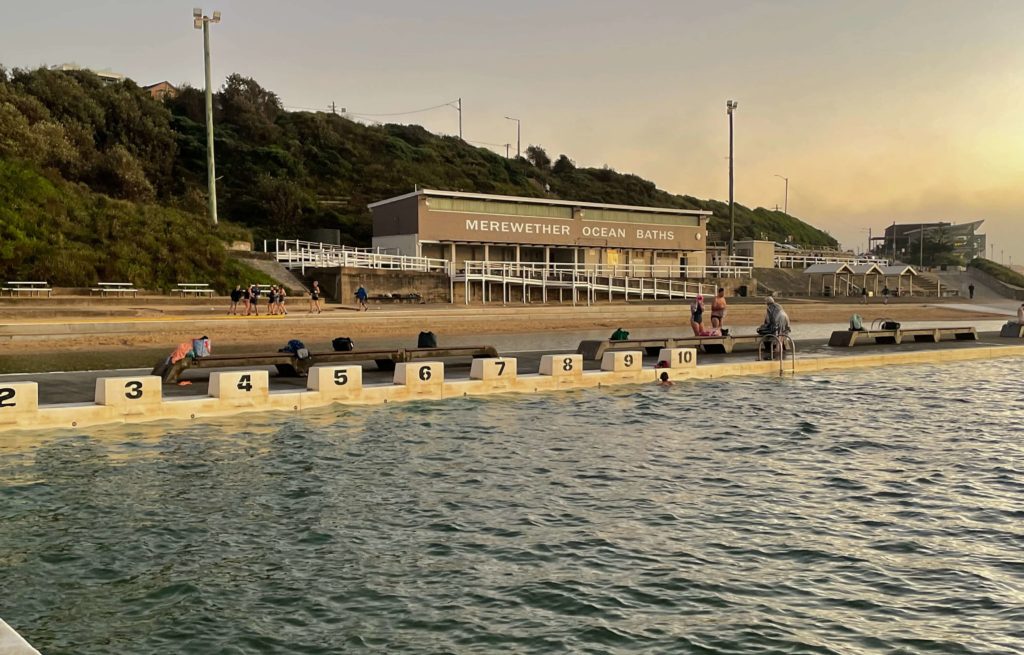 Newcastle also has great areas to visit within the city such as Darby Street, famous for its artsy vibes and coffee shops, and Honeysuckle, a trendy restaurant and bar part of town. 
Jumping on a boat and joining a 
sightseeing cruise 
around the coastline and Newcastle harbor is another popular activity. It's best to join between the months of May and October, when humpback whales are migrating off the coast. You're sure to see some of Newcastle's resident dolphins this way as well.
Newcastle is also the gateway to the Hunter Valley, Australia's famous wine region. If you arrive in Newcastle early on your 7-day itinerary, you'll be able to take part in a 
Hunter Valley wine tour
.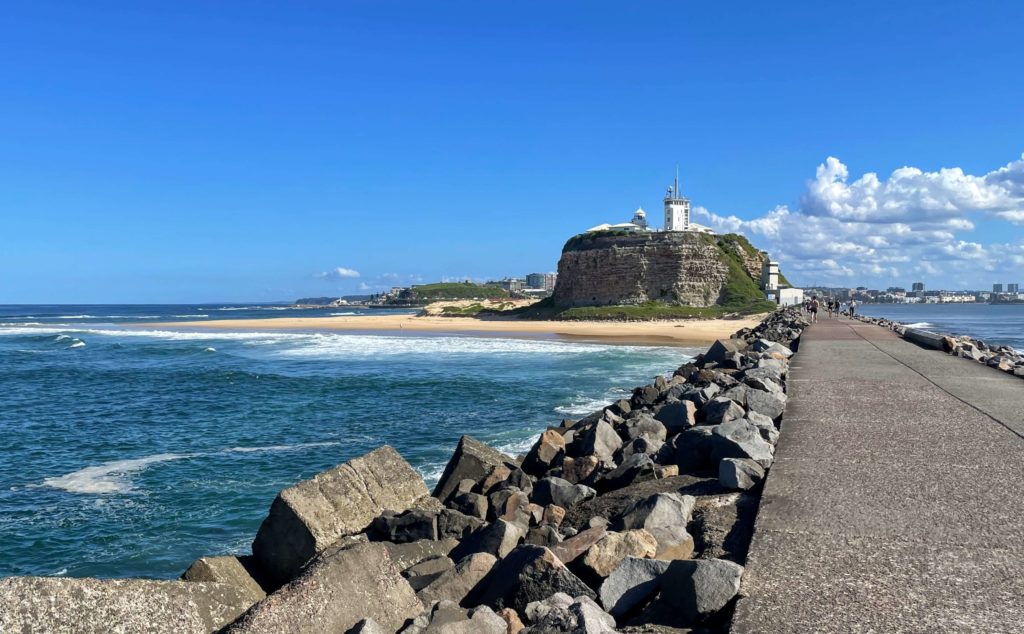 Where to stay in Newcastle
Other options for great places to stay in Newcastle on a Sydney to Brisbane drive include: 
Day 3 - Newcastle to Diamond Head Campground
After spending an upscale evening out in Newcastle, the next stop on our road trip from Sydney to Brisbane was the complete opposite. 
Diamond Head Campground
 is located in 
Crowdy Bay National Park
 in New South Wales, three hours from Newcastle past the small sleepy town of Laurieton.
Diamond Head Campground is a serene location to experience the best of the Australian coastline on a roadtrip from Sydney to Brisbane. Its remoteness and proximity to coastal walking trails and the ocean itself makes it a great place to disconnect and relax after a busy day in Newcastle. 


For me, the best part about Diamond Head Campground was the wildlife that also lives here. Being so remote and surrounded by native Australian bushland, you're sure to see resident kangaroos, many varieties of birds, and other wildlife if you're lucky. A family (or mob) of kangaroos call the campground their home. Check out my reel
 showing a fluffy little joey we saw!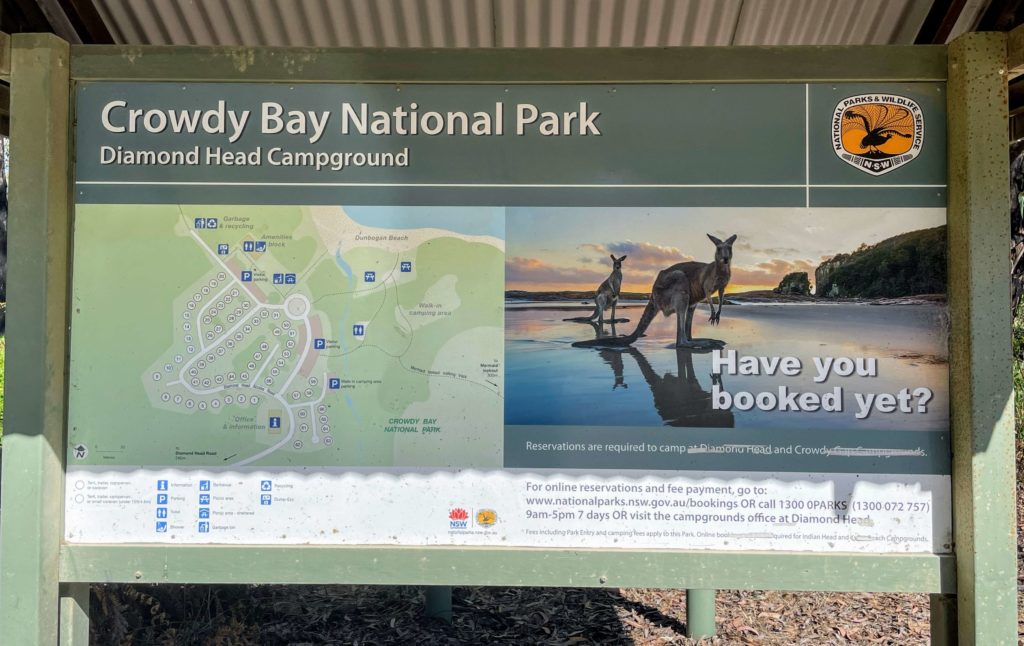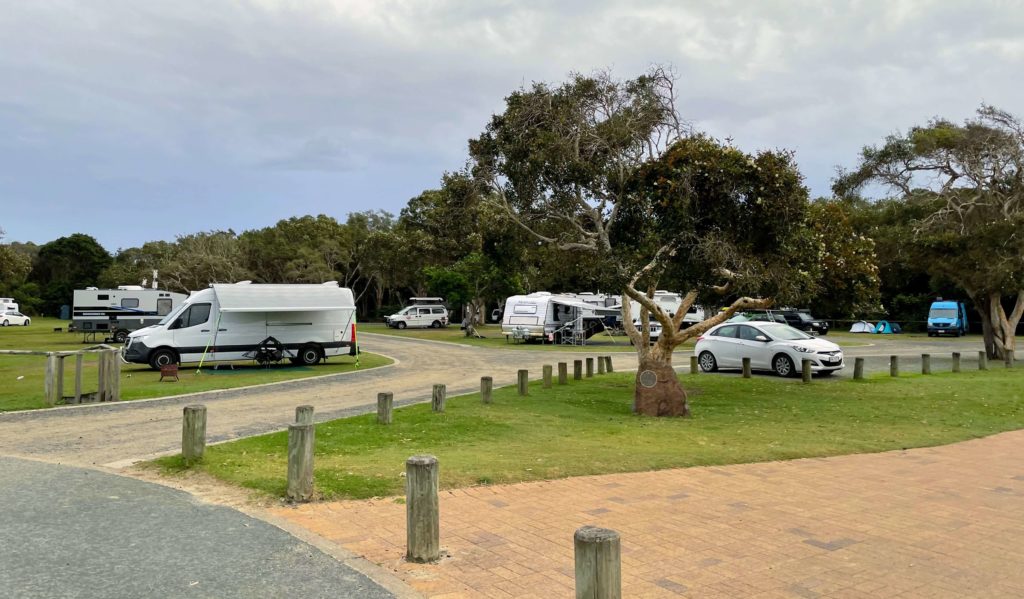 A small office is located on-site at Diamond Head campground and is open for a limited number of hours. Visitors can check in here, and purchase firewood and a fire pit if needed. It's best to stock up on groceries at the supermarket in Laurieton, just 20 minutes north of the campsite. 
An 
online booking
 for either a campsite or caravan parking is required in advance of staying at Diamond Head Campground. Because the campground is located in Crowdy Bay National Park, you'll have to pay a daily fee to stay in the New South Wales National Park for two days too. These payments help sustain NSW's 
Save our Species programs
 to protect native Aussie wildlife and habitats. 
Day 4 - Diamond Head to Coffs Harbour
...with stops in Port Macquarie, Hat Head, and Nambucca Heads
Day 4 of 7 on our road trip from Sydney to Brisbane was the busiest one yet. Camping at Diamond Head meant we were up at sunrise and ready to start exploring all the local gems. I've broken this section of the itinerary down to describe each of these mini-stops on our Sydney to Brisbane itinerary.
Port Macquarie is one of the largest coastal towns north of Sydney that cannot be missed on a 7-day road trip from Sydney to Brisbane. The only reason why we did not spend the night here was because Diamond Head was so close by. Port Macquarie however, is another perfect option for an overnight stay between Sydney to Brisbane. See Port Macquarie accommodation options here like the gorgeous seaside Sandcastle Apartments or the NRMA Breakwall Holiday Park!
Port Macquarie is surrounded by beautiful, accessible beaches and has a number of great cafes and restaurants. The town has a number of great activities like visiting the 
Port Macquarie Koala Hospital
, or walking along a 
rainforest boardwalk
. Be sure to stop by the Port Macquarie lighthouse to continue admiring the Aussie coastline. Situated on a tall headlands, it has views over the ocean, sandy beaches, and the picturesque Little Bay. Sometimes you can see dolphins and whales from here too!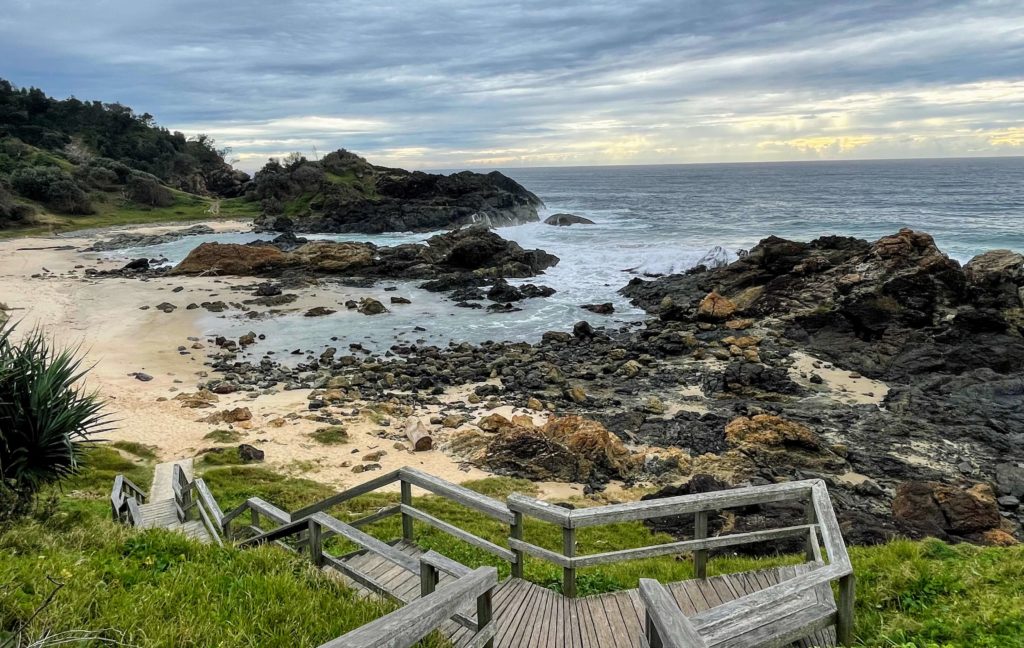 Hat Head is a great nature-lover's stopover on a 7-day Sydney to Brisbane road-trip, often known only to locals. This headlands has especially dramatic coastlines, and is less known to international tourists with only a tiny town and 
holiday park
 attached. 
The best part of visiting Hat Head is embarking on the 
Korogoro walking track
 hike in Hat Head National Park (free entry). The hike is only 3.2 kilometers, lasts less than an hour, and takes visitors in a loop around a forested section of the headlands. It's a steep drop in some sections so should be traversed with caution, but hikers will be rewarded with gorgeous views of the cliffs, rocks, and ocean.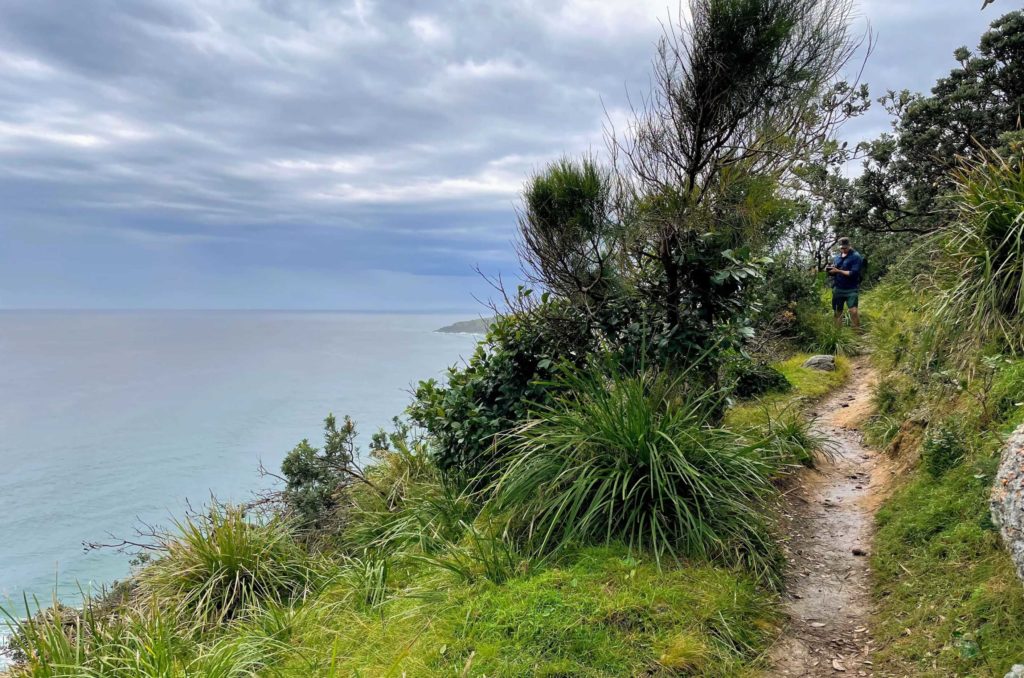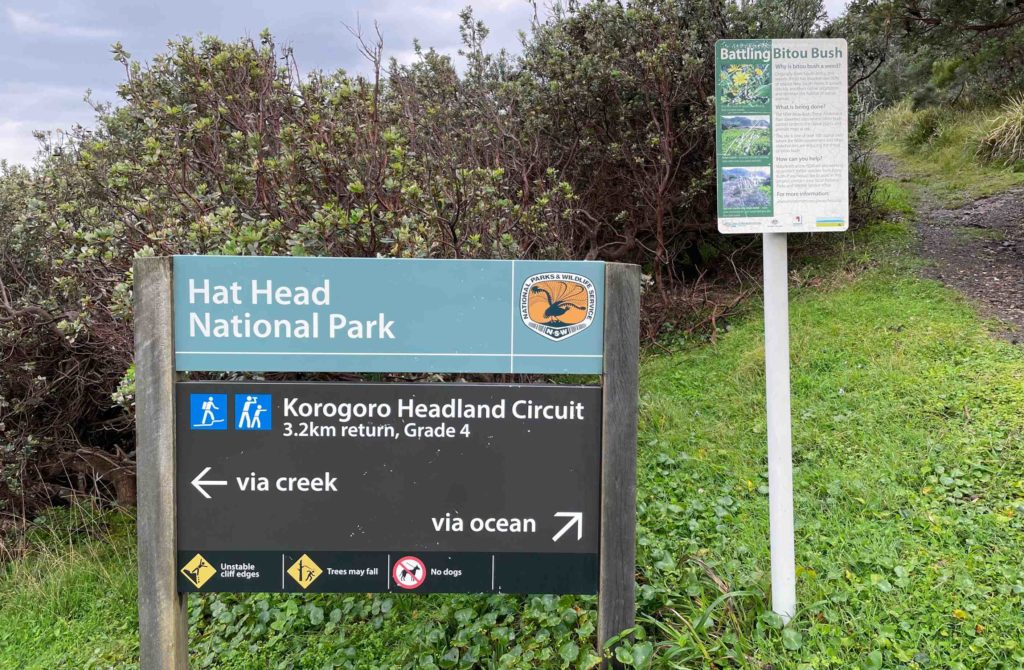 Nambucca Heads is another small town that is easily accessible from the main highway, making it a great stopover during this road trip from Sydney to Brisbane. The Nambucca River that winds its way up the coast of New South Wales seeps into the ocean here, leaving a number of impressive sandy banks in its wake. 
The town is famous for the sandy beaches that become more or less accessible based on the tides, with some permanently submerged. A number of lookouts including Rotary lookout and Captain Cook lookout allow visitors to see the sandy river delta from above. We stopped at the beautiful 
V Wall Pavillion
 restaurant for some food before continuing on our road trip.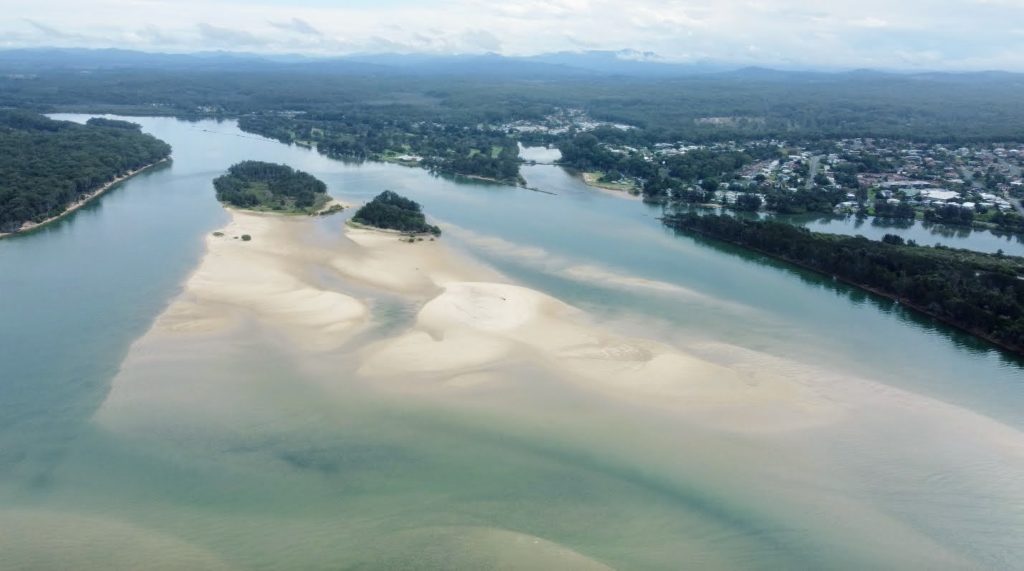 Coffs Harbour, or just "Coffs", is like Port Macquarie in that it is a much larger coastal town compared to the other. Coffs is known for the "Big Banana" monument, one of many "big things" that road trippers will find scattered throughout all of Australia (keep reading to find out where to find the "Big Prawn"!). 
Coffs Harbour has a nature reserve and a massive marina and jetty that are popular places to visit for both travelers and locals.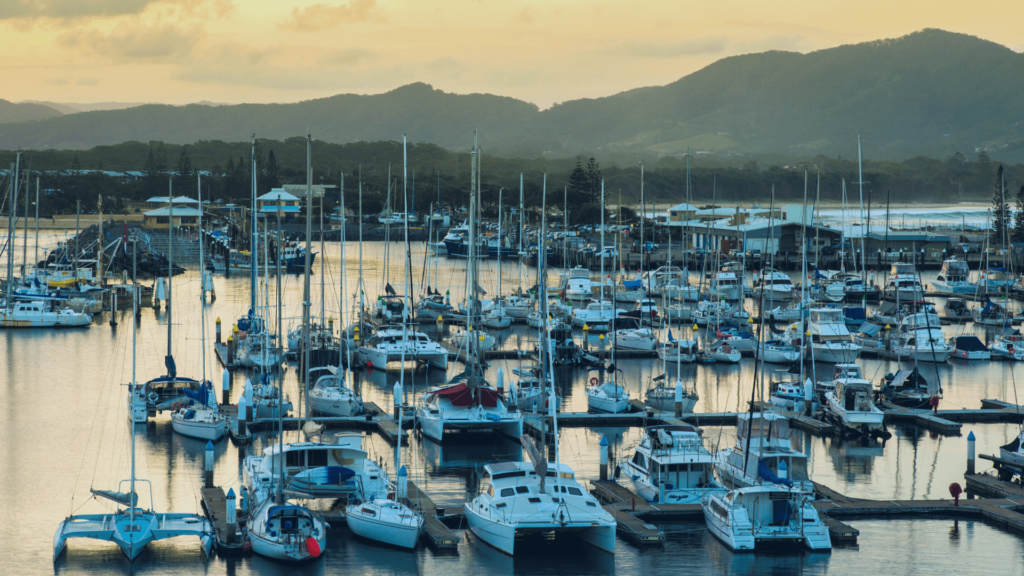 Where to stay in Coffs Harbour
We stayed at the 
Big4 Park Beach Holiday Park
 at Coffs Harbour, a popular choice for road-trippers and caravaners driving from Sydney to Brisbane. 
Other nice options for places to stay in Coffs Harbour include: 
Budget
– 
Surf Beach Motel Coffs
 puts visitors steps away from the ocean at a price that won't break the bank. The pub and bowling club across the street is a plus too! 
Luxury
– 
Diggers Beach Cottage
 is a short drive north of Coffs Harbor town center, but makes for a delightful place to call home for a day or two. 
Day 5 - Coffs Harbour to Brooms Head
...with a stop in Emerald Beach
Day 5 on our 7-day Sydney to Brisbane road trip was when I experienced one of my favorite Australian wildlife moments. Emerald Beach is a small town just north of Coffs Harbour, home to the uniquely-named Look-At-Me-Now headlands. 
It's a vast, grassy headlands with a walking trail that circles the edges of it, with a number of benches and a tiny lighthouse at the end. In the morning there are local surfers and joggers here… as well as dozens of kangaroos and wallabies! 
These marsupials spend their mornings munching on the dewy green grass in big groups, making perfect photo and filming opportunities. 
Is spending more time exploring the outdoors and less time in large towns a priority for you? 
Here's a local's tip: spend the night in Emerald Beach instead of Coffs Harbour during your 7-day Sydney to Brisbane road trip. This way you can be up at sunrise to experience the kangaroo clans at Emerald Beach all to yourself. 
Check out my 
reel
 that commemorates this amazing location.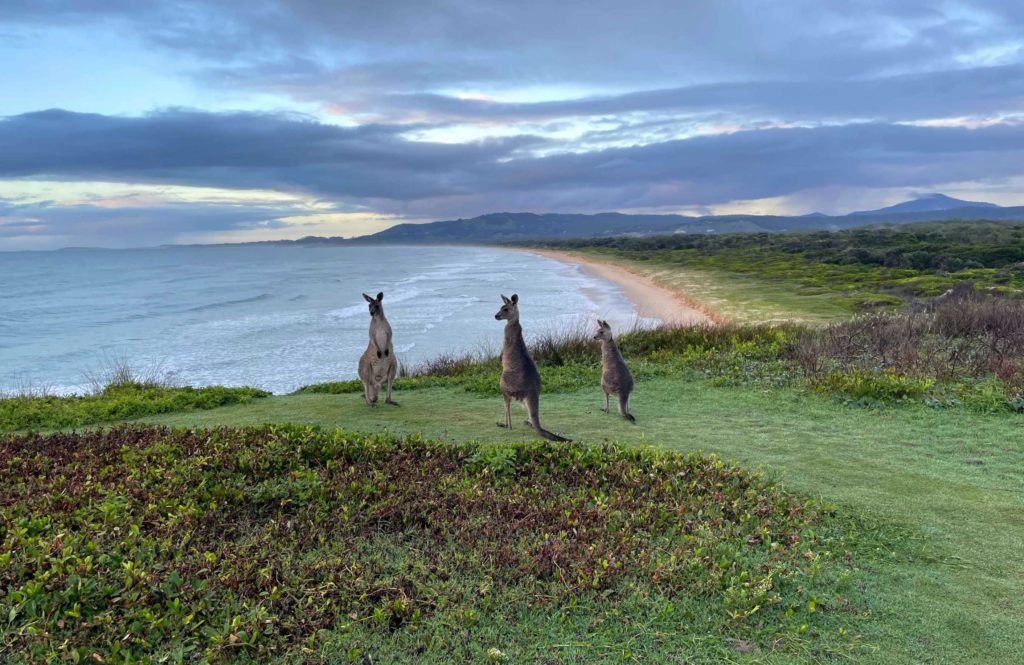 Brooms Head is an off-the-beaten-track stop between Brisbane and Sydney and a locals' best kept secret. The tiny town is quite a distance from the highway, but entirely worth the detour. Brooms Head is isolated away from the crowds on a road trip from Sydney to Brisbane, and perfect for travelers wanting to disconnect from day-to-day stresses.
At Brooms Head we stayed at the 
Brooms Head caravan park
 or holiday park, which makes up a majority of one side of the town coastline. This caravan park, although humble in the same ways all caravan parks are, is located right on the ocean. Imagine unzipping your tent or looking out the window of your camper van to see the gentle waves of the ocean right in front of you!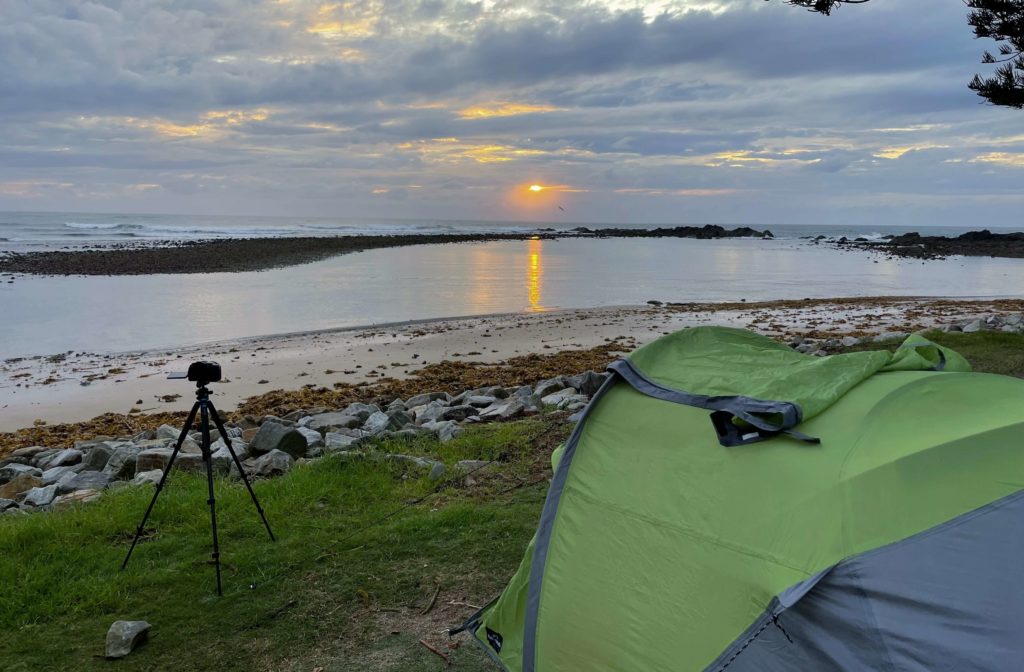 Day 6 - Brooms Head to Byron Bay
Day 6 on our road trip from Sydney to Brisbane was our last full leg and overnight stop before returning to Brisbane for Day 7. 
Yamba is a sleepy surfer's town, reminiscent of what Byron Bay was decades ago. The town is known for its number and variety of pristine beaches. Some Yamba beaches are great for surfing, others for families with young kids, others for adventurous ocean swimmers, and there's even one dog beach for your furry friend too. 
Be sure to stop by the 140+ year old Yamba lighthouse. It provides easy access to a few beaches, and has a large grassy area surrounding it, perfect for picnics and for watching a sunset. 
We drove through the towns of Ballina and Lennox Head to see the "Big Prawn" and a number of other beautiful beaches and lookouts before continuing to Byron Bay.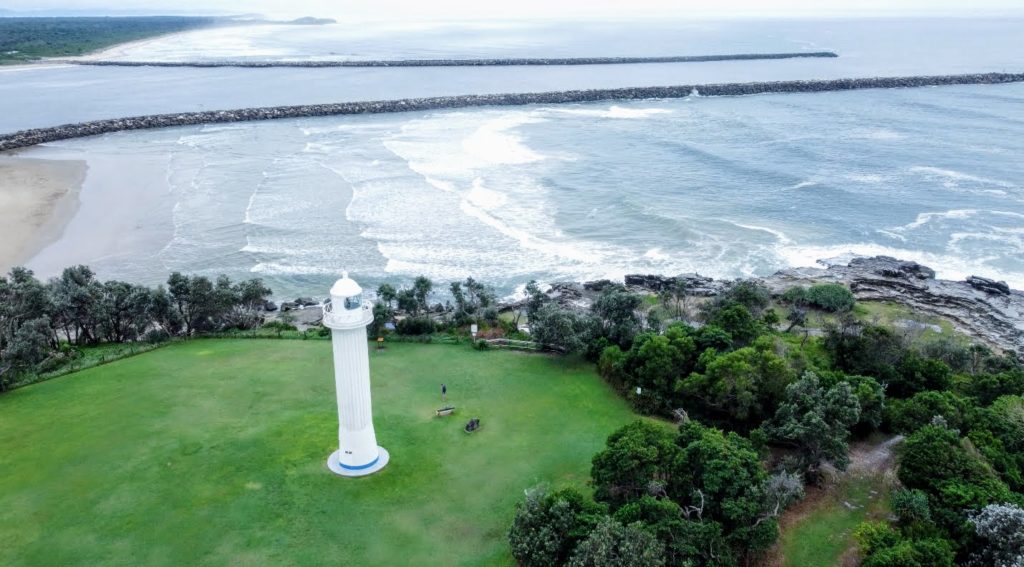 Byron Bay, New South Wales
Byron Bay is one of those quintessential Australian coastal towns, and a bucket-list stop on a Brisbane to Sydney road trip. This former sleepy surfing town has boomed into a trendy, upscale hippie town, a favorite place for surfers, hipsters, influencers, and even Hollywood stars. 
Byron's town center is easy to explore on foot, and there are plenty of beaches to relax at too. Most visitors to Byron spend time at Cape Byron, a hilly and forested headlands crowned by the Byron Bay Lighthouse. A number of walking trails and boardwalks circle the coast, with plenty of places to stop and admire the scenic views. Look out for dolphin fins and even whales off the coast, both of which are commonly seen here (whales are common between May to October only).
A popular activity for both travelers and locals in Byron Bay is 
kayaking on the ocean
. With the large headlands protecting the shore from intense waves, kayaking out into the waters is easier than in other coastal towns. You're almost guaranteed to see dolphins, and sometimes even sea turtles!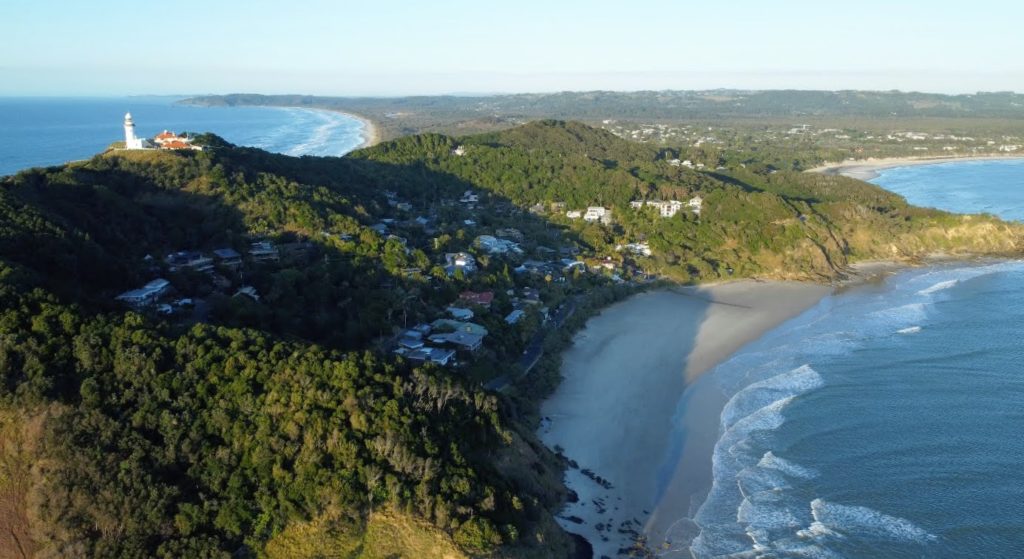 Where to stay in Byron Bay
We've stayed in a couple of different places in Byron Bay on weekend trips from Brisbane to Byron.
Other nice options for places to stay in Byron Bay include: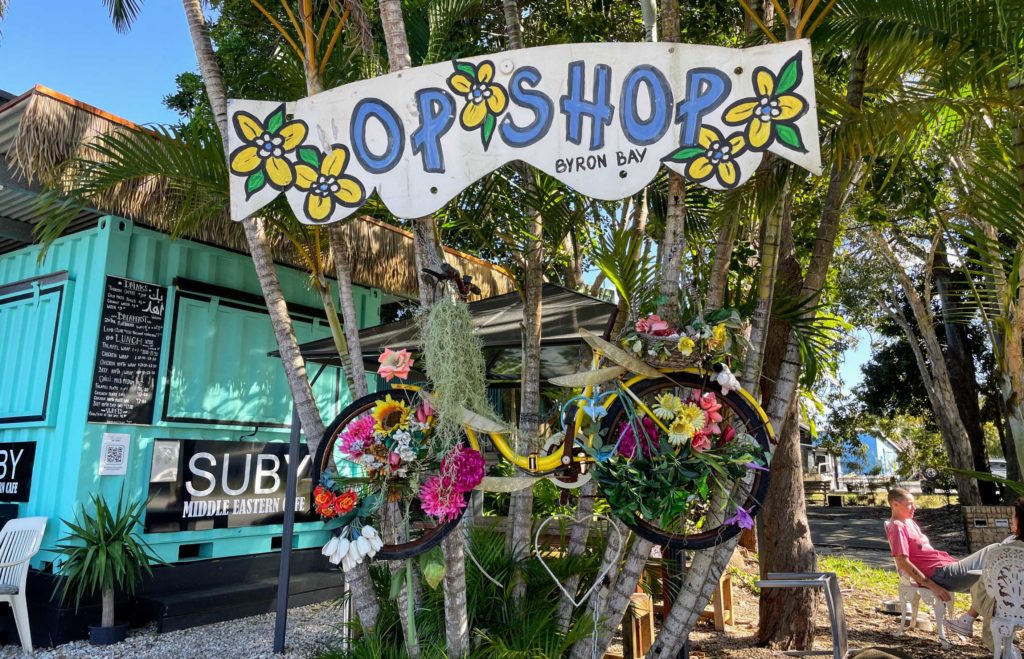 Day 6 (alternative) - Gold Coast
If you enjoy spending time in bigger cities, then stop in Byron Bay for a mid-day walk and continue north to the Gold Coast in Queensland! Since we're local to Brisbane and have spent plenty of time in at the Gold Coast already, we decided to stay a little further from home at Byron Bay.
The Gold Coast, the second largest city in Queensland, has its own international airport is an iconic Australian city that draws visitors from around the world. It is known for its skyscrapers that line beachy shores, its vanity, flashiness, and you guessed it… surfing culture. Locals usually have a favorite Gold Coast suburb, from the family-friendly Broad Beach and Currumbin (home to the amazing Currumbin Wildlife Sanctuary), to the classic Surfer's Paradise located in the heart of the city.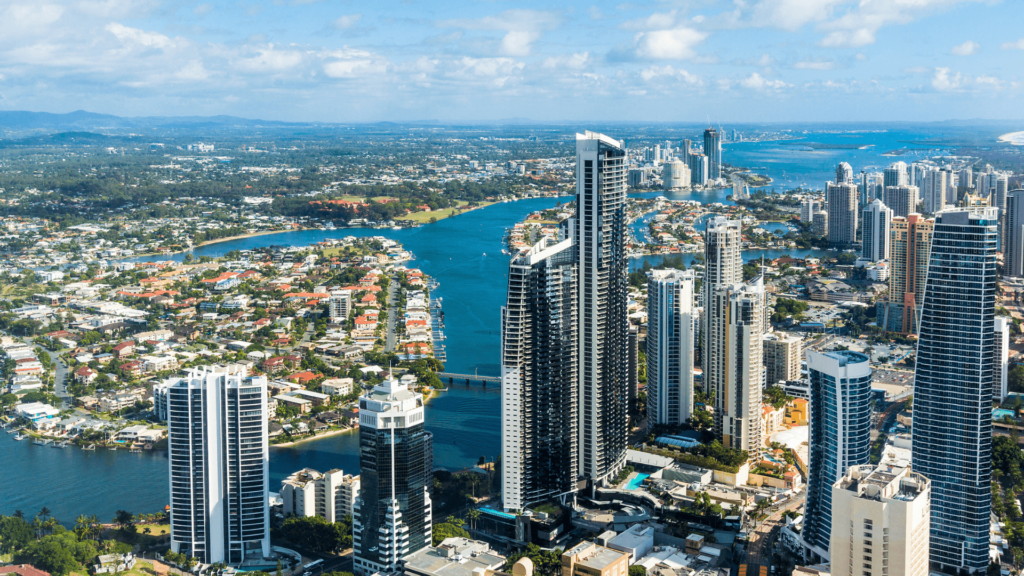 To experience the famous Gold Coast skyscrapers up close, check out the Gold Coast Observation Deck. At 80+ stories above the ocean, it puts you right above the gorgeous city-plus-beach views that the Gold Coast is known for. Local southeast Queenslanders flock to the Gold Coast to visit its theme parks like Wet'n'Wild and Movie World. 
Where to stay on the Gold Coast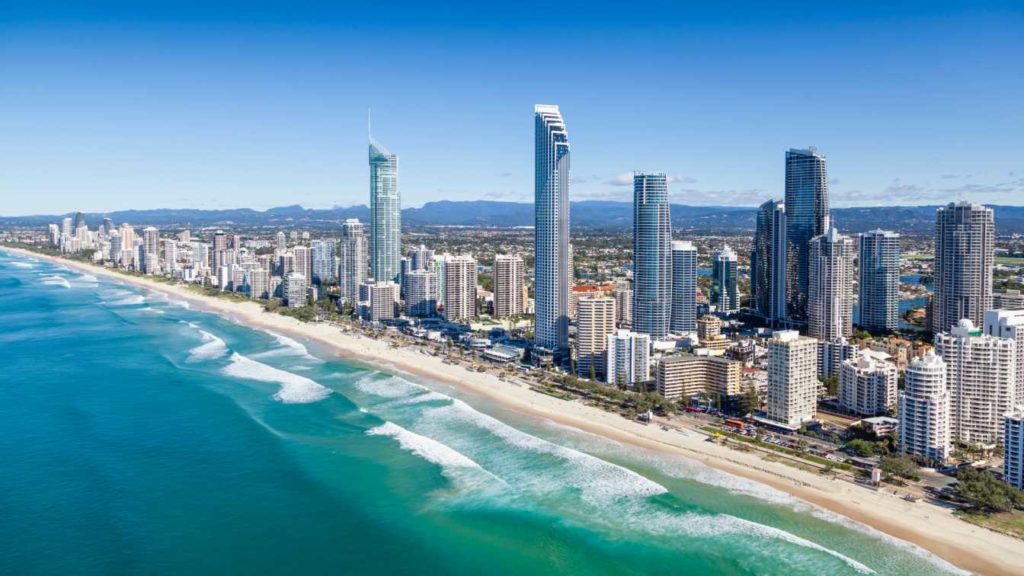 Day 7 - Byron Bay to Brisbane
...with stops in Brunswick Heads, Tweed Heads, and Currumbin
The last stretch of our 7-day Sydney to Brisbane road trip is a leisurely one. Without traffic, Byron Bay to Brisbane takes a mere two hours, so there's plenty of time in the morning to enjoy a healthy brunch or açai bowl in Byron and plan a few extra stops while crossing the border from New South Wales to Queensland. Check out awesome breakfast stops like 
Bayleaf
 and 
Bali Bagus 
cafes. 
Just 15 minutes north of Byron is the sleepy town of
Brunswick Heads
, which has its own gorgeous stretches of beaches, with fewer crowds. Check out my top
20 things to do in Brunswick Heads
, including swimming and kayaking in the gorgeous Simpsons Creek! (P.S, we've stayed overnight here before and loved the
Chalet Motel
).
Tweed Heads is another perfect spot for roadtrippers driving Sydney to Brisbane. A large monument here marks where the Queensland and New South Wales state borders meet, which makes for a great photo opp. Tweed Heads is not just a border town though, and it has fun activities like a ferris wheel, its own beautiful beaches, and gorgeous views of the Gold Coast cityscape in the distance.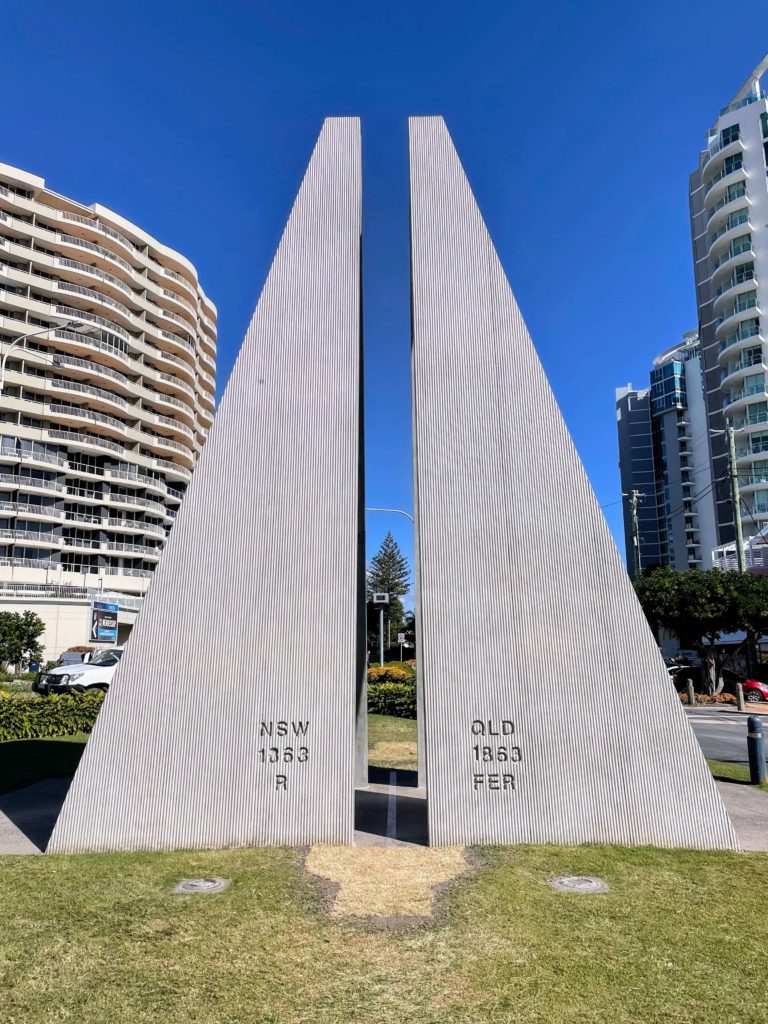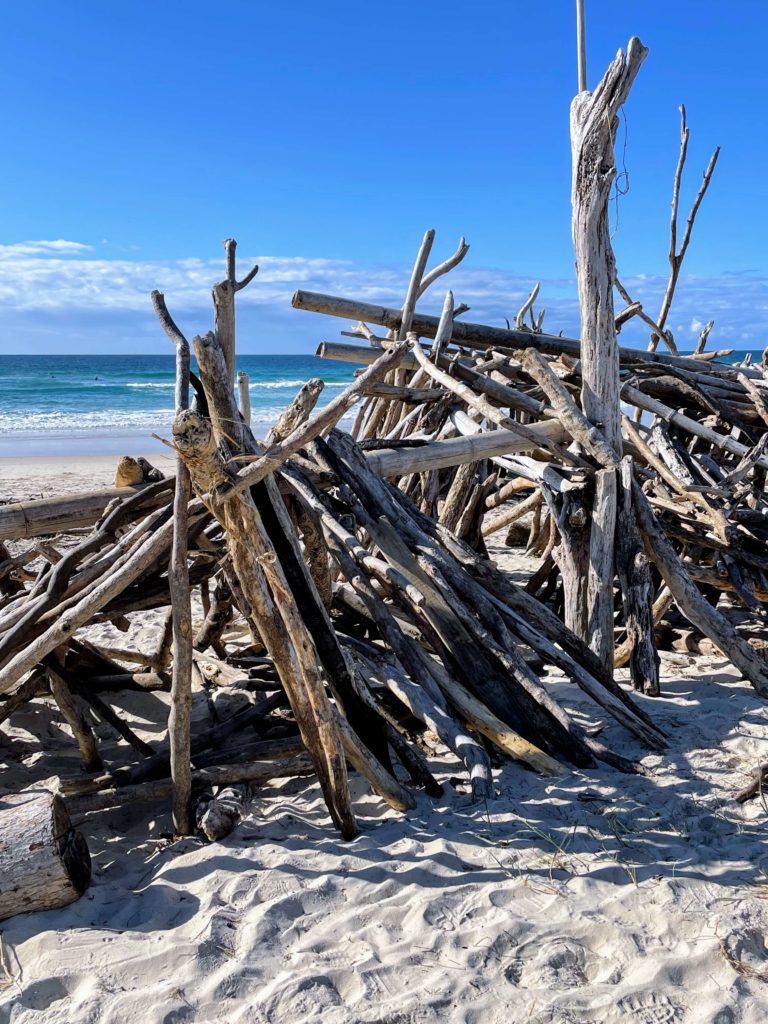 Currumbin is a popular suburb south of the Gold Coast which has its own beautiful coastline. If you have a spare 3-4 hours, be sure to visit the Currumbin Wildlife Sanctuary to meet some native Aussie animals. For an incredible lunch spot check out the Currumbin Surf Life Saving Club (SLSC) restaurant and bar, which has amazing views of the beach and Gold Coast skyscrapers in the distance.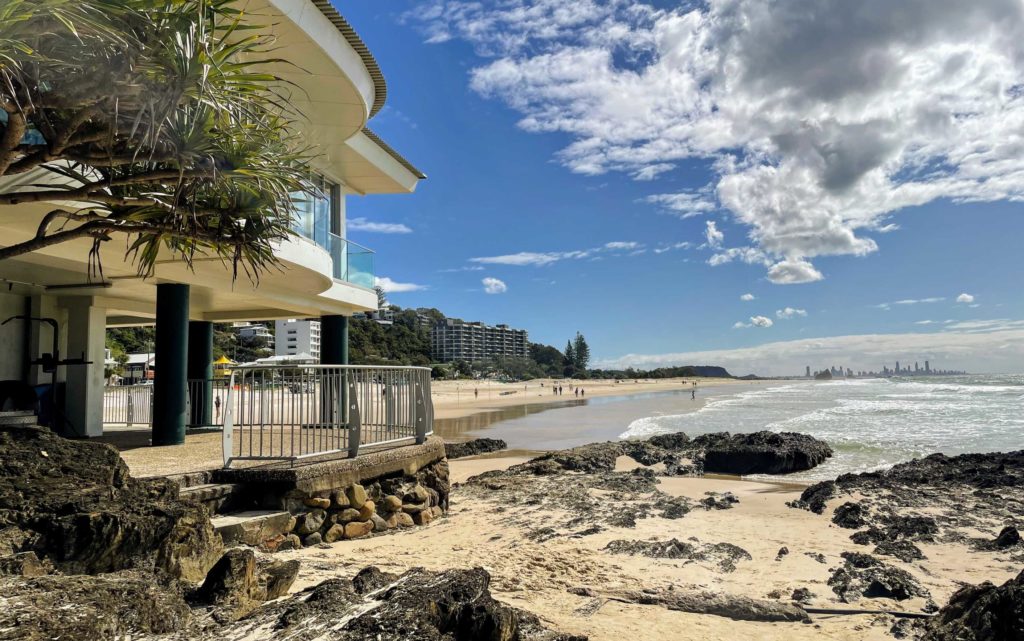 Lastly, welcome to Brisbane!
That's a wrap for this 7-day road trip from Sydney to Brisbane itinerary. I hope these locals tips, including off-the-beaten-path places to visit, will make your next coastal Australia road trip the best one yet!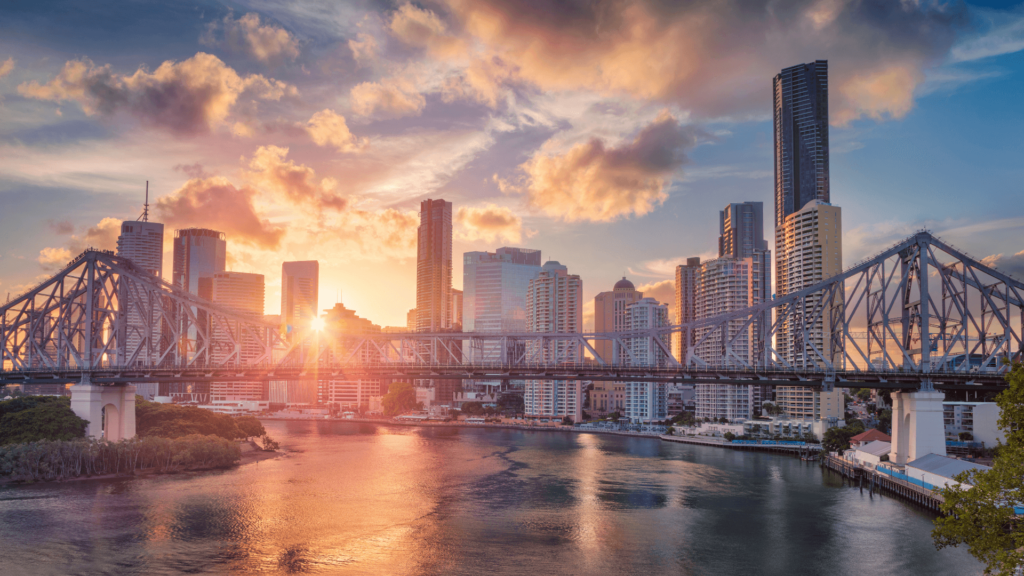 Pin this Sydney to Brisbane itinerary for later!