Kyoto is the cultural capital of Japan, and a must-visit city in a Japan itinerary of any length. Countless cultural heritage sites, incredible temples and shrines, and fantastic markets and neighborhoods dot the city.
Before visiting Kyoto, there are a few tips and tricks that you should know of, to make the most of your trip. Did you know many of Kyoto's highlights are on the outskirts of town and far away from one another? That's why I recommend spending at least three days in Kyoto.
This Three Days in Kyoto Itinerary takes you efficiently around Kyoto's highlights, without being rushed. 
Kyoto is home to some of the best accommodation you can find in Japan. From hostels to traditional ryokans to onsen hotels, Kyoto has it all! Check out these great accommodation options in Kyoto:
Similar to Tokyo, it's possible to get around Kyoto using an IC card. You can use Tokyo's Suica card, or get Kansai's ICOCA card to use on public transport in Kyoto. 
Whereas Tokyo is easiest to get around by train, in Kyoto you'll be riding a mix of trains and busses. Luckily, IC cards can be used on all the Kyoto busses, but I recommend having a SIM card or portable WiFi to help you navigate bus and train timetables. 
One of the most popular things to do in Kyoto is rent a traditional Japanese kimono. Worn by both men and women, locals and tourists, the kimono is an incredibly common sight around Kyoto. With endless beautiful colors to choose from for women (men's kimonos are usually a dark blue or grey), spice up your Kyoto photo opps with a kimono rental. 
Reserve a kimono rental for yourself before you head to Kyoto! 
Three Days in Kyoto Itinerary
Kyoto Itinerary Day 1: Kiyomizudera, Gion, Nishiki Market, Yasaka Shrine
Day 1 in this Kyoto itinerary gives you the perfect introduction to the temples and neighborhoods of Kyoto. Get your bearings around some of Kyoto's famous landmarks, plus check out some centrally- located neighborhoods that you can keep coming back to during three days in Kyoto. Day 1 is explored all on foot, so you don't have to worry about navigating public transit. 
Stop 1: Kiyomizudera & Sanneizaka
Start your first day in Kyoto by visiting one of its most famous temples: Kiyomizudera. Although Kiyomizudera's main hall is under construction through March 2020, the scaffolding is slowly coming down. This Buddhist temple was founded in 776. The present temple buildings were constructed in 1633… all without using a single nail! It's a slight uphill walk to Kiyomizudera, so there's a rewarding view over Kyoto once you reach the top. 
Many of Kiyomizudera's temple buildings are free to see from the outside, but to enter the main hall and walk to a path around it (with the classic view of the temple and Kyoto), you have to pay an entrance fee of ¥300 ($2.70 USD).
Sanneizaka is the shopping street that leads up to Kiyomizudera. It's the perfect place to go souvenir shopping in Kyoto, because there is so much variety in what's sold across the stores. Purchase Japanese sensu, or handheld fans, chopsticks you can engrave, keychains and postcards, Japanese snacks and desserts, even plush samurai swords for kids. Beware, by mid-morning this street will be super crowded, both with tourists and local school groups coming to visit Kiyomizudera.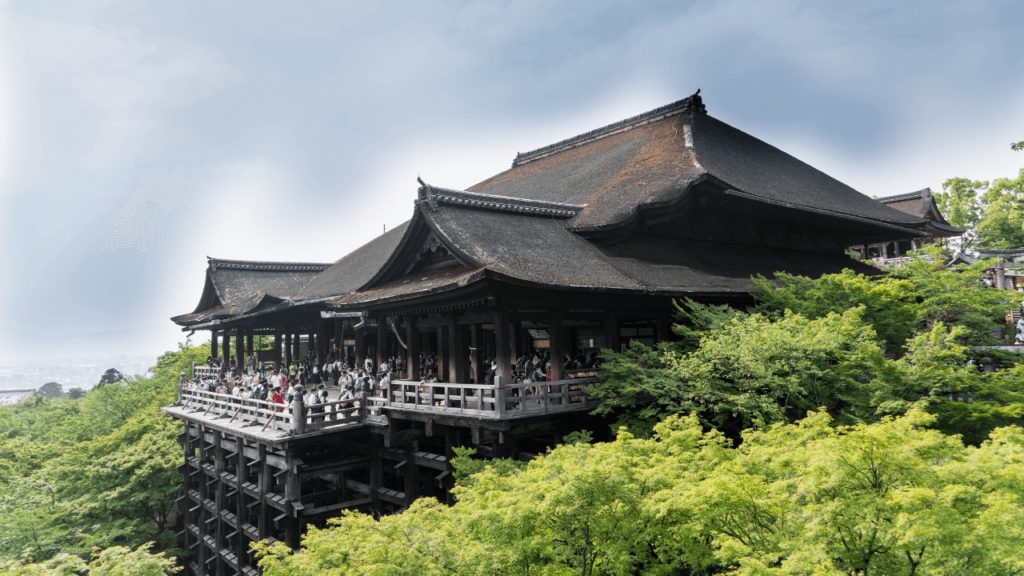 Stop 2: Hokanji Temple, Yasaka Koshindo Temple, Yasui Konpiragu Shrine
Mark these three locations on your Google Maps before spending three days in Kyoto because you don't want to miss them. From the Sanneizaka coming down from Kiyomizudera, head to Nineizaka, which will take you to Hokanji Temple. 
Hokanji Temple is known for its picturesque five story pagoda, set in the backdrop of traditional Japanese buildings and alleyways. You can easily see the 46-meter tall pagoda from the surrounding streets, but you can also pay ¥400 to visit the inside of this landmark.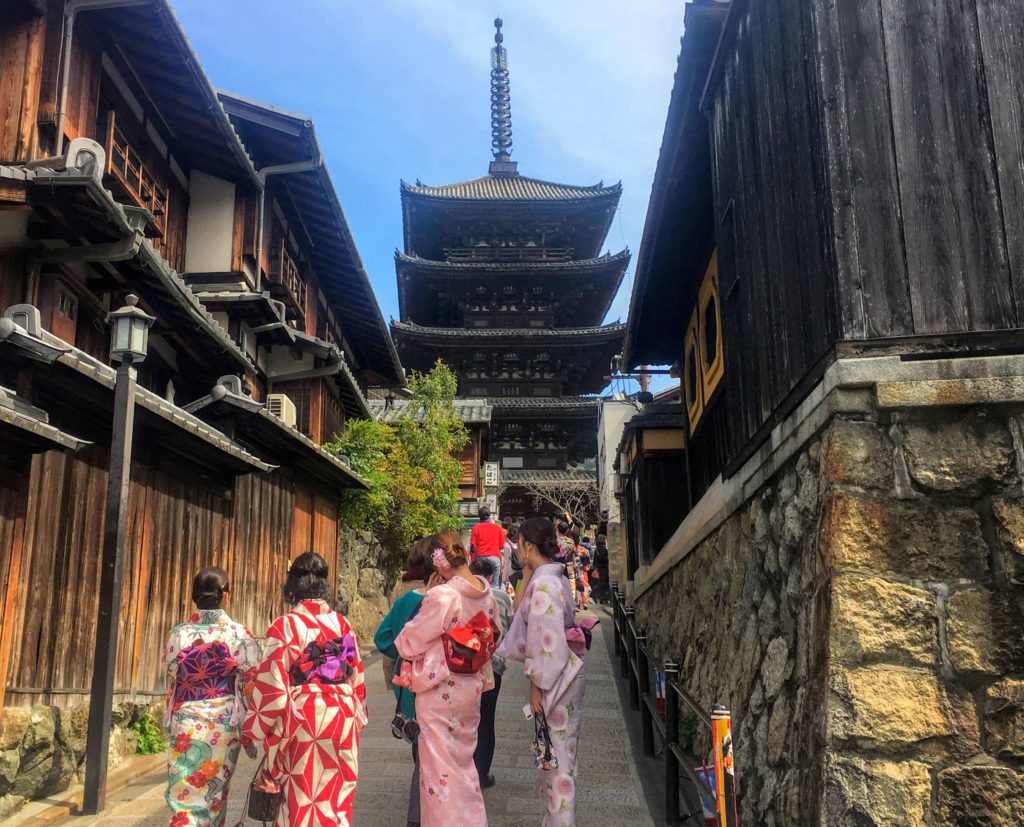 Two hidden gem temples in Kyoto are the Yasaka Koshindo Temple and Yasui Konpiragu Shrine. I didn't find these on any Kyoto itinerary, I just stumbled upon them while walking through the back streets of Kyoto! Because of their proximity to Kiyomizudera and the Gion neighborhood, they're worthwhile stops to add to Day 1 of my three days in Kyoto itinerary. 
The Yasaka Koshindo Temple, also called Kongoji Temple, is an Instagram-perfect location, and you'll find it filled with local Japanese girls in their kimonos, taking selfies. The temple itself is small, but its claim to fame is the colorful kukurizaru cloth balls that visitors write their wishes on before hanging them at the temple. 
Yasui Konpiragu is another local shrine with a peculiar tradition. This shrine is home to a power stone, a monolith with a human-sized hole through the middle of it, and covered with wishes. When visiting, you'll see people crawling through this holy rock. WHY?
Visitors write a wish on a paper amulet, then pass through the hole in the rock which signifies breaking ties or cutting off things like disease or bad relationships. Once you've successfully crawled through, you can stick your wish on the rock for it to come true. This might be the quirkiest temple tradition you witness during three days in Kyoto. 
Read more about Yasui Konpiragu and their traditions on their website.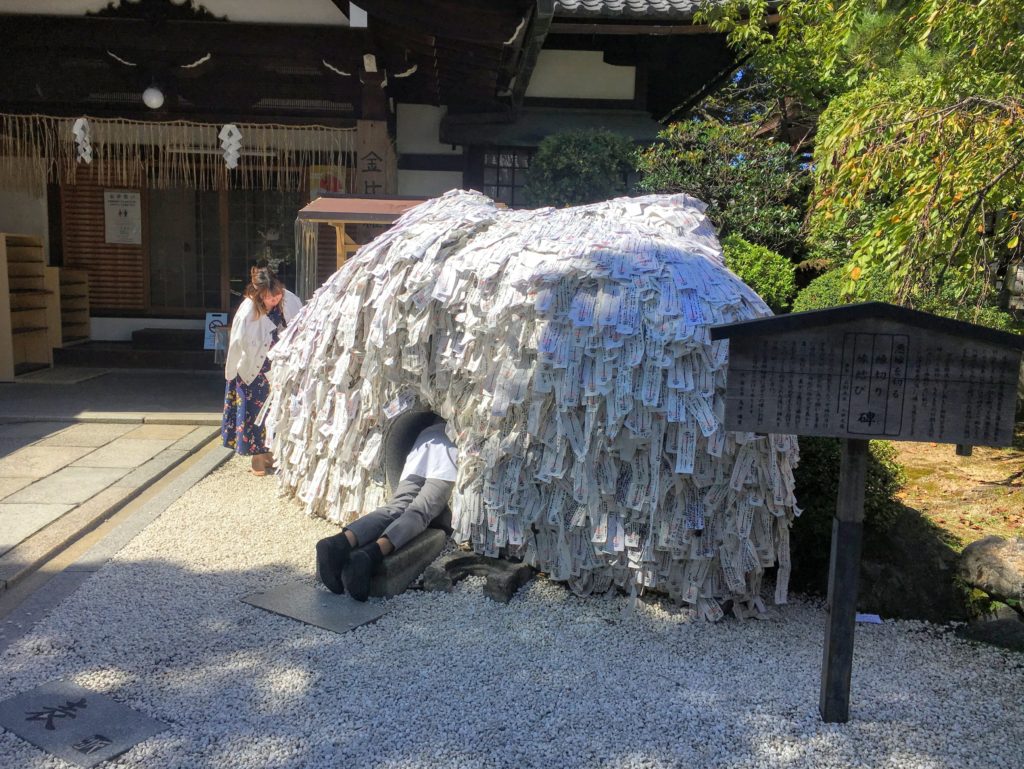 Stop 3: Gion Neighborhood
The historic Gion neighborhood is where you can step back hundreds of years in time. Gion was historically a theater and entertainment neighborhood in Kyoto, and it is now known as Kyoto's famous Geisha district. Consider yourself lucky to see a modest Geisha girl walking the streets though. To ensure some quality time with Maiko or Geisha, book dinner and a show with them!
Note: A recent law enacted in Gion makes it illegal to take pictures in private Gion streets, to prevent Geishas getting harassed by tourists.  
Lunch in Gion
Gion is a great place to have your meals, because of many great restaurants tucked away in its old streets. Be sure to try a Kaiseki meal, known as one of the world's finest meals. These intricately prepared multi-course meals embody Japanese compassion and hospitality, known as omotenashi. Kaiseki is a unique dining experience that you won't forget, and Gion is the perfect traditional setting to take part it in. Book a Kaiseki lunch or dinner here! 
Tip: Don't stick to the main streets, but wander through the abandoned alleyways. You'll be able to smell the wooden buildings, and hear the sounds of old Japan much better.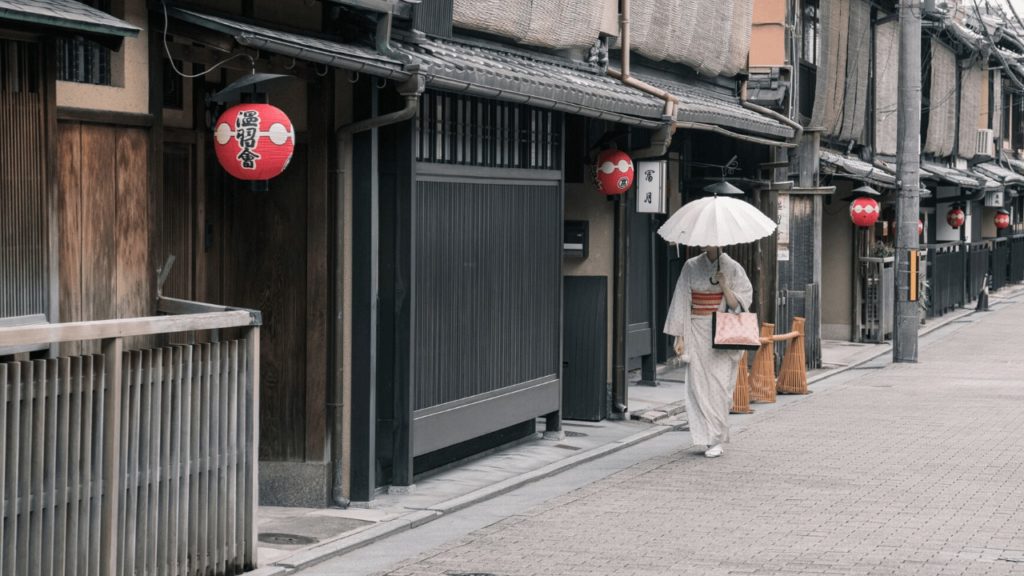 Stop 4: Kamo Riverside
From Gion, it's a quick walk over to the Kamo River, or Kamo-gawa. This little slice of nature in Kyoto is a favorite place for locals to relax by the water, go running or biking, or even go fishing! It's the perfect place to bring a picnic mat and just watch life continue to move around you.
The row of buildings that line the waterfront are mostly restaurants. Behind it is Pontocho Alley, a narrow, historic street where you'll find more traditional buildings and lots of sake bars. It's a great place to go out at night, to hang out with locals and other travelers.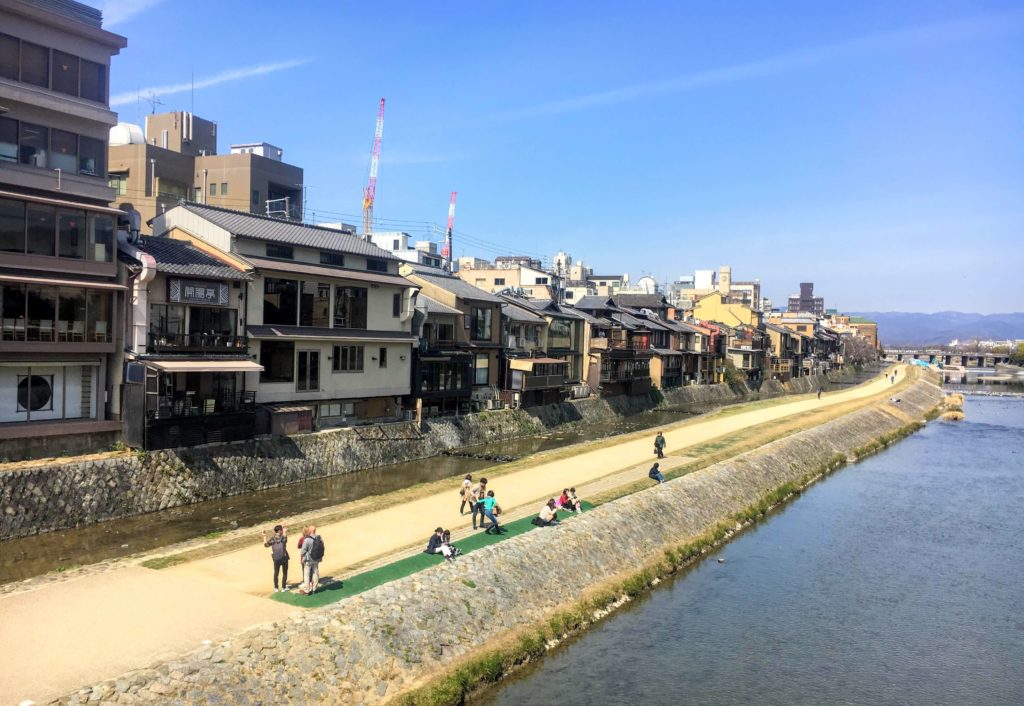 Stop 5: Nishiki Market
Nishiki Market is in the heart of Kyoto's central shopping and dining area that you're sure to visit more than once during your three days in Kyoto itinerary. 
Nishiki Market is a great place to visit when you're hungry. Street food stands line this little alleyway with cheap eats and skewers of all varieties at their storefront. A popular snack here is a little octopus, tentacles and all, that are sold on little sticks for easy eating on the go. Be sure to come back to Nishiki Market in the morning when the fresh seafood is out for sale too.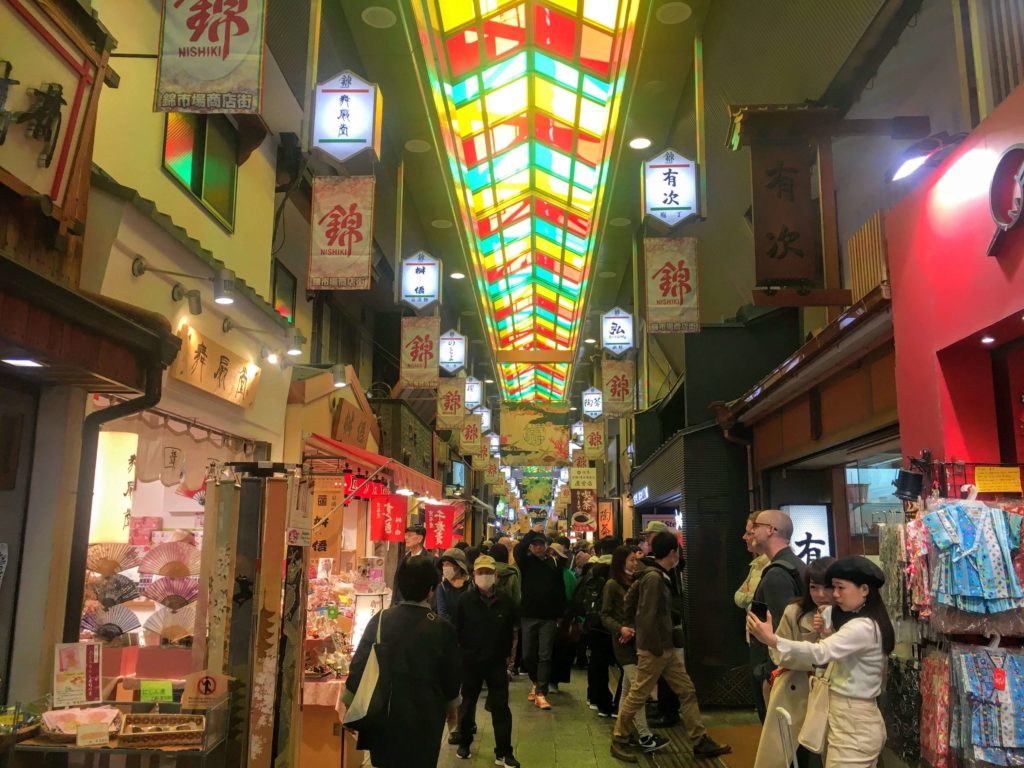 Stop 6: Yasaka Shrine (evening)
Your Kyoto itineraries don't end after the sun sets! Explore Kyoto at night to see its temples and neighborhoods with a different atmosphere, lit up by beautiful lanterns. Yasaka Shrine is famous for its night-time display of lanterns, which adorn its central shrine.
Gion is another neighborhood that lights up after dark, and can be visited near Yasaka Shrine too.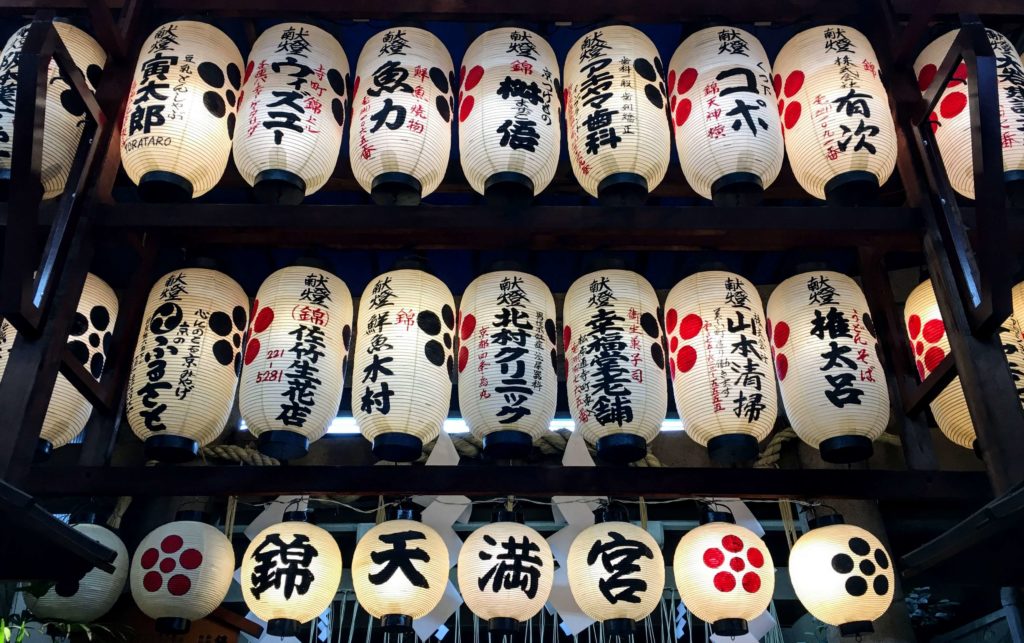 Get to bed early after your first day in Kyoto, because the next day of your three days in Kyoto is an EARLY start! 
Kyoto Itinerary Day 2: Fushimi Inari Shrine, Ginkaku-ji, Heian Shrine, Teramachi-dori
Day 2 of this three days in Kyoto itinerary takes you to the east side of Kyoto. You'll have to navigate both trains and busses to get around, because these Kyoto highlights are at the outskirts of the city. 
Stop 1: Fushimi Inari Shrine
Quick! Get to Fushimi Inari Shrine for sunrise before the crowds! From central Kyoto, take the Keihan Main Line or the Nara Line south to Fushimi-Inari Station (~¥210).
Fushimi Inari Shrine is an incredible Shinto Shrine, dedicated to the god of rice, Inari. Fushimi Inari is famous for its web of thousands of vermillion torii gates, which stretch all the way to the summit of Mt. Inari.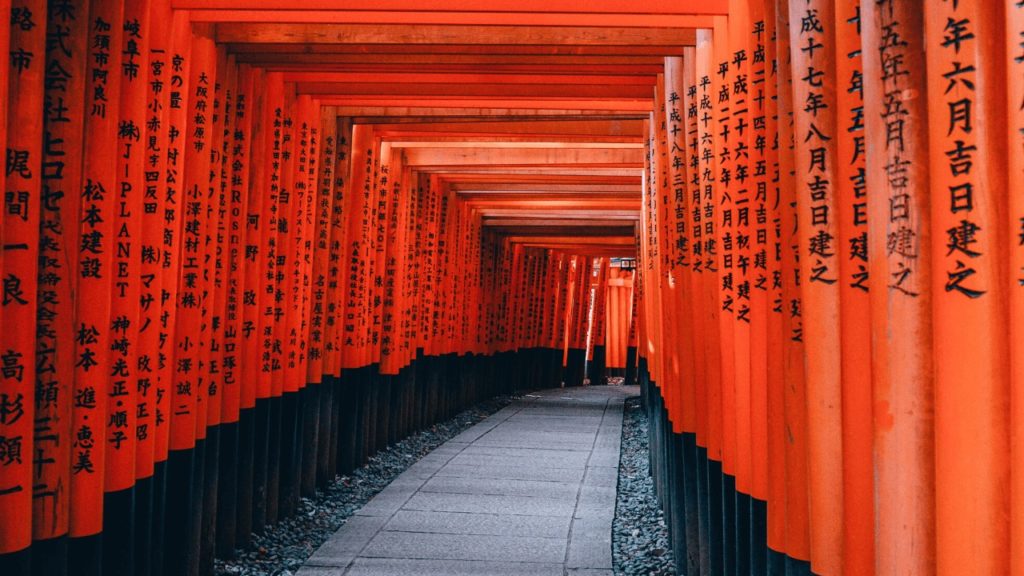 Stop 2: Komyo-in Temple and Tofukuji Temple
Once you've had enough of the crowds at Fushimi Inari Shrine, continue your three days in Kyoto itinerary by wandering the same neighborhood to some quieter temples. 
Komyo-in is a hidden gem temple that I happened to stumble upon. It looks inconspicuous on the outside, so not many foreign tourists enter. It's a sub-temple of the neighboring Tofukuji Temple, and is made of a traditional Japanese building with a tranquil white-sand and moss garden. The best seasons to visit Komyo-in is the spring, when there are azalea flowers blooming, or the fall when there are dazzling autumn colors. Entry costs ¥300 paid on an honor system in to a hollow bamboo coin collector.
Tofukuji Temple is a 13th century Buddhist temple, a short walk away from Komyo-in. Tofukuji Temple is famous for the fall colors throughout its pond garden, and for its rock garden in the Hojo, or priest's living quarters. Many of the temple structures dotted in the large courtyard can be viewed for free, but the gardens and Hojo require separate ¥400 yen entry tickets.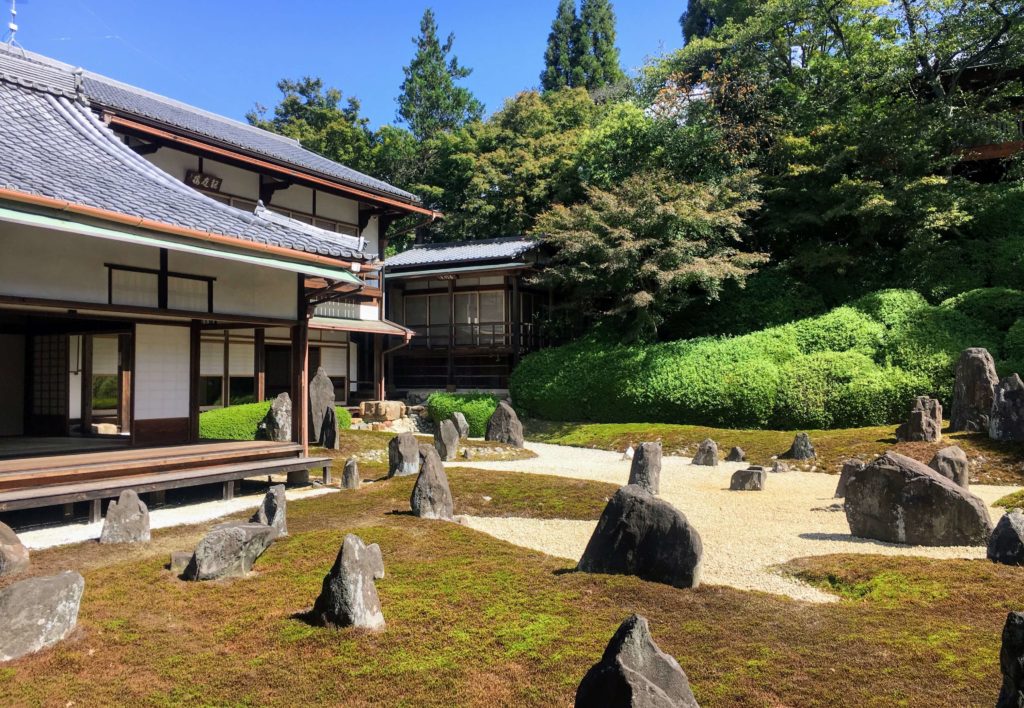 Stop 3: Ginkaku-ji and the Philosopher's Path
From Tofukuji Temple, reach Ginkakuji by taking the Number 100 Bus, or taking the Keihan Main Train Line to Demachiyanagi Station, then bussing or walking to Ginkakuji. 
Ginkakuji, also known as the Silver Pavillion, is a Zen Buddhist Temple in northeastern Kyoto. It was built by the former shogun to look similar to the Kinkakuji (Golden Pavilion), and was used as his retirement villa. After his death in 1490, it was converted to a Zen Buddhist temple and a culture space. Ginkakuji is famous for its picturesque wooden pavilion, koi pond, and sprawling moss garden. Entry costs ¥500 for general admission, which includes a ticket that doubles as a good luck charm you can post up in your house to keep evil spirits away.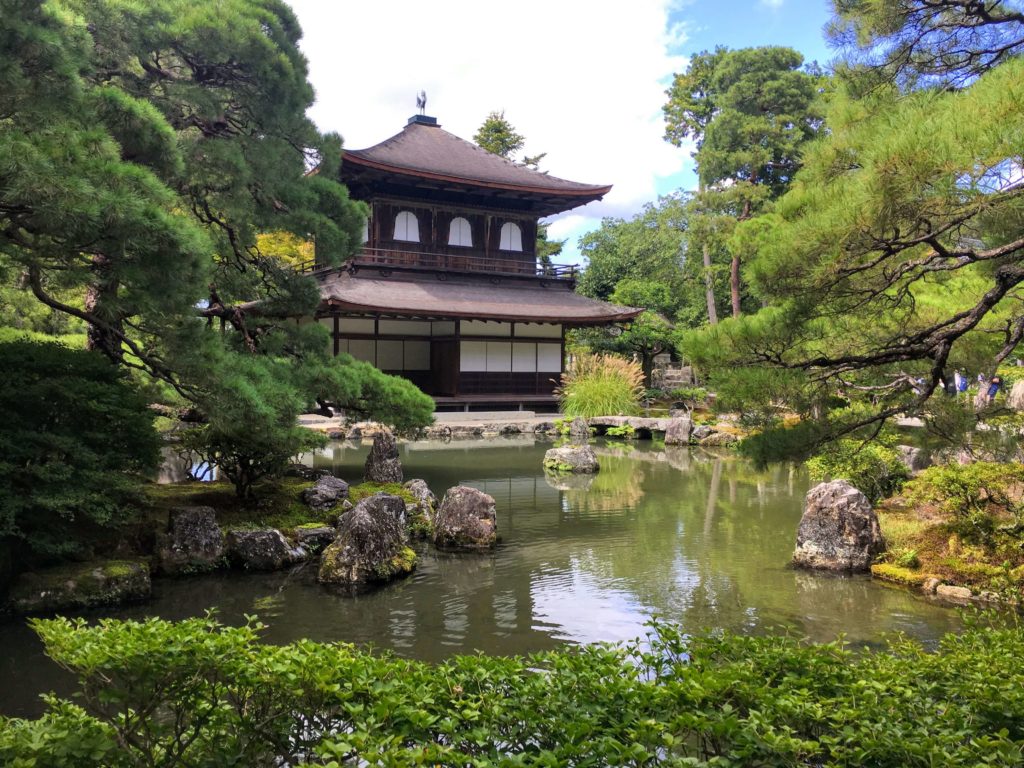 Outside the Ginkakuji complex is the start of the Philosopher's Path. This scenic trail is a stone pedestrian pathway that runs alongside a small canal, which is lined with cherry blossom trees. It's named the Philosopher's Path because Japan's famous philosophers used it as a place to ponder ideas and meditate.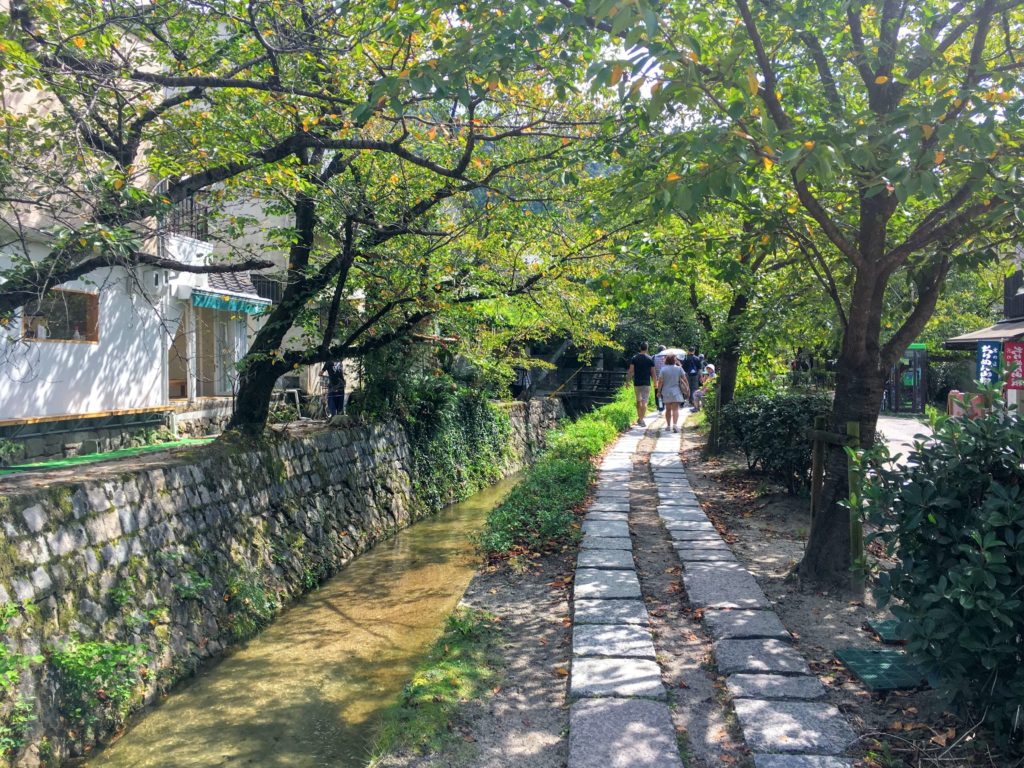 Stop 4: Honen-in Temple
Honen-in Temple is another hidden Kyoto temple with not a lot of visitors. Take a break from the Ginkakuji crowds by walking down the Philosopher's Path to the base of Honen-in Temple. 
This quiet temple has a moss-covered entry gate, and two mounds of raked sand that visitors walk between to be purified. Temple features include some art pieces, Buddha's footprints, and a small carp pond.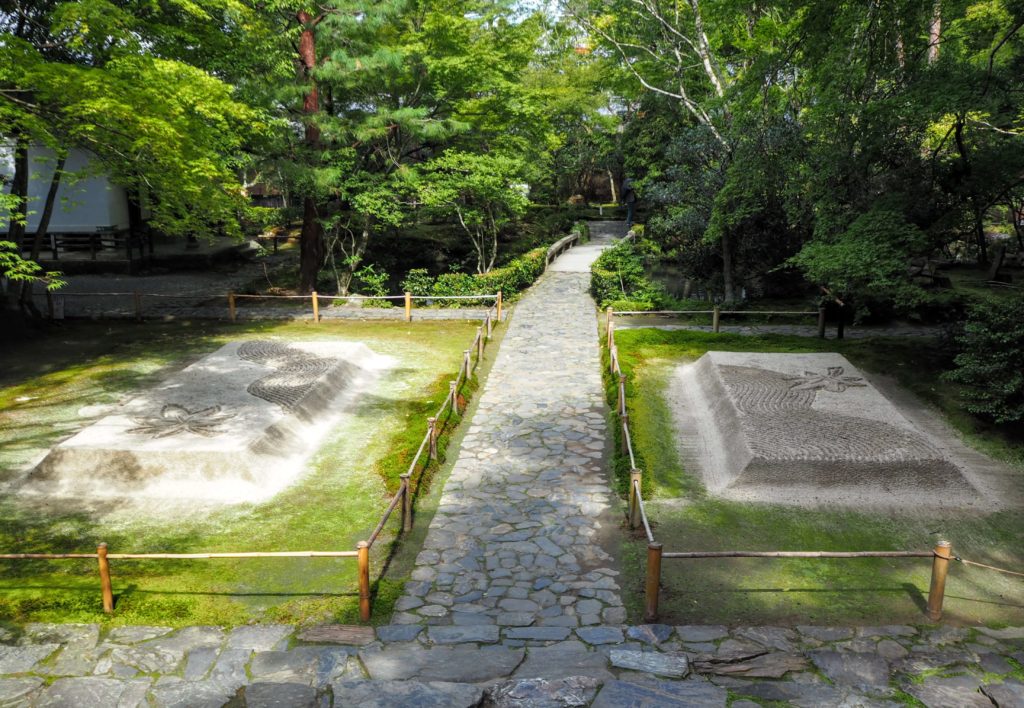 Stop 5: Heian Shrine
From Honen-in Temple or the Ginkakuji area, take the Number 100 Bus back to Kyoto city center to visit the Heian Shrine. 
The Heian Shrine is another large shrine complex that is a relatively new-build (1895) compared to the other famous Kyoto temples and shrines. This bright red shrine was built to look like the Imperial Palace in Tokyo and is dedicated to the former emperors of Japan. Entrance to the large shrine grounds is free, where you can admire the colorful buildings. A separate Japanese garden requires an entry fee of ¥600. 
Stop 6: Teramachi Dori
Teramachi Dori is a commercial street where you'll find all the classic Japanese shopping stores, located in central Kyoto. Shop till you drop at 100-yen stores, drugstores, traditional handicraft stores, fashion stores, and other quirky and artsy shops. A variety of restaurants also line this street, from the traditional ramen, gyoza, curry restaurants, to wildly popular Koe Donuts… even a McDonalds and Wendy's! 
Teramachi Dori is the perfect place to have dinner during your three days in Kyoto – you may be coming here more than once during your Kyoto itinerary! My favorite restaurant here (although it's not Japanese food) is Ain Soph Journey, a vegan restaurant franchise that has three restaurants in Tokyo, and one in Kyoto.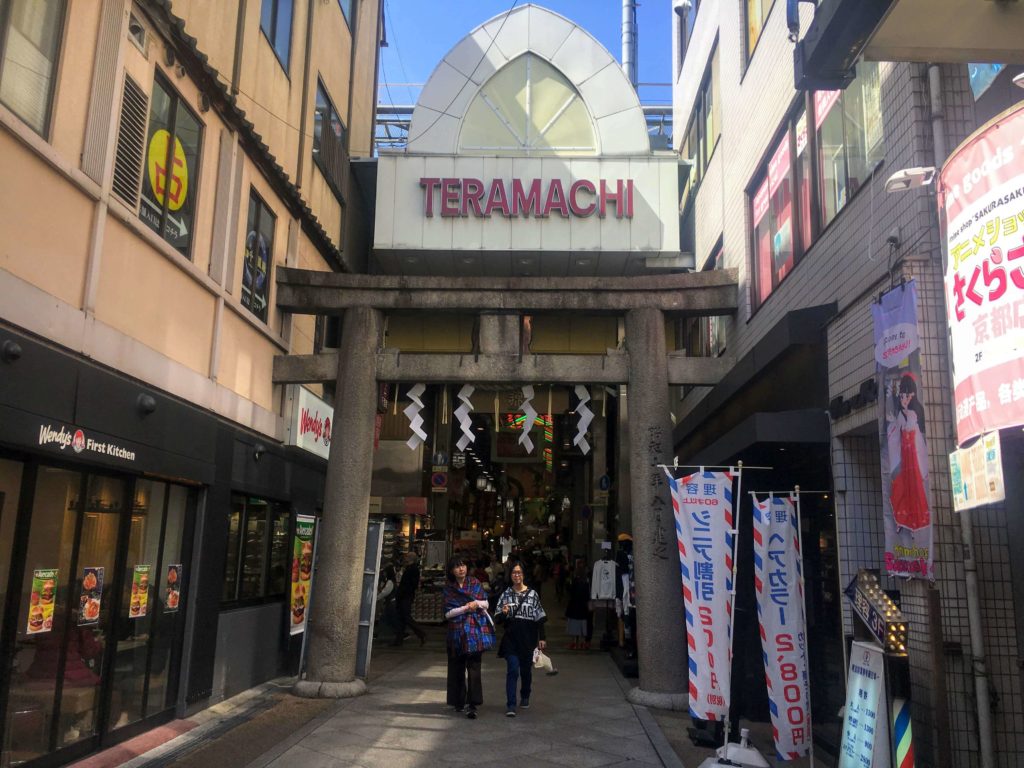 Kyoto Itinerary Day 3: Arashiyama, Kinkakuji, Ryoan-ji, Kyoto Station
Day 3 of your 3-day Kyoto itinerary takes you to the west side of Kyoto, home to Arashiyama bamboo grove and Kinkakuji, or the Golden Pavillion. It requires another early start if you want to see the bamboo groves without the people! 
Stop 1: Arashiyama Bamboo Grove
Bamboo swaying in the wind, leaves rustling… Arashiyama Bamboo Grove is a tranquil, meditative place if visited without crowds. To visit Arashiyama during your Kyoto itinerary, head from Kyoto Station on the San-In Line to Saga Arashiyama Station (¥240). From the station, it's a 10-15 minute walk to Kameyama Park, which is where the bamboo groves are located. I recommend visiting just after sunrise again, to avoid the large crowds that come here during the day. 
Visiting Arashiyama is not just about being surrounded by bamboo: a few peaceful temples are scattered around the park, such as Tenryu-ji Temple Hogon-in Temple, and Nonomiya Shrine. The beautiful Katsura River flows alongside the grove, where you can find a scenic observation point or have a picnic down stream.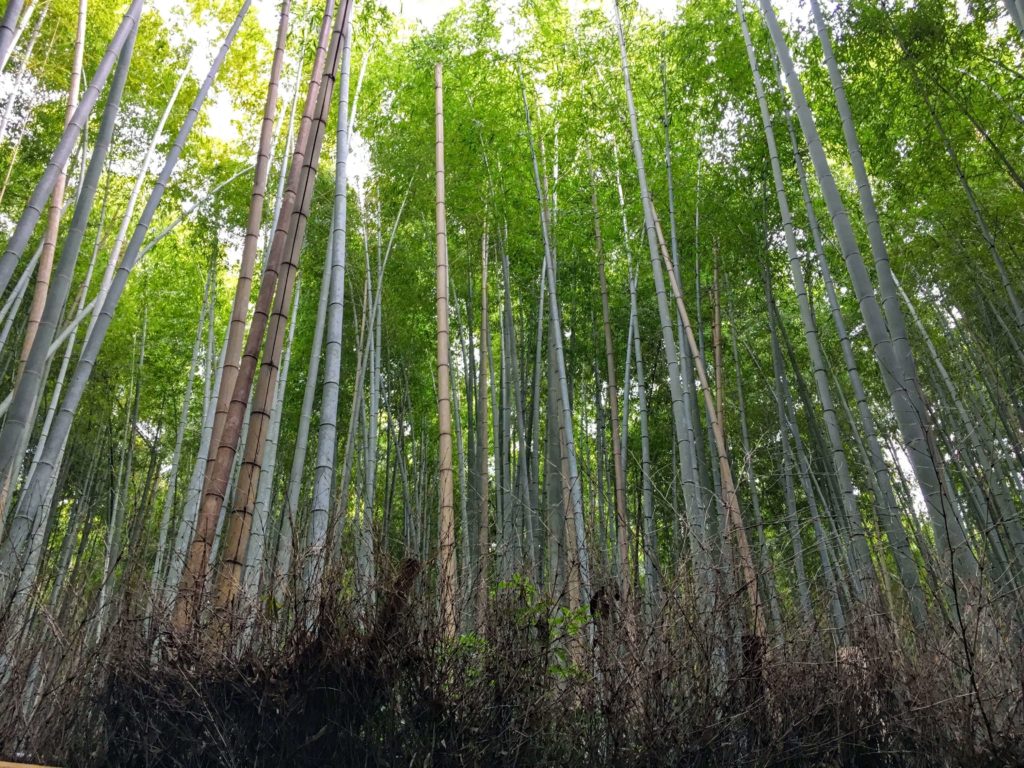 I recommend stopping for Japanese sweets, dessert, or matcha tea at the traditional eX Cafe in Arashiyama during your Kyoto itinerary. Here, you can roast your own dango rice balls over a small coal grill, and enjoy the comforting Japanese atmosphere. 
The main street that runs in front of Arashiyama's tram station is filled with cute cafes and restaurants. It's a great place to shop for souvenirs, then grab some food to take away and eat by the Katsura Riverside.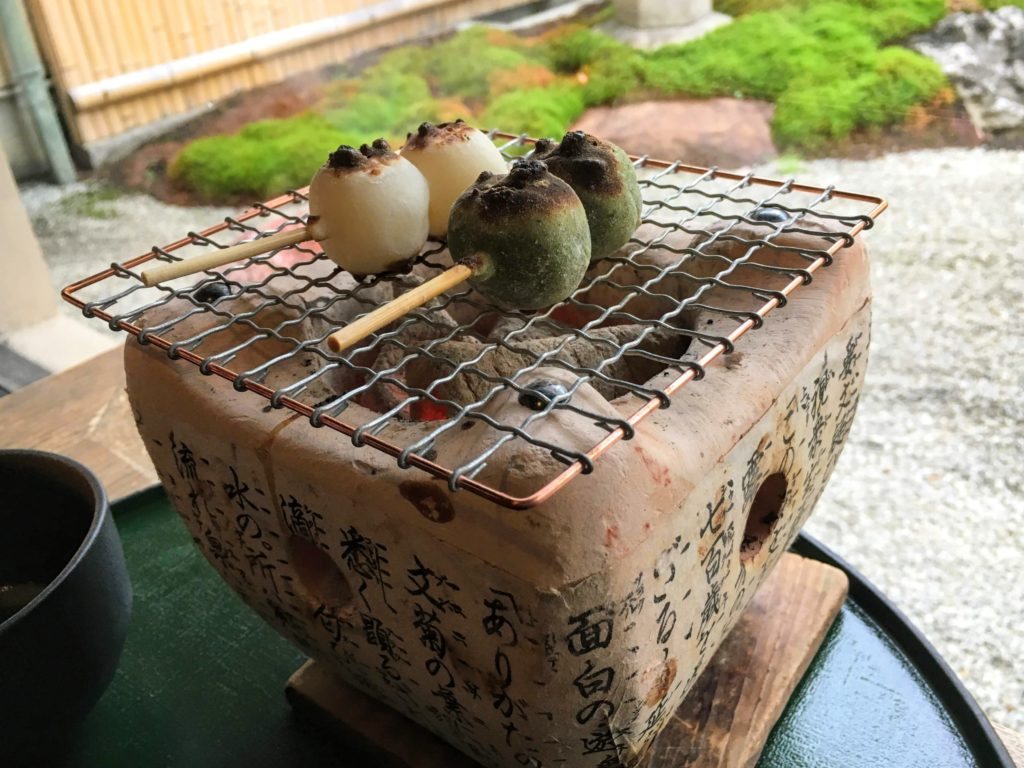 Stop 2: Kinkakuji (The Golden Pavillion)
Kinkakuji is arguably one of the most well-known Kyoto attractions, that shouldn't be missed during 3 days in Kyoto. Unfortunately, it's a little hard to get to from Arashiyama. If you have the money, take a taxi, otherwise take the San-In Line back to Enmachi Station, then take the Number 204 bus up to Kinkakujimichi Station. 
The Kinkakuji Pavillion is a dazzling structure located next to a pond, giving off twice the shimmer on calm days. Admission to the temple is ¥400, but it's well worth checking out the structure and the sprawling Japanese garden surrounding it. The current structure was rebuilt in 1955 after a series of fires, but the original temple was built in the 1400's.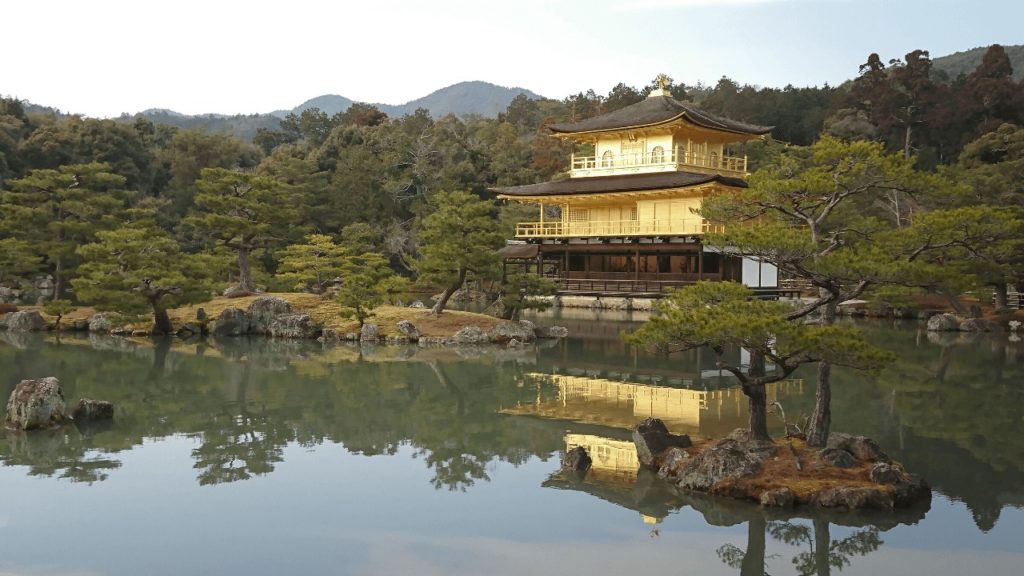 Stop 3: Ryoan-Ji Temple
A ten-minute walk southwest of Kinkakuji is Ryoan-Ji, another impressive temple famous for its raked rock garden. It's a good place to visit for meditation, and you could spend up to several hours here if you want to meditate in the tranquil garden. 
Stop 4: Kyoto Station
Once you've had your fill of centuries-old temples and moss gardens, head back to modern Kyoto by visiting Kyoto Station. If you haven't had time for souvenir shopping during your 3 days in Kyoto, Kyoto Station's underground mazes are a great place to find high-end gifts. It's connected to several malls and food courts, which makes it a great place to find something perfect to have for lunch or dinner.
Visit Kyoto Station in the evening, to see the main staircase on the upper floors light up. It's a fun place for kids to run around, as well as a great Kyoto Instagram spot. 
Just across from Kyoto Station is Kyoto Tower, one of the highest points you can reach in Kyoto because of Kyoto's Aesthetic Landscape building ordinances. Get tickets for Kyoto Tower ahead of time here. 
After this Kyoto 3-day itinerary, or even before the Kyoto itinerary ends, head to Nara. Nara is a quick train-ride away from Kyoto (45 minutes, ¥720) and is a perfect day-trip destination. 
The town is famous for its countless historic temples, and its domestic deer that bow to you for deer cookies! 
Read more about Nara in my three weeks in Japan itinerary.
Pin This 3-Day Kyoto Itinerary!
Are You Prepared For Your Trip To Japan?
Be sure to check out my Japan home page for Japan travel information, insider tips, reading list, and must-haves for traveling to Japan!