A trip to Southeast Asia is not complete without adding a Myanmar itinerary. Because Myanmar only recently opened its borders to tourism, the culture is and country is as authentic as Southeast Asia can be.
Although many backpackers skip over Myanmar on their Southeast Asian travels, Myanmar is easily accessible and not difficult to backpack. Yangon in the south and Mandalay in the center of Myanmar both have international airports where you can catch flights around Southeast Asia on the cheap. Traveling overland from Thailand is also possible.
During this two weeks in Myanmar itinerary, you'll feel like not just a dollar sign like in other countries, but as an interesting individual or as a fellow local (you'll only hear "taxi! taxi!" in Bagan). The locals here are some of the nicest you'll meet too!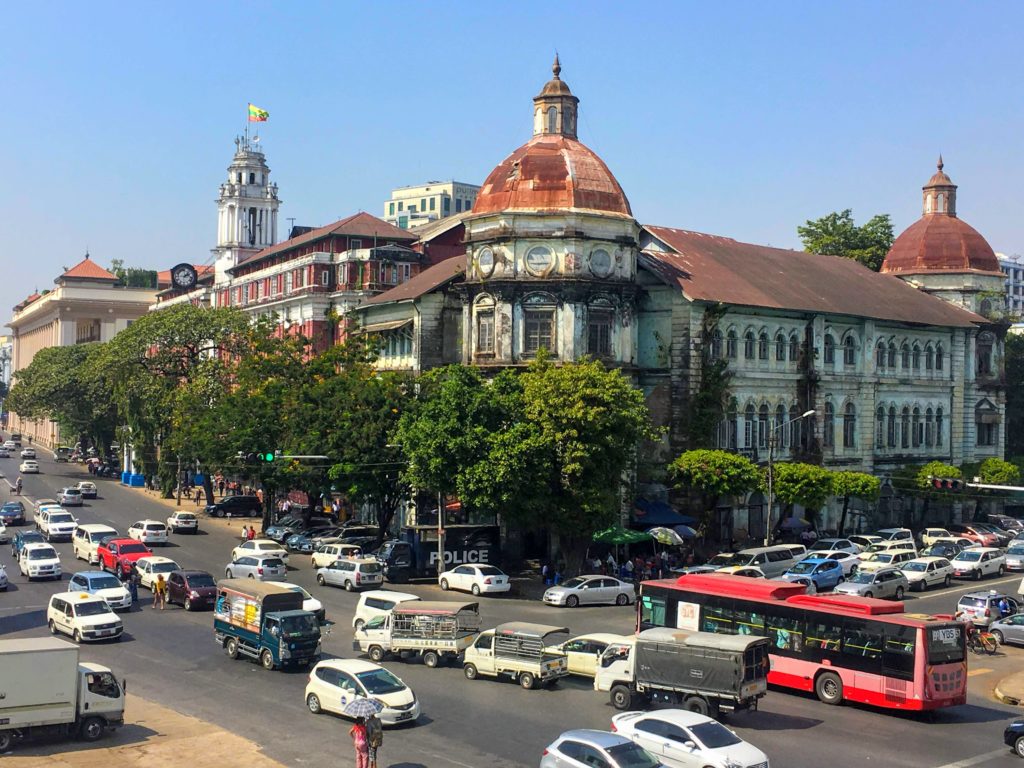 There is something for everyone in this Myanmar itinerary: big cities to explore like Yangon and Mandalay, impressive cultural and heritage sites, trekking opportunities, and rural villages to explore and to spend time with the locals. 
Because there are some areas of Myanmar that are off-limits to foreigners due to ongoing conflict between the government and hill tribes, it's responsible to stay on the tourist track for your Myanmar itinerary. If you stray off the beaten path, there's a chance you could get hurt or in trouble with the government, potentially jeopardizing the accessibility of Myanmar to backpackers in the future. 
I recommend spending at least two weeks in Myanmar, definitely more if you can manage it! If you are traveling to this amazing country, here's a Myanmar itinerary you can follow to make sure you see all the highlights. 
Two Weeks in Myanmar Itinerary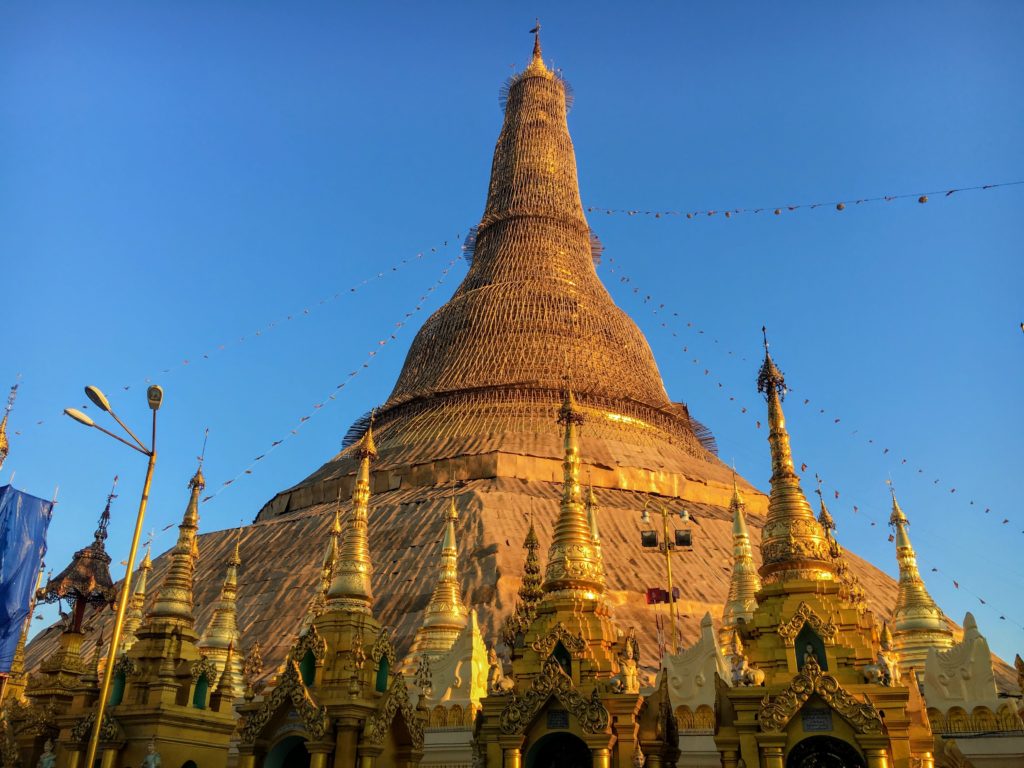 Yangon was my favorite city in Myanmar, and a great city to start your two week Myanmar itinerary. I loved it as soon as I stepped out into the crowds of Chinatown and started wandering between the endless lines of street food vendors. 
In Yangon you'll get all the perks of being in a big city. There are great restaurant and cafe options (check out Rangoon Tea House, 999 Shan Noodles, or El Cafe). Despite rumors that Myanmar food is really bad, I loved their variety of fried noodles, soups, curries, and vegetable side dishes. 
Yangon also has large malls and markets (Junction City Mall or Bogyoke Aung San Market) where you can meet all of your shopping needs and catch the latest Asian or Hollywood movies. 
At sunset, go to the incredible Shwedagon Pagoda, an iconic Myanmar religious site. After dark, head to the 19th street in Chinatown to have barbecue skewers you can pick out for yourself. Feast and drink Myanmar beers right alongside the locals who will love to have a chat or at least raise a glass with you.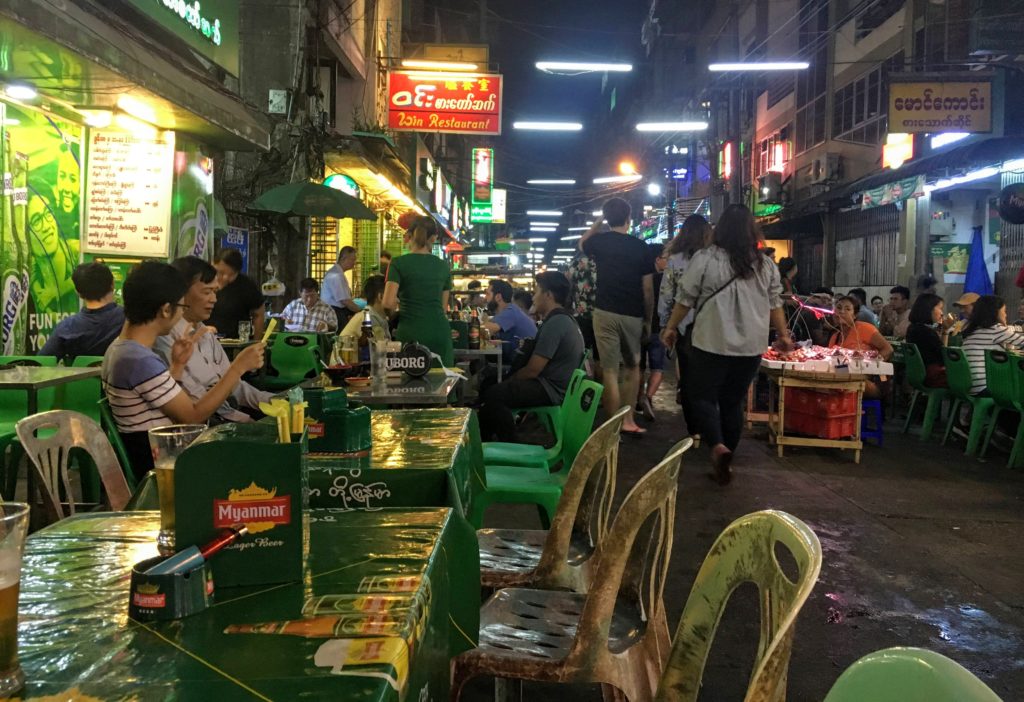 After your time in Yangon, head to the ancient city of Bagan. It takes a loooong time to reach central Myanmar from Yangon, so save yourself a day by taking overnight transportation. There are both bus and train options, and it's a good idea to book in advance for both. Check 12GoAsia for updated public transport options to get around Myanmar.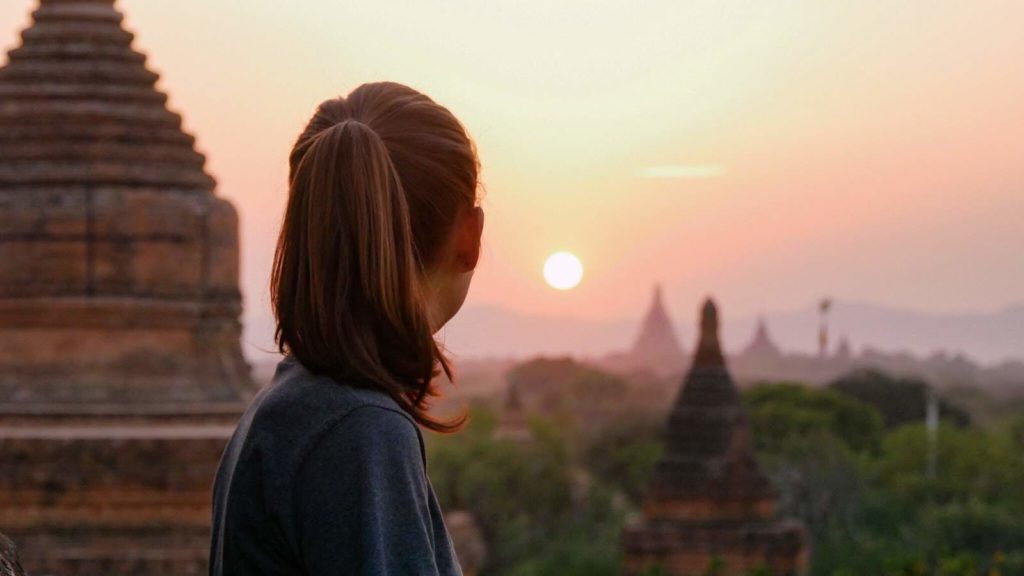 Up there with Angkor Wat and Machu Picchu, Bagan is an ancient temple paradise. It's a must-visit location during two weeks in Myanmar or any other length of stay. You get so much freedom here to explore as you like, on an electric scooter, bicycle, or with a tuk tuk and driver. There are endless beautiful temples dotting the landscape. Larger Bagan temples are still frequented by locals as a place to pray, and there are also many, many small temples lost to time.
Along with Inle Lake, Bagan might be one of the most touristy spots on this Myanmar itinerary. You'll find more souvenir shops, Western cafes, and tour busses here than in Yangon. Don't miss the better-than-India Indian restaurant that I went to three times during my Bagan stay, Indian Hut!
A popular activity here is to go to one of temples that you can climb just before sunrise and sunset. The climbable temples are limited however, so make sure you get to the right place!
Other popular Bagan activities include seeing the temples from above in a sunrise hot air balloon. Budget travelers can book a local bike tour to visit Bagan's higlights.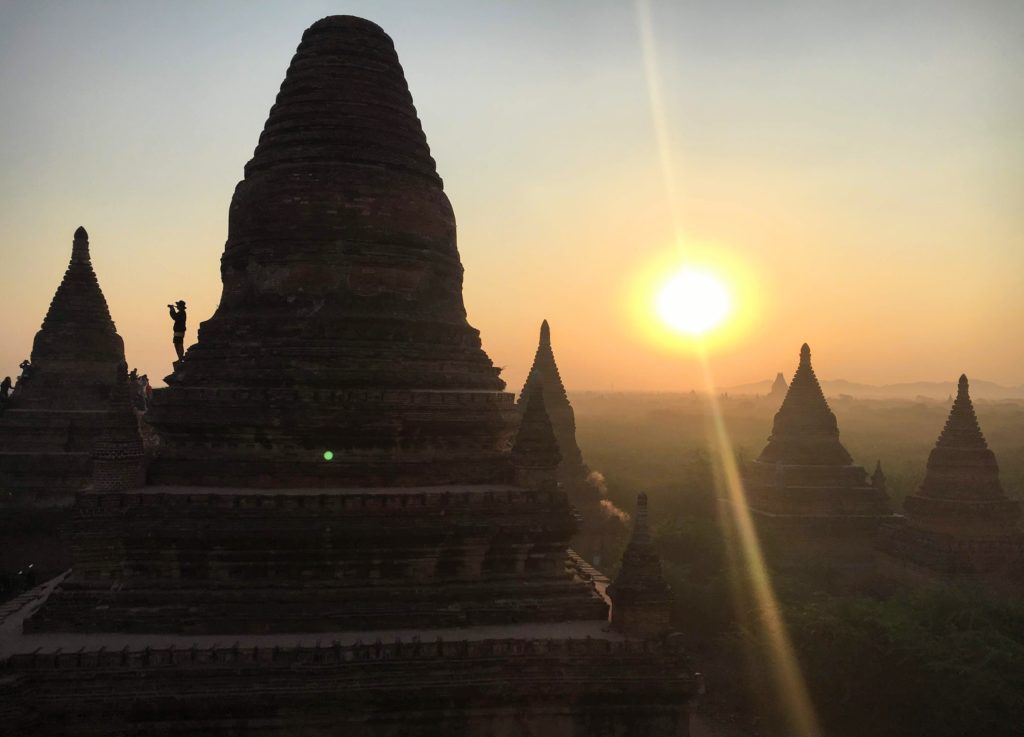 From Bagan, head to Mandalay, the largest city in central Myanmar. Bagan and Mandalay are well connected, so it's possible to go to travel there via bus, train, or by boat. Check transportation options and book ahead on 12GoAsia. 
I recommend taking the trip by boat up the beautiful Irrawaddy River, to catch glimpses of the local fishermen and of villager lifestyles. As part of my Myanmar itinerary, I made this trip with a company called RV Panorama.
Mandalay is a cultural city that's located in the heart of Myanmar. Because it's located between Bagan, Kalaw, and Hsipaw, you're sure to pass through Mandalay as part of your two weeks in Myanmar itinerary.
What used to be the capital of Myanmar, Mandalay is home to palaces, massive temple complexes, and famous pagodas. It's possible to take a tour around the outskirts of Mandalay to get to viewpoints over the Irrawaddy River too. 
Mandalay is a gathering place for locals from all other regions around Myanmar, to come and buy and sell goods. There are impressive markets here that you should include on your Myanmar itinerary, including the Jade Market, and the massive labyrinth-like Zay Cho Market. 
Days 9-11: Kalaw to Inle Lake Trek
In order to experience Myanmar local life and interact with villagers, head out on this trek through the countryside as part of your Myanmar itinerary. This was one of my highlights during my time in Myanmar! 
This trek takes you into the hilly region of central Myanmar, where agriculture is the way of life. You'll meet friendly locals, curious children, and lots of water buffalo. Although the scenery wasn't as mind-blowing as my previous treks in Nepal, Switzerland, or Georgia, to catch a glimpse of rural village life and to stay in local home-stays was a special experience.
On the first night you'll stay in the mountain town of Kalaw, then the next two nights in tiny villages as you trek for 5-6 hours per day through rolling hills and rice paddies. I LOVED staying in the bamboo huts of local villagers and exploring each little village. The children especially are excited by the sight of trekkers and will come up to you for pictures or to give you flowers.
While most people embark on this trek with a guide, Marty from Intrepid Road and I challenged ourselves to trek Kalaw to Inle Lake unguided. Since we enjoy not having to adhere to anyone else's schedule, this was a great way to experience the Myanmar country side at our own pace. 
Inle Lake is another must-see destination during a Myanmar itinerary. It's a cultural destination to floating villages, handicraft centers, and countless beautiful temples along the lake's edge. 
The most popular activity at Inle Lake is to hire a boat and a guide for the day, to be taken to different cultural (tourist) sites around the lake. If you plan to be up around sunrise, there is a photo opportunity with the fishermen on the lake, who paddle their boats using their feet and catch fish using massive baskets! 
It costs about $20-$25 USD to rent a boat with a local driver for one day.
Day 14 - Return to Yangon/Mandalay
I recommend giving yourself a full day in transit to get to your departure city. Although I never had problems with public transit in Myanmar, you never know when issues might come up! 
It's possible to catch overnight busses from Inle Lake to Yangon or other cities around the country. Taking overnight transit is a good way to save some daylight time (but maybe not energy) for your two weeks in Myanmar itinerary.
Myanmar is an incredible country that's accessible overland from Thailand or via a short flight from many large cities in Southeast Asia. The friendliness of the locals, the authenticity of the cultural experiences, and the beautiful temples and pagodas are few of the many reasons to visit. If you're ever in the area, Myanmar should not be missed!! 
Pin this Two-Week Myanmar Itinerary!