One of the questions I get asked the most, both from other backpackers as well as friends from home is, "How are you funding your travels?"
The answer is: my own savings.
I worked and saved for 2 years and 4 months in Houston, Texas straight after graduating from university.  With the goal in mind of traveling long-term, I made daily sacrifices to save as much as I did.
My long-term travel target was to be on the road for 2 years straight, without supplemental work. One of my friends had backpacked consecutively for 2 years, and told me to save $30,000 USD. 
With $30,000 abroad, the monthly spending target is about $1000, plus some extra for flights, splurges, and incidentals. Incidentals may include rabies shots if you're bitten by a monkey (happens more often than you think). A splurge may be going skydiving, getting PADI certified, or if you end up in expensive Western Europe like I did when the World Cup 2018 started.
The next question: 
How did I save $30,000 in two years?
1. Live with Roommates/Find Cheap Housing
I was happy to look for roommates when I first moved to Houston, a city where I knew hardly anyone! I was lucky to find two new best friends through a roommate-finding website. This was a win-win living with such fun, kind girls, and spending less than a third of my monthly take-home salary on rent and utilities. 
When my roommates moved away because of job changes, I moved into a one-bedroom apartment in one of the cheapest (but still comfortable and safe) apartment blocks near  downtown Houston. 
My rent went up, but a salary increase around the same time meant I was still spending a third of my monthly take-home salary on rent and utilities. 
2. Transfer a Portion of Every Paycheck to a Savings Account
Instant transfers to a savings account helped me reduce my urge to spend spontaneously on random things. If I see my entire paycheck sitting in my "spend" account, it becomes easier to spend.
With the online bank Barclays US, I opened an account that had an incredible savings rate of 1.85% (now 2.05%!). I would immediately transfer $200-$300 of each paycheck into this savings account that I never touched. The less money I see that's available to me to spend, the more mindful I am about how I spend it. With Barclays, the less I spend, the more interest I gain on savings!
3. Don't Splurge on Home Furnishings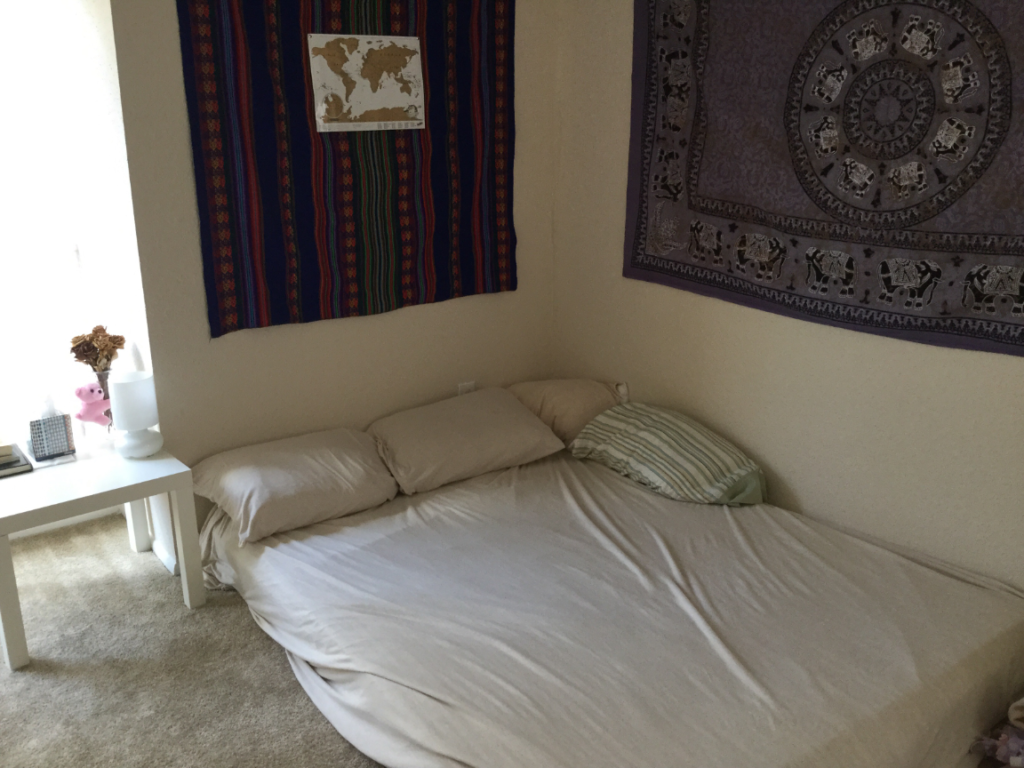 Ok, I was lucky at first because I was living with two roommates who had both been in Houston for many years. They had their own furniture that filled our apartment while we lived together.
When I moved to live on my own, I bought very little. I knew after the lease at my new apartment ended, I was set to leave Houston. I wanted to either transfer to the company's San Francisco office, or leave to start traveling. That's why there was no point in me buying a dining table, a bed frame, a big couch, or a TV. I didn't even purchase an Internet/cable plan.
Buying nice furniture can set you back thousands of dollars, and you never make that money back if you try and sell it all afterwards.
It was laughable how little I had in my apartment: a desk and chair (most expensive at combined $100+), a queen-sized mattress ($80) without a box spring or bed frame, an Ikea side table ($10), an Ikea coffee table ($20), and a twin-sized blow up mattress from Walmart ($10) that I used as a couch in the living room. I was definitely not hosting any Super Bowl parties at my place.
4. Don't Shop for Unnecessary Things
Both of these items were on my Amazon wishlist at one point… don't ask
This may seem like a given, but let me put this into perspective for you. If you're traveling for a year you're going to be cycling through the same six outfits in different combinations. 99% of the things you buy in the present, you won't be able to bring with you backpacking. It will just be sitting at your parents' house until you return. (Thanks again mom and dad!)
If you're really set on traveling long-term, you should practice being stingy. Anything you buy abroad like souvenirs, accessories, and clothes, you'll have to carry with you as added weight in your backpack. 
For me, it helped to avoid malls. Houston's Galleria mall is materialistic heaven. It's hard to pop in and out to buy one thing when there are so many flashy clothes, electronics, gadgets, and accessories being sold. DON'T FALL INTO THE TRAP!!
5. Cook Your Own Food, Don't Eat Out
This wasn't too hard for me because I love to cook for myself. Cooking and even grocery shopping is a way for me to relieve stress after work. My favorite reasonably-priced but healthy supermarkets were HEB (in Texas only, sorry everyone else you're REALLY missing out) and Trader Joe's.
One night eating out for two people can cost upwards of $100 per meal. Do this once or twice a week for a year, and the bill is HUGE. I probably spent about $200 per month buying groceries for myself to cook at home. I even meal prepped to bring lunch to work so I'm not spending $8 per lunch at the office for five days a week.
6. Take Public Transit Instead of Driving to Work
The wonderful company I worked for gave employees an option for one of two discounts depending on how they came into work: A discounted downtown parking rate in their building ($100 per month), or a pre-loaded public transit card.
For most months I paid $100 for the parking pass, but this was a cost I could've forgone altogether.
What I did instead was cancel the parking pass and use public transit if I was going to be out of the office for more than one week in a month. I was sometimes away due to work-related travel (I flew out to California often), I sometimes took week-long personal vacations, or was out-of-office because of the holidays (in Dec/Jan). Taking a bus into work isn't as bad as it seems – I learned a lot from listening to podcasts! 
Also if I was going to be away for a while, I'd Airbnb my apartment out for rent!  
7. Reduce Alcohol Drinking Quantity When Going Out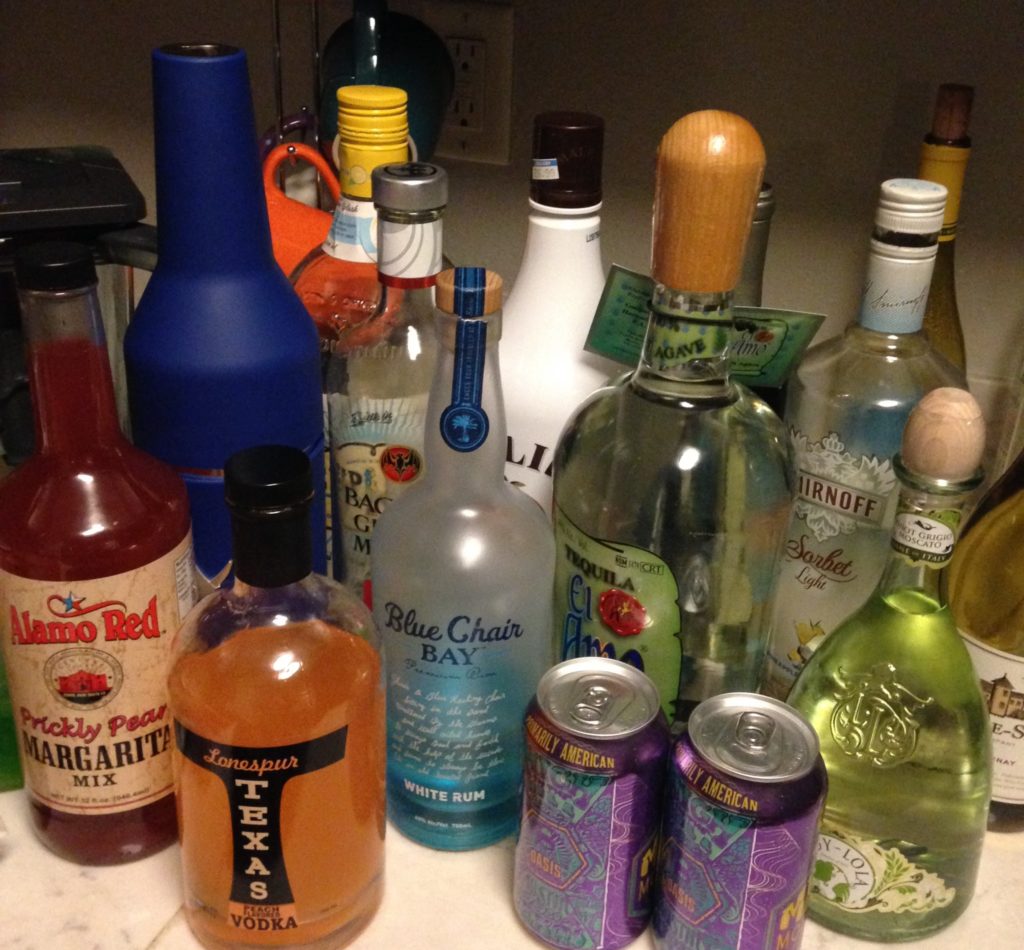 I'll admit I love a good night out at the bars, and it can get pricey in large metropolitan cities. Money spent on alcohol and going out (and buying drunk food afterwards) mysteriously adds up quickly.
To mitigate this, pregame like you did in college before going out (ok maybe not to that extreme). Also remember that happy hour is your best friend. Just because you have a larger paycheck than you did in college, doesn't mean you're too old for the pregame!
Two Advantages I was Fortunate Enough to Have
There are two factors which put me at an advantage to start saving right after graduation.
The first is graduating from university debt-free because of the generosity of my parents. With their help plus academic scholarships, I graduated very fortunately without any student debt. THANKS MOM AND DAD, ETERNALLY GRATEFUL!!!!
The second factor is the job that I landed right after graduation. I worked on distributed energy projects for a large gas & electricity company. It paid well, and I really loved it. The job was also based in Houston, Texas, where there is no income tax and lower living costs than most other large cities around the U.S.
Things I Did Not Cut Down On
It's important to note that I was still living a fun and social life in Houston. I still went out with friends and occasionally bought new clothes. I went to sports events and Houston Rodeo with my coworkers. There was a stockpile of wine in my home, and I ate healthy and well. My apartment complex was comfortable and safe, and it had three pools and a gym on site (that's Houston for you!)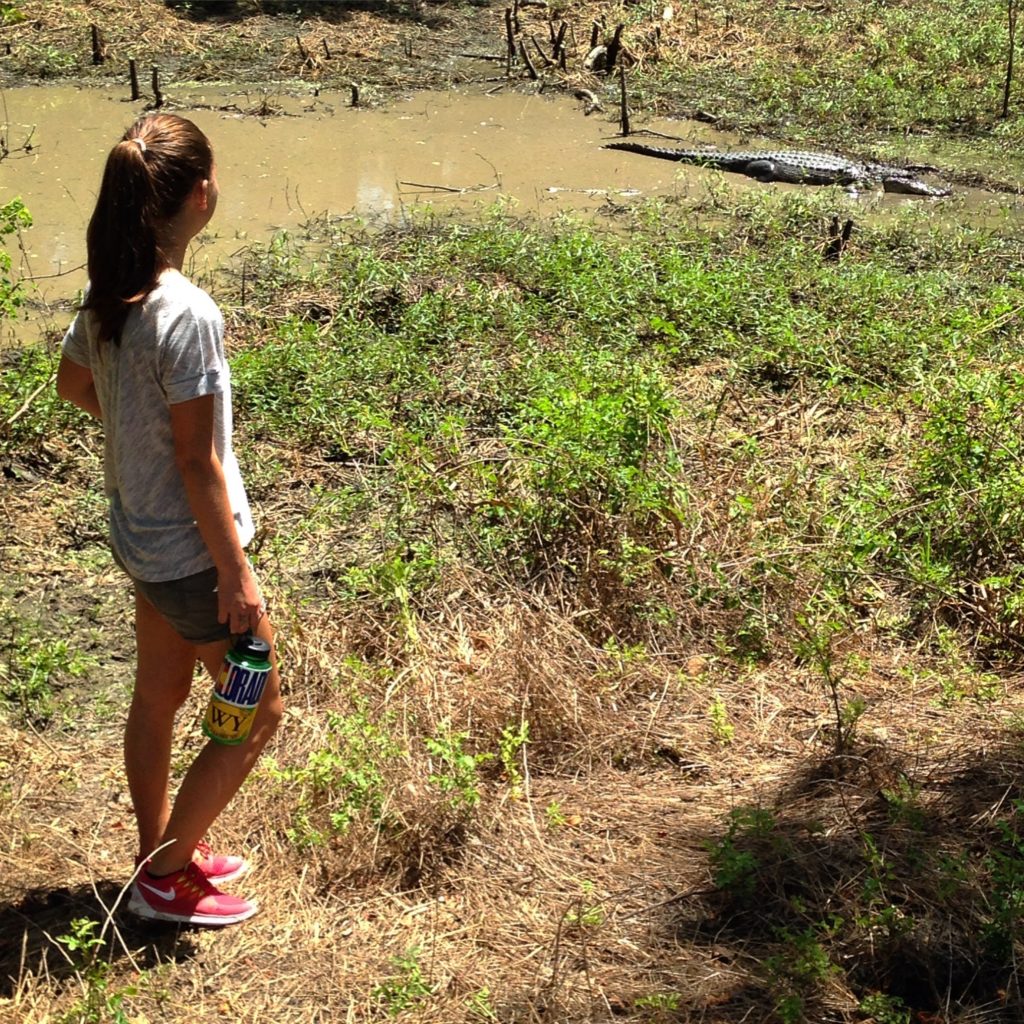 One massive expense I did not cut down on was travel. I took at least two international trips per year, such as during Thanksgiving break when we had two consecutive days off of work. I used my PTO days to take the whole week off. One year I went to Peru with my then-roommate, then the next year to Morocco. I also took one week off work each for international trips to Belize and Mexico combined, then Costa Rica and Nicaragua.
During the Christmas holidays I always flew home to Wyoming to spend time with my family. Every 2-3 months I was flying out to the east coast to hang out with college friends.
I could have given all of this up, but I'm not about sacrificing everything in the present and looking only to the future 🙂
I hope these tips help you towards saving even your first $1000 to put towards travel. Keep in mind that for every $1000 you save, that's one more month that you can spend abroad in places like Indonesia, Thailand, Nepal, and Turkey!