I've made a million new memories during my first year on the road. Only some of these are captured in pictures that myself or others have taken. Of the memories and experiences captured over 12 months, these were my highlights in chronological order: 
1. Thai King Bhumibol's Funeral
Date: October 15th, 2017
Location: Grand Palace, Bangkok
The first country I stepped foot on when I departed on my journey was Thailand. October 2017 was a solemn moment in time for the entire country. The Thai people were in mourning for their late King Bhumibol, wearing all black and flocking to Bangkok to pay their respects. Over a five-day ceremony the official funeral took place, and the cremation occurred on October 26, 2017. 
When I was in Bangkok, the grounds around the Grand Palace were opened up to spectators for the King's rehearsal funeral. I dressed in all black and attended this rehearsal parade in sweltering heat along with thousands of other Thais. It was a beautiful and humbling cultural experience for me, in a country and with people so close to my heart. 
2. "Children on a Bicycle" Mural, Georgetown
Date: November 8, 2017
Location: Armenia Street, Georgetown, Penang, Malaysia
I felt as happy as the little boy on the back of the bicycle when I stepped foot in Georgetown, Malaysia. This is where it really sunk in for me that I was traveling long-term, not just on a one-month holiday to Thailand. Malaysia was my first NEW country that I visited. I knew from wandering the streets of Georgetown, past mosques, Hindu and Buddhist temples, into Chinatown and Little India, along the coastline and into busy street markets, that I made the right decision to start this great adventure. 
Everything around me was foreign and a great contrast to home, but seeing Ernest Zacharevic's murals about life in Malaysia, I could feel that no matter where I am in the world, as humans we are all the same on the inside. This is where I found a little piece of home and peace within me.
3. Bayon Temple, Cambodia
Date: January 7, 2018
Location: Angkor Archeological Park, Siem Reap, Cambodia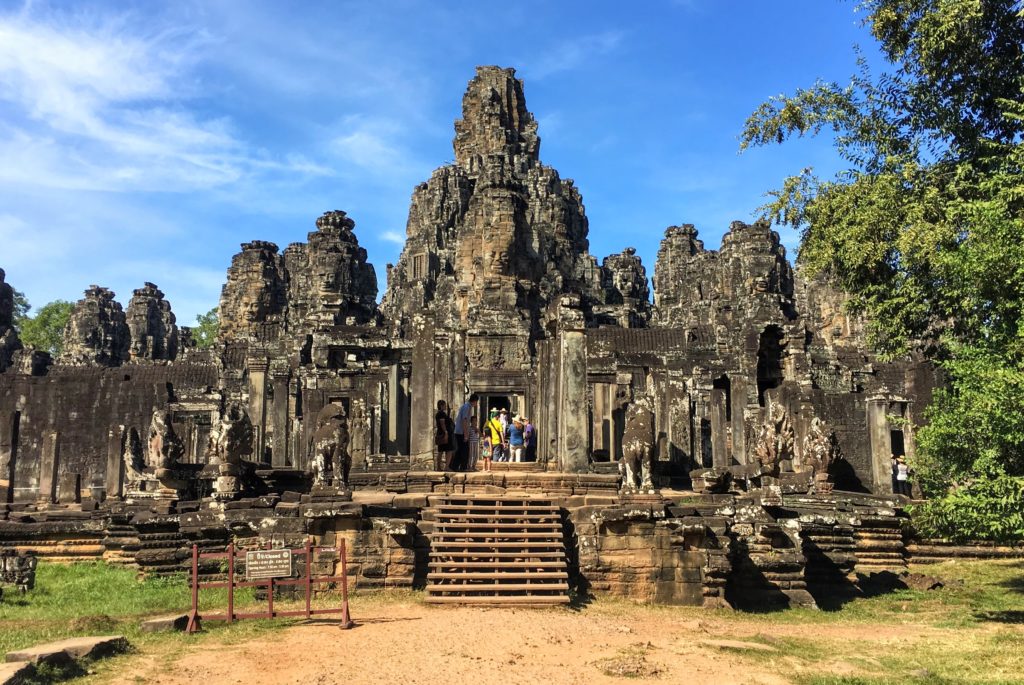 More than iconic Angkor Wat, Bayon temple took my breath away. The massive temple complex and a dozen carved stone heads loomed over me as I exited the tuk-tuk. I felt like I was transported to a different world consisting only of ruins and dense jungle.  
Cambodia itself seemed like a different world to me, full of poverty and scarred by a recent genocide. It showed me that backpacking shouldn't just be about staying in a Western bubble, drinking cheap beers with new friends and hanging out at the hostel pool. It's vital to learn about the culture and the past of a country, like how the Khmer Rouge swept through Cambodia and decimated the country's population. "Enemies of the regime" were tortured and killed in horrific ways, only 40 years ago. Today, skulls of victims line the moments dedicated to those who died at the hands of Pol Pot. 
When traveling, don't cast your eyes away from past atrocities. They shaped the country you're visiting, so fully absorb the "bad" of the past and then appreciate the "good" in the present.  
4. Auroville's 50th Anniversary Celebration 
Date: February 28th, 2018
Location: Auroville, Tamil Nadu, India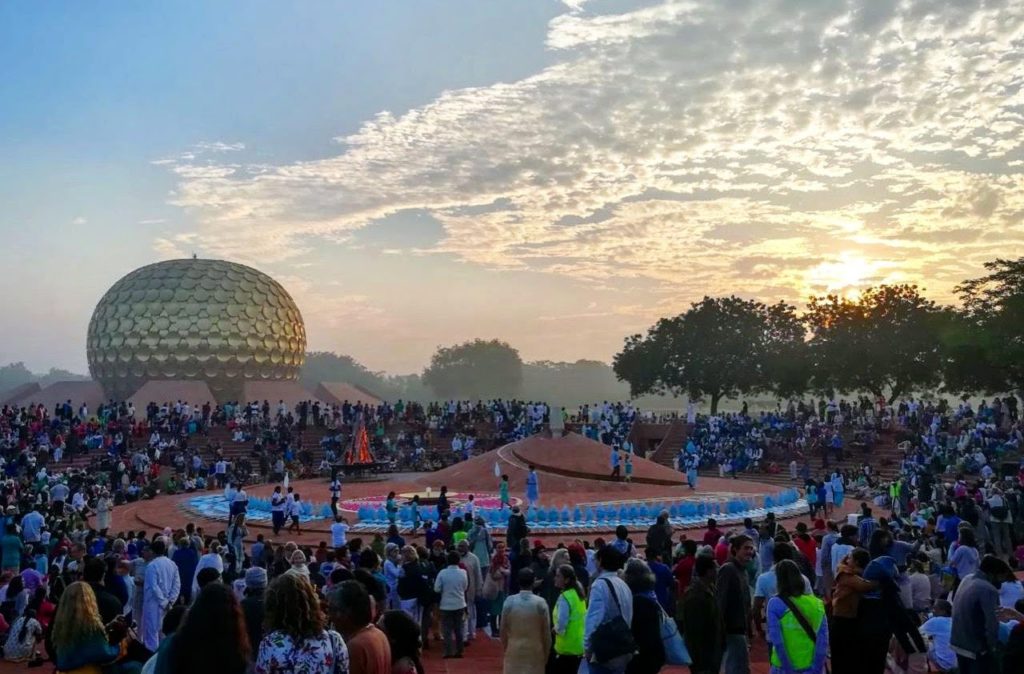 Some places in the world keep calling me back – Auroville in India is at the top of that list. "The City of Dawn" is a township of 2,500 people from every corner of the world, who are dedicated to human unity, sustainable living and working, without politics and government. The center of Auroville is the Matrimandir, a meditation chamber, and a massive banyan tree. Next to it is an amphitheater and an urn with soil in it from 124 different countries.  
My first introduction to India was when I visited Auroville in 2013. I returned to live and work here as a volunteer for two months in 2014, and made friends and memories to last a lifetime. This time in early 2018 I started for one month to recharge after spending 4 months hopping around Southeast Asia. Auroville is home to me. 
In 2018, the township was preparing for its 50th Anniversary, and I was lucky to still have connections in Auroville so I could attend the event on February 28th. 
The 50th anniversary celebration started with a sunrise bonfire and meditation, and a reading of the Auroville charter. Then there was a ceremony of combining water from all around the world in one of the Matrimandir's gold plates. 
5. Thorong La Pass, Annapurna Circuit
Date: April 14th, 2018
Location: Thorong La Mountain Pass, Annapurna Circuit, Nepal
I claim to be a "mountain person", but I had never done a multi-day trek in the mountains before the Annapurna Circuit. I timed my entire travels so I could be in Nepal during it's April-May trekking season. 
The Annapurna Circuit is a village-to-village trek that took me 13 days to complete. It took 6 days of trekking to reach the highest point on the Circuit, Thorong La Pass at 5,416m. I trudged through snow, over landslide areas, and at high altitude, through consistently beautiful mountain landscapes. It was the most challenging endeavor I had taken on at the time (until the Three Passes Trek, also in Nepal). Reaching Thorong La Pass brought tears to my eyes, after waking up at 4:30am and hiking 4 hours uphill through wind and snow. I felt a sense of accomplishment that I hadn't felt in a long time. 
6. Buddha's Birthday Celebration, Lumbini
Date: April 30th, 2018
Location: Lumbini, Nepal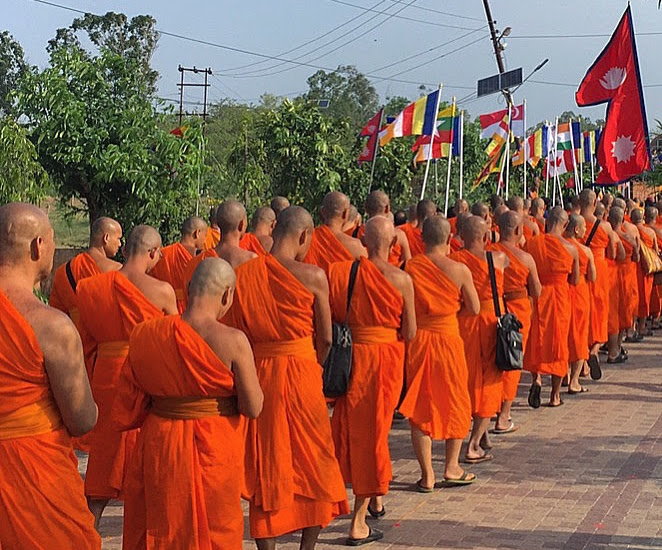 It was by complete coincidence that I visited the Buddhist pilgrimage site of Lumbini on Buddha's Birthday!  Lumbini is a UNESCO world heritage site, and is also known as the Birthplace of the Buddha.
My time in Lumbini was more spiritual than I expected it to be. I wanted to see Mayadeva temple which was built over where Buddha was born, and some of the other temples in the large Buddhist complex. 
I stayed in the Korean Monastery, which for 500 rupees per day included three meals with the resident monks, and a dorm bed! There were evening prayers and meditation in the main monastery building, which was open for everyone staying at the monastery. 
The next day I visited Mayadeva temple, which was filled to the brim with monks from around the world and Nepali officials who were in Lumbini for Buddha's birthday. Across Lumbini there was a massive parade and monk procession, complete with instruments, chanting, singing, flag-waving and flower-petal-throwing! It was a heartfelt and special celebration of the Buddha. 
7. Everest Base Camp and Three Passes Trek
Date: May 18, 2017
Location: Everest Base Camp, Everest Region, Nepal
After Thorong La Pass, the second bucket list item I wanted to accomplish in Nepal was trekking to Everest Base Camp. I did this in a big way by not going straight to EBC, but going via the Three Passes Trek! I reached an altitude of 5,500+ meters twice before reaching EBC at an altitude of 5,380m. After Base Camp, I had two more mountain passes to conquer, which I did with much difficulty because of a cold I caught that wouldn't go away! 
The accomplishment of crossing the Three Passes: Kongma La, Renjo La, and Cho La, ended up dwarfing my feeling of accomplishment for reaching Everest Base Camp. I'm still not sure if it's something I'd do again because of its difficulty, but as a once-in-a-lifetime experience it was well worth the challenge. 
8. Embracing World Cup 2018 with friends
Date: July 8, 2018
Location: Hyundai Fan Village, Antwerp, Belgium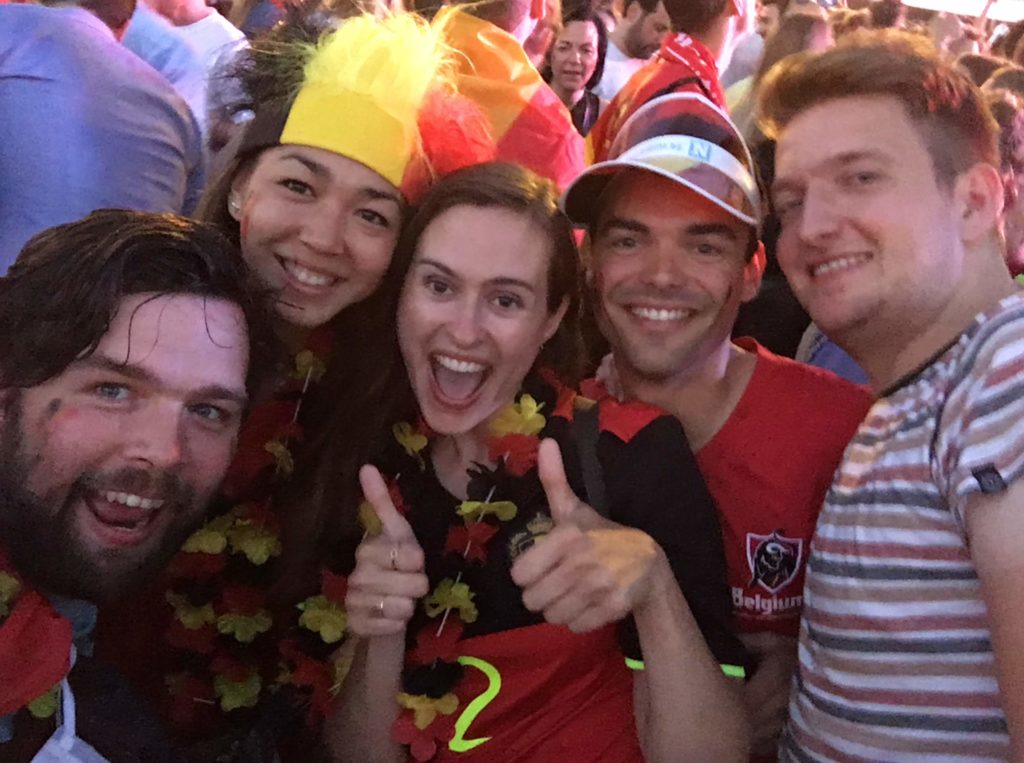 I headed to Europe at the start of the World Cup. The entire continent was buzzing with excitement, with hope. Over one month I hopped around between countries depending on whether they had a match that day on the World Cup stage.
I cheered on tables with English hooligans at a public viewing in London.  At a sports bar in Amsterdam I watched group stage games all day as fans representing each of the countries filed in and out. I went with some old and new friends to cheer on Belgium vs Brazil in the quarterfinals, at Antwerp's Hyundai Fan Village.  My friends dubbed this the most important match of their lives. We were jumping, screaming, hugging, crying together with thousands of other fans when Belgium won. The party afterwards lasted until sunrise! 
There was a similar celebratory scene (with less beer but more firecrackers and smoke sticks) when France beat Belgium in the semifinals. I was at a public viewing in Paris, but it was not the outcome I wanted so I skipped the party this time. I hopped on a bus to London the next day for England vs Croatia in the other leg of the semi-finals. Again not the outcome I wanted when Croatia scored a late goal to advance to the finals.
For the World Cup final I was in Paris in front of the Eiffel Tower. France massacred Croatia and took the title, leading to another French stampede through the streets, with smoke sticks blocking out the sky in red and blue waves. 
Belgium vs Brazil was my favorite out of all of the matches I watched. Nothing beats dressing up and going to a public viewing with your friends, celebrating a win like mad, then partying all night afterwards! 
9. My First Trek in the Swiss Alps
Date: July 24th, 2018
Location: Interlaken to Grindelwald, Jungfrau Region, Switzerland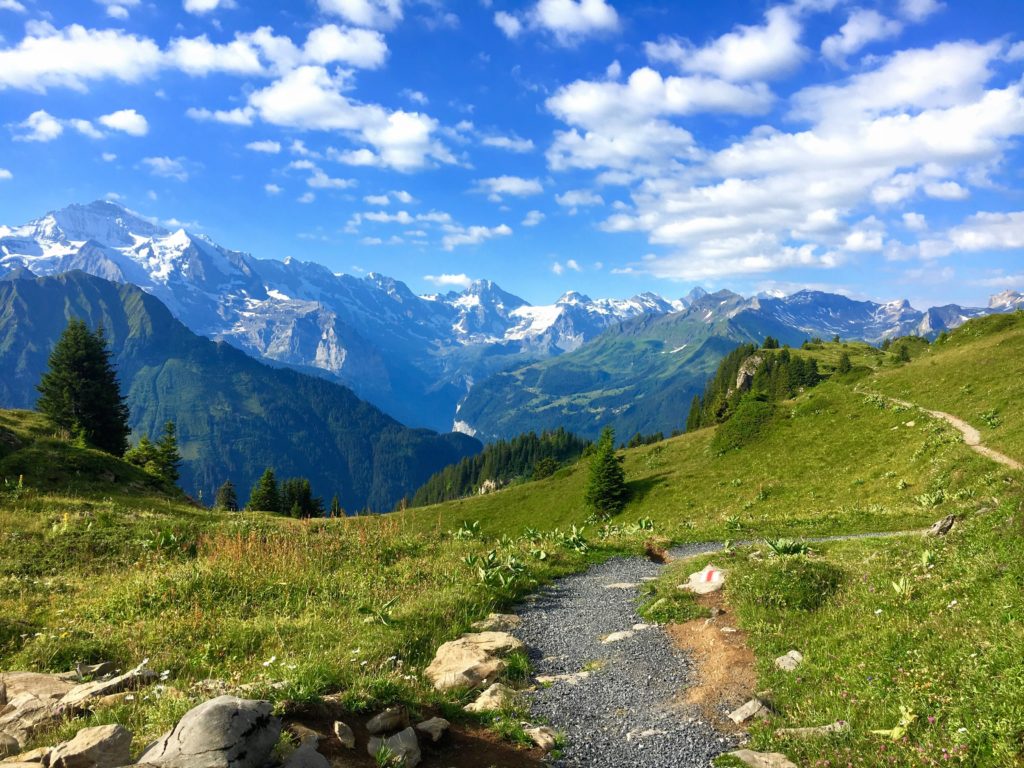 Switzerland was always on my radar, especially after I arrived in Europe. It's an expensive country, but it's was gateway back to the mountains for me. So I hopped on a train to beautiful Interlaken in the Jungfrau mountain region, after the World Cup ended. I had doubts in my mind of whether I'd even appreciate the Alps since I had been in the Himalayas only a few short months before.
When I exited the train from Interlaken to Schynigge Platte, these doubts were quickly put to rest. I faced snow-capped, turquoise-blue mountains ahead of me with lush green forests and an ocean of grassy hills below me. Blue, white, yellow, purple wildflowers dotted the landscape. These were colors that I didn't see in the Himalayas, which is at too high of  an altitude to have such vegetation. 
I trekked two long days, making a four day circuit in the Alps.  Little Swiss villages looked exactly as I had pictured them, and I loved the herds of cows roaming around with their massive metal bells ringing just under their necks. 
I had to move quickly through the Jungfrau region because my costs here were accumulating quickly, but I know I'll be back one day for much longer when I have the money! 
10. Entering the Balkans – Croatia
Date: August 6, 2018
Location: Supetar, Brac Island, Croatia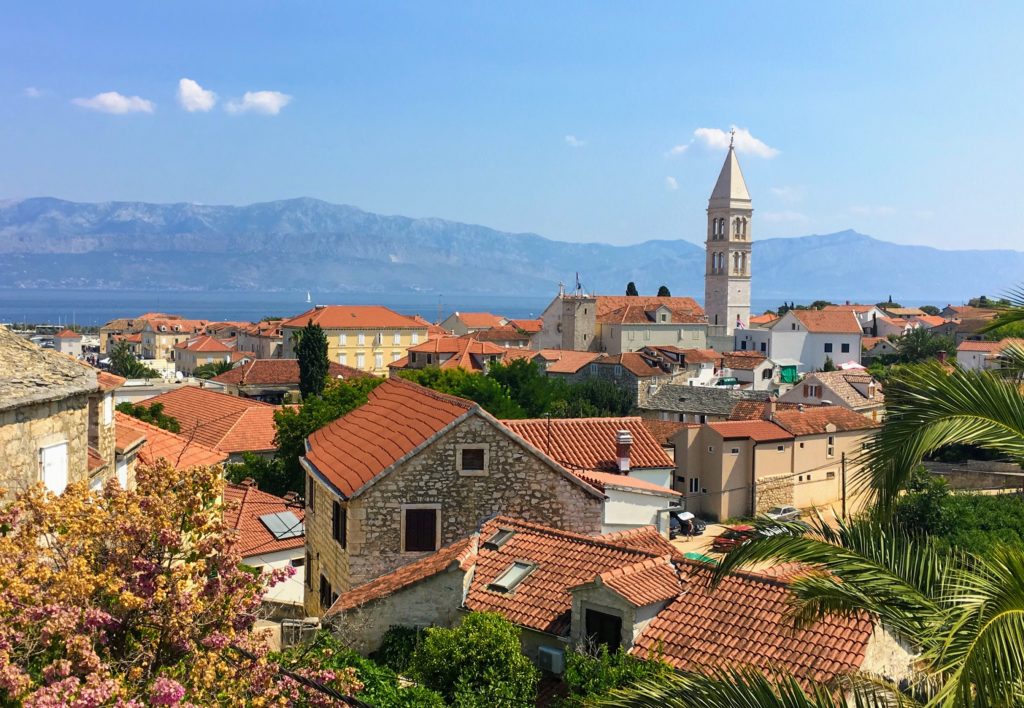 Another off-the-beaten-track region I explored in depth was the Balkan countries. There was so little information on the countries here that I planned on visiting, which only made me want to explore them more. Croatia was my first stop after Switzerland and my introduction to the Balkans.  I spent two weeks here, partially because I had to renew my passport, but I had an amazing time island hopping and absorbing sun on the beach for the first time since Goa, India! 
Over the following six weeks, I visited nine Balkan countries. Some of the highlights for me were visiting the little mountain village of Theth in Albania, tanning on a ladies-only nude beach in Montenegro, discovering disputed-over Kosovo, and wandering the bazaars of Bosnia & Herzegovina. My favorite towns were Split in Croatia, Bled in Slovenia, Mostar in Bosnia & Herzegovina, Prizren in Kosovo, Kotor in Montenegro, and Plovdiv in Bulgaria. 
My only regret is missing out on Romania, a country I heard a lot about when talking with other backpackers. Once I reached Bulgaria, I headed south to Turkey to catch a flight out of Istanbul, instead of heading north to Romania. 
11. Cappadocia's Hot Air Balloons
Date: September 28, 2018
Location: Cappadocia, Turkey
A big fat check off my bucket list was seeing these hot air balloons in Cappadocia. I've been interested in coming to Cappadocia since I first started seeing pictures of the balloons on Instagram. 
Because of previous beef between Turkey's president and the U.S., there was a point in time where I couldn't enter Turkey on an American passport. Even now with the war in Syria, Turkey is considered a dangerous country to travel to. 
Nevertheless, I'm glad I made it here after crossing the Balkans. I never felt unsafe during my time in Istanbul and Cappadocia. Although the tourism industry is in a slight slump, I had a great time sampling Turkish delight sweets, drinking Turkish coffee, and exploring some mosques too.
12. Trekking Mestia to Ushguli in Georgia
Date: October 17, 2018
Location: Mestia to Ushguli trek, Caucasus region, Georgia
Georgia is where I celebrated my one-year travel-versary! It was country number 25 that I had visited over one year on the road, and also where I launched Erika's Travelventures. I spent many days cooped up in Airbnb's around Tbilisi working on this blog, but I did get out of the city for an amazing trek in the Caucasus mountains. 
Trekking and being in the mountains that I love was a great way to ring in the travel-versary. Mestia to Ushguli is one of the most popular treks in Georgia, but since this was the end of the trekking season before winter, there were very few people there. The fall colors and snow on the mountains made this village-to-village trek even more special.