The Lone Pine Koala Sanctuary in Brisbane, Australia is the largest koala sanctuary in Australia (and the world!) It's a must-visit attraction in Brisbane, home to over 100 koalas and other Australian animals that visitors can get up and close to. These tips for visiting the Lone Pine Koala Sanctuary (official website here) will make sure your first trip to the sanctuary is the best it can be! 
Lone Pine Koala Sanctuary is located just 20 minutes southeast of Brisbane city center, in the Fig Tree Pocket suburb. Sanctuary highlights include a free-range kangaroo area where visitors can hand-feed kangaroos and the koala forest where dozens of koalas snack on eucalyptus leaves. Other purpose-built exhibits house Australian marsupials, reptiles, monotremes, and other Aussie favorites.
Here are my 12 Tips for visiting Lone Pine Koala Sanctuary.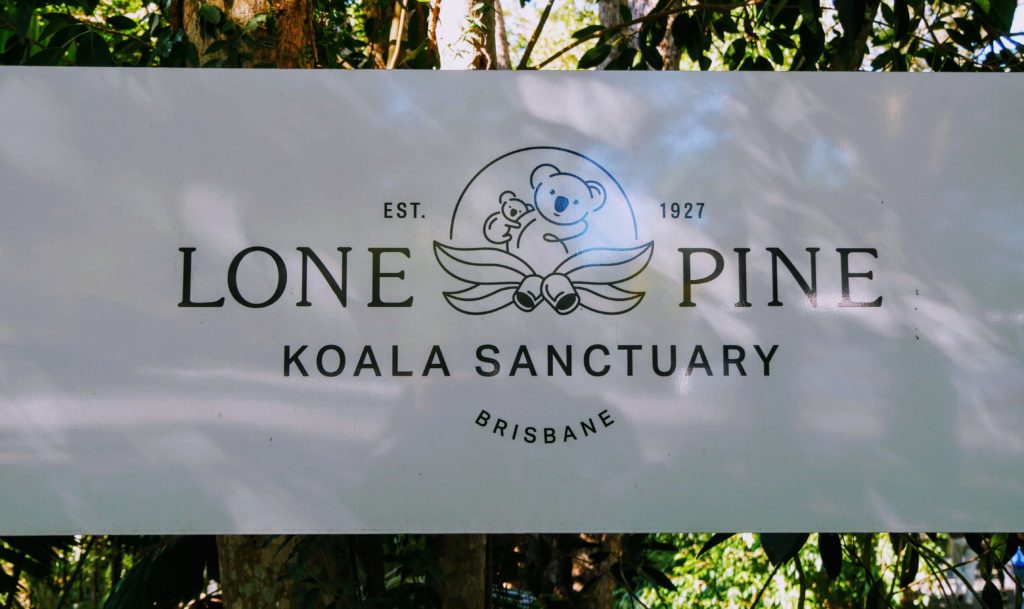 Basic Information for Visiting Lone Pine Koala Sanctuary:
Tickets and How to Get There
Tickets to the Lone Pine Koala Sanctuary cost $49 AUD ($35 USD) per adult, $35 AUD ($24 USD) per child, and $39 AUD ($27 USD) for students and seniors. Family discounts are also available. Lone Pine tickets can be purchased online ahead of time, at the gate, or at various Brisbane tourism information centers around the city.
Lone Pine is a quick and convenient 20-minute drive from Brisbane if you're planning on arriving by car, with plenty of parking available on-site. Brisbane has a public transit option to reach the sanctuary as well: bus 430, the Fig Tree Pocket Bus, takes only 40 minutes between Brisbane city center to the entrance of Lone Pine Koala Sanctuary. 

Lone Pine opening times are between 9am and 5pm every day.
Now that we have the basics covered, here are my top tips for visiting Lone Pine Koala Sanctuary in Brisbane, Australia:
1. Visit Lone Pine first thing in the morning when the kangaroos are awake and hungry for breakfast
My first tip for visiting Lone Pine Koala Sanctuary is an important one: visit early in the morning. Mornings are when the Sanctuary is the least crowded and when the resident kangaroos are most hungry and alert. Most of the kangaroos in the free-range feeding are awake in the mornings, feeling social, and ready to eat some roo pellets, specially made for them.
Petting and feeding the kangaroos here is one of the highlights of visiting the Sanctuary. Especially on days where the foot traffic is high, the kangaroos get tired and unsociable, and are already well-fed by the afternoon. 
Roo food can be purchased at the entrance – more on that later.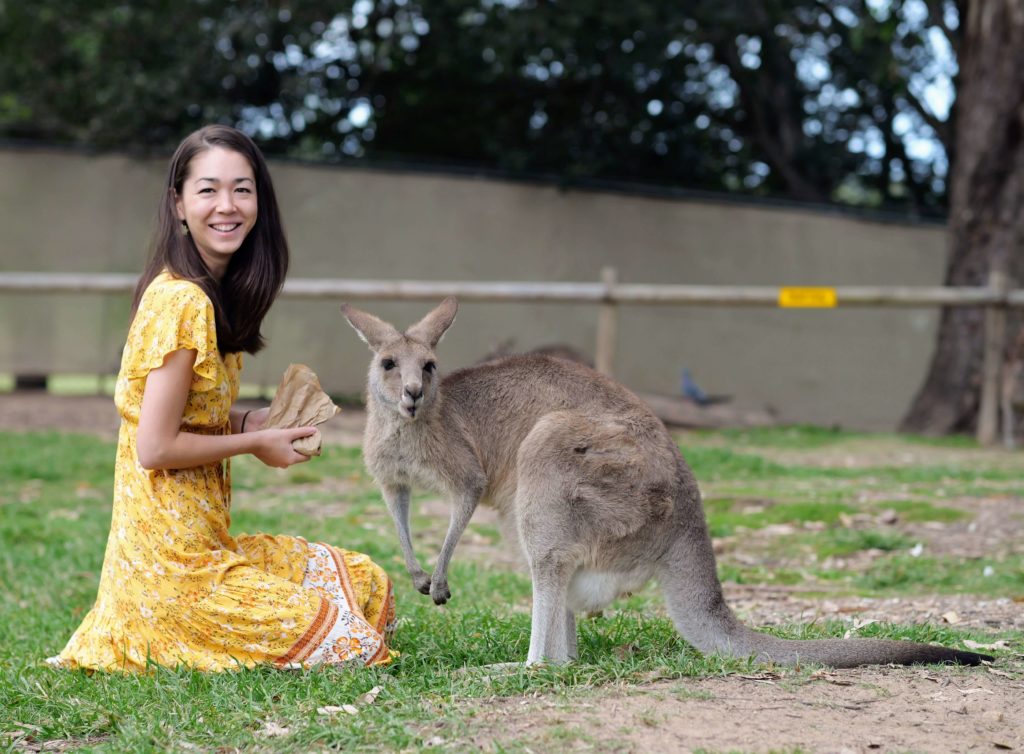 2. Purchase an annual pass if you live in Brisbane
Annual passes to the Lone Pine Koala Sanctuary are absolutely worth the investment if you live in Brisbane or will be here for a few months. Here's why:
The price for one adult ticket to Lone Pine costs $49 AUD ($35 USD), but the price for an annual pass is $78 AUD ($54). Just one visit more in the next 365 days means you've already made your money back on the annual pass. Child, Student, and Senior annual passes are also discounted similarly.
The Lone Pine Koala Sanctuary annual pass also gives you perks like 20% of food and non-alcoholic beverages on-site, 20% of the gift shop items, and 20% off any tickets you purchase with other visitors in the future. Annual passes are especially popular if you have kids, or if you're like me and have an affinity for Australian animals.
3. Prepare to spend 2-4 hours at Lone Pine
Lone Pine Koala Sanctuary is not a full-day excursion from Brisbane like the Australia Zoo. Brisbane's koala sanctuary is growing, but currently it is easy to get from one end of the sanctuary to the other in just a half-day. That's seeing everything from the Koala Science Institute to the Barnyard Animals free-range exhibit. 
Visitors should plan to spend 2-4 hours at Lone Pine Koala Sanctuary, which allows all exhibits to be seen without any rush. Make the most of your time here by packing a picnic or buying some lunch in the sanctuary cafe.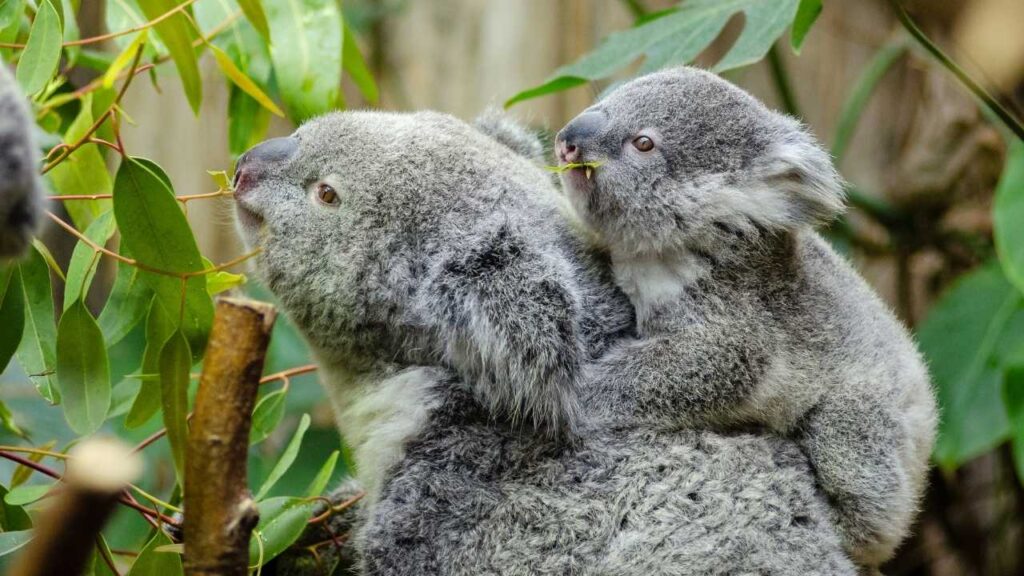 4. Bring $29 AUD to cuddle a koala
One of the highlights of visiting the Lone Pine Koala Sanctuary is being able to hold a koala. These adorable creatures love a cuddle as much as we do, and are often seen cuddling each other on branches or reaching towards their caretakers for a big hug.
Each koala holding session lasts an affectionate 15 minutes and commemorative photos can be taken home from the experience.
Bring a few extra dollars if you want to spend some money at Lone Pine Koala Sanctuary's gift shop too! 
5. Book your koala cuddle early
The first round of koala cuddles starts at 11:30am each day at the Koala Sanctuary. Visitors arriving early can avoid waiting in a line for ages in order to get a cuddle in. Just stop by the koala holding station when you arrive, and book in your time to hold a koala!
Arriving after 11:30 to request a time slot might mean they're all booked out, or waiting in a long line.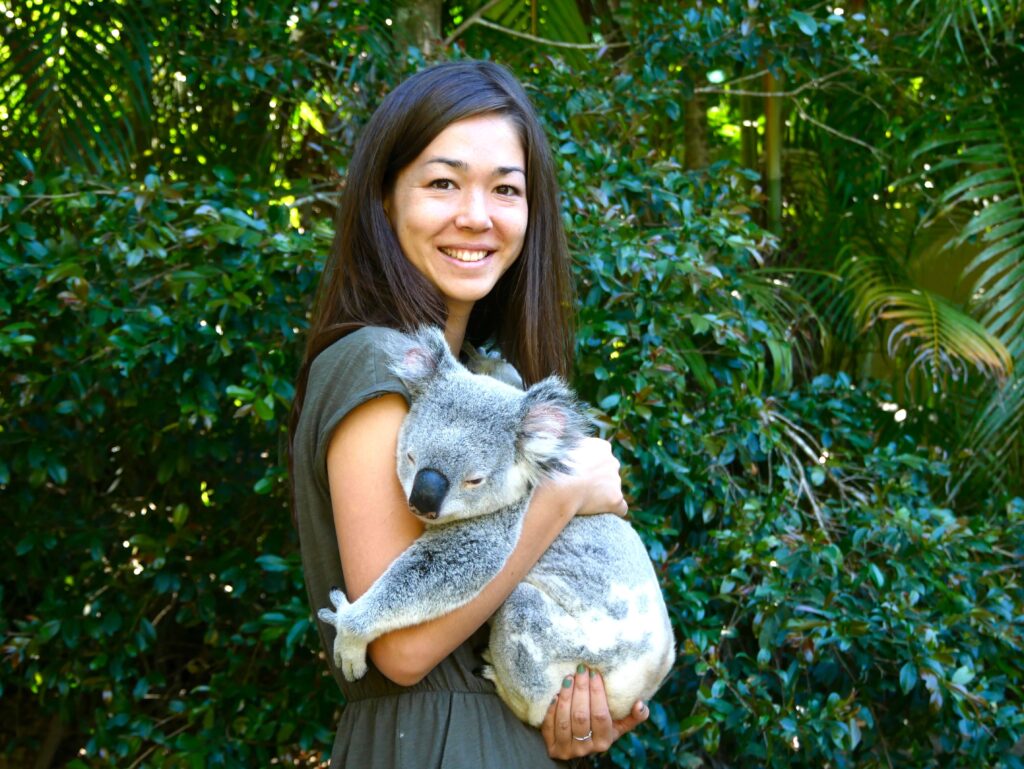 6. Buy "Roo Food" at the front entrance
The only place to buy snacks to feed the kangaroos at Lone Pine is at the front entrance, after you purchase entry tickets. Be sure to bring $2 AUD to buy a little bag of these "nutritious herbivore pellets." 
Hand-feeding the docile kangaroos that live here is one of the highlights of visiting Lone Pine. Hand washing stations and sanitizer are provided at all entrances to the free-range roo areas. You don't need to worry about spending the rest of your day with kangaroo drool on your hands!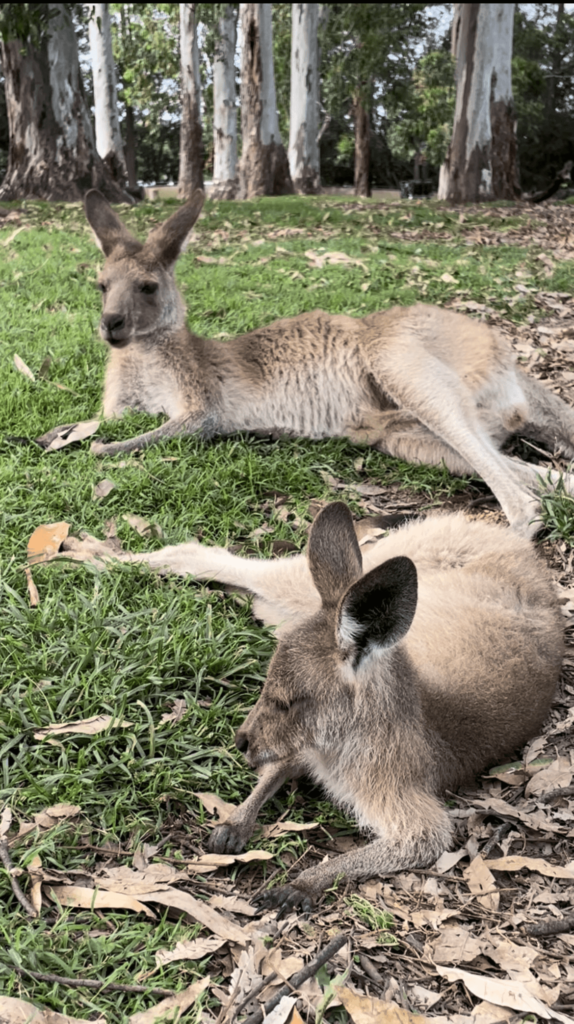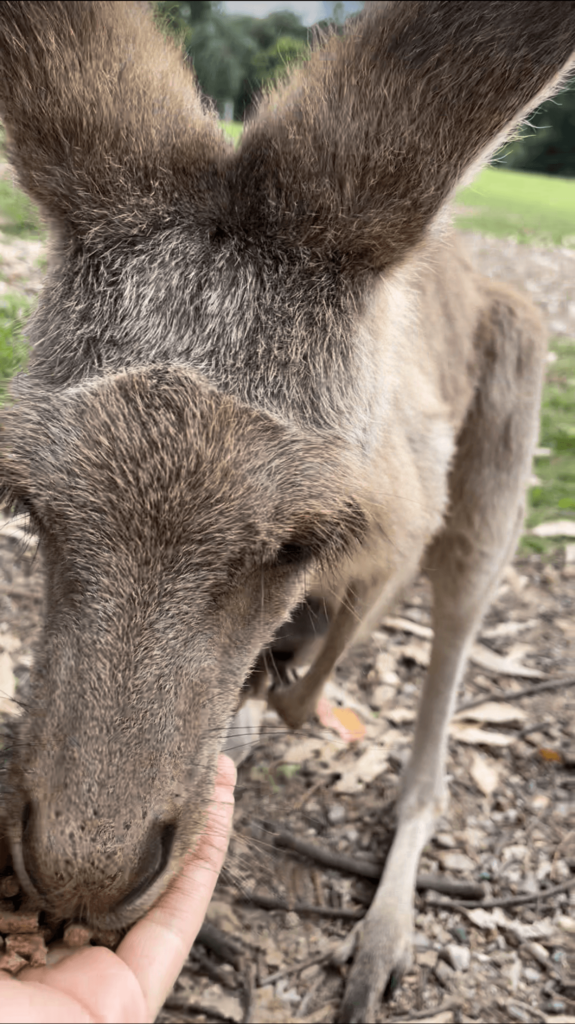 7. Special animal encounters can be booked in advance
The Lone Pine Koala Sanctuary offers various animal encounters that introduce visitors to Australia's most beloved creatures. For koala lovers, check out the Koala Discovery Tour for $150 AUD ($105 USD). This tour takes you behind the scenes of taking care of these iconic Aussie animals like sorting their favorite eucalyptus leaves. Get special photo opportunities and learn about veterinary care for koalas too.
Lone Pine also offers an Owl Encounter and Platypus Encounter, for $50 AUD ($35 USD) per person. If you can't decide between the three or want to have the full Aussie animal experience, check out the All-Stars Tour for $150 AUD ($105 USD) which combines all encounters into one.
8. Animal shows happen throughout the day
FREE animal encounters at Lone Pine happen all throughout the day. If you're visiting and especially excited about lorikeets, birds of prey, sheep dogs, dingos, snakes, or of course, koalas, you can plan your visit accordingly.
Check out wild lorikeet feedings in the morning and evening, free flight raptor shows, sheep dogs herding sheep, and have a meet and greet with a dingo! See what's on, and at what time, on the Lone Pine Koala Sanctuary website here.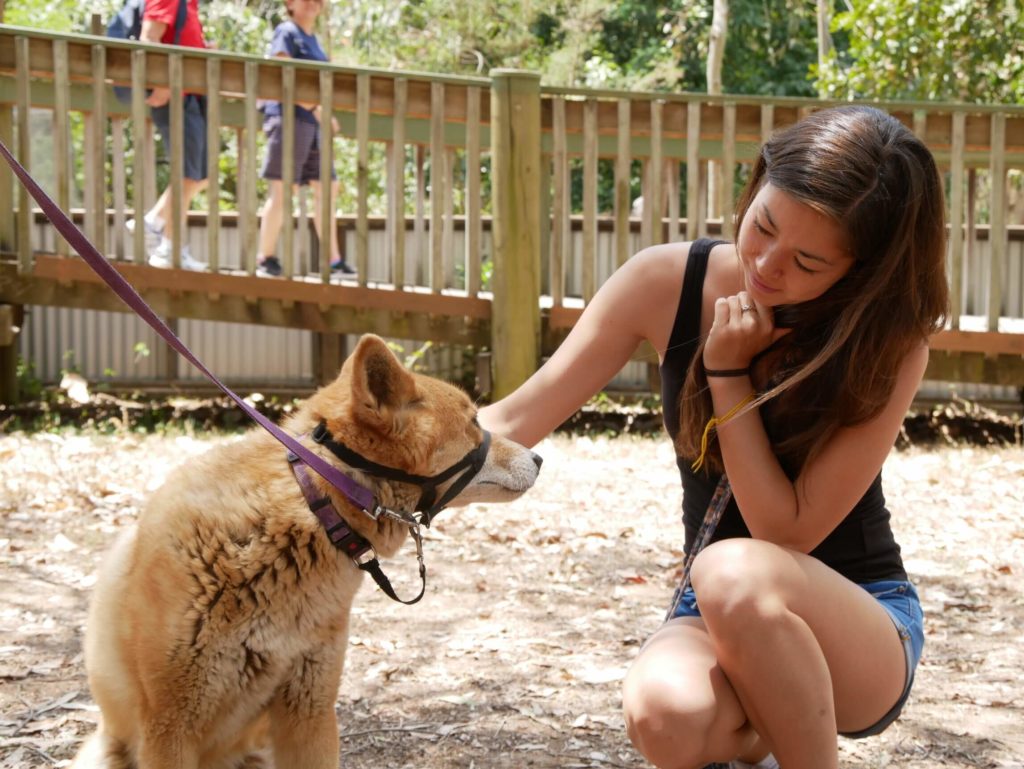 9. Join a ferry cruise to pair your visit with a boat ride on the Brisbane River
A ferry cruise operates from Brisbane city center to Lone Pine, which is a scenic option to get to the sanctuary. The special ferry which picks up visitors from South Bank, and takes you down a 70-minute Brisbane River cruise to see beautiful sights of Brisbane from the river, then to Fig Tree Pocket suburb and Lone Pine. 
The cruise budgets for 3 hours of exploring the Koala Sanctuary, then ferries you back to Brisbane city. More information can be found at GetYourGuide, an official seller of these tickets. Entry tickets to Lone Pine are included in the cruise cost too!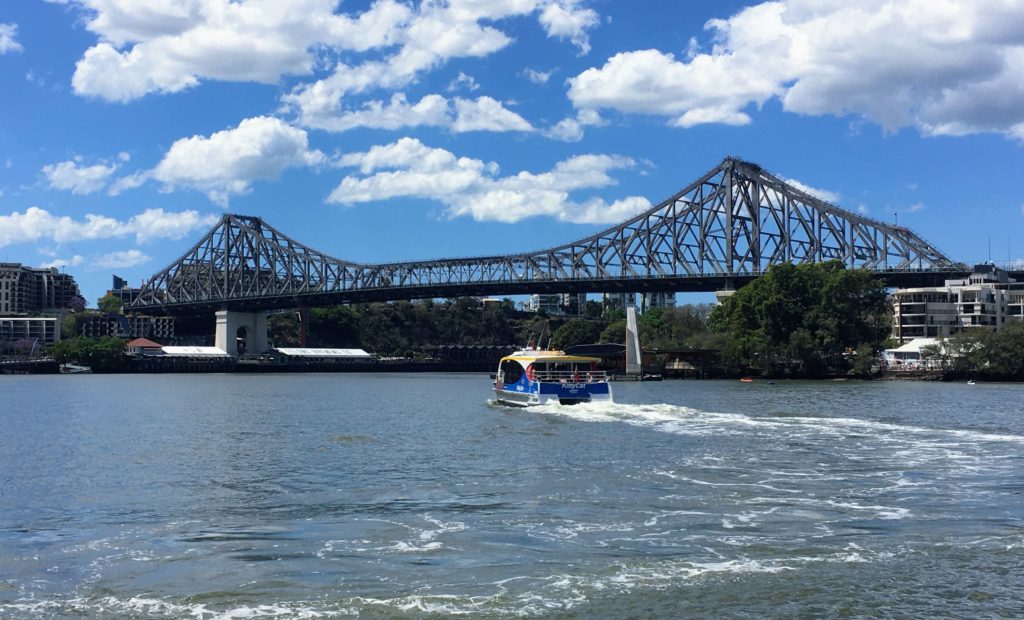 10. (Human) Food is available on-site
Don't worry about going hungry at Lone Pine, because there is a small restaurant and cafe inside the sanctuary grounds. 
The Sleepy Koala Cafe sells coffees, chips and other snacks, and takeaway lunch between 10am and 2pm each day. Indoor seating areas are air conditioned, perfect for escaping the Queensland heat. A large outdoor area, in the covered Koala Forest, also has a number of picnic tables perfect for having a rest and a feed while admiring a number of cuddly koalas. 
11. Stop by the Riverside Cafe
If you have a hankering for amazing Aussie coffee, a pastry or a sweet treat, be sure to stop by the Riverside Cafe. The cafe is located next to the Lone Pine parking lot, just outside of the sanctuary grounds. It opens at 7:30 am, well before the sanctuary opens, and the coffee served there is AMAZING. Definitely worth stopping by!
Annual pass holders get 20% off everything sold here too.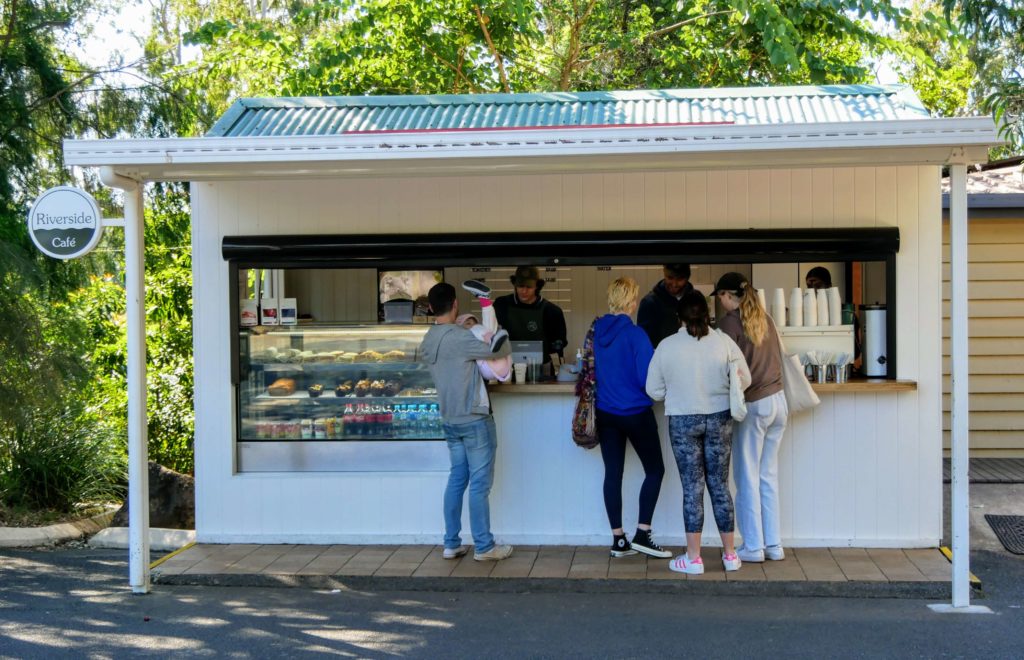 12. Pack a picnic on a nice day
Another tip for visiting Lone Pine Koala Sanctuary: visitors can enjoy their own meals at Lone Pine's picnic area outside of the sanctuary area. 
The beautiful Brisbane river runs right alongside the property. A large grassy area right alongside it, and a shaded section with many picnic tables is a perfect place to have lunch after visiting the Lone Pine Koala Sanctuary.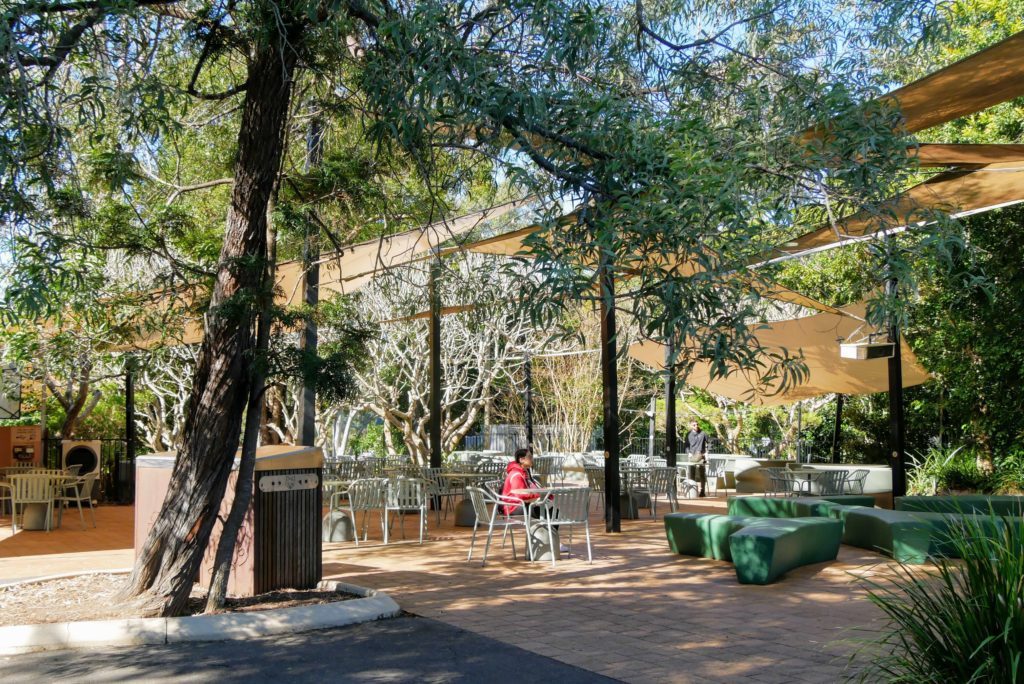 That's all 12 tips for visiting Brisbane's Lone Pine Koala Sanctuary! 
With these tips in mind, you're sure to have an amazing first (or second) trip to the world's largest koala sanctuary. So don't waste another second and go get that annual pass and koala cuddle today! 
Undecided whether to visit Lone Pine Koala Sanctuary or Brisbane's other famous animal destination, the Australia Zoo? Check out my post where I break down some pros and cons, and discuss which might be best for you: Lone Pine Koala Sanctuary or Australia Zoo.