North Stradbroke Island is a beautiful sandy island located just an hour and a half east of Brisbane, Australia. It's a perfect a weekend getaway from Brisbane, and can even be visited as a day-trip from Brisbane or the Gold Coast. North Stradbroke Island is known for its incredible natural landscapes including cliffs, beaches, and forests, and of course for its Aussie wildlife. 
The island's small size and remoteness means it's best to keep a few of these tips for visiting North Stradbroke Island in mind when you plan your next visit. The island is often referred to by its aboriginal name of Minjerribah, or also "Straddie" by the locals. Because you'll hear all three when conversing with locals in Australia, I'll use them interchangeably throughout this post of 20 tips for visiting Straddie.
Here are my tips for visiting North Stradbroke Island in Queensland!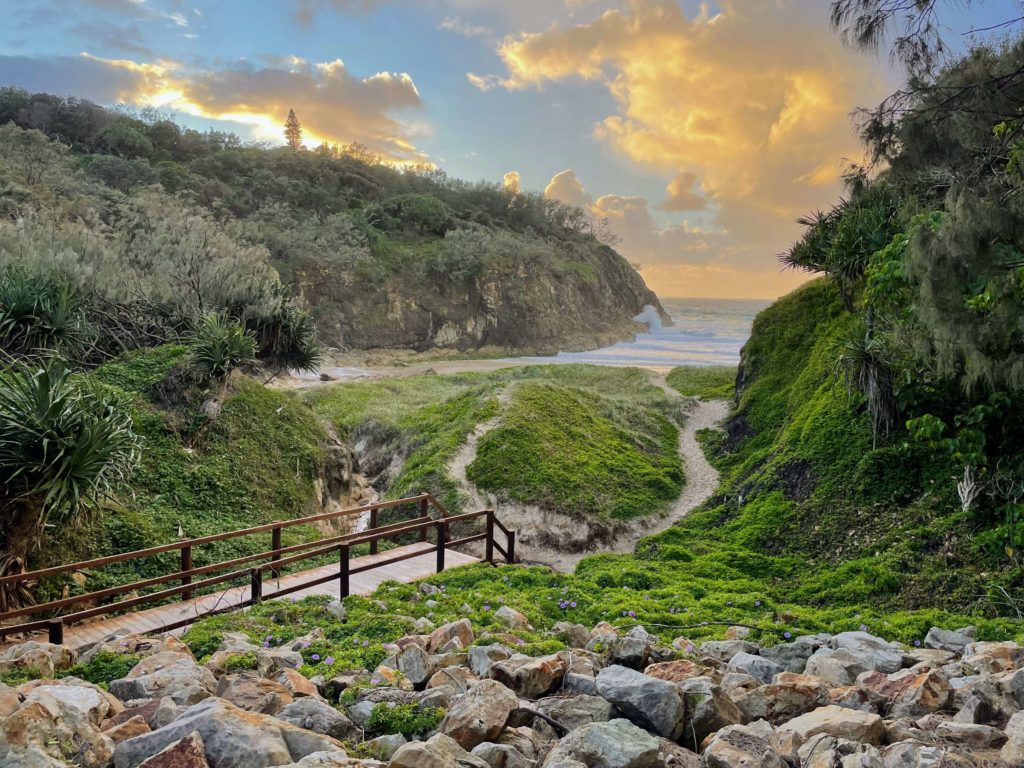 1. Wake up for every sunrise
Since North Stradbroke island is located off the east coast of Queensland, it boasts incredible sunset views each day. Whether you're spending two nights on Straddie or ten, it is nearly a necessity to get up for the sunrise!
Not only is the natural beauty of the island during this Golden Hour impeccable, but it's also the perfect time to spot wildlife on North Stradbroke Island.
My favorite sunrise spots are at Point Lookout across from the Blue Room Cafe (below), and looking over South Gorge Beach (above)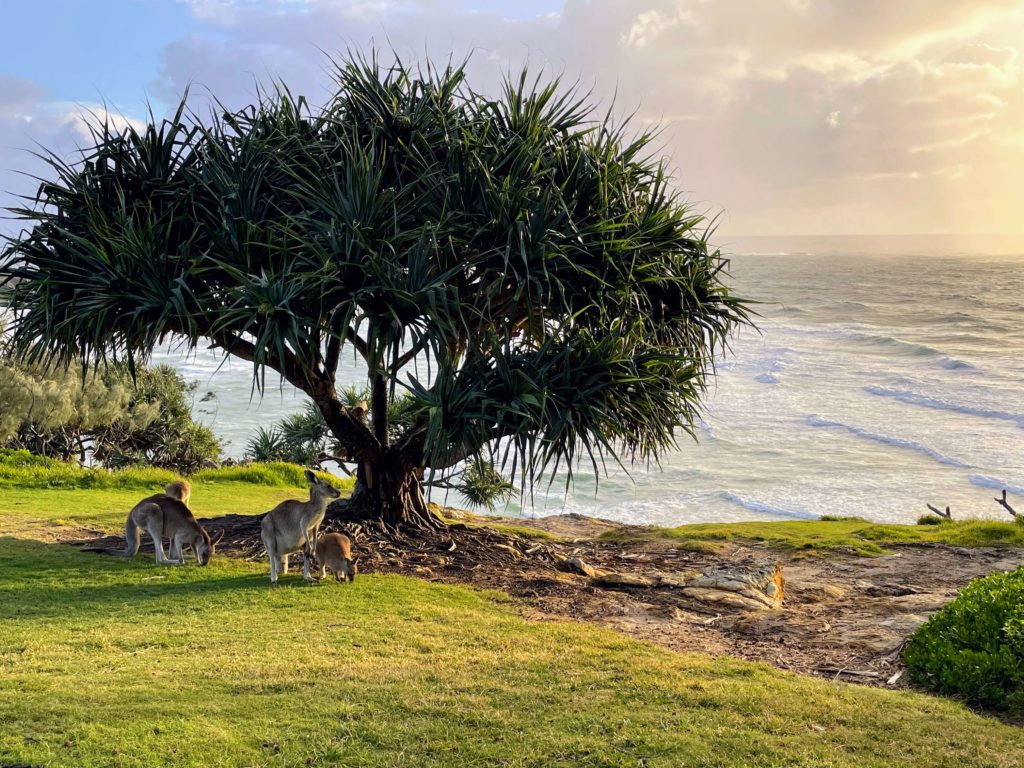 2. Drive a car to Straddie instead of relying on busses
Two main methods of transportation are available on North Stradbroke Island: bus and personal vehicle. 
Although a public bus can take passengers around Straddie, relying on the bus system means its basically impossible to reach the far edges of the island. it also means you'll be glued to the infrequent bus schedule during your two-day itinerary to Straddie. 
I highly recommend paying the extra ferry fees in order to get to Straddie from Brisbane by car. In order to fully experience my two-day Stradbroke Island itinerary (coming soon), you'll need a car as well. 
3. If riding busses, bring exact change and be mindful of the limited schedule
The public busses on Straddie are few and far in between, so if your North Stradbroke Island itinerary is going to rely on busses to get around, be mindful of the limited schedule. 
The busses also only take cash, my tip for visiting North Stradbroke Island is to bring exact change – $5 per person, per ride, or $10 for a day-pass. This will help the bus driver out immensely!
Check out the latest bus schedule on the Stradbroke Island busses website.
4. Bring a 4WD if you have one
A number of roads and beaches on Straddie are only accessible by 4-wheel drive (4WD) vehicles. 
This includes driving on the Main Beach, a vast sandy beach that stretches along the eastern coast of North Stradbroke Island, which is where many Straddie campsites are located. Due to the depth and texture of the sand, only 4-wheel drives are allowed on the sand on Main Beach. To make the most of your Straddie itinerary, my tip is to take or rent a 4WD to island!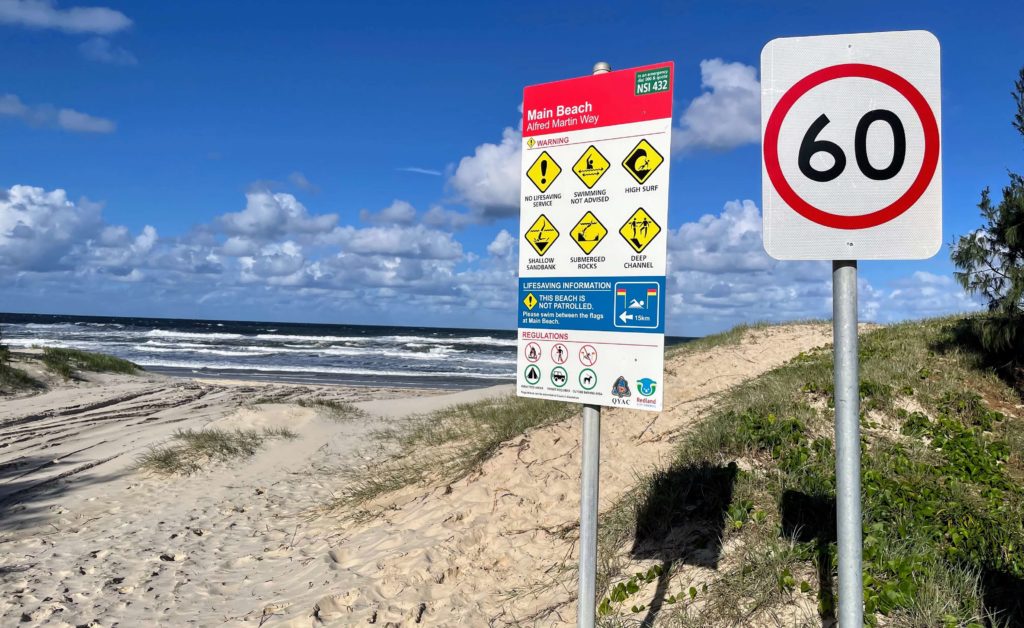 5. Check out inland Straddie, not just the beaches
Some of the most gorgeous Aussie scenery on North Stradbroke Island is located inland. Many visitors might start and end their Straddie itinerary on the coastline at the beaches which is understandable, but my tip for visiting North Stradbroke Island is to check out the inland lakes, sand dunes, and forests as well.
Two of the most famous attractions to visit in inland Straddie are the Brown Lake and Blue Lake, which are two massive freshwater lakes in the heart of the island. Both lakes can be reached by car (no bus routes go to either), and Blue Lake is reached via a further 2km walk through the eucalyptus forests.
Read about the Karboora (Blue Lake) hike on my guide here.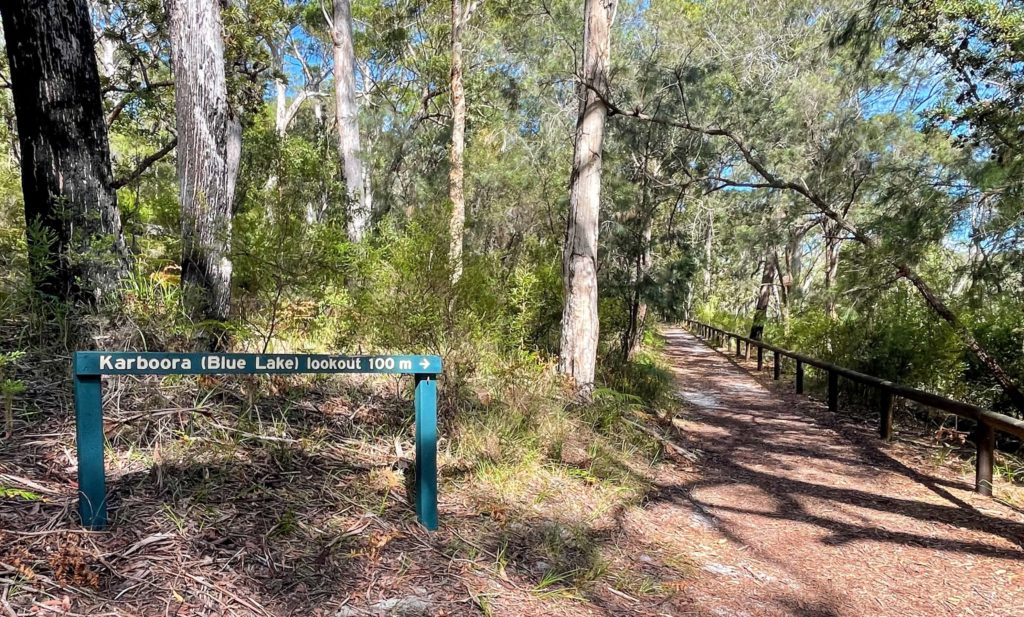 6. Avoid visiting Straddie on holidays and long weekends
The busiest time to visit North Stradbroke Island is during the school holidays in Brisbane and Queensland, or three-day weekends. Ferries and accommodation will book out quickly, and you might expect a wait at cafes and restaurants during mealtimes. 
Not only will you be navigating crowds, the prices for accommodation around Stradbroke Island shoot up around this time as well.
7. Pack snorkeling gear and binoculars
Minjerribah has a number of amazing snorkeling spots and wildlife viewing opportunities. A snorkel and binoculars help you get up close to them! 
The waters on the west coast of the island are often calm and clear, perfect for seeing fish and stingrays that call the shallow island shores home. Snorkeling gear can be brought from home but also purchased at the Amity Point general store, which is one of the most common places to go snorkeling on North Stradbroke Island.
In order to see wildlife from a distance, I also recommend bringing some binoculars on your trip. Although its tempting to get up-and-close to animals in the wild, checking them out from a distance is safer for both humans and our furry and feathered friends.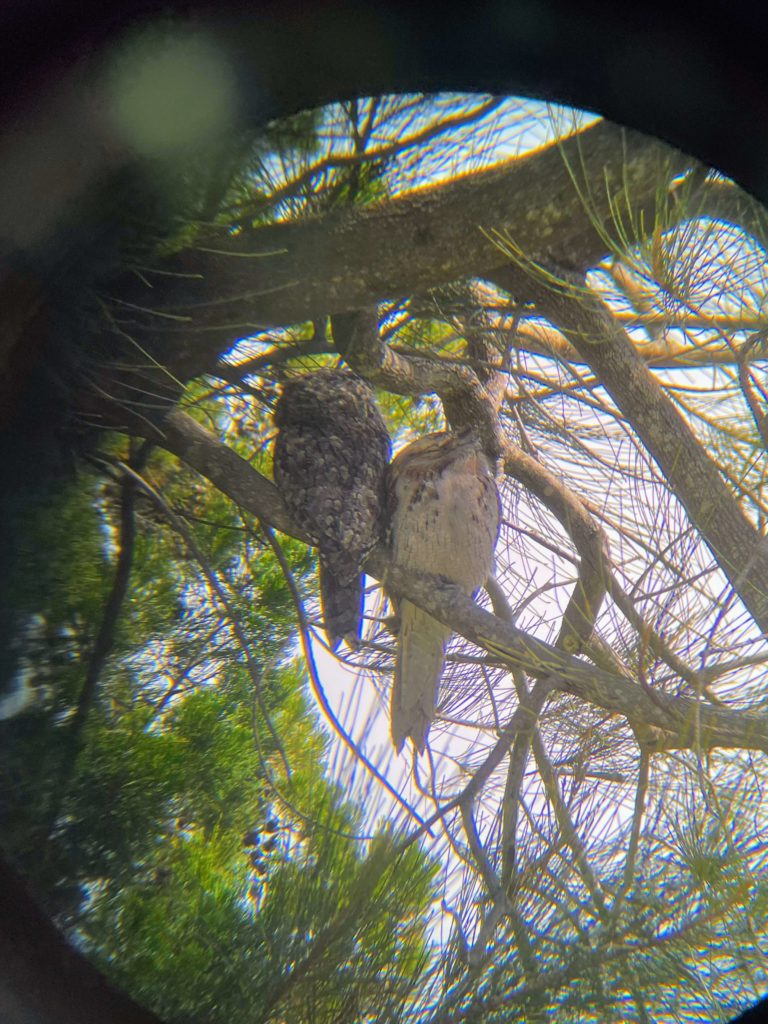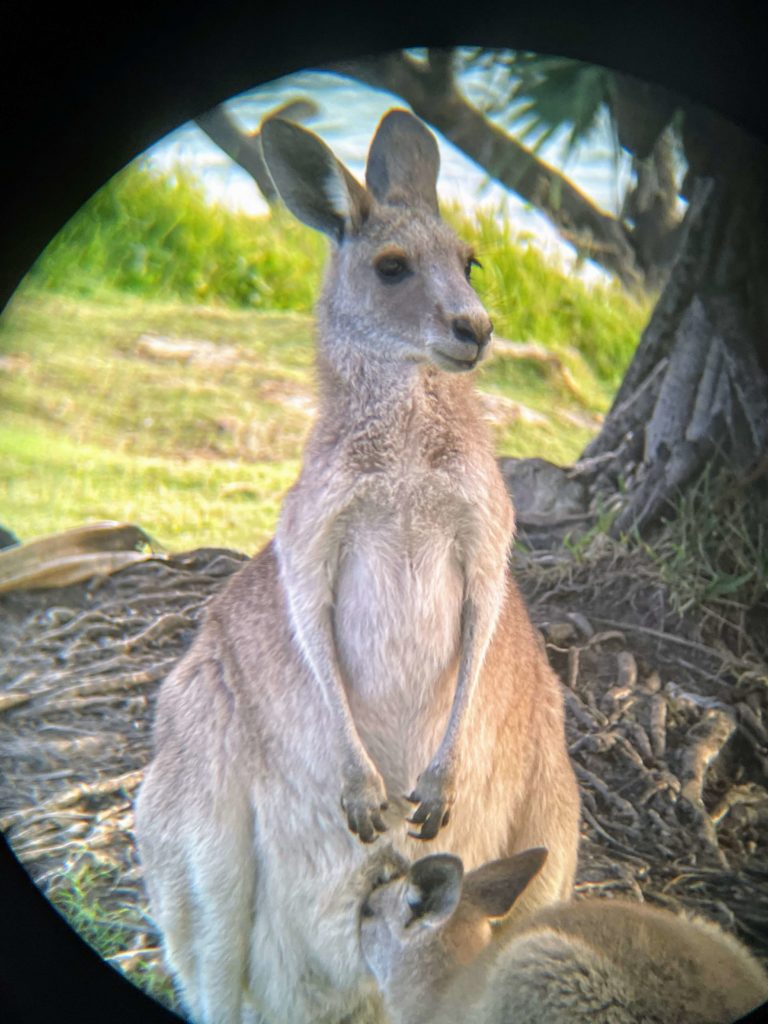 8. Book your Sealink ferry tickets ahead of time
Once you've locked in your travel dates to North Stradbroke Island, book your Sealink ferry tickets! Both a passenger-only ferry and a vehicle ferry operate between Straddie and the Cleveland suburb every day.
Especially during busy tourist seasons, some of the peak-hour ferries to Stradbroke Island may sell out. These include Friday afternoon and Saturday morning ferries heading to Straddie, and Sunday evening ferries heading back towards Brisbane.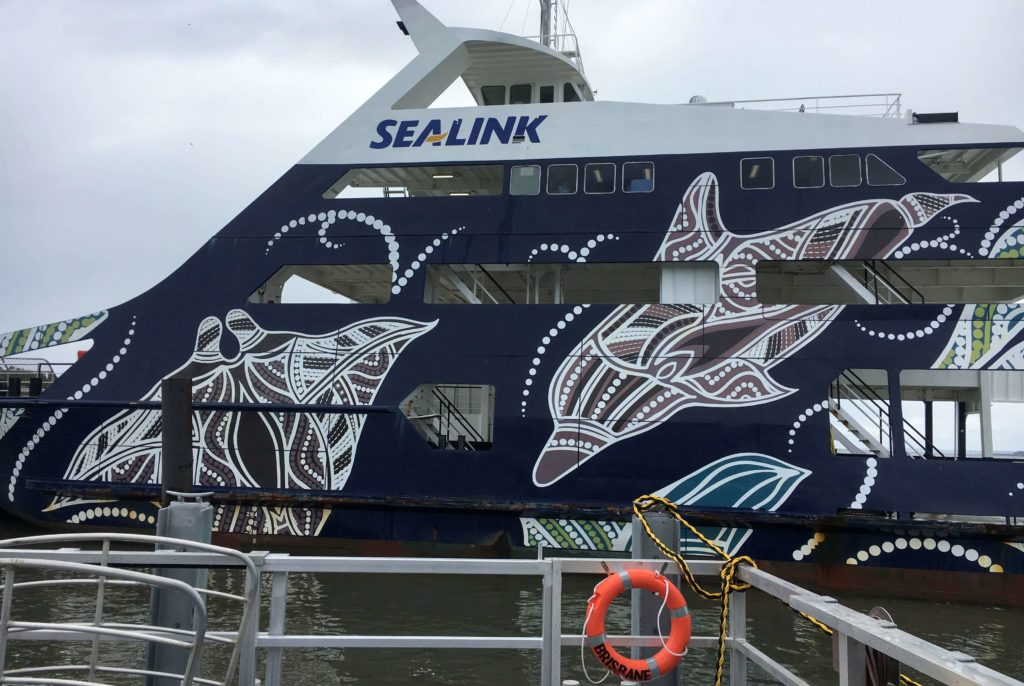 9. Book accommodation ahead of time
Accommodation options on Stradbroke Island are not too plentiful, and can book out well in advance. Most accommodation is in the form of apartment rentals or holiday homes, with very few resort-like hotels on the island. While you're researching your next trip to Minjerribah, be sure to secure accommodation for the nights you plan to stay. 
My favorite place to stay on the island which is perfect for budget travelers is the Manta Lodge hostel, which is part of the Australia Youth Hostel Association (YHA). It has both dorm rooms and private rooms, an on-site dive center, a massive kitchen, two common areas, and is located steps from the beach and ocean! 
Here are some other tips for where to stay on Stradbroke Island: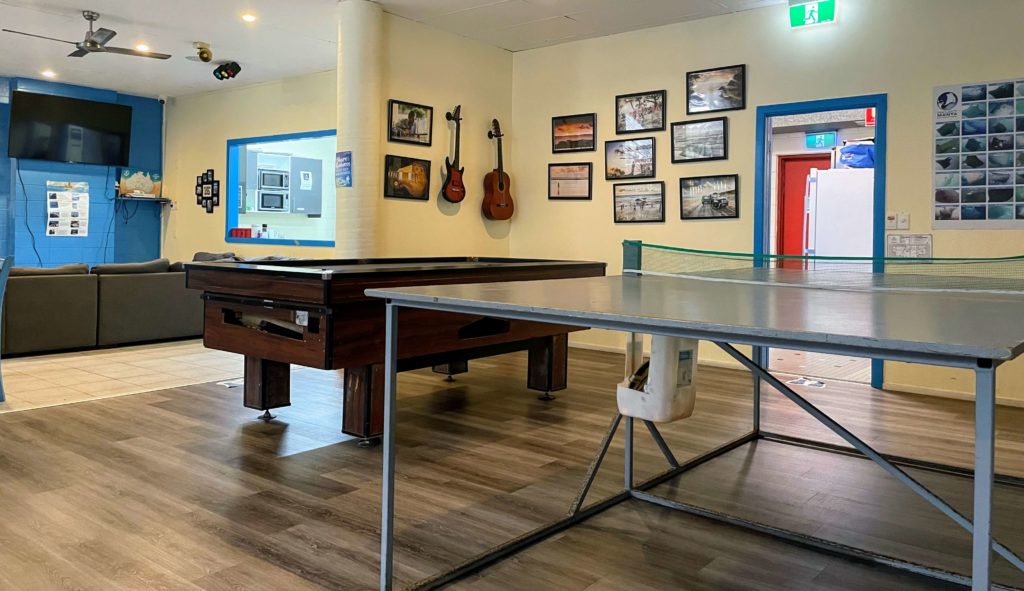 10. Know the limits of your vehicle
North Stradbroke Island's main towns and points of interest are connected by paved roads. However to get to inland destinations like Brown Lake, or to head to Main Beach, visitors to Minjerribah will have to drive on dirt, rock, potholed, and sandy roads.
Just like my tip for visiting Kangaroo Island, when booking a rental car or van, or bringing your own to Straddie, be sure to know the limits of what the vehicle can do. 
I visited Minjerribah after a bout of rain, and found the paved road to Main Beach flooded nearly up to my knees in some sections. Since I was driving a smaller, 2-wheel drive vehicle, I decided not to risk it and walked the rest of the way to the beach.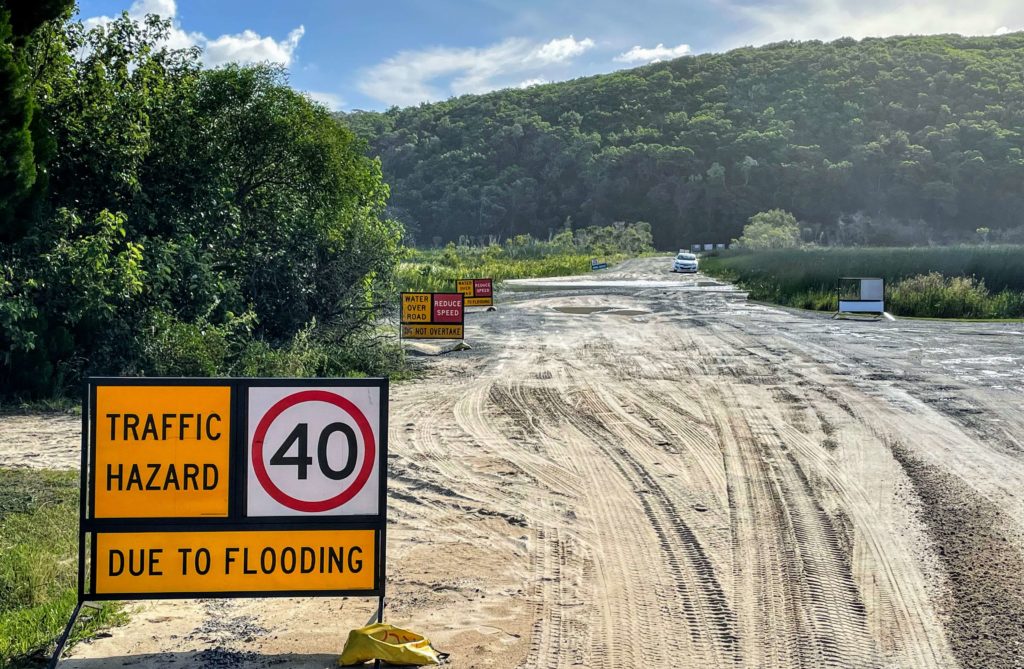 11. Support Straddie Locals and go Shopping in Dunwich
If you're like me and no vacation is complete without doing a bit of shopping, or at least some window shopping, Dunwich is a great place to check out. It has a number of shops for local handicrafts, artwork, and a snack and a coffee too. You're sure to find a Straddie keepsake from one of these Dunwich shops.
Tip: The ferry terminal in Cleveland has a small Straddie souvenir shop too – pick up an I <3 Straddie sticker from here!
12. Experience a cultural activity
Minjerribah is the aboriginal name for North Stradbroke Island, the spiritual home to the Quandamooka People. One option for visitors to learn more about the culture of the traditional owners of Minjerribah is by joining a cultural tour or experience.
Quandamooka Coast is an indigenous tourism business based on the island, which posts tours, ceremonies, festivals, and other events on their website if available. 
Another option for experiencing the traditional culture of the island is joining a tour with Yura Tours. With cultural walking tours around key island landmarks and even a whale-watching tour, visitors will learn about bush tucker and aboriginal creation stories with a highly-rated Quandamooka guide.
13. Spot dolphins at Amity Point
Here's another tip of where to spot Aussie wildlife on North Stradbroke Island – Amity Point Jetty! This 70 meter jetty on the west side of the island is a favorite fishing spot for locals and visitors to Straddie. It's located right by the boat ramp parking lot and the Amity Point campground.
Hang out at the end of the jetty where the fishermen wait for their catch (and local kids swim in the deep water) and you're sure to see a few dolphin fins popping up out of the water. These local animals hang out around these shores looking for a meal, just like us humans!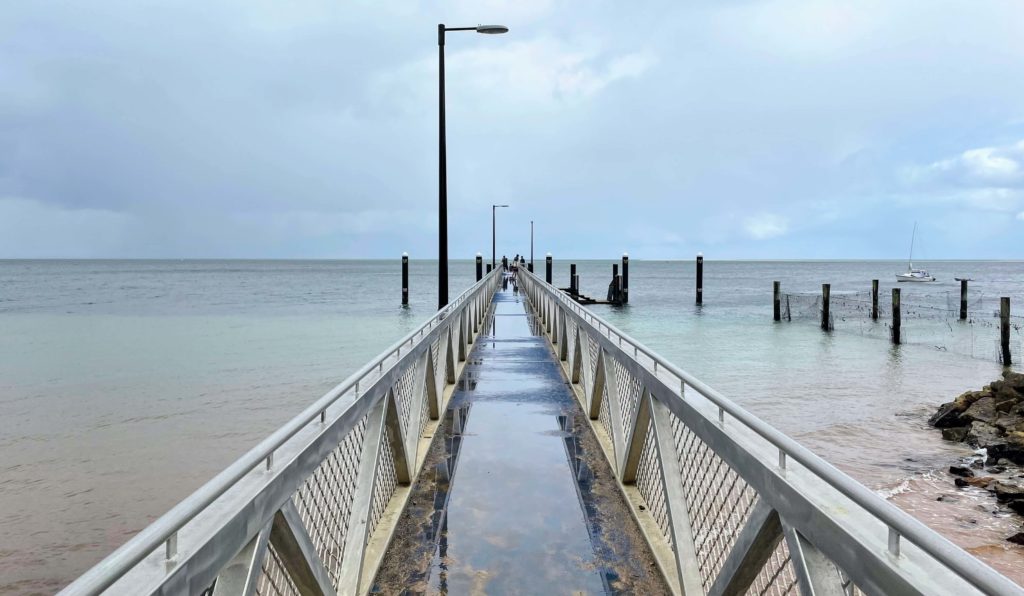 14. Spot kangaroos at Lookout Point
North Stradbroke Island is one of the best places in Queensland to spot kangaroos in the wild. It's tied for my favorite place (with Emerald Beach between Brisbane and Sydney) to admire these gentle creatures. 
Across Lookout Point, the north section of Straddie, families of kangaroos hang out and munch on the dewy coastline grass. I love visiting the coastline, just in front of the Blue Room Cafe, at sunrise. Photos below are proof! 
You're also bound to see 'roos at the top section of Main Beach, just south of the Point Lookout Life Saving Club.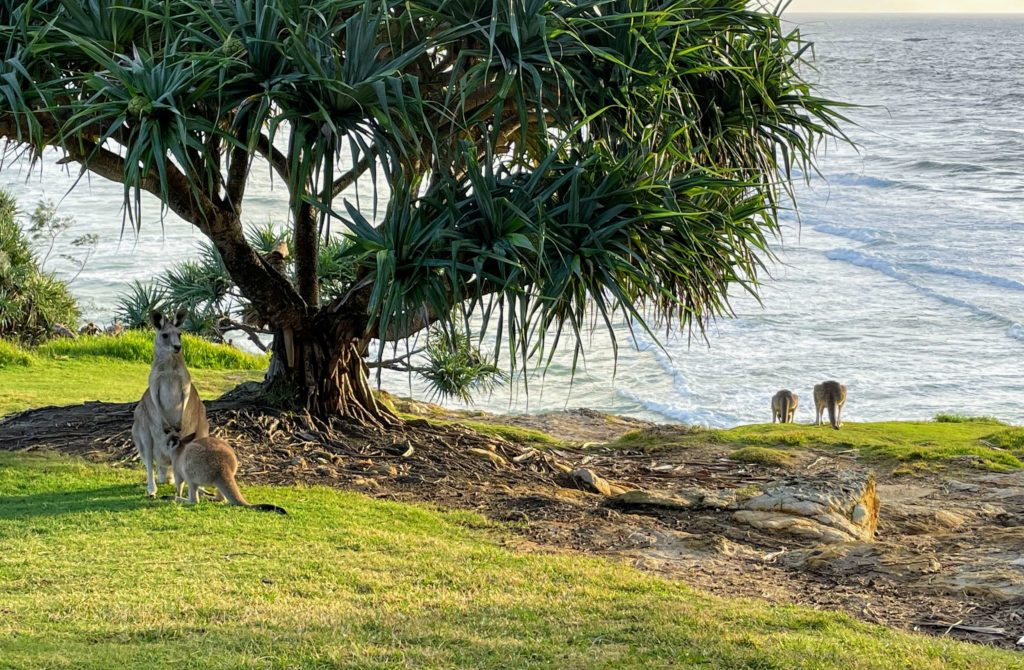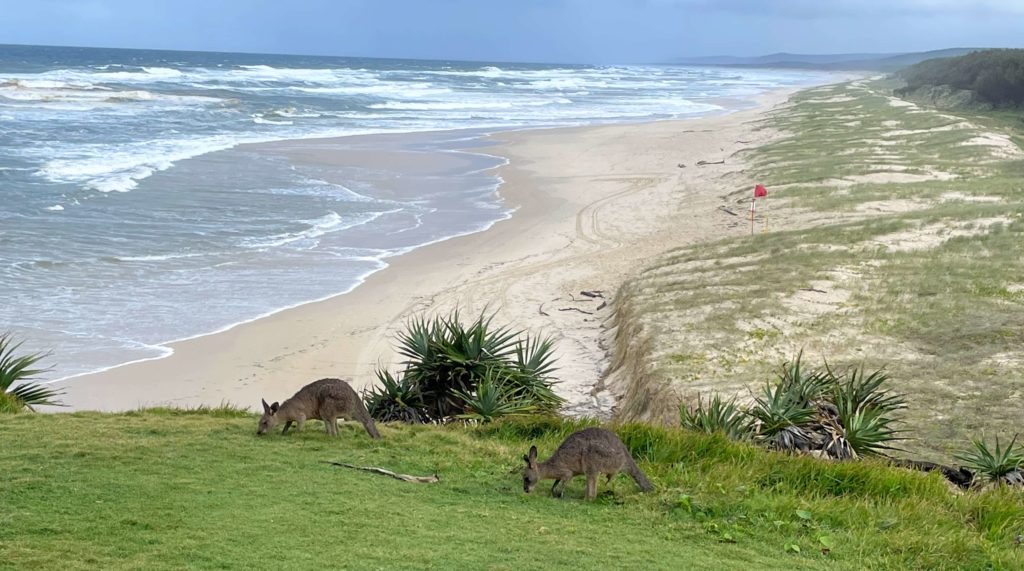 15. Visit Straddie on a Day-Trip Tour from Brisbane
16. Spot a koala at Amity Point
Stradbroke Island is the only place where I've seen a koala in the wild during my time in Australia! Although these creatures are commonly seen (and held) in places like the Lone Pine Koala Sanctuary and the Australia Zoo, there's something different about seeing them in the wild.
Here's where I went to see a koala on Straddie: Drive or walk north from the main Amity Point boat ramp until the main road veers to the right. There's a narrow road called Ballot Street that turns into a dirt road, and turns up towards a northern beach. 
A small carpark here is surrounded by tall gum trees – this area is where I've seen a koala (twice!) in the wild on Straddie.
Here's another tip for visiting North Stradbroke Island: bring your binoculars!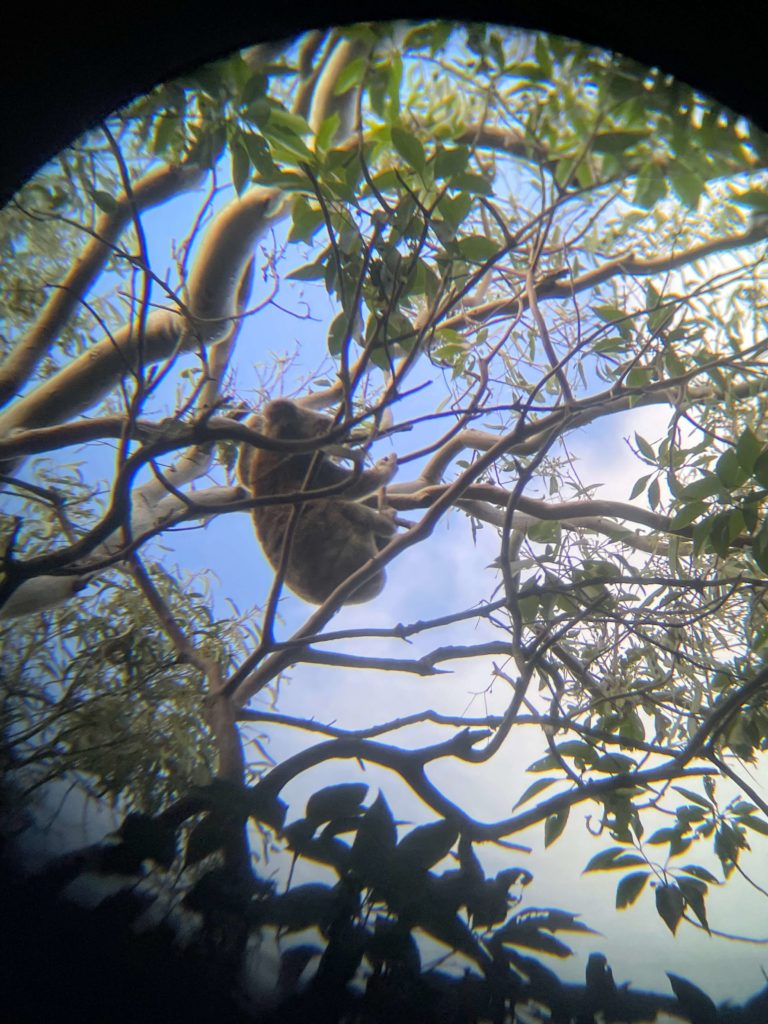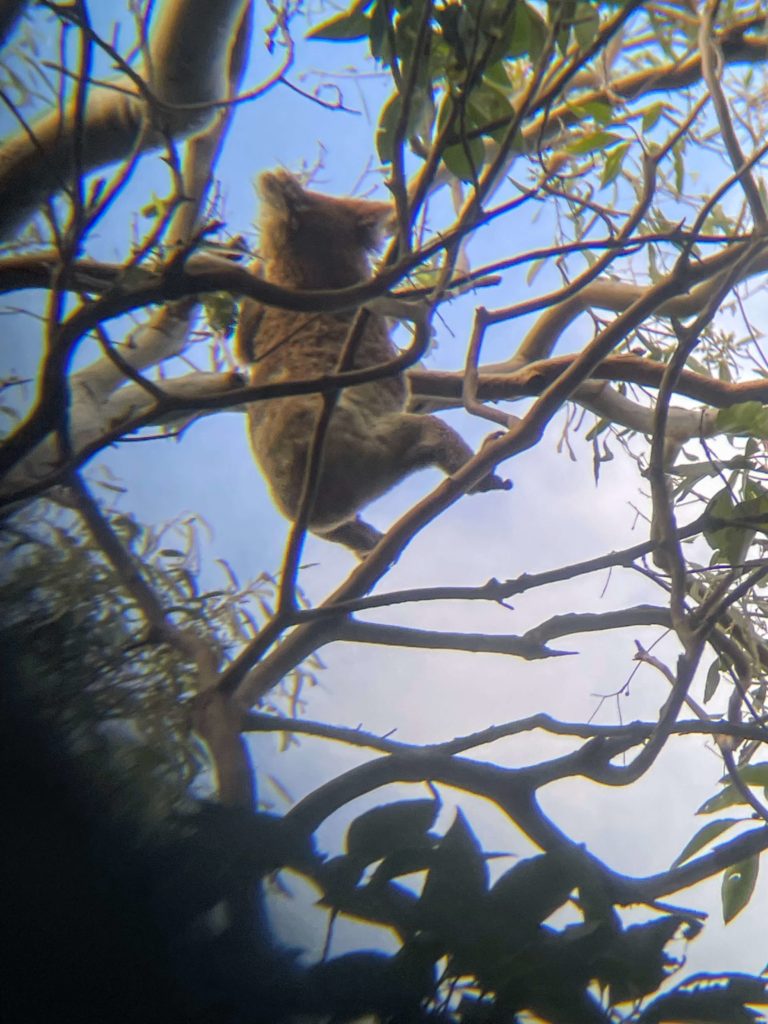 17. Fill up on gas and groceries ahead of visiting
North Stradbroke Island has a handful of gas or petrol stations and grocery stores, including a small Foodwords and a Spar in Dunwich and another Foodworks and a Cellarbrations liquor store at Point Lookout. Expect to pay island prices though – everything to be purchased here was shipped over on a boat from Brisbane!
Gas prices are the cheapest around the fringes of Brisbane city (before reaching Cleveland where it gets expensive again). You may use a half-tank of gas on Minjerribah, so fill up ahead of time! 
If you're cooking food at the Manta Lodge Hostel or other self-contained accommodation, plan ahead and fill up a cooler with cooking ingredients and drinks before embarking on your trip to Straddie. 
18. Plan your dinners ahead of time
Minjerribah is home to a number of nice restaurants and cafes, perfect for enjoying a meal out. (Check out Sealevel21) An important tip for visiting Stradbroke Island though, is to plan when you'll have dinners, and make reservations if you need to, because most restaurants and shops close early. Between 7:00 pm-8:30 pm is when the kitchens close and lights go out in most restaurants.
One location that stays open later than most is the humble Stradbroke Island Bowls Club. With a kitchen that closes later than most places, and beer on tap as well, many locals and visitors may find themselves here after-hours.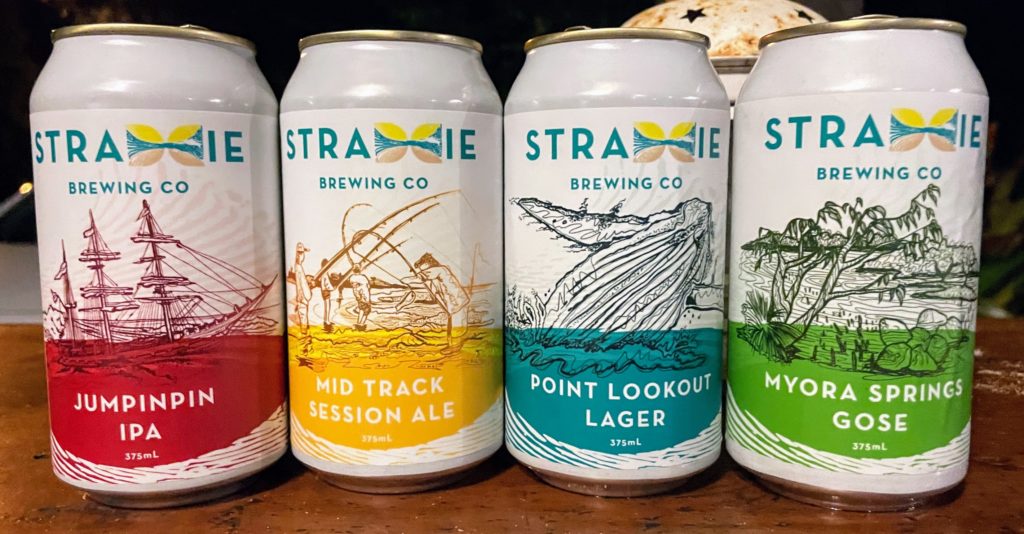 19. Paid campsites are available on Straddie
Stradbroke Island is home to a number of campsites, including at Amity Point, Point Lookout, Flinders Beach, and around Dunwich. One entity owns and operates all campsites, which include caravan spots and some cabins: Minjerribah Camping. 
Surprisingly, camping on Straddie is also not the most economical option for island accommodation, especially if you're traveling solo. For one or two people visiting Stradbroke Island, it's cheaper to stay in a bed at Manta Lodge YHA. For larger groups and families all sharing one campsite or caravan spot, Minjerribah camping is a great budget accommodation option on Straddie.
Minjerribah Camping is an Aboriginal-owned company. When I visited the island in early 2022, the campsites had stricter vaccination rules compared to the rest of Queensland. Call ahead to check campsite availability and other requirements for your next visit. 
20. During the months of May-November, see Humpback Whales off the coast
The East coast of Australia hosts an incredible migration of humpback whales between the months of May to November. The most popular activity during this time to see these massive creatures is to join a whale-watching tour.
There are so many whales though, when they breach out of the water or spray water from their blowholes, they can be spotted from shore! 
Minjerribah has a designated whale-watching platform at Point Lookout, perfect for seeing whales from a great vantage point on the island.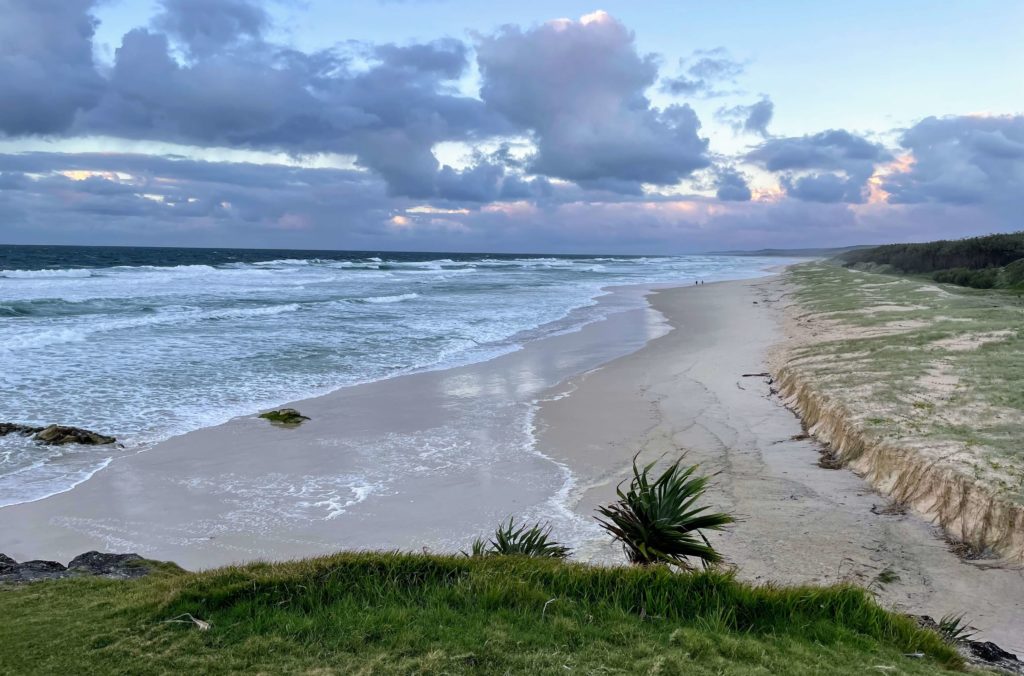 BONUS: Go Slow and enjoy the island life!
Whether you're enjoying island life on Koh Lanta, Thailand or Korcula, Croatia or Caye Caulker, Belize, or North Stradbroke Island, Australia, remember to enjoy the slow, island life.
The incredible natural beauty of Stradbroke Island, including its expansive beaches and inland hikes, make it the perfect place to unwind. Grab a wine or coffee with an ocean view, kick back, and relax on North Stradbroke Island!
Pin these Straddie tips for later!