The Piper Comanche Wreck trail is a medium-difficulty hike just an hour's drive northwest from Brisbane city center in Australia. It's located in D'Aguilar National Park, a favorite nature escape destination for Brisbanites. The council-owned trail is a former logging trail, that starts at the Lepidozamia trail head and veers off into the dense Queensland rainforest.
The Piper Comanche hike is free and no permits are required to spend time in the national park. If you're looking for a unique hike or bushwalk (that's hike in Australian), check out a bit of Brisbane history at the Piper Comanche Wreck trail in D'Aguilar National Park! A lot of information online about this trail is outdated, so here's what you need to know for hiking the Piper Comanche trail in 2022.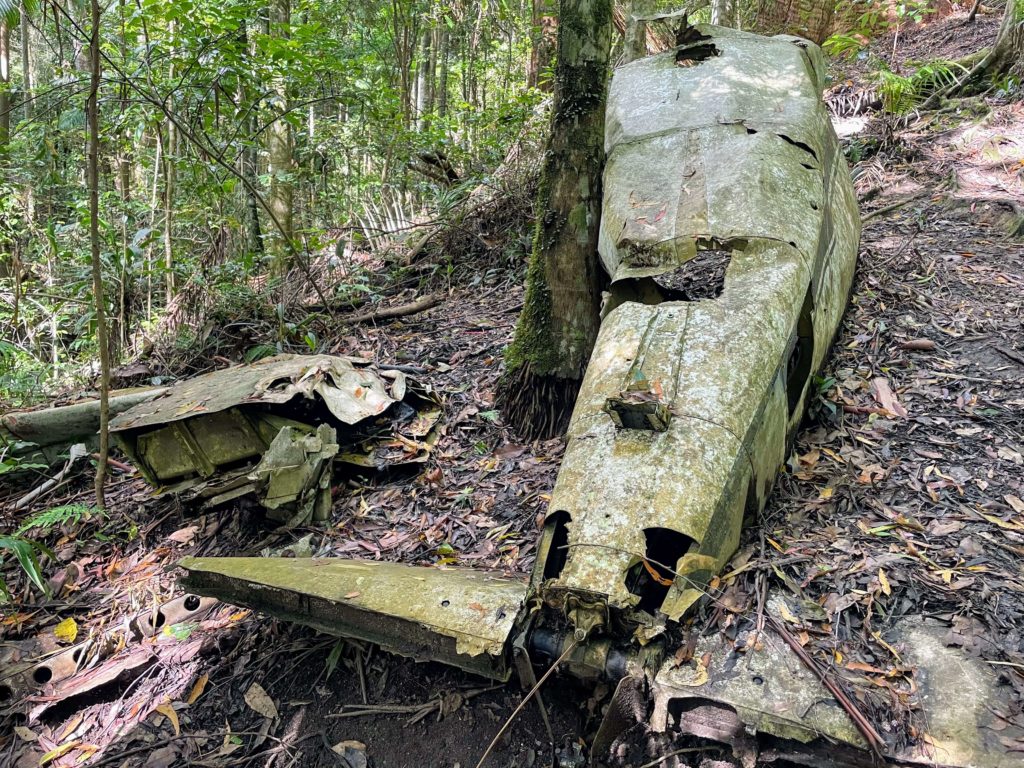 History of the Piper Comanche Wreck
An Australian government aviation safety and investigation report for the incident can be found on their website, but here's a summary below:
A lone pilot was flying his private Piper Comanche plane, a light-weight American aircraft, from Bundaberg to Brisbane on March 2nd, 1977. Due to severe weather in the Southeast Queensland, he landed in Maroochydore and then Redcliffe while trying to get clearance for landing at Archerfield airport in Brisbane. At 6:15 pm the pilot was granted the clearance to fly into Archerfield, and he transmitted his departure time at 6:22 pm.
The aircraft was seen flying at low beneath the rain clouds above D'Aguilar National Park, then climbed and disappeared into the clouds. Shortly thereafter, the pilot struck a tree with the plane and fatally crashed in the rainforest. The wreckage of the plane was found on March 6th 1977 near Mount D'Aguilar.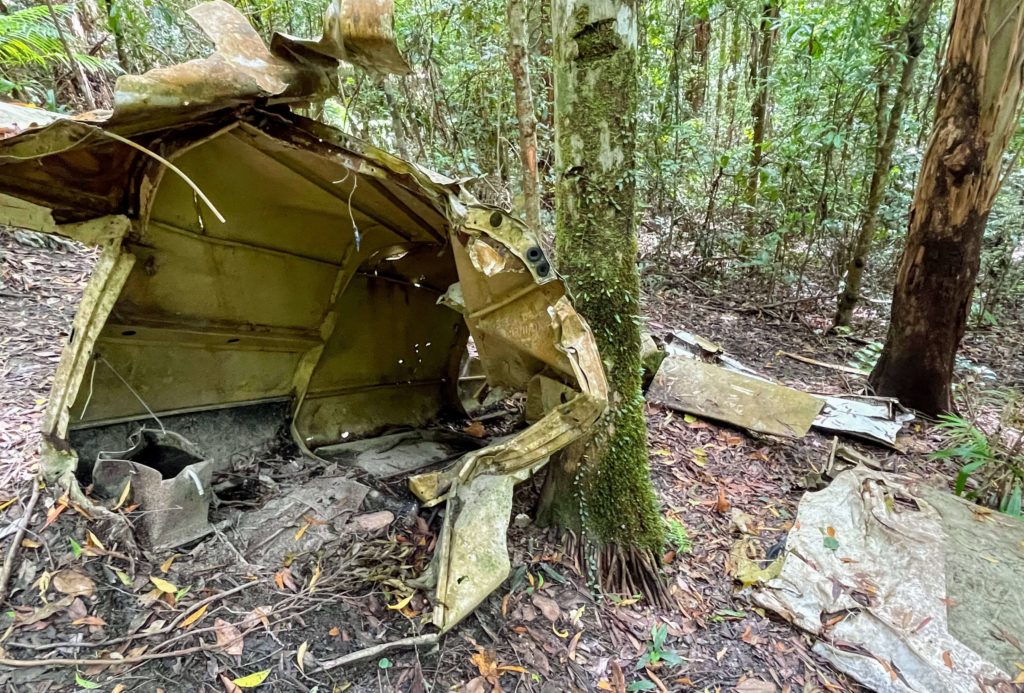 How to get to the Piper Comanche Trail and D'Aguilar National Park
The Piper Comanche trail is located in D'Aguilar National Park, near other famous Brisbane landmarks like Mt. Glorious, Wivenhoe Dam outlook, and the Maiala day-use area.
From Brisbane city center, take State Route 22 through the outer suburbs and follow signs for Mount Glorious Road. Pass Samford village and you'll eventually come to a T-junction, where you turn right onto State Route 31.
This windy route is popular with motorcyclists, so you'll likely see many bikers out early in the morning. Pass the biker-friendly Mount Glorious Cafe and officially enter D'Aguilar National Park. About 6 km past the biker cafe and Maiala picnic area, look for a small turnoff on the right-hand side. In 2022 there is a decent sized "parking lot" available for visitors, and large enough for about 7-8 cars.
There's no specific landmark you can navigate to with your phone to find the start of the Piper Comanche Wreck trail in 2022. Here are the coordinates to the parking lot and trailhead (-27.297588,152.753880) and a link to the location in Google Maps.
You'll know when you've arrived because there's a fence and a wooden sign for Lepidozamia Road just behind it. If you've passed Wivenhoe Outlook, you've gone too far!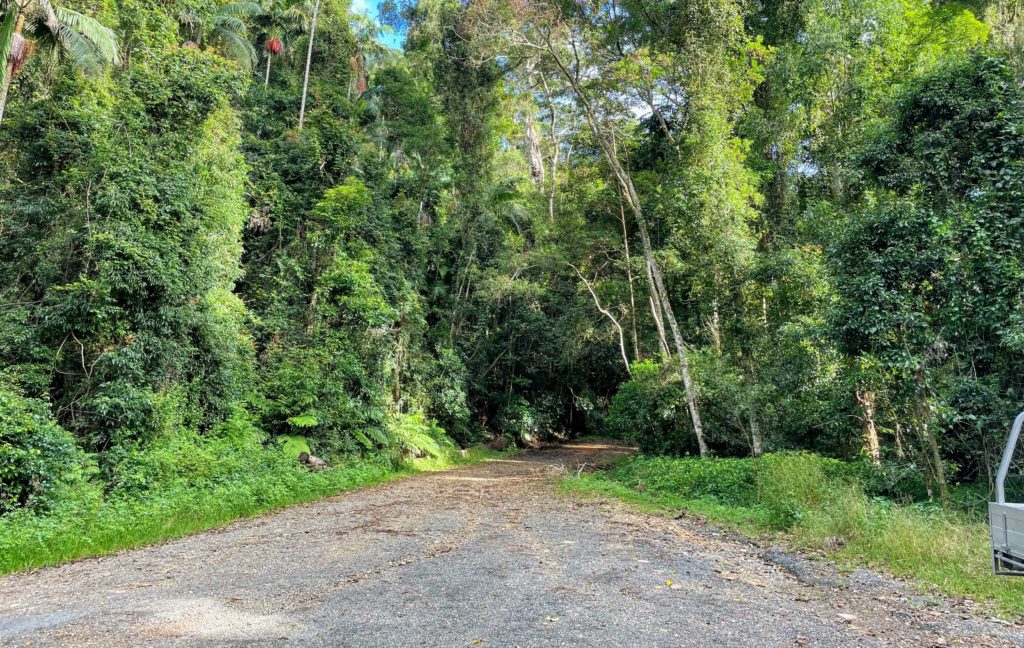 What to expect on the Piper Comanche Wreck Trail
The Piper Comanche Wreck trail was a perfect weekday-morning hike from Brisbane. At 7.5 kilometers there and back, it took us about 2.5 hours to complete the hike. That included 15 minutes or so spent at the plane wreck itself to take pictures and have a quick snack.
I disagree with just about everything listed about the trail on the famous Aussie bushwalking site, which is a Wikipedia-like site for hikers in Australia. It lists the track as "hard", taking 5 hours to complete, and warns about how multiple search and rescues are required in the area due to hikers getting lost. Although the hike wasn't "easy" with a bit of elevation and rocks to climb over, I don't know how anyone could take five hours to complete this hike.
The Piper Comanche hike was previously a bit off-the-beaten-track with only a handful of markings made by other trekkers, making it easy to get lost. Now in 2022, it is an official council-maintained hiking trail, which means there are signposts along the way that guide hikers to the wreck site.
We used the phone app maps.me to navigate the trail if we were unsure of the direction, but were able to easily identify the track for most of the 7.5 kms.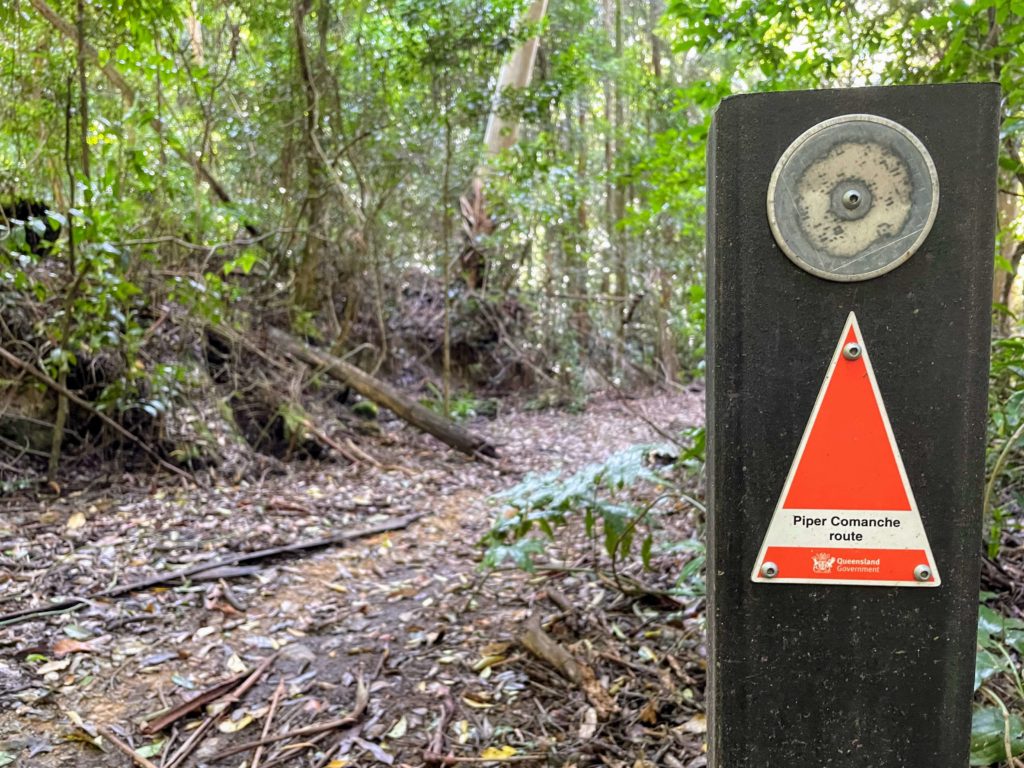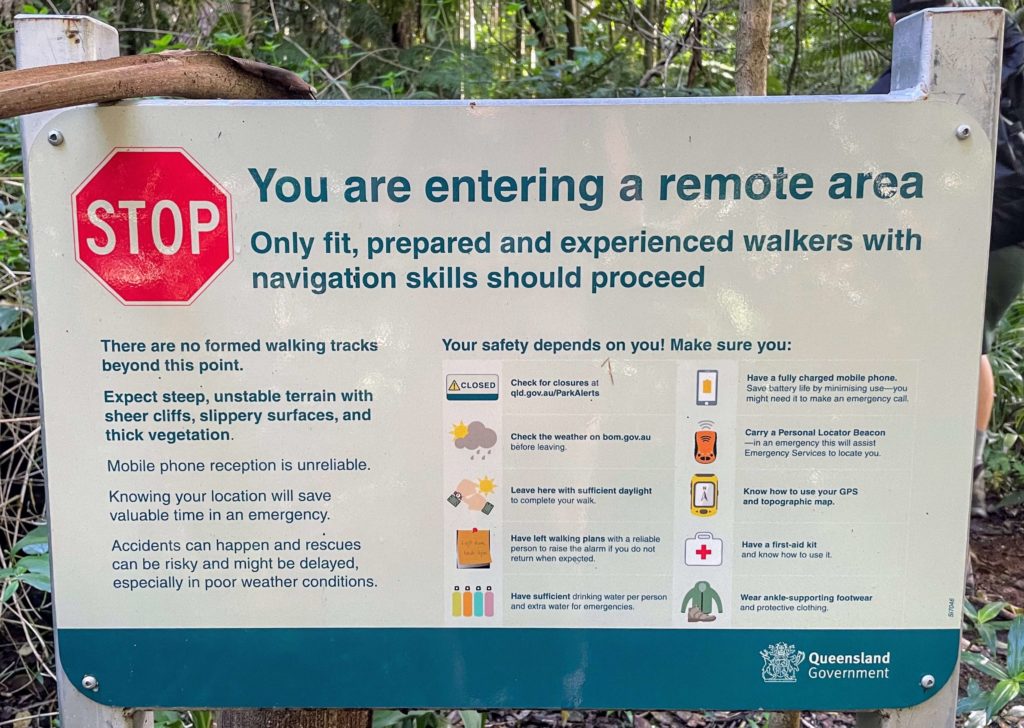 What to expect on the Piper Comanche Wreck Trail, continued
From the parking lot and only 50 meters in from the Lepidozamia trail is a narrow dirt trail on the right-hand side. It's easy to miss, and looks like almost an animal trail that dips down to a lower level of forest. That's the start to the Piper Comanche Wreck bushwalk! (We did walk past it the first time and had to turn back) A signpost just below the descent warns to continue down this trail at your own risk.
The trail varies from wide and flat to rocky and steep. Because of the dense forest canopy, even if it hasn't rained in a few days, expect muddy sections and leeches. Some sections you might be passing through some fallen branches and vines. At one section of the trail there's an abandoned winch, a machine formerly used for logging. 
The last section of the trail to reach the Piper Comanche wreck is a steep downhill with many slippery rocks. I was glad to have been wearing proper hiking boots for this section and trekking poles may have come in handy.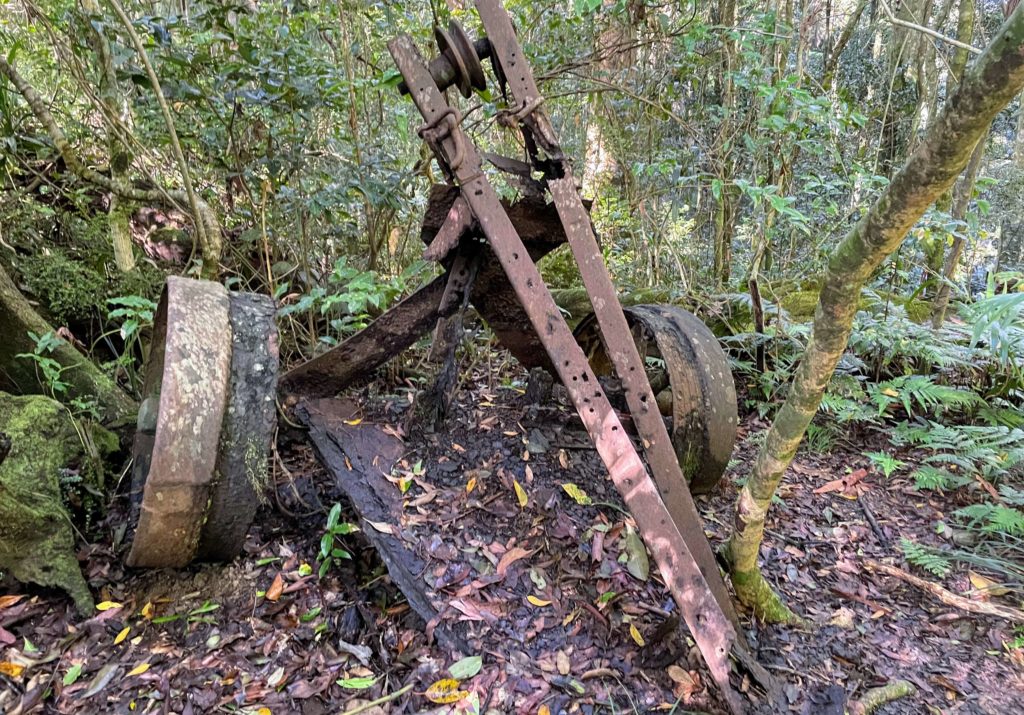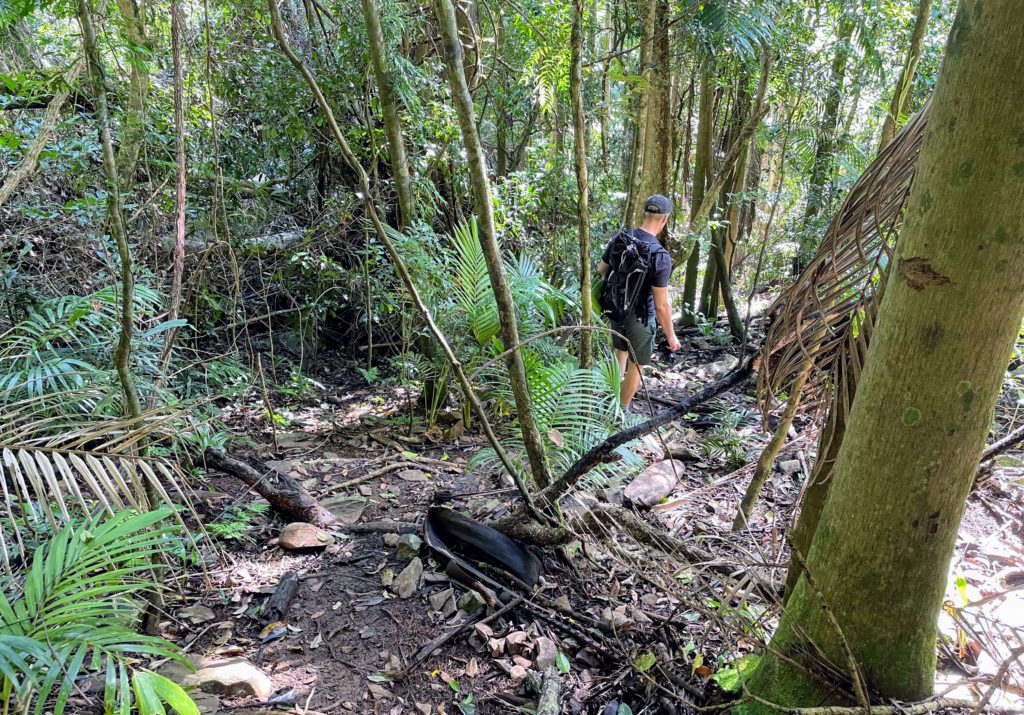 Piper Comanche Trail Bushwalking Summary
When we arrived around 8am in the morning, we were the only drivers there and we didn't meet any other hikers on the way to the Piper Comanche wreck. On the walk back we ran into 3-4 different groups, and sure enough back at the parking lot there were a number of other cars. All-in-all if you start at or before 8am, expect to have the trail to yourself.
At the Piper Comanche Wreck itself, there's not a lot of space to have a rest or a picnic. It's the middle of the dense rainforest after all. A small river cuts through just below the plane wreck, and some mossy logs make a good place to rest. I found a number of leeches there though, so we couldn't relax as much as we wanted. Leeches were the only negative to the hike – make sure to do frequent boot-checks once you start walking through muddy areas.
In total, it took us two and a half hours round-trip to complete the Piper Comanche Wreck trail in D'Aguilar National Park. We stayed at the wreck site for 15-20 minutes to have a snack, and took a number of photo breaks along the way. For fast hikers, it could be done in two hours, and others could budget three hours.
Check out my Instagram reel that showcases some of our hike to the Piper Comanche Wreck.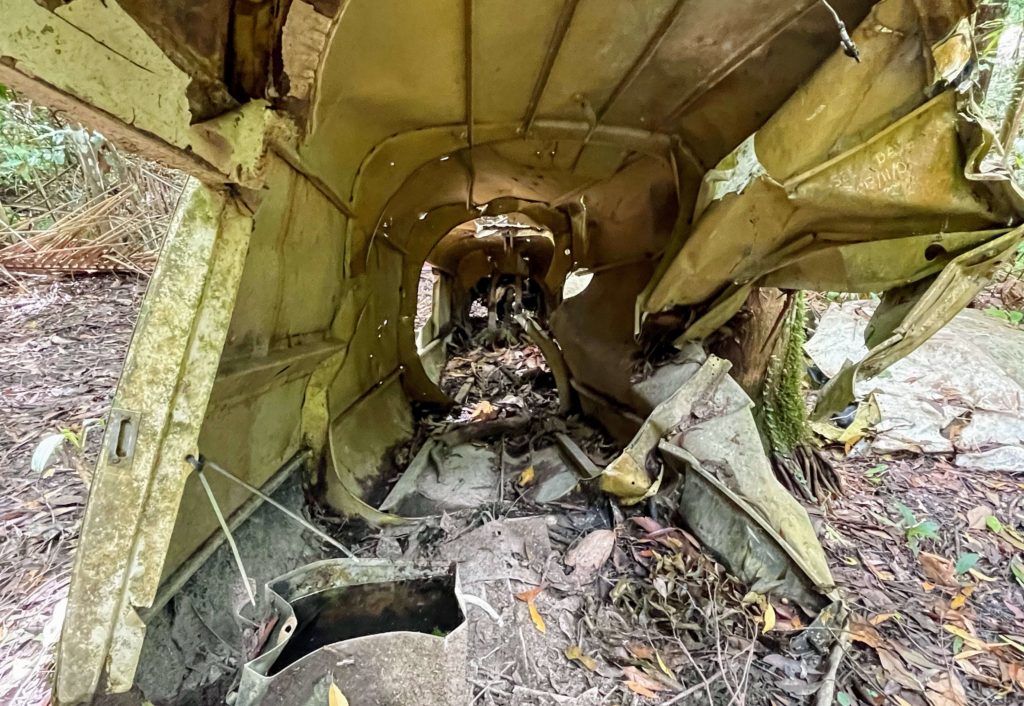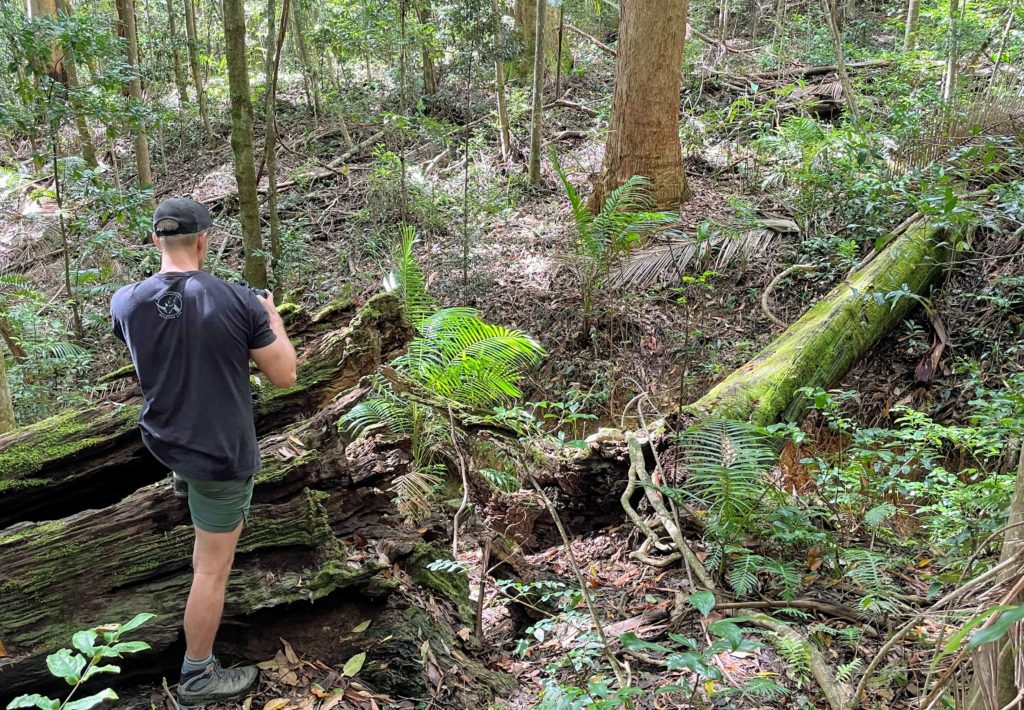 Piper Comanche Wreck Trail packing list
If you need a bit more help preparing for your Piper Comanche Wreck hike from Brisbane, here's my packing list. This list will prepare you for any day-hike around the world!
Clothing and foot wear
Day-pack and day-hike necessities
Food and snacks
1-1.5 liters of water person (more if hiking during hot weather)

2-3 granola bars or some fruits to eat at the end of the trail

Lunch if you're not planning on stopping by for food in town
After the hike - Lunch at the Latin Shack!
If you depart Brisbane at around 7 in the morning like we did, you'll complete the Piper Comanche Wreck bushwalk just in time for lunch! Maiala day-use area is a great spot nearby to rest and enjoy a packed lunch, if you prepared one ahead of time.
An amazing local alternative that doesn't require any prep is lunching at the Latin Shack, a colorful outdoor restaurant and cafe in Samford Valley town.
The Latin Shack is located right off of the main Mount Glorious Road. You'll probably see the iconic red, yellow, and blue-striped fence on the way up to the start of the hike. In addition to wraps, pastries, cakes, and great coffee, a full menu of lunch and breakfast options, plus daily specials, means there's something for everyone at this cozy eatery.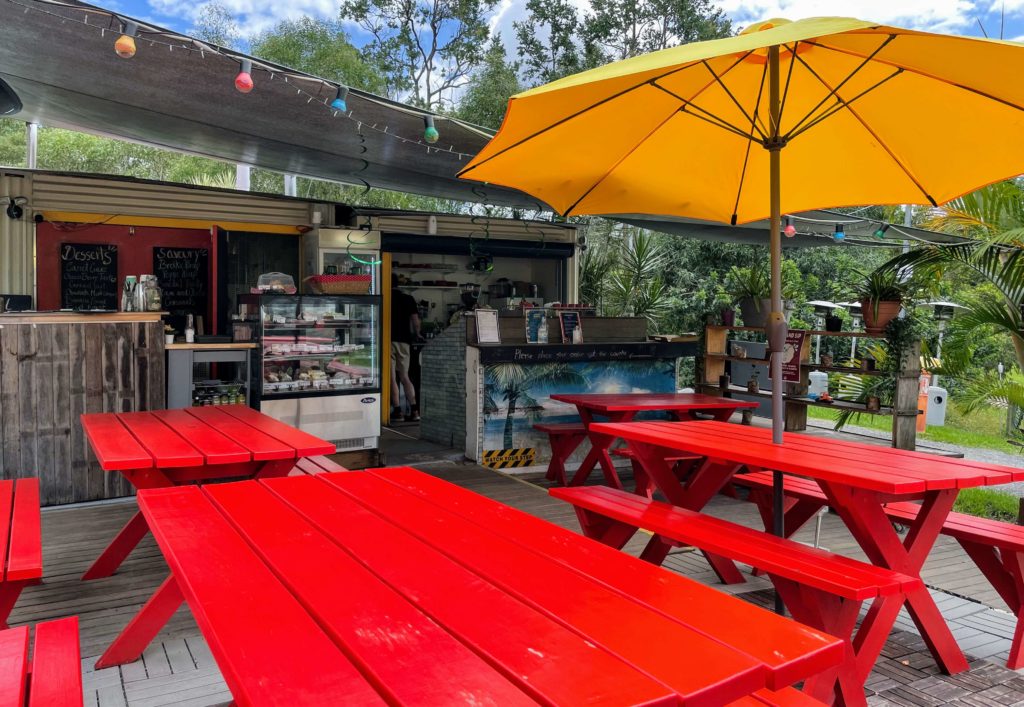 Now you should be all prepared for your next bushwalk from Brisbane, the Piper Comanche Wreck trail in D'Aguilar National Park! Don't let the Aussie bushwalking website deter you from this unique hike through the beautiful Queensland rainforest. 
Get an even better feel for the hike by checking out my Instagram reel of visiting the Piper Comanche Wreck.