Bosnia & Herzegovina is an unmissable little country to travel to, if you ever find yourself in the Balkans or neighboring Croatia. Many people only know of Bosnia as a country with a war-torn history, but there's a lot more to be discovered. I recommend spending at least five days in Bosnia and Herzegovina to explore this stunning country! 
I was thoroughly surprised when I stepped off my bus in Mostar, Bosnia and Herzegovina to find a city with cobble-stoned, Islamic-influence charm. Bosnia's capital of Sarajevo was also a shopper's paradise, with aromas of Bosnian coffee (similar to Turkish coffee) wafting from every cafe. The surrounding buildings riddled with bullet holes however, remind visitors of a past of sieges and bloodshed.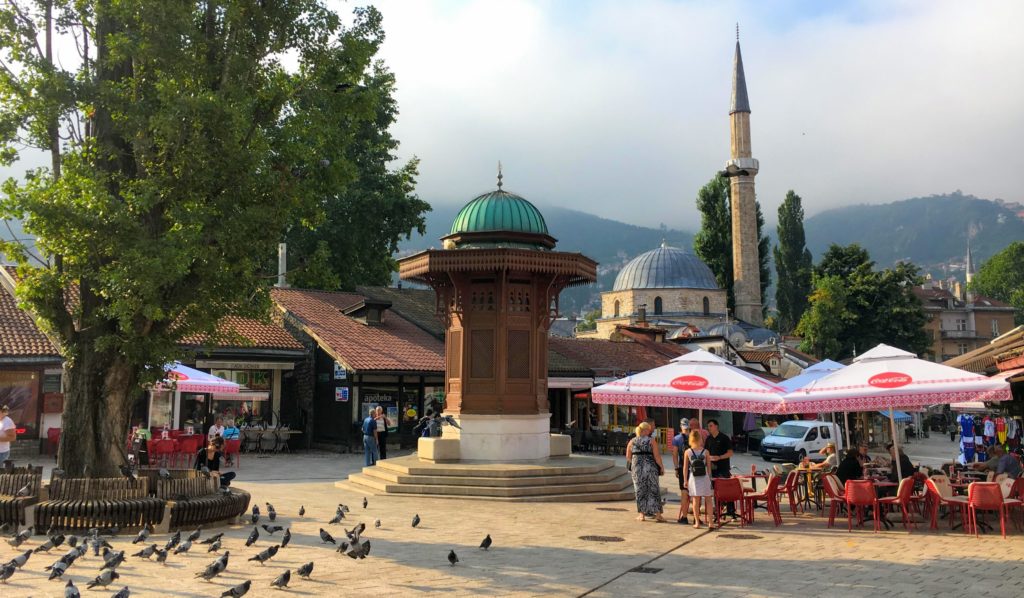 This Bosnia & Herzegovina 5-day itinerary includes many highlights of the off-the-beaten-path country. Bosnia has a unique culture compared to its neighbors, and a long and interesting history that should not be forgotten. Its small size allows you to travel quickly from place to place. You can visit many of the country's points of interest in a short period of time. 
Here are my recommendations for places to go during a 5-day Bosnia and Herzegovina Itinerary!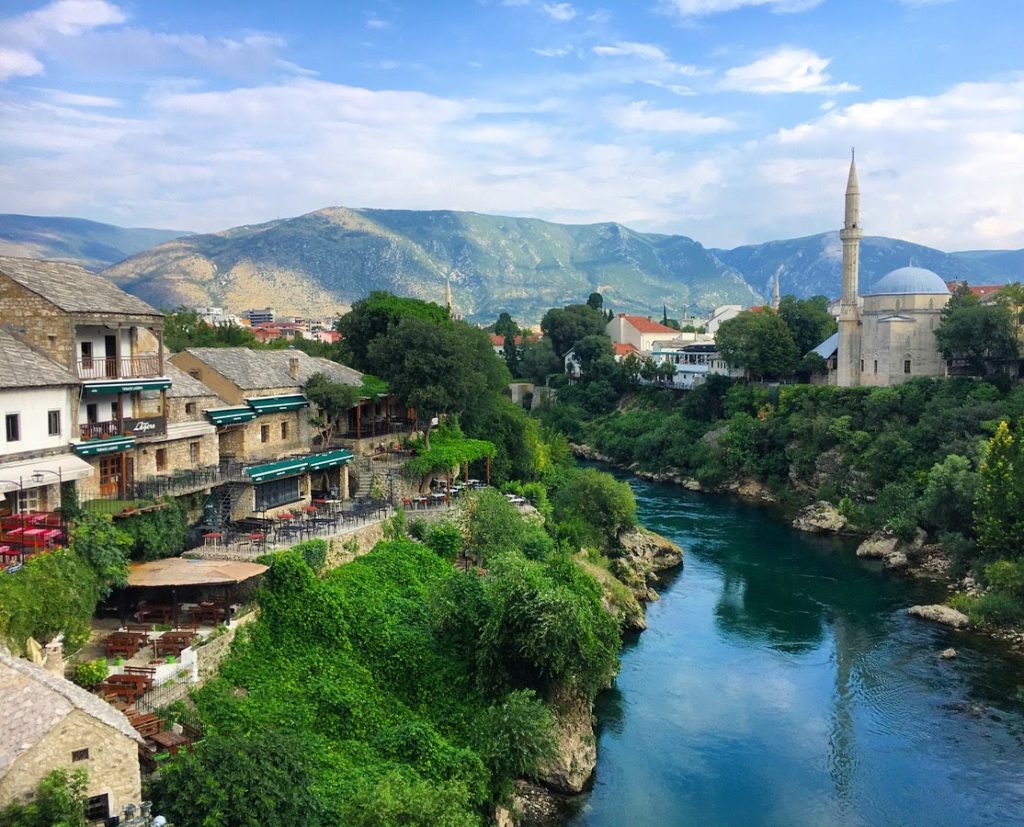 Mostar was one of my favorite towns in all of the Balkans, and a great first stop for a Bosnia 5-day itinerary. The old city center made me feel like I was transported to the alleyways of Morocco or Turkey. Shops displayed beautiful glass bowls, hanging lamps, jewelry, and intricate teapots and tea cup sets.
The mosaic cobblestone streets (though difficult to walk over in sandals) mirrored the stone gray buildings. Only the storefront facades were painted in bright pinks, yellows, and blues. Many rooftops were orange, similar to other Balkan countries. 
Mostar is a gateway town that can easily be reached from nearby cities in Croatia like Split and Dubrovnik. It's the perfect place to start your Bosnia and Herzegovina itinerary!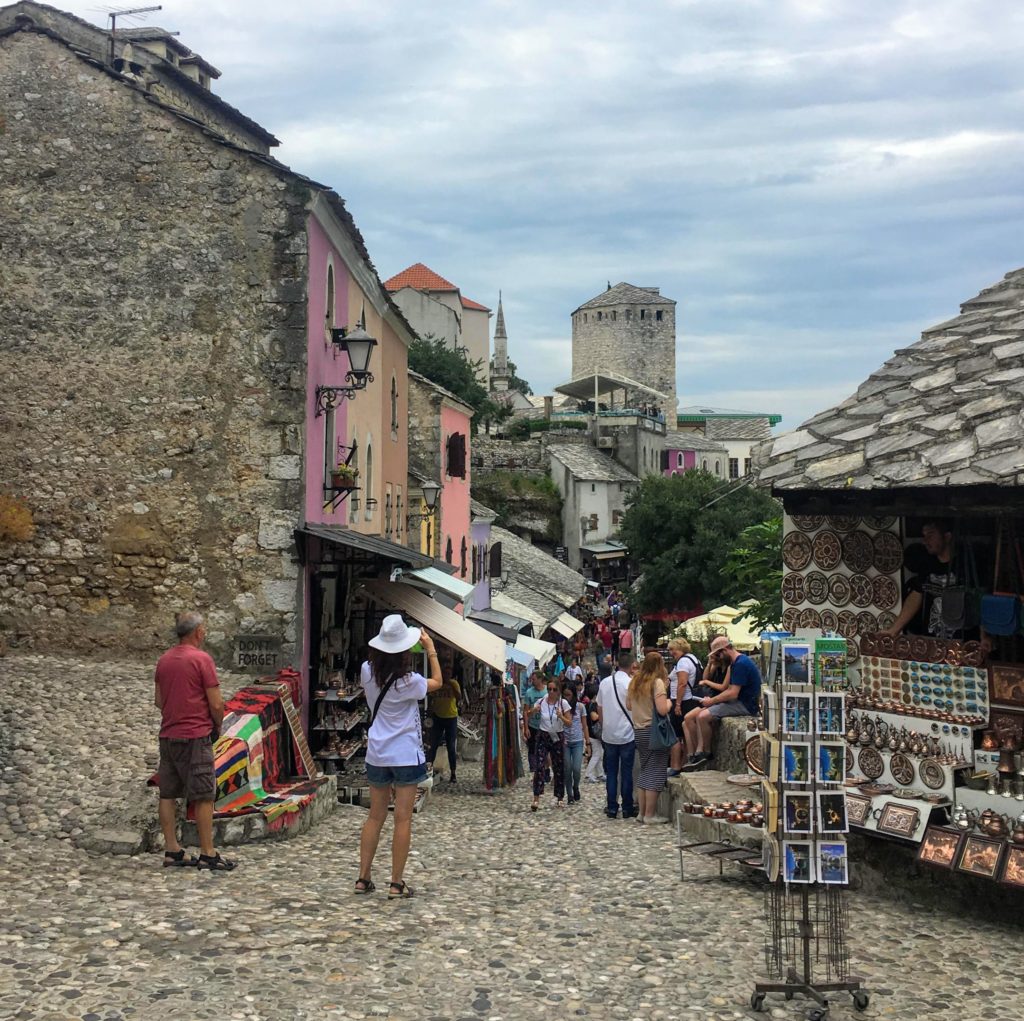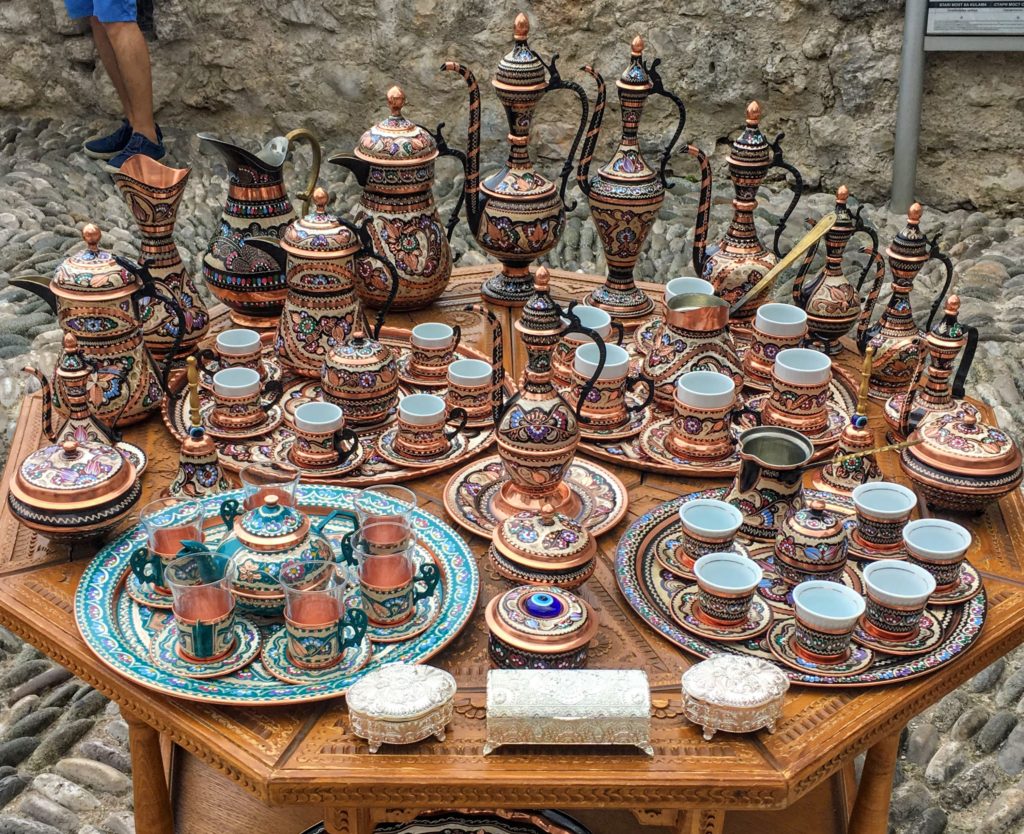 Things To Do in Mostar:
Wander through Mostar's Old Town and pick up a few Bosnian-made crafts and souvenirs. Take breaks at different coffee shops, and sit with the locals while drinking Bosnian coffee out of tiny cups. Don't drink the coffee grounds at the bottom! There are many beautiful restaurants with patios overlooking the small river valley that cuts through Mostar, perfect for lounging. 
Mostar's claim to fame is a massive arched bridge that crosses over its river. It's steep and a long way down to the river below, but the view from the top is spectacular. Many times you'll see locals rallying a cheering crowd of people. That means someone is going to dive off the top of the bridge into the frigid river below. Don't try this as an amateur. 
Head to the larger bridge a couple hundred meters down the river, which is a great viewpoint to watch people jumping.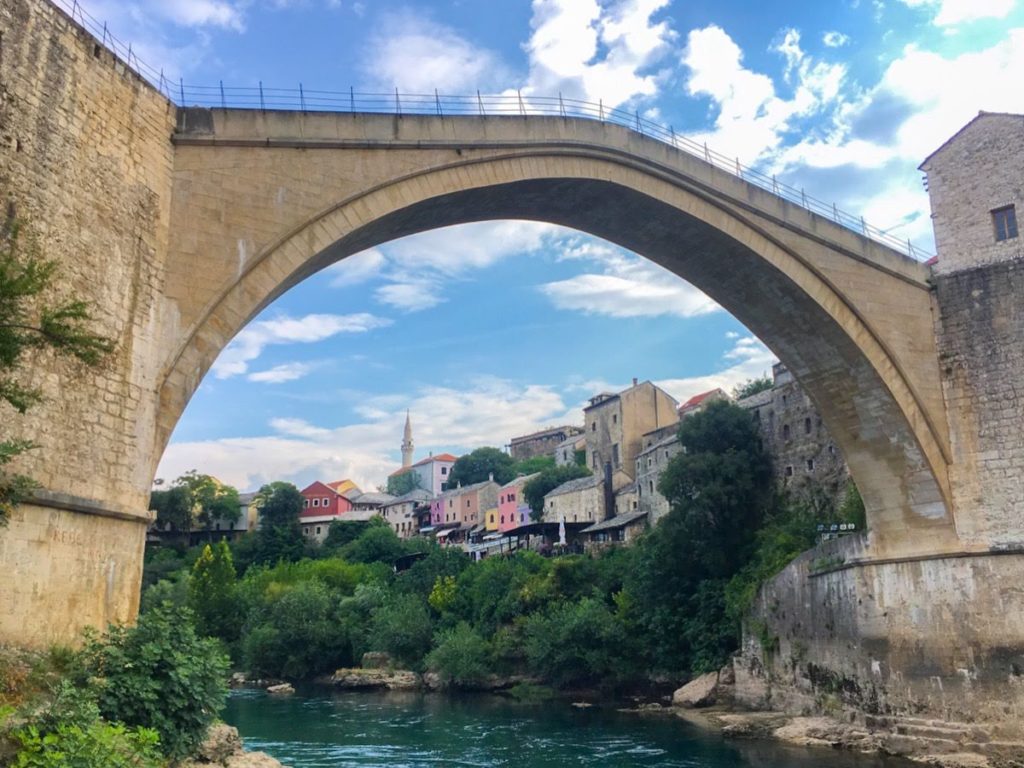 Walking just outside of the main part of town will take you past some buildings that were never fixed after the many battles that tore through the country. Some are covered with bullet holes, others with cannon blasts. Some buildings sit in ruins with gaping rooftops overgrown with weeds.
On Day 2 of your five day Bosnia & Herzegovina itinerary, join a tour or hop on public transportation to one of Mostar's nearby attractions. There are many shops and small tourist offices in central Mostar that offer day-trips to neighboring towns.
The most popular day-trip from Mostar is to Blagaj Tekija, a centuries-old Muslim Dervish monastery that's built into the side of a cliff and over the river. 
Kravice Waterfalls is another attraction close by for travelers eager to swim, but not willing to take the jump off the Mostar bridge. 
Although Sarajevo was under siege for almost 4 years in the 90's during the Bosnian war, it's now a bustling metropolis filled with hotels, shopping malls, and trendy restaurants. It's a great place to spend two or more days during your Bosnia & Herzegovina itinerary. 
In Sarajevo, you might feel like you're in any other European capital city! Sarajevo is unique because of its Islamic influence, which dates back to when this region was under Ottoman Empire rule (think Turkey).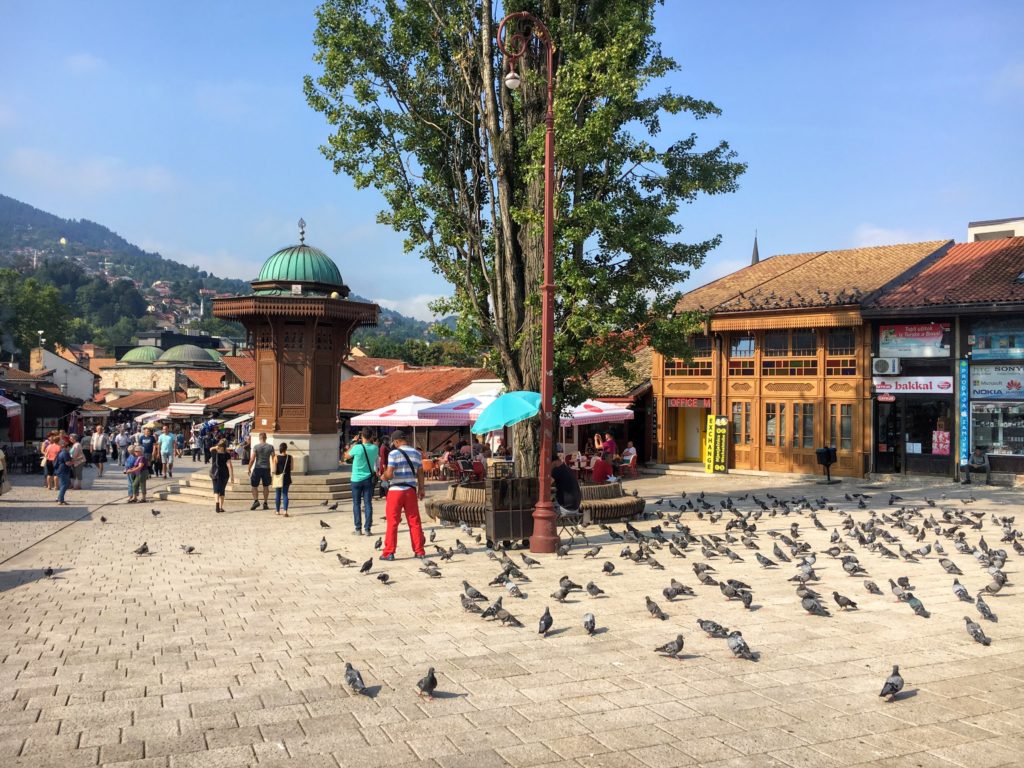 The central tourist district of Sarajevo is made up of a grid of alleyways filled with small cafes and craft shops, selling rugs, pottery, knives, and tea pots and cups. 
Small tables outside the restaurants are crowded with people drinking Bosnian coffee in the mornings, or eating large slices of bureks (rolled, flaky pastry filled with cheese, spinach, and/or meat) and cevapi (kebab-like pita bread sandwich with lamb or beef chunks inside) in the afternoons and evenings.
Foodies might be interested in visiting some of the best restaurants in Sarajevo such as bakeries, cafeterias and restaurants to sample local delicacies.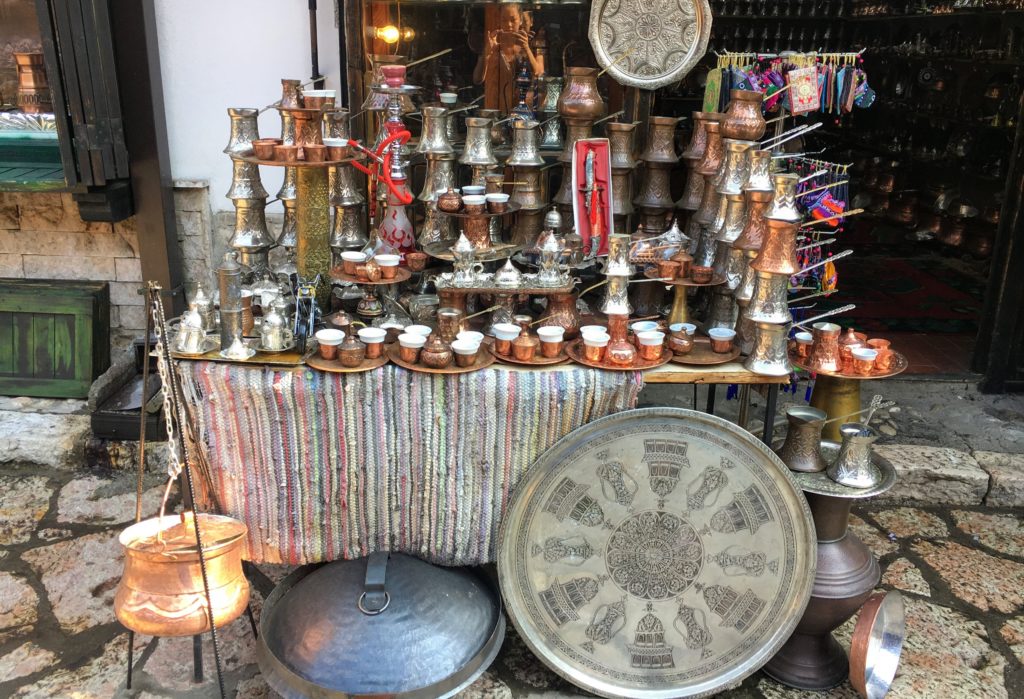 Things To Do in Sarajevo:
Wander around the shops, restaurants, and cafes of the Old Town in Sarajevo and see what else you stumble upon. Sarajevo has a shopping bazaar, several amazing local bakeries (search for bureks!), sweet shops, and a local meat and cheese market inside a large pillared building. 
Check out the Latin Bridge, where Archduke Franz Ferdinand was assassinated to spark the start of World War I. There's a small plaque to the side explaining the historical significance of the bridge. It's now covered in "love locks" like many other famous bridges around the world – a reminder to how much things have changed since WWI. 
For less than $15 USD per person, book a Grand Tour of Sarajevo or take it underground for a Tunnel Tour!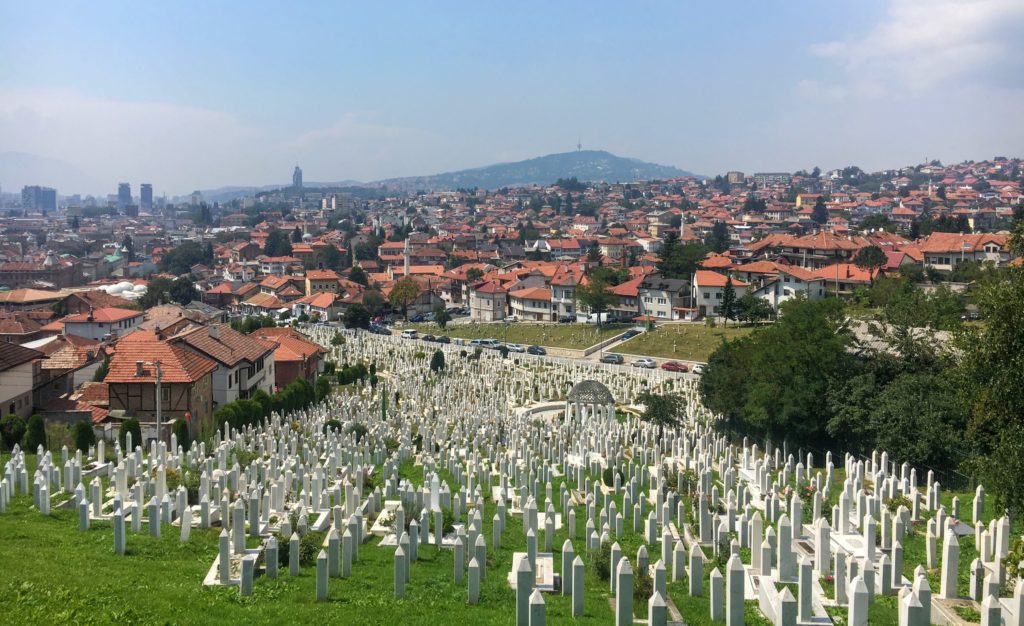 Sarajevo is situated in a valley, so there are many beautiful viewpoints overlooking the city, including the abandoned Yellow Bastion. There's a massive cemetery on the walk up, a quick 20 mins from Sarajevo's Old Town. 
Museum-lovers will rejoice in Sarajevo, a city with so much history that is well preserved in many different museums. It's worth visiting at least one of these museums during your five-day Bosnia and Herzegovina itinerary. 
A nice change of pace from the touristy Mostar and Sarajevo is a small mountain town of Jajce (pronounced yai-tse). This was the last stop on my 5-day Bosnia and Herzegovina itinerary.
Jajce has a small hilltop fortress and a mini Old Town, which has a couple preserved temples and historical museums. 
A large park with many open spaces, benches, and a running trail surrounds a river that cuts through town. Many beautiful bridges are built over this river that eventually leads to the Pliva Waterfall. 
There are two viewpoints for this waterfall, one that takes you to an atrium and concrete platform to view the falls from below, and one in the park just above it where you can see the falls from the top. 
Follow this same river uphill and there are several beautiful lakes, with old wooden water mills built over some smaller falls. 
Jajce can also be visited as a day-trip from Sarajevo
After your 5-day Bosnia & Herzegovina Itinerary: Zagreb, Croatia
Check out my other Balkan country itineraries
Heading to BiH? Pin this post!