The best way to explore the beauty of the Philippines and its islands from Coron, Palawan, is to join the Coron Ultimate Tour. This tour is a Coron Island-Hopping Tour that hits all of Coron's highlights, including Kayangan Lake and Coron's Twin Lagoons. 
Many of the iconic spots around the Philippines are only reachable by boat, which basically forces you to join an island-hopping tour. For the number of sights and experiences you have on the Coron Ultimate Tour, I thought it was 100% worth the price.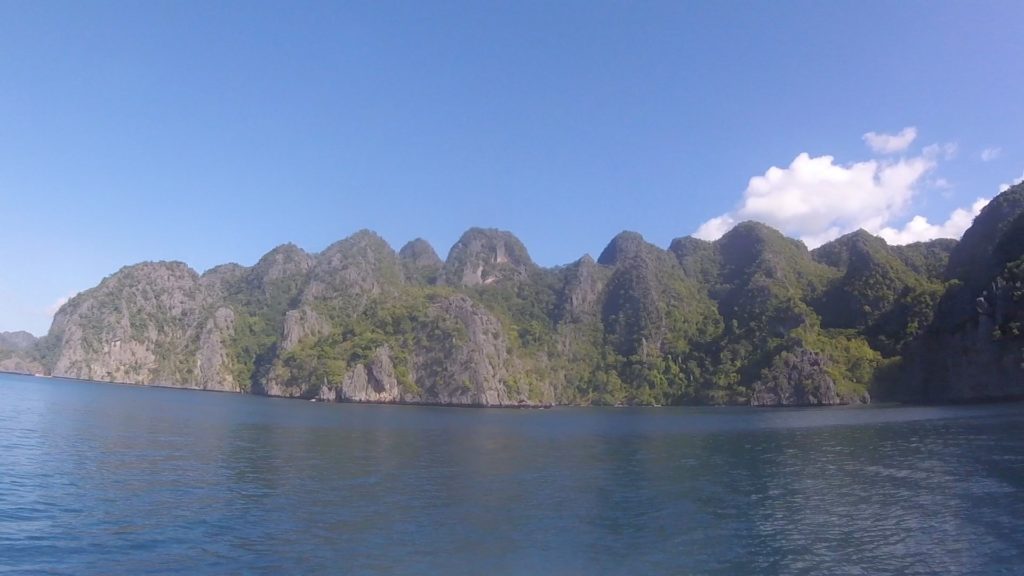 Several Coron Island-Hopping tours leave from Coron Town including Coron Island Tour A, Coron Island Tour B, Coron Island Escapade Tour, and the Coron Ultimate Tour. Many of these Coron island-hopping tours hit the same beautiful lagoons, snorkeling spots, and islands. When I asked around in Coron which tour was the best for snorkeling and area highlights, the Coron Ultimate Tour was the answer. 
The Coron Ultimate Tour includes a trip to Kayangan Lake, one of the most famous spots in the Philippines, and the Coron Twin Lagoons where cold fresh water mixes with warm salt water from the ocean. On the tour, you'll snorkel a small ship wreck and some coral gardens, plus hang out at two secluded islands. A life vest, snorkel gear, lunch, and snack were provided, as was a tricycle pick up and drop off at my guesthouse. 
Together with Marty from Intrepid Road, we booked the Coron Ultimate Tour for 1300 pesos per person. The standard cost across for the Coron Ultimate Tour across all Coron tour companies is 1300-1500 pesos ($25-$30 USD). If you're visiting the Philippines in the high tourist season, I recommend booking the tour ahead of time.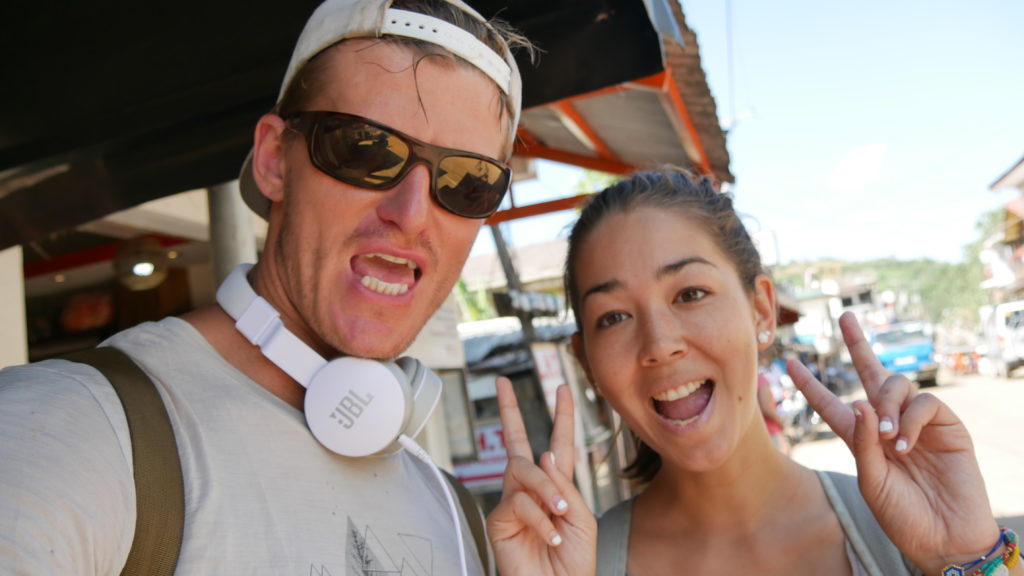 How to Book the Coron Ultimate Tour
Klook is an travel and activity booking platform that allows you to book a spot on a Coron Ultimate Tour before you arrive in the Philippines. The cost of joining a tour through Klook is $30 USD. 
If you prefer to book a private Coron Island-Hopping tour that goes to all of these Coron highlights, Klook gives you options and prices for private tours also. 
Coron Ultimate Tour Packing List
Underwater camera – I used my waterproof GoPro
Quick-Dry Towel
Light snack
Water
Sunscreen – make sure it's reef- and marine-friendly!
Money to buy snacks, water, and alcohol
Flippers (if you want them)*
Water shoes*
Snorkeling Mask*
*Some companies may provide this, or you may be able to negotiate renting them in the price. Many shops near the catamaran port in Coron rent these for a reasonable price as well.
Check out my other Philippines travel blog posts: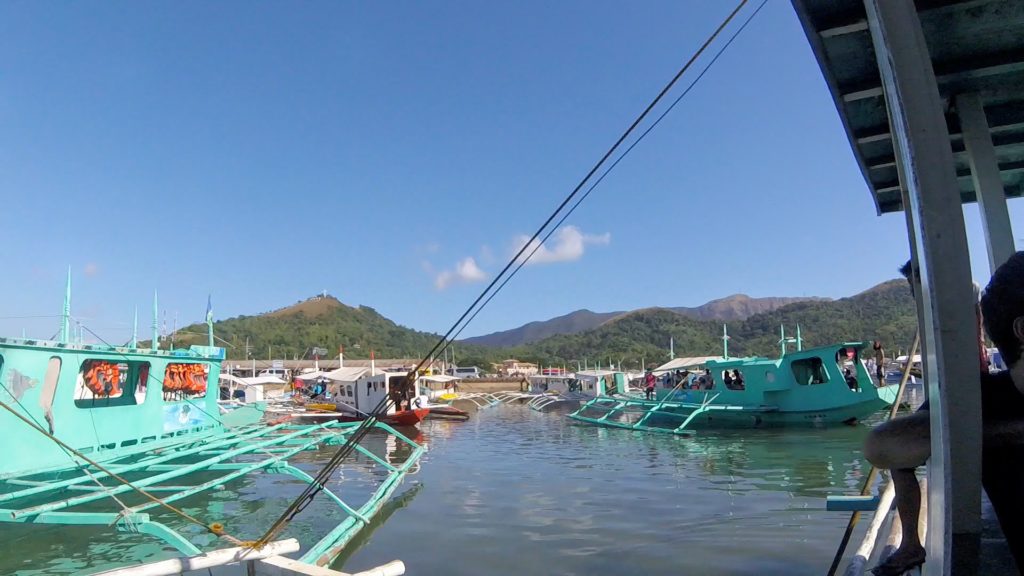 Starting the Coron Ultimate Tour
Our designated pickup time from our guesthouse was between 8-8:30 in the morning. Of course the pick-up was a bit later than that, when we were put on a tricycle to be taken down to Coron's catamaran port.
Dozens of catamarans were lined up along the shore, two or three more tied to the backs of those, conga-line style. Tricycles and vans were pulling up left and right in a conglomerate of roaring engines and motorbikes. Tourists in hats and sunglasses stood around aimlessly, waiting for direction as locals rushed around, shouting in Tagalog and pointing in every direction.
When we were dropped off by our tricycle, the man at the tour company where we bought our tickets popped up at our side and pointed us towards a row of four catamarans. "Last boat, last boat", he said, and ushered us forward. 
Although a snorkel mask and life vest were included in the tour price, flippers were not, so we made a quick detour to a shop that exclusively rented flippers. We rented them for 150 pesos ($2.80 USD) per pair, then followed the guide back to our boat. After passing through three other boats, we settled into ours which had about 20 people on board.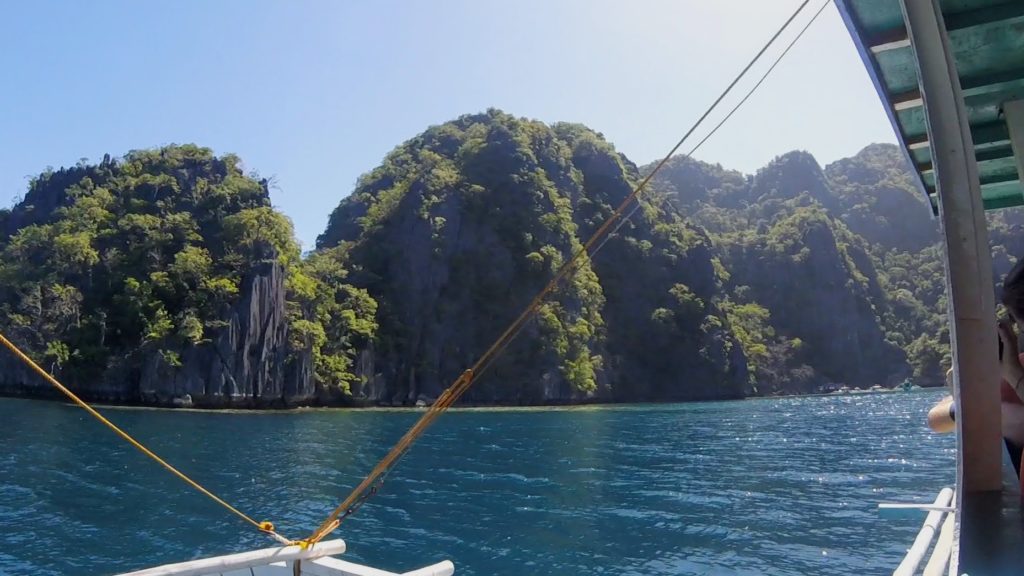 At 10am (not 9am like advertised) all the catamarans started to leave from the port, each one detaching from the one behind it. A local man stood at the bow (front) and used a massive bamboo stick to give the boat enough momentum to move away from shore. When we were a hundred yards off land, the engine roared to life at ear-splitting octave, propelling us across the water. There must have been 40 or 50 boats in total, taking to the open sea at once like colorful seagulls ripping over the waves.
Coron and Palawan island in general are known for its limestone rock formations that jut aggressively out of the water. They're covered in dense forest and dot the landscape sporadically, creating a Jurrasic Park-like image. At the base of these formations are coral gardens and caves, sometimes sandbanks. The islands and the colorful creatures that inhabit these waters were what we were out to discover this day.
Coron Ultimate Tour Stop 1: Coron's Twin Lagoon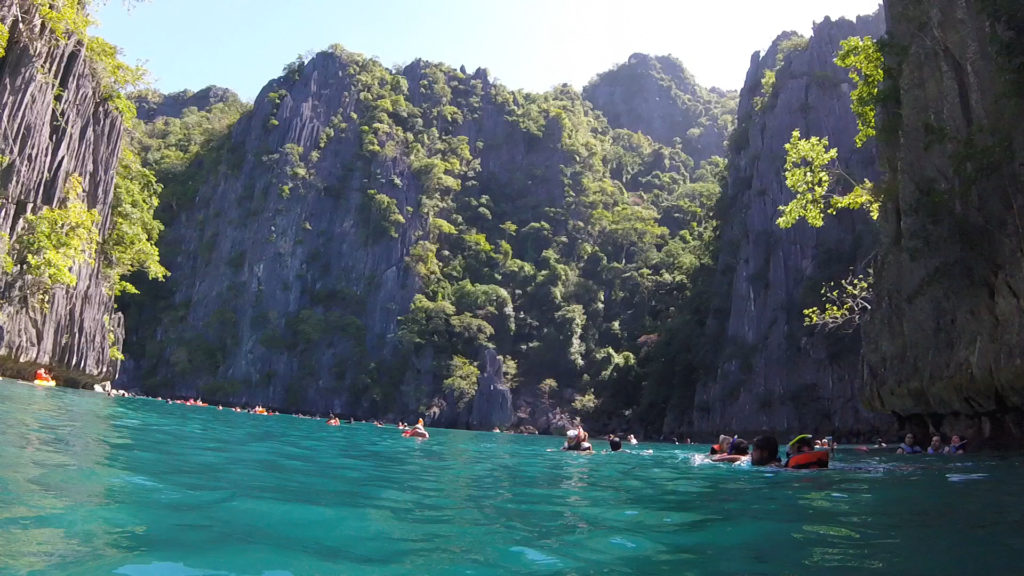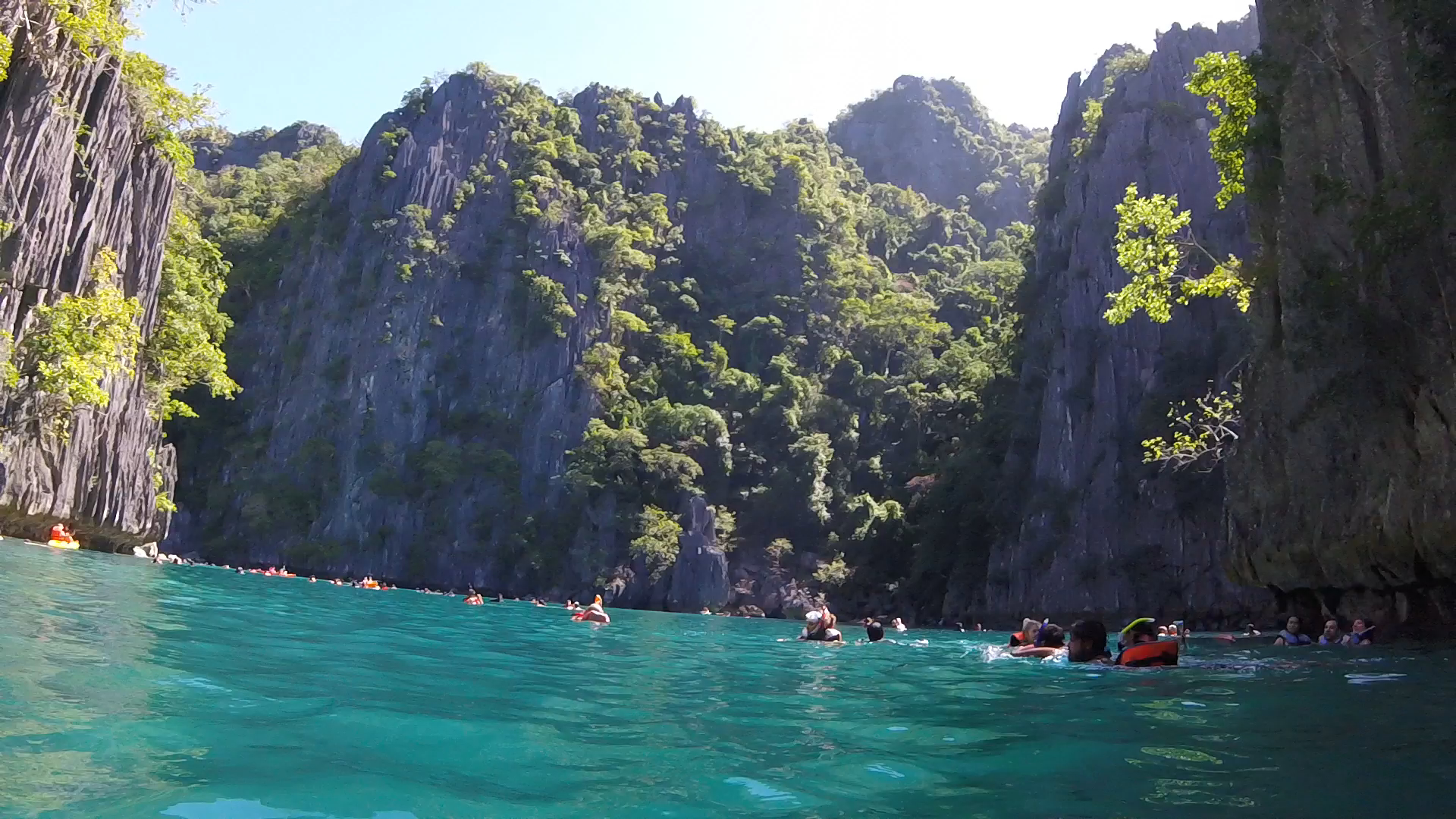 Our first stop was the Twin Lagoon. Our boat pulled up to where two limestone cliffs stood side by side, with a shallow sandbank between them. Our guide mentioned life vests were required, and recommended that we wear water shoes because of the sea urchins and stone fish that call this place home. Since most people didn't have shoes, we took our flip flops.
We grabbed snorkeling masks out of a plastic bucket (who knows when they were last cleaned), and were told we had 30 minutes to spend here. Then people started jumping overboard, about a 5 foot drop into the water. 
It was a quick swim to the sandbank, where the water was shallow enough to walk through. The rocks below our feet were sharp, and the sand that was kicked up every step we took made it near impossible to see our feet. I prayed there were no sea urchins or stonefish in front of me as my flip flops dragged through the water with each step. 
Soon the water was too deep to walk in again. As I started paddling, I looked up in awe at the massive limestone rocks that surrounded this lagoon. The lagoon was CROWDED with people, floating around, all wearing their orange life vests. In a sense, it added to the beautiful colors of the landscape – the turquoise blue of the water, the green of the forest, the brown of the rocks, and the bright orange dots of people floating around like confetti on the water.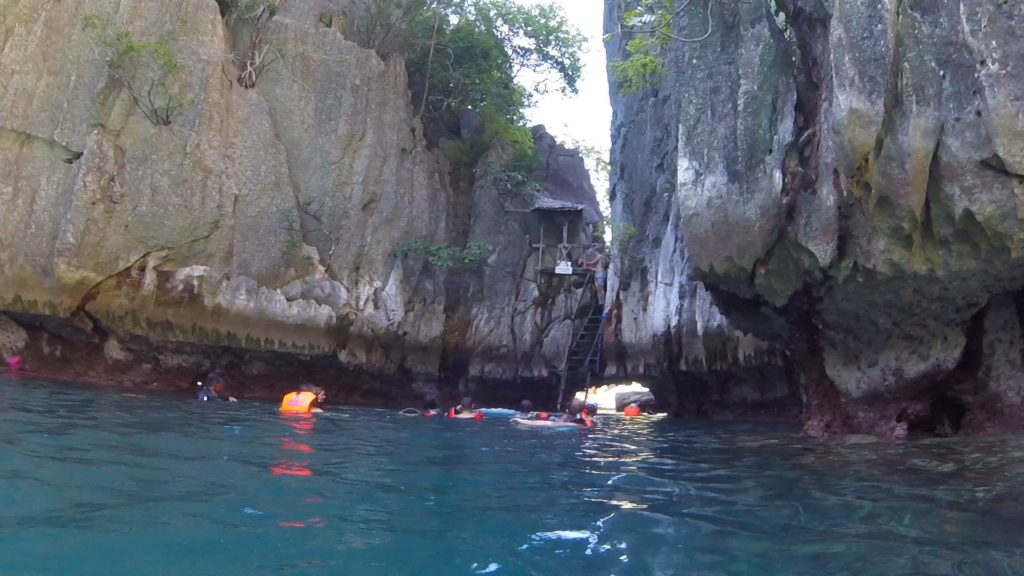 There was rock overhang that we swam under to reach the second lagoon, which was filled with more catamarans, and had troves of people coming in from that direction too. We decided to spend our time here in the larger first lagoon, where depending on where you're swimming, feels cold or warm. The fresh water mixes with the ocean water here, creating currents of different temperatures. The water was actually too warm in most of the lagoon to see clearly with the snorkels, so there wasn't really a point in bringing them along with us.
Stop 2: CYC Island and Las Islas De Coral (and 7-Eleven)
Our next stop was a bit of a bust for me, but checked off two spots off of the itinerary: CYC Beach, and Las Islas De Coral. The main attraction here was the island that CYC Beach is on, a tiny one with a large sandbank that stretched in the shape of a boomerang towards the tourist boats. Some locals seemed to be hanging out there, waiting for people to come so they could try and sell some souvenirs (a common sight). 
Our guide told us there was a 7-Eleven on this island, a popular convenience store throughout Southeast Asia. When our guides dropped the anchor, two local guys on paddle boats, each with a trash bag full of chips and a cooler of beer and cola pulled up on either side of the boat. "7-Eleven is here!" our guide joked as everyone reached over the edge with pesos to buy beers and snacks with.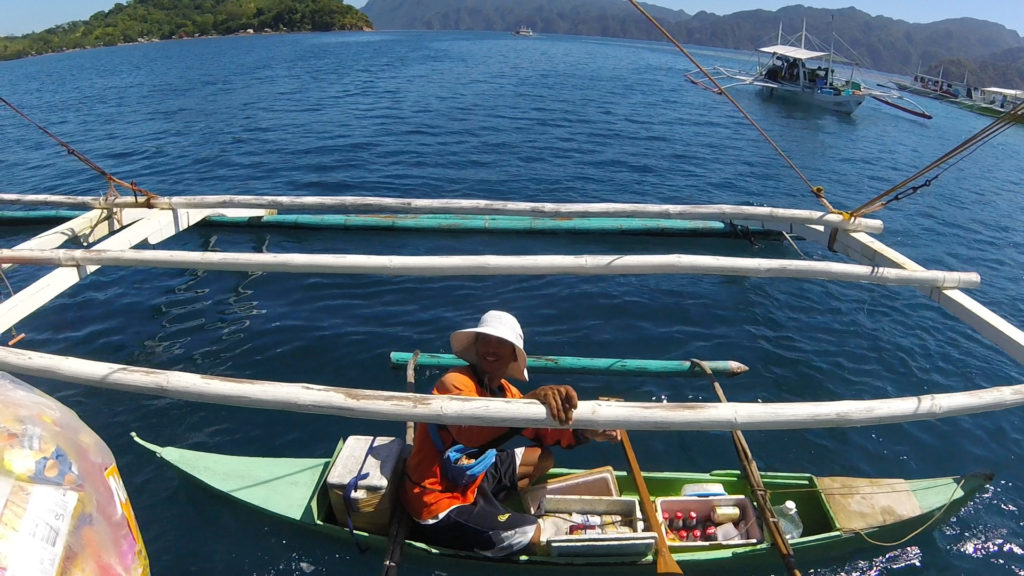 Half those on board decided to stay there to rest and consume their newly purchased 7-Eleven goods. The other half of us dove into the water with our snorkeling gear. We decided to skip this small island and just swim around it, where the corals were. 
Unfortunately the coral was severely bleached. There was hardly anything to see there besides the dead coral and a few lonesome fish. There were no colors like I had seen while snorkeling in Bohol, and hardly any living creature besides black sea urchins with stingers over 10cm long.
Stop 3: Skeleton Shipwrek and Coral Gardens
Our next stop was way better for snorkeling. Again it combined two separate spots: the Skeleton Wreck, and Coral Gardens. Though the Skeleton Wreck was included in our itinerary, we were happy to have gotten a bonus location, the Coral Gardens, which appears in some of the other tour itineraries. As the boat was approaching this next island, we could see a swarm of people life vests and all, circling a very small spot in the water. Our guide told us they're swimming above where the Skeleton Wreck is. Luckily the people cleared out by the time we jumped in and swam over.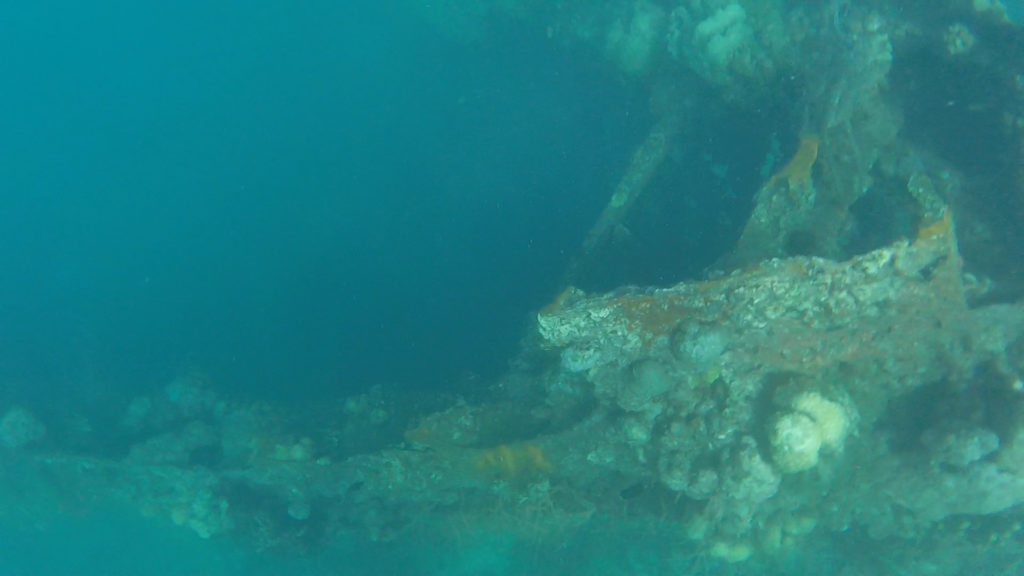 It took me a couple of minutes to actually find the ship. I expected a massive pirate ship in the water, flag and all, something straight out of Pirates of the Caribbean. Of course I had my hopes up too high, and when someone finally pointed it out to me, I could see the small, pointed section at the front of a ship, that had been in the water long enough to basically look like a triangle of corals. The water was too murky to see much more of it, but some people were diving down 2-3 meters to get a closer look. 
Since it was getting crowded again with another boat-full of people showing up, we decided to spend our time at the Coral Gardens.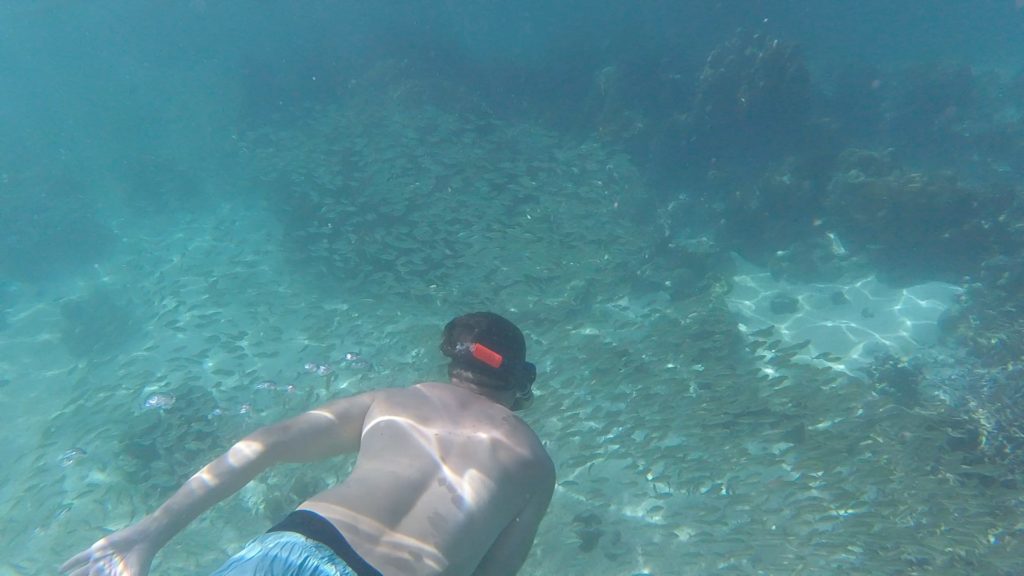 The coral was in a much better shape here. We could see the blues, reds, greens, and yellows that covered the uneven ground, sticking out in all shapes and directions. There were still sea urchins, but also schools of fish swimming through the flowing anemones and in and out of the corals' arms. 
A massive school of fish was chilling around the corner, silver ones 5-6 cm in length, all frozen in space. Their eyes were bulging from their small bodies, watching us and reacting just in the nick of time when we cheekily swam towards them with outstretched arms. When we swam up to them, their collective group changed shape to avoid us. They didn't scatter, they just flowed around us in a synchronized motion.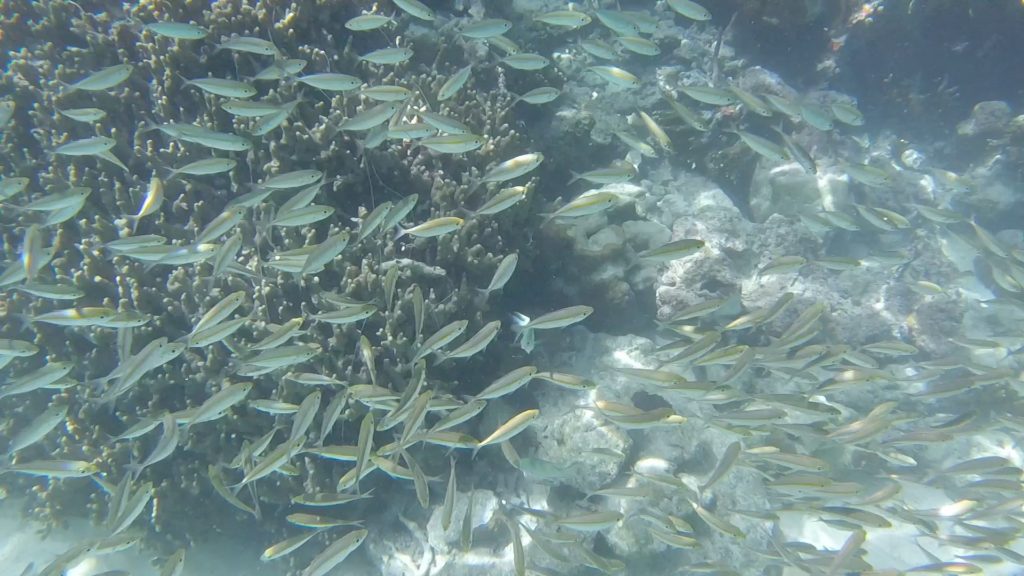 Once of the guides who was in the water with us told us our 30 minutes were up, and in a single-file line, we swam back to the boat. Only when I climbed up onto the safety of the vessel, I heard someone say, "Did you see that sea snake?"
"What? What?" people's heads started turning. "Yeah, a sea snake! About this big," a talkative American retiree motioned with his hands that it was over a meter long. "Brown and white stripes, just swam past us out of his hiding hole." A guide and another swimmer who was next to him confirmed the sighting. 
Before starting the tour, Marty and I were irrationally afraid of sharks and crocodiles (which are of no concern here). Then we were warned by the guides about sea urchins and stonefish. No one had thought of, or even mentioned, sea snakes! One bite from these creatures will kill you in 20 minutes!!!
Stop 4: Atwayan Island for Lunch
Buzzing with excitement because of the sea snake sighting, the boat left for our lunch destination on the Coron Ultimate Tour: Atwayan Island. This island was beautiful and surrounded by other limestone island cliffs. The water was bright blue, shallow and warm, the sand was soft, and many large bungalows were set up along the beach where tour groups would come and have their lunch. 
We were all ushered to a big bungalow that was build over the water, and the guides started to bring out our food: grilled fish, chicken, pork, vegetables, rice, and some pineapples and watermelon. For a vegetarian, the options were scarce: The stir-fried vegetables were mostly just green beans and kabocha pumpkin. For the omnivores though, the fish and meat smelled wonderful! The guides had been cooking everything on a grill at the back of the boat throughout the day, so it was all fresh.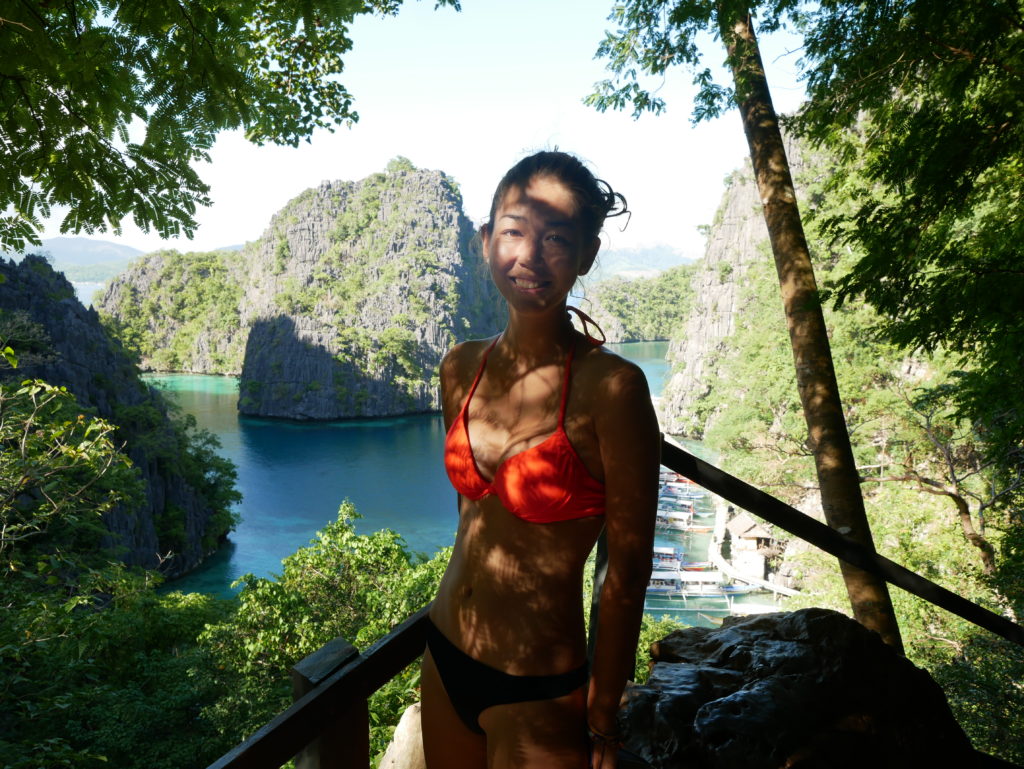 After lunch we went to the famous Kayangan Lake, arguably one of the most famous spots in the Philippines because of its blue waters and again, the limestone cliffs that surround the lake. To get to the famous viewpoint there was a bit of a climb, but it was the most beautiful view of the day when we got get to the top. 
Down another set of stairs leads you to Kayangan Lake, where it was required for us to wear life vests again. Some people just hung out at the wooden boardwalk that surrounded a part of the lake, and others jumped in the water to the edge of a roped-off area, where the lake opened up to a larger body of water. It was nice to just float around a little bit – there wasn't much to see with the snorkeling mask.
As the boat pulled away from Coron Ultimate Tour's Kayangan Lake, the guides gave us each a cup of Coca-Cola, and a Philippine donut.
Stop 6, Coron Ultimate Tour's Last Stop: Siete Pecados
The last stop on the Coron Ultimate Tour was one of my favorites. Siete Pecados means Six Islands in Tagalog, and this is a protected coral area where no bleaching has taken place! The whole area was pretty shallow, so we had to be careful not to hit the ever-present sea urchins or the coral. We were reminded multiple times to not touch the coral, or else we would be fined 500 pesos by the sea marshals, wherever they were. 
Many different, interesting fish species call this place home. Beautiful corals branched out in all directions. The only downside was it was the end of the day when the sun was setting. The water was no longer a bright blue from the sun right above us. The water was starting to get darker.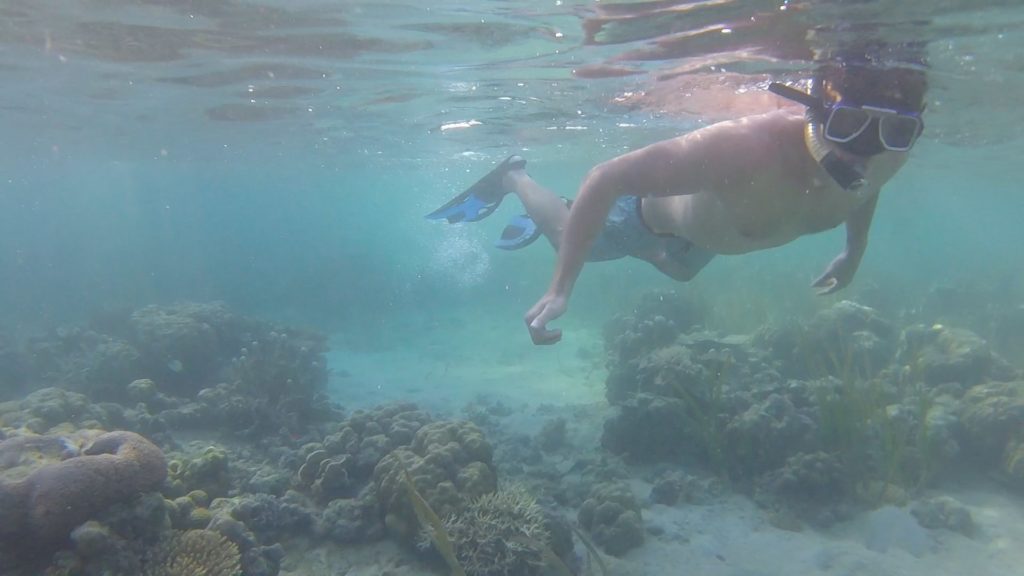 When we got back on the boat, the sun was setting over some islands in the distance, and the sky was turning a brilliant red and orange. It seemed like we were one of the last boats to shore as we locked on to a train of them that were already abandoned for the evening. 
A swarm of tricycle drivers were waiting to pick up passengers. With a little bit of difficulty due to disorganization (expect it in the Southeast Asia), we were all sent back to our guesthouses.
Coron Ultimate Tour Summary
Cost:
Tour: 1300 pesos, incl of snorkel mask ($25 USD)
Flippers: 150 pesos extra to rent a pair for the day ($2.80 USD)
Extra Snacks & Water: ~300 pesos ($5.50)
Time:
Pickup between 8:00-8:30am
Tour starts at 9am (more like 10am for us)
Tour ends at 5pm
Drop-off to guesthouse by 5:30pm
Are You Prepared For The Coron Ultimate Tour and The Philippines? 
Read my Philippines Island-Hopping Itinerary to plan your perfect Philippines itinerary! 
Book Your Flights – To find the cheapest flights, flexibility is key. I use both Google Flights and their low fare calendar, and Skiplagged, which uses airfare loopholes to get the lowest prices. 
Book Your Accommodation – Check out Booking.com for the largest selection of accommodation around the world. For backpackers, Hostelworld.com is also a favorite. 
Buy Travel Insurance – It's better to protect yourself from mishaps when traveling. Get a quote from World Nomads to see how much it'll cost to get you covered! 
Check Visa Requirements – From E-Visas to Visas-on-Arrival, iVisa has all the info on country visa requirements. If one is required, you can order one hassle-free through their site.  
Book Local Excursions – Don't miss out on world-class experiences by booking tours and tickets online, ahead of your arrival. GetYourGuide and Klook both have fun experiences from around the Philippines like Island-Hopping in El Nido, a Boracay Island Tour, and the Coron Ultimate Tour.
Pack Your Essentials – Check out my posts about Long Term Travel Gear, and Carry-On Luggage Packing Essentials.