Croatia has been a hot destination for decades due to its beautiful architecture, natural wonders, and its islands, and tourism continues to boom. Between the coastal towns of Split and Dubrovnik lie a multitude of islands, perfect for crafting a Croatia Island-Hopping Itinerary.
Islands reachable by ferry from Split, including Hvar, Supetar, and Korcula, are not just for wealthy vacationers and Croatia yacht week partiers. I backpacked Croatia's islands within a reasonable budget, and highly enjoyed this Croatia travel route from Split to Dubrovnik.
Tips for Island-Hopping in Croatia
Two main ferry companies operate between the Croatian islands between Split and Dubrovnik: Jadrolinija is the most popular and widely used, while Krilo has fewer options, but faster boats.
Bags ride free, and on most boats you'll place your bags in a special storage section before proceeding to the seating area.
Seats are not reserved on the ferries, and vary from benches at the top of the ship to comfy chairs below deck. I always recommend getting an ocean view – you might spot some dolphins!  
Don't expect soft-sand beaches in Croatia. While backpacking Croatia's islands I only came across pebble beaches. It's best to pack a thick towel or a sleeping pad. 
Backpacking Croatia's Islands: Island-Hopping on a Budget Tips
This Croatia island hopping itinerary's biggest hit on your wallet will be from accommodation and transportation. If you're traveling Croatia on a budget, I would pick two, or at most, three islands to visit and spend more time there, instead of island-hopping everywhere. 
Buy food at the grocery stores and bakeries to cook at the hostels/B&Bs so you're not spending too much on eating out. 
Stay near the port, so you don't need to taxi or rent vehicles to get around the island. 
Book accommodation ahead of time to get the cheapest rooms. Often, the island towns only have one or two cheap hostels that book up very quickly. 
Croatia Island-Hopping Itinerary Overview:
Start: Split – 1 Day
Brač Island – 4 Days (stay in Supetar and Bol towns)
Hvar Island – 2 Days (Hvar or Stari Grad)
Vis – 2 Days 
Korčula – 2 Days 
1 day extra to spend on the Croatian Island you love most, or day-trip from Dubrovnik! 
End: Dubrovnik – 2 Days
Total: 14 Day Croatia Island-Hopping Itinerary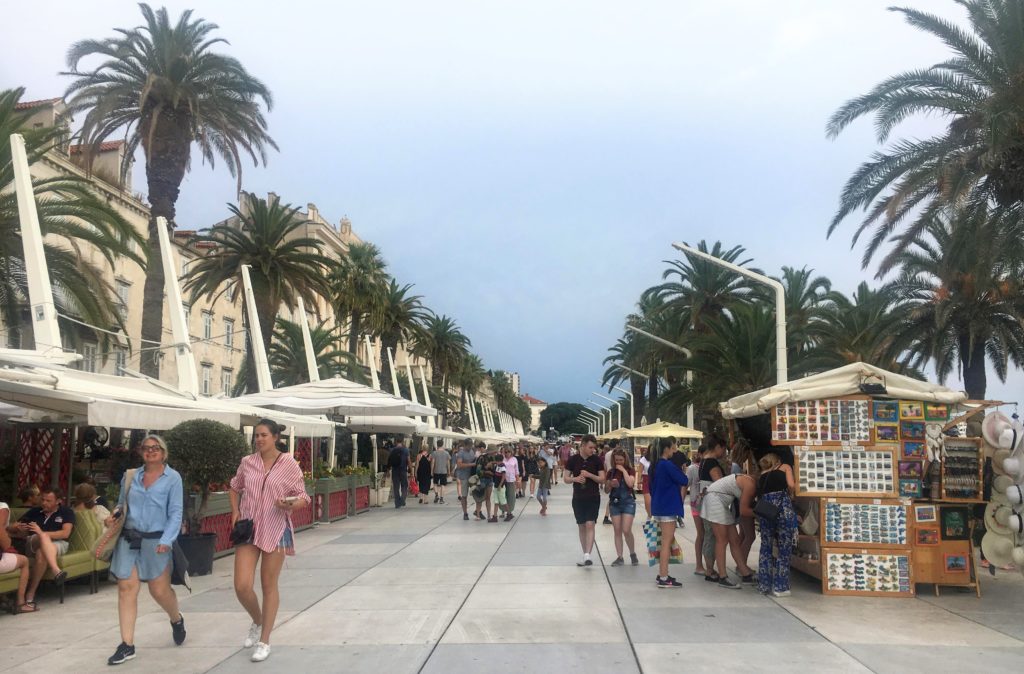 A Croatia island-hopping itinerary has to start somewhere on the mainland! 
One of the largest ferry ports in the country is located in Split, which is where my Croatia island-hopping route starts. Split is a large transport hub for busses and ferries, and is also home to a large international airport. If you're coming for island-hopping in Croatia, Split is a logical place to start.
Things to do in Split:
Heading to one of its many beaches, which line the coast on both sides of the city.
Wander the streets of its old town, and Diocletian's Palace, which is located at the center.
Walk to a viewpoint overlooking Split.
Known as one of the top party places in Croatia, work your liver by going on a Split bar crawl or going clubbing.
Don't forget to book your ferry ticket to Supetar, the Croatian island closest to Split. At Split's ferry port is a large Jadrolinija office where you can purchase a ferry ticket.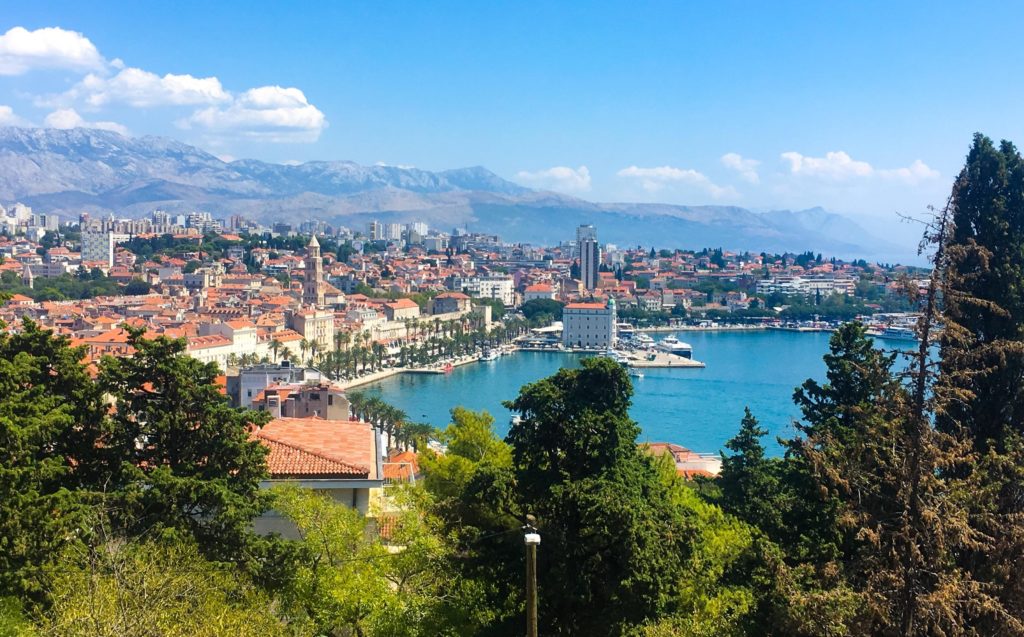 Where to Stay in Split:
Hilltop Hostel – The viewpoint above was a 10-minute walk from this hostel, which is where I stayed while backpacking Croatia's islands. Although it was an uphill walk from Split's city center, it was a homey residence with a kitchen and nice atmosphere.
 Cindro Apartment is a centrally-located option with a gorgeous terrace, for couples and families.
If you're backpacking Croatia's islands and looking for a social to stay, check out Booze & Snooze backpacker's hostel. 
Croatia Island-Hopping Itinerary
Brač Island (Supetar and Bol towns) - 4 Days
Brač is the large island closest to Split, and the first island to visit on a Croatia Island-Hopping Itinerary. From the Split ferry port, it takes only 50 minutes to reach Brač's northernmost port at Supetar town. Every day there are at least 10 ferries running between Split and Supetar, about once every 1.5-2 hours. 
Across Brač island is another port, Bol, that puts you closer to the other two islands on this Croatia Island-Hopping Itinerary. 
If you're road-tripping around Croatia, it's possible to drive your car on to the large Jadrolinija ferry, and have it transported to Brač with you. Taking your car allows you to drive around the island, and across it to Stop #2, Bol, without taking public transport.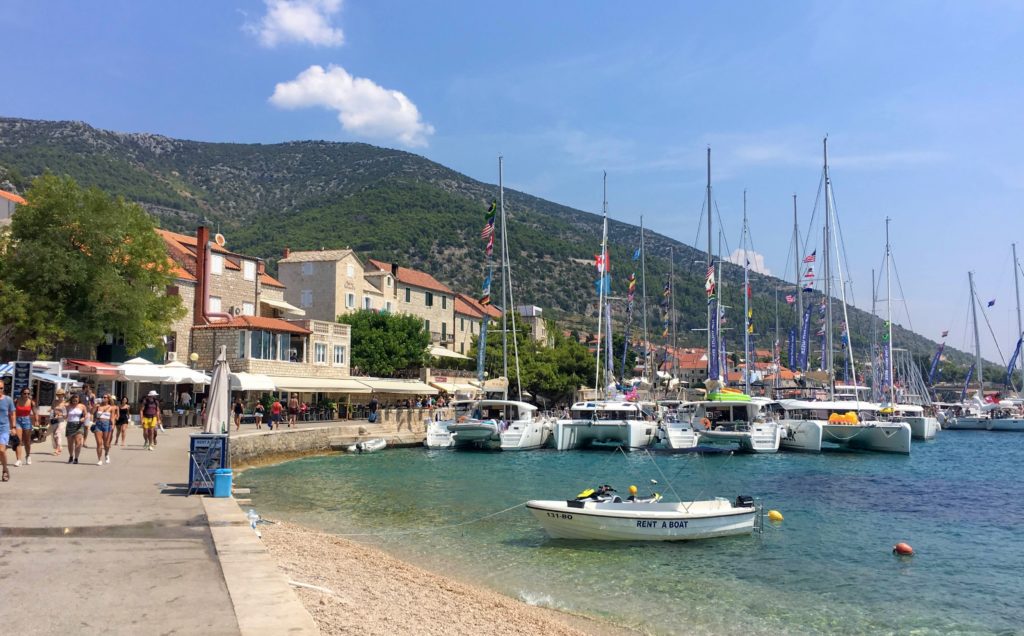 Supetar is a calm and quaint little Croatian village that will make you forget all the crowds of Split. It has a scenic central square with a few grocery stores and bakeries. Branching out from here are alleyways with many restaurants and B&B's. Along the shoreline are a handful of resorts and public pebble beaches with crystal-clear water. 
If unwinding and living the slow life is part of your Croatia island-hopping bucket list, Supetar is the perfect place for you. If you're looking for nightlife, there are a few pubs here, but a rowdier stop on the Croatia island hopping itinerary is on the other side of Brač. 
Things to do in Supetar
Hang out at the beaches located on either side of Supetar's port
Try some traditional Croatian bread and pastries from the local bakery
Wander through the old parts of town, where scattered small plaques will explain to you the historical significance of certain buildings and streets 
Where to stay in Supetar
I highly recommend staying at the Central Studio Apartments & Dormitory Rooms. I loved the homey atmosphere here and the friendly staff who live on the first floor of this two-story building. A massive outdoor kitchen plus many benches and tables makes for a great place to relax and chat with other visitors. Plus there are incredible views from the balconies! (See below)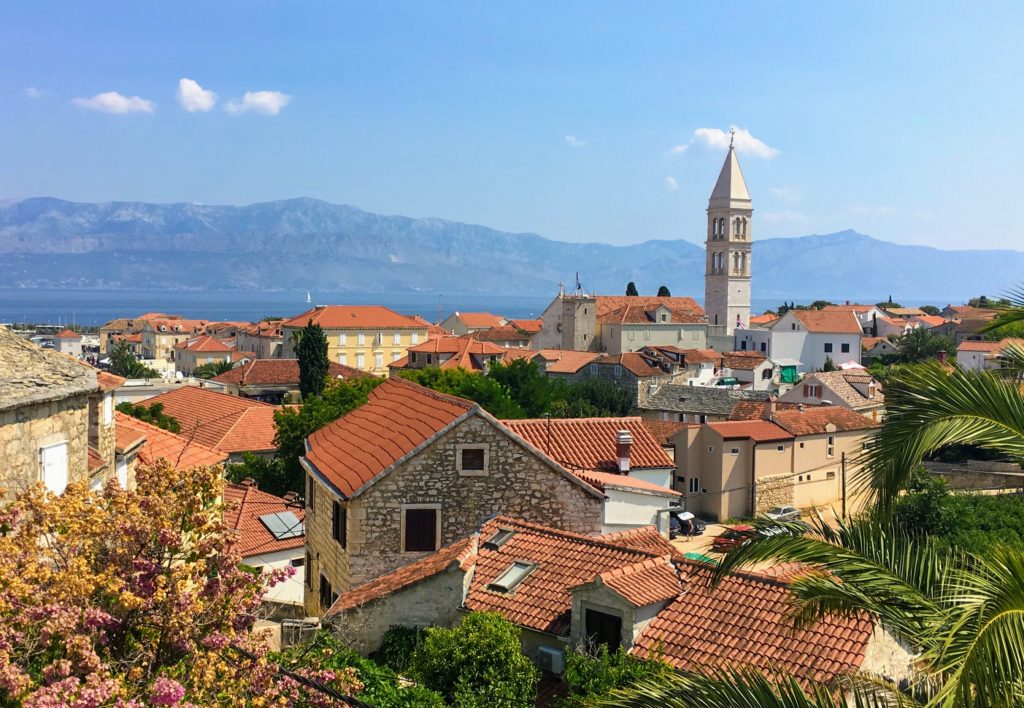 Bol can be reached from Supetar by taking a bus from near Supetar city center. The busses depart about every 2 hours from the morning to afternoon, and can be booked ahead of time through Omio. Bol is one of the stops on Croatia's ultimate island-hopping event: Croatia yacht week. This makes Bol one of the top party places in Croatia, but there's still a calm, wine-drinking, side to Bol that everyone will love! 
Things to do in Bol
Tan at Zlatni Rat, a unique pebble beach that extends in the shape of a triangle in to the water
Visit any of the cocktail bars and pubs that line the beach area of Bol
 Have a drink and a cheese plate at Stina Winery, which serves local Croatian wines, cheeses, and prosciutto. 
If you're up for some nightlife, check out the late-night cocktail bars Bolero or Varadero. Once it gets later, head to one of the clubs in Bol, like 585 club or Night Club Ella. 
Where to Stay in Bol
If you're backpacking Croatia's islands, check out the adults-only hostel Bol Hostel (only available for booking on Hostelworld). 
Bol is commonly visited with groups of friends, so many beautiful apartment rentals are available, including the gorgeous Apartments Regina and Villa Jasmin.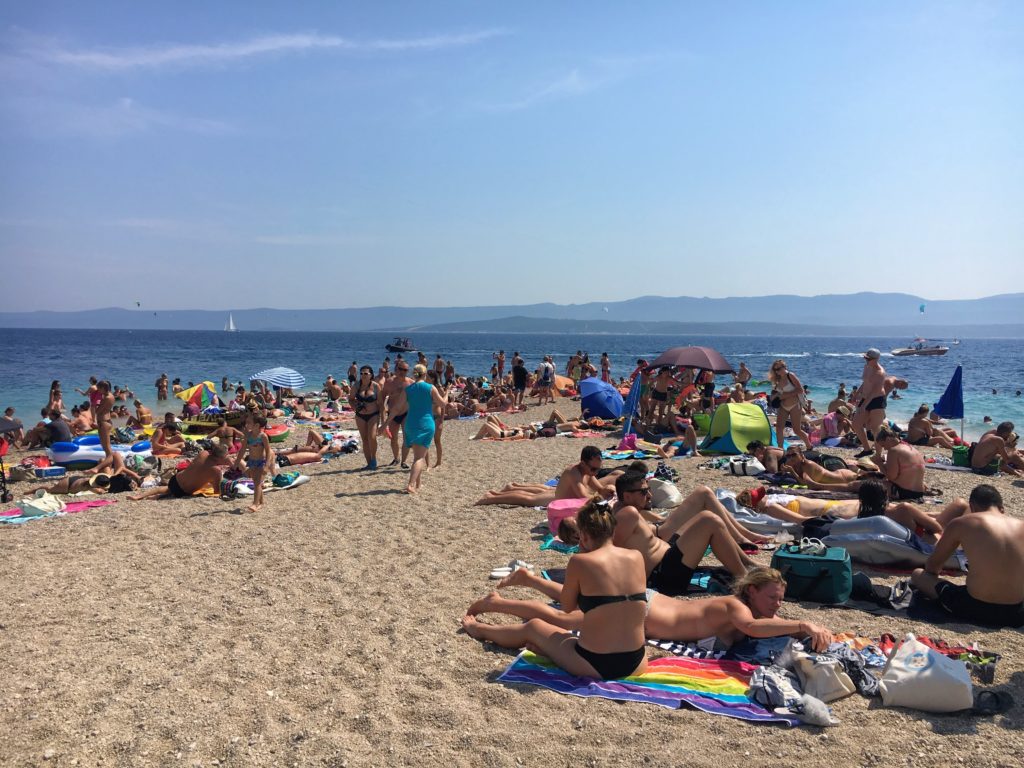 Hvar, Hvar Island - 2 Days
Hvar Island is the famous middle island located between Brač and Korčula. In 2018 it was the stage for filming the UK reality TV series, Made in Chelsea. Two main towns are frequented by Croatia island-hoppers, Stari Grad and Hvar town. Stari Grad is the most easily accessible and where the largest port is, but quieter in comparison to the tourist-run Hvar. 
It's easiest to get around Hvar island with a car or scooter rental, but you can also bus the 20-30 minutes between Hvar and Stari Grad. See the bus schedule here. 
Things to do in Hvar
Climb up to the Spanish fortress or Tvrdava Fortica for amazing views overlooking Hvar town and the ocean.
Hang out at Pokonji dol Beach, one of the largest on the island with bars on either side of it
Rent a scooter and explore the more hidden sides of Hvar, including visiting the small towns on the East side of the island. 
Where to Stay in Hvar
The only dorm options on Hvar for those backpacking Croatia's islands, are in Hvar town at Hvar Centre Dorms. Almost all private room options in Hvar town are super highly rated though, so you won't be disappointed with options like Ivica or Hortenzia Apartments.
If you're staying in Stari Grad, check the highly-rated Apartments Lucija.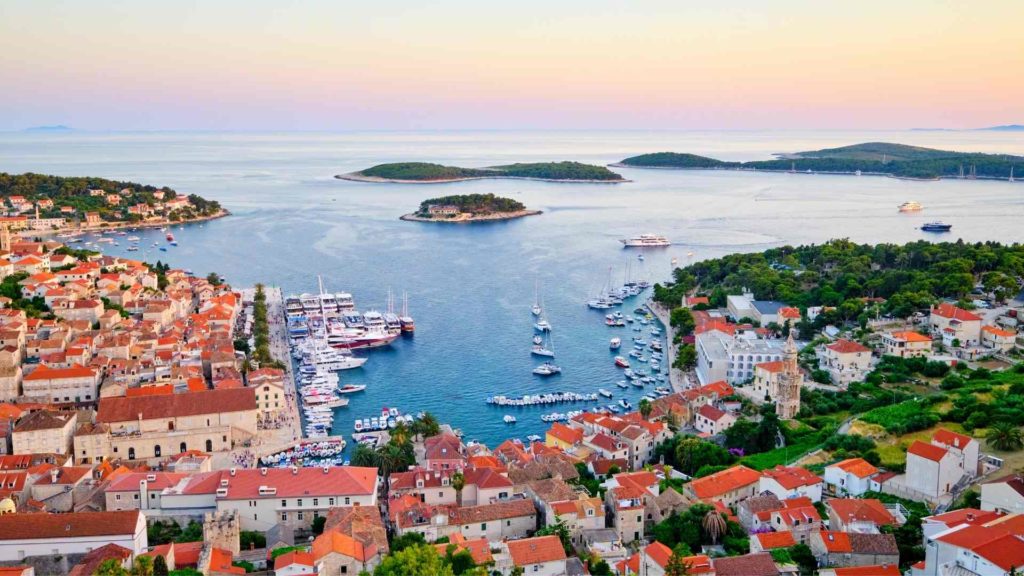 Out of all the islands on this Croatian island-hopping itinerary, Vis is the smallest and least visited. Vis is commonly included in island-hopping tours from Split, because of its small size it can be combined with other islands for a one-day trip. If you want to spend more time relaxing on your Croatian island-hopping itinerary however, visit Vis. 
Things to do in Vis
Relax on Vis's tiny peninsula, Prirovo, home to a Catholic church, a park, and small beach. 
Admire the ruins of the Roman baths, what were some of the oldest buildings on Vis
Climb up to Mt. Hum, the tallest point on the island and a great spot to admire sunset.
Explore the tiny old town, with its many quaint alleyways and narrow cafes and restaurants. Many of these areas were backdrops for the film, Mamma Mia! 
Day-trip to Komiža, another tiny town on the opposite side of Vis island
Where to stay in Vis
No backpacker hostels exist in Vis town, so you'll have to splurge on a nice apartment or studio during your time on this island.  Apartments and Rooms Dis is a traveler favorite in the heart of old town, as is Studio Apartments Kuljiš. Be careful when booking accommodation here, many have high taxes and fees listed on top of the actual nightly charge!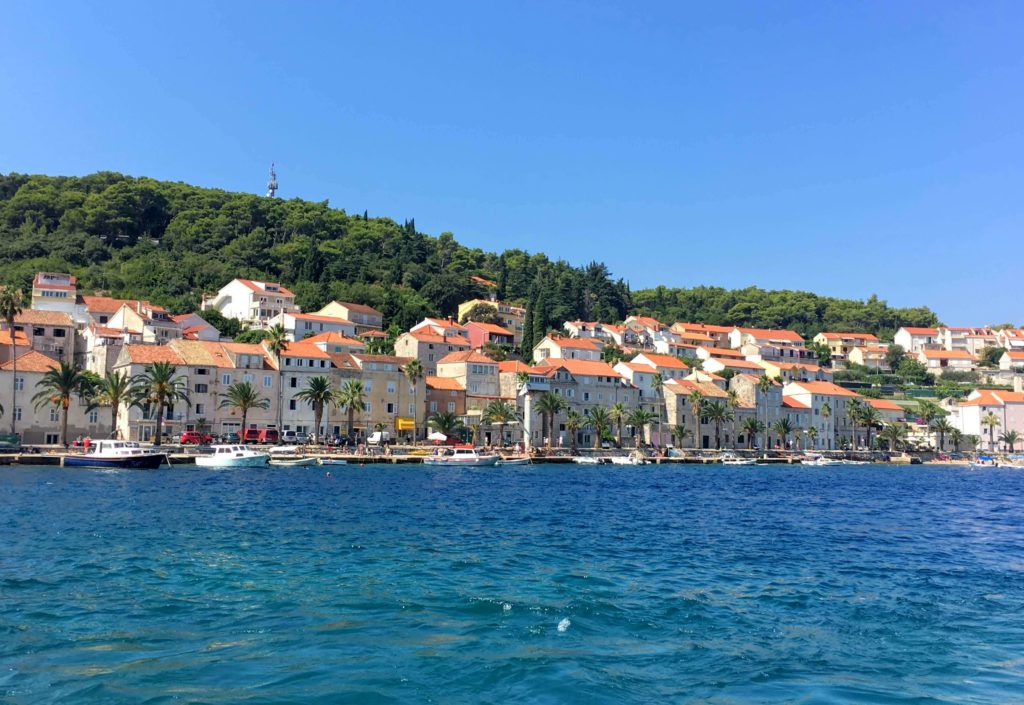 Korčula is the island furthest from Split, and has a more secluded feel than the other islands. Korčula's Old Town is built on to a small peninsula and walled in, making for a great place to explore tiny alleyways. 
Things to do in Korčula
Exploring Korčula's Old Town is the number one thing to do in Korčula. Wander through the main shopping streets to buy beautiful handicrafts, and stray from the main alleyways to the tiny paths and tunnels
Have a meal around the outer perimeter of Old Town, where several restaurants have outdoor patio seating with views of the surrounding sea. 
Rent a taxi boat to head to a few secluded islands and beaches that can be reached from Korčula, great for if you haven't had enough of Croatian island-hopping yet! 
Where to stay in Korčula
In Korčula I stayed at the Dragan's Den Hostel, which is a great option for backpacking Croatia's islands on a budget. It has a pool, a kitchen, and a great social atmosphere, but it was a bit far from the city center. If you're able to spend a little more, check out beautiful accommodation close to city center like Guest House Leon and Guesthouse Franica. If you want to be in the heart of Old Town, check out the highly-rated Apartment Korcula Old Town.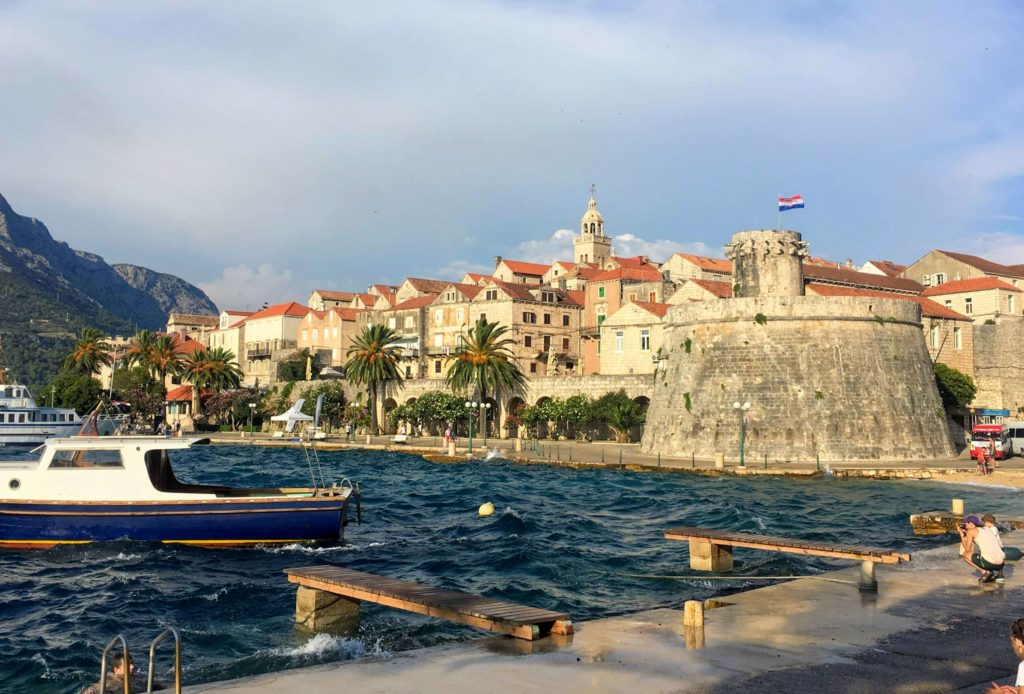 Dubrovnik is one of the most popular tourist destinations in Croatia. The city was known previously for its massive Old Town, fortress views, and water activities. Once it started being used as a filming location for the show Game of Thrones, Dubrovnik's popularity soared to new heights. Dubrovnik is a great last stop on your two-week Croatia island-hopping itinerary because its easily accessible from the islands and brings you to the bottom of Croatia. 
Things to do in Dubrovnik
If you're a Game of Thrones fan, join a Game of Thrones tour around Dubrovnik to immerse yourself in King's Landing. If you don't know what I'm talking about, take a normal walking tour around Dubrovnik anyways. There's a lot to discover between these alleyways.
Be sure to get some elevation over the city to see its architecture and surrounding cliffs from above. Take the Dubrovnik Cable Car to the top of a viewing platform, or opt for the hiking trail instead! 
Visitors to Dubrovnik also love getting out in to the water. If you've spent enough time on beaches during while island hopping in Croatia, Dubrovnik gives you a chance to try something else: go kayaking on the sea to see the city from outside its fortress walls. 
Where to stay in Dubrovnik
Dubrovnik accommodation is expensive, even for backpackers, but there are many highly-rated hostel options. Hostel Angelina Old Town is a long-running hostel with great beds and a shared kitchen, and Guesthouse Isabel Catolica has dorm rooms, free pasta and soups, plus a beautiful rooftop patio. 
If you're looking for a private room, check out perfectly-located Guesthouse Tomasi.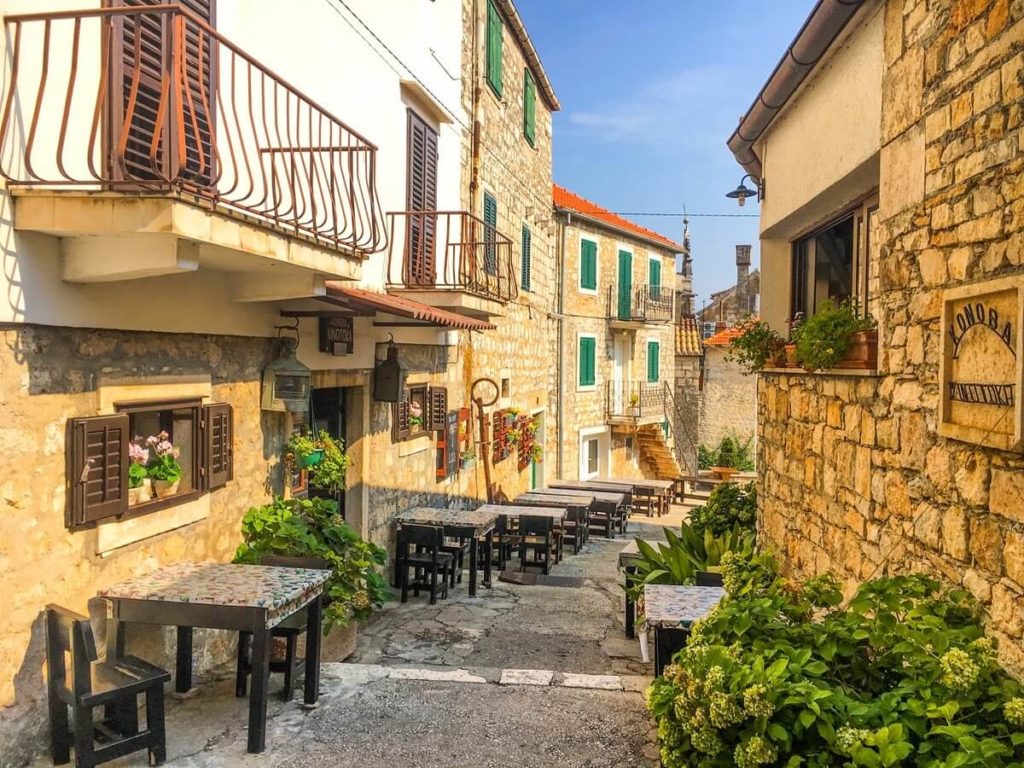 Where to Spend 1 Extra Day
My Croatia island-hopping itinerary has one extra day built in to it, so you can relax for one day longer on the Croatian island that you LOVE the most. 
Here are some ideas for how to spend one extra day in this Split to Dubrovnik Croatia island-hopping itinerary. 
Day-Trip to Kotor, Montenegro
Just a hop across the Croatian border is Kotor, one of the most beautiful places in Montenegro. Kotor is a popular day-trip destination from Dubrovnik if you aren't planning a separate
Montenegro itinerary
. Situated in a deep valley next to a large lake, Kotor is a picturesque town with many things to do during a day-trip. Hike up to the fortress for views over Kotor, then explore the wonderfully large Kotor Old Town. You can even go for a swim in the lake! It's best to 
join a tour to Kotor
 from Dubrovnik if you are visiting Kotor only for the day.
Day-Trip to Mostar, Bosnia & Herzegovnia
Another popular day-trip option from Dubrovnik is in to neighboring Bosnia & Herzegovnia. You'll be stunned at the contrast between the countries, because Bosnia is a majority Muslim country, which the architecture reflects. Mostar is a beautiful little town that will take your breath away with its winding river, a giant mosque, and an arched bridge that experts jump off of. The easiest way to visit Mostar is to join a tour from Dubrovnik. Bosnia is a very cheap destination to visit, making tours budget-friendly as well. Add a whole Bosnia itinerary to your trip if you have time!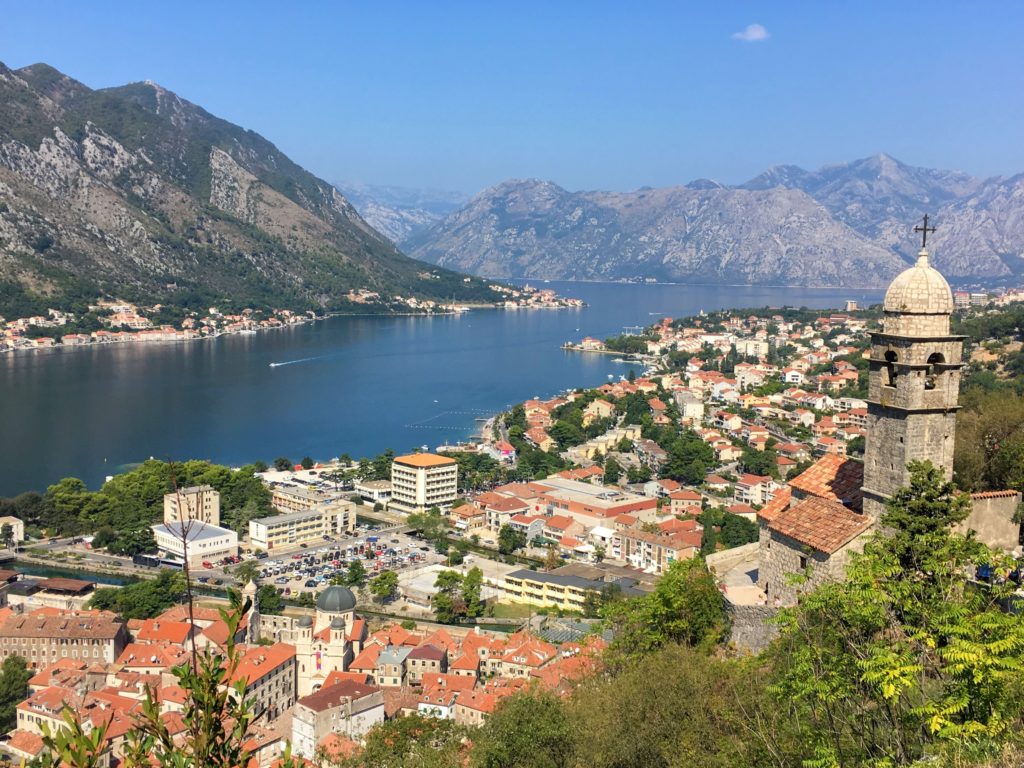 The view from the fortress in Kotor, Montenegro
Pin this Croatia Island-Hopping Itinerary!
Are You Prepared For Your Croatia Island-Hopping Itinerary?