The Eiger Trail is a UNESCO Heritage hike that runs along the North Face of the Eiger mountain, in the heart of the Swiss Alps. This hike is easily accessible from some of the most popular Swiss mountain villages including Interlaken, Lauterbrunnen, and Grindelwald. It's a trek perfect for any fitness level, so families with children can hike it too. 
Avid trekkers can attempt to climb the Eiger face, or pair the Eiger Trail with a second day-trek from Grindelwald to Faulhorn, to Schynige Platte. Read about it in my Switzerland Circuit Trek! 
Getting to the Start of the Eiger Trail - Kleine Scheidegg
The most popular start to the Eiger Trail is from Kleine Scheidegg, which is a mountain pass and train station located near Jungfraujoch and Eiger mountains. 
Kleine Scheidegg is most easily reachable from Lauterbrunnen and Wengen, but can be easily accessed from Interlaken as well. 
Lauterbrunnen to Kleine Scheidegg costs 30.80 CHF one-way
Wengen to Kleine Scheidegg costs 24 CHF one-way
Interlaken to Kleine Scheidegg, via Lauterbrunnen, costs 41.40 CHF one-way in second class
See the complete train schedule from various locations to Kleine Scheidegg
here
.
See the ticket fares here.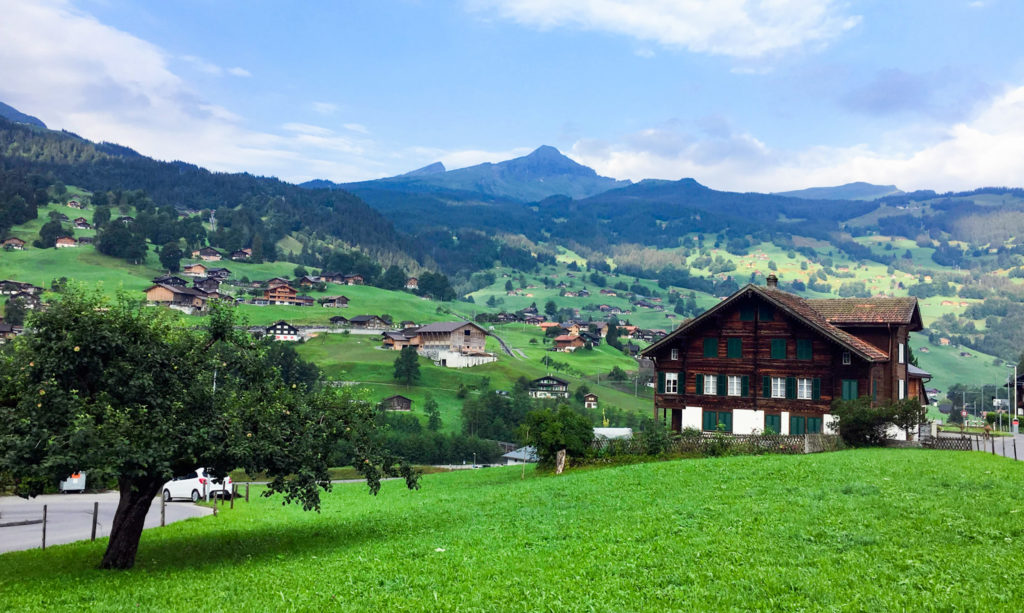 Getting to the Start of the Eiger Trail - Grindelwald/Alpiglen
If you want to trek the Eiger Trail from the bottom up, or if you are already based in Grindelwald, you can start the Eiger Trail from Alpiglen Station. Alpiglen is the official ending point of the Eiger Trail when coming down from Kleine Scheidegg. 
For an extra two hours of hiking, you can also hike from Grindelwald to Alpiglen as well! Check out the costs of the trains here.
Interlaken to Grindelwald costs 11.20 CHF in second class
Grindelwald to Brandegg costs 12 CHF
Grindelwald to Alpiglen costs 16 CHF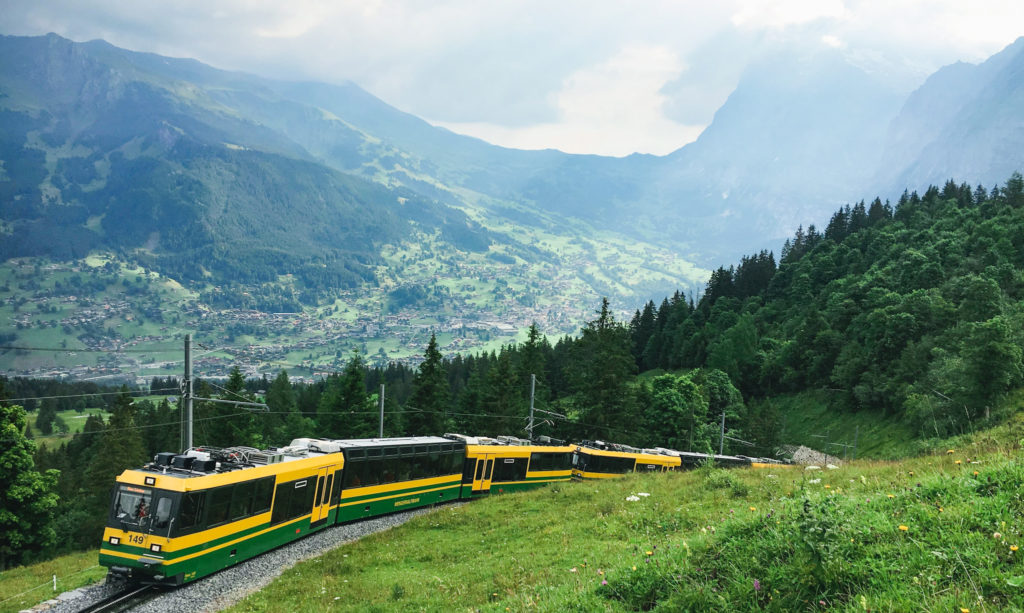 Duration of the Eiger Trail Hike
Trekking up the Eiger Trail (Alpiglen to Kleine Scheidegg) – 2.5 hours
Trekking down the Eiger Trail (Kleine Scheigedd to Alpiglen) – 2 hours
When I hiked the Eiger Trail backwards, from Alpiglen to Kleine Scheidegg, it took me 2.5 hours. Adding an additional 1.5 hours from Grindelwald to Alpiglen, it took me 4 hours to reach Kleine Scheidegg.
Trekking the Eiger trail the more traditional way, from Kleine Scheidegg down, budget 2 hours.
 Be sure to schedule in some rest breaks and enjoy the scenery.
Highlights of the Eiger Trail Hike
The 
Eiger
 Trail is short but full of surprises. You'll cross over different terrain including snow and glaciers, over big rocks, and through grassy hills. The 
Eiger
 mountain is always watching over you, while you have an incredible view over Grindelwald valley to admire. The Swiss icon, darling cows with large bells around their necks, will keep you company as well. 
Near the bottom of the trek, just 30 minutes from Alpiglen, is a massive waterfall that's fed by the melting snow on the mountains
Clothing, Packing List, Budget
What to wear to prepare (for the summer):
Sneakers are ok
Shorts or long pants
T-shirt
Light jacket or long-sleeve to layer
Walking sticks (not needed but not a bad idea)
Snacks/Lunch
At least 1 liter of water
Camera
Cash (see budget below)
Train costs there: 30.80 CHF from Lauterbrunnen OR 41.40 CHF from Interlaken to Kleine Scheidegg
Snacks/Meal costs at Kleine Scheidegg: ~20 CHF (Optional)
Train costs back: 16 CHF from Alpiglen to Grindelwald, 11.20 CHF from Grindelwald to Interlaken
Basically, have a minimum of 70 CHF on you for the Eiger Trail hike! There are ATMs at all of these Swiss mountain villages near the Eiger Trail.
Finding Your Way on the Eiger Trail
The 

Eiger

 Trail, and all of Switzerland, has well-marked trails.
There is a good amount of signage along the Eiger Trail so you shouldn't worry about getting lost. From Kleine Scheidegg, follow the yellow signs up past a small water reservoir, then the signs will point you down towards the trail. 
Not only are there yellow signs, but the trail is also marked with white and red paint on some rocks. Generally, the Eiger Trail is a straight shot of a trail towards Grindelwald, and it's so well-trodden that you'll have no troubles finding your way.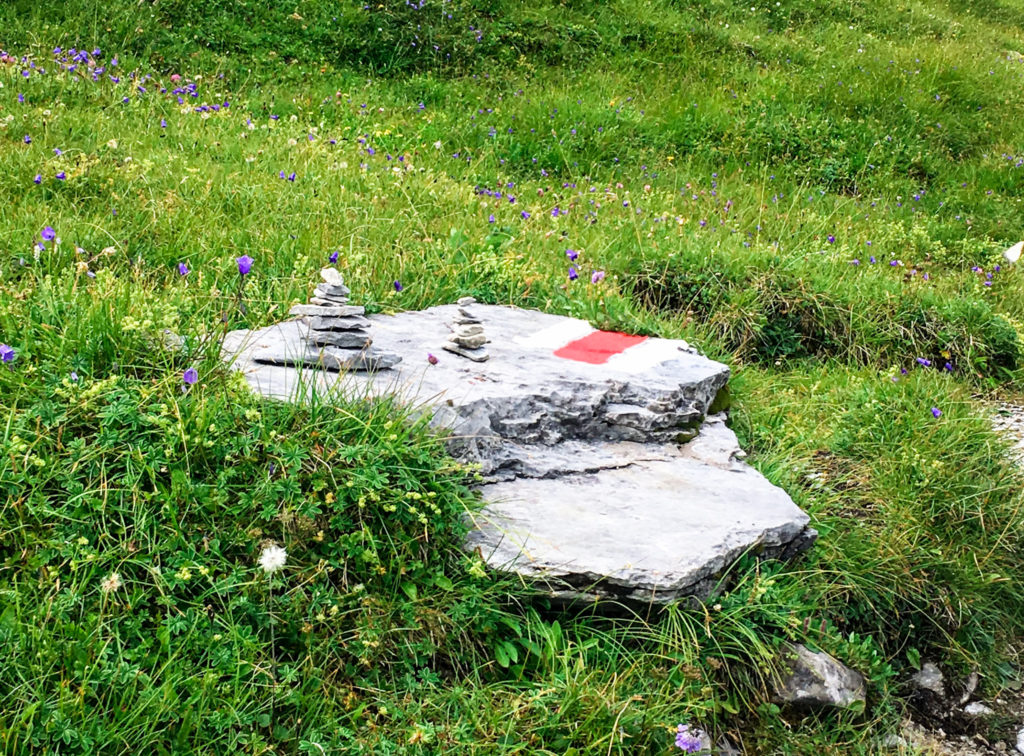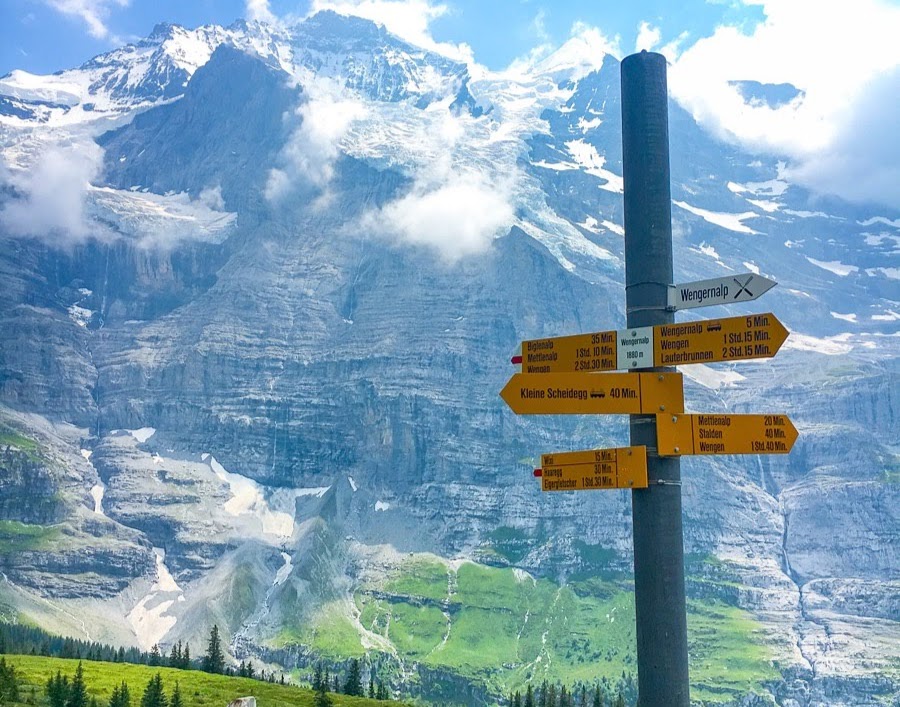 Where to Stay Near the Eiger Trail
There are many accommodation options in Interlaken, Lauterbrunnen, Wengen, and Grindelwald, which are the villages that are closest to Kleine Scheidegg. 
If you would like, there are also a few hotels at the Kleine Scheidegg mountain pass and train station! 
Here are my accommodation recommendations for those on a budget. Beware though, nothing is really "budget" in Switzerland, and hostels/hotels fill up quickly! Be sure to book ahead.
If you have more time to trek in Switzerland, I recommend the hike from Schynige Platte to First. There is a lot more to the Interlaken and Grindelwald region than just the Eiger trail, so make the most of your time in Switzerland by exploring this region.