The Interlaken region of Switzerland is beautiful not only for its turquoise lakes, but also its impressive mountain ranges. Treks here are easily accessible by train, so everyone from avid trekkers to families can enjoy the views that the Swiss Alps has to offer. 
My favorite experience in this region was hiking Schynige Platte to First, with stops at Faulhorn peak, Bachalpsee lake, and ending in Grindelwald. Also in this region is the famous Eiger trail, running between Grindelwald and Kleine Scheidegg, that you can pair with this Schynige Platte to First hike.
Itinerary: 
Interlaken/Wilderswil to Schynige Platte: train 30 mins, 32 CHF
Schynige Platte to First hike: 5-6 hours
First to Grindelwald: 1-2 hours trekking, or gondola down for 30 CHF
What to Wear (in the summer):
Sneakers are ok
Shorts or long pants
T-shirt
Light jacket or long-sleeve to layer
Walking sticks (not needed but not a bad idea)
Packing List:
Snacks/Lunch
At least 1 liter of water
Camera
Cash (see budget below)
 Budget:
The bus from Interlaken to Wilderswil is free, tourists staying in Interlaken all receive a free bus ticket for use from their accommodation. 
The train from Wilderwil to Schynige Platte costs 32 CHF, OR the train from Interlaken to Schynige Platte (via Wilderswil) is 35.60 CHF
Snacks/Meal costs at Faulhorn or First: ~20 CHF (Optional)
Activities at First, such as the Flying Glider or go-karts: 29 CHF (Optional)
Gondola from First to Grindelwald: 30 CHF (Optional)
Accommodation in Grindelwald: Varies (Optional). I stayed at Hotel Alpenblick, which I loved for its incredible mountain views and buffet breakfast, perfect for re-fueling.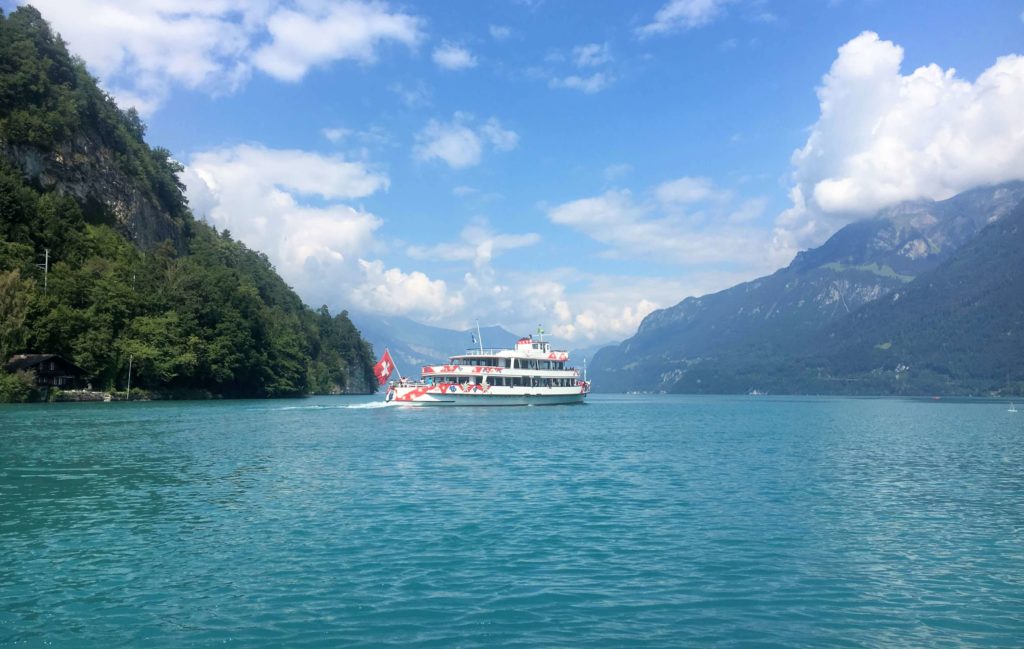 Getting to Schynige Platte from Interlaken
The first train for Schynige Platte leaves at 7:25am from Wilderswil Station. Taking the first train is ideal to get the clearest views of the Alps. However, trains leave about every 45 minutes from Wilderswil to Schynige Platte. 
To get to Wilderswil with enough time to buy your train ticket to Schynige Platte, board a bus or train from Interlaken around, or just before, 7:00am. If you stay at Balmer's Tent Village, the bus departs from the stop directly in front of it at 7:04am.
Once you arrive at Wilderswil station, you can buy a ticket to Schynige Platte (32 CHF one way).
Tip: Sit on the left side of the small train up to Schynige Platte from Wilderswil for the best views over Interlaken below!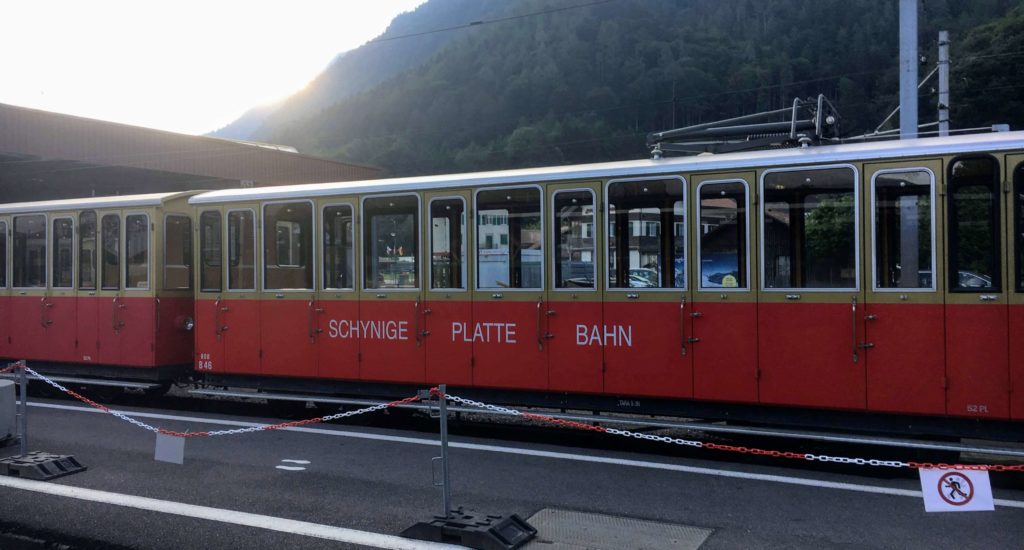 For those that want to enjoy the view without the trekking, there are many things to do around Schynige Platte. There is a panoramic restaurant and hotel complete with free WiFi, a beautiful outdoor patio, and clean restrooms. 
A variety of little trails around the station can be explored. They lead to a small botanical garden, have several amazing viewpoint over Interlaken town and its two lakes. 
The Schynige Platte to First hike is marked clearly with bright yellow signs. Before reaching First, you'll pass Faulhorn so you can follow the signs from Schynige Platte to Faulhorn. 
The average trekking time is always listed on these signs, but for me they were a bit of an overestimate. "Std" stands for "Stunde" (pronounced "schtunde"), or "hours" in German. 
It is estimated to take 6 hours for the Schynige Platte to First hike, and 4 hours, 10 minutes to reach Faulhorn. 
Schynige Platte to Faulhorn
The hike starts through a beautiful grassy valley, with views of the incredible Swiss Alps to the right and behind you. You're bound to meet cows with large bells around their necks, casually wandering and grazing. 
No section is too steep up or down, but because of the slight increase in altitude you might feel a shortness of breath. 
When I trekked in July, the rocky section just before Berghütte Männdlenen had some snow that I walked over. The rest of the trail was gravel and clear of obstacles.
The steepest portion of the Schynige Platte to First hike was getting up to Faulhorn. Hikers will see this peak from a long distance away on the trail. A big hut can be seen built into the summit of a tall peak.
To get to Faulhorn summit LOOKS harder than it actually is, so don't skip it! For those without the energy though, a flatter walking trail that takes you around the summit.
Faulhorn Summit and Viewpoint
The top of Faulhorn has a wide platform and a few benches, perfect for hikers wanting a rest and to have lunch. This is the highest point of the trek between Schynige Platte to First, and it has incredible views to match. I recommend resting up here before the long downhill to First station. 
The Faulhorn summit also has a restaurant and a hotel if you want to extend your stay on this trek. 
This section from Faulhorn down to First is BRUTAL on the knees. This section of the hike was the only time that I wished I had trekking poles or knee braces to soften the impact of the descent. 
This section of the Schynige Platte to First hike is much more crowded compared to the trail before Faulhorn. That's because this section is easily accessible from First gondola station, so many hikers will also come up from the other direction.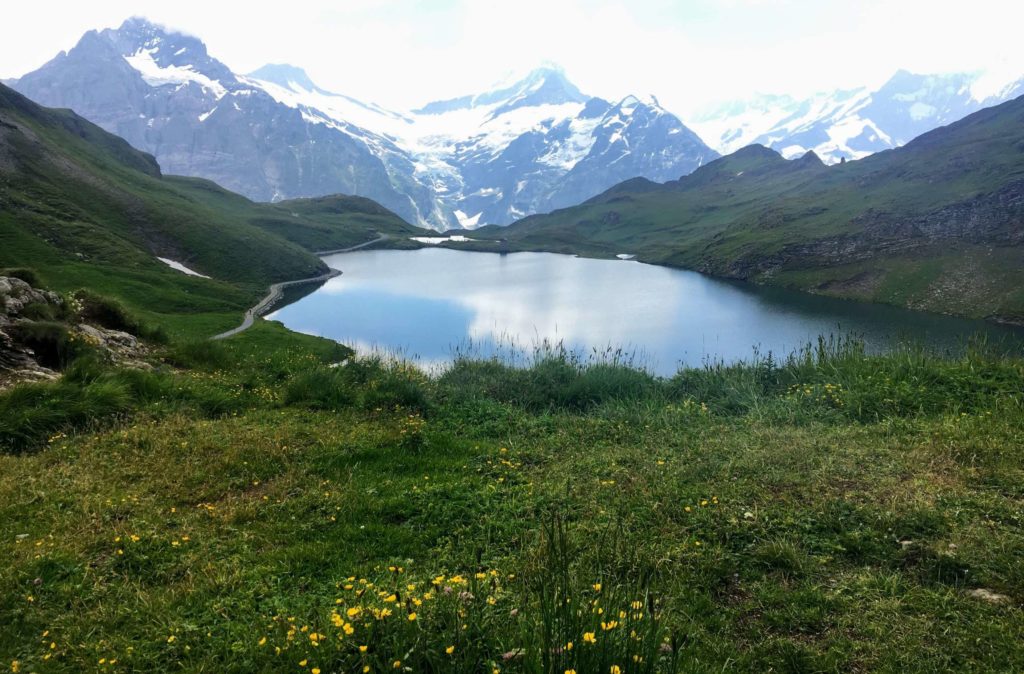 The crowd is even greater between Bachalpsee to First. It's a short and simple 30 minutes on foot from First gondola station to Bachalpsee, so many, many people and even their dogs were here having picnics or wandering around the grassy areas surrounding the lake. 
There are a few benches here to use, but with the crowds it's difficult to get a seat! 
From Bachalpsee you can directly descend to Grindelwald. Many signs will point hikers down the correct trail, which bypass First gondola station. I highly recommend stopping by First though, for the incredible views and to see the cliff walk! 
First Gondola Station and Viewpoint
First is a gondola station that's used during the winter to transport skiiers. Hikers can reach First by taking the cliff walk, a free walkway where you can look down at the valley waaaaay below you! The cliff walk will lead you to a large patio facing the mountains. Here, there is also a long platform that juts out for a great photo opp.
At First, there is a restaurant as well as a hotel, free bathrooms, and a gift shop. The restaurant has a massive patio where hikers were able to eat their own lunch, or grab what they want from the self-serve restaurant. 
The adventurous can take part in activities here like the First Flyer or First Glider for 29 CHF per adult. You'll be strapped into a seat or laying down like an eagle, then 'fly' down a ropeway at up to 84 km/hour!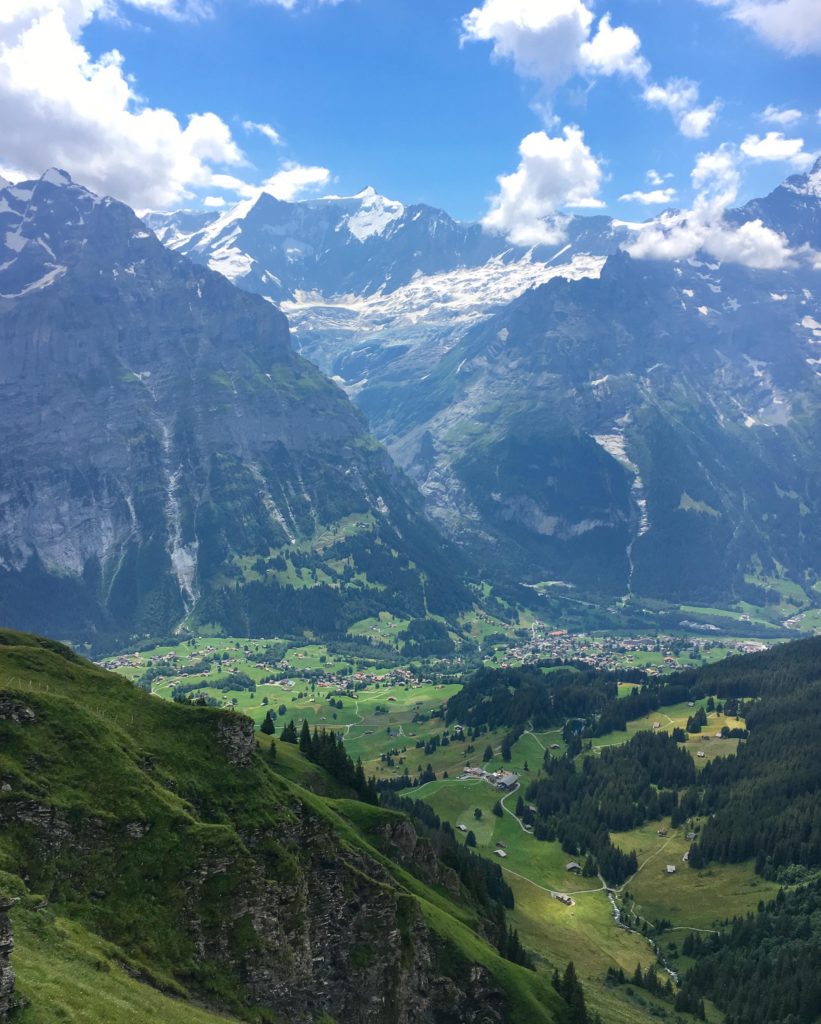 The easiest way to go down from First gondola station to Grindelwald below is taking the gondola. A one-way ticket costs 30 CHF, round-trip is 60 CHF. 
The cheap option is to walk down for free, which took me about 1.5 hours. If you choose to walk, the hiking trail here basically follows at the base of the gondolas. You'll pass through a few small rest areas where you could choose to hop on a gondola from part way as well. 
You can also rent a go-kart, or scooter bike here to descend 3 km to one of the lower gondola stations for 19 CHF per adult. There is a height limit of 125 cm for these, as one little boy discovered who was sharing the trail with me as the rest of his family took the go-karts down.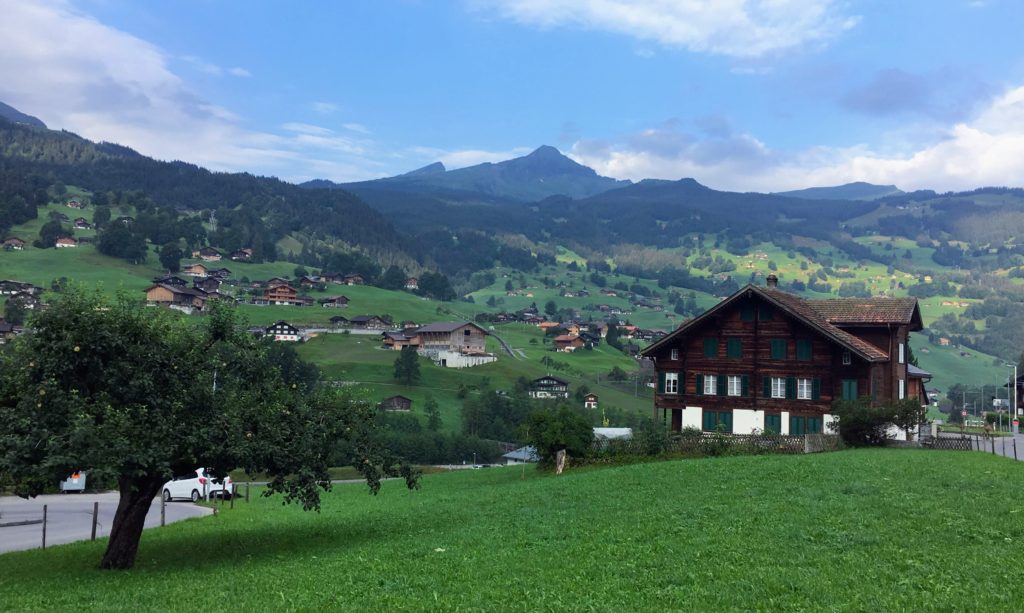 Grindelwald is a small, scenic village surrounded by mountains, and is the end of the Schynige Platte to First hike. It's a great place to stay the night to enjoy the fresh air. I stayed at Hotel Alpenblick, one of the cheaper options with a buffet breakfast included. 
There are plenty of facilities here including a Coop supermarket, a tourist information office, and many shops in the village center. It's also a wonderful place to just walk around and enjoy the scenery. 
The next morning if you want to continue trekking, head to Alpiglen station for the start of the Eiger trail. 
Head over to my post about my Four-Day Circuit Trek for information about hiking to Kleine Scheidegg and Lauterbrunnen! 
Going to Switzerland? Pin this Post!