Before I started my journey in the Balkans, I asked backpackers I met which Balkan country was their favorite. Their answers almost always included Montenegro (with Kosovo a close second). It's for good reason that this small country tops everyone's lists. And with five days in Montenegro, there's plenty you can see. 
Montenegro has recently been gaining the popularity it deserves. In the heart of the Balkans, Montenegro is located just south of Croatia's Dubrovnik. It's easily accessible from Bosnia & Herzegovina, Serbia, Kosovo, and Albania. 
For your five days in Montenegro itinerary, be sure to head to the beach, enjoy the historic old towns, and squeeze in a hike or two further inland.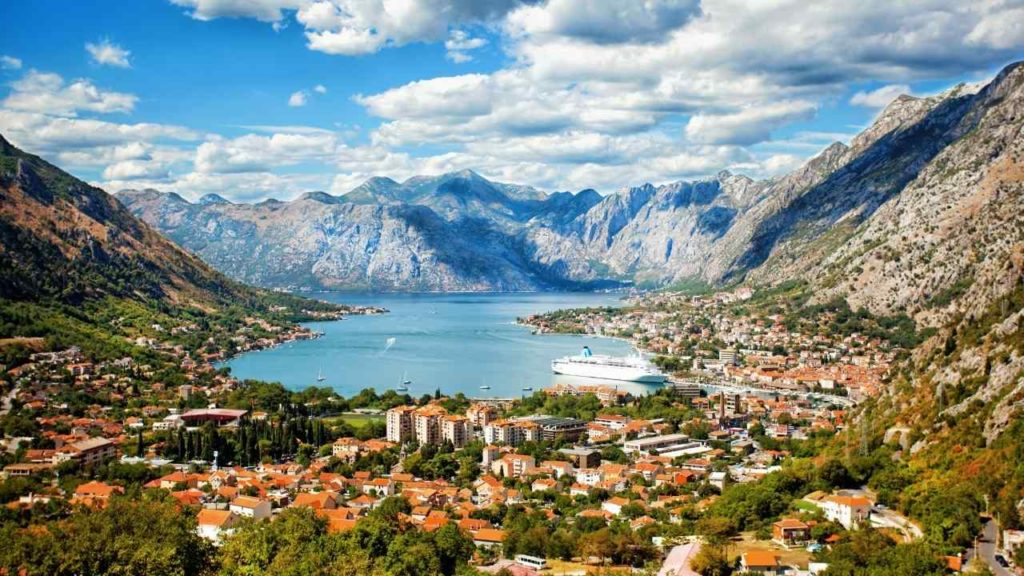 Visit Ulcinj, Budva, and Kotor, during your five days in Montenegro itinerary.
This five days in Montenegro itinerary has many highlights you shouldn't miss. The country has beaches along its coast that rival those of Croatia. The beautiful mountainous regions are reminiscent of the Alps, and maze-like Old Towns are right out of any historic European village.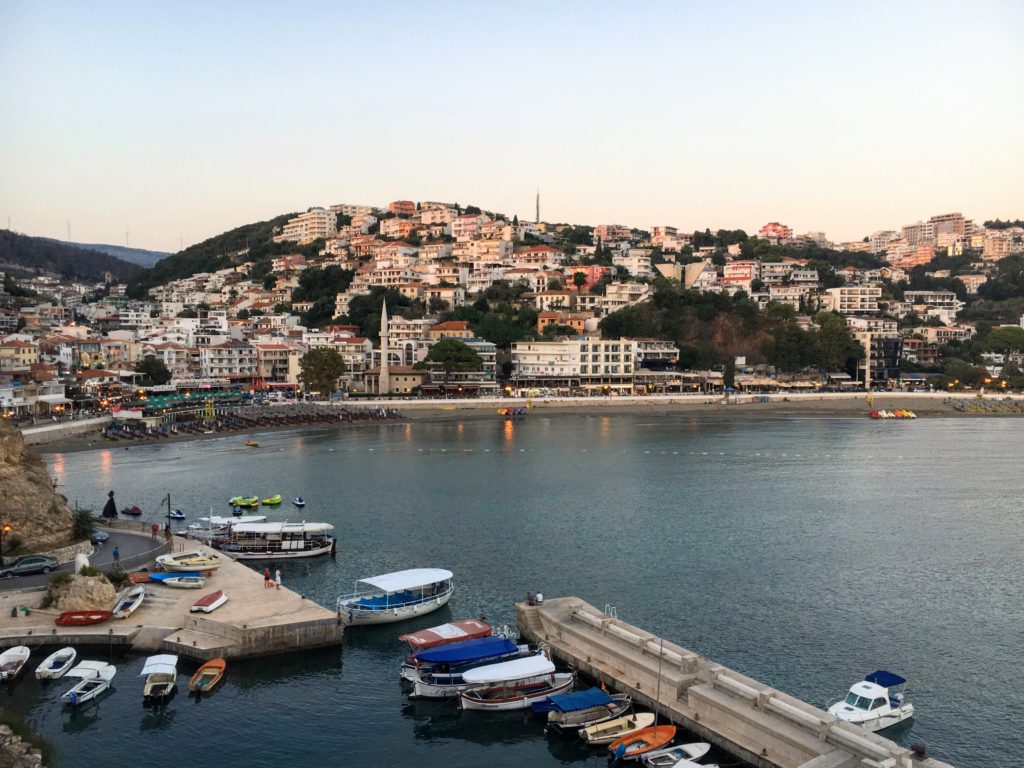 If you're coming to Montenegro from Albania like I did, Ulcinj (or Ulquin) is the closest town to the border and should be your first stop on your five days in Montenegro itinerary. 
Ulcinj town has a beachy vibe, and it's not just the smell of the ocean. Although a large hill blocks much of the town from an ocean view, wide roads lined with palm trees and souvenir shops feel just like coastal California. 
One road in Ulcinj leads to the main beach, where condos and hotels are stacked on top of each other, each with a small glimpse of the water. 
Beach chairs and umbrellas cover every open space along the shoreline. Endless tourist-oriented restaurants with terraces and balconies line the streets across from the beach.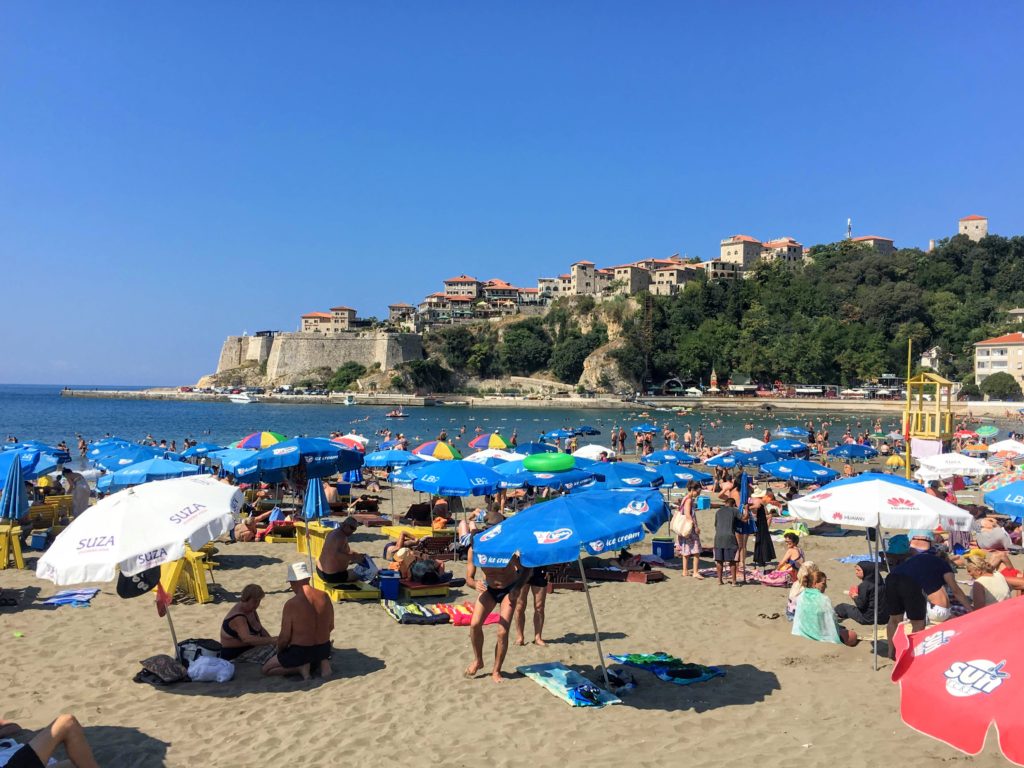 Things to Do In Ulcinj:
Head to the beach! Aside from the main beach pictured above, you can take ferries from the marina down the coast to more isolated beaches. If you follow the main road from the city center, you'll also come across large beach resorts built into cliff sides. There, you can spend your afternoon basking in the sun and sipping cocktails, or swimming in the deep water. 
A few nudist beaches exist in Ulcinj as well, including ladies-only Dada beach. It's complete with a security guard and restaurant on-site. Supposedly, swimming in the sulfur springs that empty to the ocean here is supposed to improve fertility.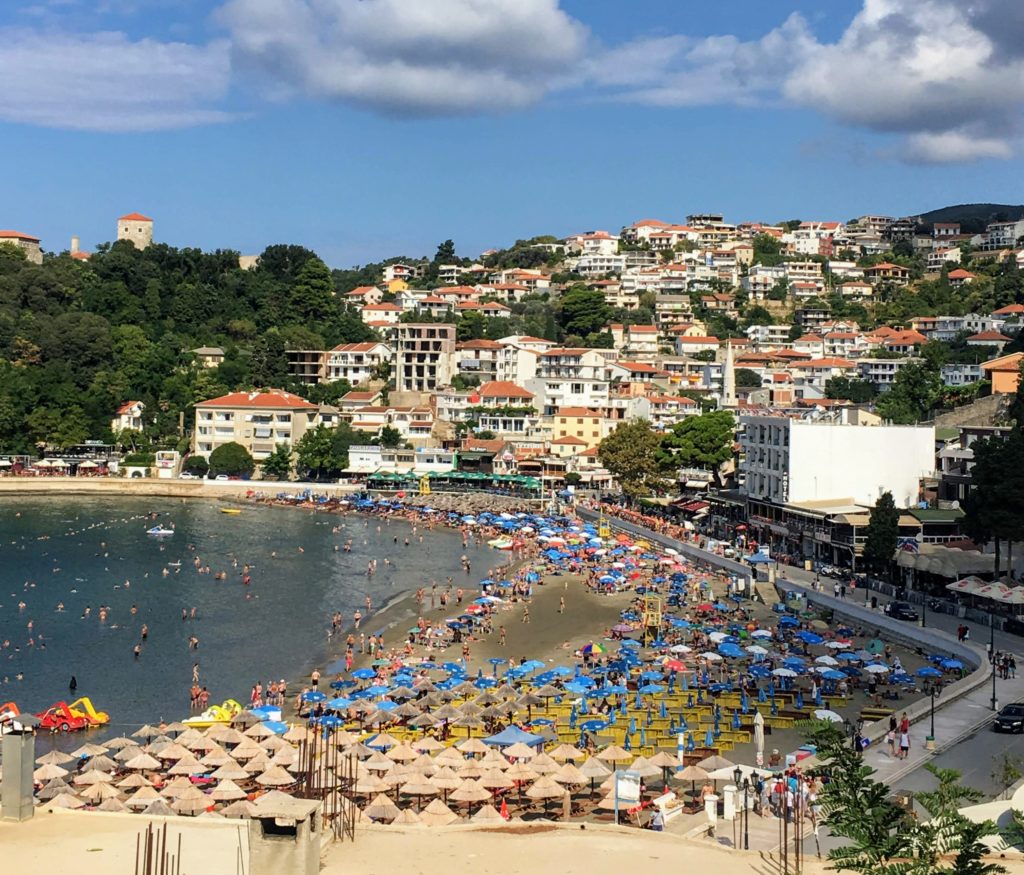 Explore Ulcinj Old Town, especially during sunset when you can see the colors changing over the ocean and over town. Its maze-like alleyways are pedestrian-only, and opens up to beautiful walled courtyards. The streets are lined with little tables and chairs for indulging in coffees and wines any time of the day. 
Party like the locals when the town comes alive at night. Businesses that were restaurants by day bring out the speakers, bar tables, and hookah pipes at night. People dance and drink in the streets until 2 or 3 in the morning, while the bars blast their own music as loud as possible to try to drown out their neighbors. Ulcinj is a great place to let loose during your five days in Montenegro! 
Budva, the second stop during your five days in Montenegro, is a scenic bus ride away from Ulcinj. The city is slightly more commercialized due to a steady stream of Russian tourists. 
Budva has numerous large hotels, as well as shopping malls and high-end restaurants. The beach is covered with beach resorts that each have a slice of sand and water claimed for their own customers. The boardwalks parallel to the water are lined with souvenir shops, fast food stands, and beer gardens filled with sunburned tourists.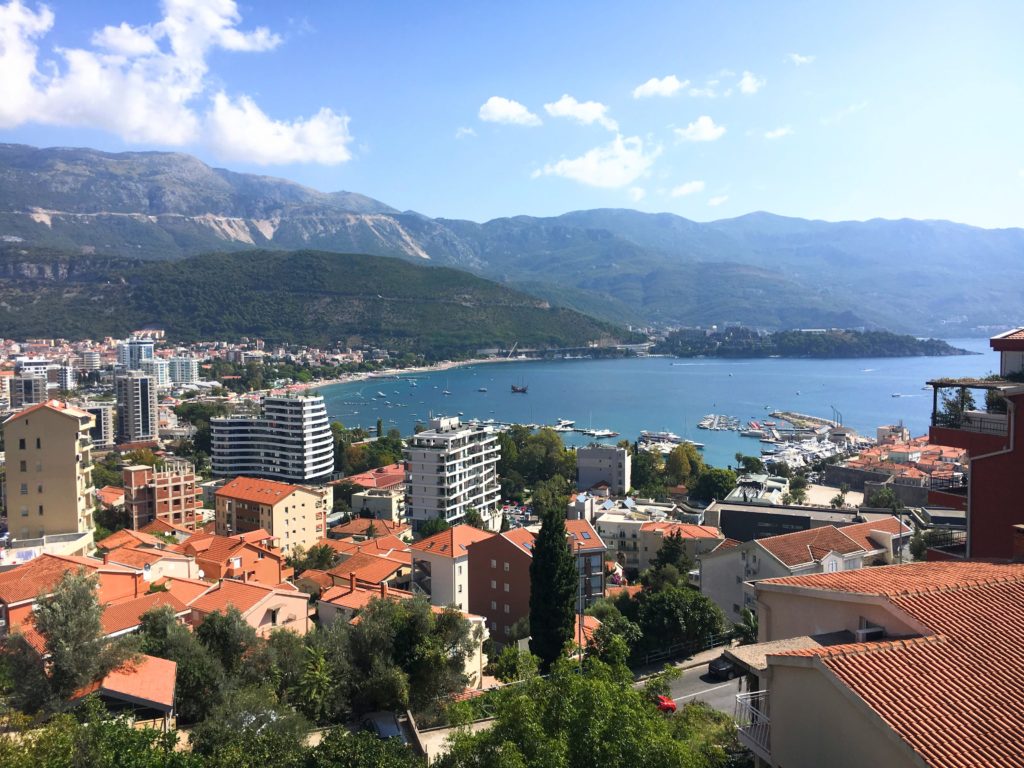 Things to do in Budva:
Relax by the Beach (again) – Budva has more variety in restaurants and resorts by the water, compared to Ulcinj. It's a perfect place to be pampered and take advantage of resort amenities.
Go Shopping – In addition to the large shopping malls in the center of Budva, many souvenir shops line the streets near the ocean. Find handicrafts, beachy knickknacks, and Montenegro souvenirs at these shops. 
Chill in and around Old Town – Old Town in Budva is bigger than Ulcinj, and has a lot more artisan shops within its walls. Get lost, appreciate the local artwork, and find a place to settle in next to a nice window out to the ocean. 
Explore Sveti Stefan – A 15-20 minute drive from Budva is a semi-island Sveti Stefan. It's covered in old stone homes with orange roofs, with a church that towers over them all. It's almost completely surrounded by water except for a thin sandbank, and extremely picturesque. Take a tour from Budva to Sveti Stefan during your five days in Montenegro!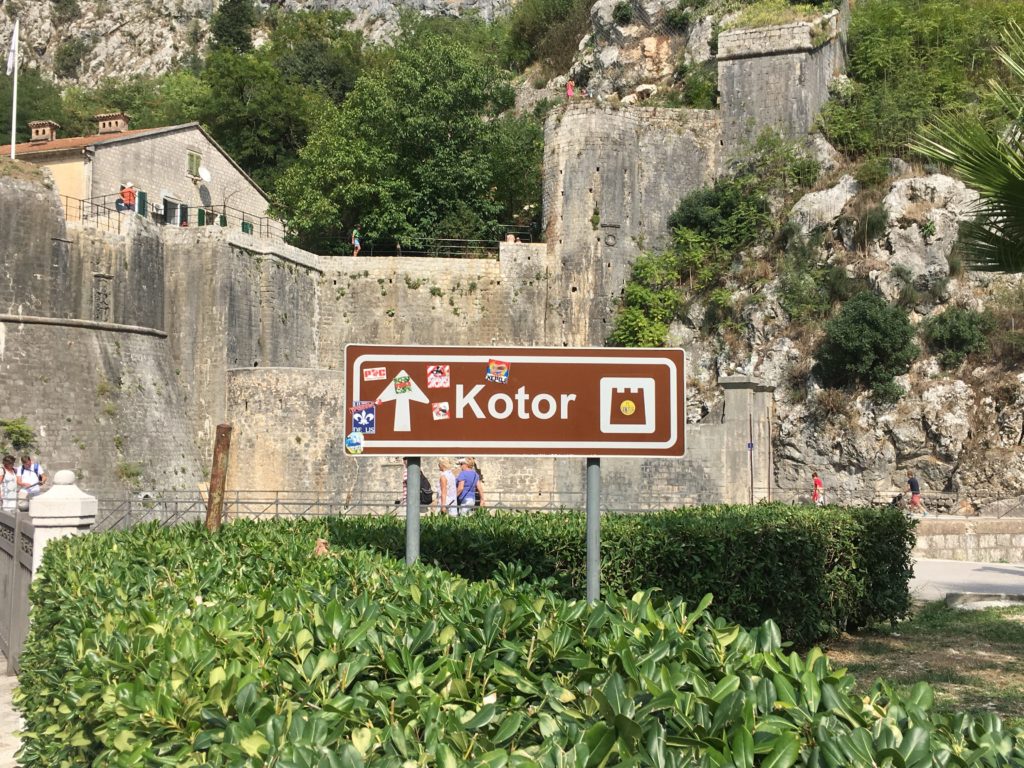 My favorite city during my five days in Montenegro was Kotor! If you can only go to one city on your Montenegro itinerary, it should be Kotor. Also, if you have longer than five days in Montenegro – consider spending more time in Kotor. 
Kotor has something to offer for just about everyone: You can swim in the lake, hike up mountains, explore old churches, and wine, dine, and shop in the Old Town. A popular day-trip is going by boat to explore Kotor Bay. Kotor is a cruise ship destination, so it can become crowded in the afternoons. You'll have plenty of time to see the city for yourself in the mornings and evenings though.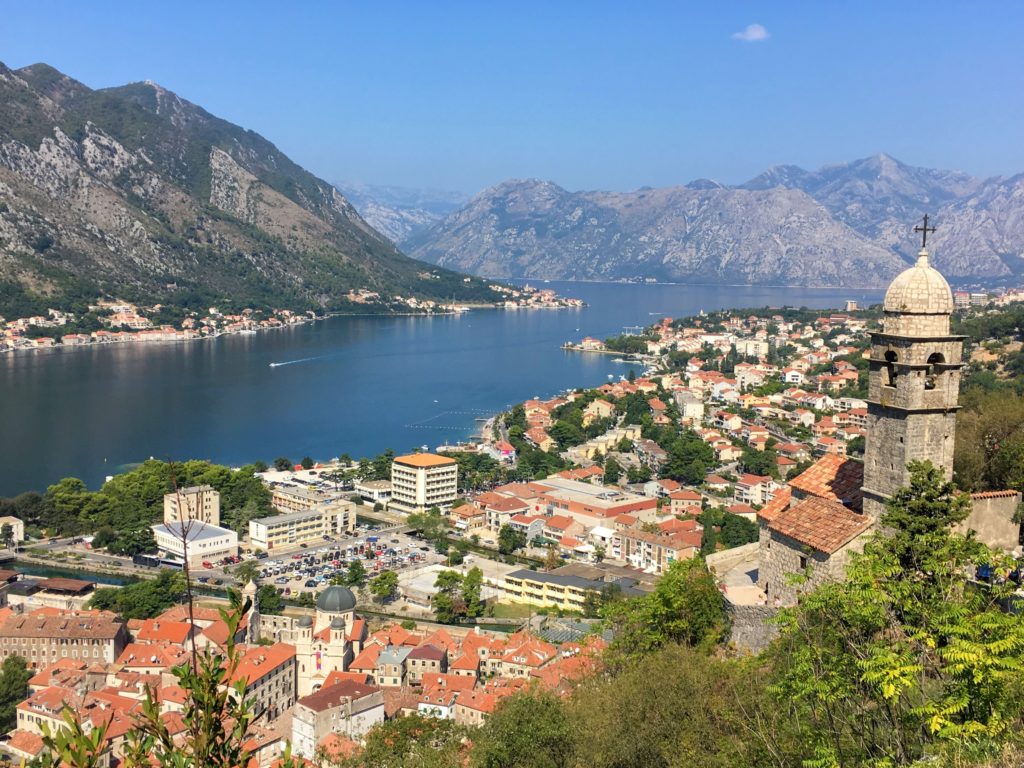 Things To Do in Kotor:
Hike up to St. John's Fortress – This was one of the highlights of my Montenegro itinerary. The entry fee is 8 Euros if you hike up from the official entrance from Kotor's Old Town. Locals can tell you where there's a hidden path a couple hundred meters away that also connects to the fortress (the trail is also on maps.me).
The climb is steep, but people of all fitness levels can make it to the top. You'll pass a few churches and ruins on the way where you can find some shade and take breaks. An incredible view of the valley and the orange rooftops of Kotor is waiting for you from the top!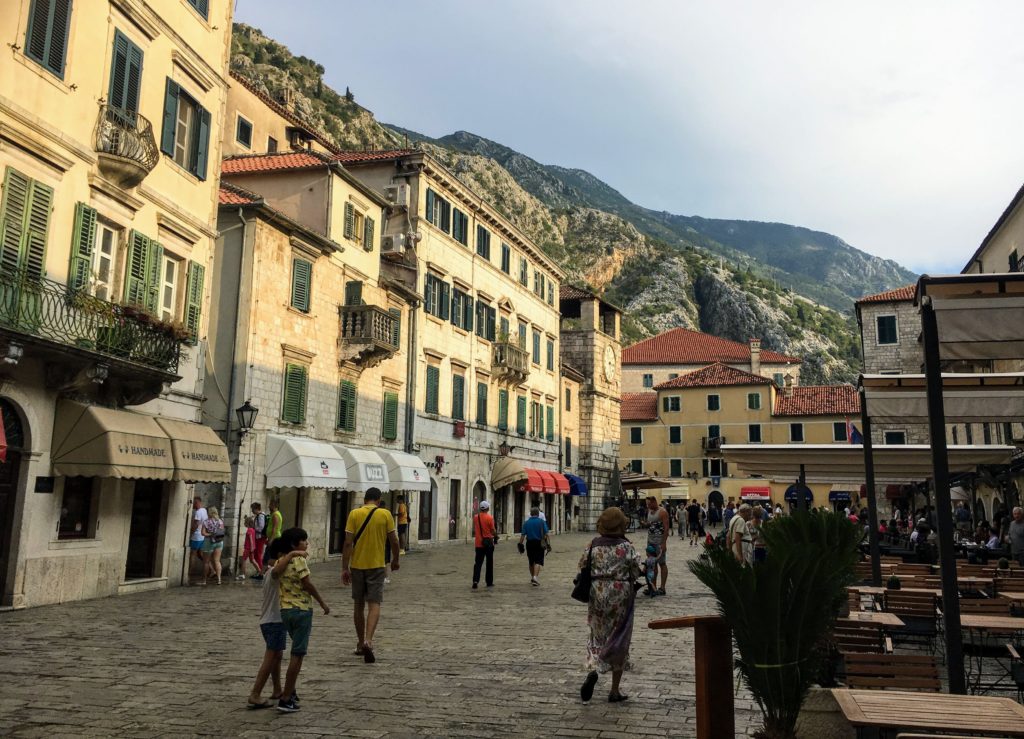 Explore Old Town – Kotor's Old Town was the most impressive to me by far, among all the towns on my Montenegro itinerary. Wherever you look are churches, large courtyards, artist studios, old hostels, and fancy restaurants with quaint terraces. Artists sell their work in the alleyways, cats lurk around every corner, and hidden cobblestone paths transport you back centuries. Venture around in the morning, before the cruise ships come to drop off tourists for the day.
Hop on a boat to Sveti Dorde – A tiny island located at the mouth of the bay of Kotor, Sveti Dorde has just enough space on it for the monastery it is home to.  The little island next to it, Gospa od Skrpjela or Our Lady of the Rocks, also has an impressive Catholic church built on it. Take boat tour to reach these landmarks! 
Have more time in your five-day Montenegro Itinerary?
Head over to Durmitor National Park in northern Montenegro for some trekking. Montenegro has five beautiful national parks for nature lovers to explore for a longer Montenegro itinerary.
Alternatively, bus from Budva or Kotor to Dubrovnik, Croatia. Dubrovnik is only 3-4 hours away by bus from Montenegro. Dubrovnik is known for its beautiful architecture, large Old Town, and as a filming location for the show Game of Thrones. 
My advice on Podgorica (the capital of Montenegro) – skip it. Podgorica is just a big, busy city with not much to see. For your five days in Montenegro itinerary, it's best to spend extra days in Kotor, at the beach, or in the mountains.
Spending five days in Montenegro? Pin this post!
Are You Prepared For Your Travels in the Balkans?