Thailand will always be one of my favorite countries, because it embodies the many beautiful things that
Southeast Asia
has to offer. Thailand is an amazing destination for everyone from backpackers and novice travelers to luxury travelers. If you want to go island-hopping in Thailand, you'll be delighted by the lively cities and towns, the scenic countryside, and the many jungles and waterfalls to explore. Of courses, the beaches of Thailand's islands are incredible too.
Tip
: Thailand is should be explored at a leisurely pace, not rushed through.  There is so much variety in places to enjoy and things to do. I recommend spending one trip in either
South Thailand
or
North Thailand
, regardless of how much time you have to travel. Then come back and visit the other side of the country during your next trip!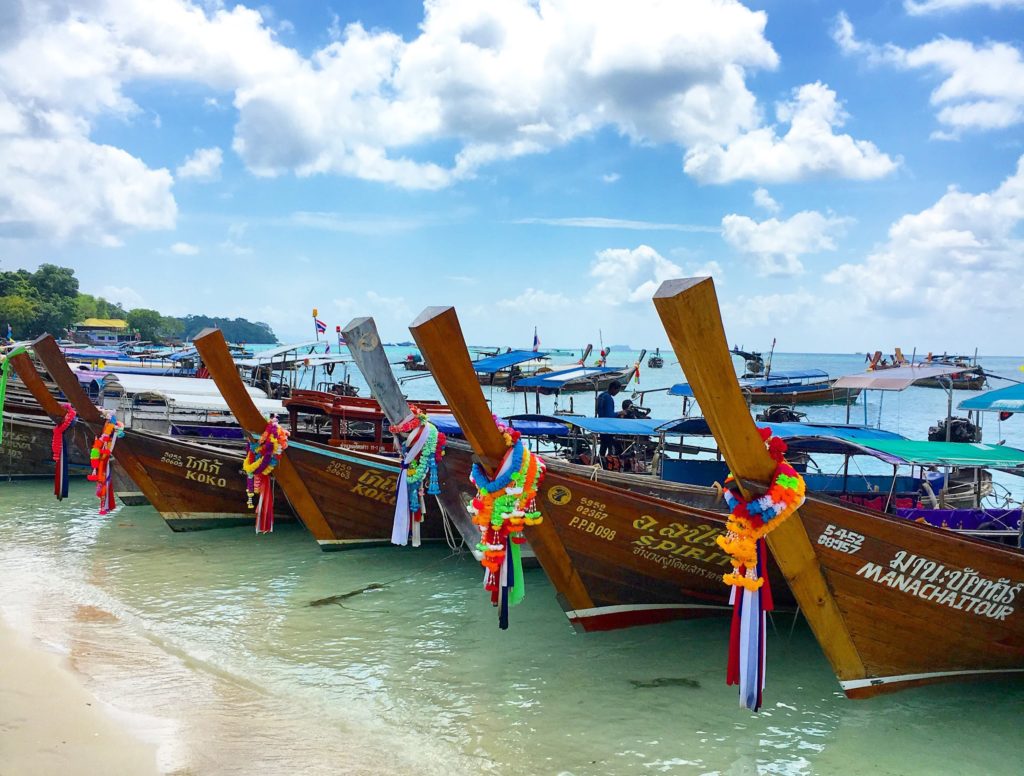 Even if you have a whole month in Thailand, there's so much to do in the South, where most of Thailand's islands are. Check out my 30 days in South Thailand itinerary for ideas on how to spend your entire 30 days in Thailand, in the south. 
Since many people don't have a month to spend, I've created a two-week island-hopping in Thailand itinerary that hits on Thailand's island-hopping highlights. If you love the beach, know how to relax but also down a strong, beachy cocktail, you'll love what Thailand's islands have to offer. 
Two Weeks in Thailand Island-Hopping Itinerary
Phuket and Patong Beach – 2 days
Koh Phi Phi – 2 days
Koh Lanta – 2 days
Ao Nang and Railay Beach – 2 days
Koh Phangan – 3 days
Koh Samui – 3 days
Total: 14 days island-hopping in Thailand
Starting your Thailand Island-Hopping: Getting from Bangkok to Phuket
Most trips to Thailand start in Bangkok, where the massive Suvarnabhumi International Airport lies. However, if you're lucky, you might be able to catch a cheap flight into Phuket. (There are also cheap flights from Bangkok to Phuket as well if you are traveling carry-on only.) 
Phuket is the capital of southern Thailand, and where this Thailand island-hopping itinerary starts. It's home to its own beaches, but also has a large ferry port connecting you to the islands in south west Thailand. 
Phuket and Patong Beach - 2 days
The Phuket region is a good introduction to what Thailand can offer travelers: over-the-top nightlife, but also quiet, beautiful beaches. Explore nature, authentic Thai towns, and many cultural and religious landmarks. 
Near Patong Beach you can stay in the more relaxed and authentic Thai 
Phuket town
. Phuket town has rows of Portuguese architecture to explore, with many flourishing local markets. You can take a 
cultural tour here
 or hike up Monkey Hill to see baby monkeys playing in the trees. 
Many travelers love 
Patong Beach
 and the party street that never sleeps, Bangla Road. You can find a nice beach here to relax at during the day, then explore the bars and clubs in the evening. There are also boat tours from here to 
James Bond Island
.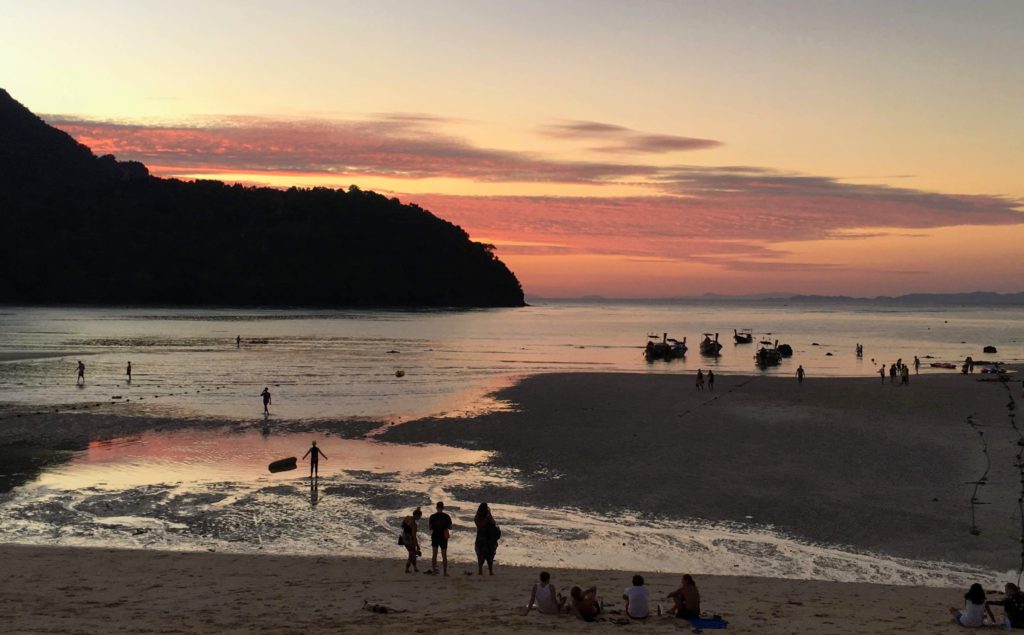 From Phuket, take a 
scenic 3-hour ferry
 to Koh Phi Phi, a small island covered in quirky stores and restaurants, 
backpacker hostels
, and 
touristy hotels
. There's not a lot of local life and Thai culture to enjoy here, but the main beach stretch is wide and beautiful, and there are plenty of cool pubs to hang out in. 
Don't miss the picturesque viewpoint you can trek to, to get away from the bustling town center. Many 
tours leave from Koh Phi Phi
 to snorkel around or visit some uninhabited islands in the area (or islands overrun by monkeys).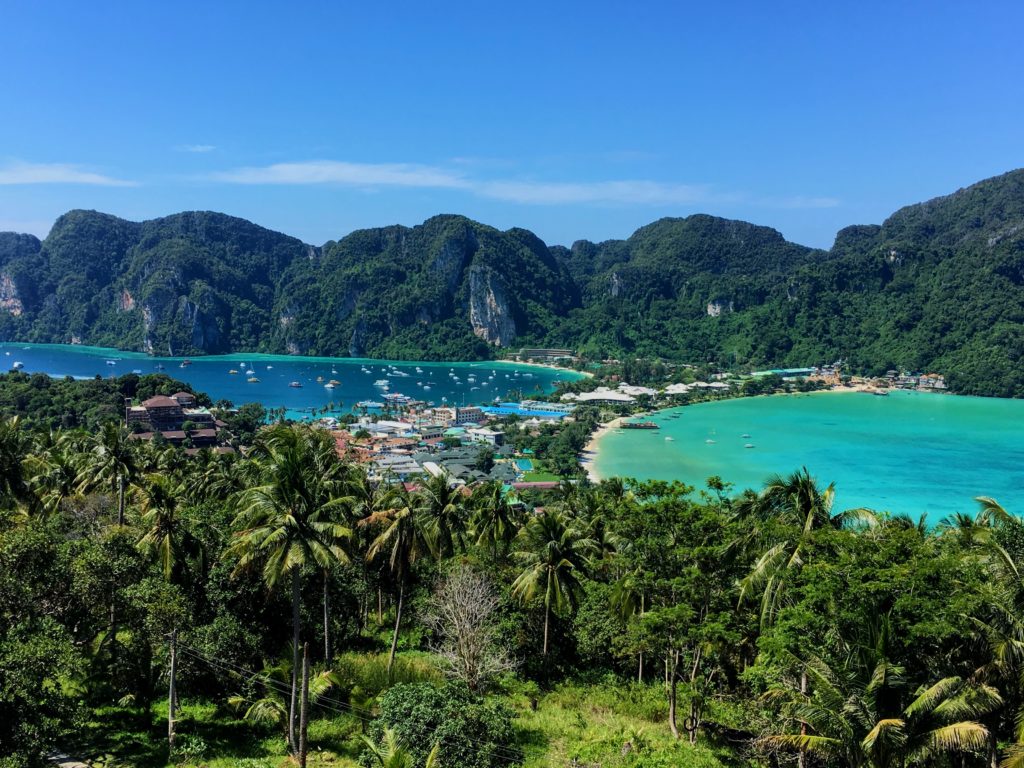 A quick boat trip from Koh Phi Phi is Koh Lanta, a more serene and relaxing island. It's a great place to just sit in silence and enjoy the sunset with a good book. For me, coming to Koh Lanta after Koh Phi Phi was a good detox. When island-hopping in Thailand, it nice to see both Koh Phi Phi and Koh Lanta to enjoy the contrast. 
Koh Lanta has local villages you can explore on a motorbike, and a national park to the south where you can see monitor lizards or have a picnic. Make sure to check out
Koh Lanta's many beaches
too. Many of them will be near-deserted too for a great opportunity to disconnect. 
I loved staying at Sonya Guesthouse on the West side of Koh Lanta. It was owned by a wonderful family who cooked incredible food at their connecting restaurant. The beach was nearby too! 
Two overwater bungalow accommodation options are also available in Koh Lanta, in the heart of its Old Town, which is known for its homes built on stilts. 
Ao Nang and Railay Beach - 2 days
From Koh Lanta, it's possible to take a van or 
ferry
 to reach Ao Nang, a beach town just outside of Krabi. Ao Nang is famous for rock climbing the steep limestone cliffs, some nature hikes, and for Railay Beach. Although neither Ao Nang nor Railay Beach is technically an island, the island vibes here are strong and it's a great place to lay back and chill during your two-week Thailand island-hopping itinerary. 
Like the rest of Thailand's islands, Ao Nang gives you many options for spending your day: take a 
mini island-hopping tour
, go rock climbing, hiking, kayaking, or just hang out with a Chang beer (or booze bucket) in hand at the beach bar. 
For backpackers I recommend staying at the 
Moment Hostel
, which has a social vibe and great location. Ao Nang is filled with 
accommodation options
, but if you want to get away from the crowds, consider spending a night on the isolated Railay Beach. Poonsiri Resort Ao Nang is a great budget
overwater bungalow in Thailand
, another great accommodation option in Ao Nang.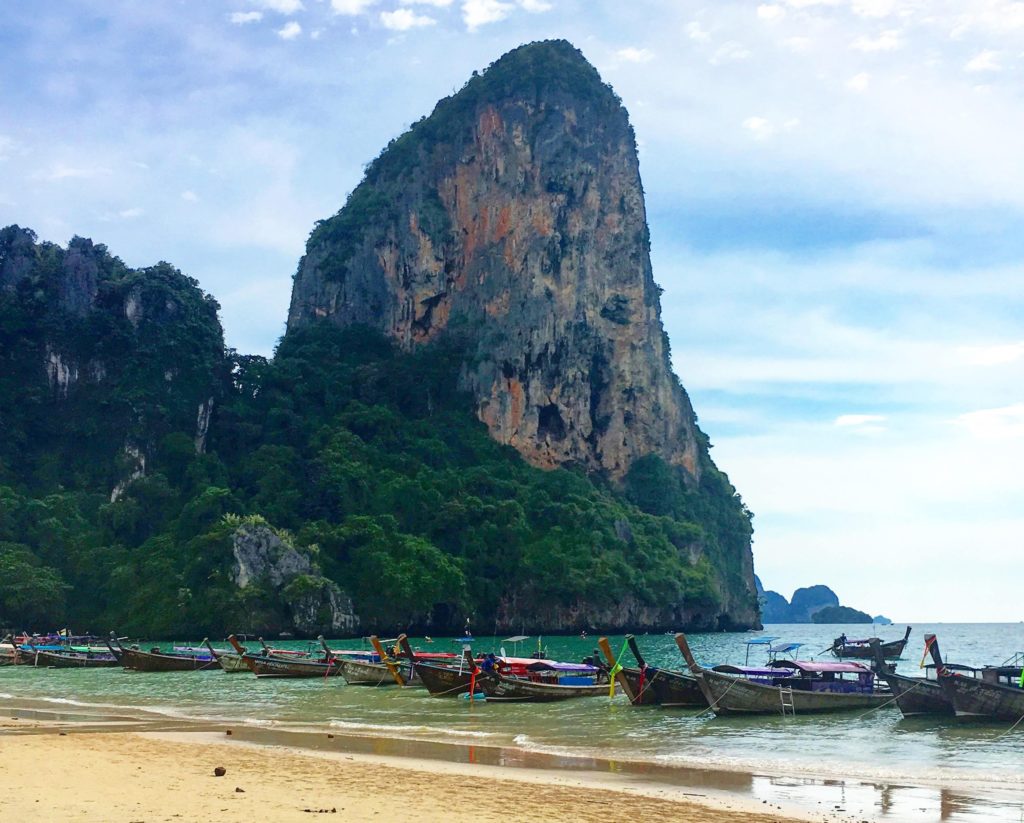 A Thailand island hopping itinerary would not be complete without going to Thailand's islands in the South East. 
Koh Phangan
 is an island famous for its Full Moon Party. It also hosts a half-moon party, or new moon party, depending on when you are there. Koh Phangan can be reached from Ao Nang by van transfer to the Surat Thani pier, 
then by ferry
. 
For partiers, Koh Phangan is an island not to miss on your Thailand island-hopping itinerary. But there's plenty to do here if you don't drink too! The party side of Koh Phangan is Haad Rin beach. For the nature-loving, head to Than Sadet National Park to hike up a waterfall. Everyone can also enjoy the local night markets, or search for an empty beach to chill on.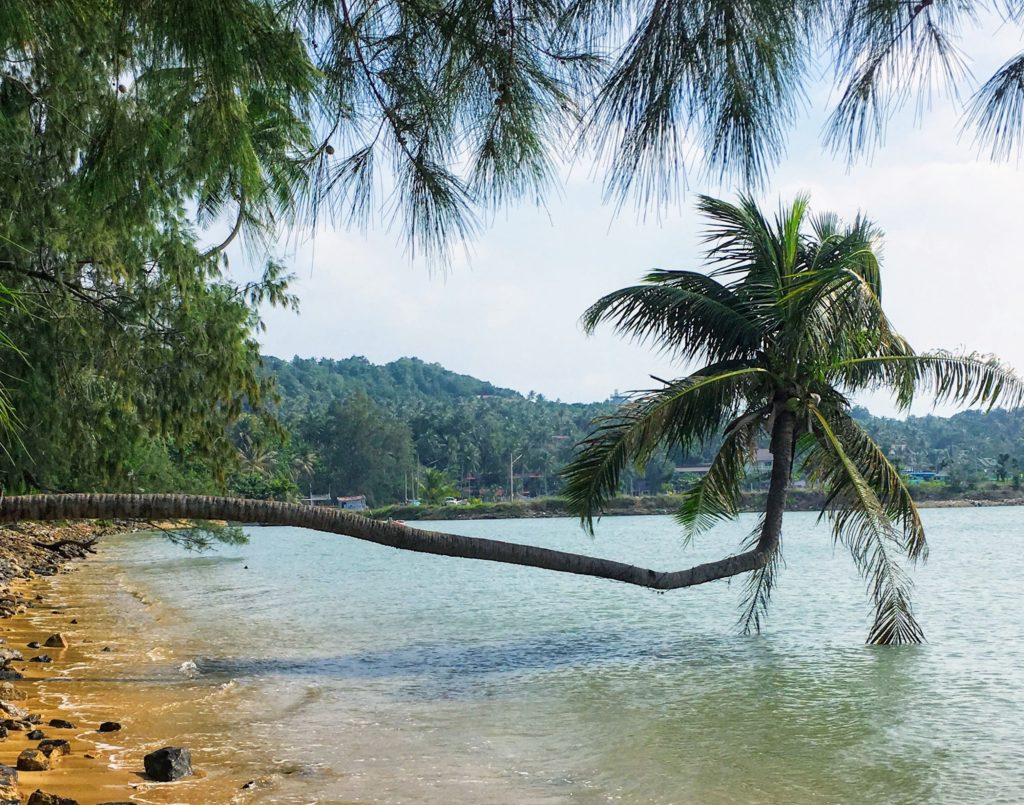 Koh Samui is last on this two-week Thailand island-hopping itinerary because it has a small airport from which you can fly back to Bangkok or Phuket. 
In Koh Samui you can find endless things to do, or just enjoy the island vibes and grab a spot on the beach. Koh Samui was one of the first Thai islands to start catering to tourists, meaning there are many resorts and high-end places to spend your time, if that's what you prefer. There are many hostels also, where it's easy to find people to explore the island with.
Travelers from all budget groups will gather at the Central Festival mall night market, at Chaweng beach, and at the club after dark! Other things to do in Koh Samui include renting a motorbike and drive (safely) to waterfall hikes, to temples, and markets all around the island. 
If you have more time Island-Hopping in Thailand - Koh Tao
If you have more time in your island-hopping in Thailand itinerary, you can check out small Koh Tao island just north of Koh Phangan. It's best to go there with a group because of some safety concerns (it's nicknamed "Murder Island"). 
Read about some things to do in Koh Tao. 
Bonus: Khao Sok National Park
Also located in South Thailand and accessible from Phuket or Krabi and Ao Nang, is Khao Sok National Park. Although it's not an island by any means, this park is an incredible place to spend some time in nature. 
Khao Sok is a great place to alternate your Thailand island-hopping with some Thailand jungle-hiking. 
As part of a two-day, one-night tour through Khao Sok National Park, you can spend a night on the water in a floating bungalow, walk through a cave, and go on boat safaris. If you want to experience the beauty of Thailand, not just the islands, head down to this world-famous national park. 
Going Island-Hopping in Thailand?
Pin this post for later!