Out of the literally hundreds of hostels and backpacker accommodation I've stayed in, one hostel sticks in my mind as one of the best: Sherloft Hostel in Chiang Mai, Thailand (now Sherloft Home and Hostel). With friendly and helpful staff, great facilities, free breakfast, many common areas and a wonderful location, I wouldn't stay anywhere else in Chiang Mai.
Out of the two weeks I spent in Northern Thailand including Pai and Chiang Rai, I stayed the most nights at Sherloft Hostel in Chiang Mai.
Sherloft Home and Hostel is the perfect place to unwind and soak in all the wonders of Chiang Mai and northern Thailand. Whether as a backpacker or for a long-term stay, consider Sherloft for your next home in Thailand!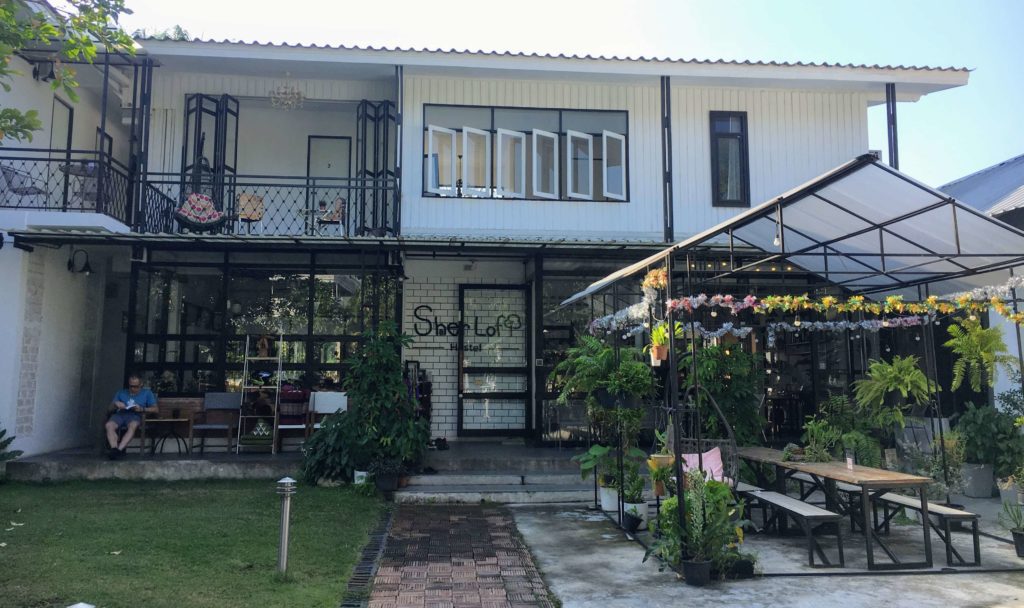 Key information about Sherloft Home and Hostel in Chiang Mai
Address: 7 Ratchamanka Road, Soi 7, T. Phrasing, A Muang, Chiang Mai 50200 Thailand

Price: $14 USD per night for a dorm bed, $40 USD per night for a deluxe double room. Check the latest rates on 

Booking.com

Contact information:

Phone +66 824 443 777

Email: sherloft@hotmail.com
Note: Sherloft Home and Hostel is true to its name and provides both hostel-like amenities to backpackers, and home-like facilities for couples or families wanting some privacy, and for visitors interested in long-term stays. 
Check out some (better than my) photos of the property in the post below:
How to get to Sherloft Home and Hostel in Chiang Mai
Chiang Mai, Thailand is located in north Thailand. With its own international airport, Chiang Mai is commonly reached by air from other parts of Asia or the world. Chiang Mai can also be reached by train and bus from Bangkok.
From Chiang Mai airport, bus terminal, or train station, the easiest way to reach Sherloft Hostel is to via Grab or Uber. These apps allow drivers to navigate directly to the hostel. Most taxi drivers will also know where the hostel is located in the Old Town center, or can give the owners a call in order to receive directions.
Check out my one month in Thailand itinerary to see how to squeeze Chiang Mai in your next trip to Thailand.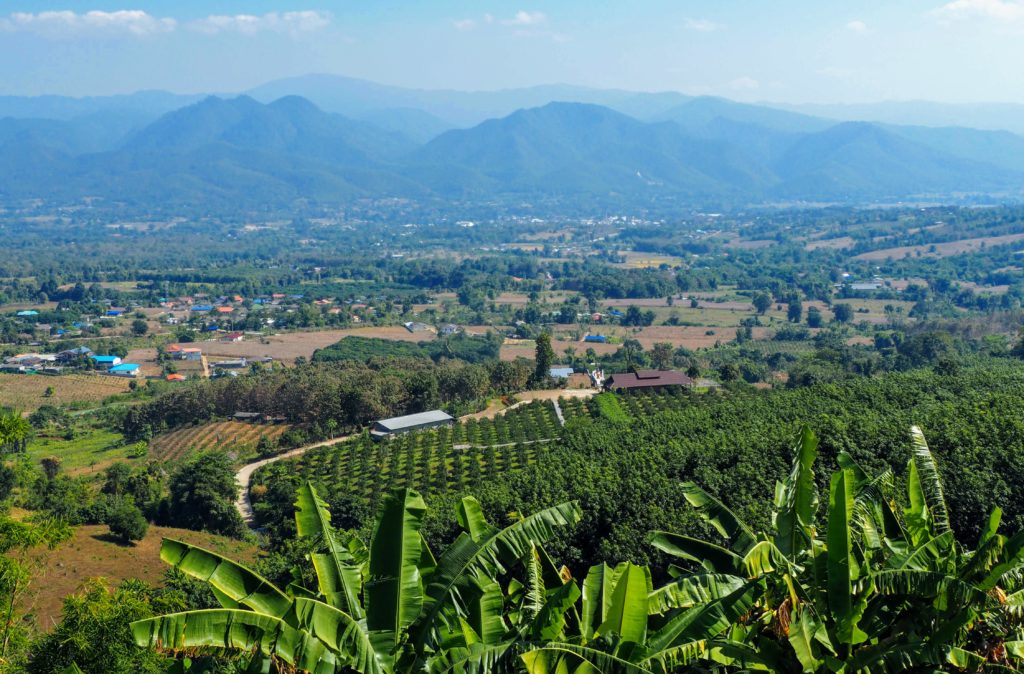 Checking in and First Impressions
I arrived to Sherloft Home and Hostel in the evening after a late flight, so I didn't see much of the accommodation on my first evening. I went straight to the dorm room I booked after checking in, which was located on the second floor. When I explored Sherloft in the morning I was blown away by the beautiful design of the property and the home-away-from-home comfort it offered.
Sherloft is a contemporary accommodation with multiple rooms that cater to both backpackers (budget dorm rooms and shared facilities including common areas for socializing) and travelers looking for a bit of comfort (deluxe double rooms with private bathrooms). The free breakfast that was included in the room price was one of the best I could ever expect from a hostel, with so much variety offered, catering to every taste. More on that below.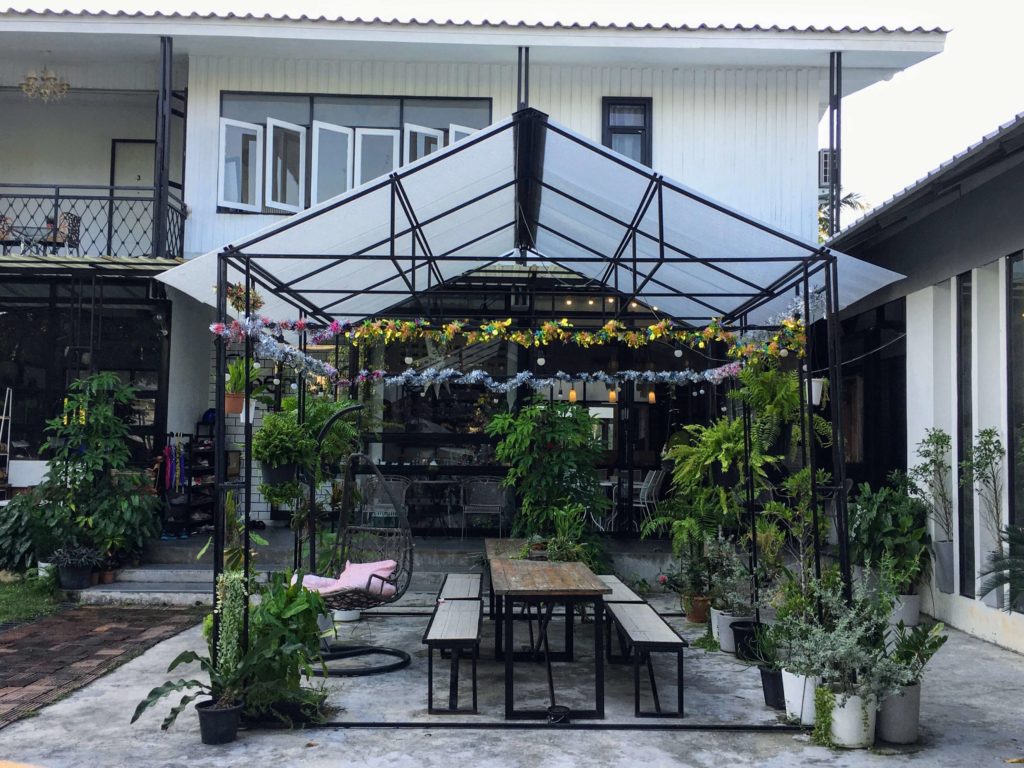 The dorm room that I stayed in at Sherloft Home & Hostel was everything I need in a dorm. Although that's not much, I did enjoy how the rooms had crisp air conditioning and each bed had fluffy blankets and curtains. You know you're in a modern hostel when each bed has its own outlet, night light, and little shelf perfect for charging phones and resting books.
Other Rooms - Deluxe Private Rooms
Although I didn't stay in a private room at Sherloft Home & Hostel, they have amazing deluxe double room options perfect for travelers who want a little bit of privacy. 
The private rooms are entirely above and beyond what you might expect for a private room at a hostel, and are more hotel- or home-like than anything. Depending on the double room you choose, you will have a mini fridge (to keep your Chang beers cold)
Breakfast at Sherloft Home & Hostel
The all-you-can-eat breakfast offered at Sherloft is above and beyond what I have ever experienced other hostels. Not only was there water, juice, milk, coffee, tea… there was also Thai glass noodles, fried eggs, fresh fruit, make your own salad, toast and all different kinds of toppings, and various cereals. 
Full disclosure, I stayed at Sherloft Hostel in 2019. Although I still remember how great their breakfast was, I may be missing some of their offerings in my list (anything with meat, for example).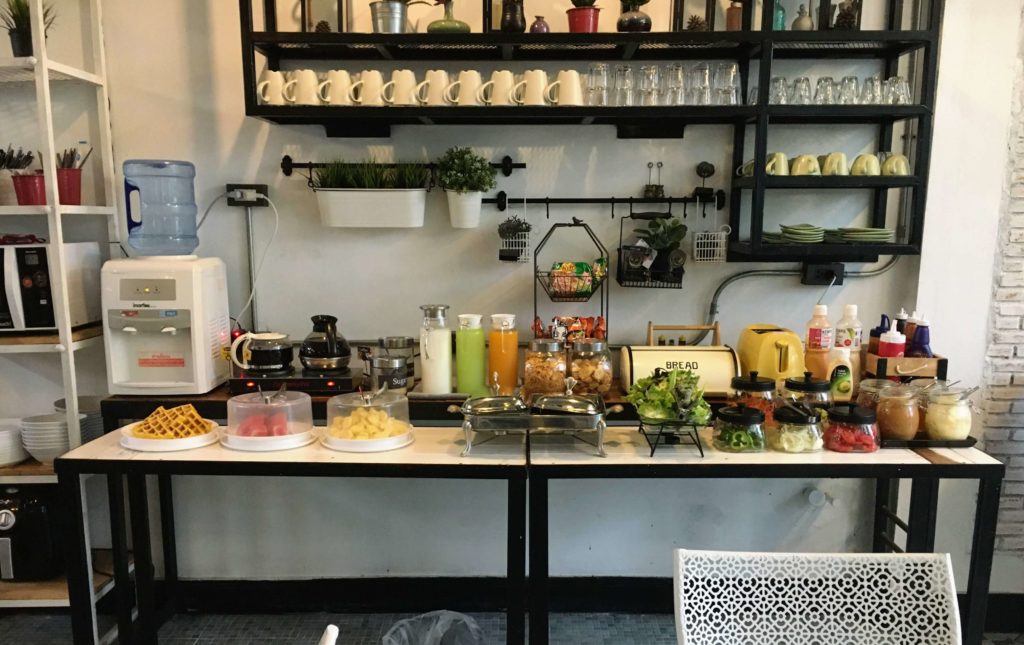 Sherloft Home and Hostel offer a variety of amenities expected from contemporary hostels, including clean, spacious shared bathrooms, social common areas, and washing machine facilities. Here are some other offerings at Sherloft Hostel to help guests make the most of their stay in Chiang Mai:
Bicycle rentals

Free water and tea in tearoom, with shared fridge

Spacious garden

Balcony and common area with TV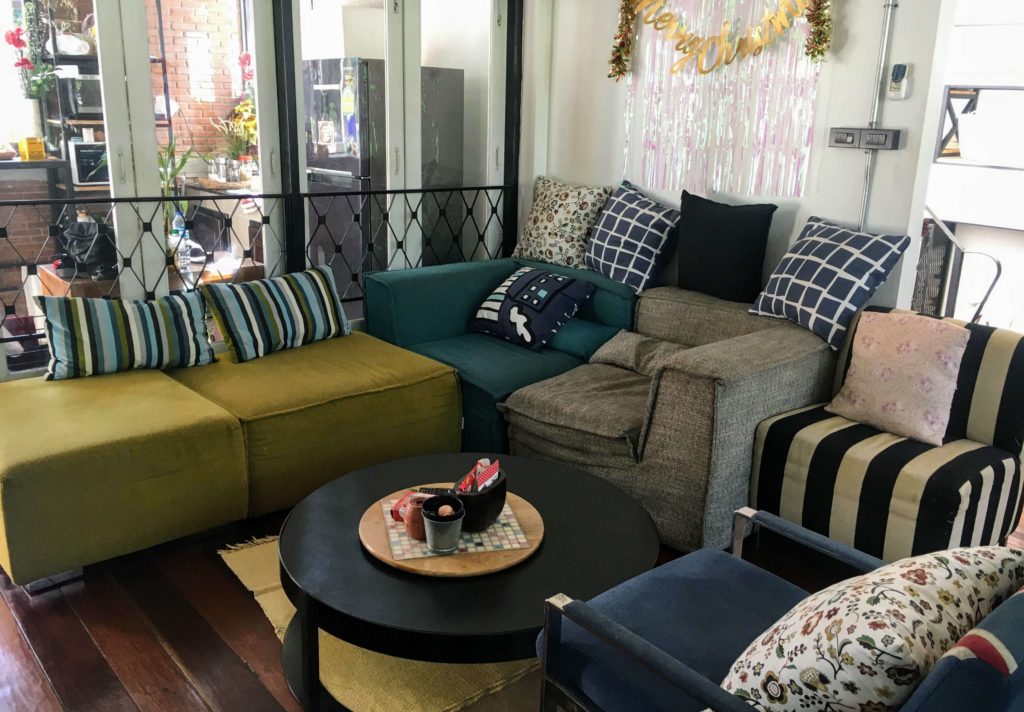 Sherloft Home & Hostel have a tour desk on-site like most accommodation options in Chiang Mai. This means you're able to book all of the best Chiang Mai outings directly at the hostel, and receive recommendations on things to do in Chiang Mai as well, from the staff at Sherloft. 
The most popular tour activities in Chiang Mai include: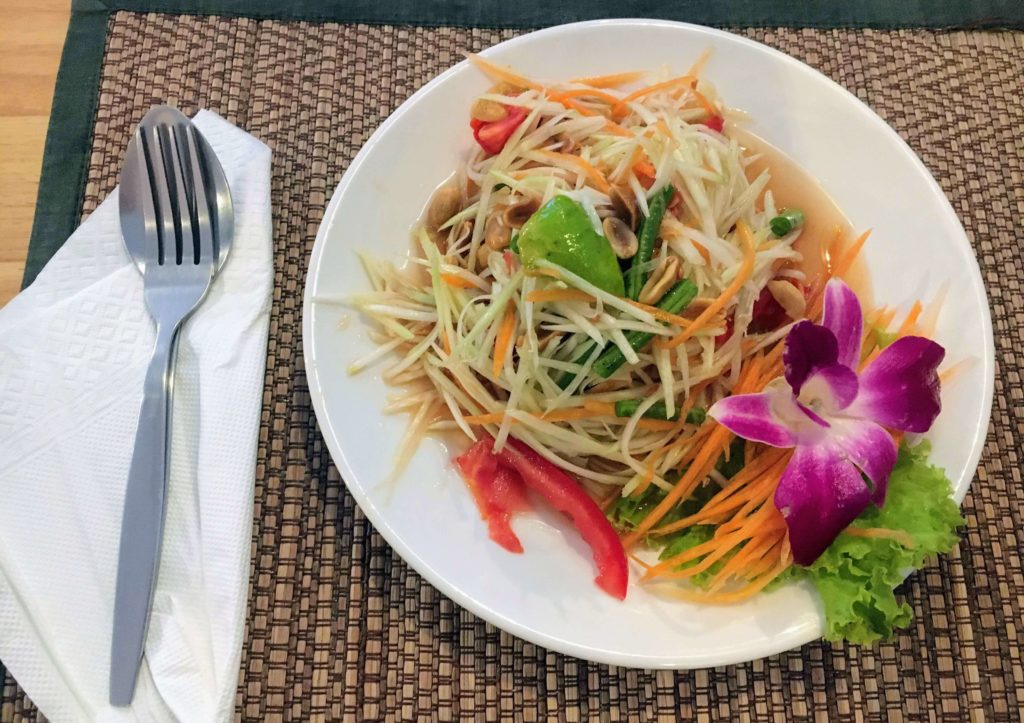 A number of the best things to do in Chiang Mai aside from joining cooking classes are also less than a 10 minute walk from Sherloft Home & Hostel.
Sunday night market – one of my favorite shopping experiences in the world, the sprawling Chiang Mai Sunday night market is one of the best outdoor markets in Asia. 
Wat Chedi Luang (below) – A 15th century chedi built to protect the city, one of the most prominent in Chiang Mai's old town
Wat Phra Singh Woramahawihan – One of Chiang Mai's largest temple complexes, with some sections dating back to the 14th century
Wat Jet Lin – one of my favorite temples in Chiang Mai with a large pond and bamboo bridge.
Chiang Mai Gate Market – a local fruit, vegetable, and meat market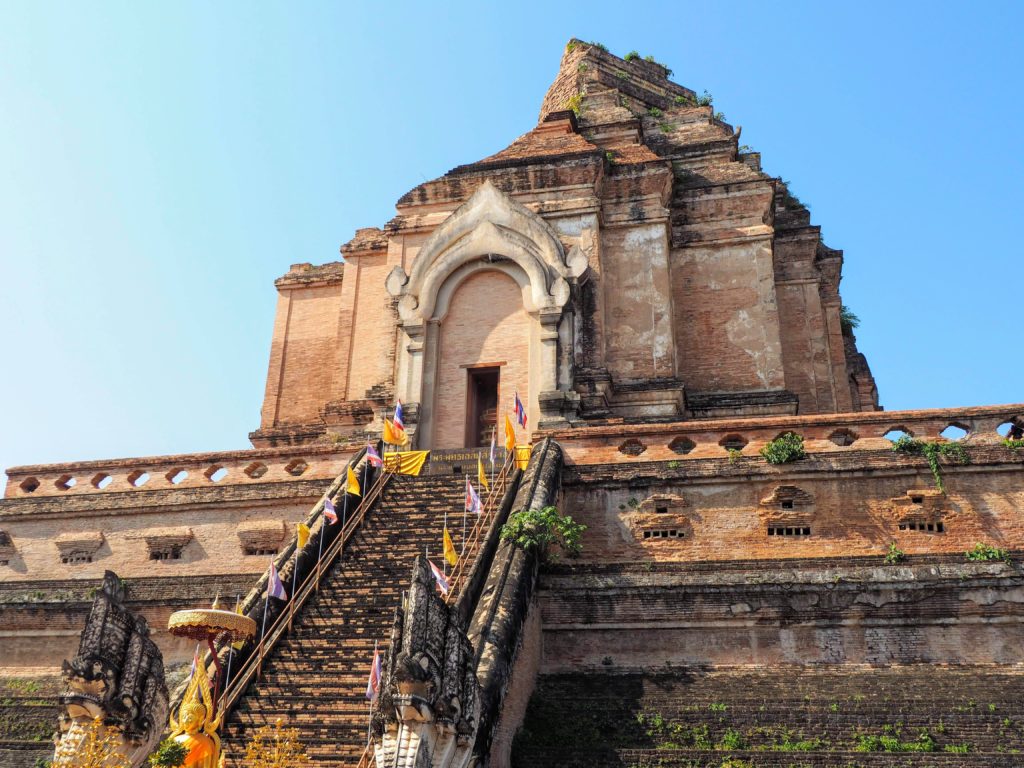 Furry Friends at Sherloft
One of my favorite photos I took during my travels is the one of the cat at Sherloft Hostel. This darling cat can be found curled up in the darndest of places, and is always up for a scratch behind the ears (except when napping).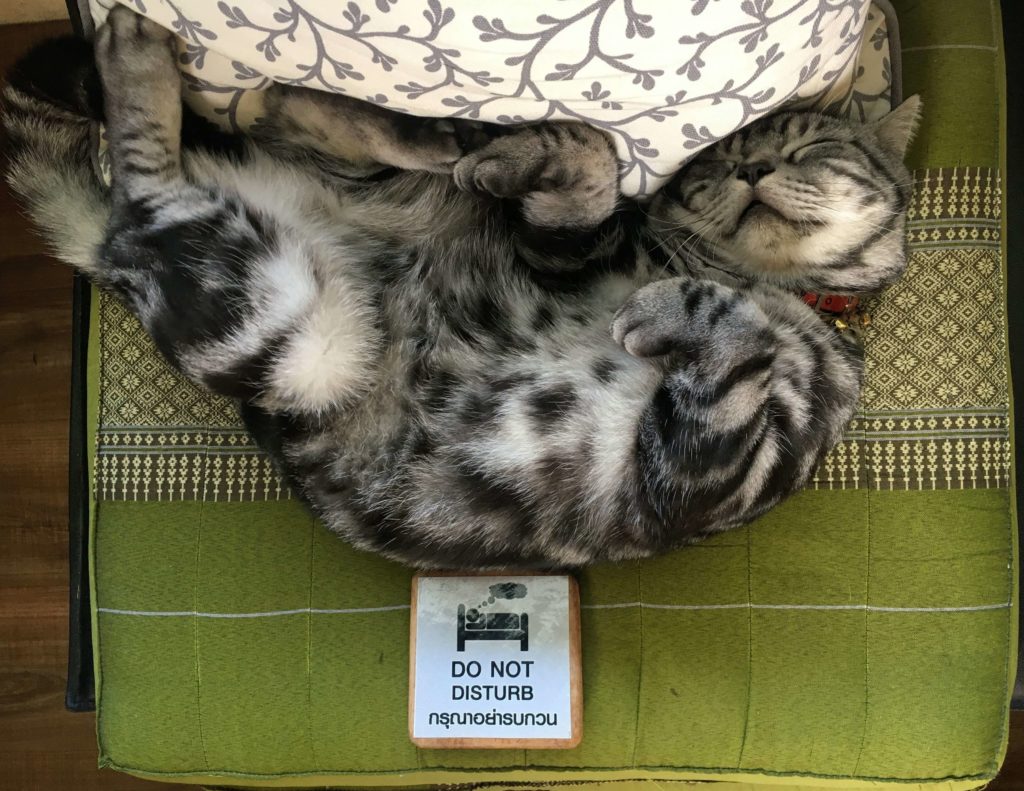 Final thoughts - Things I loved about Sherloft Home and Hostel
Sherloft Home and Hostel redefined for me what it means to stay at a hostel. For a long-term stay in Chiang Mai (back then, long-term for me was more than 3 days) I could not have chosen a better place to stay. Not only did I make hostel friends here to explore the town with, I experienced amazing Thai hospitality, stayed in comfort even in a dorm room, and was able to spend many productive hours working on this blog in their common areas (the post I spent the most time on here was my 120 Tips for first-timers traveling to Thailand.)
For anyone backpacking in Thailand, or looking for a place to call home during a long-term stay in town, I recommend staying at Sherloft Home and Hostel to find your home-away-from-home in Chiang Mai.