Queensland's Stanthorpe and Granite Belt region is a perfect place for a long-weekend getaway from Brisbane or the Gold Coast. At just 2-3 hours inland from Southeast Queensland, this region offers a completely different experience from other areas in Australia. On a Stanthorpe and Girraween 3-day itinerary, explore local wineries, embark on some epic hikes, and indulge in a quaint regional Queensland experience.
My Stanthorpe 3-day itinerary is structured like this: Day 1, explore Stanthorpe town to get your bearings of the region and get a good feel for what this small town is all about. Day 2, indulge in a half-day or full-day wine tour to experience the countryside. Day 3, spend time at Girraween National Park, a unique natural landscape covered in massive granite boulders.
This itinerary is perfect for a long weekend to Stanthorpe from Brisbane. Keep reading for a detailed breakdown of my Stanthorpe 3-day itinerary!
About Stanthorpe, the Granite Belt, and Southern Downs region
Stanthorpe town is located in the Southern Downs region of Queensland, and is nicknamed the "Big Apple" for its many apple orchards. It is famous for its cool climates, small country towns, beautiful natural landscapes, wine, and fresh local produce. 
Visitors to Stanthorpe and the Southern Downs region often stay on farms or in cottages to immerse themselves in country living experiences. Popular activities center around tasting local produce like wine and cheese, or picking apples, strawberries, and other fresh fruits and vegetables.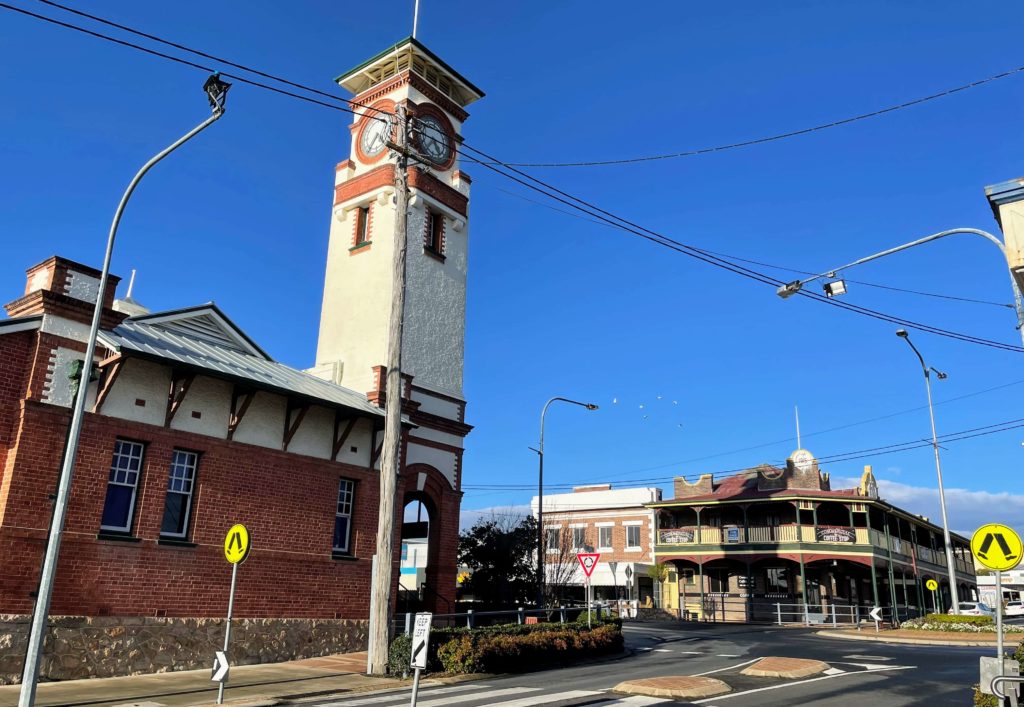 This area is also known as the Granite Belt, which stretches from Queensland to New South Wales and encompasses part of Australia's Great Dividing Range too.
The granite rocks and monoliths here are unique to this part of Australia, and can be explored at a number of national parks: Girraween National Park in Queensland, and Bald Rock National Park, Sundown National Park, and Boonoo Boonnoo National Park in northern New South Wales.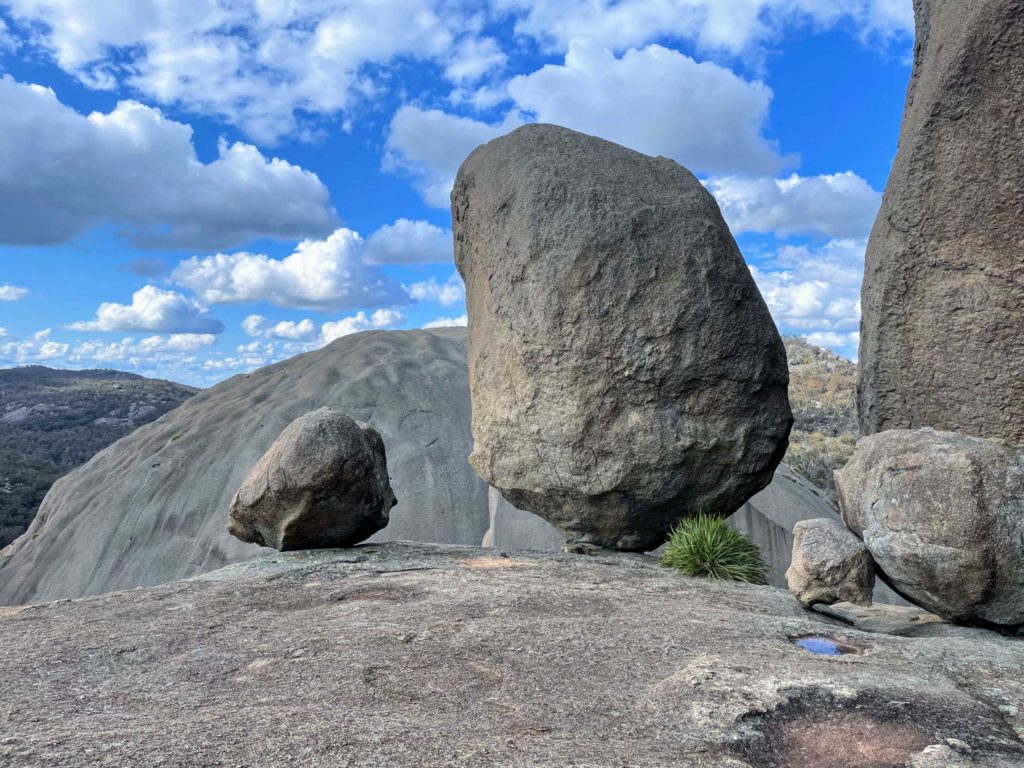 Seasonal Things to do in Stanthorpe
Stanthorpe has many seasonal activities available to visitors, in addition to everything I list in my Stanthorpe 3-day itinerary below. If you're visiting Stanthorpe and Girraween on the days and months outlined below, considering adding some of these seasonal experiences in Stanthorpe to your itinerary:
Where to stay in Stanthorpe town
For convenience and making the most of your time in Stanthorpe town, I recommend staying close to Maryland Street. This puts you steps away from restaurant and cafe options so you don't need to get into your car every time you want to go out somewhere. Staying in town also means you're close to the creek and the parks, which are great places to go for a walk in the mornings or evenings at sunset.
Here are some accommodation options for Stanthorpe:
Apple & Grape Motel (mid-range) – You can't get any closer to town and the park than here! We stayed at Apple & Grape and loved the hospitality, room amenities including electric blanket and mini-fridge, and the convenience. 
The Vines Motel & Cottages (mid-range) – Across the bridge from Apple & Grape, this location is close to the park and visitor information center, and provides spacious rooms and paid breakfast options.
Creekview Cottage (luxury) – This gorgeous two-bedroom cottage, complete with a wooden fireplace, sets the perfect backdrop for spending time in Stanthorpe living like a local. Located next to the park on Lock Street, only a 10 minute walk to town center. 
Unique accommodation around Stanthorpe
Some of the most popular places to stay during a weekend in Stanthorpe itinerary are outside of town. Visitors can fully immerse themselves in the country life by staying in some of these unique accommodation options outside of Stanthorpe, including farmstays, wineries, and cottages:
Ridgemill Estate in Stanthorpe and Just Red Wines Cabins in Ballandean are both mid-range accommodation options located on popular Granite Belt wineries. Stay in private cabins amongst the grape vines! 
Granite Belt Retreat and Brewery (mid-range) offers cabin and chalet accommodation in nature, fireplaces and all, on the same property as the region's upscale microbrewery.
Girraween Environmental Lodge (luxury) – The closest accommodation you can get to Girraween National Park without camping! This eco-lodge provides resort-like amenities in the heart of the Australian bush. 
Stanthorpe 3-Day Itinerary
Day 0 - Stay in Warwick, Queensland
In order to make the most of this 3-day Stanthorpe and Girraween itinerary, consider leaving Brisbane a day early and staying in the small town of Warwick. Warwick is just 2 hours southwest of Brisbane and 1 hour south of Toowoomba, so driveable in the evening after leaving work or school in the city. 
In Warwick, I loved stayed at the unique Abbey Boutique Hotel, also called the "Downton Abbey of Australia". Read more about staying in this historic heritage building in my post here. 
Day 1 - Discover Stanthorpe Town
The first day on this Stanthorpe 3-day itinerary centers around exploring Stanthorpe town and its surrounding villages. European farmers first started settling in Stanthorpe in the 1840's and 50's, with some of the first industries here being grape growing and tin mining. In the present day it is still a relatively small town with only around 5,500 inhabitants, although it is one of the largest in the Southern Downs and Granite Belt region of Queensland.
Morning: Apple pie, cheese boards, and Glen's Castle
Start your Stanthorpe 3-day itinerary by getting a taste (literally) of Stanthorpe and the Southern Downs region. Just north of Stanthorpe near the tiny village of Thulimbah lies a number of cafes and establishments where visitors can sample and purchase some of Stanthorpe's most famous produce. Sutton's Juice Factory Cidery & Cafe is one of these locations where you can stop by for breakfast and indulge in a slice of their apple pie or other pastries on their menu.
After tasting the sweet apple pie, admiring the apple orchards, and picking up a bottle or two of apple cider, head to Stanthorpe Cheese or Castle Glen.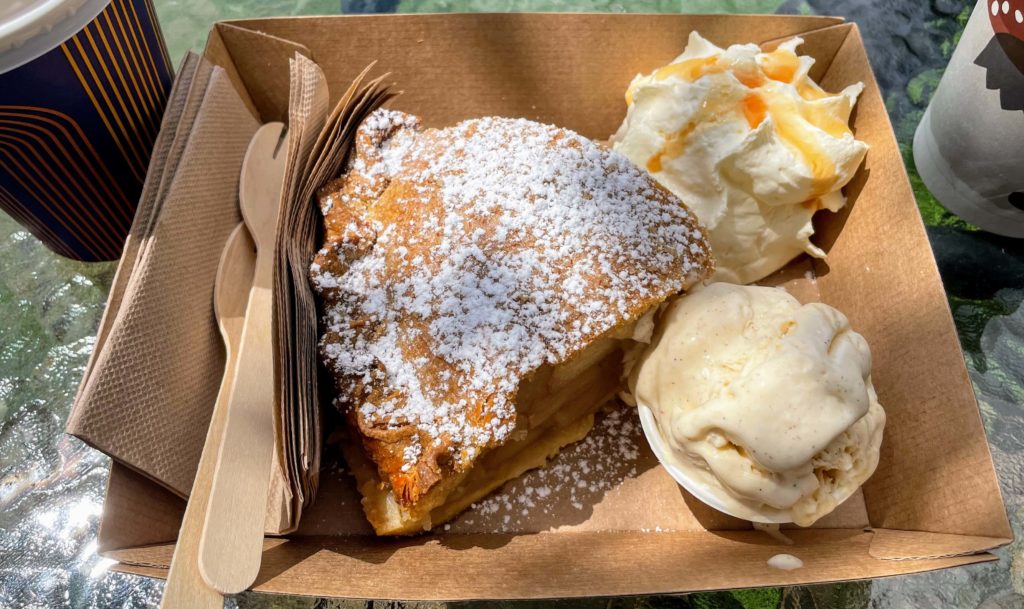 Stanthorpe Cheese is another highly rated business where visitors can have a taste of Stanthorpe. Various cheese boards, cheese sampling, and other snacking options are available here. Bring home your own Stanthorpe Cheese, or other Stanthorpe goodies like honey and jam, at their shop on the way out!
Castle Glen is a unique location to visit on a Stanthorpe itinerary, that centers around making unique liquors and bottled drinks. It's also a great place to grab a souvenir or taste-test some regional fruit wines, beer, cider, and whiskey which are all brewed on-site. 
When you've finished exploring, head back to the main road and snap a pic with the "Big Apple", one of Australia's "big things" that can be found all over the countryside.
If you're interested in getting your wining journey started in this area as well, Summit Estate Wines, one of the largest and most famous wineries in Stanthorpe, is also located in Thulimbah.
Lunch - The Little Larder Cafe
Once you've explored Thulimbah and the villages north of Stanthrope, it's time to drive into town! Head to Maryland Street, which is the main street that cuts through Stanthorpe's town center. Many of the town's restaurants, bakeries, and other businesses line this street. Since there's plenty of parking available here, it's a good place to stop, explore the shops, and grab a bite to eat.
I recommend checking out the Little Larder Cafe, which is located off of Railway Street but can also be reached through Farley Street Plaza on Maryland Street. It's a highly rated cafe and coffee shop where I had what might be the best chai latte ever. The cafe has modern Australian menus serving breakfast, brunch, and lunch in cool homestyle vibes.
Afternoon - Stanthorpe Visitor information Center, Park, and Red Bridge
After lunch, walk or drive over to the Stanthorpe Visitor's Information Centre, which is located across the Maryland Street bridge on the other side of Quart Pot Creek. The information center is a great source of information to chat with a Southern Downs local, as well as collect pamphlets and maps for the rest of your Stanthorpe 3-day itinerary (Hint: pick up a Girraween National Park map, and book a wine tasting tour!)
Snap a photo of the Stanthorpe "Big Thermometer" too, another one of the "big things" of Australia.
Alongside the information center is Quart Pot Creek, the main river that winds through Stanthorpe town. The river is lined by a number of beautiful parks in both directions, and a great place to rest, have a picnic, or stretch out. There are even some small granite boulders that you can climb around to warm up for a bigger hiking day the next day! 
I recommend walking the length of the park towards the Red Bridge, which is a beautiful old railroad track that crosses high above the creek below.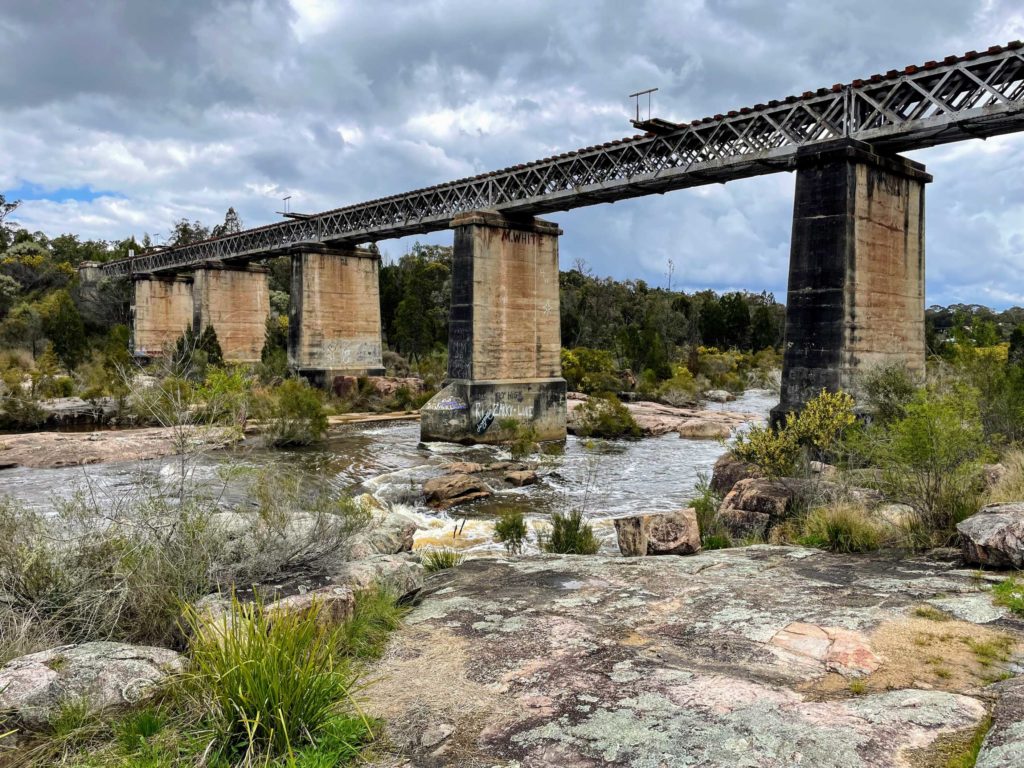 Evening - Granite Belt Brewery or the Pizza Place
Depending on your taste or if you're traveling with kids, head to the locals' favorite pizza shop, The Pizza Place, or the Granite Belt Brewery Restaurant for dinner and a night cap.
The Pizza Place is located on Railway street across from the Larder Cafe, and is easily accessible from town center. This homey and budget-friendly pizza shop serves up a massive variety of pizza toppings, and is sure to please every member of the family. 
The Granite Belt Brewery Restaurant is a short drive outside of town, and is known for its awesome beer paddles and accompanying chef's special meals. Their sophisticated dinner is served as a 2-course or 3-course meal (with kids menus available as well). 
Day 2 - Tour the Granite Belt wineries
The population of the Granite Belt area may be small, but there are a whopping 50 wineries and 40 cellar doors here! No Stanthorpe itinerary is complete without indulging in a bit of local wine. Day 2 of this 3-day Stanthorpe and Girraween Itinerary is a perfect one for wine lovers, or lovers of unique experiences and exploring the Australian countryside.
Morning - Foxy's Bakery, Railway Station
Before you get started with the boozing, be sure to fill up on a few carbs so you make it through the entire tour without falling asleep or worse! In the morning, check out Foxy's Bakery on Maryland Street, which is a large bakery and coffee shop immensely popular with the locals for their pies and sausage rolls, which they sell an incredible variety of. Foxy's large interior is very accommodating for large groups, and the ready-made pies, pastries, and sandwiches mean you can be in and out (and ready for your full-day Stanthorpe wine tour) in a heartbeat.
If you're embarking on a half-day wine tour and have a few extra hours to spend in the morning around Stanthorpe, check out the Tourist Steam Train Railway Station in town, another historic building in Stanthorpe. It's located on a large property with a number of beautiful gardens to explore, an art gallery, and has a cafe open for scones and tea on the weekends.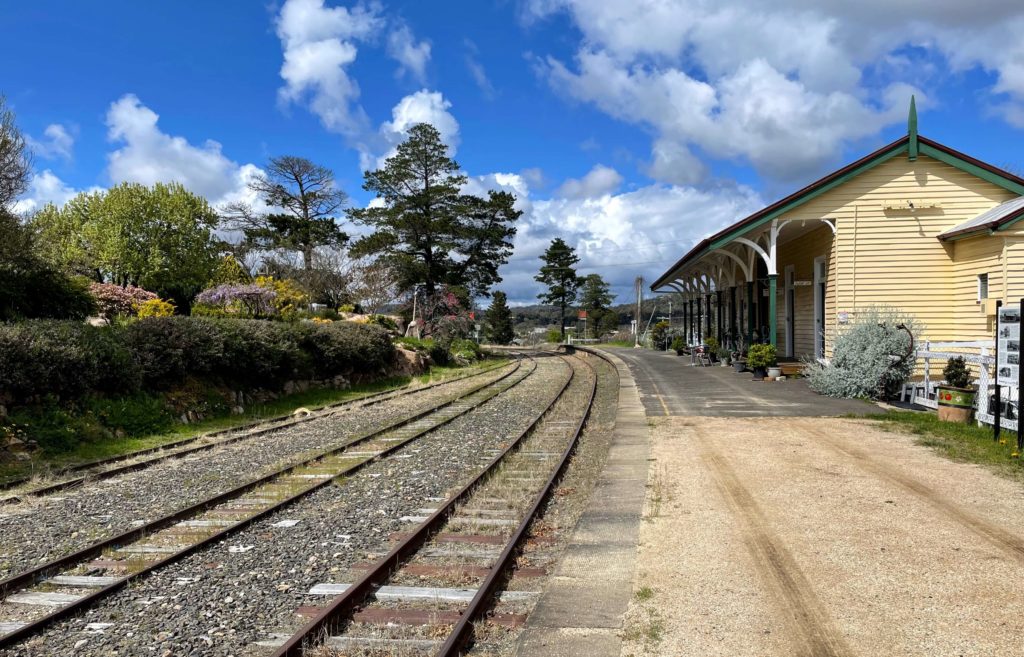 Afternoon - Stanthorpe full-day or half-day wine tour
Book a wine tour with one of Stanthorpe's wine tour operators. Because there aren't too many tour operators in this small town, it's best to book ahead to secure a spot for your group.
Here are your options:
Filippo's tours (Stanthorpe tours) – The most well-known tour provider in Stanthorpe specializes in full-day tours but also offers Friday afternoon "quickie" wine tours as well. 
Granite Highlands Maxi-Tours – This group offers half-day, full-day, and private wine tours catering to every interest. 
Royal Tour Oz – The quirkiest of wine tours in Stanthorpe, guide Wolfgang/Tim provides a full day of stories and entertainment in this popular private tour option.
If you have a designated driver and are happy to DIY your wine tasting experience around Stanthorpe, just choose a few of the wineries on this map of Stanthorpe wineries and hit the road!
You can also try the Strange Birds wine trail of Stanthorpe, which highlights the wineries in the region who are making unusual and alternative wines. To make it on the list, wineries need to make their wine from a variety of grapes representing less than 1% of the wine grapes grown in Australia. 
Once you've had your fill of Stanthorpe wines (and had a nap if needed), head to O'Mara's Hotel for dinner. This historic building has been a landmark of Stanthorpe since the 1800's, and is still operating as a bar, restaurant, and hotel today. 
Try some classic Australian pub meals here, soak in the historic ambiance, and call it an early night for a big hiking adventure the next day.
Day 3 - Girraween National Park
The last day on your Stanthorpe 3-day itinerary is visiting Girraween National Park. This day is all about immersing yourself in nature and exploring the natural wonder that is the massive granite boulders and monoliths of the Granite Belt.
Girraween means "place of flowers" in the local Aboriginal language, and is known for not just its granite boulders but its beautiful and rate wildflowers too. Visitors in spring will be treated to an array of yellows, reds, and purples, in addition to the evergreen gum trees and blue-green lichen on the granite rocks.
Entry to Girraween National Park is free, and there are restroom and picnic facilities available for use as well as a small, un-manned information center.
Note: There are no food and restaurant facilities in Girraween National Park, so either pack a picnic, or plan on leaving the park for lunch and then coming back.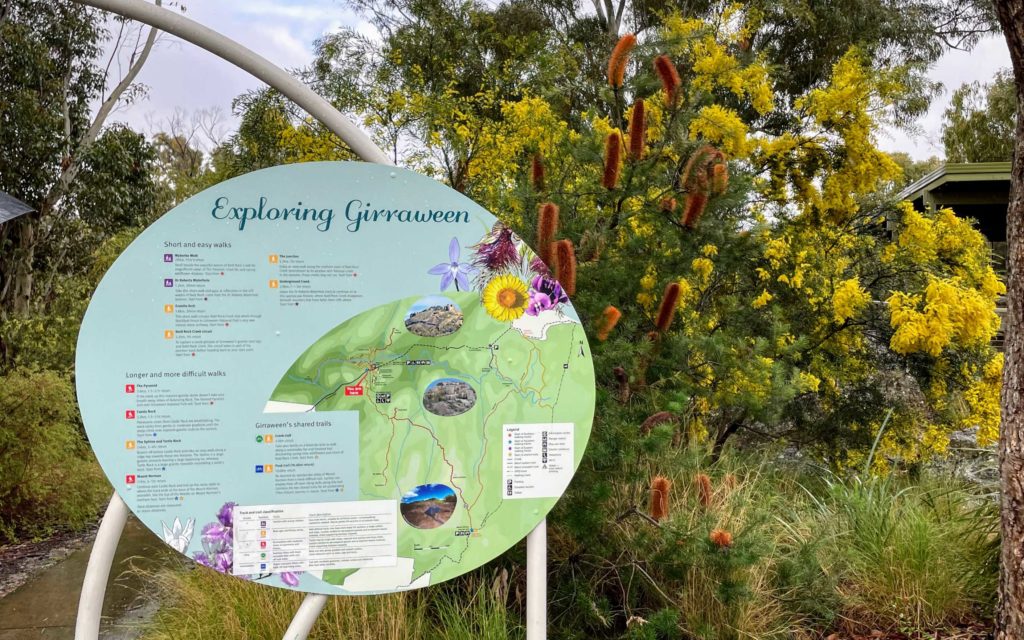 As part of this Stanthorpe 3-day itinerary, you can stay the entire day at Girraween National Park for Day 3 if you're spending the night in Stanthorpe. 
Alternatively, you can spend a half day at Girraween and spend the evening driving back to your home city to complete this Stanthorpe and Girraween itinerary.
Stop by Stanthorpe's popular Zest Pastries for an on-the-go breakfast before heading to Girraween. In addition to a selection of unique pies, pastries, and rolls, Zest makes homemade sourdough loaves, quiches, and hearty salads too. 
Catch up at Zest for an early sit-down breakfast, or grab some food to go to start the drive to Girraween.
Morning, continued - The Pyramid Hike
Girraween National Park is located 30 minutes south of Stanthorpe by car, at a turn off well-marked from the highway. The park has two main hiking sections: a circuit of shorter trails make up the Northern Walking Tracks, and longer more challenging trails to the south make up the Southern Walking Tracks. Both north and south track trailheads start at roughly the same area, near the Visitor's Information Centre, picnic area, and parking lot.
Out of all the different hikes at Girraween National Park, I recommend the hiking the Pyramid for an extraordinary Granite Belt adventure. The Pyramid trail takes you up the side of a granite monolith all the way to the summit. The hike itself is not long and can be completed in an hour, but the steepness of it, and the feeling of accomplishment at the top, makes this an epic hike to undertake.
Read my essential guide to hiking the Pyramid here!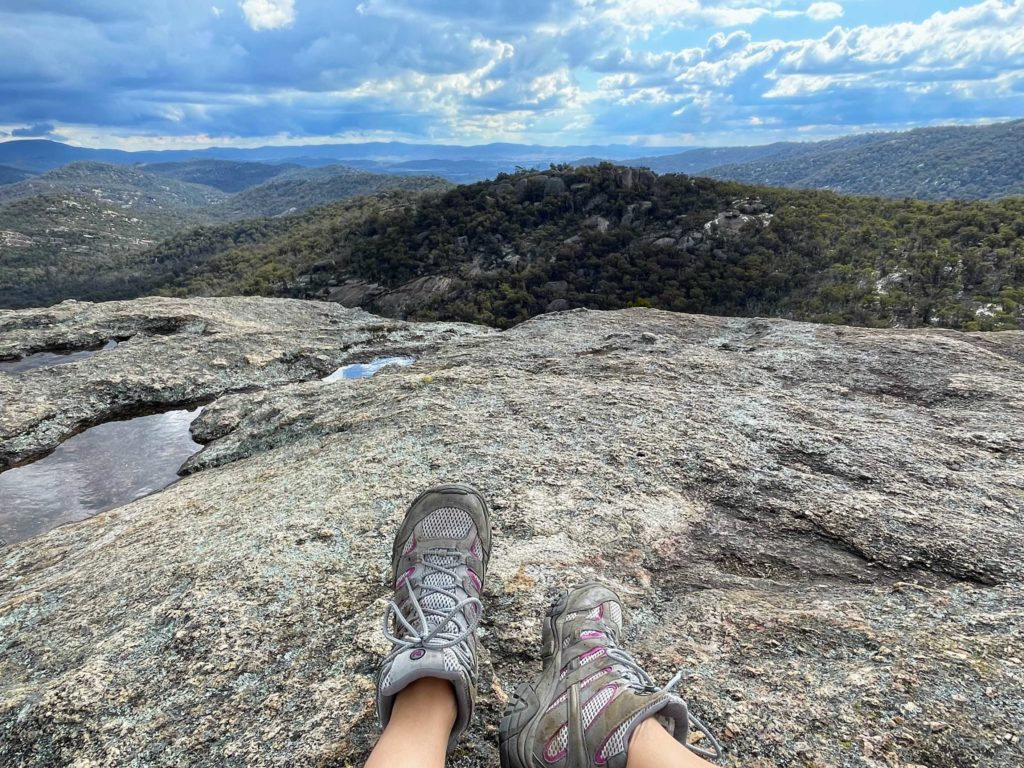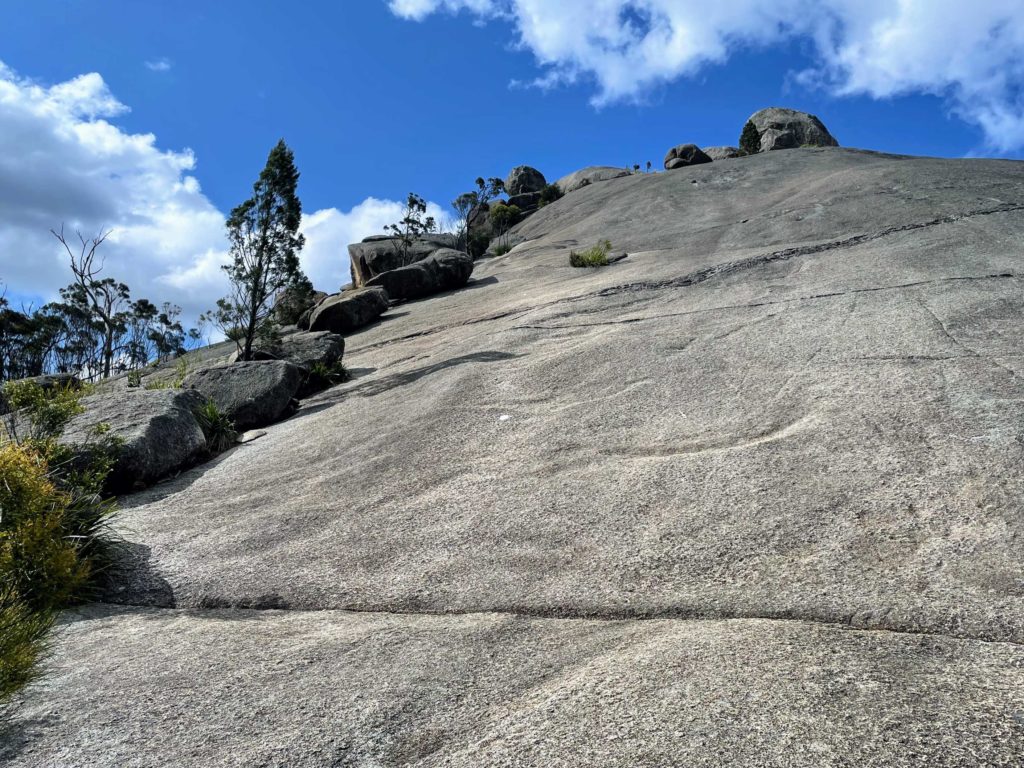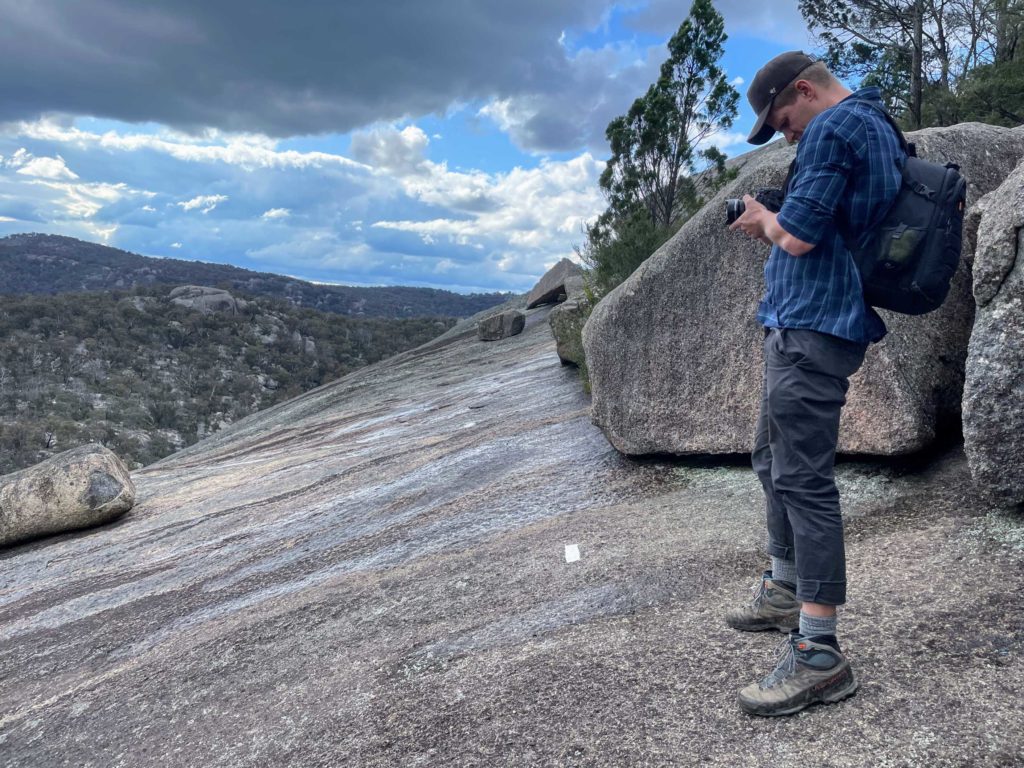 Afternoon - Picnic Lunch, Second Girraween Hike
Back at the car park, secure a picnic bench or lay out a picnic mat to have a rest and some lunch. Keep an eye out for some shy kangaroos can be spotted in this area during the day. If you didn't bring any food, you'll have to backtrack to a nearby cellar door or small town cafe to pick some up. 
Like I mentioned previously, you could also complete your Stanthrope 3-Day itinerary here, in order to drive home. If you have more time to spend in the Granite Belt of Queensland, keep reading! 
Once you're rested and fueled up after the Pyramid, hit the trails again on a second Girraween National Park hike. If you're looking for a cruisy afternoon, wander the rest of the North Walking Tracks. These tracks line Bald Rock Creek, and take you to some awesome granite rock formations like the Granite Arch. Most trails here are suitable for all fitness levels, including little legs, and are short and sweet.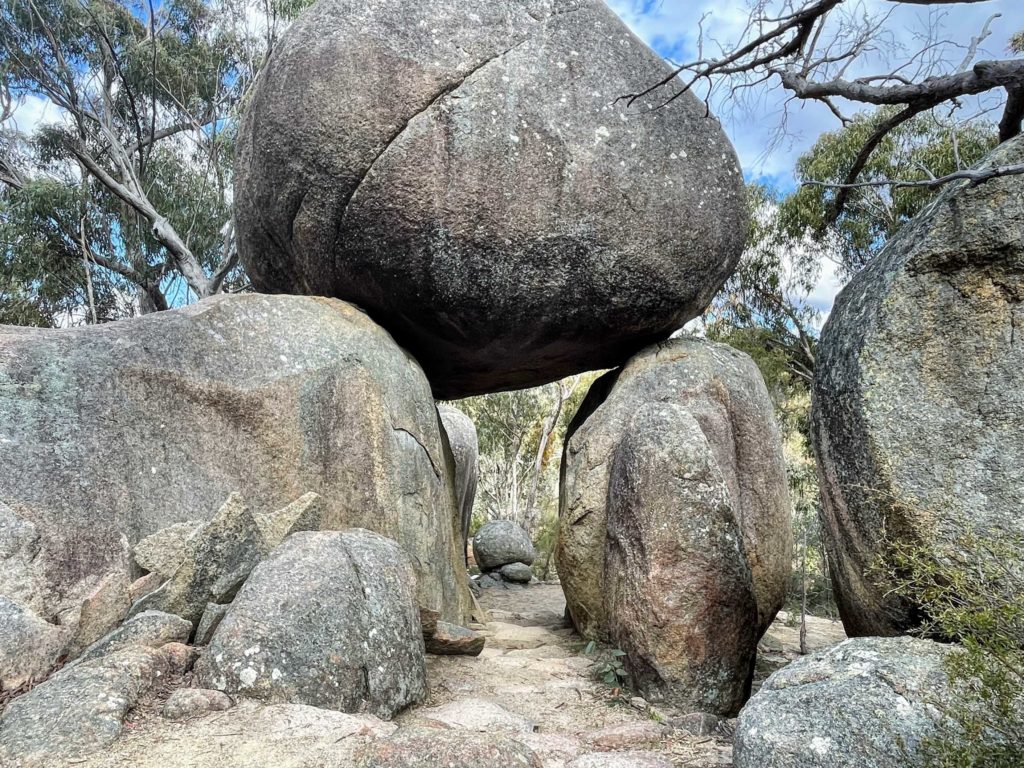 For longer hikes at Girraween National Park, head to the Southern Walking Trails.
We embarked on the Turtle Rock and Sphinx hike, which took about 3 hours round-trip. The trail was wide, well-kept, and easy to follow. Aside from the length, I believe this trail would be suitable for all fitness levels as well. Turtle Rock and the Sphinx are two massive granite rock formations, but there were many more amazing structures to behold along the trail. We saw two wallabies on this hike too! 
Check out my guide to this amazing hike here.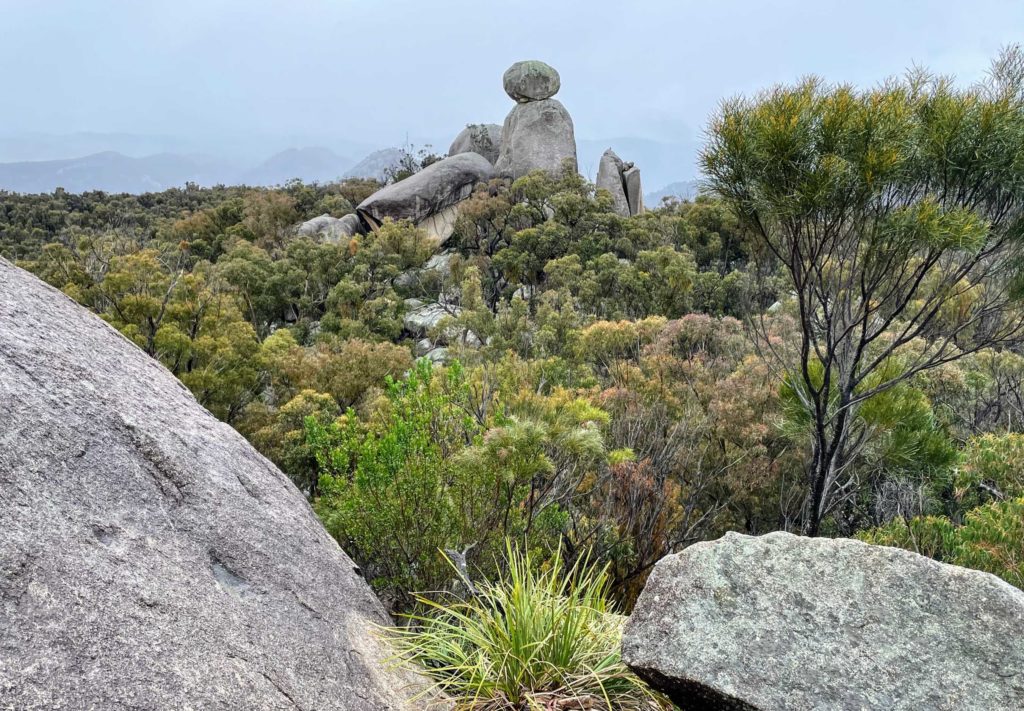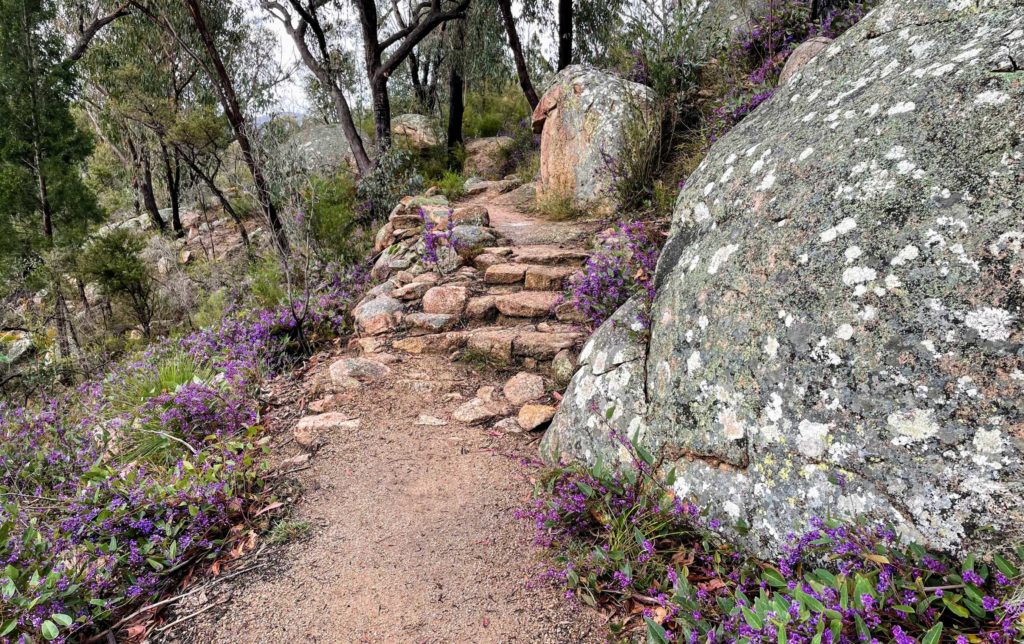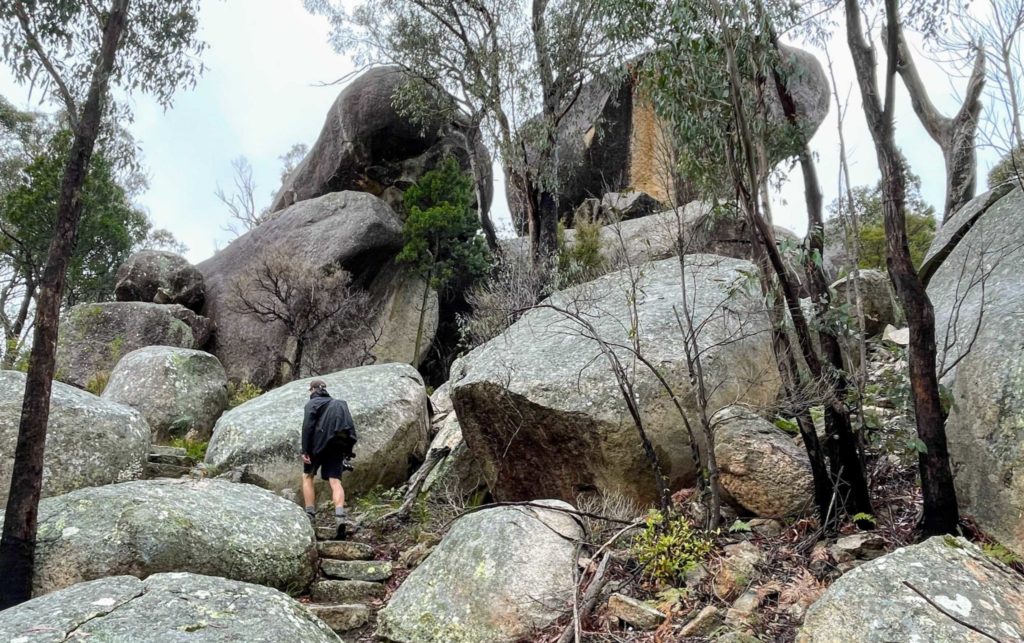 Evening - Mowbray Lookout, Trendy Dinner
After returning to Stanthorpe, give your legs a rest in the evening by driving up to Mowbray Lookout, overlooking Stanthorpe. It's a great place to enjoy the sunset at one of their picnic tables or benches. You can also use the free binoculars to spot your favorite Stanthorpe landmarks.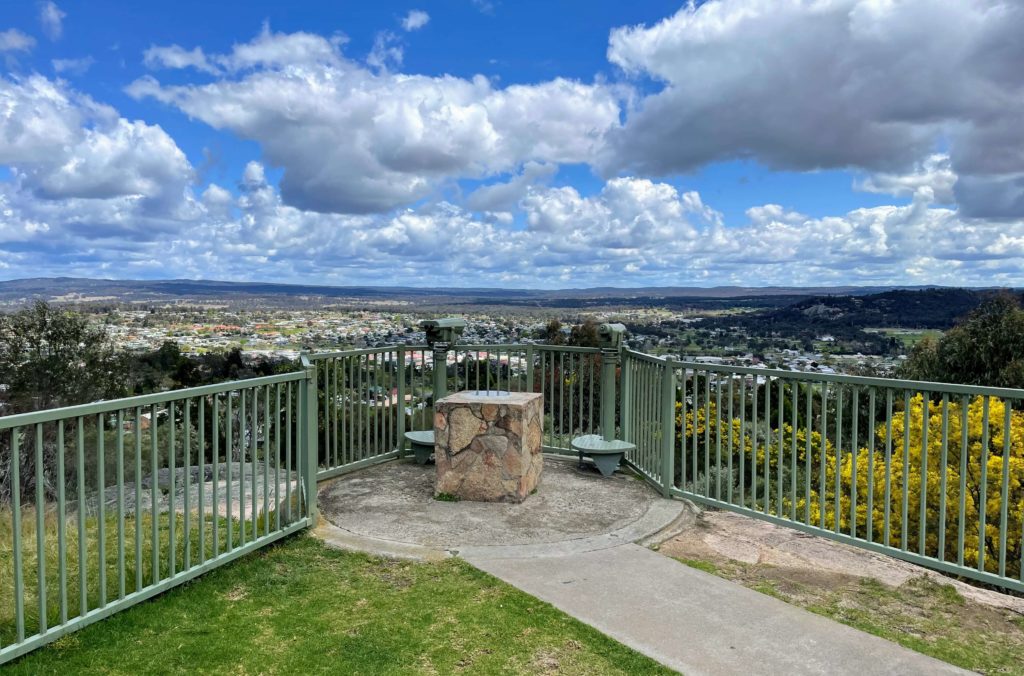 For your last dinner on this 3-day Stanthorpe Itinerary, head to one of the highest rated restaurants in town: Essen for German food, or Hanasaku for Japanese.
If you're interested in an after-dinner drink in Stanthorpe town, check out the classic Aussie pub on the ground floor of the Central Hotel & Bistro, located on High Street.
That's the end of my Stanthorpe and Girraween 3-day itinerary! From wineries to country towns and granite monoliths and epic hikes, this itinerary hopefully gives visitors a great introduction to the Southern Downs and Granite Belt region of Queensland. 
If you're traveling further east in Australia, check out my Sydney to Brisbane coastal road trip itinerary or things to do in Brunswick Heads, NSW. 
Pin this 3-day Stanthorpe Itinerary!