Belize is a beautiful country located a quick flight south of the U.S.  Home to beautiful islands, snorkeling and rainforest adventures, it's shocking that Belize is not overrun by tourists! This former English colony retains its culture, charm, and laid-back attitude to enjoying life. Out of all the beautiful places to visit as part of a Belize itinerary, Caye Caulker tops my list. 
While many travelers fly to the Caribbean to enjoy the beach, the lesser known Caye Caulker island in Belize is an amazing location to enjoy similar relaxed vibes. Whether it's a romantic getaway, a weekend escape, or a backpacking adventure to explore a new country, this Caye Caulker Travel Guide will ensure your trip to Belize is un-BELIZE-able! 
The Best Time to Visit Caye Caulker
Caye Caulker stays at a comfortable 70-80 degrees year round, so you can visit any month of the year and still get some sun.
The dry season in Belize is between November-April, and the rainy season starts around June or July. Rain only comes in short bursts though, and helps to cool down the hot summer temperatures, so you can still enjoy Caye Caulker during the rainy season. 
Depending on your tastes, the best time to visit Caye Caulker might be during its annual Lobster Fest. This famous festival takes place at the end of June, and is the 'Biggest Lobster Fest in Belize'. Not only will you get to sample massive lobster, but there are also fun activities like a Lobster Fest Pageant, live performances, and beach parties.
How to Get to Caye Caulker from Belize City
If you're visiting Belize, you'll likely arrive via Belize City Airport, which offers cheap flights to and from the U.S. 
From the Belize City airport, take any taxi waiting outside for $20 USD (or $40 Belizean dollars) to have the driver take you to Belize City's taxi boat station. 
Caye Caulker is accessible by taxi boat from mainland Belize, which depart from Belize City's taxi boat station.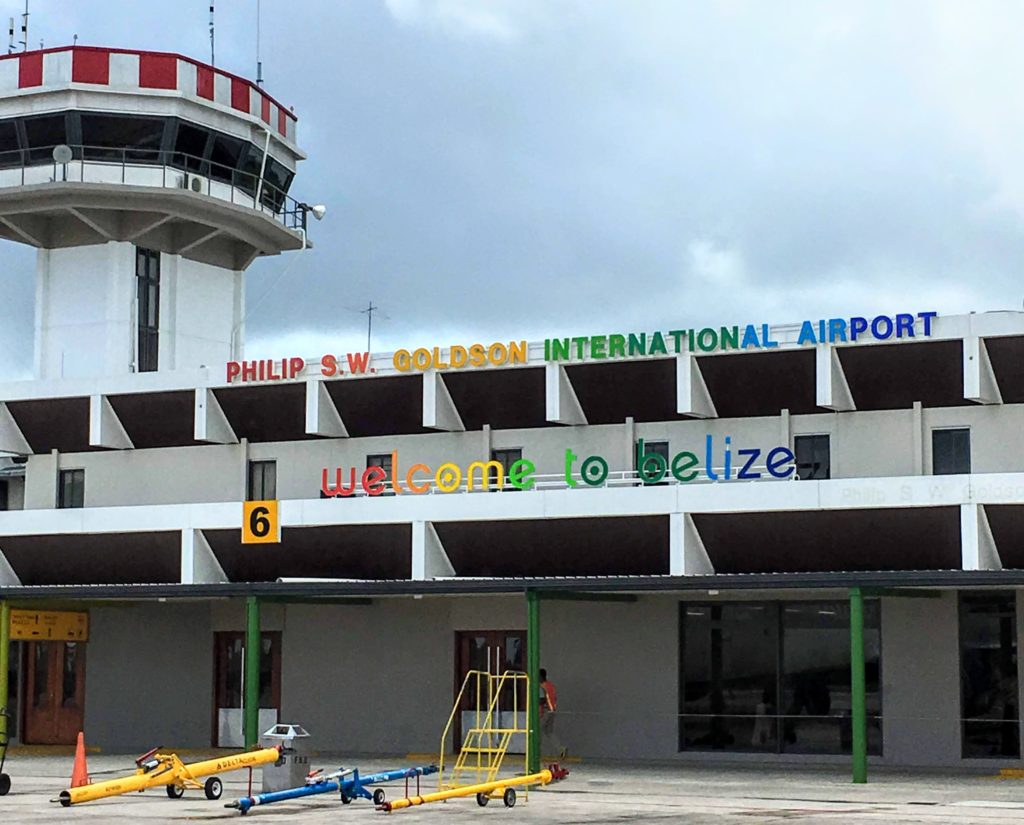 Getting Taxi Boat Tickets
At Belize City's taxi boat station you can purchase tickets for the next open departure to Caye Caulker. One-way tickets cost $25 USD, and round trip tickets cost $40 USD. If you're only visiting Caye Caulker while in Belize, it's best to purchase a round-trip ticket because they have an open return date. 
If you plan to take add San Pedro island to your itinerary, or leave to Chetumal, Mexico from Belize, it's best to just book a one-way ticket and purchase a return on the islands as needed. 
Waiting at the taxi boat station is enjoyable with the many picnic tables, restaurants, and Belizean souvenir shops where you can pass the time. 
The taxi boat ride to Caye Caulker takes about two hours, where you'll pass some other islands on the way. Don't forget your sunscreen and hold on to your hat! 
Where to Stay on Caye Caulker
There are many amazing places to stay on Caye Caulker. Here are some of my recommendations:
Budget: 
Bella's Backpackers – One of the longest-running backpacker hostels in Caye Caulker is a perfect spot for budget travellers looking for a social hostel vibe. 
Go Slow Guesthouse – This budget guesthouse has a laid-back vibe and makes a convenient home base near the Split pier on Caye Caulker
Mid-Range: 
The Bottle Tree House – This three-bedroom house the perfect place to stay for large groups. It allows for a bit of privacy with its garden and balconies. 
Colinda Cabanas – These colorful cabanas, complete with hammocks and sea views will make you feel right at home in Caye Caulker.
Luxury: 
Seaside Villas – Look no further than these villas if you're after all your must-have comforts and amenities, with a bonus sea view and rooftop attached! 
Bonita's – These seaview villas are rustic on the inside but tropical on the outside. Pool included! 
Things To Do on Caye Caulker
Go snorkeling – There are plenty of options on Caye Caulker to book half-day or full-day snorkeling tours. You can go on a private tour or as part of a small group out on the water, where you can jump in to explore the second largest barrier reef in the world. Stops include shark-ray alley where you can swim with nurse sharks and string rays, and other scenic spots filled with coral and colorful fish. 
Go diving – Belize is famous for its many incredible diving spots, including the picturesque Blue Hole, which is a giant marine sinkhole you can dive right in to! Many diving tours depart from Caye Calker to take you to the Blue Hole.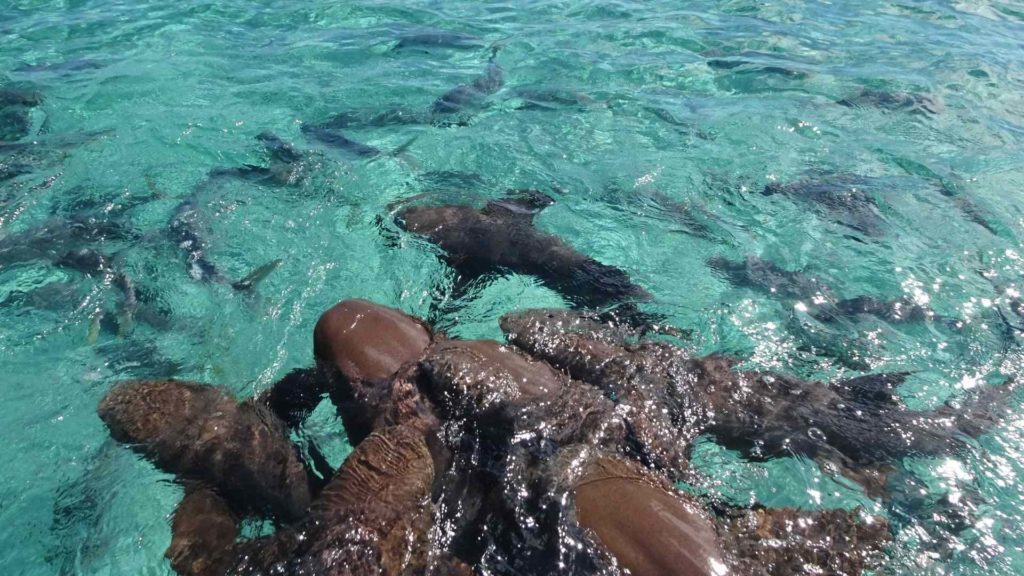 Chill at the Split – Right at the end of the main island is a large dock and bar, perfect for tanning or hanging out with other tourists and locals. When it gets too hot it's easy to jump in the water (watch out for the current) or grab a Belikin beer from the bartender. 
Chill at the pier – There's a more hidden place to relax by the water on the west side of the island. Local kids will be hanging out and splashing in the water by you here.
Rent a kayak – Most tour agencies or many hotels on Caye Caulker will have a kayak that you can rent for a couple of hours! Check out the west side of the island, because the current is very strong on the east side. 
Tour to mainland Belize from Caye Caulker – tours include caving or tubing, or exploring Mayan ruins! 
Where To Eat on Caye Caulker
Countless nice restaurants and pubs line Caye Caulker's main street and the sandy path along the shoreline. Any of them will give you a nice fill of fresh lobster, one of the main dishes of Belize. 
If you want to eat copious amounts of seafood, check out 
Wish Willy's
 bar & grill. Located right on local Belizean Willy's front lawn, Wish Willy runs a massive barbecue and rum punch operation. Choose from a seafood or vegetarian set meal, and be filled to the brim with delicious, freshly-caught seafood (or curried vegetables!)
If you're staying on Caye Caulker for a while during your Belize itinerary, you might want to sneak in a cheap meal at one of the island's few Chinese restaurants. Fried noodles, fried rice, and stir-friend vegetables can be a nice change from seafood and beans. 
What to Pack for a Caye Caulker Island Getaway
Really, this is all you need for Caye Caulker, since you can walk around the entire island barefoot wearing only your swimwear. The island vibes are strong here.
Money and ATMs on Caye Caulker
There are a few ATMs and banks on the island where you can withdraw Belizean dollars or USD. Be aware that they are not always working, and may be closed on the weekends! It's best to take money out before you need more, so you have a little left to keep you going if the ATMs are empty or not working. Many places also accept card as a form of payment. 
Tip: The Belizean dollar is tied to the USD at a static conversion rate of 2:1. Both USD and Belizean dollars are widely accepted at stores and restaurants around Caye Caulker, so practice your x2 multiplication tables!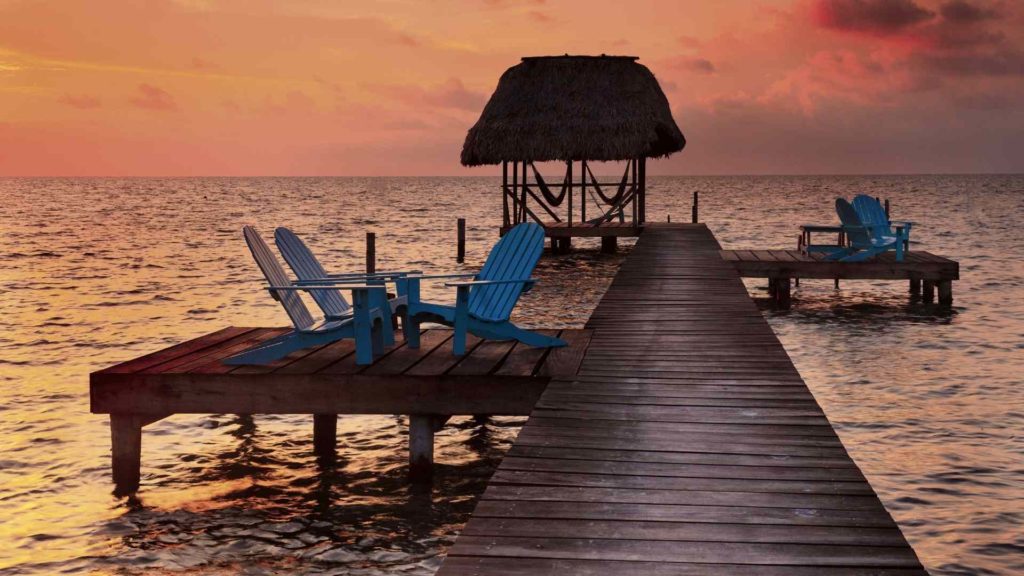 Caye Caulker's neighboring island, San Pedro, is larger and home more tourist-oriented restaurants, bars, and hotels. If you want to live a bit more luxuriously or take in a change of scenery, take a taxi boat from Caye Caulker to San Pedro for $28 USD. The taxi boats depart several times per day and take only 30 minutes. 
Head from Belize to Mexico, the easiest way being by taxi boat to Chetumal. From Caye Caulker it's $55, and San Pedro, $50 to reach Chetumal. You can also backtrack to Belize City then travel overland to Mexico.
There are several nice villages along the coast of mainland Belize, including Hopkins and Placencia. 
Places to Visit After Caye Caulker:
Pin this Caye Caulker Guide!