Meow Wolf in Denver's Convergence Station is one of the most unique interactive art installations in the world. Since its Denver grand opening in September 2021, Meow Wolf has been an immensely popular Denver destination, drawing in all types of people to explore its exhibits.  
Before visiting Meow Wolf, there are a few things visitors should know to be prepared and make the best of their experience. 
Here are some of my top tips for visiting Meow Wolf at Convergence Station in Denver!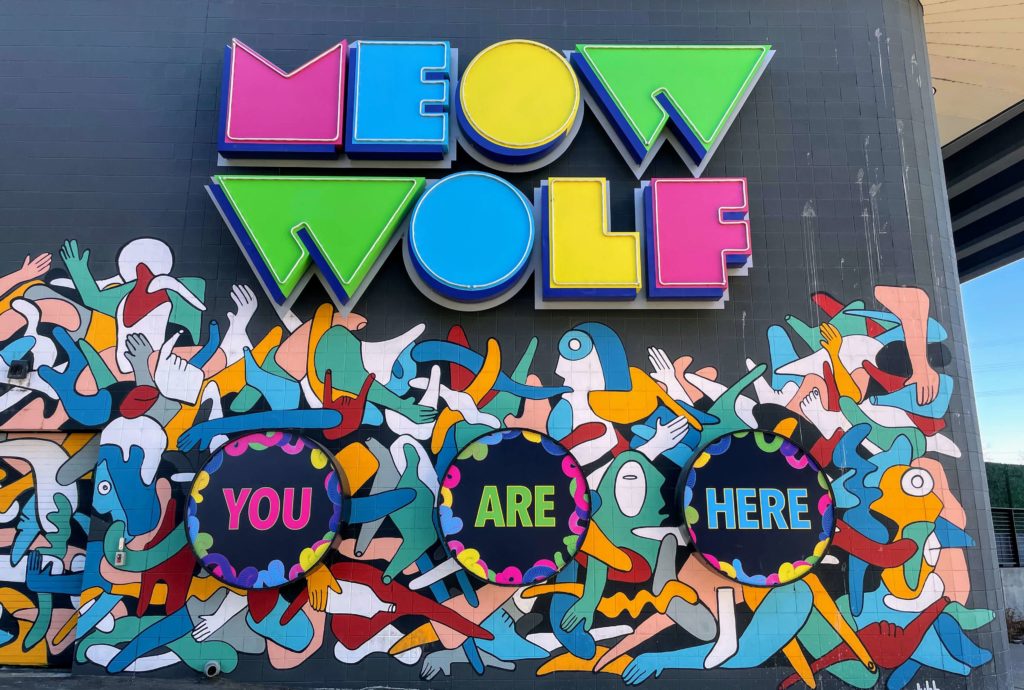 Basic Information for Visiting Meow Wolf in Denver
First, some of the basics about visiting Meow Wolf at Convergence Station in Denver:
Opening times: Meow Wolf is open every day from 10am to 10pm, with the exception of Friday and Saturdays when it is open from 10 am to midnight.
Location: Meow Wolf is located at 1338 1st Street, Denver CO, 80204. It can be found on any navigation app as Meow Wolf Denver Convergence Station 
Ticket prices to visit Meow Wolf in Denver are listed below. 
Adults – $45

Children (5-13), Seniors, Military – $40

Colorado residents (with ID) – $35
Tickets are purchased online through the Meow Wolf website.
The Story Behind Meow Wolf
Entering Meow Wolf means entering the "Multiverse", a universe different from the one that we're used to. The underlying story behind the Meow Wolf exhibits is that four parts of this universe all merged together to create a new one. The entry to Meow Wolf is supposed to be a centralized transit hub, the "Convergence" run by the company "Quantum" where you can begin your other-worldly adventure. 
Part of this universe is the QPASS, an electronic card where you can collect memories (more on that below). The universe also has its own mayor elected every 30 minutes, which visitors can vote for on kiosks throughout different exhibit rooms.
Overall, this immersive and interactive art exhibit allows you to choose your own destinations within it. The non-linear path connecting all the different rooms means you'll spend many hours exploring the "Multiverse" at Meow Wolf, Convergence Station in Denver.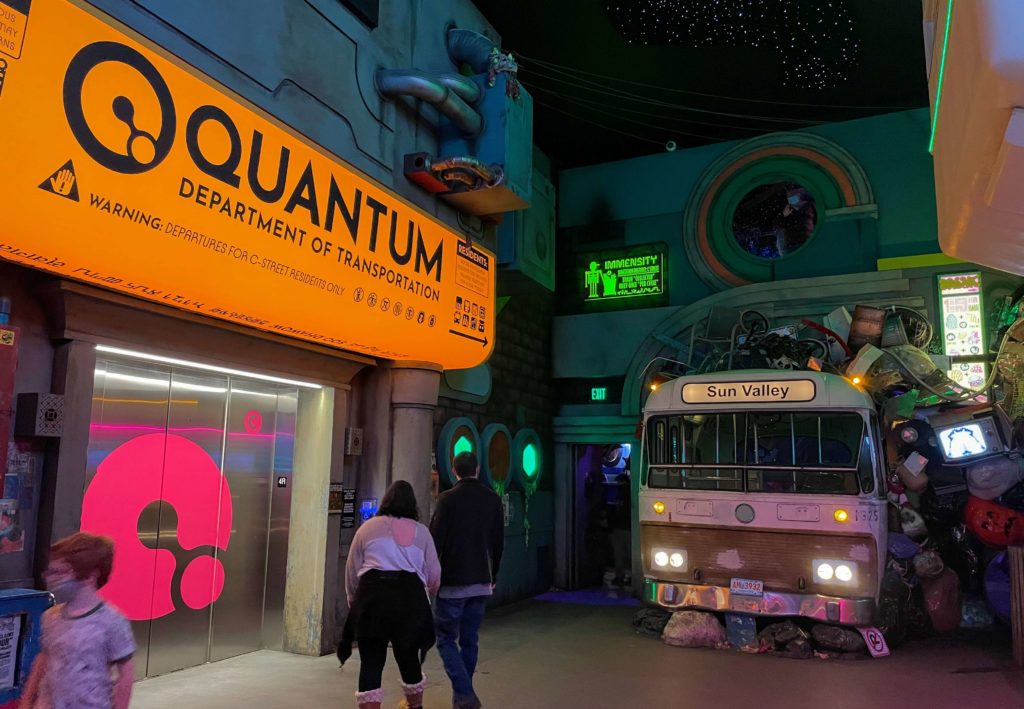 First time visiting Denver, Colorado? Consider purchasing a Denver City Pass for free and discounted entry to some of Denver's best attractions!
Tips for visiting Meow Wolf in Denver
Buy tickets in advance, especially for weekend visits – Since it's been less than a year since its opening, Meow Wolf tickets still sell out very quickly. If you don't want to be that person constantly refreshing the Meow Wolf tickets page waiting for cancellations, book a week or more in advance to secure your spot. Tickets for weekday and late-night are usually easier to snag, but weekend tickets sell out fast. 
Test your luck with walk-up tickets – Some same-day tickets to Meow Wolf can be purchased at the door. Based on last-minute cancellations, a number of tickets may be available for walk-up ticket purchases. If you're visiting Denver and find yourself with a few hours to spare, why not give Meow Wolf a try!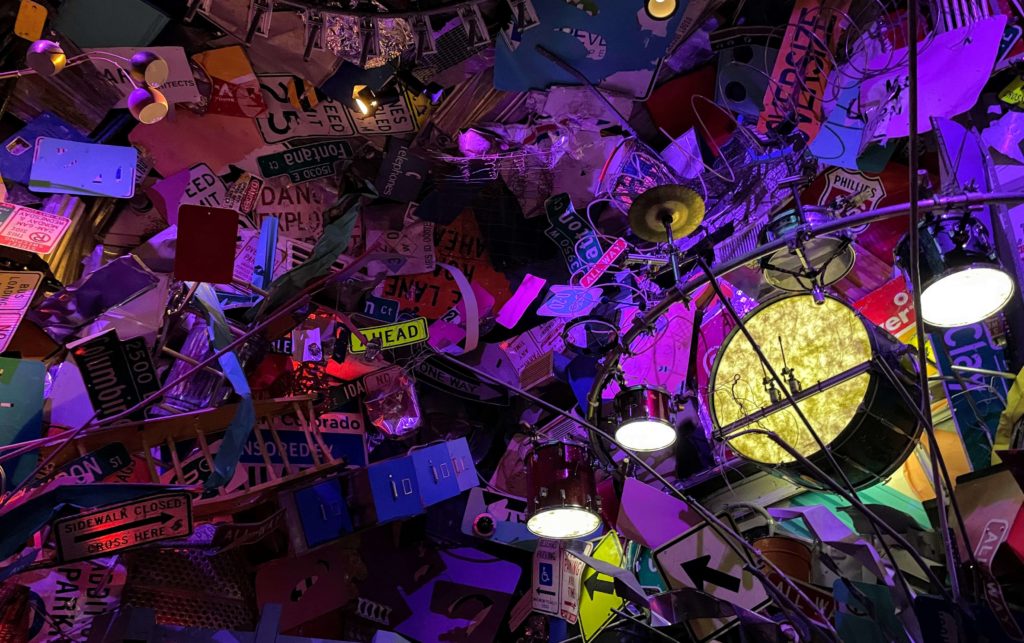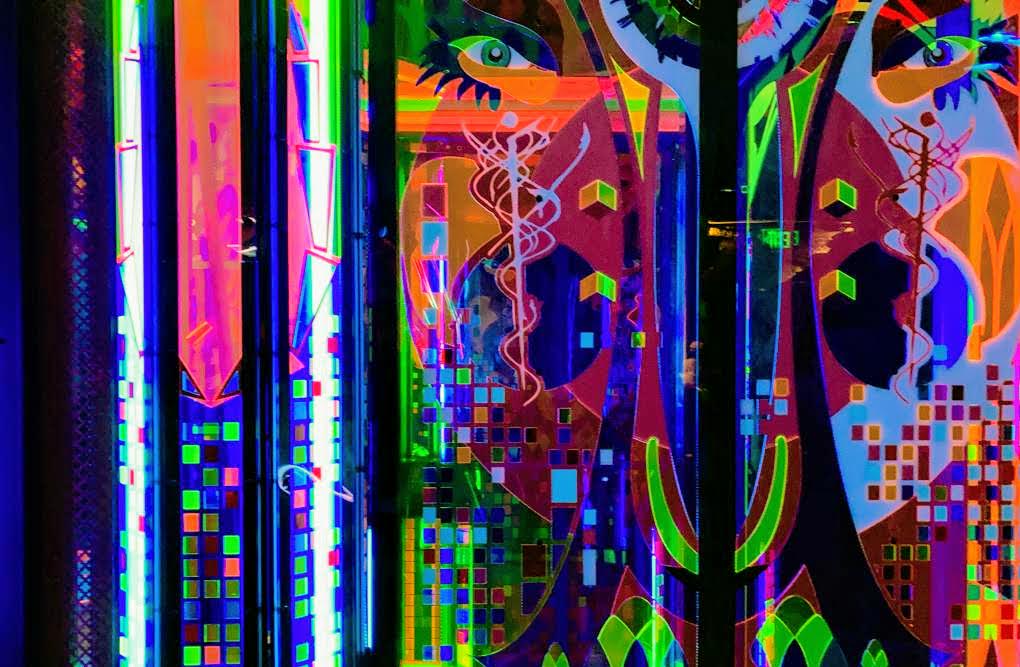 Getting to Convergence Station - Parking and Public Transit
Parking on-site – Parking is available on-site for $10 per vehicle. Denver's Convergence Station has its own parking lot, plus a smaller lot around the corner is also used for Meow Wolf visitors.
Public Transit to Meow Wolf – Two stops along Denver's light rail lines are within a 10-minute walk from Convergence Station and Meow Wolf: Colfax and Federal Transit Center station and Mile High Station. Check out other transit options outlined by the Denver Post. 
No parking on game days / Check the Empower Field schedule – Empower Field, home of the Denver Broncos NFL team, is located just next to the Denver Convergence Station and Meow Wolf. The Meow Wolf website warns that on game days, expect no parking to be available nearby. Check the Empower Field event calendar online here. 
If you're feeling adventurous and trendy, try getting to Meow Wolf using an electric scooter. These scooters are available all over Denver, and are ever-popular for zipping around the city.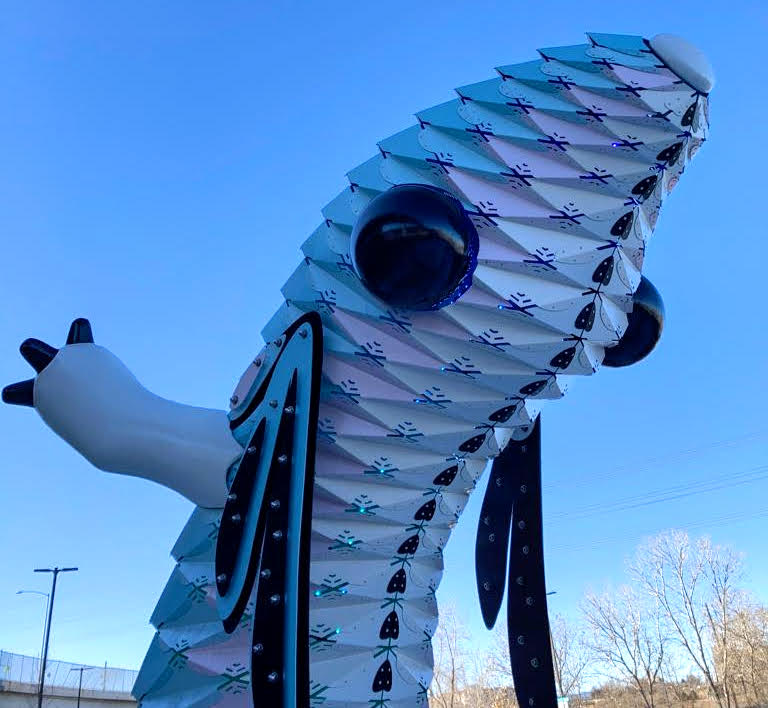 Entry Requirements for Meow Wolf Denver
Arrive on time – Meow Wolf in Denver adheres to strict entry times, required for managing crowds indoors. When I visited Meow Wolf, there were two lines forming at the door, for timed entry every 20 minutes. If you arrive more than 15 minutes late, you may be denied entry. 
Leave your big bags and 420 goodies at home – All visitors to Convergence Station must pass through metal detectors and a bag scan. In addition to bag size requirements, belongings are all checked upon entry. Although marijuana is legal in Colorado, no drugs are allowed inside Meow Wolf.
Wearing a face mask is mandatory – Strict mask-wearing rules are enforced at Meow Wolf in Denver. Face masks (not just handkerchiefs) must be worn at all times inside Meow Wolf. Staff warn visitors that even taking off your mask for a selfie will see you ejected from Convergence Station.
Dress up if you want to – The last tip for entry to Meow Wolf is a fun one: dress up! The employees working inside Meow Wolf are all wearing flashy, colorful, kawaii, and other eccentric clothing and accessories. It's a great place to get a fab Instagram photo while wearing artsy clothes (just keep your face mask on).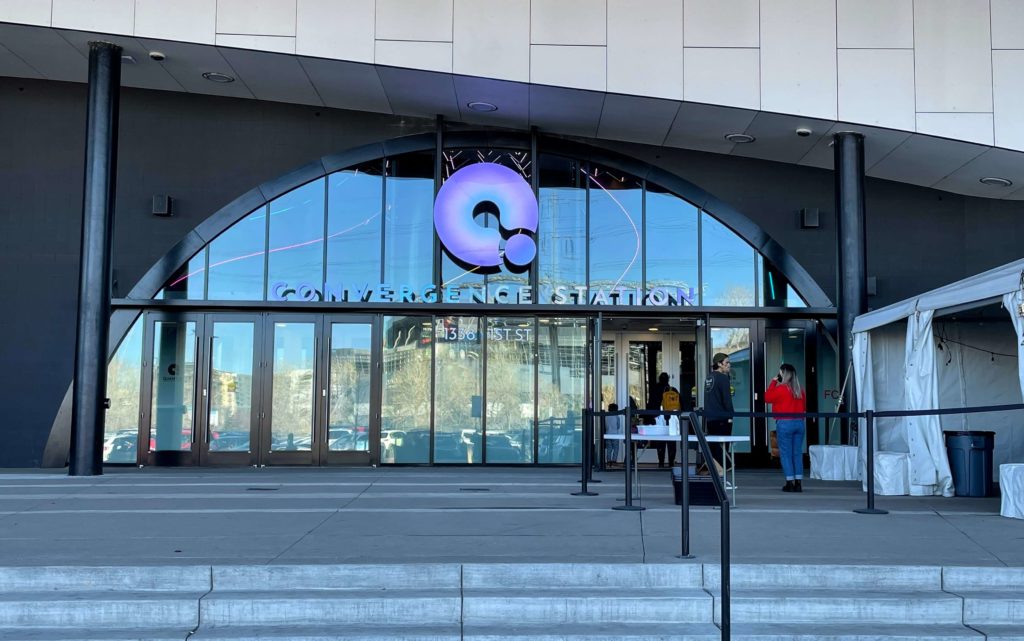 Facilities at Meow Wolf and Convergence Station
Food available on site – Meow Wolf has a restaurant on-site located just next to the main Convergence Station entrance called HELLOFOOD. They serve everything from rice bowls, wraps, and tacos, to kids meals, desserts, and even alcohol from local Colorado breweries. 
Plenty of Restrooms – Restrooms are available right at the entrance to Convergence Station. Visitors can also find restrooms all throughout the "Multiverse," tucked away in some of the quieter passageways. 
Meow Wolf gift shop – At the exit to Convergence Station, a large gift shop is available for visitors who want to commemorate their trip to Meow Wolf. The gift shops sells vinyl stickers, plushies and t-shirts, even some of the art that was seen within Meow Wolf.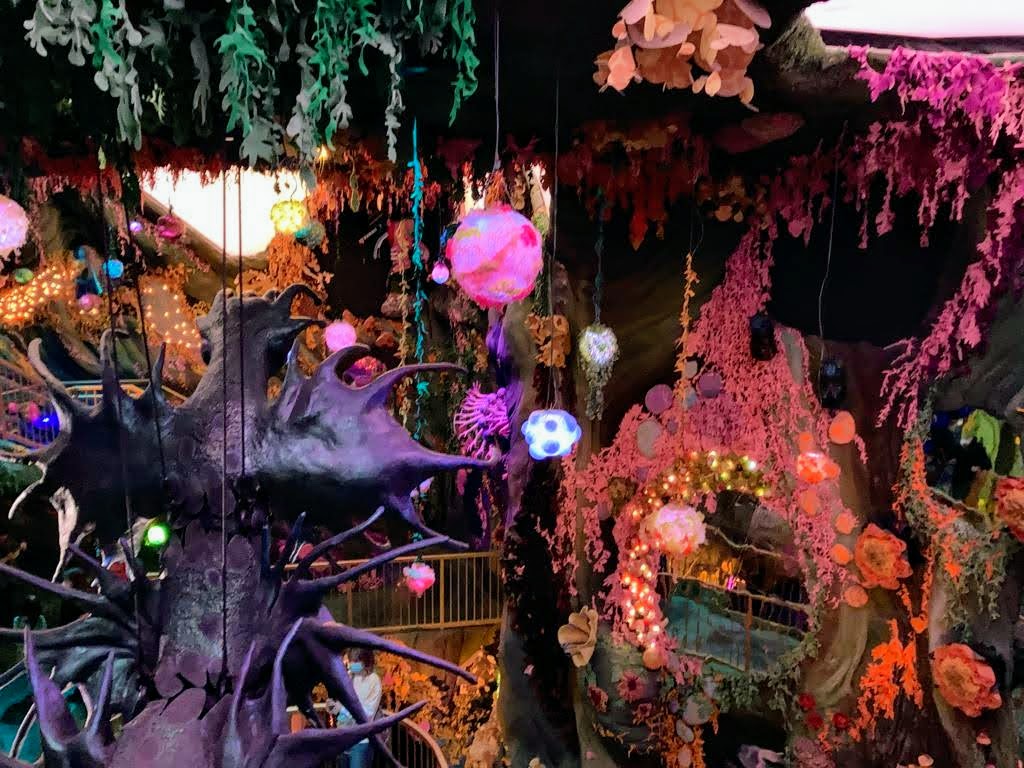 Enjoying the Exhibits at Meow Wolf Denver
Open-plan wandering – Meow Wolf inside Convergence Station is an open-plan art exhibit, with many rooms, hallways, and even secret passageways for visitors to move around. Each room was decorated by a variety of different artists, which makes it feel like a different world exists behind each door. 
Optional QPASS to collect Memories – Once inside the main entry to Meow Wolf, staff will suggest you pick up a QPASS ($3 per group). The QPASS is an electronic card that you can tap of different "Memory ATMs" throughout the exhibit rooms, to track the art you've seen. Using it, you can unlock an in-exhibit animation based on one of the artists. Learn more about the QPASS here. Although we opted to get a QPass, I didn't think it added much to our Meow Wolf experience.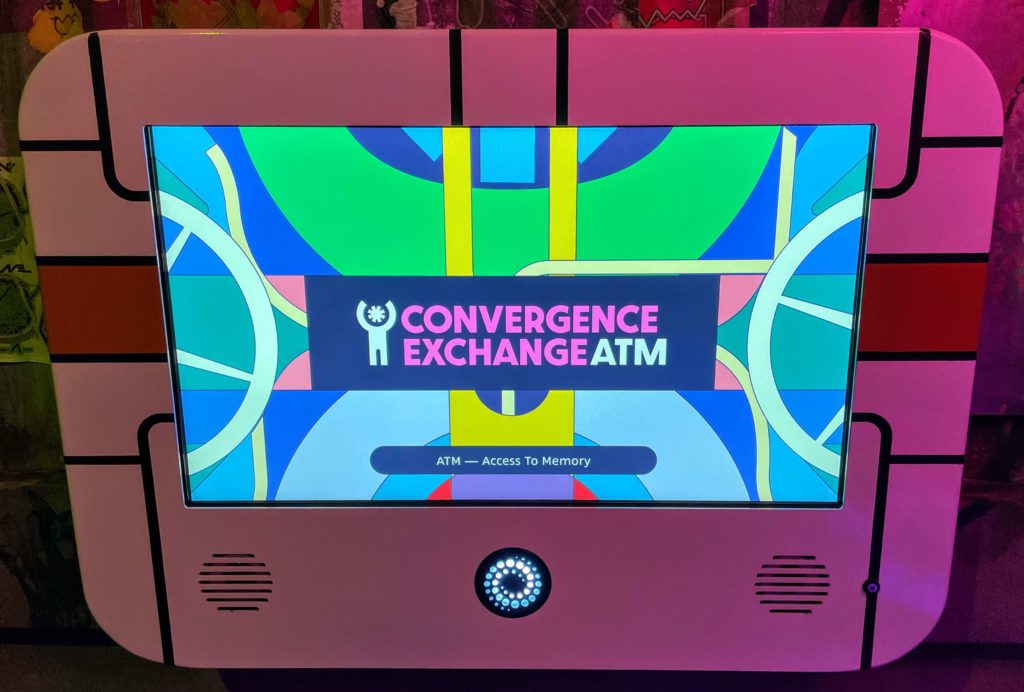 Child-friendly exhibits – Visitors might wonder whether there are child-friendly exhibits at Meow Wolf? Yes! Some rooms inside Meow Wolf might be a little creepy and nightmare-ish for young minds, but there are plenty of exhibits that little ones would love. My favorite room, also popular with the kids, reminded me of Teamlab Borderless in Tokyo. It looked like the inside of a church, but with virtual mushrooms growing on the walls and floors. Walk around on the light-up mushrooms to see them pop and send out spores!

Plan to stay at least 2 hours

– When I visited Meow Wolf with my parents, we stayed for about two hours wandering through the exhibits! The immersive art within Meow Wolf is a constant assault on all senses, so it can be overwhelming to stay for long periods of time. For artists and others very intrigued by these exhibits though, you could easily spend a half day or longer at Meow Wolf Denver.

Special Events at Meow Wolf – Convergence Station has a special stage inside of it for concerts and other shows to take place on the Meow Wolf stage. Check out upcoming events at the "Perplexiplex" on the Meow Wolf event page here.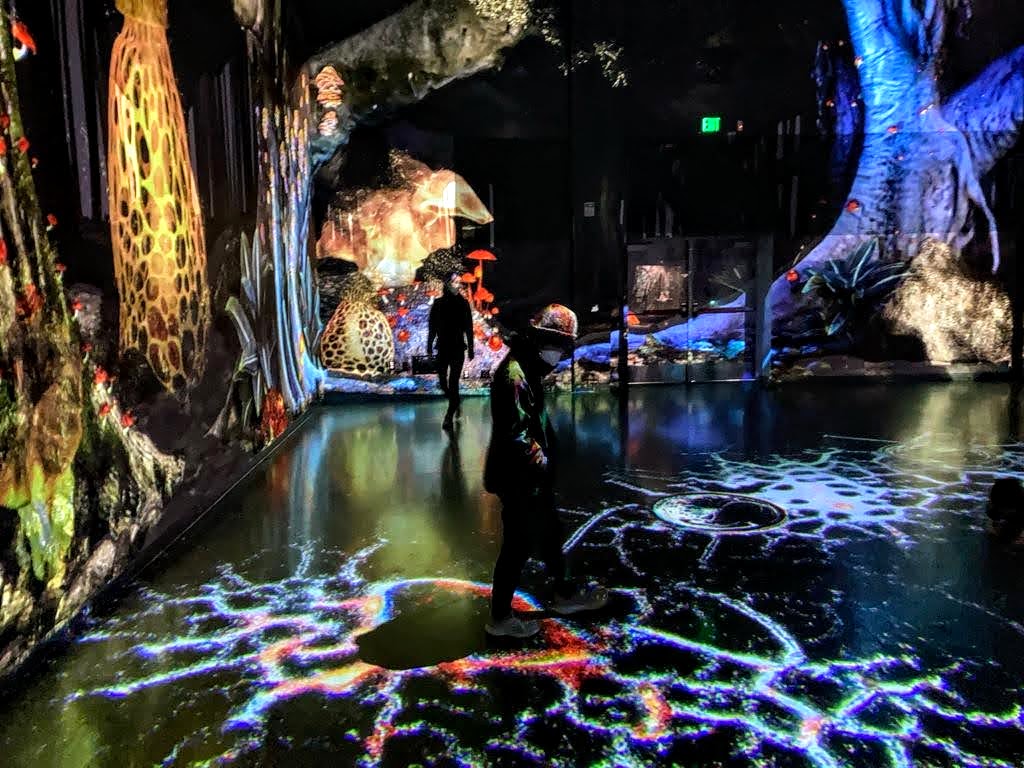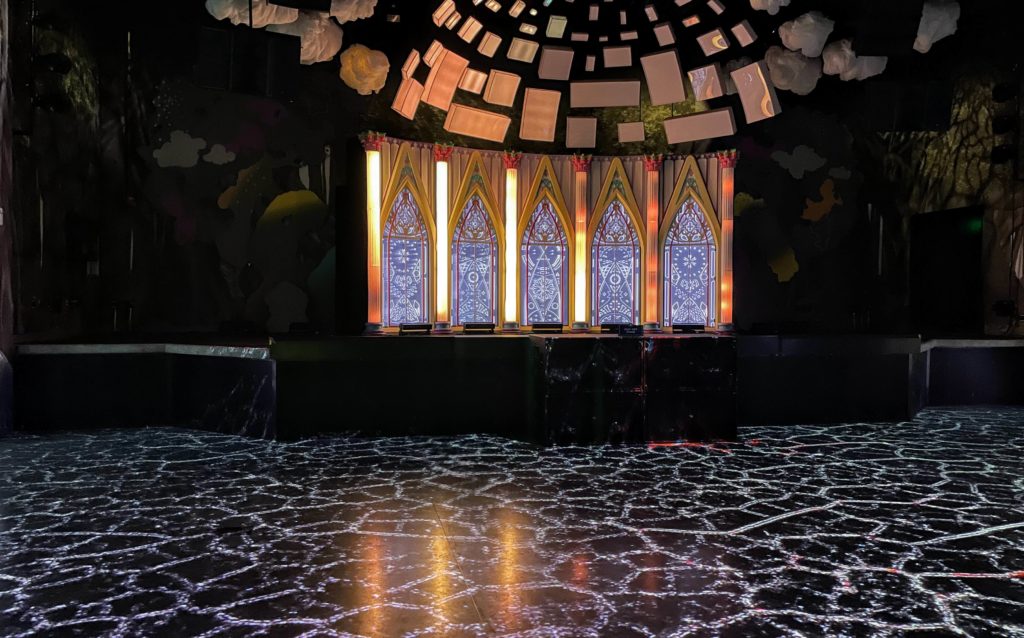 Visiting Meow Wolf in Denver? Pin this Post!