Snorkeling the Great Barrier Reef is a bucket-list item for many travelers, and there's no better place than Cairns to make these dreams a reality. From the Cairns Reef Fleet terminal on the Cairns Esplanade, a variety of different Great Barrier Reef snorkeling and diving tours depart every day. Depending on your budget, your comfort in the water, and how much time you want to spend snorkeling the Great Barrier Reef, there'll be a perfect
Cairns snorkeling tour for you!
The Evolution Reef Cruise is the great-value Great Barrier Reef tour we ended up choosing during our Cairns itinerary.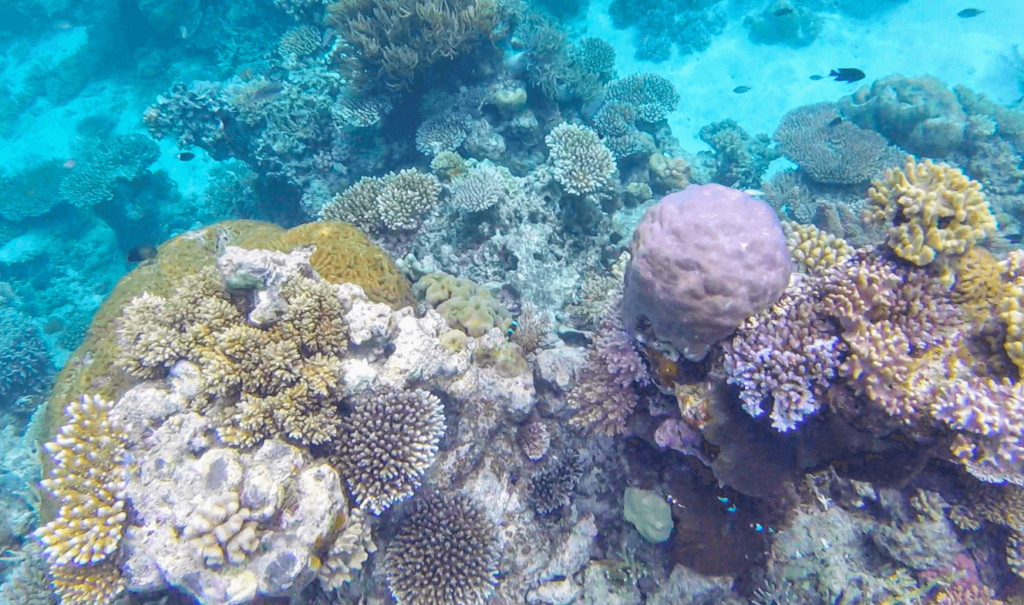 When looking for the best Great Barrier Reef tours departing from Cairns, visitors have a handful of options to choose from:
Fitzroy Island or Green Island are both a stone's throw away from Cairns. If you want to go snorkeling in Cairns but prefer not to spend all day on a boat, snorkeling 'tours' to these islands just drop you off at the destination so you can explore, hang out on the beach, and snorkel the waters at your own pace. These tours are the cheapest, but don't get you to the outer reef. 
Pontoon Great Barrier Reef tours take visitors out to a vessel that's permanently anchored out in the ocean near the coral reefs. The tour will drop you off at the pontoon and you'll be able to snorkel, dive, sunbathe, and even go down waterslides while using the pontoon as your home base. These tours are the most expensive, Check prices on GetYourGuide. 
The Evolution Great Barrier Reef snorkeling tour is a reef-hopping tour that takes visitors on a large boat to two different outer GBR sites, with lunch served on-board. Snorkeling gear is included, plus there's plenty of room on board for sun-bathing and enjoying the view of the ocean from air-conditioned rooms! We took this trip, which cost us $195 AUD. Check out the latest prices here!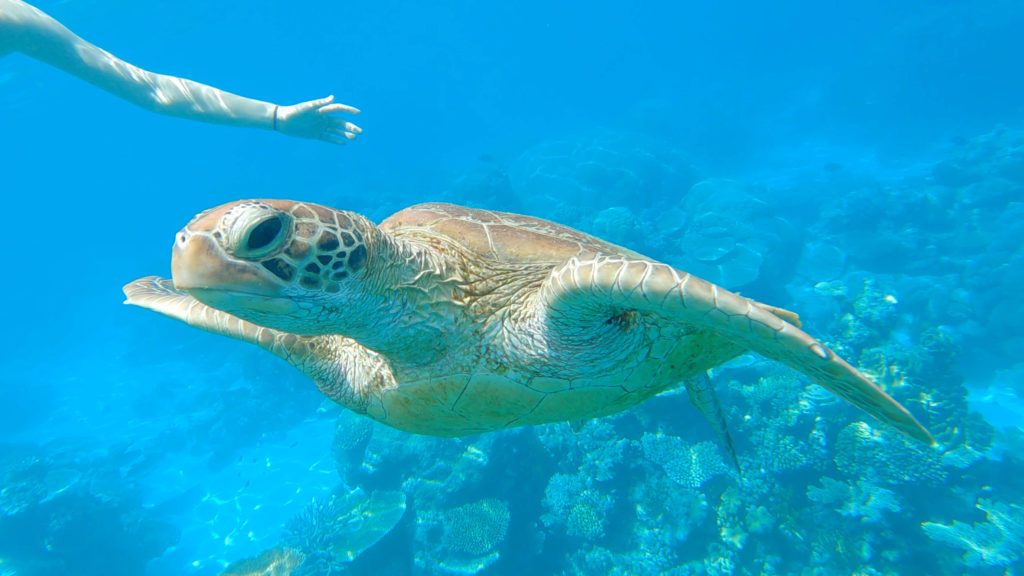 Where to stay in Cairns? 
We stayed in two different locations in Cairns, the Hilton Cairns and then on our way back from Port Douglas, the DoubleTree Hilton Cairns. I loved both locations. 
For snorkeling in Cairns, the Hilton Cairns is literally steps away from the Cairns Reef Fleet Terminal and highly recommended for its amazing views and breakfast.
See the photo below for proof of our beautiful views from the Hilton Cairns hotel!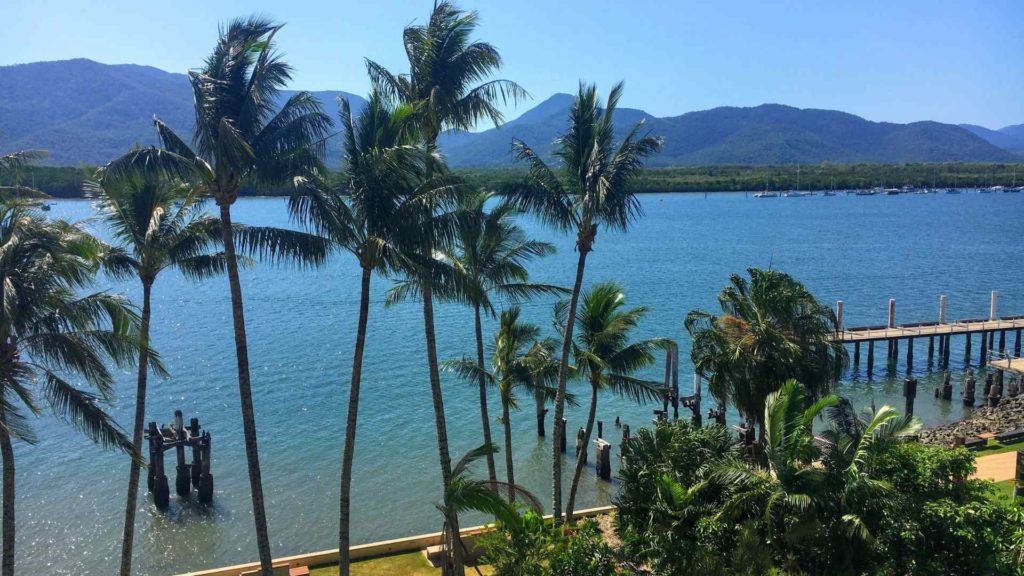 Why we chose the Evolution Great Barrier Reef Tour
When considering which tour would be the best Great Barrier Reef snorkeling trip for us, we picked the Evolution Reef Cruise for a few reasons:
Variety of snorkeling spots – the Evolution stops at two different reefs, which is different from the pontoon or island experiences where you see only one
Full-day tour – we considered taking a half-day Great Barrier Reef snorkeling tour from Cape Tribulation, but for a similar price we preferred the full-day.
Great value – The Evolution Reef Cruise costs $195 AUD per person, which includes the $20 reef levy that all visitors have to pay to enter the Great Barrier Reef area
Amenities – Included in the price was snorkeling gear, wetsuits (if needed), lunch, snacks, and even sunscreen on-board
Add-ons – for scuba divers or those with more money to spend (helicopter tour, anyone?) the Evolution reef cruise gives you an option to stretch your budget as far as it'll go on the Great Barrier Reef. Since we were only snorkeling, we knew we weren't paying a premium for services we weren't going to use.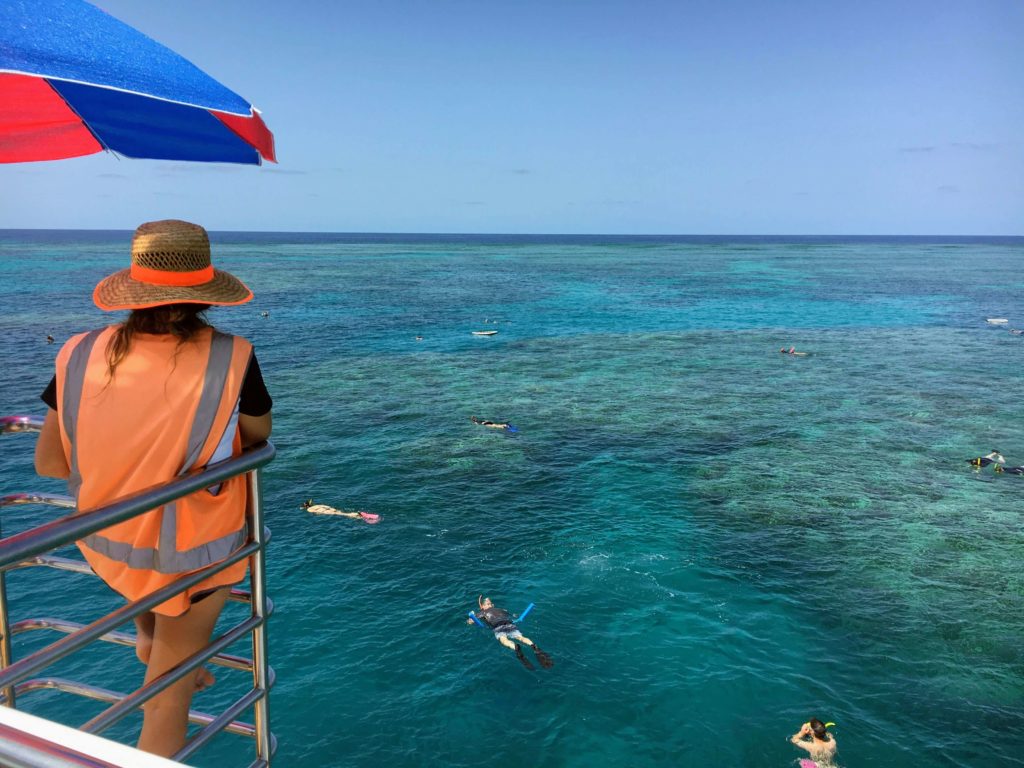 Here's how our full-day snorkeling tour on the Great Barrier Reef unfolded with the Evolution Reef Cruise!
7:15am – Check-in at the Cairns Reef Fleet Terminal
The main Cairns Reef Fleet Terminal is located at the end of the Cairns Esplanade, and is where check-ins take place for most Great Barrier Reef adventures.
From one of the shops here, we rented a GoPro Hero10 for the day in order to get some great footage of our snorkeling trip. For $50, the rental included the GoPro, two battery packs, and a micro SD memory card (although we used our own), plus a carrying case.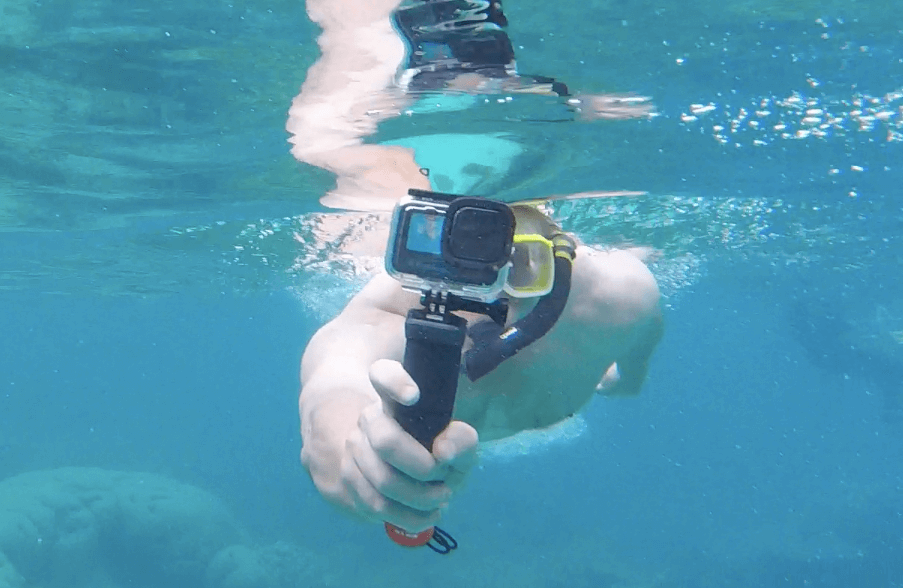 7:45am – Board the Evolution boat
Upon showing our tickets to the crew on-board, we were shown to our personal table/booth for the day, where we could spread out our belongings. We were told with the many cameras in the area, that leaving our things there would be safe. The booth even had its own outlets! Note there are no lockers on board for the very cautious types.
While we waited for the other passengers to arrive, we were fitted with fins and snorkels for us to use throughout the day. After that, we sat back and enjoyed some coffee and mini-muffins for second breakfast. (Our first breakfast was from our accommodation, the beautiful Hilton Cairns!) 
8:00am – Depart on the Evolution Reef Cruise
The boat departed once everyone had boarded and the crew completed a head count. The crew gave us a safety demonstration for the first part of the 90-minute ride out to the outer Great Barrier Reef, then we were able to wander around the boat.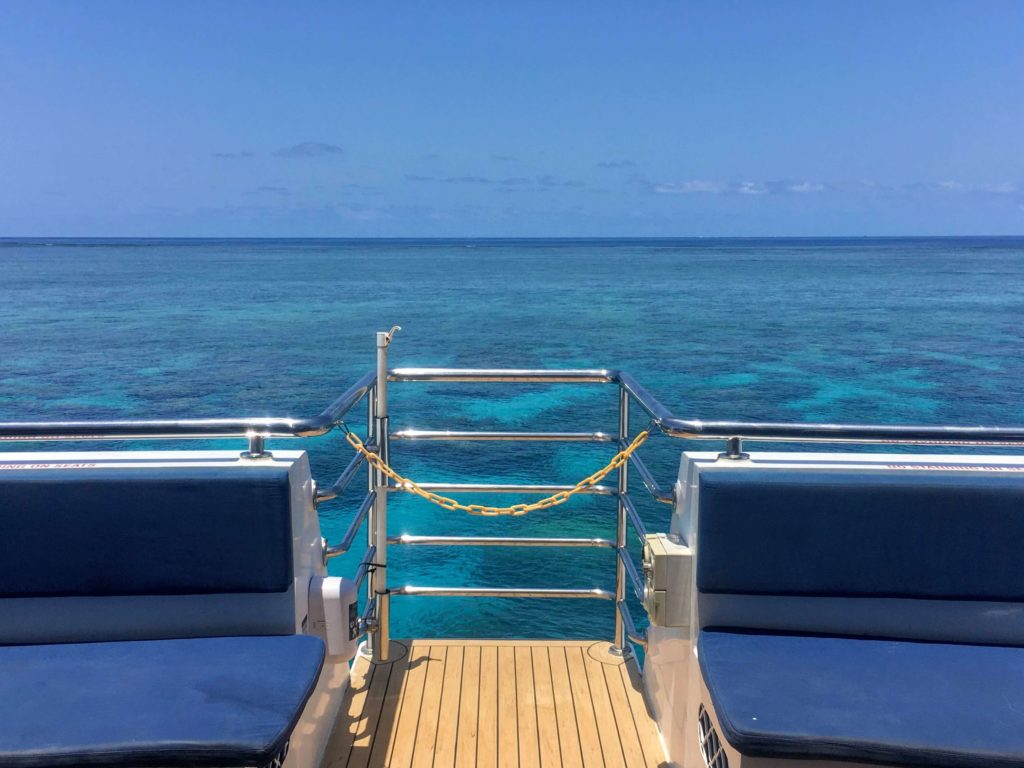 9:30am – Arrive at snorkeling destination one – Saxon Reef
Depending on the water and wind conditions of the day, the captain makes a decision on which two reefs to visit. Our trip took us to Saxon Reef first, then to Hastings Reef.
Upon arrival to the reef we didn't jump in right away – the crew set up the back of the boat to make it easier for snorkelers and divers to enter the water. They also draw floating ropes across the water perpendicular to the boat for us to swim between. A lookout crew member on the back of the boat lets swimmers know when they're getting an unsafe distance away from the boat.
We snorkeled for about 1-1.5 hours before returning to the boat and finding that lunch was prepared.
Lunch on board the Evolution Reef Cruise consisted of a buffet of fish and steak, veggie patty upon request, bread, and side salads including pasta salad and potato salad. A nice hot and hearty meal after a great snorkeling session.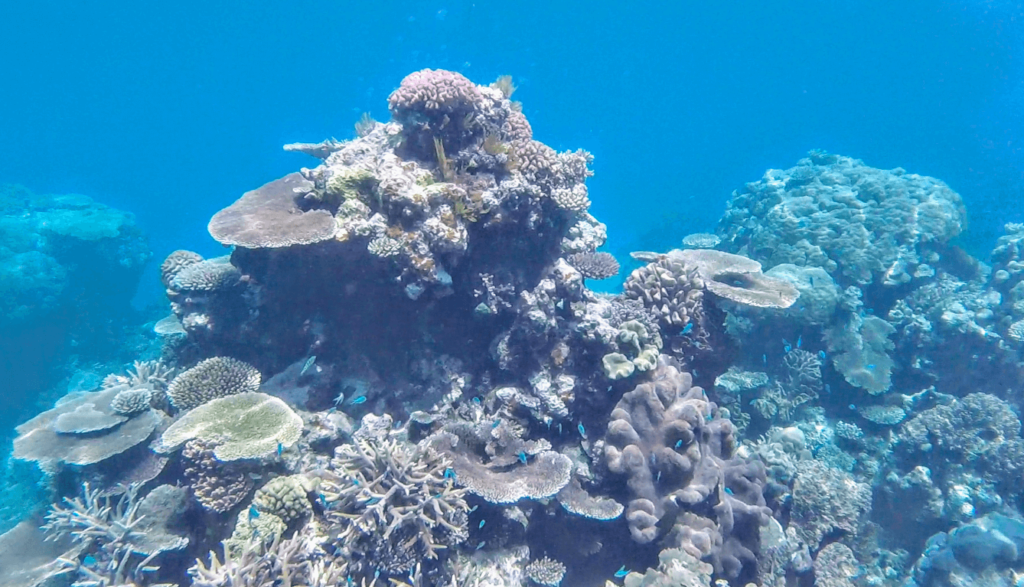 12:00pm – Depart for second reef
12:30pm – Hastings Reef
The second reef we snorkeled was surprisingly very different from the first, with shallow corals as far as you can see underwater. The first reef, which I actually preferred, was dotted with big coral 'boulders' you could swim around.
We snorkeled here for about an hour before retiring our fins for the day. Although in total we get about 5 hours of snorkeling time, passengers can decide how much or how little of that time they want to spend in the water.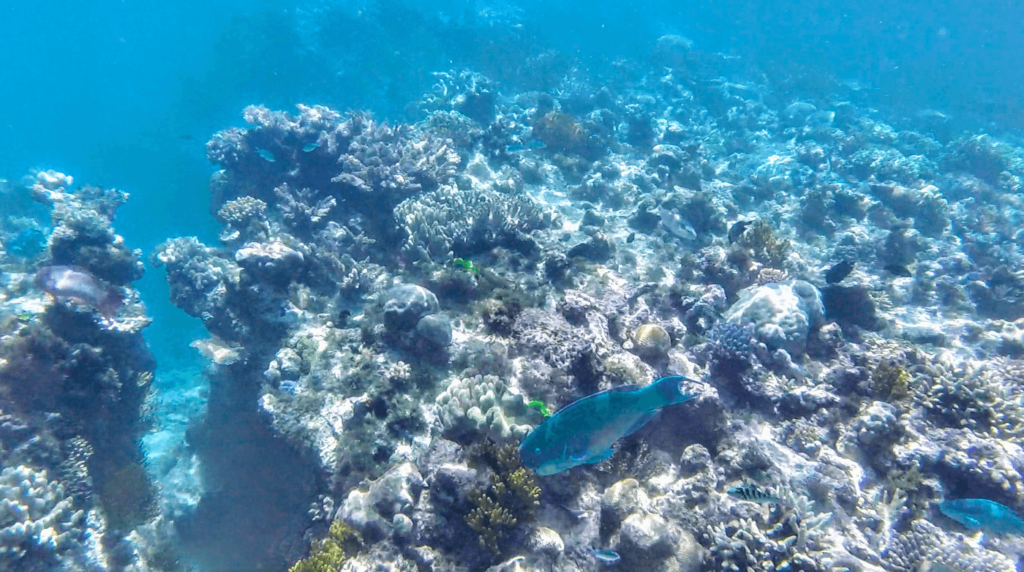 14:30 – Depart Hastings Reef
We took advantage of the on-board bar on the way back, and got more than one local Hemingway brewery beers (and a Corona for me). At $7.50 AUD a can, it was surprisingly cheap. Passengers each also got a free glass of wine, which came from a bag but hey, it was free!
An underwater photographer who came with the boat also shared his photos with the passengers on several iPads on the way back, giving people a chance to purchase any or all of this underwater photos.
16:00-16:15 – Arrive back to Cairns Fleet Terminal
We arrived back to Cairns Fleet Terminal just after four, and were on our way to continue our Cairns itinerary!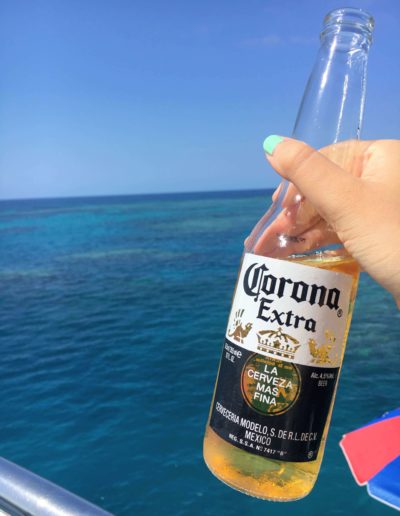 Facilities on board the Evolution Reef Cruise
The triple-decker Evolution vessel had the air-conditioned booths on the bottom floor, sun decks and benches perfect for sun-tanning on the second floor, and a covered rooftop with more chairs, a few tables, and cushions perfect for enjoying the scenic views of the ocean. The boat also had 5 bathrooms, three indoor "dry" toilets and two outdoor "wet" toilets.
The kitchen on board prepared our hot lunch for us, which included steaks and fish, veggie patties (on request), and several side salads and pastas. A bar with beers and wines available for purchase was also open after 10am, only to those not planning on scuba diving later in the day. At $7.50 a beer it was a great deal!
For a pair of budget-conscious travelers, this Evolution Great Barrier Reef tour was the best cheap snorkeling option for us.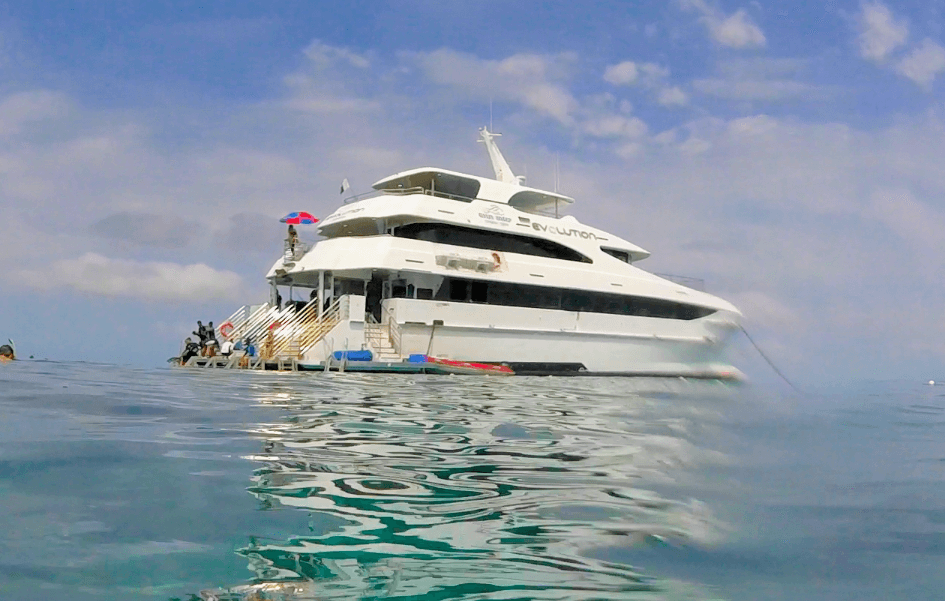 Are You Prepared For Your Next Travelventures?