Cairns, Australia, the gateway to Tropical North Queensland and the Great Barrier Reef, is also the first stop for most travelers on the drive to Port Douglas. Port Douglas used to be a small fishing town, but it's bloomed into a tourist getaway spot known for its chilled-out vibe, gorgeous resorts, and beautiful beaches.
If you're planning on making the drive from Cairns to Port Douglas, you're in for a treat. You can explore everything from jungle to the beach, from quirky towns to outback towns along the drive. Here are some ideas for top things to do between Cairns and Port Douglas.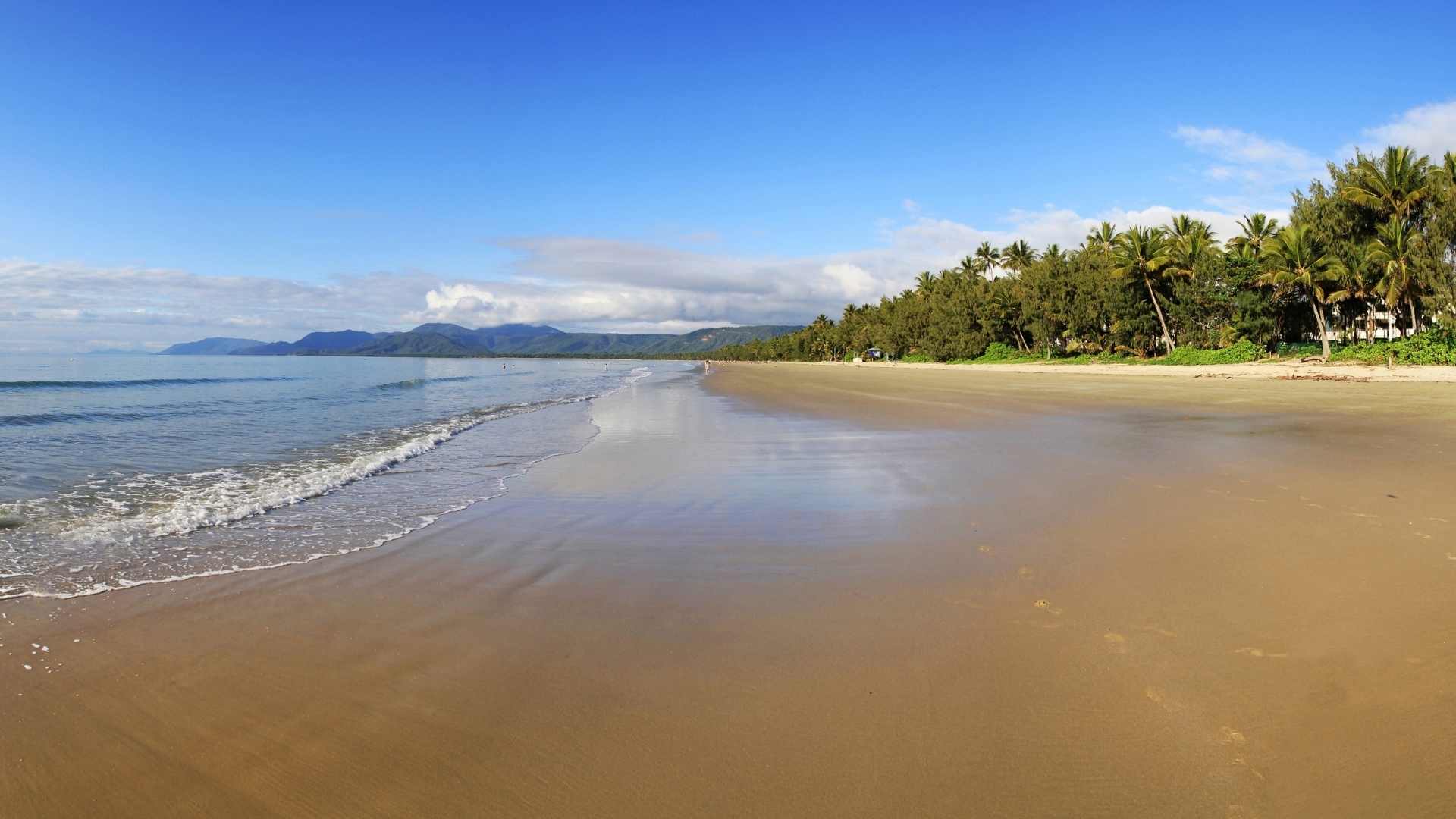 Where to Stay in Port Douglas
Port Douglas is dotted with beautiful resorts and hotels, complete with massive pools and top-rated restaurants. 
Here are a few amazing Port Douglas accommodation options to choose from:
Oaks Port Douglas Resort is where I stayed in Port Douglas. It has an incredible restaurant, a large pool + swim-up bar, and budget apartment-like rooms which means you get the resort experience for a great value.
Peppers Beach Club Port Douglas is a popular luxury resort chain in Australia. The Port Douglas location is located in town, close to the beach and many local restaurants. 
Sheraton Grand Mirage Resort is a five-star resort all visitors to Port Douglas aspire to stay at. With the largest pool in town and picture-perfect board walks, if your budget allows this would be my first pick for where to stay in Port Douglas. 
Things to do between Cairns and Port Douglas
Most visitors drive from Cairns to Port Douglas because it only takes an hour on the road. With hotel check-out times around 10am and check-in around 3pm though, you might have some time to spare on your road-trip. 
Make the most of your drive by bookmarking these 6 things to do between Cairns and Port Douglas!
By all means don't try to squeeze in all of these activities in one go. Pick one or two on the drive up from Cairns to Port Douglas, and one or two on the drive back. Once you're back in Cairns, consider this Cairns four-day itinerary and a classic Great Barrier Reef tour too!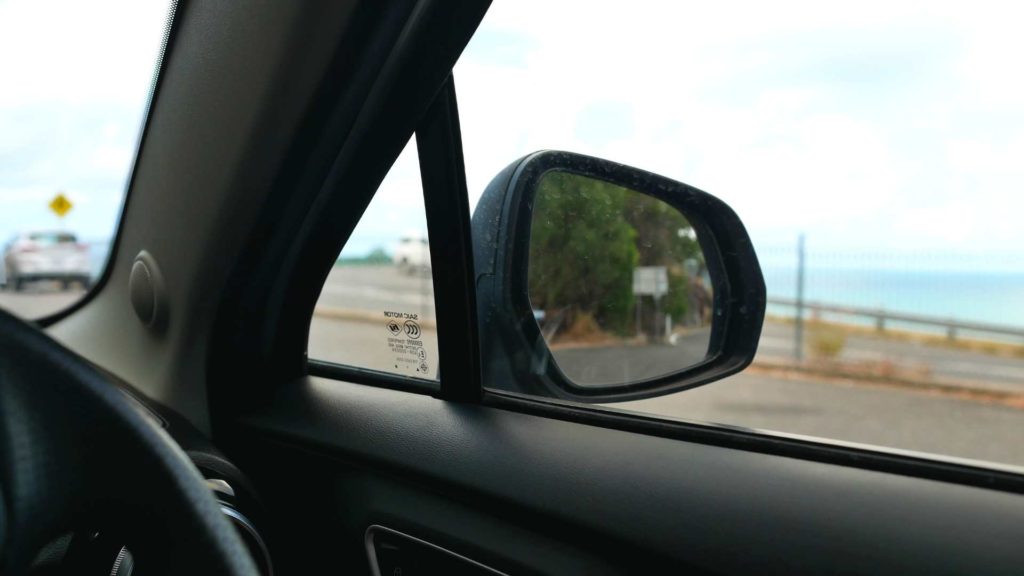 Palm Cove is a small, coastal tourist town along the Cairns to Port Douglas drive. It's famous for a coastline and main beach bordered by Insta-perfect palm trees! Palm Cove is a perfect place to stop off for a few hours to sit back, enjoy small town vibes, and take in Australia's natural beauty.
Here, you'll find restaurants and cafes perfect for brunch on your Cairns to Port Douglas drive. Check out Nu Nu Restaurant for a lunch with beautiful oceanfront views, and 27 Degrees cafe for a great coffee you can take to the beach just steps away.
The wide open beach here has plenty of space to picnic or to stretch your legs before continuing the drive from Palm Cove to Port Douglas. You can also walk out onto the Palm Cove Jetty for great views of the beach and the rolling North Queensland hills.
If you're staying the night in Palm Cove, even better! You can pick an activity on this list to check out between Cairns and Palm Cove (with the exception of Mareebah), then another one between Palm Cove and Port Douglas!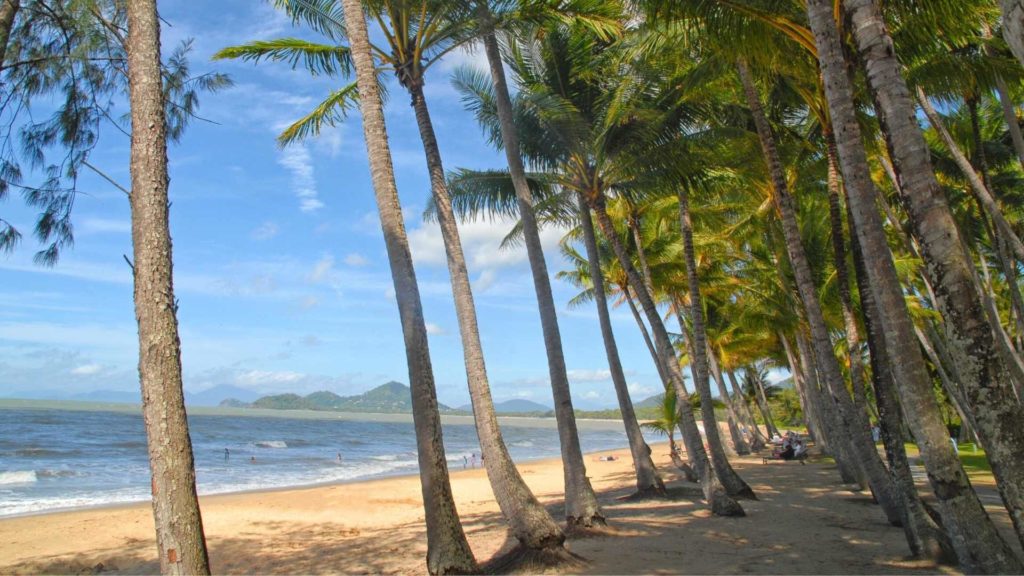 Kuranda is a quirky hippy town located in the middle of the tropical rainforest, a wonderful place to visit to escape your day-to-day reality. It's located about 40 minutes north of Cairns up a windy mountain road.
Kuranda is a shopping heaven, with two local market areas and additional shopping streets all supporting local artists and businesses. You'll feel transported to a different world walking through the market streets: Kuranda's side-streets sit under dense rainforest canopy, and are lined with Tibetan prayer flags and small colorful buildings. It's a great place for a morning coffee or tea, brunch, or to go shopping for local and handmade souvenirs.
From Kuranda you can make a side trip to the Barron Falls overlook, a quick 5-minute drive from Kuranda city center. A 10-15 minute boardwalk hike will take you down to a quiet viewpoint.
Kuranda can also be reached from Cairns via a scenic train ride. Although you wouldn't opt for this during a drive from Cairns to Port Douglas, you can book a round-trip journey from Cairns to Kuranda by taking a train up to the town, then taking a gondola ride down!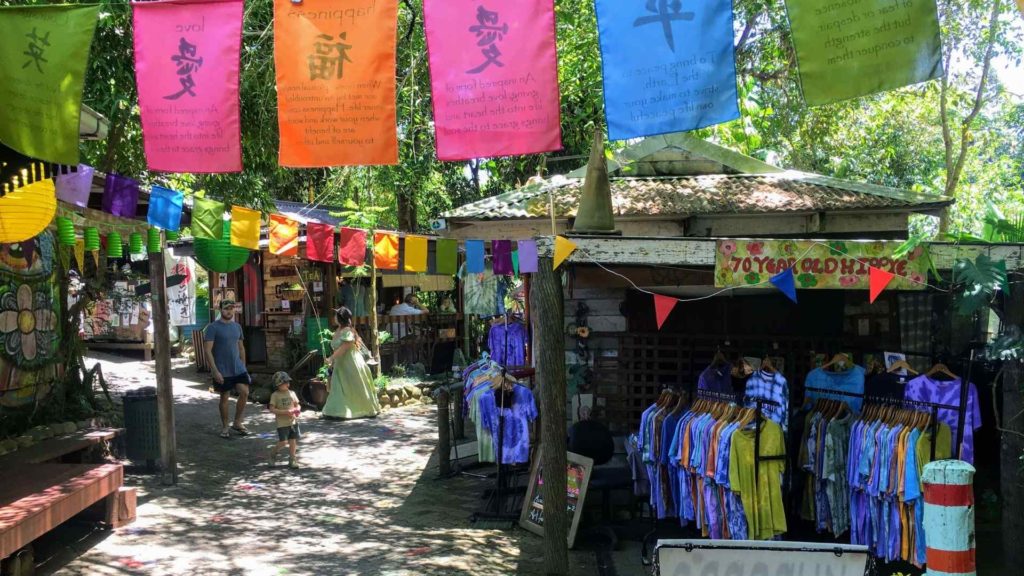 3. Hartley's Crocodile Adventures
A logical stop located just over halfway between your drive from Cairns to Port Douglas is Hartley's Crocodile Adventures. Hartley's is the best place to meet the most famous resident of Far North Queensland: the crocodile. Affectionately known as "salties" or "freshies" depending on whether they're saltwater or freshwater crocodiles, your trip to Cairns and Port Douglas is not complete without staring one of these in the eyes. Book entry tickets in advance here.
Hartley's Crocodile Adventures has wildlife presentations centered around Australia's favorite critters including koalas and emus, but the highlight of Hartley's is their crocodile show run by croc experts. They also have a lagoon on site where visitors can take a boat ride and see live crocodile feedings.
Many of the salties living here were relocated from rural North Queensland towns when they grew too big and became a serious threat to human lives in the area. That's why some of Hartley's residents look like actual dinosaurs, at a whopping 5-6 meters in length!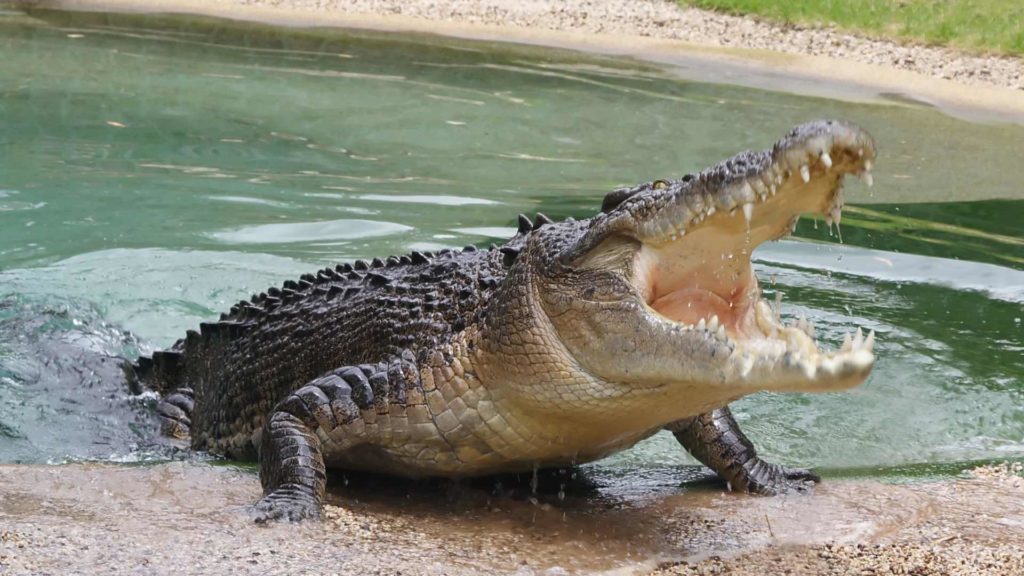 The Cairns to Port Douglas drive takes you along the Captain Cook Highway, a highway that follows the North Queensland coastline and its pristine beaches just in this section between Palm Cove and Port Douglas.
This stretch of highway running from Palm Cove to Port Douglas will have a handful of road turnoffs towards the coast. Usually starting with a makeshift parking lot, a sandy trail will take you past an inevitable "Warning – Crocodiles inhabit this area" sign down to the ocean.
The best part about these stop-offs at the beaches between Palm Cove and Port Douglas is that not many people take the time to do this. While places like Rex Lookout are always packed with cars, the beaches will be near empty! Most drivers are rushing to get between Cairns and Port Douglas so turning off at the beach you'll have some quality time alone with nature (just don't get too careless in the water because… crocodiles).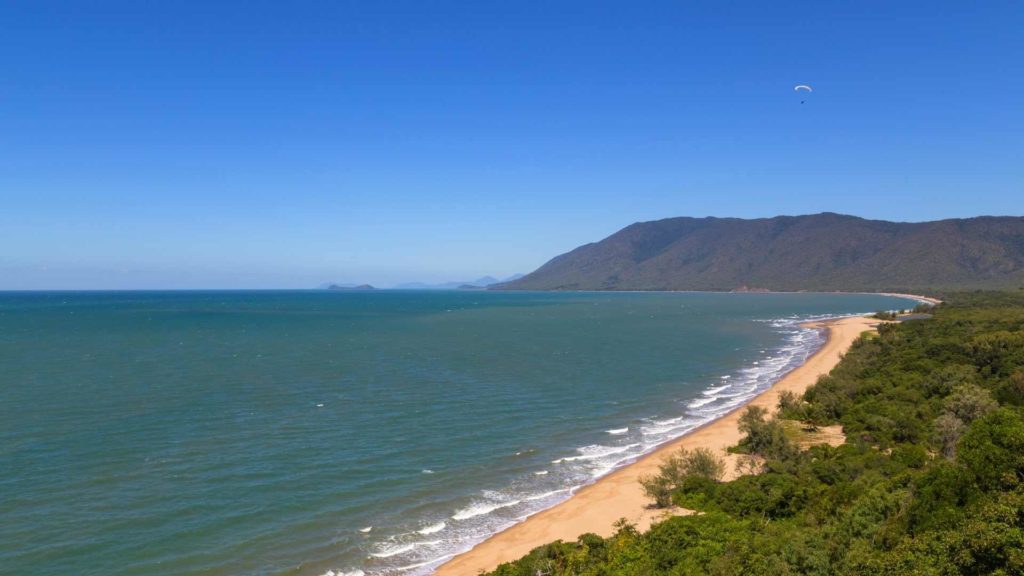 Although the Mossman Gorge is not technically along the Cairns to Port Douglas drive, if you're trying to kill some time before checking in to a Port Douglas hotel, it's a great place to spend some time in the rainforest that North Queensland is famous for.
Mossman Gorge is located just 15 minutes north of the roundabout outside of Port Douglas. The drive up takes you through sugarcane fields typical of the North Queensland agriculture industry. Although visiting the Mossman Gorge itself requires taking a $12 bus to the gorge, it's an amazing natural escape once you arrive.
The Mossman Gorge has over 5 km of combined trails and boardwalks to explore the famous Daintree Rainforest, one of the oldest and most diverse rainforests in the world. The highlight of Mossman is of course the boulder-filled river that runs through the gorge. Many locals and tourists bring their swimsuits, towels, and a picnic basket here to spend a half-day or full day swimming amongst the rocks.
If you love waterfalls, be sure to check out Josephine Falls near Cairns too.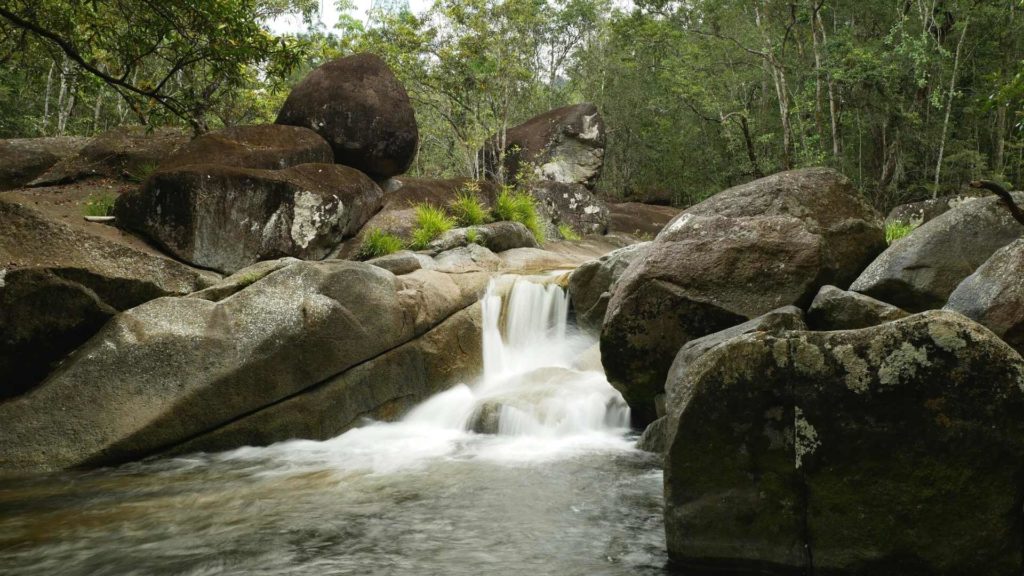 Mareeba is a small North Queensland town located farther inland than Cairns or Port Douglas. Although it's not located on the Captain Cook Highway, if you've driven from Cairns to Port Douglas one too many times, I recommend the drive from Cairns inland to Mareeba then up to Port Douglas. This will give you a little glimpse of the red-dirt, "outback" countryside of Australia.
You'll pass through Mareeba, Biboohra, and other impossibly small country towns, and see a side of Australia that's the complete opposite from the white sand beaches of Port Douglas. Along this long route from Cairns to Port Douglas, you'll meet lovely locals and see beautiful natural views with plenty of gum trees, happy cows and rolling hills.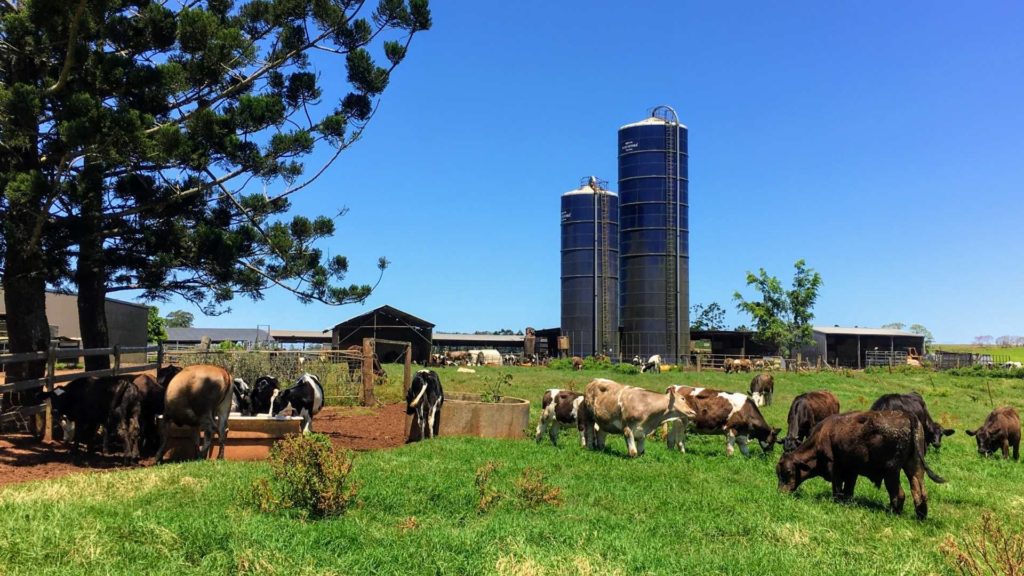 Return trip - Port Doulgas to Cairns drive
The best part about all of these things to do between Cairns and Port Douglas is that they can be visited just as easily when returning from Port Douglas to Cairns!
When renting a car here, be sure to check out some of these incredible natural wonders and quirky destinations on your drive from Cairns to Port Douglas.
Are You Prepared For Your Next Travelventures?