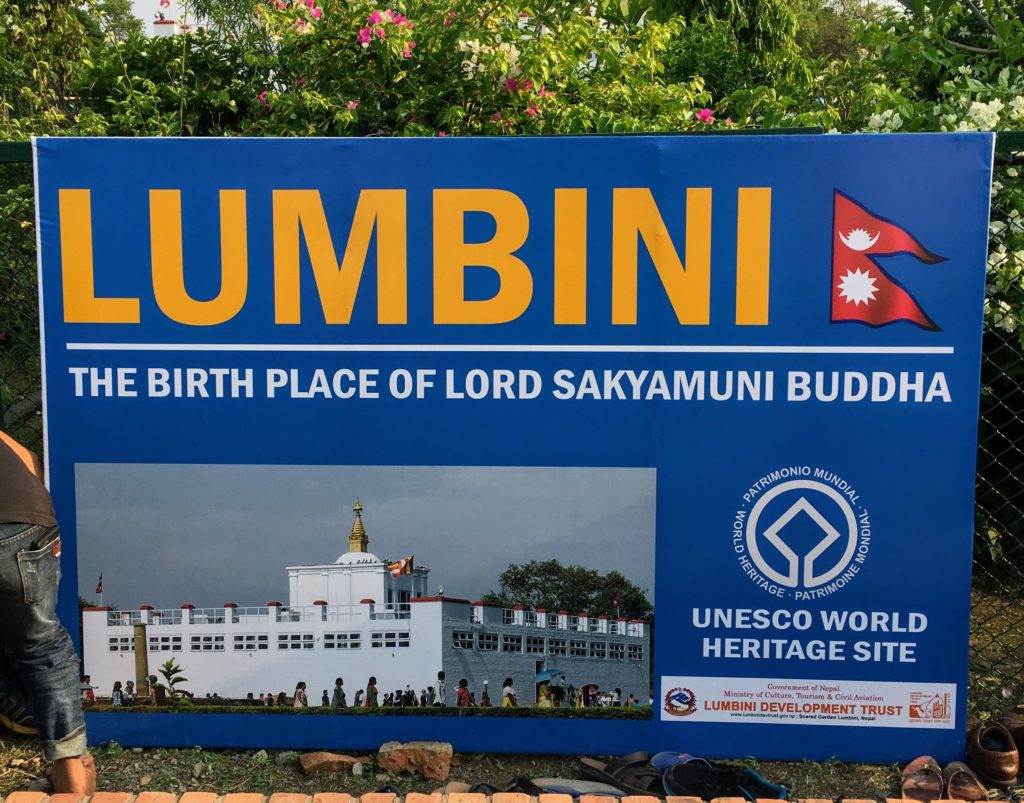 The Birthplace of the Buddha
After trekking the Annapurna Circuit and spending a couple of days resting, I'll have to admit I had a hard time tearing myself away from the familiarity of Pokhara to get myself back on the road. After contemplating my next move and after several false starts, I finally bought a bus ticket to Lumbini, known as the Birthplace of the Buddha as well as the Fountain of Buddhism and of World Peace. It is a UNESCO World Heritage site, and a sacred pilgrimage ground for Buddhists of all sects.
It cost me 750 rupees ($7.50 US) and 9 hours over windy, uneven mountain roads on a crowded bus to reach Lumbini town from Pokhara. I hadn't booked any accommodation in advance of arriving, and I was lucky to meet a Spanish girl on the same bus who was planning on staying at the Korean Monastery, which is located within the Lumbini temple complex. I would have just stayed at a random hotel in town otherwise. There were plenty of taxis and rickshaws at the bus station offering us rides, but we decided to walk the 2 km to the monastery so we could enjoy the sights on the way.
The bus station is on the south-eastern side of Lumbini, so during our walk through the complex we caught our first glimpse of the Mayadevi temple, where Buddha was born, as well as some other monasteries, some nice gardens and picnic areas, and a river with boats ferrying people back and forth.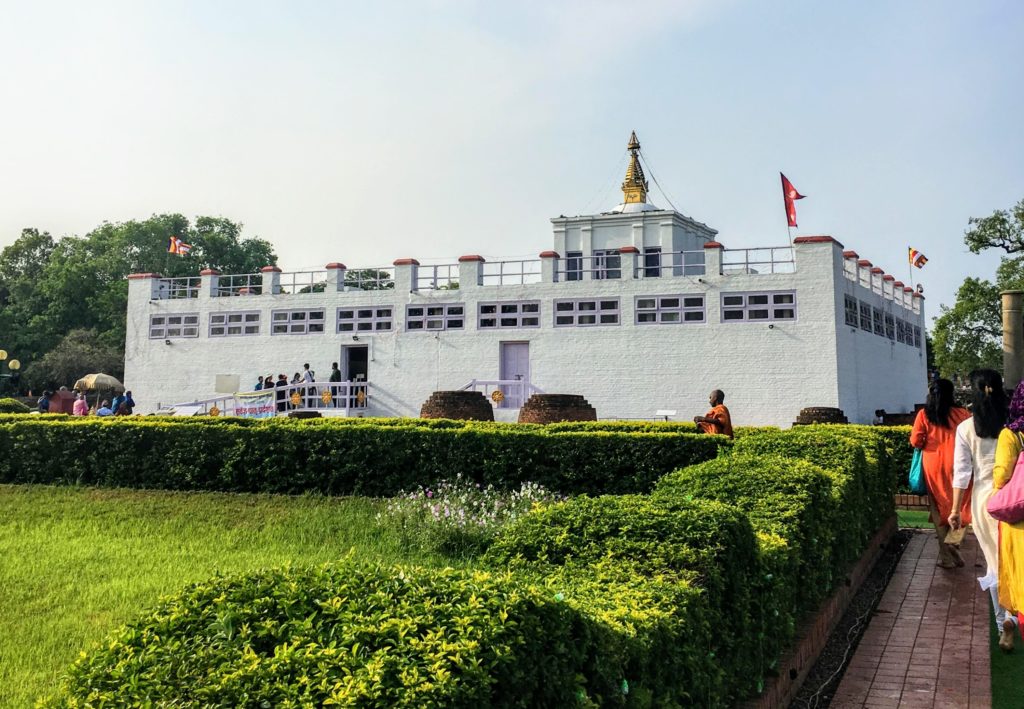 Staying in the Korean Monastery
When we reached the temples in the west part of Lumbini, I was impressed by the Chinese temple and monastery where it also looked like tourists could stay. Entering the gated area to the Korean temple however, I was truly blown away. The grounds were beautifully kept, and colorful lanterns hung across the entire length of the property, lining the main walkway that led to a colossal temple. The monastery dorms created a border around the property, highlighting the grounds even more.
Luckily the monastery had ample rooms available, since the two of us had not made any reservations ahead of time. For 500 rupees ($5) per night, we get a bed with a mosquito net in a dorm room, with an attached bucket shower area, and three meals per day. Water and tea is also always available. When we went to the office to try to check in, the man working there insisted that we drop our stuff there and have dinner first. We had come at just the right time! Dinner was laid out assembly line style and consisted of rice, something with dark greens resembling kimchi, bitter gourd curry, stir fried green beans, radish soup, and some raw carrots and cucumbers.
Sitting and eating with some of the long-term residents of the monastery, I learned something amazing – the day after my arrival (April 30th) was Buddha's birthday!  Some of the residents had been staying in the area for weeks waiting for this occasion, and I just happened to arrive the day before it. After dinner and checking in to the simple but adequate dorm room, I went inside the Korean temple to witness the resident monks performing their evening prayer rituals. What I enjoyed about this temple is, unlike the other temples, there were meditation cushions available for everyone to use freely to meditate, to pray, or just sit and be at peace within the calming ambiance of the surroundings.
On this night I went to bed excited about what the next day, Buddha's birthday, was going to look like in Lumbini!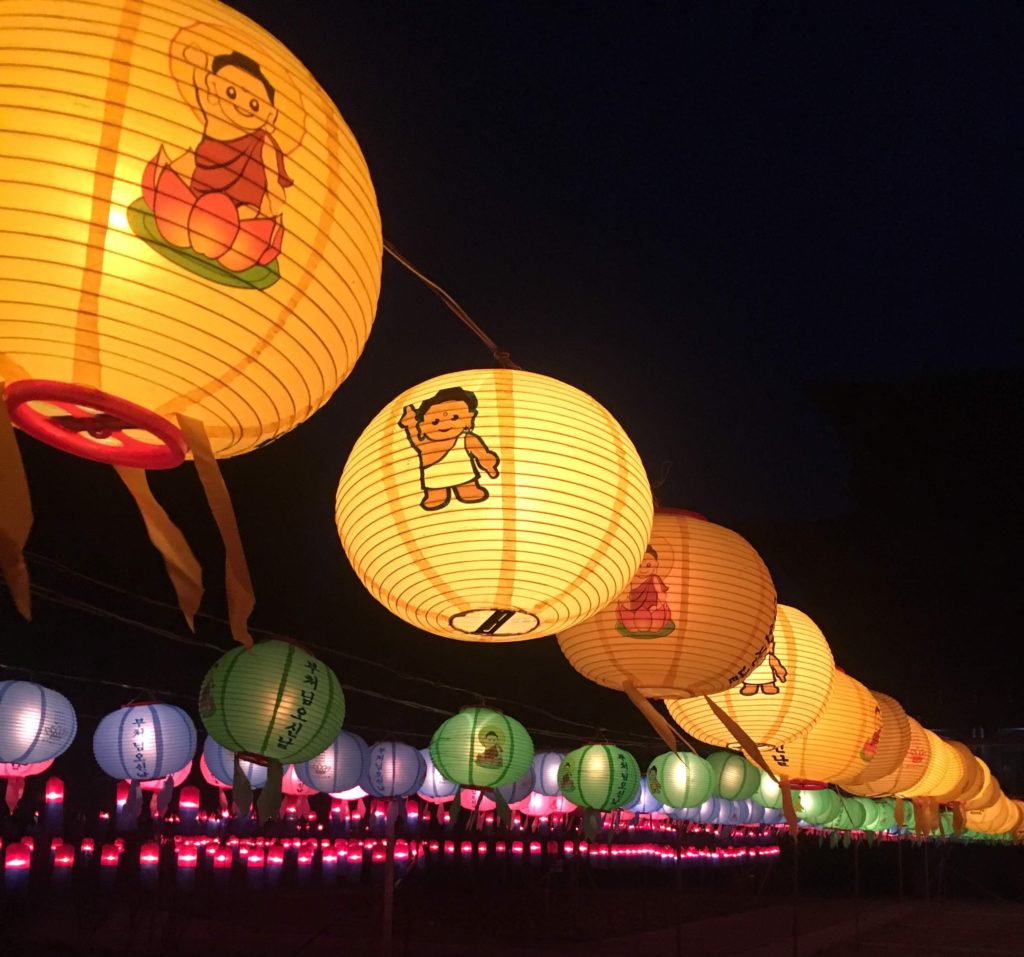 I woke up to the breakfast bell at 5:50am, when the resident monks first go to get their food. As my roommate and myself were slowly dragging ourselves up at this early hour (I had been getting up around 10am during my tenure in Pokhara), the man at the office was coming around to wake up all the guests for breakfast as well.  Breakfast was basically leftovers from dinner, the same rice and kimchi mix, radish soup, as well as a yummy potato curry. I ate it all in a hurry, then took off to the Mayadevi temple to see what sort of birthday festivities were happening there.
There was a large crowd that I had to navigate through, as I took off my shoes and passed security to enter the temple. The inside of it has preserved remnants of what may be the earliest ever Buddhist shrine, as well as the exact location where the Gautama Buddha was born. There were two rows of people, monks lining the entire inner loop around the fenced-off ruins, and a row of regular visitors lining the outside. People were pushing and shoving their way in the outer row to get to a separate platform where you can see the location where the Buddha was born. People were also throwing money of all currencies into the ruins, as an offering.
Outside there's a holy tree, a holy pool/lake, and a beautifully kept garden. Many sadhus were sitting around the tree, as well as other people with different physical ailments asking for money (possibly in exchange for a blessing?). During the time that I was wandering around here, half a dozen security guards in suits came stampeding by with their arms outstretched saying "Side, side, side!". A monk was leading someone very official-looking, plus his entourage, through the complex while explaining to him the significance of the different sections and pillars that can be found in the garden. Throughout my day I kept running into this highly regarded mystery official, and kept being told "side, side!" although I still have no idea who he actually is.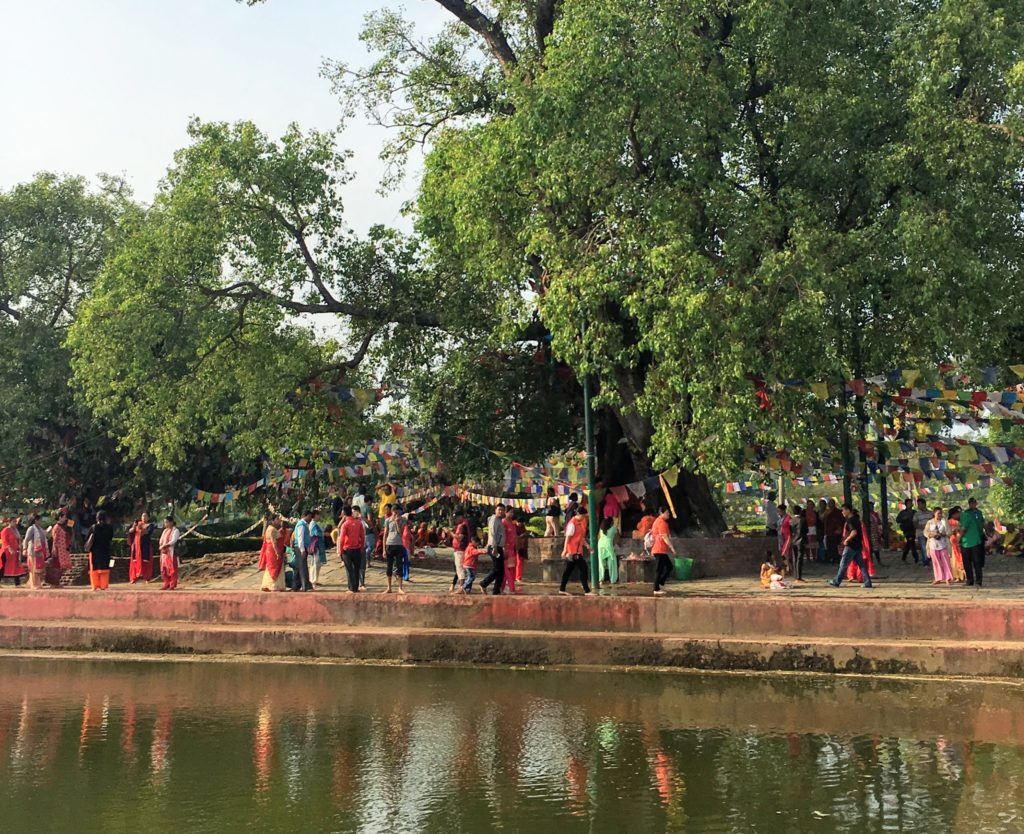 Eventually I started hearing a band in the distance, that sounded like it was getting closer and closer to Mayadevi. Since I had seen most of what the inside had to offer after half an hour, I decided to go out and investigate the source of this cheerful music. When I exited the complex, there were hundreds of monks lined up on the left side of the temple. Volunteers with walkie-talkies were steering people away from the main road that led up north to the river. Soon, people holding flags from Nepal and other countries started to appear from down the road on the right. They were followed by a dozen men carrying a statue of the child Buddha on a pedestal, then by monks chanting and playing different musical instruments. As this group turned the corner to start walking down the main road, the monks that were lined up on the side also joined in the procession. There were women monks towards the end of the procession, who were singing a lovely tune, followed by a Nepalese Army band, then some others playing more instruments. Finally there were people who looked like volunteers, or sponsors, holding their promotional banners and taking up the rear of the parade.
Once most of the procession passed me, I turned to walk with them for a while like most other visitors were doing. The entire mood was celebratory – the monks were smiling as they held their hands together in front of them, and they all walked and swayed in unison to the prayers and the music. Since they had to keep stopping to make sure those behind them were not falling too far behind and so the volunteers could re-organize them in four straight rows of people, I was able to pass by them easily to get to the front again. This time I noticed that there were even more musicians paying traditional Nepalese instruments at the front, as well as a group of girls who were throwing yellow flowers over their shoulders to cover the road that the procession was about to walk over. This went on for several kilometers all the way to the Lumbini museum and the conference hall.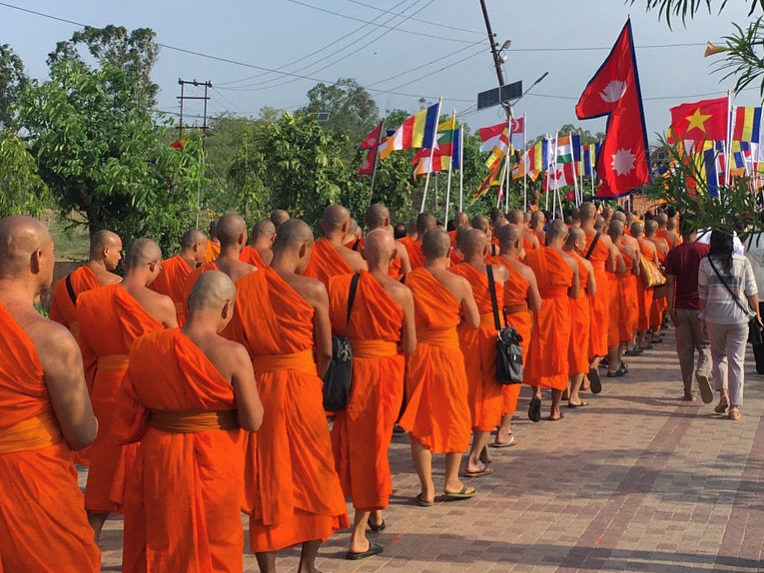 Since I was already this far north within the Lumbini temple complex, I decided to walk to the World Peace Pagoda. It's a bit of a walk to go from one end to another, but since it went through a crane nature preserve, it was a peaceful contrast to the celebratory crowds and noise that had now faded away. This massive white stupa was constructed by Japanese Buddhists and has golden Buddhas on all four sides of it. The entire area around the stupa and its attached garden is considered a sacred, quiet zone.
I went back to the Korean monastery after this in time for a very crowded lunch, then used the rest of the afternoon to explore the other temples – Vietnamese, German, Austrian, Thai, Cambodian, etc.
Since I'm half-Japanese and I saw online that the Japanese temple was one of the most impressive, I had high expectations for it, only to find that it looked abandoned or under construction.  For me, having traveled recently to Thailand and Cambodia, it was interesting to see temples and monasteries that looked like they were teleported straight from these countries. My favorite was the German-funded temple, also called the Drigung Kagyud Dharmaraja Foundation temple. The Buddhist artwork on the interior and exterior was extremely intricate and I recognized scenes from the story of Siddhartha Gautama. There were also two massive prayer wheels that people could spin on the grounds outside.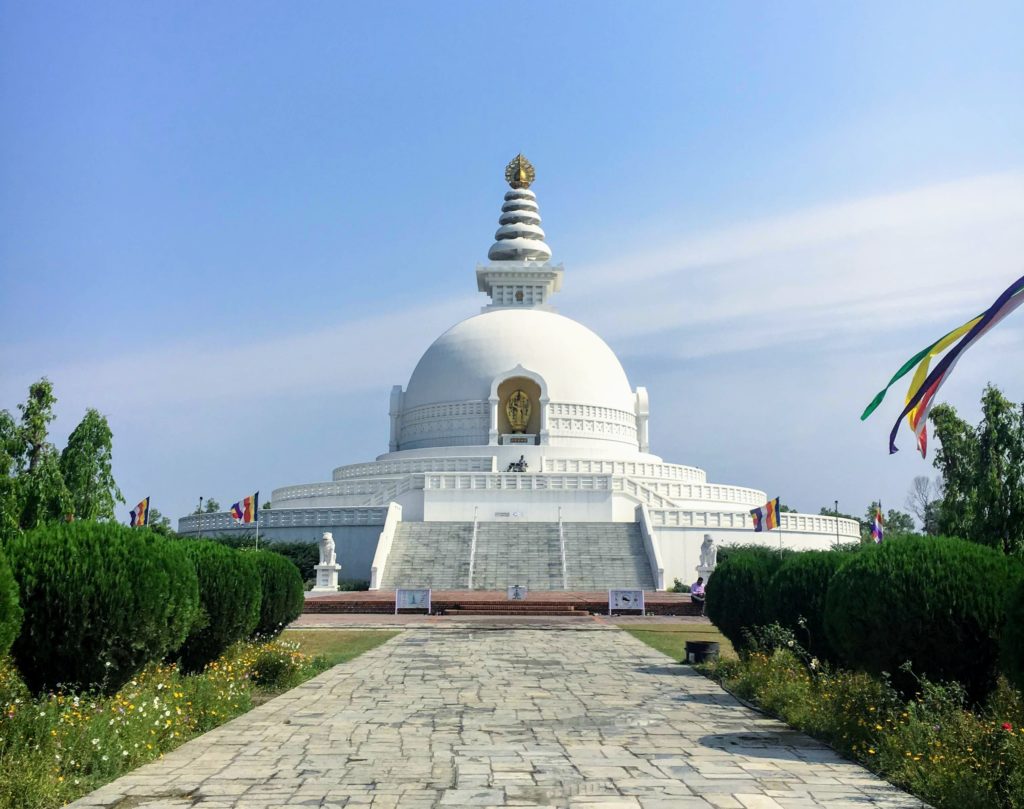 Future "Mecca for Buddhists"?
For someone like myself who tends to get tired from seeing too many similar temples in one day, I found that the variety of designs and artwork of the temples around Lumbini maintained my high interest level.
There are a few downsides to Lumbini being in such a popular tourist and pilgrimage sight that I experienced –  towards the afternoon hours, every temple was crowed with tourists taking selfies or pictures of their kids in random places. There's also a trash problem, especially around the free water drinking stations and the ice cream stands, and motorbikes seemed to be honking and roaring around pedestrian-only paths, ignoring the signs that threaten a fine for doing so.
There is a lot of room for Lumbini to grow to become a "Mecca for Buddhists", and I could sense that it was a work in progress, but everything was moving in the right direction. Many of the temples that I saw were still under construction, and there are many open lots for other monasteries and temples (and probably hotels and dorms) to be built in the future. The infrastructure in terms of the footpaths and roads for bikes and cars can also only get better with time as everything becomes more developed.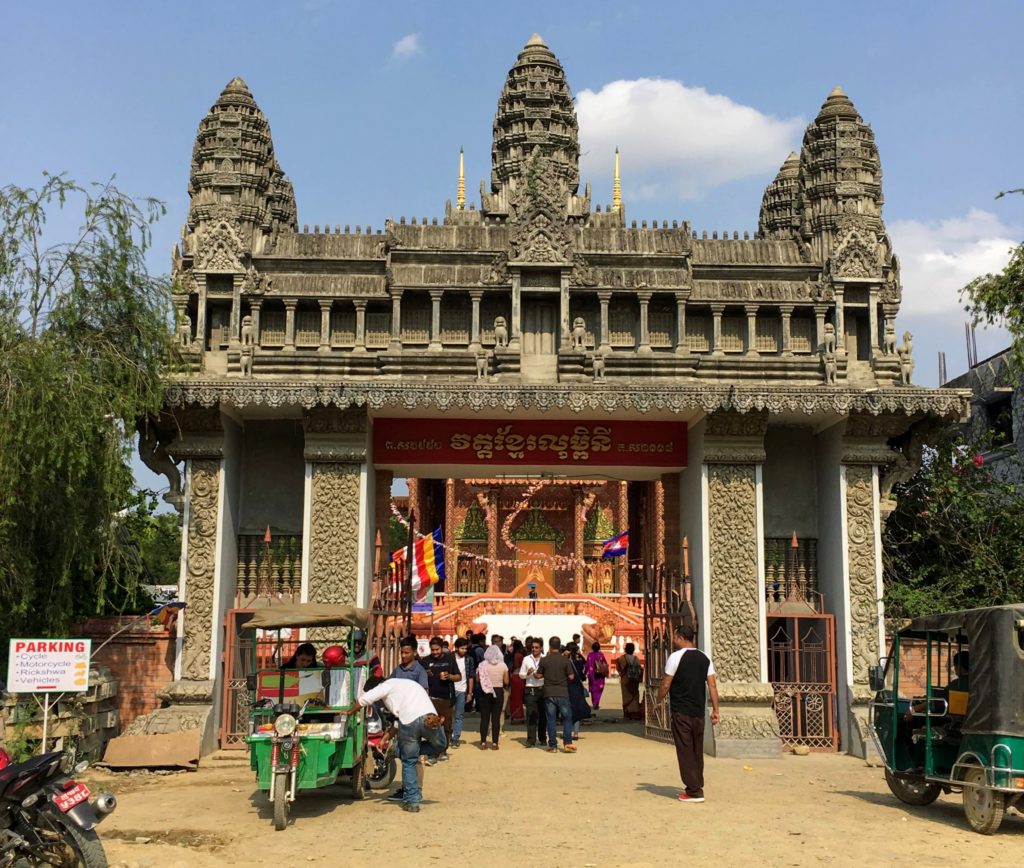 Overall I was extremely pleased with my experience in Lumbini, and I think it would be a great place to spend a week or so just to be at peace with yourself and your surroundings, especially at the Korean Monastery. There were many people that I met there who were planning on joining a 10-day silent Vipassana meditation course as well, of which there are two buildings for in Lumbini.  For people coming to purely sightsee and move on to the next attraction in Nepal, 24 hours here was enough for me to see all of the temples on the property. I would highly recommend it for anyone who is looking for a spiritual or religious experience (just be sure to go around the temples early in the morning), as well as to learn about the history of Buddhism, or about different forms of Buddhist art and architecture.