The Blue Lake is located in the heart of Queensland, Australia's North Stradbroke Island (also called Minjerribah or "Straddie"). The large freshwater lake can only be accessed via a 3 kilometer return hike through impressive eucalyptus forests. When spending one day or more on the beautiful sandy North Stradbroke Island near Brisbane, hiking to the Blue Lake is a must-do experience.
Straddie is known for its beachy shores and Aussie wildlife, and it is also home to a unique ecosystem. It is an isolated island with flora and fauna that developed away from the rest of Australia's mainland, which is what makes hiking in Straddie, and hiking to the Blue Lake, unique.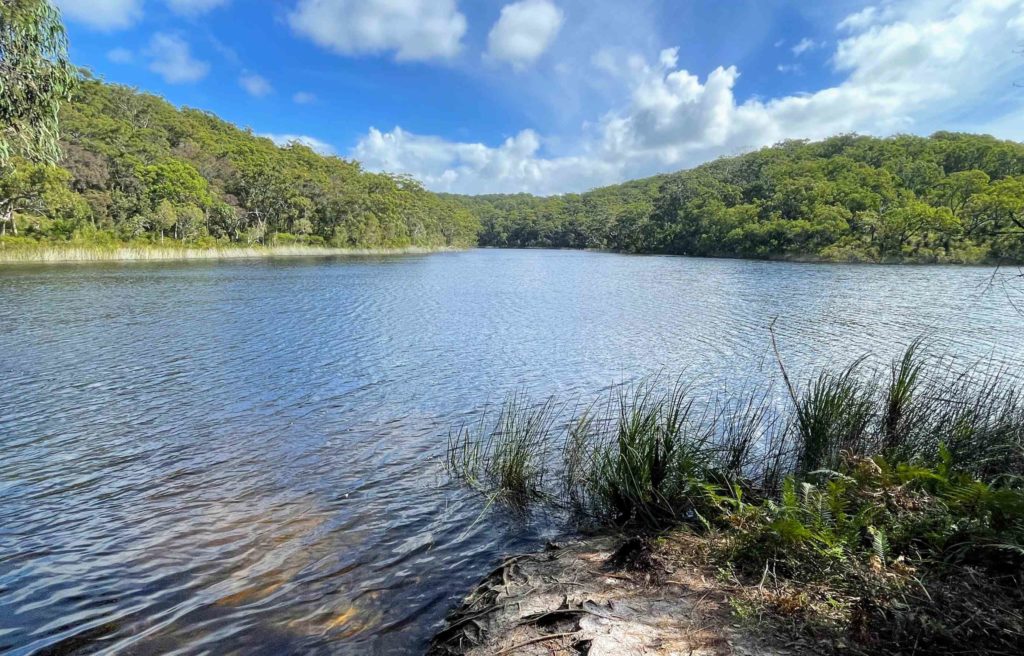 How to get to the Blue Lake hike trailhead
To start the Blue Lake hike on North Stradbroke Island, you'll first need to drive to the trailhead, located about a 10-minute drive from Dunwich town. The Stradbroke Island bus unfortunately doesn't make a stop here. If you want to explore inland Straddie, take a tip from my list of tips for visiting North Stradbroke Island, and bring your own vehicle to Straddie.
From Dunwich, drive down Alfred Martin Way, the main road that crosses the whole island. You'll drive past signs for Brown Lake and Straddie's golf course before seeing signs for the Blue Lake. The entrance to the parking lot to start the Blue Lake hike is marked by a large National Parks sign.
As mentioned, the Blue Lake hike is unfortunately not reachable by public transit. Manta Lodge hostel and other accommodation on the island may offer tours to both Brown Lake and Blue Lake in the tourist seasons though.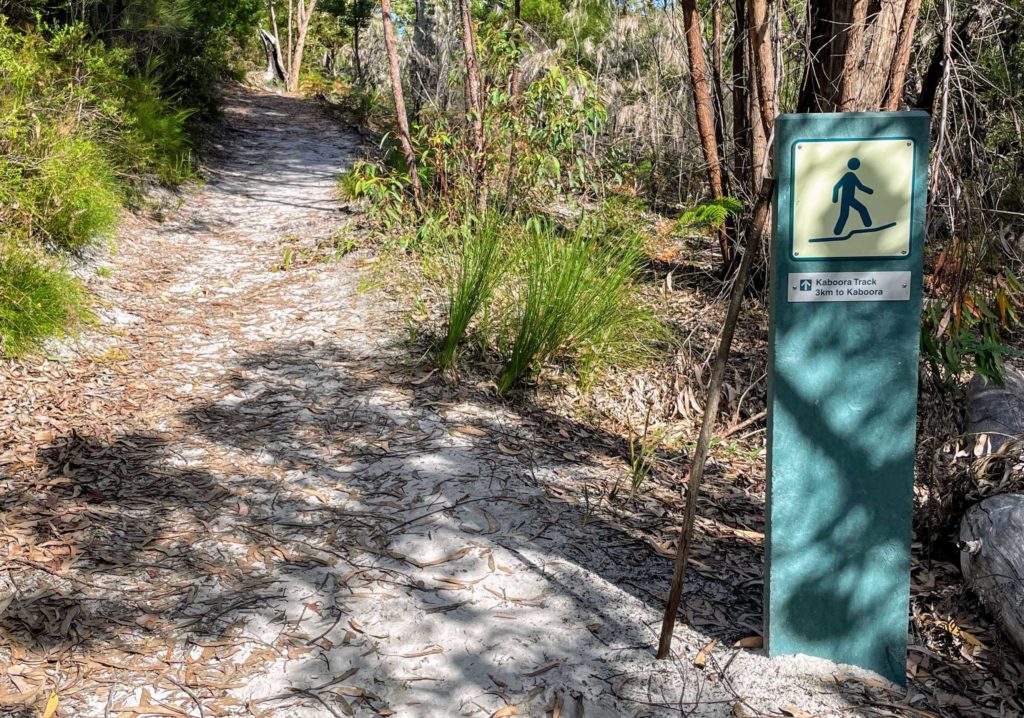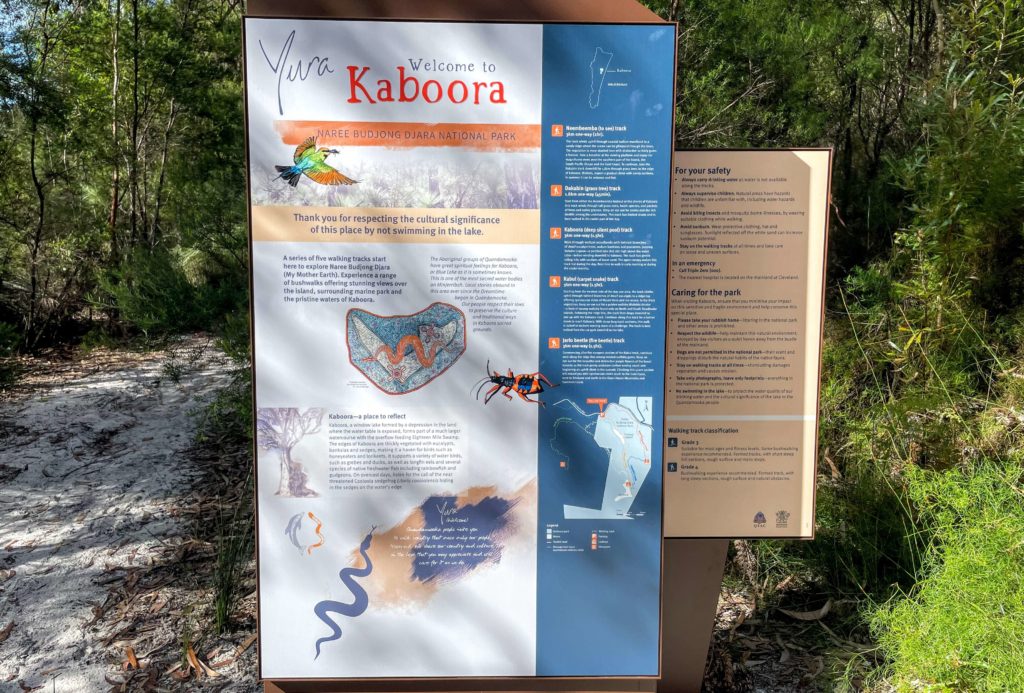 Cultural significance of the Blue Lake (Kaboora)
North Stradbroke Island is home to the Quandamooka people, who are the traditional aboriginal owners of the land here. Blue Lake is known to them as Kaboora, which translates to "deep silent pool".
The Blue Lake is located in Naree Budjong Djara ("my Mother Earth") National Park and is a location of cultural significance to the local Quandamooka people. It is one of the most sacred water bodies on Minjerribah, as well as a source of drinking water for the island, so visitors are asked to not swim in the lake.
If you're looking to cool off after the Blue Lake/Kaboora hike – head to neighboring Brown Lake for a dip!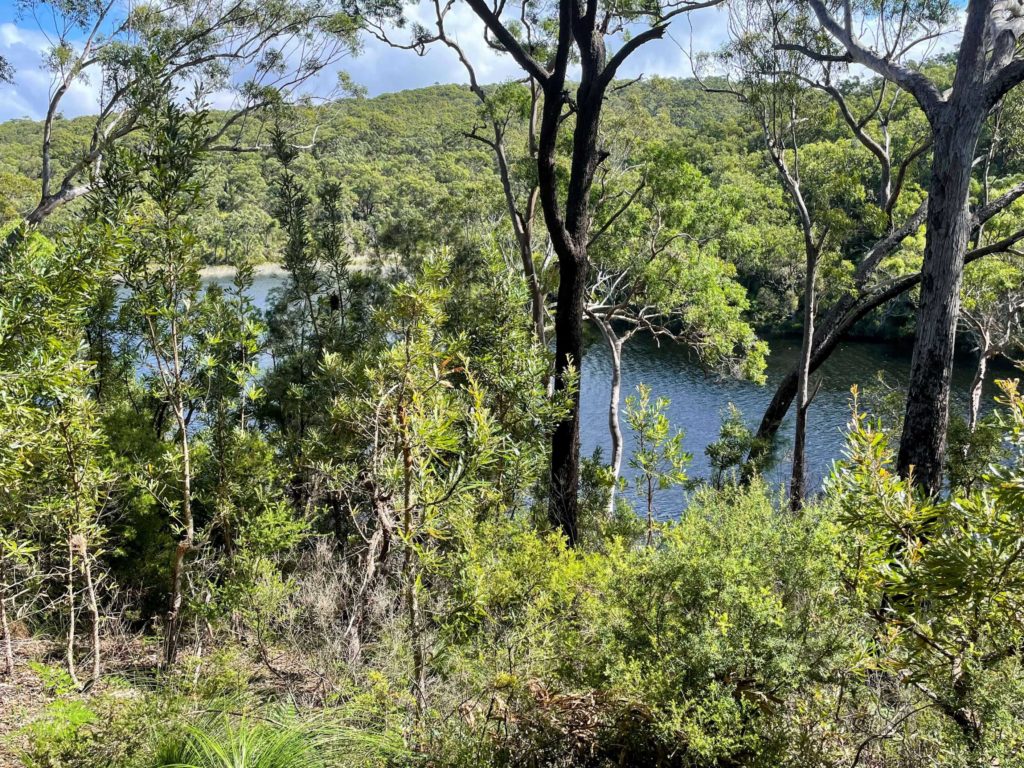 What to expect on the Blue Lake Kaboora trail
The quickest and most straightforward way to reach Blue Lake is via the Kaboora trail, an easy 6 kilometer round-trip hike. The trail is made up of loose sand and dirt with hardly any gradients, and much of it is shaded from the hot Australian sun.
Starting the hike:
At the trailhead by the carpark are a small set of benches to get yourself organized, as well as a sign showing visitors some of the trail options, rules of the park, and some cultural background of the area.
A wide sandy trail leads from here into the eucalyptus forest. The first body of water that hikers will see on the trail is the Tortoise Lagoon, a scenic wetlands located at a slightly lower elevation than the Kaboora trail.
The trail will widen near the end, with a few signs signalling different trail options that circle hikers back to the parking lot (the Kabul track was closed when I visited). Just before the lake there will be a sign pointing towards the last 100 meters of trail.
Note: Keep in mind there are no amenities on the trail, including benches or toilets. Check out my packing list below to make sure you're fully prepared for your Blue Lake hike.
No dogs are allowed in the National Park, so cannot be walked on the Blue Lake Kaboora trail.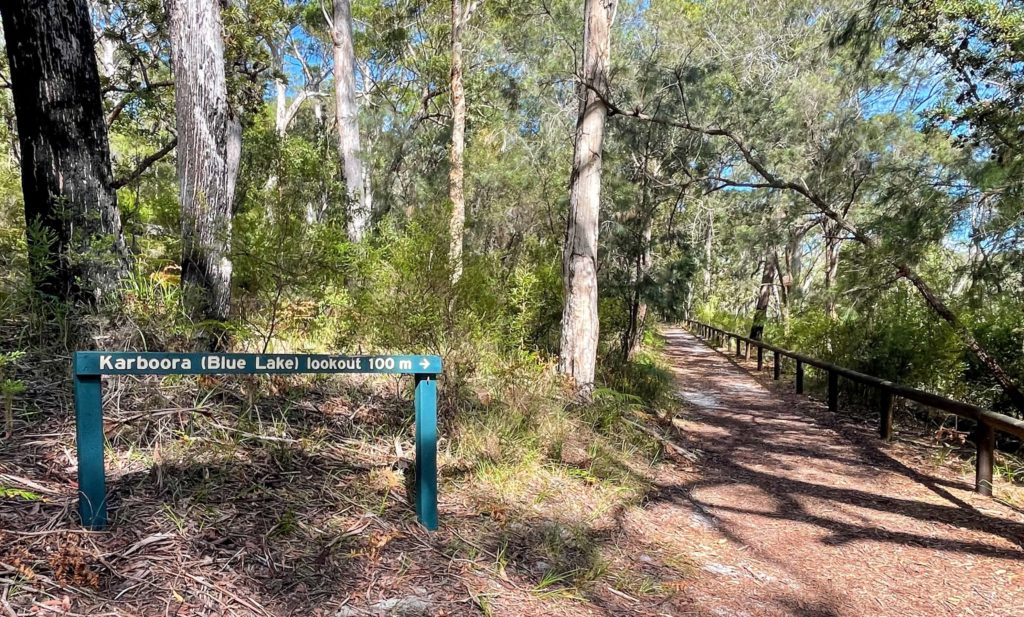 Straddie's Blue Lake hike: Kaboora Trail Summary
It took me about one hour and 40 minutes to walk the length of the 6 kilometer (round-trip) Kaboora trail. This included spending a few minutes admiring the Blue Lake, and walking there and back. The trail is clearly marked and easy to follow, and is suitable for young children too.
Although I hiked this trail in the middle of a hot day, most of the trail is shaded by a tall eucalyptus canopy, so it did not feel overly hot. A slight island breeze kept me cool as well.
If you want to extend your Blue Lake hike on Straddie, consider hiking a circuit trek which takes you up to higher elevation. Near the Blue Lake lookout is a turnoff to the Dakabin Track, which takes hikers up a steep incline to a lookout point where the ocean towards Main Beach can be seen. This trail combines with the Neembeema Track, to circle back to the parking lot. This option adds about another hour to the hike due to its increased difficulty.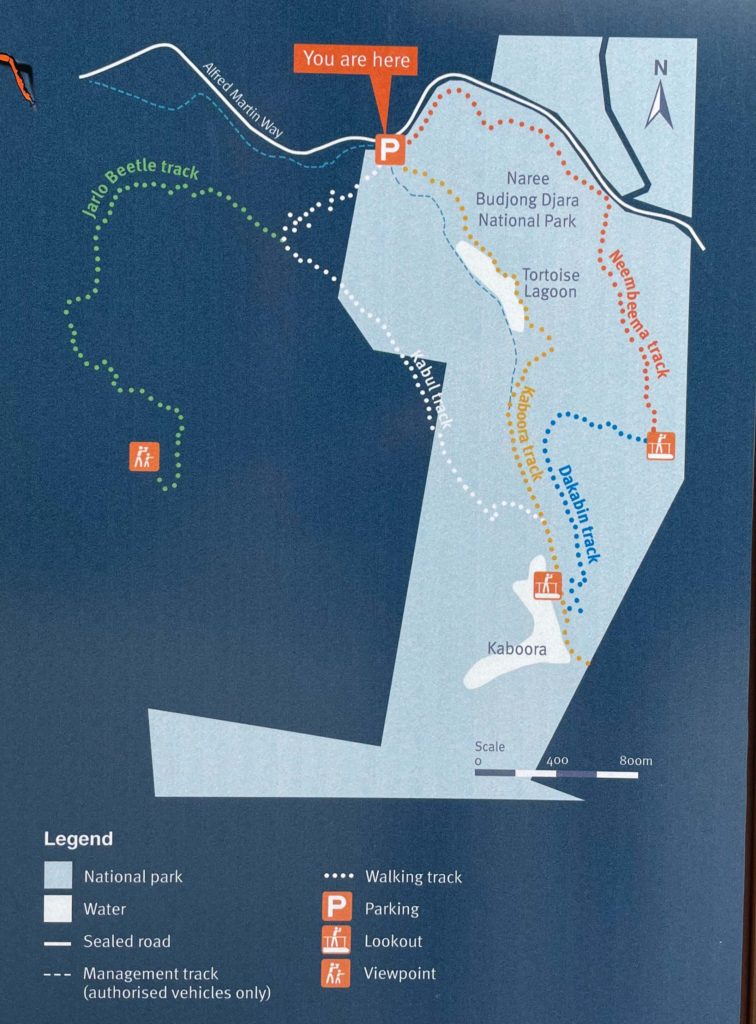 Blue Lake Hike Packing List
No amenities are available within Naree Budjong Djara National Park apart from a few benches at the trailhead. Be sure to pack the following before embarking on your Blue Lake Kaboora hike!
Water – bring at least 1 liter per person for this short hike, more on a hot day
Sunscreen – a must if you're spending time outdoors in Minjerribah or anywhere in Australia. Check out a reef-safe sunscreen option here, recommended in my Great Barrier Reef snorkeling post.
Snacks if you need them. Or just have some food in your car for when you return from the hike.
Emergency toilet paper and trash bag – no toilet facilities are available along the Blue Lake hike on North Stradbroke Island. The closest toilet facilities are located at Brown Lake, so if you might have an emergency, take some emergency TP and a bag to carry out your waste!
Picnic mat – if you want to have a rest along the trail or at the lake, bring a picnic mat or something similar to sit on. A small boardwalk lookout area would be a great place to have a rest!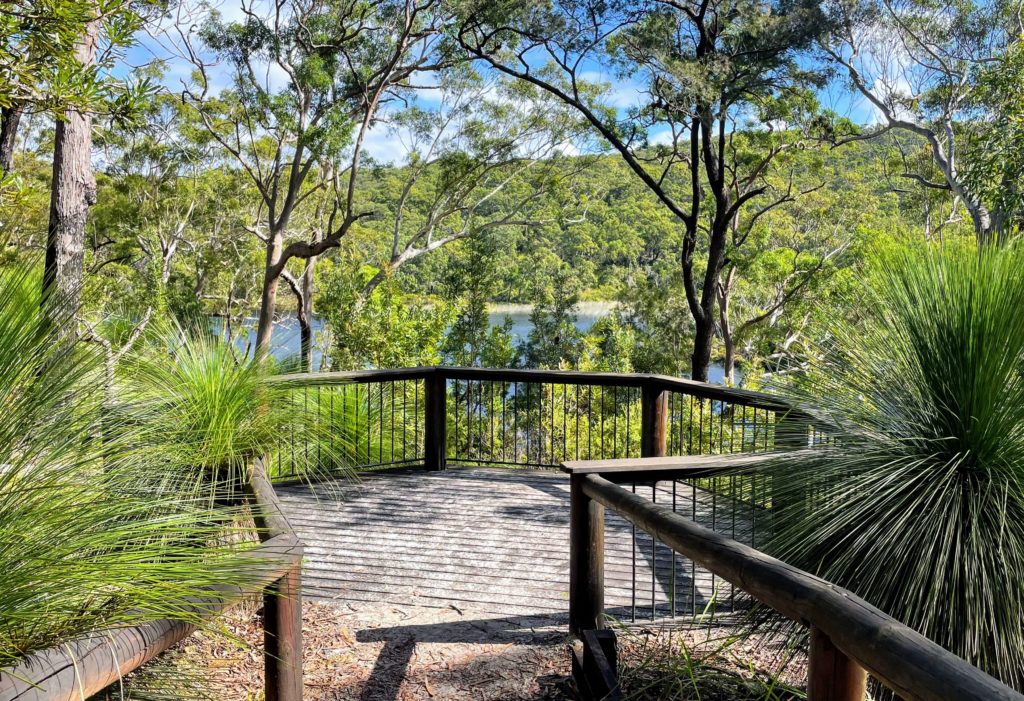 After the Blue Lake hike - Main Beach or Brown Lake
Blue Lake is close to Main Beach, which is the massive stretch of sandbank that runs along the east coast of Straddie. The ocean currents and winds are both very strong here, but it evokes a spectacular feeling, like you're standing at the edge of the world.
Blue Lake is also near Brown Lake, another place to enjoy nature in inland North Stradbroke Island as opposed to its coastal areas. The lake here is dyed brown from fallen leaves of the many tea trees surrounding it. 
Both locations can be reached within a 10-minute drive from the Blue Lake trailhead and carpark.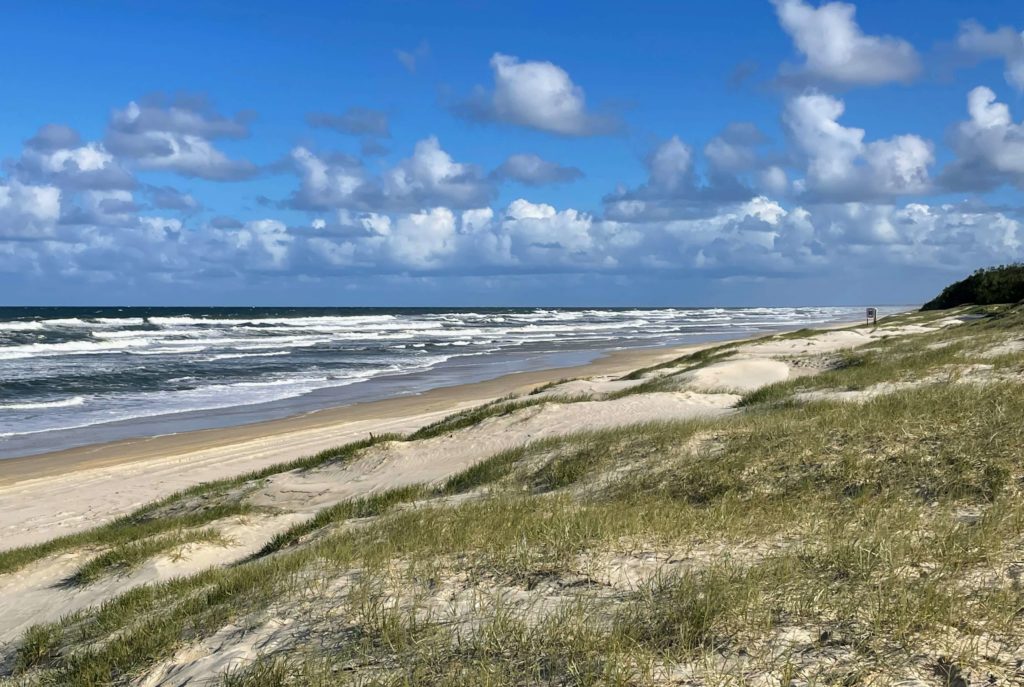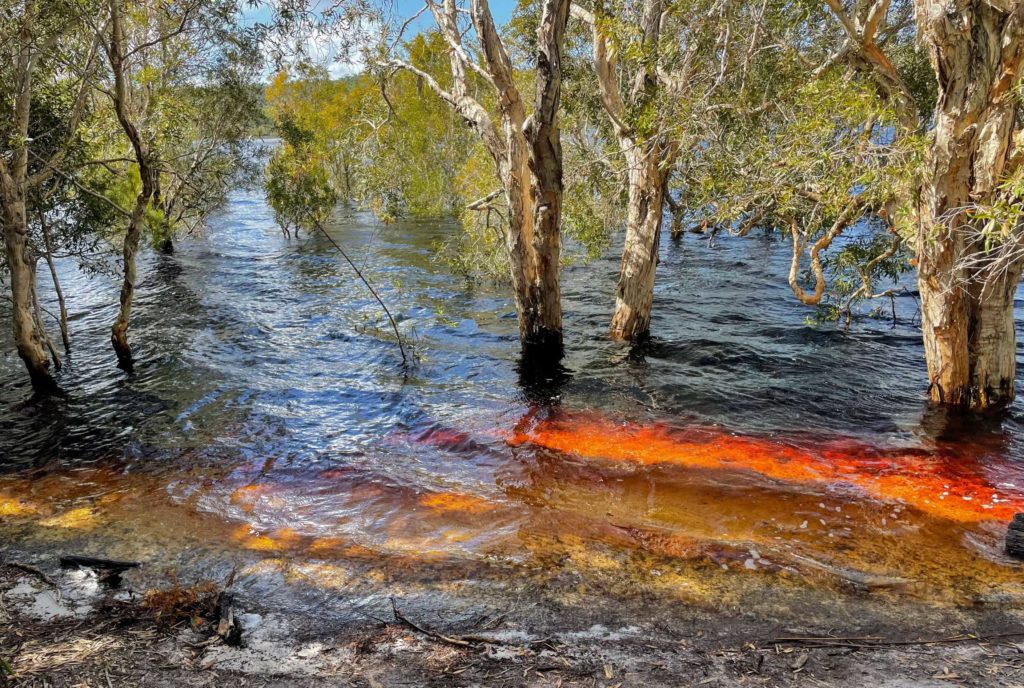 Where to stay on North Stradbroke Island
Visiting North Stradbroke Island soon? Be sure to book accommodation in advance and check out my other tips for visiting Straddie from Brisbane.
Keep in mind that most accommodation on Straddie is in the form of an apartment or holiday home rental. Only a few hotel and resort-like options are available so plan accordingly depending on your travel style.