Flinders Chase National Park was my favorite part about visiting Kangaroo Island (KI) in South Australia. From beautiful coastlines, the iconic Remarkable Rocks and Admirals Arch, and the amazing wildlife and nature walks, Flinders Chase National Park showcases all the highlights of Kangaroo Island all in one place. 
This guide to Flinders Chase National Park will show you exactly why it should be at the top of every Adelaide and Kangaroo Island itinerary. 
If you're heading to Kangaroo Island, be sure to also check out my 20 must-read tips before visiting Kangaroo Island. The list will help you save a buck, and help you prepare for your own trip to this incredible part of Australia!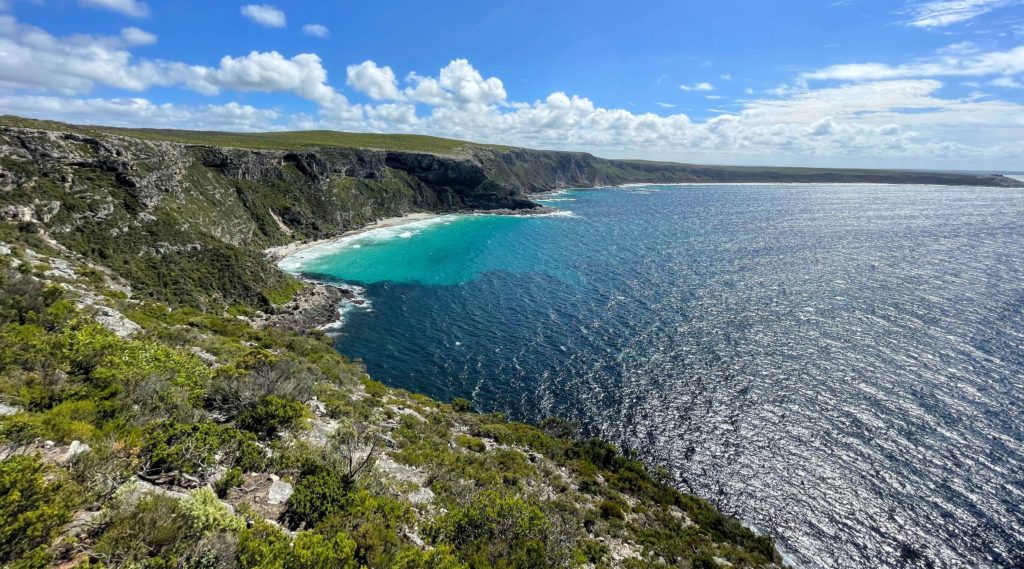 How to get to Flinders Chase National Park
Flinders Chase National Park is located on the southwestern corner of Kangaroo Island, an island known for its immense natural beauty off the coast of South Australia. 
To drive to the National Park, search the Flinder's Chase Visitor's Centre on your preferred navigation app. This will take you right to the entrance of the park. 
I recommend taking a car to visit Flinder's Chase National Park and for visiting Kangaroo Island in general. All of the main attractions are a decent drive away from one another.
If you're traveling car-less, consider joining a tour to Flinders Chase National Park so you don't need to stress about how to get around. 
From the Flinders Chase Visitor's Center, follow the signs down several kilometers to the coastline, to experience all the top things to do in Flinders Chase National Park.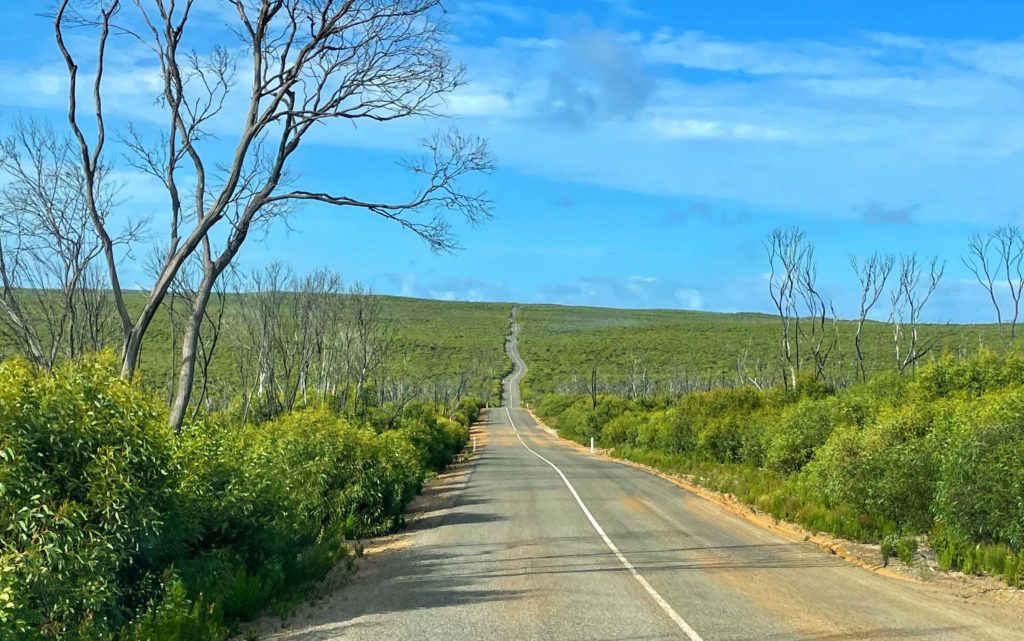 Accommodation near Flinders Chase National Park
Flinders Chase National Park used to have a camping site as well as on-site accommodation for travelers wanting to spend multiple days in the park. During the 2019-2020 bushfires (wildfires) however, all infrastructure in Flinders Chase was burned down. The campsites and other accommodation infrastructure have yet to be restored. 
The closest accommodation near Flinders Chase National Park is the Western KI Caravan Park, which offers a variety of private cottages and luxury cabins. If you're driving a caravan or camping van, the Western KI also offers powered and unpowered camping and tent sites through their website. 
2020 Kangaroo Island Bushfires
Kangaroo Island was significantly impacted by the catastrophic "Black Summer" bushfires, which devastated many parts of Australia in 2019-2020. Bushfires are part of the island's natural regeneration cycle but are usually contained and small-scale. The 2020 bushfires however, were the largest in the island's history. The western half of Kangaroo Island, where Flinders Chase is located, was the hardest hit. 96% of Flinders Chase National Park was destroyed by these fires. 
Visitors might ask if Kangaroo Island is worth visiting after the fires? Absolutely yes!! Visiting Kangaroo Island will help the tourism industry regain its momentum, and put money in the hands of people who can help regenerate the island and its wildlife. 
Much of Flinders Chase National Park has also been restored in the last two years though, including the Flinders Chase Visitor's Center, picnic areas, and a number of boardwalks and bathrooms.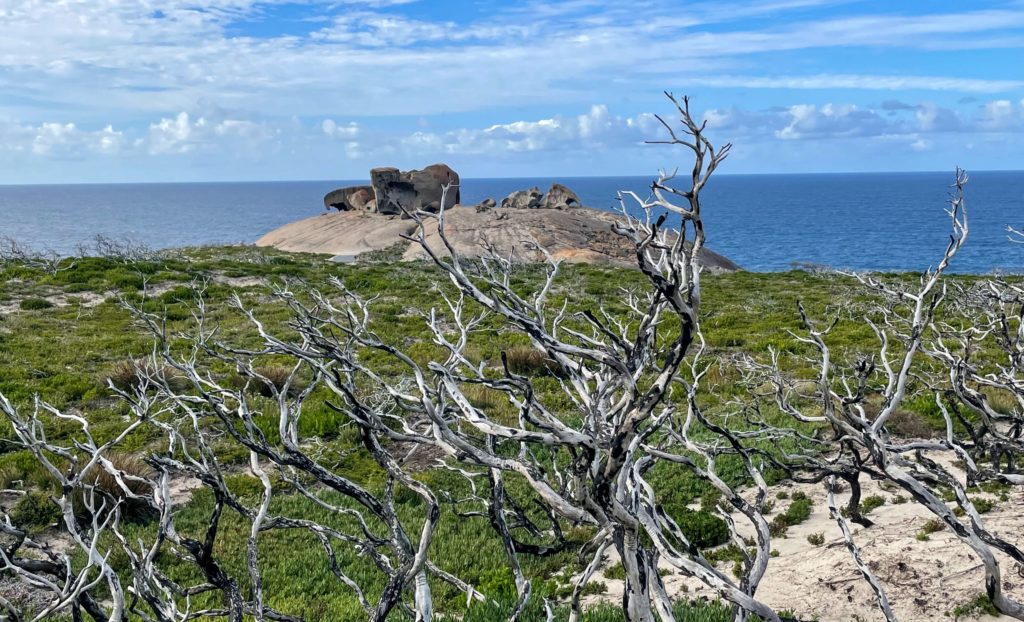 Flinders Chase National Park Entry Fee
Visitors to Flinders Chase National Park on Kangaroo Island should expect to pay a small entry fee. Tickets can be purchased online ahead of time using the park's online portal. Keep the email confirmation with a QR code handy on the day that you visit, although entry is not strictly monitored due to the park being open 24/7.
Booking ahead is not necessary, in fact free WiFi is available 24/7 at the visitor's center so anyone with a smartphone can book tickets on the day after arriving at the National Park. 
Below is a snapshot of the Flinders Chase Entry Fees in AUD: 
Adult – $12.00
Concession (students, seniors, etc) – $10.00
Child (aged 4-15) – $6.50
2 Adults + 2 Children – $30.50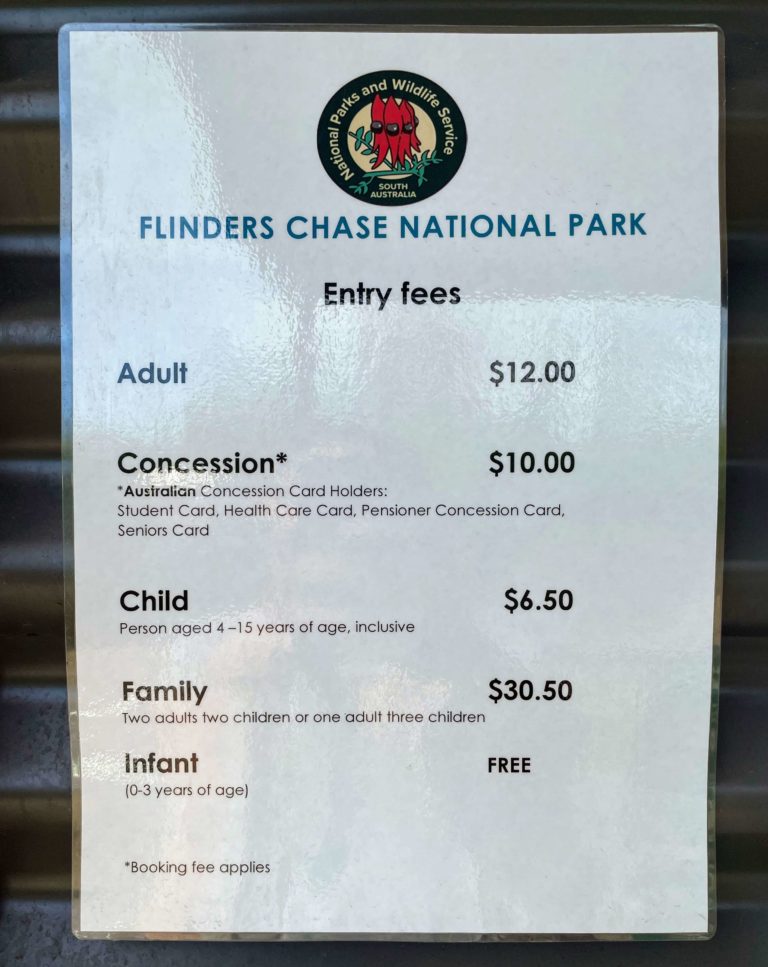 Flinders Chase Rules & Regulations
To plan your visit to Flinders Chase National Park on Kangaroo Island, be sure to familiarize yourself with some of the park's rules:
No dogs or other pets (aside from assistance dogs)
No drones
No alcohol, although other food and drink are permitted
Most importantly, leave no trace! 
Make sure you pick up after yourself and stay on the designated trails when spending time in the park. This will help Flinders Chase recover from the bush fires and ensure the beautiful natural landscapes are preserved for future generations. 
No food or drink is available for purchase in the park either, so be sure to come prepared for your visit to Flinders Chase National Park. 
Things to do in Flinders Chase National Park
Flinders Chase Visitor's Center and Picnic Area
All trips to Flinders Chase National Park will start at the visitor's center, also referred to as Rocky River. The main building that makes up the visitor's center is open from 9am to 5pm, when visitors can chat with the local rangers and buy entry tickets in person. 
A spacious parking lot and picnic area can also be found at the Flinders Chase Visitors Center for those who want to extend their stay. The picnic area includes free BBQ facilities and multiple benches. Free, clean toilets are also available, even accessibility toilets. 
Before the bushfires a number of short-distance walking trails started at the visitor's center. These trails were all impacted by the fires and have not been rebuilt since. 
More information on the visitor's center can be found on their website here.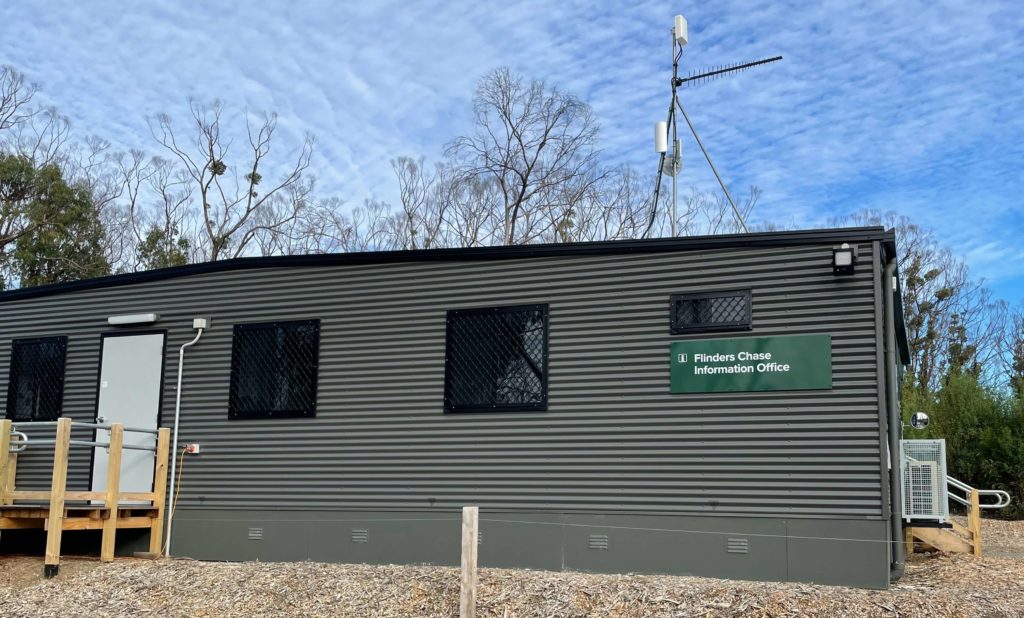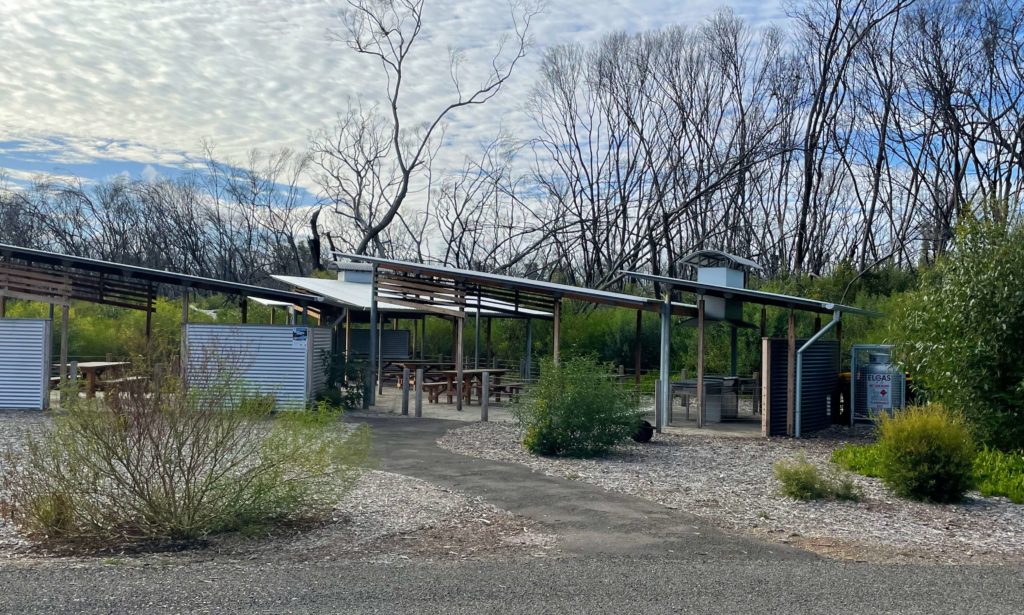 Millions of years of erosion has resulted in something remarkable on the coastline of Kangaroo Island: Remarkable Rocks. As other bits of rock eroded and fell away over time, what is left are some ginormous rock formations sitting on their own pedestal overlooking the ocean. These rocks even star in Australia's 2022 tourism campaign video to lure back international travelers!  
A long drive down from the Flinders Chase Visitors Centre will lead you to the Remarkable Rocks parking lot (with toilets available). A scenic boardwalk takes visitors down to the foot of the Remarkable Rocks. For a little extra adventure, visitors can actually climb up onto where the rocks are located, with the exception of a protected area that's signed off for your protection. 
When I visited, we were the first and only people there wandering through the incredible rock formations. The views of both the smooth, carved rocks and the beautiful coastline make any visit to Remarkable Rocks, one to remember.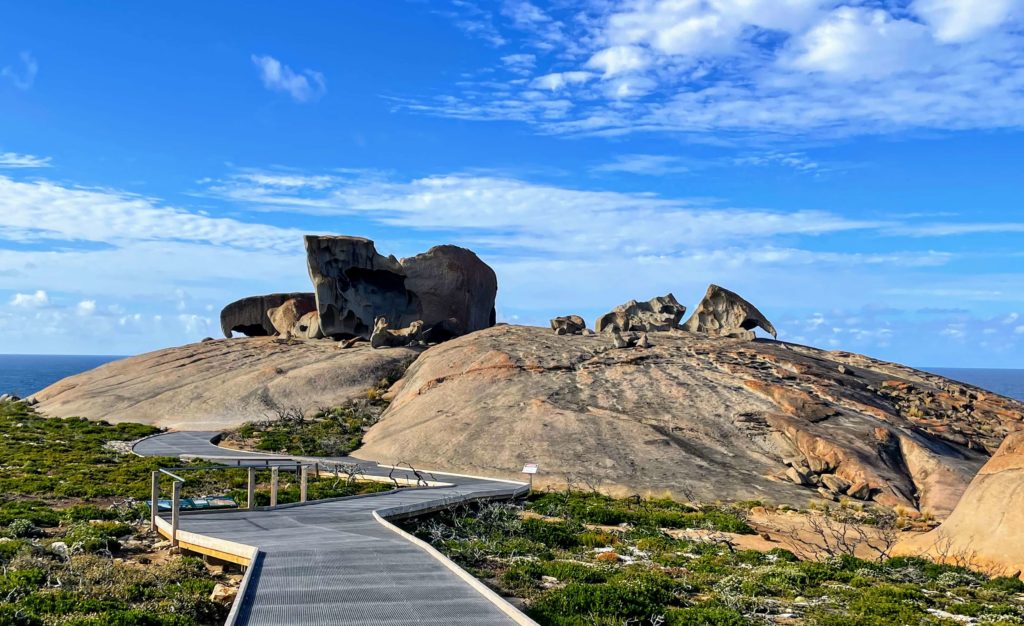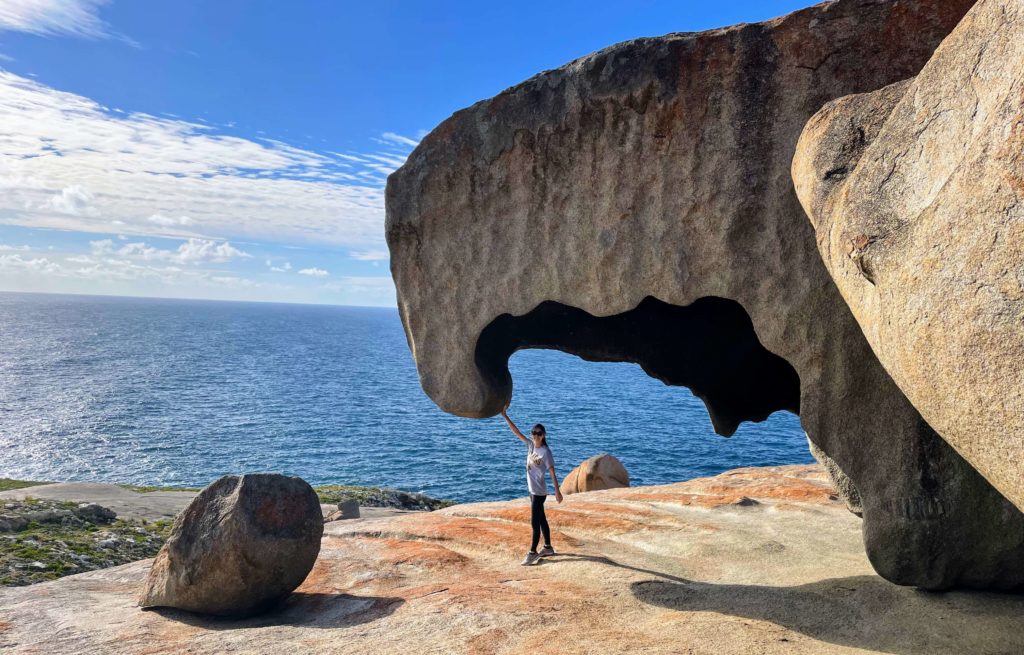 Cape du Couedic Lighthouse
Cape do Couedic Lighthouse marks the most southeast corner of Kangaroo Island, and is located within Flinders Chase National Park. Built over a century ago in 1909, it's saved countless lives from preventing shipwrecks off the coast of Kangaroo Island. The lighthouse, as well as three lighthouse keepers cottages on-site are listed in Australia's National Heritage Register.
Before the bushfires in 2020, visitors were able to reserve and stay in the historical lighthouse cottages at the base of the Cape du Couedic lighthouse. Talk about amazing accommodation, right in the heart of Flinders Chase National Park! Unfortunately this option is no longer available, however keep an eye on the National Park's website for any updates.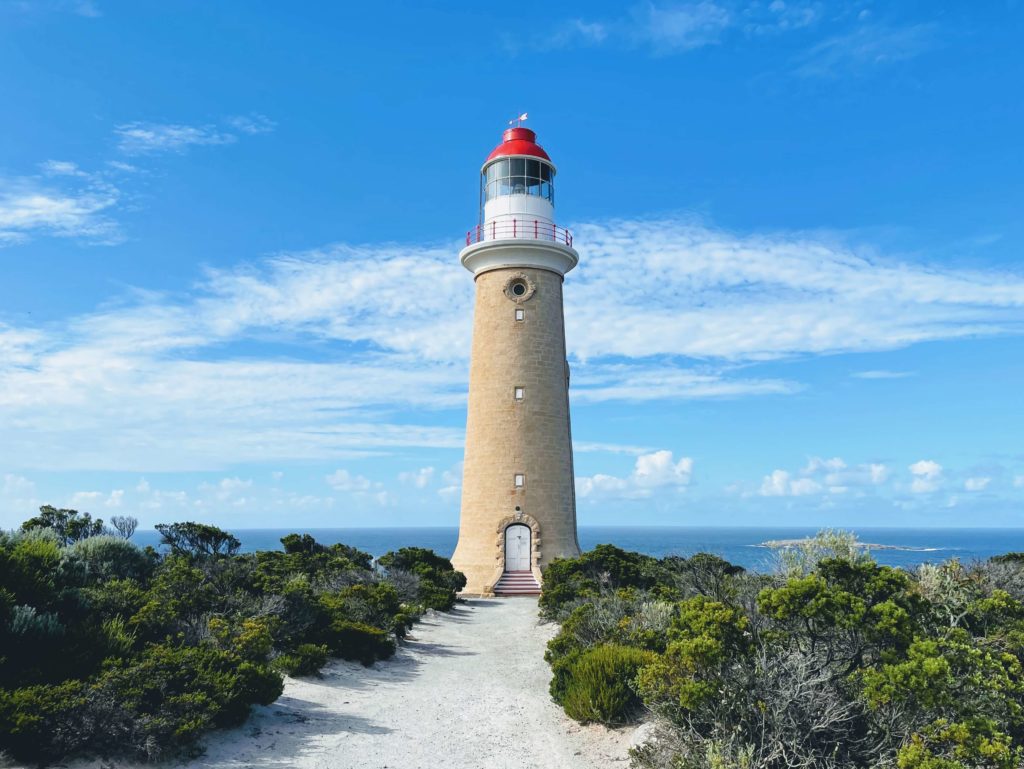 Another remarkable natural wonder located in Flinders Chase National Park is the Admiral's Arch. It's located at one of the southernmost points of Kangaroo Island and tucked away under a rocky peninsula. This natural arch formation in the jagged rocks are covered in stalactites and creates a picture-perfect frame for the deep blue ocean behind it. 
A scenic boardwalk including some staircases takes visitors down to admire the Admiral's Arch in Flinders Chase National Park.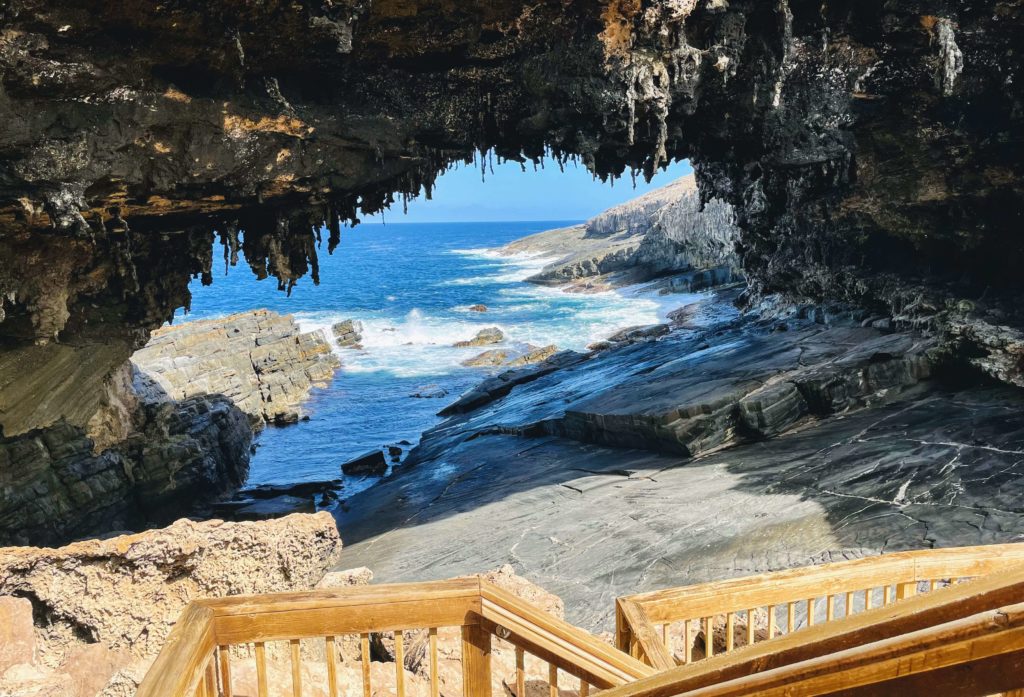 One pleasant surprise for visitors to Flinders Chase National Park is the presence of New Zealand fur seals! A trail leading from the Admiral Arch parking lot (and a walking trail connecting from the Cape du Couedic lighthouse) will take visitors to an overlook where many fur seals can be seen sunbathing below.
Seal Bay a little bit further east from Flinders Chase requires visitors to pay a minimum of $17 AUD in order to go down a boardwalk to see wild sea lions… but here, it's free! From this fur seals lookout in Flinders Chase, I saw a number of different sea lion species including large bull males, females, and even little pups lounging around on the rocks.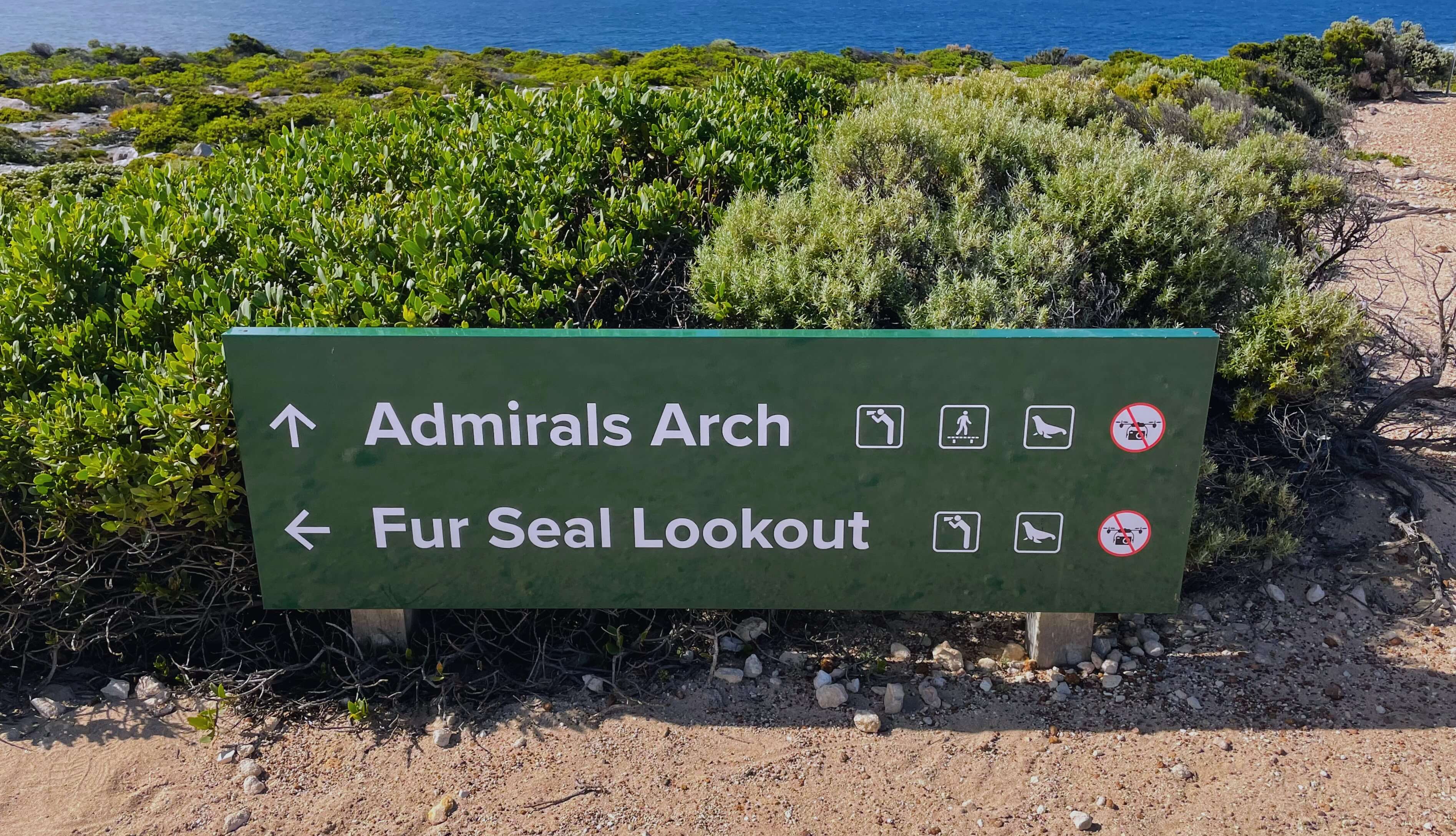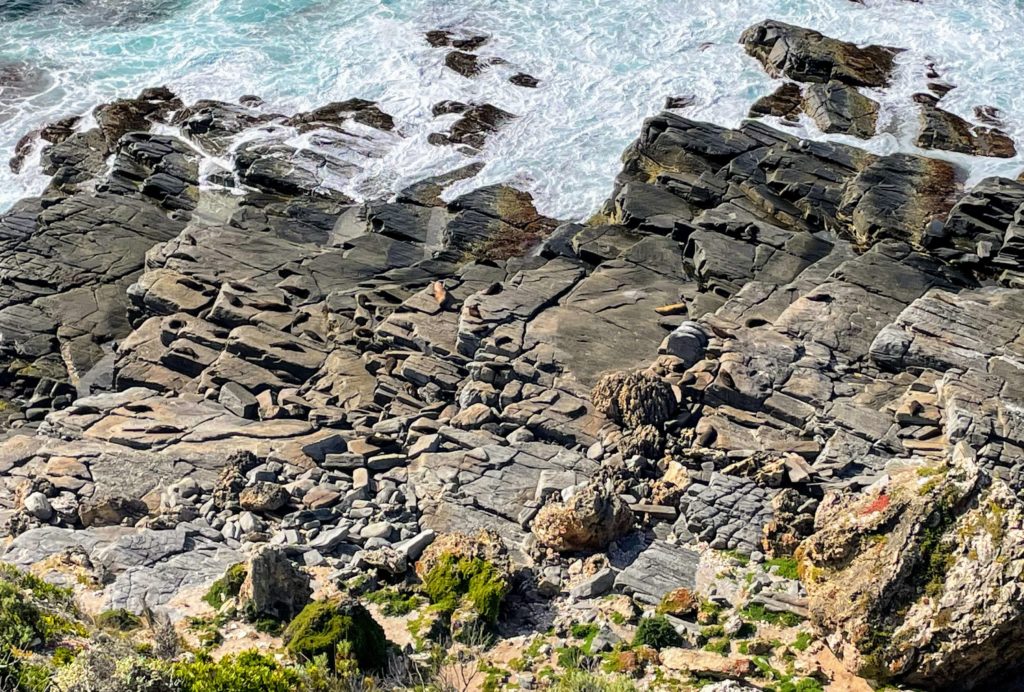 Another one of the most iconic Kangaroo Island views can be seen from Weirs Cove and its viewpoint. Like something straight out of Jurassic Park, the deep blue waters, sandy beach, and lush green coastline of Kangaroo Island will have you snapping countless perfect photos.
Weirs Cove is also home to the ruins of the lighthouse storehouse, where food and other goods were shipped to the lighthouse keepers and their families before there were any access roads to this side of Kangaroo Island. Visitors can freely walk around the ruins. A small wooden pier far below is also a remnant of Kangaroo Island history.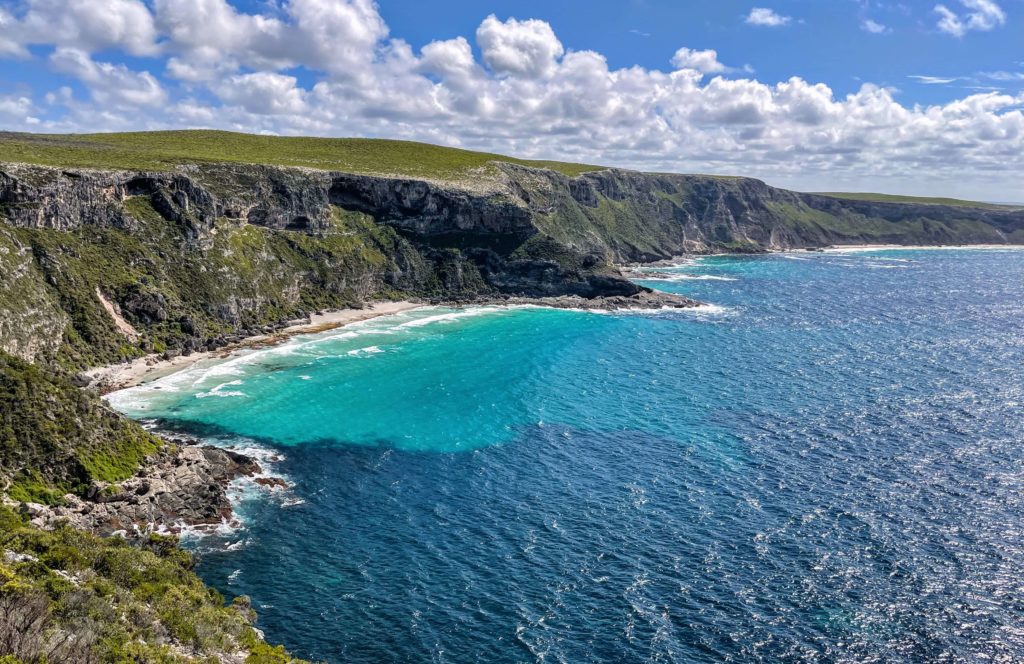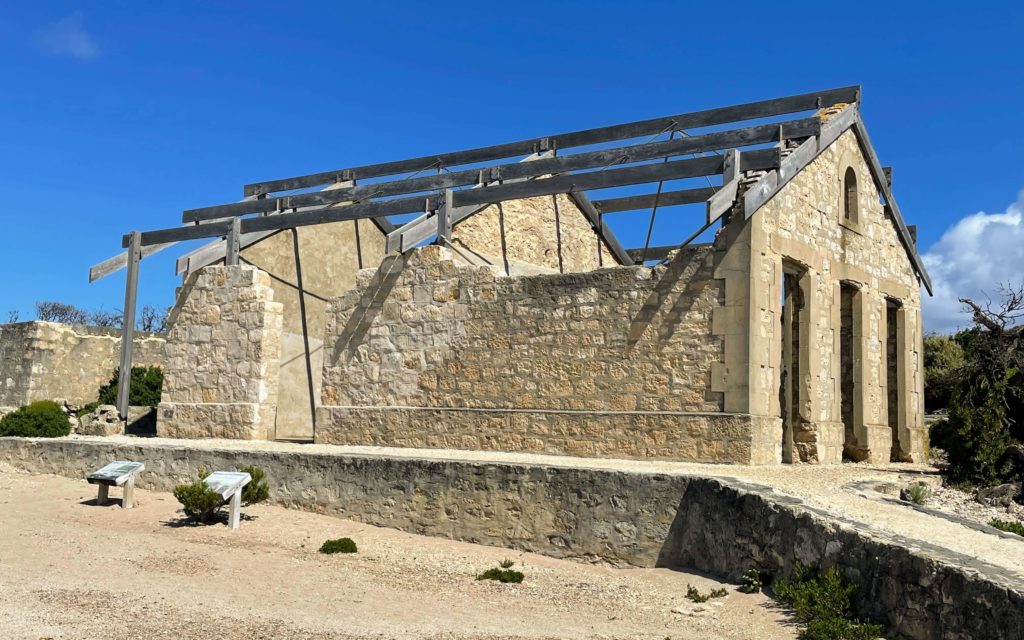 Places to Visit After Flinders Chase National Park
Visitors to Kangaroo Island will never run out of things to do. Experience incredible natural landscapes from coast to coast and visit local businesses scattered around the island. Here are some ideas for things to do after visiting Flinders Chase National Park:
If you want to spend more time in nature, check out these beautiful KI icons:
Vivonne Bay Lighthouse and Rock Pools
Seal Bay and Seal Bay Conservation Park
Pennington Bay and Mt. Thisby Lookout
Western River Cove and Bay – one of my favorite, secluded KI campsites! 
Support local businesses by visiting one or all of these KI enterprises: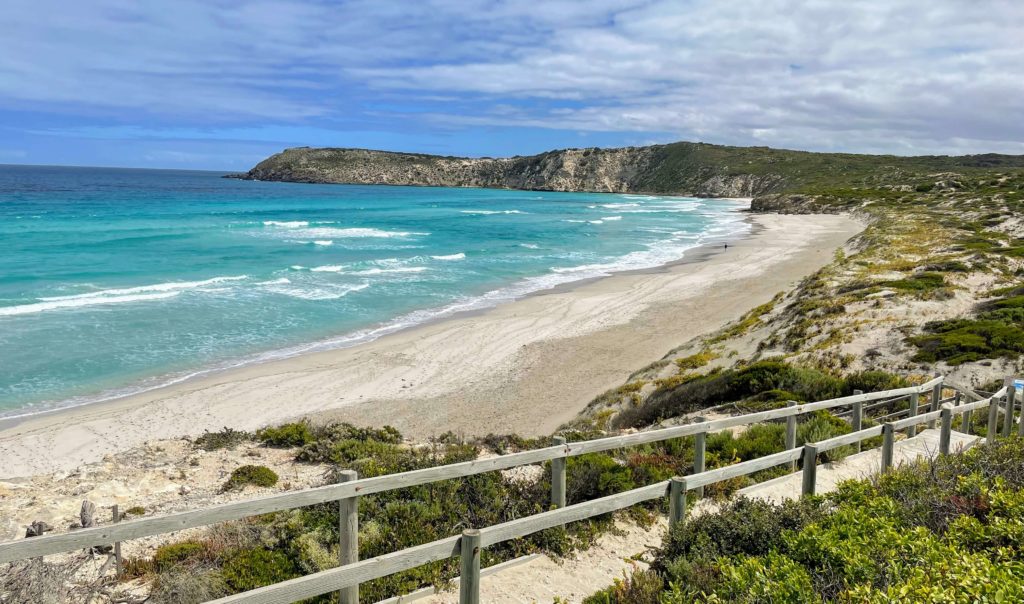 Where to Donate to Kangaroo Island Bushfire Recovery Funds
If you're not visiting Kangaroo Island yet but want to help the community, check out these options where any donation is greatly appreciated: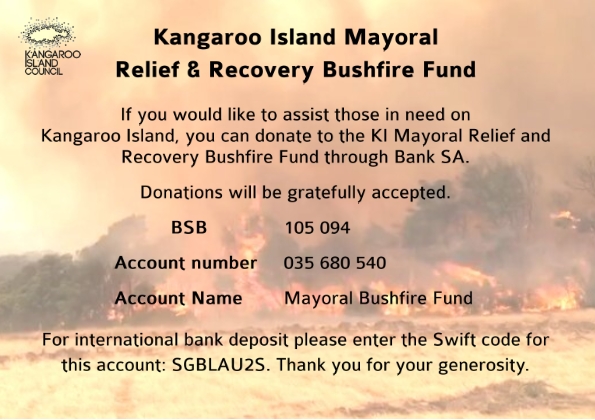 Visiting Flinders Chase on Kangaroo Island? Pin this Post!