Kerala is a state in the south-west coast of India, known for its natural beauty. The geography ranges from palm trees and soft sandy beaches to the west, to dense protected rainforests in the east. Compared to the rest of India, Kerala has its own unique dance styles, cuisine, and music. The languages spoken here are Malayalam, Hindi, and English, and it's known for being the Indian state with the highest literacy rate. 
Alongside the typical Hindu temples and Muslim mosques, there are many churches that serve Kerala's large Christian population. Politically the state is communist-leaning, and it is common to see communist flags around the larger towns. 
Kerala might be the 'calmest' and 'safest' state in all of India for those wanting to experience India without too much stress and chaos. You could easily spend a month or more exploring every corner of the state, but with two weeks in Kerala, many highlights can be experienced.
Two Weeks in Kerala Itinerary Map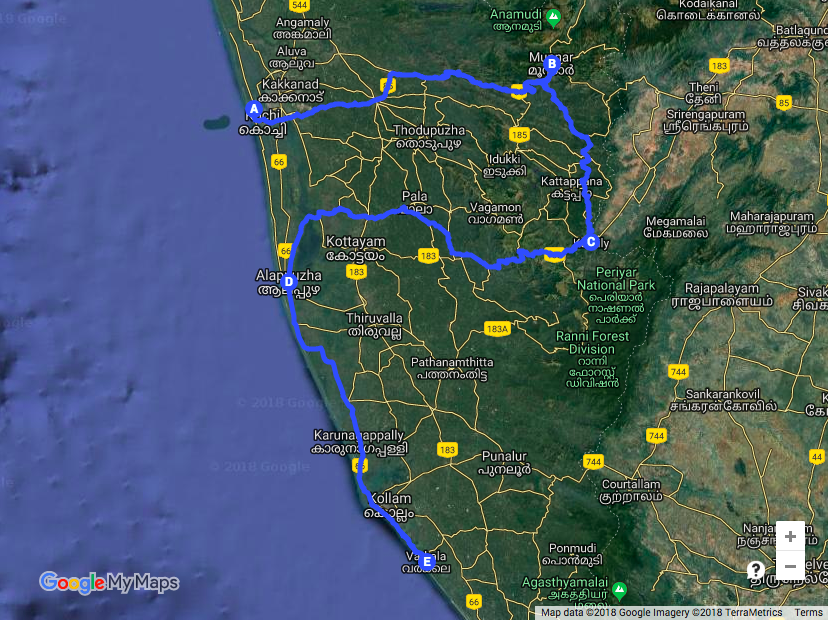 I did this exact route spending two weeks in Kerala from Fort Kochi to Varkala backwards in March 2018. Although I met travelers to hang out with in each of the towns, when I was traveling between towns I was on my own. 
Solo female traveler in India? Is it safe? 
I had no issues and never felt in danger for the entirety of my Kerala itinerary, even on public busses and trains. There was one incident when an aggressive monkey tried to steal food out of my bag but that was the only time I felt concerned for my well-being.
Two Weeks in Kerala Itinerary
Fort Kochi is the historic center of Kochi town (you may see it called Cochin as well). It used to be a massive port and trading hub for Portuguese, Dutch, and British settlers. Although the town is distinctly India, just a few blocks away from the main streets it's calm and quiet. 
Your two weeks in Kerala itinerary will likely start here because it's the largest city and capital of Kerala. 
There are plenty of modern cafes and boutique clothing stores hidden away in the streets of Fort Kochi. Although Kerala is a "dry" state where alcohol is not allowed and sales are strictly regulated, some of these restaurants will serve you beer in coffee pots if you ask!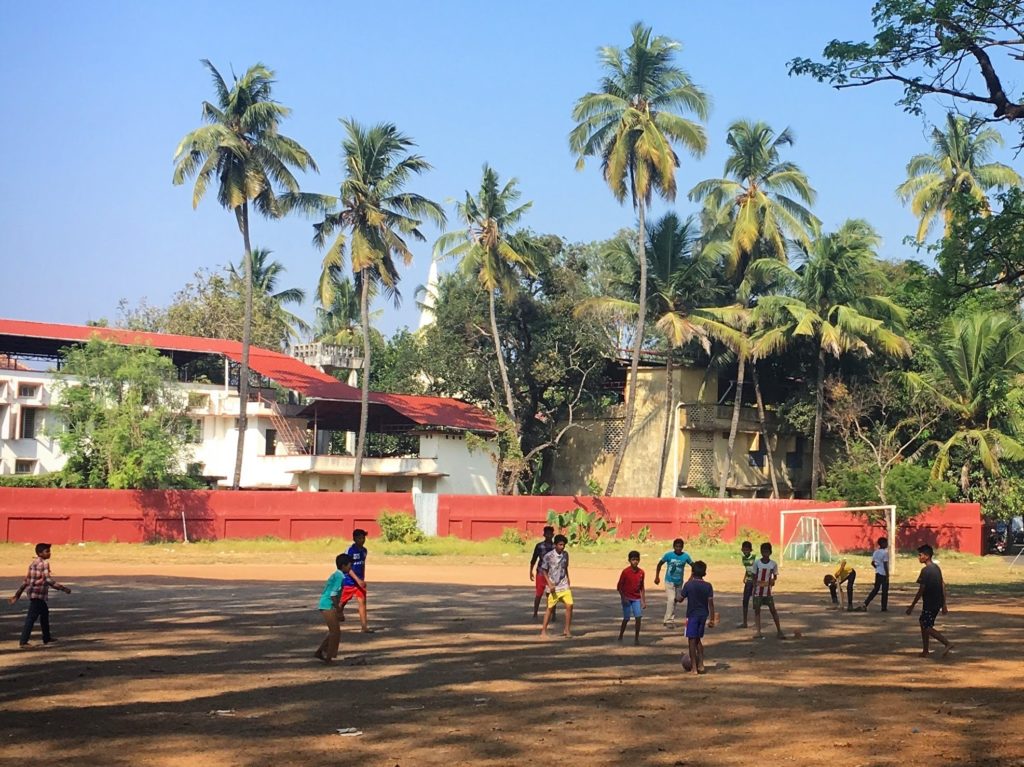 Things To Do in Fort Kochi:
If this is your first stop in India, check out the boutique shops FabIndia and Anokhi. Though the prices are considered high-end for India, you'll get great quality fabric and really fashionable clothing. 
You'll notice women wearing kurtas, or tops that go to their knees, with leggings underneath and a matching shawl around their necks. Men wear similar kurtas that can be short or long.
During the day in Fort Kochi, check out the many museums, palaces, churches, and basilicas that are dotted around town. For sunset, walk along the coast to enjoy the ocean breeze, and check out the Chinese fishing nets that are built above the water.
Kerala is famous for its ayurvedic healing practices – an alternative, wholistic healing method based on maintaining harmony between your mind, body, and spirit. You'll find multiple pharmacies, massage parlors, and treatment clinics that are centered around the ayurvedic practice.
Where To Stay in Fort Kochi:
I stayed at the Happy Camper hostel which has a great rooftop terrace, and others recommended the Zostel Kochi.
Tip: Zostels are a chain of hostels throughout India that are known to have great amenities and are popular among local and foreign backpackers alike! If you plan on spending a while in India traveling around, they have a rewards program too.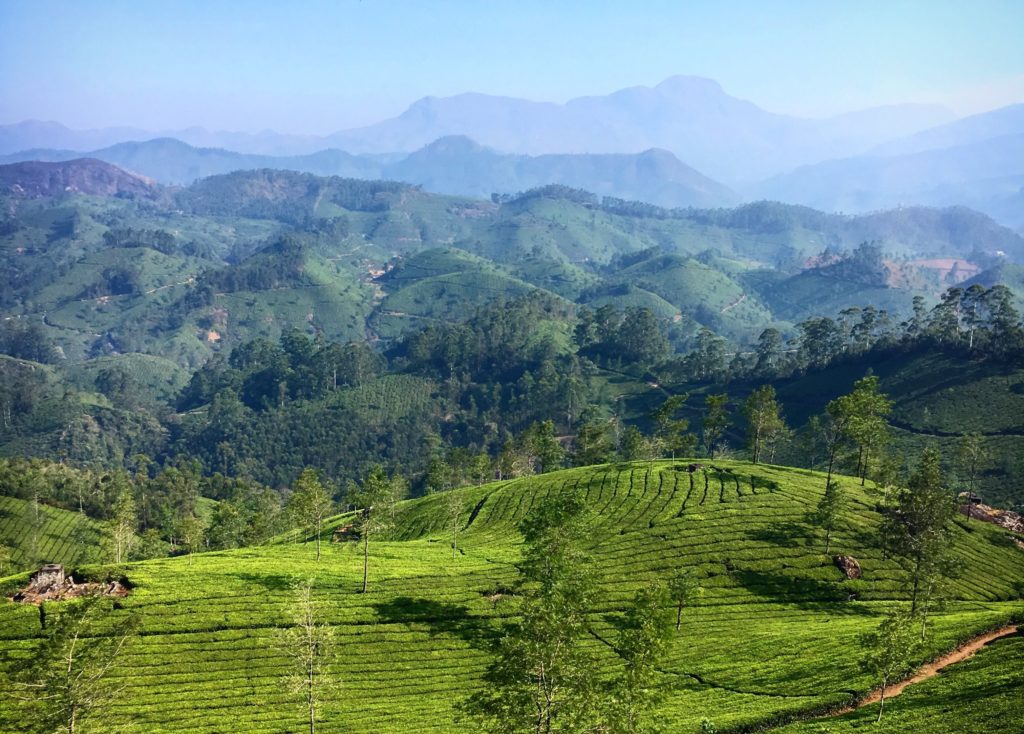 Take a bus from Fort Kochi to Munnar (book at any travel agency) for your next stop on your two weeks in Kerala itinerary. You may need to take the local bus from Fort Kochi to a more central bus station in Kochi town. It'll take about 2-3 hours to reach Munnar by bus.
Things To Do In Munnar:
Munnar is famous for its rolling hills covered in tea plantations. I went on a hike through them here and saw a family of elephants! Most people will hire a jeep for the day (the town is covered in people offering jeep tours) to be driven to different plantations in the region.
Check out the Ripple tea store for some cheap souvenirs and try authentic Munnar tea.
There's also a small market/bazaar area where you can buy fresh fruits and vegetables for cheap, as well as many spices and chocolates.
Two French friends I was with bought $50 worth of spices at the market to bring home with them. Probably worth closer to $300 in France!
Where To Stay In Munnar:
For some reason there are not many cheap guesthouse options for Munnar on hotel booking websites. There are SO MANY cheap guesthouses in Munnar, it's possible to just arrive and ask around for a room. Remember to negotiate hard! I ended up spending 200 rupees (less than $3 USD) per night for a single room, for two nights.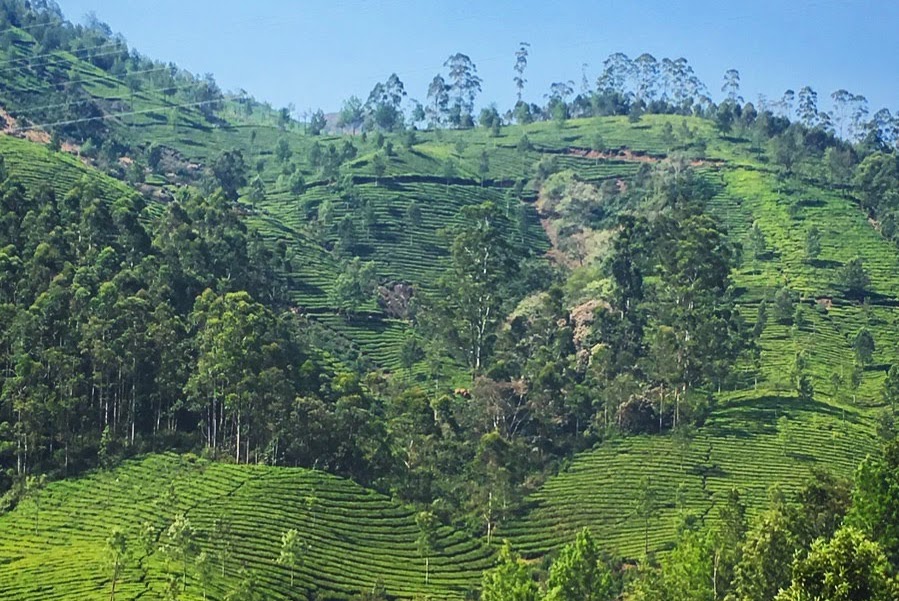 Days 7-8: Thekaddy (Kumily)
Take Kerala's local KSRTC bus to Thekaddy (also called Kumily). It should take about 5 hours to reach town.
Things To Do In Thekaddy:
Thekaddy is famous for its Periyar Tiger Reserve and nature park, where many expensive tours guaranteeing large animal sightings draws tourists in. Most things such as jeep safaris, overnight camping tours, and treks with a guide, will cost you anywhere from $40-$100!
I explored the park the cheapest way possible: I walked in and walked out, and took the cheapest boat tour. 
In total I paid 450 rupees for entrance for foreigners, 225 rupees for the 2-hour boat tour, and 250 rupees to do the 'nature walk', which was walking 30 minutes or so to and from where the boat leaves from ($13 total).  
On the boat tour I saw a family of four elephants, three adults and one baby, as well as some water buffalo and monkeys! This was one of my highlights of my Kerala itinerary.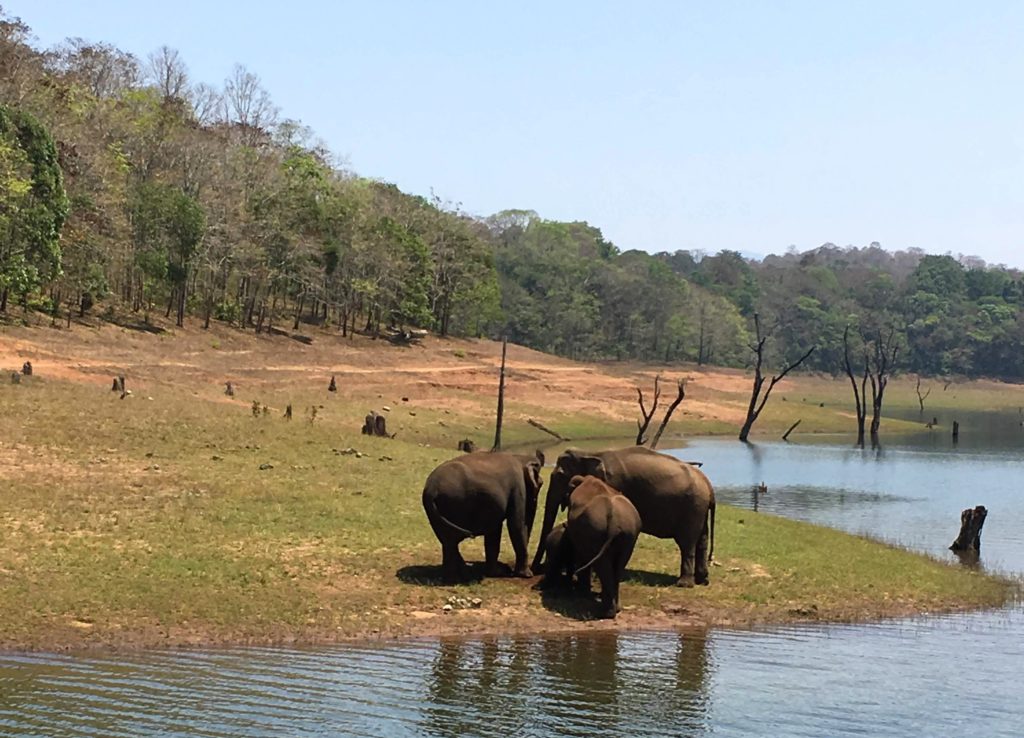 The waiting area for the boat was infested with monkeys that had no fear of humans – when I was sitting and reading with my bag open on my lap, I felt a hand on my shoulder and saw a little monkey trying to reach into my bag! I leapt out of my seat and it scurried away without being able to take anything.
On the nature walk I saw some deer very close by on the trail, as well as some black forest squirrels and more monkeys. The trail is covered in informational sign posts about the flora and fauna of the region, so its impossible to get lost.
Where To Stay In Thekaddy:
I booked Jungle Paradiso homestay at the last minute, which is on the north side of town. It was a little out of the way since the Tiger reserve is south of town, so I recommend staying south.
Days 9-11: Allephuza (Allepy)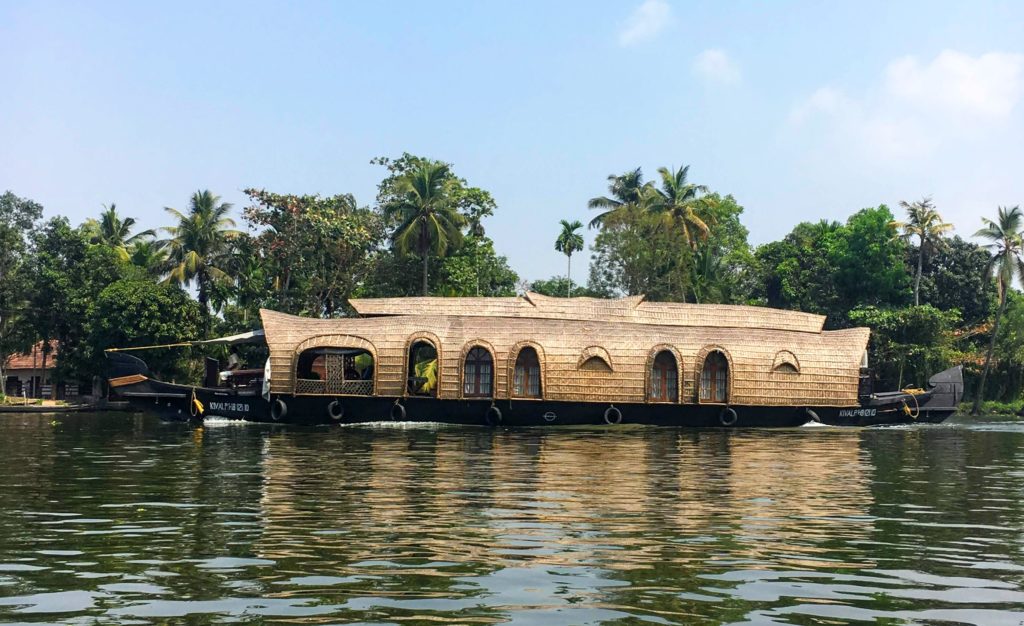 From Thekaddy/Kumily you can take the local KSRTC bus again to Allephuza. After Kochi, Allephuza is probably one of the most popular destinations in Kerala for locals and tourists.
Things To Do In Allepy:
Allephuza, or Allepy, is most famous for house boat tours on the "backwaters", a system of rivers and canals that wind through the country side. 
The backwaters are dotted with marshes, agricultural plots, and little villages. It's common for tourists to rent an entire houseboat with a driver for a couple of hours or even days to navigate these back waters.
I joined a day tour that the hostel offered, which included a local ferry ride to a woman's home on the backwaters who served us a traditional Kerala lunch.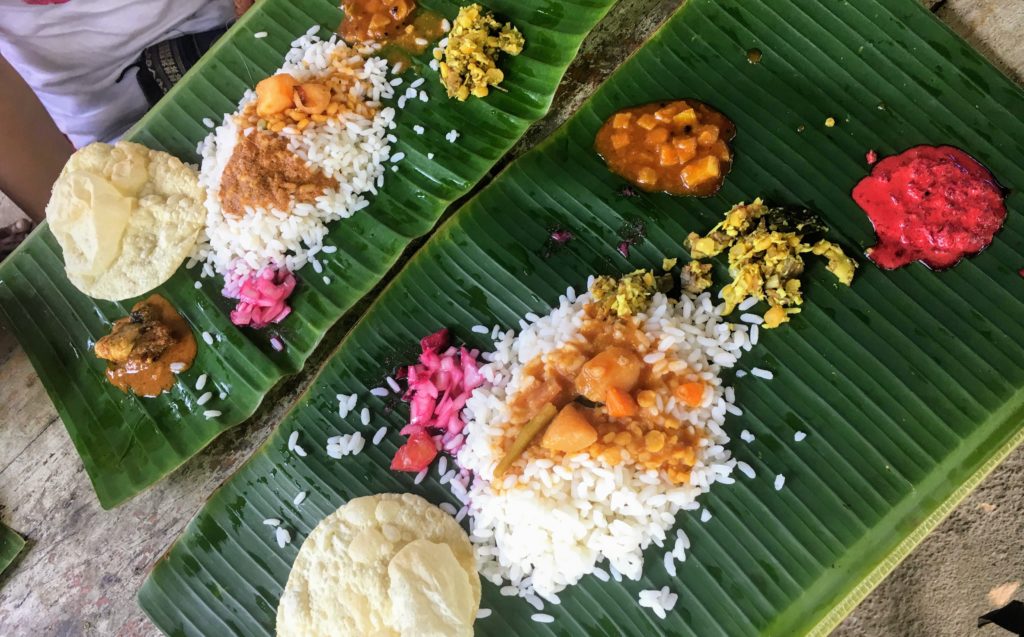 After lunch we split into groups of 6, each got a small paddle boat with a driver, and set off into the small canals of the backwaters. I really enjoyed getting a glimpse at the daily lives of the families who were washing their clothes along the canal, and kids splashing around in the water or walking their goats to the water.
The cheapest way to view these backwaters is to just take the local ferry, which goes for less than 100 rupees all around the different ferry ports in the area. Although it won't go into the smaller canals, you'll be able to see many other houseboats floating lazily by.
Where To Stay In Allepey:
I stayed at the Artpackers.Life Hostel, which I recommend for backpackers. They have a large outdoor seating area with cushions where you can meet a lot of travelers. It's also walking distance to the beach and to a government-owned liquor store. 
If you prefer, there's a Zostel here as well!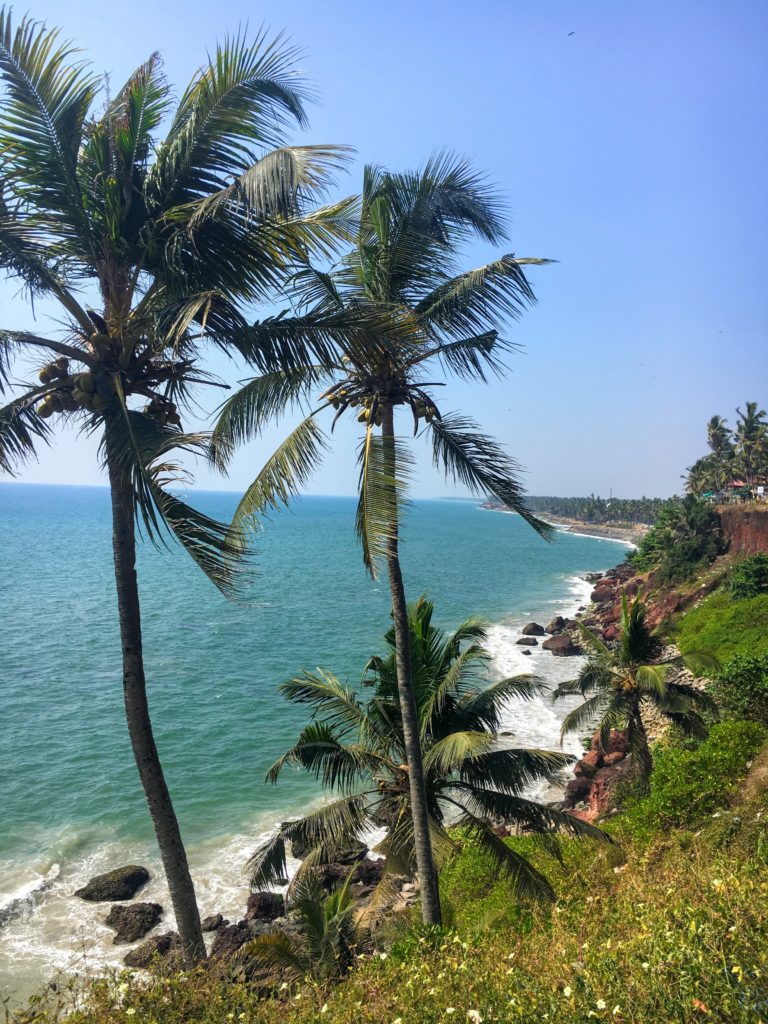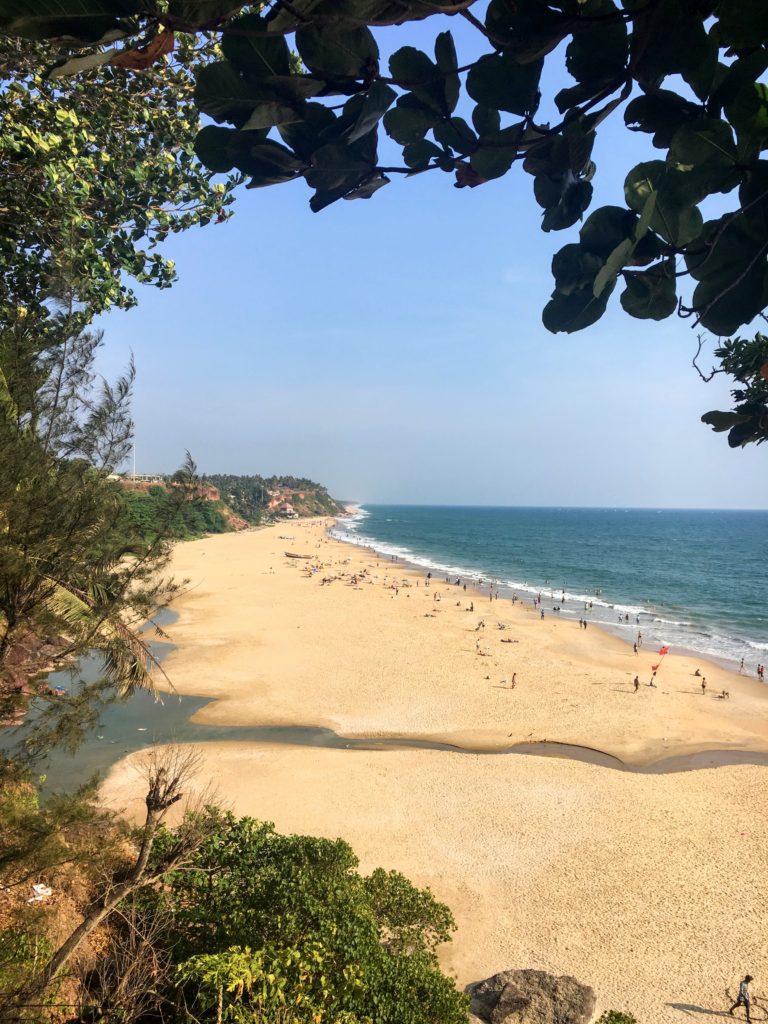 You can take the train from Allepy to Varkala in about 2-2.5 hours and will cost less than 100 rupees ($1.5 USD) for a second class ticket. There's no purpose in buying a sleeping booth ticket because it'll be crowded enough that you'll lose your bed (unless you curl up on the top bunk with all the luggage, which is what I did)
Things To Do In Varkala:
Varkala is a relaxation/yoga/meditation paradise in Kerala. It's home to one of the cleanest beaches I've seen in India, and you can sit out in a bikini with ALMOST no creepy men coming by and taking pictures of you. This is partially because of all the Russian tourists who flock here year-round in their bikinis, so the locals are used to women showing more skin.
You can find group-yoga sessions on the beach at sunrise and sunset, as well as many people who are enjoying their peaceful meditation time next to the water. There's one path that lines the coast where you can find lots of shops for souvenirs and clothing, as well as bars and restaurants.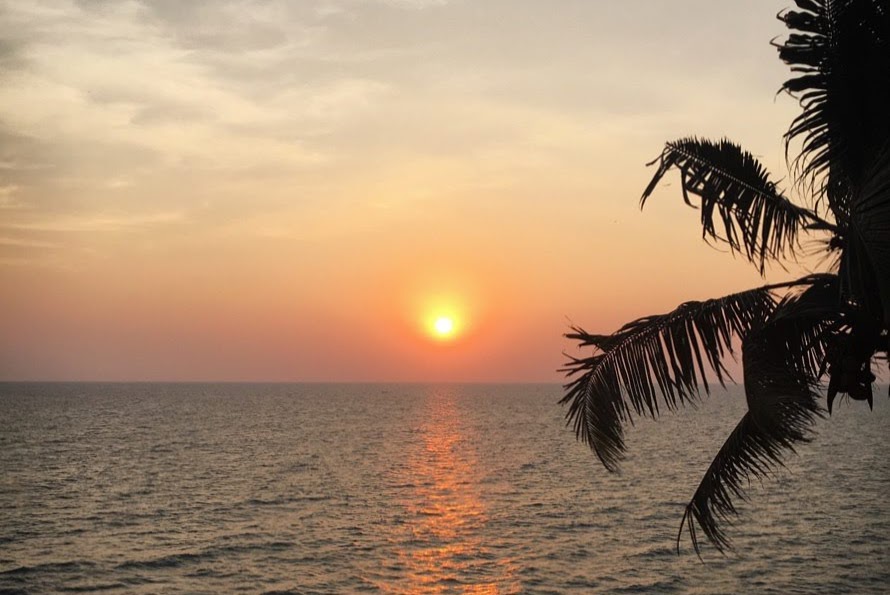 Where To Stay In Varkala:
I stayed at a hostel near Varkala cliff that is no longer in operation, but there are plenty of nice guesthouse and hostel options that are walking distance to the beach.
Varkala is the perfect place to relax and finish up your two-week Kerala itinerary. Because of its train station, Varkala is well connected when trying to get to other states in India or back to Kochi if you are flying to a new destination from there.
Pin this Two Week Kerala Itinerary!